The Climate Movement's Reckoning with Black Lives Matter: For far too long, the climate movement has ignored the needs of the people most impacted by the climate crisis. That's changing. CAMILLE WILLIAMS NOVEMBER 24, 2020, In These Times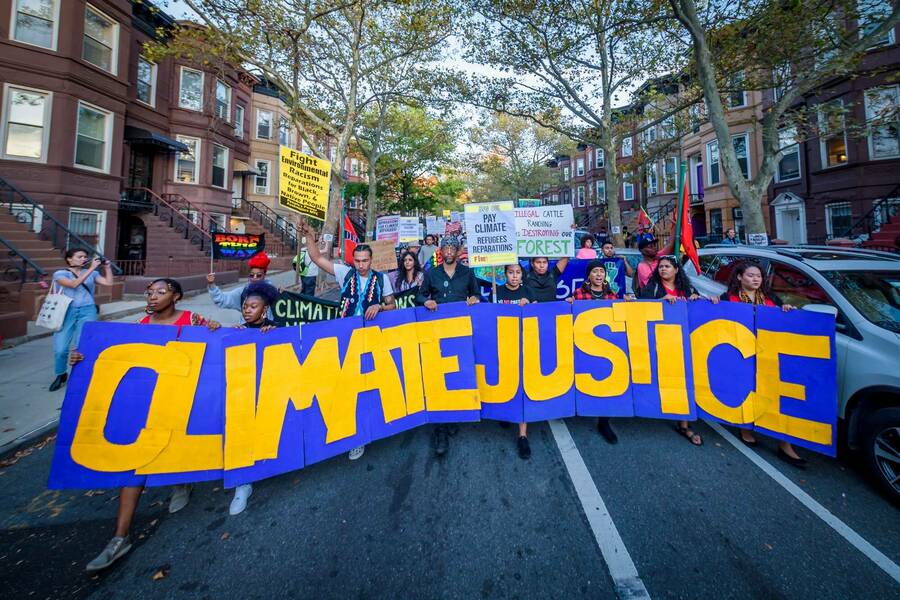 BROOK­LYN, N.Y. — Envi­ron­men­tal jus­tice has nev­er been sep­a­rate from racial jus­tice, accord­ing to Eliz­a­beth Yeampierre, co-chair of the nation­al Cli­mate Jus­tice Alliance and exec­u­tive direc­tor of the inter­gen­er­a­tional, woman-of-col­or-led cli­mate orga­ni­za­tion, UPROSE. Had she not been sick with Covid-19, she would have been in the streets with the thou­sands protest­ing the killing of George Floyd. 'The fact that we're at that table,' Yeampierre says, 'and that we're sharing literally a life's work of communities all over the country … that's really powerful.'
"We've been fight­ing for the right to breathe [clean air]," Yeampierre says. ​"So the fact that cops are lit­er­al­ly [tak­ing our breath away] is not surprising."
As recent­ly as 2019, groups at the inter­sec­tion of polic­ing and cli­mate change — like UPROSE — were in the minor­i­ty among envi­ron­men­tal activists. But fol­low­ing mass demon­stra­tions against racial injus­tice — and a pan­dem­ic that has dis­pro­por­tion­ate­ly affect­ed Black and Lati­no com­mu­ni­ties — the cli­mate move­ment is broad­en­ing its polit­i­cal hori­zons and final­ly reck­on­ing with the real­i­ty that some of its most promi­nent orga­ni­za­tions have dis­re­gard­ed the vul­ner­a­ble groups for whom they claim to speak.
Since UPROSE launched the Sun­set Park Cli­mate Jus­tice Cen­ter in 2012 to pro­mote com­mu­ni­ty resilience and cli­mate adap­ta­tion, Yeampierre says white-led cli­mate groups have hin­dered the jus­tice-cen­tered solu­tions UPROSE has worked toward. So when a wave of white-led envi­ron­men­tal groups like the Sier­ra Club, Nat­ur­al Resources Defense Coun­cil, and 350​.org pro­claimed sol­i­dar­i­ty with Black Lives Mat­ter, Yeampierre was circumspect.
"To be per­fect­ly hon­est, it felt a bit oppor­tunis­tic," she says. "[These same orga­ni­za­tions have ignored] the myr­i­ad chal­lenges faced by front­line com­mu­ni­ties. [And] they know what those chal­lenges are because we've told them."
As cli­mate change accel­er­ates, Yeampierre fears low-income neigh­bor­hoods like Sun­set Park will be hit ​"first and worst," with gen­tri­fi­ca­tion and dis­in­vest­ment in pub­lic infra­struc­ture, threat­en­ing their abil­i­ty to mit­i­gate the effects of cli­mate change — a fate the borough's whiter, more afflu­ent res­i­dents will like­ly avoid.
Pri­or to this sum­mer, 350Brooklyn, an inde­pen­dent chap­ter of the inter­na­tion­al 350​.org net­work to end the use of fos­sil fuels, had worked on projects that aid com­mu­ni­ties of col­or, includ­ing advo­ca­cy for the clo­sure of Rik­ers Island (New York City's largest prison), rezon­ing efforts along­side the Gowanus Neigh­bor­hood Coali­tion for Jus­tice, and stand­ing against the con­struc­tion of the Williams Pipeline (which would car­ry frack­ing gas from Penn­syl­va­nia to the low­er New York Har­bor). But as an orga­ni­za­tion formed by and pre­dom­i­nant­ly com­posed of white peo­ple, 350Brooklyn's staff admits to blind spots when it comes to address­ing struc­tur­al racism.
"The hor­ri­fy­ing deaths of George Floyd and Ahmaud Arbery and Bre­on­na Tay­lor just brought home how much needs to be done," says Mimi Blue­stone, 350Brooklyn co-founder. ​"We [real­ized] we need­ed to do more than make a state­ment; we need­ed to begin an inter­nal inquiry into what more should we be doing."
Tama­ra Toles O'Laughlin, North Amer­i­ca region­al direc­tor of 350​.org, says the orga­ni­za­tion redi­rect­ed its resources toward engag­ing its (main­ly white, U.S.) mem­ber­ship with the Black Lives Mat­ter move­ment after George Floyd's death. The group raised more than $100,000 in three days for bail funds, pub­lished a pledge to stand for Black lives and dis­sem­i­nat­ed a resource guide to ​"dis­man­tle white supremacy."
O'Laughlin cred­its 350.org's swift response to the peo­ple of col­or in its key lead­er­ship posi­tions, the absence of which may have held its local chap­ters (and oth­er cli­mate groups) back.
"I think it's tak­en gen­er­a­tions of Black peo­ple com­ing into that space," O'Laughlin says. ​"Indige­nous peo­ple push­ing for sov­er­eign­ty, and ask­ing to be brought to the place where deci­sions are made — not just [to be] win­dow dressing."
The group is vir­tu­al­ly all-white and may have (unin­ten­tion­al­ly) deterred peo­ple of col­or from join­ing. Although Geor­gi Page, one of the facil­i­ta­tors of 350Brooklyn's racial equi­ty inquiry, acknowl­edges she was one of few Black peo­ple on staff when she joined the organization's steer­ing com­mit­tee in 2019, she says her voice has been heard.
Not long after the George Floyd protests, 350Brooklyn set­tled on the cen­tral ques­tion of its inter­nal inquiry: ​"How might we be more inclu­sive and pri­or­i­tize the needs of Brooklyn's POC com­mu­ni­ties?" Design­ing a work­shop for mem­bers address­ing this ques­tion, and ask­ing local jus­tice orga­ni­za­tions about what 350Brooklyn can do to sup­port them, are both part of the group's effort to become more jus­tice-ori­ent­ed. ​"None of these issues can be dealt with unless we are unit­ed and are work­ing across issues and across com­mu­ni­ties," Blue­stone says.
Yeampierre believes that, after years of plead­ing, these move­ments are align­ing at last. For exam­ple, mul­ti­ple mem­bers of the Cli­mate Jus­tice Alliance are now col­lab­o­rat­ing with the Move­ment for Black Lives. And in July, the Move­ment for Black Lives cre­at­ed its mod­el Breathe Act, which calls for police depart­ment funds to be redi­rect­ed to com­bat envi­ron­men­tal racism, among oth­er measures.
"The fact that we're at that table," Yeampierre says, ​"and that we're shar­ing lit­er­al­ly a life's work of com­mu­ni­ties all over the coun­try … that's real­ly powerful."
CAMILLE WILLIAMS was an edi­to­r­i­al intern at In These Times and is a jour­nal­ism stu­dent at North­west­ern University.
December 2020, In These Times, Gulf South for a Green New Deal.
Like the nation­al Green New Deal (GND) res­o­lu­tion, the Gulf South GND pro­pos­es slash­ing plan­et-warm­ing emis­sions through an ener­gy tran­si­tion with well-pay­ing union jobs, hous­ing, trans­porta­tion and health­care for all. But the Gulf South plat­form goes fur­ther, call­ing for an end to pipeline con­struc­tion, divest­ment from region­al mil­i­tary instal­la­tions and repur­pos­ing fos­sil fuel infra­struc­ture for renew­able ener­gy. It also demands food sov­er­eign­ty, repa­ra­tions for Black, Brown and Indige­nous peo­ple, and the redis­tri­b­u­tion of unpol­lut­ed lands to mar­gin­al­ized groups. 
The plat­form ​"out­lines what the Green New Deal would need to suc­ceed in the South and, there­fore, nation­al­ly," says Emma Collin, direc­tor of pro­grams for the not-for-prof­it Gulf Coast Cen­ter for Law & Pol­i­cy (GCCLP), which coor­di­nates the ini­tia­tive. No cli­mate plan can win mate­r­i­al gains with­out lead­er­ship from ​"peo­ple who work in the ener­gy indus­try, who have lived through cli­mate dis­as­ters, and who have been on the front lines of a lot of America's dark­est his­to­ries," she says.
Local farm­work­ers, fish­er­folk, labor groups and Indige­nous nations cre­at­ed the plat­form, meet­ing over six months in 2019 to decide what they liked about the nation­al GND and what was miss­ing from it. The result lays out a long-term vision that the platform's more than 150 sig­na­to­ries, includ­ing Sun­rise Move­ment, are orga­niz­ing around.
The GCCLP sub­mit­ted the plat­form to the House Select Com­mit­tee on the Cli­mate Cri­sis and oth­er pol­i­cy-mak­ing bod­ies, but sig­na­to­ries are plan­ning state and region­al cam­paigns. Nurs­es, teach­ers and oth­er front­line work­ers — many non-union — have led much of the orga­niz­ing, while indus­tri­al unions have been more reluctant.
"How do you sell the refin­ery hole watch­er" on the Green New Deal, Minor asks. ​"They hear ​'change' and what that real­ly says to them is ​'cut.'"
But change is inevitable. With near­ly 4,300 orphaned oil and gas wells in Louisiana (and more infra­struc­ture to be aban­doned as Covid-19 slash­es oil rev­enues), the Green New Deal's wager is that a planned, demo­c­ra­t­i­cal­ly man­aged tran­si­tion will be bet­ter for work­ing peo­ple than a chaot­ic, cor­po­rate retreat.
"I use that old union phrase, ​'If you're not at the table, you're on the menu,' " says Ryan Pol­lock, an elec­tri­cian and orga­niz­er with IBEW 520 in Austin, Texas. In 2019, Pol­lock per­suad­ed the Texas AFL-CIO to pass a Green New Deal-style res­o­lu­tion. While indus­tri­al work­ers are warm­ing to GND pro­pos­als, he says, they need to get much more mil­i­tant. ​"We've let our­selves be on the menu far too often."
Cli­mate dis­as­ter rais­es the stakes. After Hur­ri­cane Ivan struck a Louisiana drilling plat­form in 2004, oil poured into the Gulf for 16 years. Kat­ri­na spilled 8 mil­lion gal­lons of oil. When Har­vey hit Texas in 2017, mil­lions of gal­lons of chem­i­cals entered water­ways. In Port Arthur, Texas, refin­ery oper­a­tors burned what was left in their pipes to pre­vent clog­ging, send­ing tox­ic gas over the city, accord­ing to local com­mu­ni­ty orga­niz­er Hilton Kel­ley. Weeks lat­er, a near­by Valero refin­ery caught fire.
"We have to get real about chang­ing the dynam­ics around how we get ener­gy," Kel­ley says. ​"Because the old way is killing people."
Gulf states sup­ply 75% of the country's liq­uid fuel and 125,000 miles of pipeline snake across Louisiana alone, but far few­er peo­ple work in fos­sil fuel than the indus­try claims. ​"It's sort of this mythol­o­gy … that the petro­chem­i­cal indus­try is what makes Louisiana work," says Dar­ryl Malek-Wiley, an orga­niz­er with Sier­ra Club's Envi­ron­men­tal Jus­tice and Com­mu­ni­ty Part­ner­ships Pro­gram. In real­i­ty, pol­lut­ing indus­tries have ​"tak­en most of the wealth and shipped it some­place else."
In Lake Charles, peo­ple are ​"slow­ly but steadi­ly" con­nect­ing the dots between extrac­tive indus­try and cli­mate dis­as­ter, Minor says. Collin hopes the Gulf South GND can make those con­nec­tions clear­er, adding that the GND brand­ing is less impor­tant than what it hopes to do.
"The win," Collin says, ​"is mate­r­i­al change."