FEBRUARY 26, 2021 PETRA HANNEN from pv magazine Germany Photovoltaic systems for single-family homes reduce electricity-related CO2 emissions of the households by 45%, according to EUPD Research. When a battery is added the CO2 emissions can be reduced by up to 85%. RESIDENTIAL PV GERMANY https://www.pv-magazine.com/2021/02/26/batteries-double-co2-savings-of-households-with-pv-systems/
Good for the climate: a photovoltaic system. Even better for the climate: a photovoltaic system linked to battery storage.
German-based market and economic research company EuPD Research has conducted an analysis on behalf of German storage manufacturer E3 / DC to determine how much the addition of a home storage system to a residential PV system can reduce CO2 emissions.
The analysis considered the case of a household consuming 4,500 kWh of electricity per year and having installed a photovoltaic system with a capacity of 7.5 kW. Compared with a full grid power supply, the household is claimed to reduce its CO2 emissions by 45% with the solar array only, without taking into account the feed-in of excess solar power. If the system is linked to a battery storage system with a net capacity of 8 KWh, emissions are reduced by 79%. With a capacity of 12 kWh, emissions can be reduced by 85%.
In a second scenario, the analysts assumed that the household also installed a heat pump, which increases its power consumption to 8,300 kWh. Without a home storage system, CO2 emissions fall by 32% with a 7.5 kW system, and by 52% with an 8 kWh storage system.
With a 10 kW PV system and 12 kWh of storage, emissions are reduced by 60%, while with an array of 15 kW linked to 15 kWh of storage result in a 71% reduction.
Finally, the experts added an EV recharging unit to the scenario and found that the household's electricity consumption reached 9,800 kWh. Without storage, a 7.5 kW photovoltaic system reduces CO2 emissions by just 28%, but with a 15 kW system and a 15 kWh storage system, emissions can be lowered by 69%.
"The increase in the output of photovoltaic modules that has been observable for years already allows system sizes of 10 to 15 kW peak on conventional single-family house roofs," says Martin Ammon, project manager and managing director of EUPD Research. "A significant increase in the installed solar output in combination with the corresponding storage capacity is the prerequisite for meeting the requirements of the energy transition in the household."
**
Stable Homes, Healthy Communities: How rent stabilization will support a healthy Colorado
Stable Homes, Healthy Communities: How rent stabilization will support a healthy Colorado
Materials
En Español
Related Links
Project Partners
December 2020
We partnered with United for a New Economy and 9to5 Colorado to research how the housing instability crisis in Colorado impacts the health of low- and moderate-income renters, and developed policy recommendations to repeal the statewide ban on rent stabilization policies in support of public health and equity.
Overview
Strong communities need stable, safe, and affordable housing that supports the health and well-being of the people and families who live there. But across the country, landlords have raised rents rapidly while incomes for low- and middle-income renters have stagnated, leaving many renters struggling to meet basic needs and facing ongoing housing instability. This is especially true in Colorado, where lawmakers have not taken meaningful action to address the rental affordability crisis. And due to structural racism and discrimination in housing and employment, Black and Latinx renters are disproportionately harmed.
We conducted the majority of research for this report before the COVID-19 pandemic, which has further magnified and revealed the persistent housing insecurity that many renters already experience. Rent stabilization policies are one key opportunity for state and local governments to provide immediate stability for renters, and to support healthy communities in the long term.
In this report, we present findings about how rising rents and housing instability affect renters' health in Colorado, including the results of a survey with 212 low- and moderate-income renters across the state. Half of the renters we surveyed reported that their landlords had raised the rent within the past 2 years. The average increase was 9%, or $113 per month, while the largest was $450 per month, a 38% increase.
THE PROBLEM: RISING RENTS IN COLORADO HARM HEALTH AND EXACERBATE RACIAL INEQUITIES
Families have less money for basic needs
When landlords raise rents without limits, tenants have to make hard tradeoffs. When housing isn't affordable, people are more likely to cut back on basic needs that are critical for health, like food, healthcare, and education. Among the renters we surveyed, nearly 3 out of 4 reported spending less on food in order to pay rent.
Rising rents lead to housing instability and chronic stress
Unaffordable housing is closely linked to housing instability, including evictions, which can have cascading effects on health, employment, children's educational attainment, and future housing opportunities. Renters who responded to our survey experienced ongoing stress and worry about housing instability, especially if their landlord had raised the rent recently. This can contribute to chronic stress, which in turn can cause or worsen chronic health conditions like depression, heart disease, and diabetes. Involuntary or frequent moves can also negatively impact children's mental health and their educational attainment — which is a major driver of adult health outcomes.
Lack of stable and affordable housing contributes to racial injustice
Historical and ongoing housing discrimination and income inequities mean that Black and Latinx households are more likely to rent their homes and to spend huge portions of their incomes on rent, which further exacerbates racial inequities. In Colorado, 45% of White renter households are rent burdened, compared with 56% of Black households and 59% of Latinx households. Increasing housing stability for renters is crucial for building a more racially just state.
THE SOLUTION: ALLOW CITIES TO ADOPT POLICIES THAT SUPPORT RENTER HEALTH BY REMOVING COLORADO'S BAN ON RENT STABILIZATION
Rent stabilization limits how much landlords can increase rent each year, and well-designed policies contribute to just housing systems that support healthy communities. But in Colorado, state lawmakers prevent cities and towns from adopting rent stabilization policies that work for their local context, through a state preemption (or ban) adopted in 1981. Repealing this ban would shift power and agency to tenants, and strengthen community health. It would also give cities the freedom to pass policies that support renters' health based on what makes sense in their localities.
Recommendations for rent stabilization
Repeal Colorado's statewide ban on rent stabilization.
Create strong and equitable rent stabilization policies at the municipal or county level
Cities and counties can ensure that rent stabilization is effective and supports overall housing stability and health through:
Complementary policies like just-cause eviction laws, limits on condominium conversions, and proactive code enforcement
Covering as many renters as possible by including single family and mobile homes
Strong public oversight
Incorporating rent stabilization into a comprehensive housing strategy to preserve and create new affordable housing
**
February 17, 2021
The Industry Agenda: Fossil Fuel
Dorothy Slater2020 Election/TransitionClimateFinancial Regulation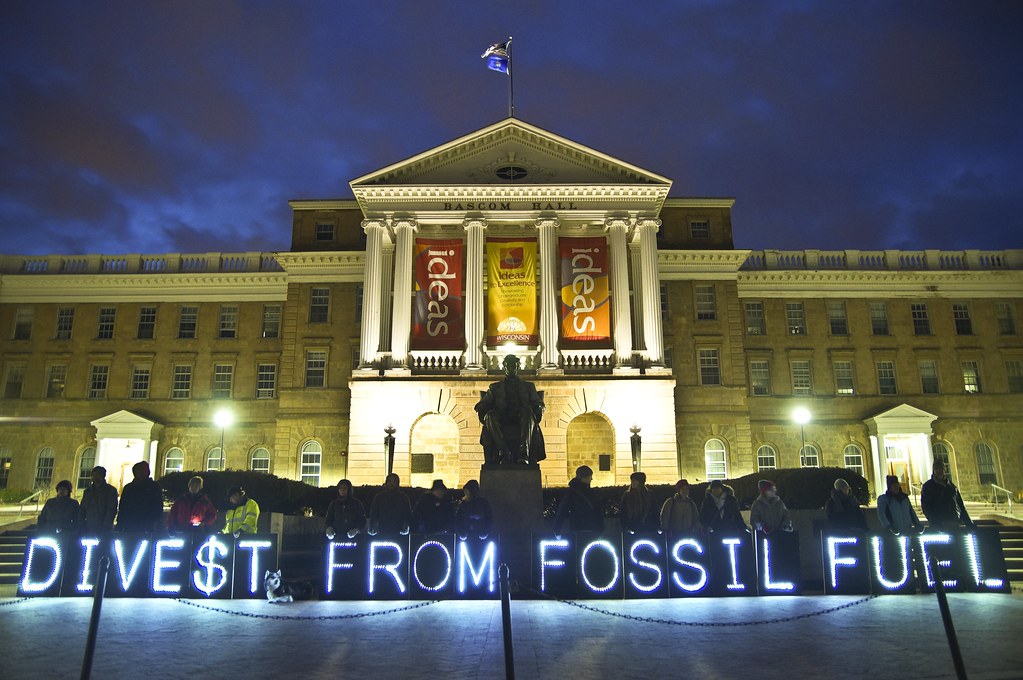 RDP's Industry Agenda series will explore how different industries seek to influence executive personnel decisions.
Introduction
The fossil fuel industry is one of the most notoriously profit-hungry and planet-destroying sets of corporations to exist today. The "fossil fuel industry" includes oil, gas, (yes, even the "natural" kind), and coal companies, as well as subsidiary companies involved in the extraction processes for these materials: land and off-shore drilling, fracking, and underground and surface mining.
The largest of these corporations include Chevron, ExxonMobil, BP, Shell, and Peabody Energy, and the small group of corporate executives running them are quite literally profiting from planetary death; only 20 fossil fuel companies are responsible for 35% of the greenhouse gas emissions leaked into the atmosphere since 1965. Just four oil companies (Chevron, Exxon, BP, and Shell) made almost $2 trillion in profits between 1990 and 2020.
Those supercharged profits came at the expense of climate breakdown, a fact fossil fuel industry actors have known for over 60 years. As Exxon and other oil companies realized that a public understanding of climate science and the stakes of inaction would cut into (and likely, ultimately eliminate) their profit margins, they spent several billion dollars to wage misinformation and denial campaigns to avoid government regulation.
When climate denial finally became untenable, fossil fuel companies switched to a new strategy: admitting that climate change is real but arguing that oil, gas, and coal are still necessary for economic growth (false), exaggerating the job losses that would come from fossil fuel phase-out, and arguing that increasing fossil fuel production is compatible with a path to net-zero emissions (spoiler alert: also false). Today, fossil fuel companies continue to invest in an oil and gas-centric future while throwing pocket change at "innovative" climate solutions.
All of this is to say that today, the fossil fuel industry is hanging on for dear life to continue profiting off climate carnage. The harm it causes is vicious — fracking, touted untruthfully as a "bridge fuel" to a green economy, requires and contaminates large amounts of surface water, induces earthquakes, and releases toxic chemicals, noxious fumes, and methane, a greenhouse gas more potent than carbon dioxide. Rising global temperatures caused by carbon emissions are causing deadly natural disasters and forcing people from their homes. Fossil fuel processing plants and subsequent transportation needs are leading to toxic air pollution that kills nearly 9 million people per year (equalling about 1 in 5 premature deaths worldwide). Entire species are going extinct. There will surely be increasing droughts, famines, and human conflict as a result.
Of course, there are other climate change-causing and polluting industries: corporations profiting from deforestation, plastic creation, overproduction of toxic materials, etc. For the sake of efficiency, this report focuses only on fossil fuels.
The science is clear: we must stop burning coal, oil, and gas as soon as possible in order to avoid the worst impacts on our climate. A 2018 report by the Intergovernmental Panel on Climate Change found that a) the difference between a planet warming 1.5℃ and 2℃ is enormous, with every increment above pre-industrial levels significantly worsening the risk of drought, floods, extreme heat, and poverty for the global population, b) carbon emissions must be cut by 45% by 2030 and be at net zero by 2050 to have a 50% chance at keeping temperature rise to 1.5℃, (note that it was industry pressure that led to the inclusion of "net" in "net zero"), c) that this will require "rapid and far-reaching transitions in energy, land, urban and infrastructure (including transport and buildings), and industrial systems", and d) that these rapid and far-reaching transitions are both affordable and feasible. It is also important to remember that these figures are global goals; wealthy countries such as the United States and megacorporations like BlackRock must decrease emissions at a much faster rate to allow poorer countries the wiggle room they will desperately need.
The stakes could not be higher. Any lingering excuses for inaction are foundering under the weight of the coming crisis. Fear of the cost — arguably one of the principal remaining obstacles — is no exception. A new report shows, in a refreshing bout of common sense, that likely voters favor retaining a livable planet over economic growth by a 57-point margin (73% prioritize climate, 16% prioritize economic growth). What's more, doing nothing about the climate crisis is the most expensive option.
Luckily, the federal government wields extensive power to regulate the deadly fossil fuel industry and push us towards a green, just transition — if only it is willing to use it. Industry actors are naturally going to fight climate action every step of the way, including by working to place industry-friendly figures in key roles. That makes vigilance against revolving door appointees and advocacy for climate champions for climate-relevant roles (read: nearly all executive branch roles) all the more important. Put simply, a handful of oil tycoons' desire to profit does not matter more than sustaining life on earth. Yet it will take every ounce of political pressure a democratic society can muster to keep them from outweighing life on earth anyway.
What are the executive branch issues the fossil fuel industry cares about?
Which agencies is the fossil fuel industry seeking to influence?
Green policies like the above represent an existential threat to the fossil fuel industry, and oil and gas companies will fight hard to block them. To halt climate action in its tracks, the industry will bring its full influence to bear on every relevant corner of the executive branch. These are just some of the departments and agencies we are most closely watching for signs of industry influence.
Environmental Protection Agency: The EPA can set air and water standards, regulate greenhouse gasses, set limits on carbon pollution from cars and power plants, expand federal protections of land and water, and designate funding for environmental justice initiatives, to name a few.
Department of Energy:The DOE can fund and perform research into alternative green energy sources, backstop low-interest loans into projects such as carbon removal, and set harsher emissions requirements for appliances such as light bulbs and refrigerators.
Department of Defense: The U.S. military is one of the largest global polluters, producing more greenhouse gas emissions than 140 countries. The Biden administration has announced symbolic recognition of this by declaring climate change a national security issue. Considering the huge amounts of money at stake and the fact that oil access is a major motivator for much of U.S. militarism, fossil fuel companies will surely push hard to ensure that commitments do not move beyond the realm of rhetoric to meaningful action.
Office of Management and Budget: OMB is responsible for federal budget development and execution, oversight of agency performance, and review and coordination of all major federal regulations. Pushing President Biden's budget towards carbon neutrality is the enormous task ahead of this department. OMB's oversight powers also make it crucial to holding the Biden administration accountable to its promised "whole-of-government" approach to tackling climate change. If agencies were competing for funding over creative ways to slash carbon emissions, rather than creative ways to aid corporate agendas, it would signal a sea-change in executive branch policy.
Office of Information and Regulatory Affairs: OIRA, a division of the Office of Management and Budget, is one of the least well-known but most important federal agencies, responsible for providing cost-benefit analysis for many federal regulations prior to their approval. Biden has already announced an executive order calling for this review process to be modernized, and there is enormous potential if OIRA chose to incorporate climate risk into its "cost" guidelines. The obvious benefits of remaining on an inhabitable planet should also tilt the scales heavily in its "benefit" guidelines. But watchdogs should never trust that OIRA, perhaps the single most effective choke-point for corporate lobbyists looking to strangle environmental regulations, will do the right thing without pressure.
Financial Stability Oversight Council:FSOC, the council made up of many financial regulatory agencies and led by the Treasury Secretary, could finally designate climate change as a systemic financial risk, which would allow greater federal regulation and enforcement of financial institutions. It could also choose to designate BlackRock, the world's largest asset manager and biggest global investor in fossil fuels, as a systemically important financial institution, increasing the Biden Administration's regulatory power to encourage divestment from climate-harming projects.
Department of the Treasury: The Treasury Department can withhold financial support from investments in fossil fuel projects, lead the Financial Stability Oversight Council (FSOC) in designating climate change a systemic financial risk, and act as a strong global leader on emissions standards and green energy development by subsidizing or taxing energy industries. The Assistant Secretary for Tax Policy and the Deputy Assistant Secretary for the Office of FSOC will be particularly important in these regards. Severing the oil industry's access to credit and funding will devastate its already floundering business model.
Office of the Comptroller of the Currency:As the chief federal bank regulator, the OCC can set rules applicable to Wall Street banks including establishing lending standards for individual industries. Should the OCC update its Comptroller's Handbook to tighten lending standards and scrutiny for banks subsidizing the fossil fuel industry, it will dramatically shift Big Oil's access to credit overnight.
Office of Financial Research: Housed in the Treasury Department, this office could produce reports measuring climate risk, quantifying the benefits of moving away from fossil fuels, and offer analysis to be used by other financial regulators in their climate work. Climate finance hawks differ on where and how climate financial regulatory standards should originate, but almost no one denies that OFR will have some important role to play.
Commodity Futures Trading Commission:The CFTC could incorporate climate risk into disclosure requirements for futures and derivatives markets, increase capital requirements for market actors to properly account for climate risk, and require supervisory "stress tests" for derivatives clearinghouses to take climate impacts into account.
Securities and Exchange Commission: To fight climate change, the SEC could require stock traders to disclose climate risk, work with the Department of Labor to require mutual fund and investment advisors to consider environmental, social, and governance (ESG) factors, and require other financial actors to incorporate ESG factors into their ratings and actions.
Federal Reserve:To name just a few examples of its tremendous powers, the Fed could alter interest rates in risky investments (i.e. beachfront developments, fossil fuel projects), consider climate when choosing to buy corporate debt (ideally choose not to bail out fossil fuel companies like they did in 2020), appoint reserve bank presidents with strong climate records, and require climate stress tests for regional banks.
Federal Deposit Insurance Corporation:The FDIC has oversight power over bank mergers. Considering that bank conglomerates are responsible for providing many funds to the fossil fuel industry, there is a huge opportunity here for either fossil fuels or people to come out ahead, depending on the goals of those in power. In theory, the FDIC could consider banks' fossil fuel lending records when reviewing mergers.
Department of Transportation: The DOT has the power to advance public transportation and green infrastructure projects, subsidize electric cars, fund research into other green technologies, and altogether exclude fossil fuel actors from these projects and their discussions generally if they so choose.
Department of Labor: The DOL can subsidize career training for green jobs, facilitate Biden's Civilian Climate Corps, and require mutual fund and investment advisors to prioritize ESG funds for employees' retirement or pension plans.
Department of Justice: The DOJ's jurisdiction includes antitrust issues (relevant for potential fossil fuel company mergers), regulatory enforcement (relevant for making sure the aforementioned regulations are actually implemented), and prosecution of white collar and planet-destroying crimes. The Justice Department also represents every other branch of the federal government in court, meaning its lawyers will do some of the most direct squaring-off against Big Oil on individual fights that make it to court. DOJ's leadership must instill a clear understanding of the stakes to winning each of these battles — especially given the Department's history of taking weak settlements over even running the risk of losing a high-profile court battle.
National Economic Council: The NEC is responsible for coordinating strategy on implementing the President's domestic and global economic policy agenda, advising the President on economic policy, and ensuring said policy is in line with the administration's goals. Almost all executive-branch economic policymaking flows downward from the NEC to some extent, so the more time the NEC spends huddling over climate issues, the more likely climate action will actually meet the moment.
What previous work experience should raise serious questions for Biden's nominees and appointees?
Beyond simply registered lobbying, there are a number professional and personal activities that should raise concerns or disqualify individuals from serving in an administration committed to serious climate action. These include:
Working directly for a fossil fuel or fossil-fuel aligned corporation, especially after previously working in a senior executive-branch position, especially a political appointment.
Lobbying on behalf of a fossil fuel-aligned corporation, either under their direct employ or as a client at a lobbying firm.
Working for a law firm frequently or currently hired by a fossil fuel company, especially to defend the corporation against politically relevant concerns.
Either significantly investing personally in the fossil fuel sector, or advising those who do.
Working for a think tank, philanthropy, or advocacy non-profit funded significantly by fossil fuel firms or trade associations to work on fossil fuel-relevant issues.
Conducting academic research funded by fossil fuel companies, especially research on topics relevant to that firm's interests and which is flattering to the firm overall.
Conducting professional fundraising by targeting and receiving funds from executives and firms in the fossil fuel sector.
Working or serving on the board of a company that idealizes an "all-of-the-above" approach to climate action, which includes fossil fuel use.
Working or serving on the board of a company that holds investments in fossil fuels, insures fossil fuels, or encourages others to do the same.
What questions should nominees be required to answer?
In order to ensure all potential conflicts of interest are disclosed, Senators should ask the following questions of Biden's nominees during and after confirmation hearings:
Have you ever been employed by any fossil fuel corporation or fossil fuel-aligned firm, or had a fossil fuel company as a client for lobbying, consulting, legal, or other services?
Have you ever had an equity stake in any fossil fuel company, most especially those which you have advised or by which you have been employed? If so, name them.
Do you believe it is likely that any fossil fuel companies that compensated you marketed their association with you to prospective investors?
Have you ever provided policy, regulatory, or strategic advice to a fossil fuel-aligned corporation? If so, how were you compensated, and how much were you compensated? Which clients have you advised, and what was the content of your assistance?
Have you ever invested personally in fossil fuels, or professionally advised investors in a fossil fuel corporation? If so, for how long did you have this financial or advisory relationship, and are the activities of the firms in which you or your associates invested relevant to the position for which you are now nominated?
Have you ever advised or been employed by a non-profit organization substantially funded by a fossil fuel company, such as a think tank or advocacy organization? If so, were you compensated? Has this non-profit organization produced work relevant to the position for which you are now nominated? When did your employment by this organization end, and when did the organization stop marketing their association with you?
Have you ever conducted research funded by a fossil fuel company, or investors in fossil fuel-aligned firms? If so, was such research relevant to the position for which you are now nominated? Were you compensated by the firm(s) or investor(s)?
If you have ever served in a professional fundraising role, have you raised funds from a fossil fuel-aligned company, or its major executives and/or financial backers?
If you have answered "Yes" to any of the above questions, in what ways do you expect to govern or regulate on issues relevant to the firms with which you have a past association? Do you predict that these firms will materially benefit from your governance decisions?
Will you commit now to not pursue nor accept employment, compensation, or other professional benefit from fossil-fuel aligned corporations after you leave this role? Regardless of your answer to the previous question, what do you predict you shall pursue professionally after your time in government service?
Do you think an association with a former regulator or political actor helps a firm convince investors or clients that it is legitimate, law-abiding, and effective at lobbying?
Do you believe fossil fuels — including oil, natural gas, and coal — have a place in a just transition?
How do you plan to utilize your power to quickly transition the U.S. economy away from fossil fuels, in line with a 1.5℃ warming target?
Do you believe industry actors — including but not limited to oil, gas, and coal companies — have a role in transitioning our economy to renewable energy? Do you take industry figures' claims that they want to be part of a just transition and believe in decarbonization to be made in good faith?
See also our work on climate questions Senate-confirmed nominees should be required to answer.
Who are the fossil fuel allies seeking administration jobs?
The following individuals with connections to the fossil fuel sector have been floated for top jobs in the administration.
Anita Dunn: Following her time in the Obama administration, Dunn's public relations firm SKDKnickerbocker represented TransCanada, which was developing the Keystone XL pipeline, as well as Dominion Energy, the Association of American Railroads (freight railroads are used to move tar sands,) and Amazon. She has publicly argued that corporations should be treated as people under the law.
Jamie Gorelick: A WilmerHale partner and Amazon board member, Gorelick represented BP before the Justice Department following the Deepwater Horizon spill, where she successfully negotiated the federal government out of holding BP liable for economic harms to the region. Gorelick is close friends with Merrick Garland, who worked for her when she was the Deputy Attorney General under Bill Clinton.
Jason Bordoff: Informal adviser to Biden who serves on the National Petroleum Council, an Energy Department advisory group made up of oil and gas industry CEOs. Bordoff is also the founder of Columbia University's Center on Global Energy Policy, which has received funding from fossil fuel companies. As an energy and climate appointee to Obama's National Security Council, he argued in favor of increasing oil and gas exports.
Ernest Moniz: Prior to serving as Secretary of Energy under Obama, Moniz advised BP, served on the Board of gas utility Southern Company, which funded climate denial and campaigned against the Clean Power Plan, and founded a think tank funded by oil companies dedicated to preventing the Green New Deal from being enacted. He also invests in energy companies side-by-side with former oil executives at private equity firms like Angeleno. He is a prominent proponent of the "all-of-the-above" approach, which includes fossil fuels.
Heather Zichal: Zichal was "Climate Czar" in the Obama Administration in 2011 when she cleared the regulatory landscape for fracking and natural gas exports. After her government role, she took a lucrative board member position with gas company Cheniere and worked for the Atlantic Council's Global Energy Center, which was funded by the Saudi and Emirati state oil companies and recommended expanding oil and gas exploration.
Amos Hochstein: Hochstein was an Obama-era State Department appointee who worked to secure access to global oil fields for American fossil fuel companies. Prior to the Obama Administration, Hochstein was the Senior Vice President of Marketing at Tellurian, a natural gas company, until September 2020. He has advocated for natural gas expansion and said oil and gas companies should continue to provide energy for several decades.
Ken Salazar: Salazar led the Interior Department during the BP oil spill, before which he had exempted the Deepwater Horizon rig from an environmental review. Even as Salazar was publicly proclaiming renewed scrutiny of offshore oil rigs, he was approving new permits for offshore drilling. His promised revamp of Interior's drilling oversight section merely rearranged a few offices and did not substantively shift enforcement priorities. Salazar has consistently advocated against federal climate change action and higher fuel efficiency standards and in favor of increased oil and drilling subsidies. Most recently he has been a lawyer and lobbyist with WilmerHale, BP's go-to law firm. There, he has helped ease regulation and oversight of fossil fuel projects in his native Colorado.
Sylvia Baca: Prior to her role as chief regulator of offshore drilling rigs under Salazar, Baca was an executive at BP. The BP oil spill occurred only one year into her government stint, after which she gained direct supervision of environmental and safety inspections and leasing permits for offshore oil rigs.
Any person aligned with BlackRock (the top investor in fossil fuels), JP Morgan Chase (the top financer of fossil fuels), or Liberty Mutual Insurance (a top insurer of fossil fuel projects).
This list will be continuously updated. Any additions made after initial publishing will indicate the date added.