Rather out of date but still good info…
Barcelona already boasts a strong public transit system. Several buses, a robust metro system and a seemingly popular public bicycle program make mobility easy. In a current effort to develop a casebook of global EV activities, the Clean Energy Ministerial found that in Barcelona, only about 24 percent of the citizenry relies on personal transportation for its daily commute. Of the remaining citizens, about 42 percent bicycle or walk and 34 percent take public transport.
Still, the roads are bursting with cars, so the city has created an Urban Area Protected Atmosphere in its effort to reduce air pollution. It has seen success: By 2015 the city estimates a 20 percent reduction in nitrogen oxides emissions and 16 percent reduction in particulate matter.
Is the electric vehicle the solution to these problems? It's not a silver bullet, but EVs can still be a part of the answer for cities like Barcelona that have multiple transportation options.
As suggested in Rocky Mountain Institute's Reinventing Fire, we should begin looking at transportation in terms of a portfolio of mobility options, each chosen based on their aptness for the destination desired. When cities consider the intermodal nature of their transportation systems, they are then able to identify areas of opportunity for vehicle electrification—placing charging infrastructure in parking lots at transit hubs or working with local car-sharing programs to electrify a portion of those fleets.
It should also be noted that, though we speak a great deal about electric cars, there are excellent opportunities to electrify other forms of transportation. For instance, 40 percent of Barcelona's personal transportation consists of two-wheeled motorized vehicles—scooters and motorcycles.
To encourage adoption of electric vehicles, cities can employ a number of strategies: fund the installation of public charging infrastructure; purchase vehicles for their fleet, and offer a number of financial and non-financial incentives (tax credits, free parking, and HOV lane access, to name a few). Indeed, many cities around the world are doing just that. RMI's Project Get Ready cities have made great strides in EV readiness, as have cities including Barcelona.
But a city can do only so much. The total-cost-of-ownership benefits exhibited in EVs are attractive to some commercial fleets, but consumers' car-buying decisions are often based on emotional impulses more than logical long-term calculations. Therefore, cities should take stock of their options and weigh them according to resource demand and anticipated impact. In other words, which measures will have the most bang for the buck?
Here in the U.S., where we have fewer public transit options, vehicle electrification offers an alternative that mitigates pollution, reduces oil dependence and supports a growing, job-creating industry. But there is much to learn from Barcelona and other cities, such as Stockholm or Amsterdam. Through exchanging lessons learned in EV readiness, cities around the world will find new and innovative approaches to mobility as a whole.
**
The electric car market is set to enjoy a big boost in Stockholm, thanks to a 62 million (SEK) grant from the Swedish Energy Agency.
The grant will go to a joint venture led by the city of Stockholm and the Swedish energy company Vattenfall, which are working together to promote the adoption of electric cars. The government funds could enable the largest purchase of plug-in cars yet in Sweden.
"Today there is tug-of-war to become a prioritised country for the electric car producers and this grant will contribute considerably to putting Sweden on the electric car map," said Göran Lundgren, who heads the electric car project at Vattenfall. "Before a market is established, electric cars are expensive to produce and to buy, and therefore initial support is needed."
Ulla Hamilton, Stockholm's environment and traffic commissioner, added, "Energy efficient and silent electric cars with low emissions are needed in the Stockholm traffic. Stockholm is a world leader in the use of environment friendly cars, to a great extent because of our previous purchasing of environment friendly cars. Now we hope that we may in the same way inspire more companies in Stockholm to switch to electric cars."
"With this venture we hope to speed up the development away from dependence on oil and from the greenhouse gas emissions from the traffic in the cities," noted Tomas Kåberger, director-general of the Swedish Energy Agency.
The grant-funded electric car programme will move forward in phases, with an initial fleet of 50 vehicles. Public- and private-sector customers who apply for electric cars by August will get the chance to recoup 25 per cent of the vehicle's added cost — up to a maximum of SEK 100,000. Vehicle deliveries will take place later in the year.
Eventually, the programme aims to support the purchase of 6,000 electric cars, with future deliveries set for 2011 and 2012.
A study conducted before the grant found that more than 100 companies and organisations in the Stockholm area were interested in acquiring electric cars, with support for some 14,000 vehicles.
**
Amsterdam continues to lead the charge for electric transport (2016)
Electric transport is arguably more prolific in Amsterdam than in any other city in the world, with the city recently winning its second e-visionary award at the World Electronic Vehicle Symposium. Amsterdam is set to continue with the charge, as outlined in 'The Electric City' edition of Plan Amsterdam.
Amsterdam sparks electric-car movement
It's no secret that the Netherlands is an electric-transport-friendly country; in fact, it has the second largest fleet of plug-in electric vehicles per capita in the world. You can't walk down a street in Amsterdam without seeing an electric vehicle or their charging stations, so it's unsurprising that Amsterdam's city council recently received its second e-visionary award at the World Electric Vehicle Symposium in Montreal. The jury of the World Electric Vehicle Association were highly positive about the city, too: "the targets and the ambitious timing set for zero-emission taxis, buses, small delivery vehicles, light vehicles and even boats are world leading and an example to all cities."
Plan Amsterdam: 'The Electric City'
The City of Amsterdam is by no means done with pioneering electronic transport. The 'Electric City' edition of Plan Amsterdam recently outlined further measures to solidify Amsterdam's world-leading position. Amsterdam will positively reinforce business experimentation in the area of electronic transport, offering special privileges and subsidies to businesses and startups that want to develop and improve technology in the sector. Amsterdam has consistently supported startups and innovation – actively striving to become a smart city, and these new measures on electric transport look to continue that trend.
The document also goes into detail about how Amsterdam plans to: dramatically increase the number of charge points in the city, invest in more efficient and environmentally friendly public transport, become a zero-emissions city by 2025, and more. Find out more on the plans and measures by reading the full Plan Amsterdam issue.
Discover general information on electric transport in Amsterdam and the Netherlands.
**
Decarbonizing transportation is a hot topic on the European agenda, and the Dutch are going all in on the transition to electric vehicles.
What do I mean by "going all in"? The Dutch political leadership is pushing at all levels, and they appear to be implementing nearly every electric vehicle promotion action that researchers like us have identified as best practices for e-mobility.
The Netherlands has set a target that all new passenger vehicle sales are to be zero-emission capable vehicles by 2035. Some policymakers are even unsatisfied with that: the lower house of the Parliament has called for a ban on gasoline and diesel vehicles in the Netherlands by 2025. Along with California, Norway and others, the Netherlands is one of the founding partners of the ZEV Alliance, in which members collaborate, share best-practice learning, and in general work to build greater economies of scale and accelerate the transition to a global electric vehicle market. The city of Amsterdam aims to become the first emission-free city in Europe by implementing a wide portfolio of pro-electric vehicle measures. Those include a plan for a full shift to all electric buses by 2025 and an agreement for a zero-emission taxi fleet by 2025.
And the Dutch are backing all this up with targeted actions. A national system of fiscal incentives provides significant motivation for automakers to deploy, and consumers to purchase or lease, electric vehicles. Exemptions from national taxes make average electric vehicles comparable in cost to their conventional counterparts (for an earlier take on this, see here). And the country has managed to create a nearly universally interoperable payment system for EV charging stations, greatly reducing confusion and frustration when electric vehicle users are seeking a public plug for a quick recharge.
What does the Netherlands have to show for this political leadership? In Amsterdam, the effects are visible everywhere. Most of the taxis I saw at the airport were Tesla Model S (part of taxi fleet of 167 such Teslas). Nissan also has 170 electric Leaf and eNV200's in circulation, and electric vehicles are given taxi line preference at Amsterdam Central Station. And you'll see preferential electric vehicle parking and chargers everywhere, not only as you walk the busier streets but on the cobblestoned streets running along the canals as well. The Netherlands is among the world leaders in electric vehicle charging infrastructure per capita, and Amsterdam will more than double its number of charging points from 2015 to 2018, up to 4,000 units. For perspective: Amsterdam's population is about the same as that of Columbus, Ohio, or Indianapolis, Indiana, which have 60–120 public chargers. And that infrastructure is placed where it's needed: the public chargers are located where drivers are requesting their installation. In addition, the city uses its procurement policies to steer local deliveries toward low-emission vehicles and also aims to phase in further restrictions for its low-emission vehicle zone in the urban core through 2018.
Not only are electric vehicles in evidence everywhere you look in Amsterdam, but the national data from 2015 show that the work is also paying off on a grander scale. In 2015, approximately 10% of new cars sold in the Netherlands were plug-in electrics (see figure below). In terms of national sales share of electric vehicles, this is second only to Norway, the perennial global leader with over 20% in 2015.
Plug-in electric vehicles sales share in Europe, the Netherlands, and Norway.
Of course, this isn't to suggest that the electric vehicle market in the Netherlands doesn't still face challenges to its development. Because so many households in Amsterdam (and other cities) are multi-unit dwellings without garages, sufficient public charging is even more important there than in other markets. Also, the Dutch are acutely aware of the dangers of plug-in hybrid electric vehicles that aren't being plugged in enough. This is an especially important question in the Netherlands because it has such a high proportion of plug-in hybrid vehicles compared to full battery electric vehicles (see figure).
But caveats notwithstanding, there are few places on the planet where you can observe the transition to an electric vehicle fleet more clearly than here. Amsterdam is on its way toward becoming liberated from one more thing: combustion automobiles.
**
Christian Science Monitor
Netherlands looks to ban all non-electric cars by 2025
The Netherlands may not be a model of energy efficiency today, but some bold proposals may help the country become one.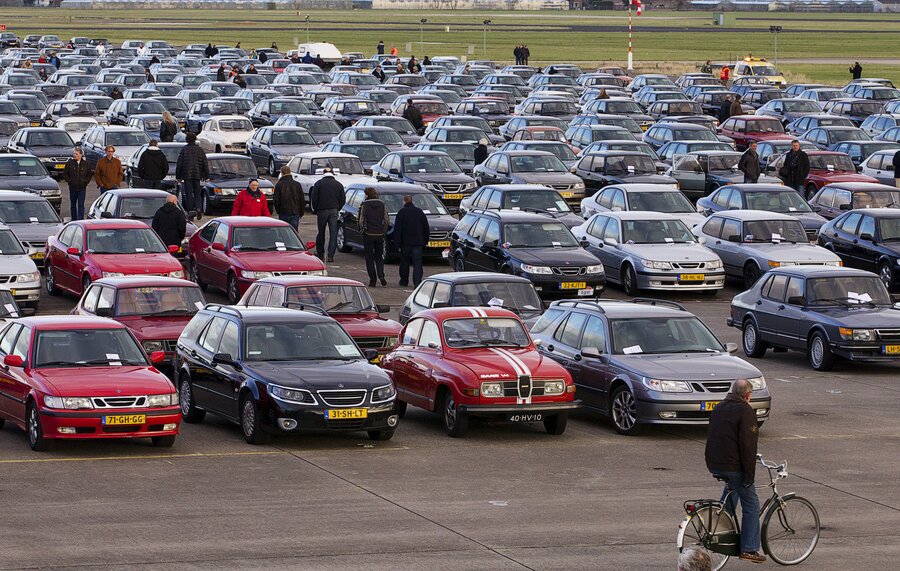 Michael Kooren/ReutersVisitors look at various Saab car models on display at the former Valkenburg Airbase, near the Hague, Netherlands, in this January 15, 2012 file photo.
April 14, 2016 By Story Hinckley Staff @storyhinckley
By 2025, the Netherlands may only allow electric vehicles on the road.
A majority of elected officials in the Tweede Kamer, the lower house of Parliament, supported a motion proposed by the Labor Party (PvdA) to ban all diesel and petroleum cars from the Dutch market starting in 2025. If enacted, this proposal would allow existing fossil fuel-powered cars to stay on the road until they died, but when it comes to new sales, only electric cars would be permitted.
"We are ambitious, perhaps other parties are less so," PvdA leader Diederik Samsom told the local NL Times.
While it is still unclear whether or not the motion will pass, some electric enthusiasts see the proposal as progress all the same. This law would not only affect Dutch drivers, but would also require more electric vehicle output from car manufacturers, and potentially destigmatize electric vehicles as a niche purchase.
"One big thing that's preventing more people from buying [electric cars] is awareness – people just don't know about them," Joel Levin, executive director of Plug In America, tells The Christian Science Monitor in a phone interview Thursday. "It is a pretty big shift for how you think about your car."NASA eyes the ocean: How the deep sea could unlock outer space
But this proposal doesn't mean that the Netherlands is a model of energy efficiency – yet. Rather, it's one of the most carbon-intensive countries in the European Union, according to a 2015 study by Deloitte. Natural gas and petroleum make up the majority of the Netherland's energy resources at 41 and 42 percent respectively, with solid fuels coming in third at 10 percent and finally renewable energies making up five percent of the overall energy mix.
In 2012, the transportation sector consumed the most energy of all sources, constituting 29 percent of all consumption in the Netherlands. In the United States, by comparison, transportation represents 27 percent of the country's consumption, according to a 2015 report from the Energy Information Administration.
This isn't the first time that the Netherlands has announced an ambitious energy-saving goal in transportation technology.
The Dutch energy company Eneco, partnering with VIVENS rail companies, announced a plan in 2015 to make a fleet of trains powered entirely by wind energy within the next three years. And for almost a year now, the Netherlands has boasted the world's first solar road, a bike path made of solar panels that generates enough electricity to power a small home for a year. The Netherlands has also announced plans to pave roads with recycled plastic, which they market as durable and low maintenance, with a smaller environmental impact than asphalt production.
And while these proposals may be more experimental, advocates say electric vehicles have real potential.
"For people who are aware [of electric cars], there are a few myths," Mr. Levin says. Primarily, many people have the misconception that electric vehicles are expensive, slow, unsafe, and inconvenient.
"They are not fancy cars for rich people – there are many affordable ones. And if you compare apples to apples, the total coast of ownership is very competitive," he explains.
Along with these myths, there are also a lot of positives that gas or diesel-powered cars don't experience. "Apart from any environmental benefits, they are a pleasure to drive, there is tremendous power," he says. "And maintenance is low – there is no engine, so if you change the brakes and batteries, nothing really could go wrong."
Charging is easy, he adds; it can be done at home overnight. "People worry about running out of power, but the [drivers] that run out of power are the same ones that run out of gas."