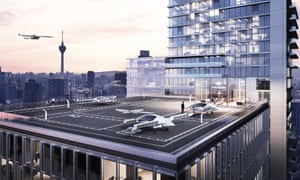 A little white winged pod lifts itself off the ground and glides off into the distance. The whole movement looks effortless. It's like watching Luke Skywalker's Landspeeder – except we're in a nondescript airfield in Germany, not the planet Tatooine. Echoes of Star Wars perhaps help explain why last week the pod's maker, Lilium, secured $90m (£69m) investment from, among others, Chinese tech giant Tencent – although the company states its aim has more to do with solving transport problems: "We have highly congested cities and we can do things to improve matters," said Lilium's Remo Gerber. "We're trying to move from a niche transport vehicle to a mass-transport one".
Lilium is not flying solo. Prototypes by rival ventures are also passing their test flights. So the prospect of flying cars may not be all that far away. Here are six projects working towards bringing Back to the Future into the present.
Lilium

This German aviation startup, founded in 2014, is working on a five-seater air taxi jet, with the aim of making the first manned test flight in 2019.
Top speed 186mph (300 kilometres per hour).
Power Electric.
Takeoff and landing Vertical.
They say Users will be able to access city centres by calling the air taxi at the push of a button.
We say Creating the large network of landing pads on top of city buildings, as envisioned by Lilium, will take considerable time and money. With no advanced on-ground driving feature, can we even class this as a flying car?
Uber: Elevate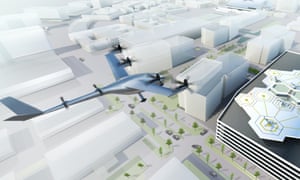 Uber has hired a long-serving Nasa researcher and plans to take its ride-sharing to a vertical level with Elevate, though it's tackling market feasibility barriers such as certification, battery technology and infrastructure first.
Power Electric.
Takeoff and landing Vertical.
They say Using distributive electric propulsion (DEP), ie, multiple small engines, the vehicle will be "barely audible", thus suitable for urban areas.
We say Uber seems to be taking a considered approach, working alongside regulators, Nasa, air traffic control and even governments before jumping in to the flying car market.
Airbus: Pop.Up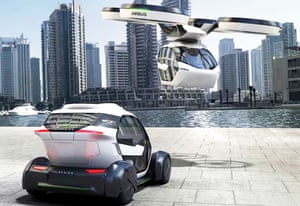 Best known for its double-decker A380 jet, Airbus premiered its solution for urban transit at Geneva international motor show in March. The Pop.Up consists of a carbon-fibre passenger capsule that functions as a two-seater electric car when attached to a chassis, or as an aircraft when a drone is summoned by smartphone to remove the capsule from the chassis.
Power Electric.
Travel distance per charge 62 miles. Capsule dimensions 2.4 x 1.4 metres.
They say A "multi-modal vehicle", rather than a flying car, Pop.Up will enables passengers to select the fastest, cheapest route through advanced AI.
We say Pop.Up requires technologies such as electric propulsion that are not yet advanced enough – so it's unlikely we'll be seeing this project turn into reality soon.
Aeromobil

Converting from a car to a plane in three minutes, this is the closest we come to the sci-fi dream. Certified for use in the EU and US, Aeromobil's Slovakian makers are accepting pre-orders for $1m, with plans to deliver the first models in 2020.
Power: Electric on road, conventional aircraft fuel in flight.
Top speed 99mph.
Takeoff and landing Vertical.
They say: It's a real flying car.
We say: It really is a real flying car! It might need a runway to take off and land, but the prospect of being able to fly somewhere and continue the journey in a viable, not-too-silly looking vehicle, is exciting.
Terrafugia: The Transition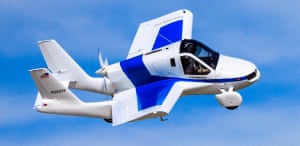 Terrafugia's "roadable aircraft", in development since 2006, drives like a typical car on the ground and fits in a standard single-car garage. It can be pre-ordered now for $300,000.
Top speed 100mph.
Cruise range 400 miles.
Power Unleaded petrol.
They say To drive it you need a US sport pilot certificate that can be "earned in as few as 20 hours".
We say: OK, it can fit into a garage, but what if there's no runway next to the garage?
Kitty Hawk: The Flyer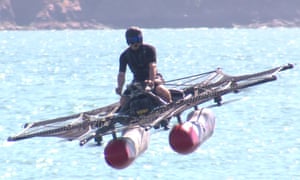 Kitty Hawk, backed by Google co-founder Larry Page, has created this open-seated, propeller-driven machine for recreational use. The retail version will be available by the end of this year. Power Electric.
Maximum flight time 22 minutes.
Takeoff and landing Vertical on water.
They say Anyone in the US can drive the Flyer as a pilot's licence isn't required.
We say The launch in April was anti-climactic: the Flyer looked more like a hovering jet-ski than a flying car. If you have a spare $5,000-10,000, it might be a bit of fun during the summer but it's not a practical transport option.