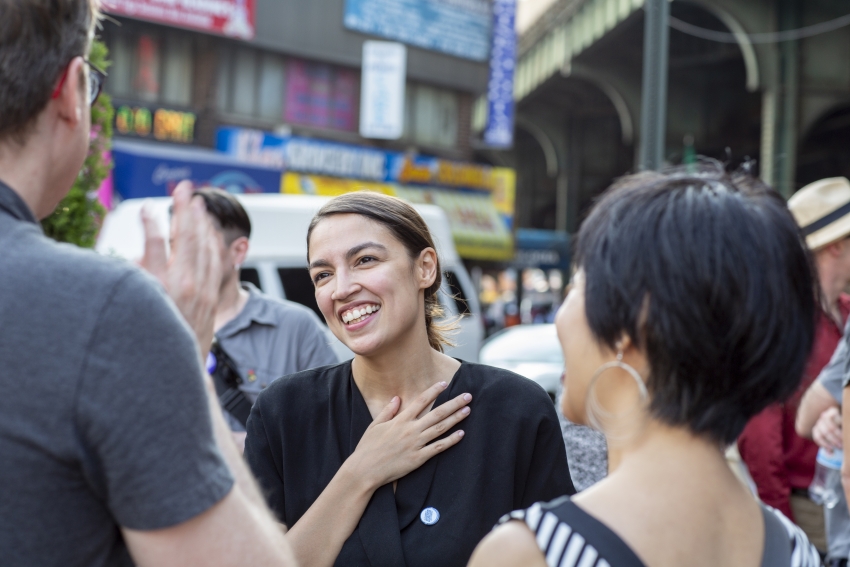 I believe that the fight for the Democratic Party is really the fight over the future of this nation. And it should go in the direction of fierce advocacy for—and accountability to—working-class Americans.
In many ways, the race to represent New York's 14th Congressional District, encompassing parts of Queens and the Bronx, is a microcosm for the fight being waged within the Democratic Party. There, incumbent candidate Joe Crowley—a creature of New York's Democratic Party machine—is facing off against 28-year-old community organizer Alexandria Ocasio-Cortez, the first primary challenger he's had since 2004.
Ocasio-Cortez supported and campaigned for Bernie Sanders in 2016 and identifies as a democratic socialist. Her campaign platform includes support for a federal job guarantee, Medicare-for-All and abolishing ICE. She has also sworn off corporate donors, while Crowley rakes in generous campaign contributions from Wall Street and real estate developers.
Though NY-14 is comprised of around 70 percent people of color, Ocasio-Cortez would be the first Latina ever to represent the district in Congress. And despite the fact that young voters are overwhelmingly more progressive and the country's largest age demographic of potential voters, the average age of Democratic congressional representatives is 61. Crowley is 56, one of the most powerful Democrats in the House and rumored to be on the shortlist to succeed Nancy Pelosi as the next Speaker of the House should the Democrats win back the House in November
With endorsements ranging from the Queens Democratic Club to the Democratic Socialists of America (DSA) to New York gubernatorial candidate Cynthia Nixon, Ocasio-Cortez is hoping Crowley doesn't make it that far. In advance of Tuesday's primary, In These Times spoke with Ocasio-Cortez about how she talks about democratic socialism on the campaign trail, why abolishing ICE matters to NY-14 and how the Democratic Party needs to change.
Kate Aronoff: Your race seems to exemplify some broader trends within the Democratic Party. How do you think the Democratic Party needs to change?
Alexandria Ocasio-Cortez: I feel like there is an unfortunate status quo issue with the Democratic Party, in that it doesn't want to actively or proactively organize. New York State is so designed around depressing the vote—not even just suppressing the vote but depressing the vote.
The Democratic Party in New York state is reliant on non-voters. And it's a place of privilege that the party here is able to come from in that they have to rely on people not voting just as much if not more as relying on their very small base of machine voters. We had one of the lowest voter turnout rate in the entire country. We're talking about one to three percent turn-out in many of our primaries. And even in the general election last year, the first year after Trump was elected, we still had some of our lowest voter turnout for city elections in recent history.
When I first started this race, people were telling me, "Only go after your triple prime voters—voters that have voted in the last three primaries. Everyone else is a waste of time." That was appalling to me. In a community like ours—we're people of color, we're working-class Americans and people who work two jobs and struggle to find time the vote—what you're essentially saying is that those people are a waste of time. When you only want to go after triple prime voters—especially in an era where voting is getting more and more difficult—you're basically saying that a smaller and smaller amount of people matter.
You're also saying that the only people that matter to you is one to three percent of our population. While I understand maximizing your efforts, I also know that the only time we create any kind of substantive change is when we reach out to a disaffected electorate and inspire and motivate them to vote. That is how Obama won and got re-elected, and that's how Bernie Sanders did so well.
If we continue to go down this course of only caring about people who have voted in the last three primaries, we're going to keep losing. I just wish our Democratic representatives cared about our communities. These communities do want to turn out, but they just aren't being spoken to. They don't feel valued because they aren't valued, and so they won't go out to vote for someone who doesn't value them. It becomes a self-fulfilling prophecy. It's not up to the voter to change that. It's up to the leadership to change that. It's up to the people seeking votes to change that and it's up to the party to change and to break that cycle.
KA: If you get to Congress, how would you hope to change those rules and make the party more Democratic?
AOC: I think that a lot of this change does have to happen from bottom-up. Ever since 2016 there have been really strong efforts to reform the Democratic Party. The Democratic Unity Commission has proposed a lot of these changes, like opening up primaries and changing some of these draconian voting registration laws. But ultimately the people in power right now, at least in New York state, rely on how things are right now. There are just a lot of folks that unfortunately—if they won't change on some of the most basic issues of enfranchisement—they need to go. In my opinion, if you're a Democrat and you're supporting a system that marginalizes the voices of working-class people, you need to be replaced.
There are a lot of people who want to defend the status quo out of safety, and say, "This is how it's been for years and in this administration we can't afford to take risks." This is a proven strategy of failure. In 10 years we've lost 1,000 Democratic seats. We lost the House. We lost the Senate. We lost the presidency. This is what playing it safe has gotten us.
I believe that the Republican Party is long gone, and the only real hope for responsible governance is the Democratic Party. So I believe that the fight for the Democratic Party is really the fight over the future of this nation. And it should go in the direction of fierce advocacy for—and accountability to—working-class Americans. That is probably a difference that I have, not only with my opponent, but with many members of the party.
KA: You identify as a democratic socialist. How do you frame that to voters?
AOC: Especially in this time, people are really not interested in -isms or parties or the names of ideologies. Sometimes when I canvas in older neighborhoods, the word progressive is a relatively new word. Older voters are like, what does that even mean? It's a similar thing with democratic socialism. I don't lead with that. I show people what we're fighting for. What I talk about is Medicare for All, tuition-free public college and housing as a human right. In my interpretation of what democratic socialist is, it is the fight for a basic level of dignity that our society refuses to violate.
When I communicate those values, I feel like I show people what our campaign is about. And then they see—whether it's on our website or with our DSA canvassers—that this is what democratic socialism is and means, it gives people a much easier understanding of that. I was actually expecting more opposition on this from my opponent, but there really hasn't been any. And I think that's because we try to stick to the issues.
KA: Speaking of some of those issues, you've come out in support of abolishing ICE. Could you say why that's important to folks in your district?
AOC: NY-14 is 50 percent immigrant, including naturalized U.S. citizens and undocumented people. Immigration is a top three issue in our community because it speaks directly to the stability of working families here. When I'm advocating for a working-class agenda, for the safety and security of working-class people, it means healthcare, housing and immigration. They're issues of, "Can I stay here tomorrow?"
If there is any seat in America that is advocating for the abolishment of ICE it should be NY14. It is a district that is 85 percent Democratic. We have very little to risk by taking bold and ambitious positions. Even for those who aren't immigrants, we are all so deeply invested in the lives and the future of immigrant families in NY-14, and everybody here cares about this issue.
KA: There's a huge Puerto Rican diaspora community in New York. In Congress, what would you hope to do in terms of the ongoing recovery from Puerto Rico, but also the ongoing austerity policies on the island and Congress's role in that?
AOC: I think there are a couple of issues. I support Sens. Bernie Sanders (I-VT) and Elizabeth Warren's (D-MA) plan for a $146 billion investment in Puerto Rico. I think that if Congress really cared and if Congress actually had a vision, we could use Puerto Rico as an example for how we can approach the ravages of super storms and climate change moving forward. Puerto Rico's entire power system has been wiped out. The little that they've rebuilt to replace it is in extremely precarious shape. I worry. My family is there, and I worry because it's now hurricane season.
Costa Rica can operate on 100 percent sustainable, renewable energy. Puerto Rico is a small island and I believe we can make those investments to make that happen. There are still homes with blue tarps on the roof. What would be transformational for so many people's lives would be just the bare minimum. Members of the Democratic Party voted to lower the minimum wage on the island to $4.25 (for workers 25 and younger). And these are American citizens. In terms of a vision I think that we need a Marshall Plan for Puerto Rico, and to switch to 100 percent renewables on the island.
It's a small enough place that we can do that, and we can show the world what recovery in an era of extreme climate change looks like. We have to start figuring that out and learning those lessons now. We certainly need to review the Jones Act, and we certainly need to repeal the Merchant Marine tax, which is creating a surging cost of living on the island. We need to get these vultures capitalists out of there, but it's hard because La Junta (the PROMESA board) is there. Congress voted to install a corporate board and remove the very little self-government and self-determination that Puerto Ricans had.
Puerto Rico is a colony of the United States. I disagree with certain Democrats on certain issues. I think Obamacare should go further, for instance, but I don't think that Obamacare was bad. It just wasn't good enough. But when it comes to Puerto Rico, I think that the Democratic Party has actively harmed the situation. When you have Democrats that are voting to lower the minimum wage, what that communicates is that we do not see you as equal people deserving the same rights as everybody else. We need to start holding people accountable for that.
KA: PROMESA was passed with bipartisan support. As a Democrat, what do you think the future of the PROMESA board—La Junta—should be?
AOC: I think La Junta should be abolished. Especially when you look at who is on it. It's lobbyists, the people who engineered the debt and took the profits from that debt and then used it to finance corporate Democratic campaigns. Those are now the people those Democrats have empowered after taking money from them, and appointed those people to government positions.
If we allow this to happen in Puerto Rico, what prevents it from happening anywhere else in the United States? Now that they've done it there, what keeps them from doing it in California, Chicago or the Bronx? Nothing. They've set the precedent, and the people that voted for PROMESA accepted that second-class citizenship is okay to impose in America. It may have been bipartisan, but it was a morally reprehensible position.
I'm not going to try and package it nicely. My grandfather died in the storm. Children are choking on air because now, since so many homes have gone without repair, fungal spores are going into the air and kids are getting asthma, and the water supply is comprised. We may have a situation that is tantamount to 1,000 Flints on the island. I don't think inaction is acceptable, especially when they voted to take responsibility for it with PROMESA. Wall Street manufactured a debt crisis to pressure people to do it. They also paid the politicians to vote a certain way. That is the crux of the problem when we accept money from private equity groups. We have a problem when we accept money from one side and then pretend that we're neutral.
It's unacceptable. I accept that I'm being outspent 10 to 1. In my personal mailbox I've gotten 10 glossy mailers for Joe Crowley. What I want people to know is that these mailers are paid for by the same people who are making money off of child detention centers on the border, opioid lobbyists and fossil fuel corporations. He is in such an electorally safe Democratic district and yet he chooses to cash in.
KA: Speaking of fossil fuels, your district includes three peninsulas and is vulnerable to sea level rise. Recent studies predict that LaGuardia Airport, for instance, could be inundated by sea level rise in the coming decades.
AOC: We need more environmental hardliners in Congress. There is an electorate here that is listening. It's kind of ironic, because the areas of the district that are experiencing the worst of climate volatility right now are actually pockets of Democrats who voted for Trump. In that case, environmentalism and addressing climate change is becoming a bipartisan issue in frontline communities. They may have voted for Trump, but they are screaming at the top of their lungs that their elected officials aren't rebuilding the crumbling seawall.
In terms of what I want to propose in Congress, we talk a lot about a Green New Deal. We talk a lot about very aggressively switching to 100 percent renewable energy as quickly as possible. We need a Marshall Plan for renewable energy in the United States. The idea that the Democratic Party needs to be moderate is what's holding us back on this. We need to be identifying our safest seat, and using those seats to advance the most ambitious vision possible that the Democratic Party wants to espouse. When people ask what the Democratic Party stands for, there often isn't an answer beyond giving everyone equal rights. That the party's "big idea" in 2018 is that people should be equal…that alone points to far how we have regressed and how little we're advancing a vision beyond that.
I don't feel like we have a Congress that is building popular support around these ideas. If we don't have that, we need to be organizing outside the chamber and organizing popular support. That's what the Republican Party has been doing while Democrats have been asleep at the wheel.
KA: You've advocated for Marshall Plans and for a federal jobs guarantee. That's a pretty different relationship to spending than the Democratic Party has adopted recently, what with Nancy Pelosi saying the Democrats will adopt a Pay-Go rule if they take back the House in 2018. How do you think Democrats should relate to budgets and spending?
AOC: I really wonder how many members of the Democratic Party actually have a degree in economics like I do. The Pay-Go plan is so indicative of a lack of understanding of how we need to grow. I'm advocating for the ideas because I have an understanding of how the economy works. If we did Pay-Go during the Great Depression, we would still be a developing nation. We need a New Deal. There has almost never been a period of substantial economic growth in the United States without significant investment. And no investment pays off within the same cycle. No investment pays off within the same year—especially a governmental investment. Even businesses don't work that way.
The idea that we're going to austerity ourselves into prosperity is so mistaken, and honestly I feel like one of the big problems we have is that, because Democrats don't have a deep understanding of or degrees in economics, they allow Wall Street folks to roll in the door and think that they're giving them an education. They're not. It's a con, and they're getting conned because they don't understand the transformative power of the purse that Congress has. It's not just Democrats. I don't think most of Congress understands how economics works.
KATE ARONOFF
Kate Aronoff is a writing fellow at In These Times covering the politics of climate change, the White House transition and the resistance to Trump's agenda. Follow her on Twitter @katearonoff
07.26.17 
Sheldon Whitehouse
AMERICAN OPPORTUNITY CARBON FEE ACT INTRODUCED IN CONGRESS
Legislation would fight climate change and generate revenue to boost the economy, help American consumers
Today, Senators Sheldon Whitehouse (D-RI) and Brian Schatz (D-HI) and Congressmen Earl Blumenauer (D-OR) and David Cicilline (D-RI) introduced legislation to place a price on the carbon pollution driving global climate change and putting Americans' health and safety at risk.  The American Opportunity Carbon Fee Act, which Schatz and Whitehouse will unveil at the American Enterprise Institute on Wednesday afternoon, would significantly lower the nation's greenhouse gas emissions while generating substantial revenue to boost the economy and aid American consumers.
"A basic principle of market economics is that the price of a product should reflect the cost of the harm it causes," said Senator Whitehouse. "That's why virtually every serious conservative expert backs a price on carbon to address climate change.  This bill would fight carbon pollution with the full power of the free market, driving down emissions and leveling the playing field for carbon-free energy.  It could also boost American competitiveness by lowering taxes for businesses, offsetting costs to families, and helping American workers in coal country and around the nation.  I look forward to presenting this bill with Senator Schatz today, and thank Congressmen Blumenauer and Cicilline for joining us to introduce it.  Now I hope our Republican colleagues join the conservative push for a carbon fee and help us move this bill forward."
Senator Whitehouse's as-prepared remarks at the American Enterprise Institute event today can be accessed here.
"A price on carbon pollution is one of the best options we have for bipartisan action, and it is one of the best options we have for tackling climate change," said Senator Schatz. "Climate change can no longer be a partisan issue.  We need bipartisan leadership, and market-based solutions have support across the ideological spectrum.  Our bill would establish a set of incentives that allows capital to flow and businesses to thrive when they use clean energy, letting the free market pick winners and losers.  The price on carbon in our bill is predictable, straightforward, and gets the carbon pollution reductions we need to fight climate change."
Senator Schatz's as-prepared remarks at the American Enterprise Institute event today can be accessed here.
Carbon pollution from human activity is changing our climate, harming our economy, health, and environment.  The United States is currently the second-largest source of carbon pollution in the world and has emitted more carbon dioxide than any other nation in history.
"If we don't act on climate now, future generations will shoulder the devastation of increased temperatures, rising sea levels, and environmental degradation," said Congressman Blumenauer. "The United States is a major contributor to global carbon pollution.  Putting a price on our emissions is critical in our fight against climate change.  Our proposal is the jumping off-point we need to put the burden on polluters and not our most vulnerable, as well as grow the clean economy and create jobs."
"Climate change is a real and growing threat to all Americans," said Congressman Cicilline. "This bill implements important strategies to address this danger and strengthen our economy. It will drive down greenhouse gas emissions and make American companies more productive in a global economy."
To ensure emitters are held responsible for the harm they offload onto the American people, the American Opportunity Carbon Fee Act would assess a fee on fossil fuels and other sources of greenhouse gases.  The fee would start at $49 per metric ton of emissions in 2018—the mid-range of the Obama Administration's 2016 estimates of the "social cost of carbon," which measures the long-term damage done by carbon pollution—and increase annually by 2 percent over inflation.  It would be assessed on fossil fuels when mined, processed, refined, or imported; on large emitters of non-fossil-fuel-based greenhouse gases; and on producers and importers of certain industrial gases with high global warming potential.  The fee on fossil fuels would be adjusted to account for methane emissions from venting, carbon dioxide from flaring, and other greenhouse gas emissions that escape throughout the fossil fuel supply chains.  The Treasury Department would assess and collect the fee, and impose border adjustments to level the playing field for manufacturers of energy-intensive goods.
A growing number of prominent Republicans have come out in support of a carbon fee, including former Treasury Secretaries James Baker, George Shultz, and Henry Paulson; former Environmental Protection Agency Administrators William Ruckelshaus, Lee Thomas, William Reilly, and Christine Todd Whitman; and leading economists and former presidential economic advisors Arthur Laffer, Gregory Mankiw, and Douglas Holtz-Eakin.
According to the independent, nonpartisan think tank Resources for the Future, the bill would reduce energy-related carbon dioxide emissions by 36 percent compared to 2005 levels by 2025.  By the middle of the next decade, it would lead the United States to beat its carbon emissions targets set forth in the 2016 Paris Agreement pledge, Resources for the Future found, and it would deliver more than twice the utility-sector carbon reductions by 2030 than the Obama administration's Clean Power Plan.
The revenue generated through the fee—an estimated $2.1 trillion in the first decade—would be used to:
Reduce the top marginal corporate income tax rate from 35 percent to 29 percent;
Offer workers an annual inflation-adjusted $550 refundable tax credit to offset payroll taxes paid ($1,100 for married couples filing jointly);
Provide Social Security and veterans' program beneficiaries and other retired and disabled Americans with an inflation-adjusted annual benefit beginning at $550; and
Deliver at least $10 billion annually in grants to states to help low-income and rural households and workers transitioning to new industries.
Earlier this year, American companies like Procter & Gamble, General Motors, PepsiCo, and ExxonMobil announced support for a "gradually rising" carbon fee—not unlike the American Opportunity Carbon Fee Act.  The corporations and conservative leaders took out a full-page ad in the Wall Street Journal stating that such a plan "would achieve significantly greater emissions reductions than all current and prior climate regulations, while helping America's businesses and workers get ahead."
Summaries of the American Opportunity Carbon Fee Act can be accessed here and here.