On March 19, 2020, GCC brought the authors and advisors working on the Equitable Adaptation Toolkit together for a virtual roundtable to discuss and inform the toolkit's development. Read more about the convening here.
About the Challenge: Equity and Climate Impacts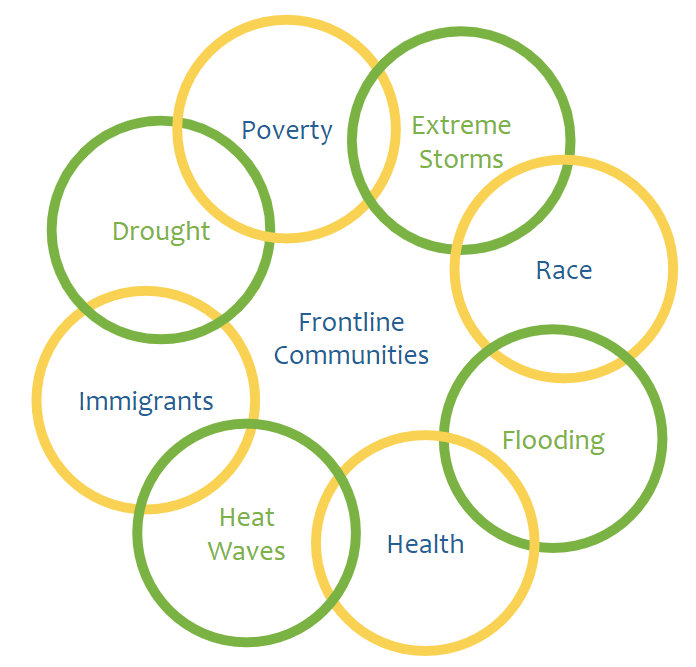 Two of the biggest challenges facing the United States are the social inequalities that put the health and well-being of disadvantaged populations at risk, and climate change. The effects of climate change—including rising temperatures in urban areas, more polluted air, and increased extreme storms and stormwater—will disproportionately affect overburdened and low-income people and communities who are already facing significant economic and social challenges. A community's success or failure in preparing for the impacts of climate change will be measured by how it is able to address the needs of those on the frontlines of impacts and those already suffering from a range of challenges including lack of economic opportunity, racism, and pollution.
For communities to be truly resilient to climate risks, they must have the resources to prepare for the coming changes, as well as the ability to withstand impacts and recover quickly after an event. Building equity into climate resilience planning involves addressing the disproportionate impacts that affect frontline communities and reversing the trends that make it harder for communities of color and low-income Americans to thrive. In practice, this involves both inclusive processes that give frontline communities opportunities to shape decision making, and a deep investment in the programs and policies that frontline communities ask for and need. Importantly, these programs and policies should address not only climate-risks, but also pervasive stressors such as lack of educational and economic opportunity and threats from displacement and gentrification.
To help communities address challenges of climate resilience and social inequality, the Georgetown Climate Center is partnering with leading experts to develop an Equitable Adaptation Legal and Policy Toolkit.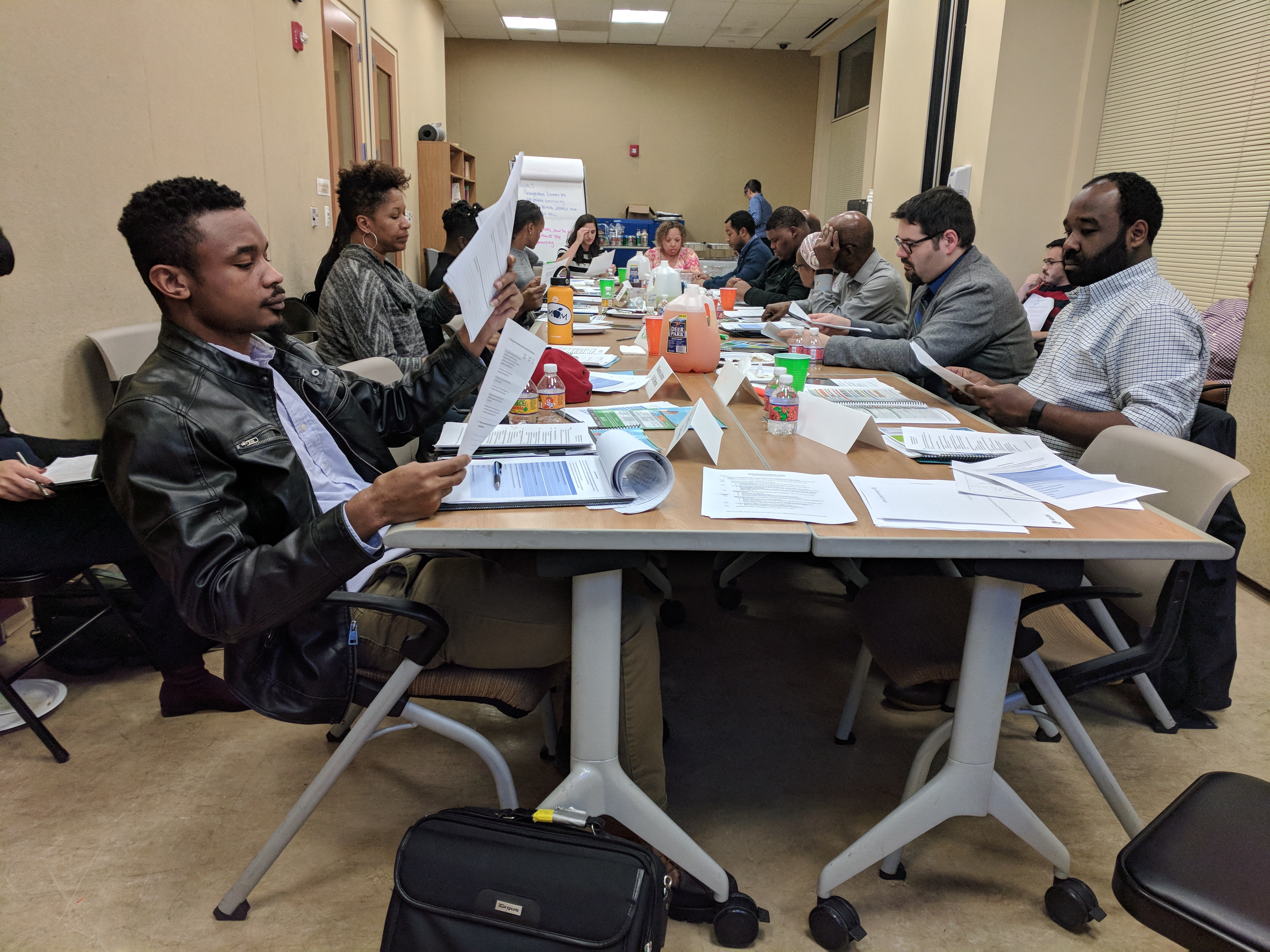 GCC's Equitable Adaptation Legal and Policy Toolkit will help local policymakers address these challenges and develop viable strategies for addressing climate resilience and social inequality. The Toolkit will feature best practices and substantive policy solutions for achieving equitable outcomes through city resilience initiatives to provide replicable examples for a broader array of communities and community-based organizations. The Toolkit will provide a single place where community-based organizations and cities can explore policy options and best practices for linking equity and resilience. It will also provide case study examples of community-driven planning initiatives, legal and policy solutions that have been advanced through community-driven planning, and best practice examples of implementation and expected outcomes. While there is no "one size fits all" approach to building equitable community resilience, GCC's toolkit will provide analytical frameworks to help decisionmakers and advocates tailor approaches to their specific jurisdictions, legal contexts, and needs.
As a web-based resource, the Toolkit can be dynamically updated to keep pace with new developments and remain easily accessible.
The Toolkit will be modeled after GCC's online Green Infrastructure Toolkit and will be a featured resource on GCC's online database, and networking site the Adaptation Clearinghouse. The Equitable Adaptation Law and Policy toolkit is slated for release in the summer of 2020.
GCC is committed to developing the Toolkit through a collaborative process with community-based organizations and other essential stakeholders.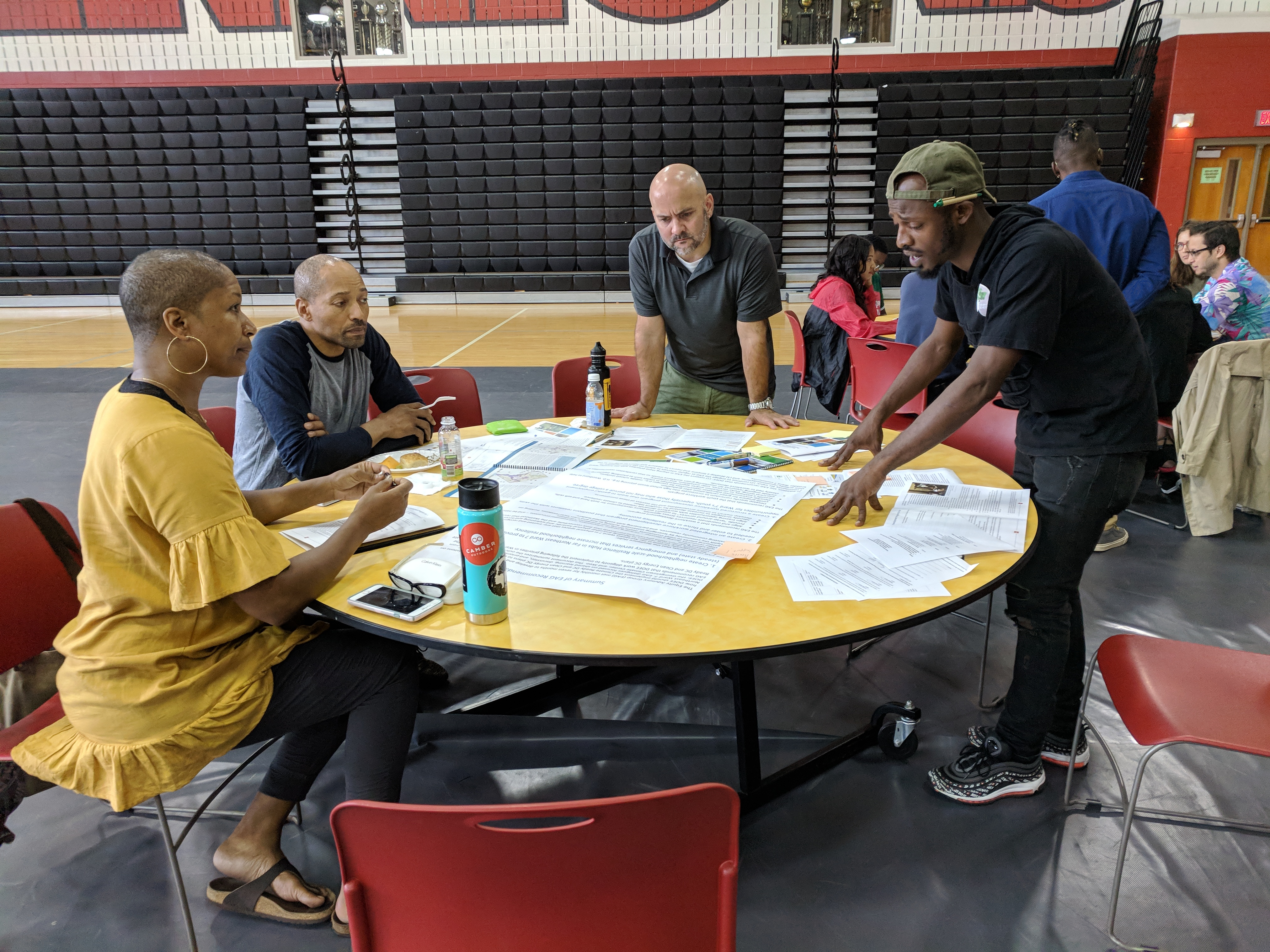 An expert advisory group of essential stakeholders has been convened to inform the development of this toolkit throughout this process. Based on early-stage expert and stakeholder input, the tentative outline organizes the Toolkit into four major sections: (1) Introduction to the Problem and the Need for Equitable Climate Adaptation Solutions (2) Procedural Equity: Tools for Planning, Engagement and Governance and (3) Tools for Implementation of Equitable Adaptation (4) Funding Options for Supporting Equitable Adaptation. The tools included will explore best practices and substantive policy solutions for achieving equitable outcomes, and may include chapters on the following topics: community-driven engagement processes; governance processes (e.g., budgeting, data, metrics, monitoring tools), economic resilience; resilient affordable housing and anti-displacement; adaptive reuse of vacant lands; resilient energy systems; resilient water systems; disaster response and recovery; health and nutrition; and social resilience.
Contact
For more information about this work, please contact Tiffany Ganthier (Tiffany.Ganthier@georgetown.edu).
**
Developing a Managed Retreat Toolkit
Share on Twitter Share on Facebook Send by Email Print
June 17, 2020
Sea-level rise and increasingly frequent and intense extreme weather events are leading many coastal communities to confront difficult questions about how best to protect people, infrastructure, and coastal ecosystems from the impacts of climate change. Communities and states are increasingly considering managed retreat – the voluntary movement and transition of communities and ecosystems away from vulnerable coastal areas – as a strategy for climate adaptation.
For many communities, managed retreat will need to be part of the solution set. In some areas, managed retreat will be the only viable, long-term option for addressing current and future threats from sea-level rise, flooding, and erosion to coastal residents, communities, and ecosystems.
To implement proactive resilience measures, state and local governments need tools that help them evaluate risks and develop legally viable approaches, including planning, regulatory, acquisition, and market-based approaches. Additionally, policymakers need tools to help them evaluate different managed retreat approaches in comparison to other adaptation responses, including accommodation (building structures to better withstand future flood risk) and protection (building flood risk reduction structures to reduce flood risk). Finally, to ensure an equitable approach to retreat, policymakers will need to develop strategies for helping residents relocate to safer locations in ways that maintain important social connections and provide needed services, housing, and jobs.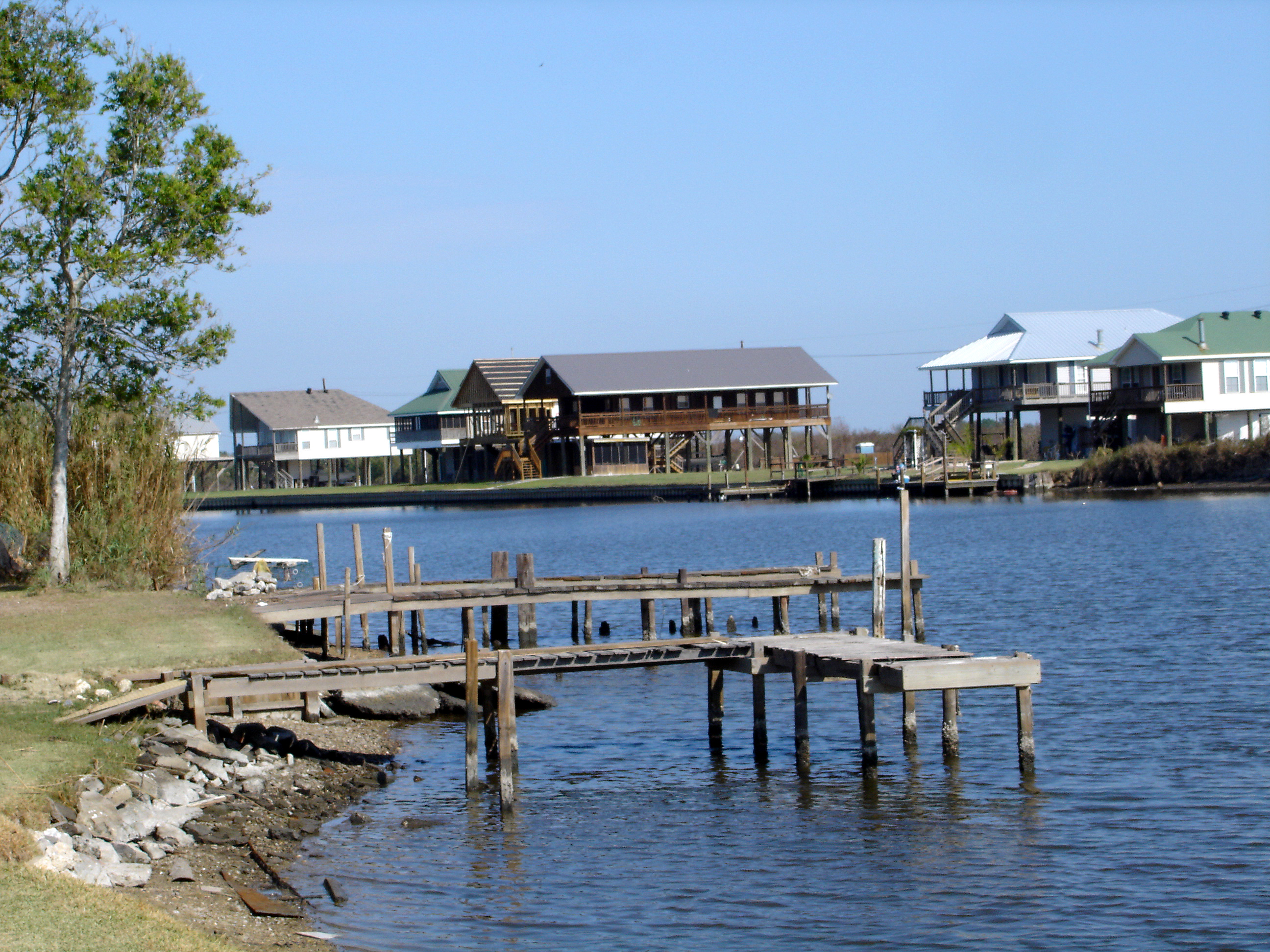 The Georgetown Climate Center's Managed Retreat Toolkit will synthesize best and emerging practices for facilitating retreat in vulnerable coastal areas, conserving and enhancing important coastal ecosystems, and preparing higher-ground "receiving communities" to take in residents relocating away from vulnerable areas. The toolkit will include case studies about retreat from across the country, including examples from both coastal and riverine communities. Like GCC's Sea-Level Rise Toolkit, the Managed Retreat Toolkit will include decisionmaking frameworks to help policymakers evaluate legal, policy, and administrative considerations of different tools and options. The first comprehensive online resource on managed retreat, GCC's new Managed Retreat Toolkit will combine legal and policy tools, best and emerging practices, and case studies to support peer learning and decisionmaking around managed retreat and climate adaptation.
GCC is partnering with leading practitioners and experts in adaptation planning, law, and policy from across the country to develop this toolkit, including academic experts from Georgetown and other universities, and state, local, and federal policymakers who are considering or implementing processes and strategies related to managed retreat.
Between 2018 and 2020, GCC's outreach efforts related to the development of the Managed Retreat Toolkit have engaged more than 1,000 people at more than 20 events, a testament to the growing interest in this important topic.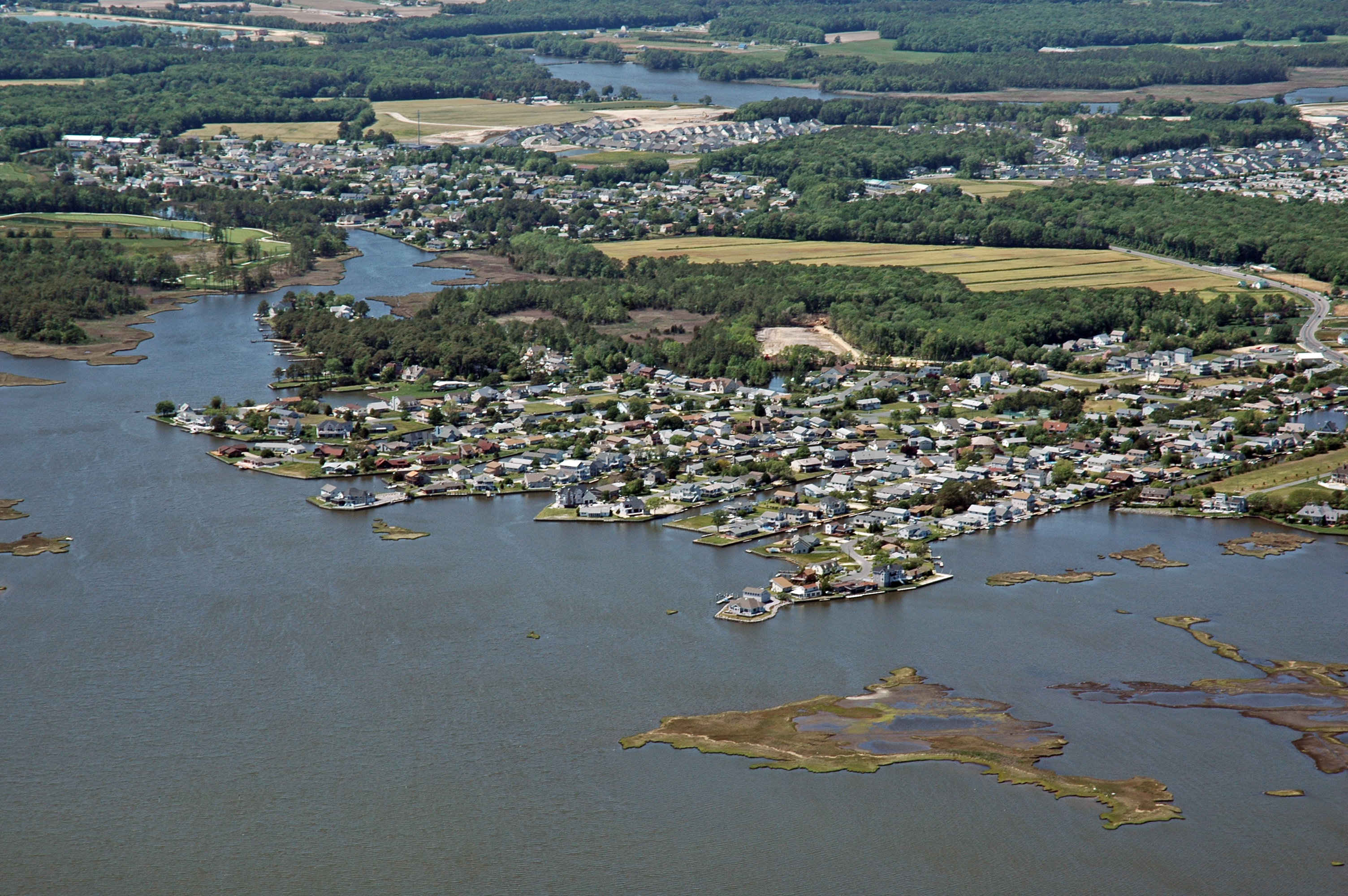 More than 500 participants took part in workshops hosted or co-hosted by GCC to explore topics surrounding managed retreat. In 2018, GCC partnered with the Abess Center for Ecosystem Science & Policy at the University of Miami and the Harvard Graduate School of Design for a colloquium on Climate Migration, held in Miami, Florida. In December 2018, GCC partnered with the Coastal States Organization (CSO) to host workshops at the Restore America's Estuaries conference in Long Beach, California, as part of an ongoing joint effort to solicit input from state coastal managers. In March 2019, GCC co-hosted a Climate Adaptation Forum in Boston with the Environmental Business Council of New England and the University of Massachusetts Boston Sustainable Solutions Lab. Also in March 2019, GCC hosted a two-day workshop in Washington, D.C., bringing together experts and policymakers from state, local, and federal government programs that have or are in the process of implementing retreat strategies.
The Managed Retreat Toolkit will be released on Wednesday, July 15, 2020, at 12 PM ET/9 AM PT through a webinar introducing the toolkit's contents and development process. Click here to register for the webinar. Contact climate@georgetown.edu for questions about the webinar, and Katie.Spidalieri@georgetown.edu for questions about the toolkit.
GCC would like to thank the Doris Duke Charitable Foundation and the other generous funders who support GCC's work for making this project possible. 
WEBINAR
Communities all over the US are already feeling the impacts of climate change, including intense heat, more frequent extreme weather events, sea-level rise, and flooding. Next month, the Georgetown Climate Center will release new legal and policy toolkits covering two important and emerging topics: considering managed retreat as an adaptation strategy to help communities and ecosystems transition away from vulnerable coastal areas, and building and implementing equitable climate change adaptation solutions that put frontline communities first.
GCC will host a webinar on Wednesday, July 15, 2020, at 12 PM ET/9 AM PT to introduce the Managed Retreat Toolkit, the first comprehensive online resource on the voluntary movement and transition of communities and ecosystems away from vulnerable coastal areas as a strategy for climate adaptation.
The Equitable Adaptation Legal & Policy Toolkit, designed to help state and local governments work with communities to develop and implement climate adaptation solutions that achieve beneficial outcomes for all, will be released later in July; additional details will be available soon.
Created in collaboration with state, local, and federal policymakers, community-based organizations, and other experts in the field, each toolkit includes tools, resources, and case studies that state and local adaptation professionals can turn to in making informed decisions about climate adaptation strategies.
Questions about the toolkits? Contact climate@georgetown.edu.
Register for the Managed Retreat Toolkit launch webinar — July 15
Learn more about the Managed Retreat Toolkit
Learn more about the Equitable Adaptation Legal & Policy Toolkit