A study of one of the largest U.S. pilots to provide direct cash payments finds some of its greatest benefits were intangible. https://www.bloomberg.com/news/articles/2022-02-25/the-benefits-of-washington-d-c-s-pandemic-ubi-program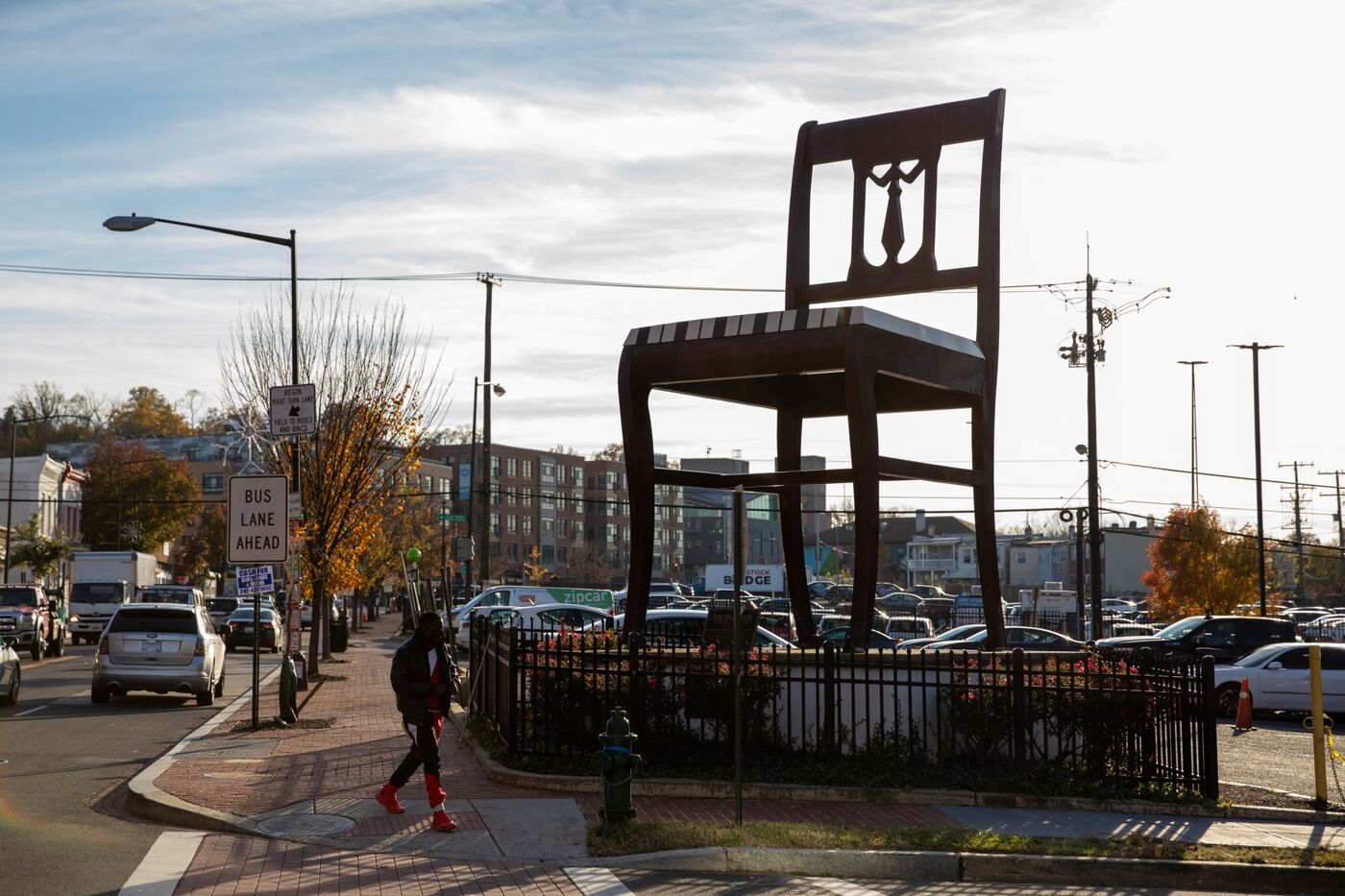 By Laura Bliss, February 25, 2022
An independent study of a basic income pilot in a disadvantaged part of Washington, D.C., adds to a growing body of researchon the benefits of direct cash transfers to communities in need. The study by the Urban Institute, a policy think tank, highlights the material as well as emotional improvements that such payments can create, particularly when they're provided by a trusted community group.
"Intangible assets such as trust are critical to providing help in disinvested places," the report states.
One of the largest privately funded cash transfer programs in the U.S. to date, the THRIVE East of the River partnership provided $5,500 in cash plus additional services to 590 D.C. households during the first year of the pandemic. The goal was to stabilize families from the economic crises of closures and lockdowns and foster greater mobility. More fromCityLab +
EqualityWolf of Main StreetBiden Scorns 'Defund the Police' as Cities Rush to Spend on CopsFederal Legislation Could Tackle the Racial Gap in Home AppraisalsDisplacement-Proofing San Francisco's Tenderloin District
Most participants lived in Ward 8, a majority-Black district where nearly 34% of residents live in poverty. And all had incomes below 50% of area median income. They were selected through their existing connections to one of the four local community-based organizations — Martha's Table, Bread for the City, 11th Street Bridge Park and the Far Southeast Family Strengthening Collaborative — that fundraised and launched the program in collaboration.
In its evaluation, the Urban Institute studied how the cash infusion during a particularly unstable period affected recipients' lives. Compared to people with low incomes in the wider D.C. area and nationally, THRIVE participants reported better rates of food security and mental health.
Before the cash transfer, 34% of participants said they sometimes did not have enough to eat, and 60% said they dipped into personal savings to meet their household needs. Those rates dropped to 19% and 50%, respectively, after the payments. Also striking were the lower rates of depression and increases in positive outlook that participants reported, compared to peer groups, said Mary Bogle, the study's lead researcher.
The money itself may not have been the only factor. When participants first received calls informing them they were eligible for the cash, they responded with a common sequence of emotions, starting with deep suspicion, moving to shocked surprise, and ending in joyful, sometimes tearful gratitude.
"I think it ties to the dignity and trust they were being extended," Bogle said. "Folks who live in neighborhoods that are disinvested in are used to being treated badly by systems — everything's an ineligibility limit or they're getting hit by a scam. I think their extraordinary reactions in this case say a lot about the barriers these folks usually encounter."
The implicit trust placed in participants — that the money was theirs to spend however they wanted, no strings attached — was core to the set of values the four partner organizations adopted early on in the program. They pledged to value the decision-making power of community residents, to maximize their personal choices (for example, by giving the option to receive the cash all at once or in installments) and treat them with integrity and respect.
The trust also had to go both ways. Because all of the community-based organizations had worked in the area for many years — providing social services or doing equity-focused community development work — they were able to set up the cash transfer program and recruit and enroll people relatively quickly. If an outside nonprofit had parachuted into the neighborhood to do the same, they might not have been able to, Bogle said.
One of the four partners, the 11th Street Bridge Park, is set to convert a disused freeway bridge into a park over the Anacostia River. As part of that project, the organization has created and funded $86 million in equitable development strategies focused on preserving affordable housing and supporting local businesses in the surrounding area. It had been meeting with the other local community organizations before the pandemic arrived; collectively, their leaders knew the Ward 8 area would be hardhit by pandemic job losses and school closures.
"One way to build trust is to be there for folks in need," said 11th Street Bridge Park Director Scott Kratz. "When you're hitting a rough spell, it's your friends who will help you out, and we anticipated that."
Amy Beth Castro, a professor at the University of Pennsylvania's School of Social Policy and Practice and a lead investigator on the Stockton Economic Empowerment Demonstration, a basic income pilot in California, praised the D.C. program (which she was not involved in) for fostering regular contact between the organizations and the residents, which she said encourages trust and participation. "We know that if that careful work of relationship-building isn't done with these programs, there won't be good take-up in the end," she said.
The study found some limitations in the THRIVE program. The cash transfer only had a minimal impact on participants' feelings of concern about their children's well-being, and virtually no effect on their confidence of being able to make rent payments or the possibility of an eviction.
Other studies have shown that payments can create such benefits when provided on a longer-term basis, however. In addition to well-known basic income initiatives in Stockton and Jackson, Mississippi, that predated the pandemic, at least 49 pilots have been announced since the start of Covid-19 using private or public funds, or both, according to the Urban Institute report.
Read More: Basic Income Programs Gain Momentum
The greatest lesson of the D.C. pilot for other social services groups and agencies may be in the principles that guided it. Whereas many nonprofits aim to "help people," the THRIVE collaborators aimed to be a partner, Bogle said.
"To be trusted is to have power," she said. "To have choice is power. And most of our mechanisms for helping people are so disempowering."