While countries have dragged their feet for years on meaningful climate action, many cities around the world have forged ahead with sustainability efforts. In July, about 60 mayors pledged to fight climate change at a two-day conference hosted by Pope Francis.
Several cities have even made impressive strides to ditch fossil fuels in favor of renewables. Two recent reports have confirmed that 100 percent renewable energy is possible. Earlier this summer, professors out of Stanford and U.C. Berkeley laid out a plan for the U.S. to convert to 100 percent renewable energy in less than 40 years, and Monday Greenpeace published its Energy Revolution 2015 report, which proposes a pathway to a 100 percent sustainable energy supply by 2050.
A report issued last week by CDP, a U.K.-based nonprofit, and AECOMshows that "96 cities—one-third of cities participating in CDP—are already taking action to decarbonize their electricity supply. And 86 percent of these cities say taking action on climate change presents an economic opportunity."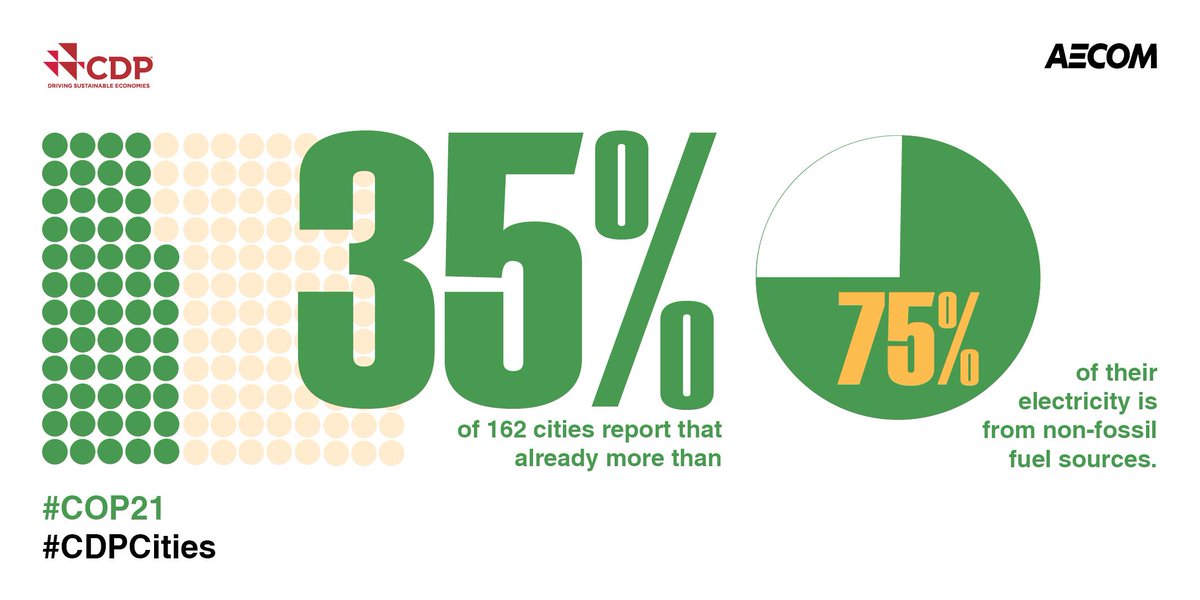 This year, 308 cities reported to CDP. Nearly half a billion people call these cities home—equivalent to the combined population of the U.S., UK and France. The report found that "currently over a third of cities get more than three-quarters of their electricity from non-fossil fuel sources, showing that cities are actively using cleaner energy sources."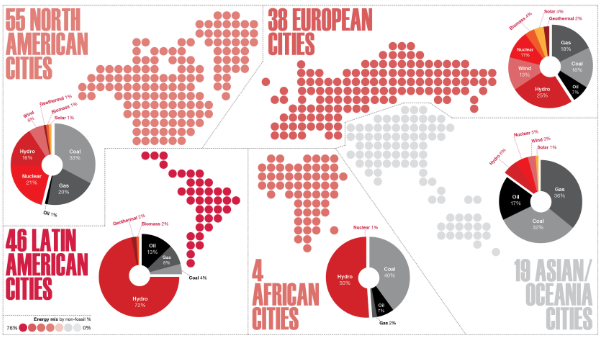 There's huge potential here: "Power generation is the single largest carbon emitter in the energy market globally, producing 12.6 gigatons of CO2 in 2015," says CDP. "With cities consuming 78 percent of energy globally, establishing renewable power sources for them can have a major impact on global emissions."
"One of the biggest challenges for cities is often their lack of direct control over their electricity or energy generation," said Conor Riffle, director of cities and data innovation at CDP. "Despite this, cities have been finding ways to shake up their energy mix and inspire a move away from fossil fuels.  As greenhouse gas emissions continue to mount, it is more important than ever that we seize the opportunities of a low-carbon future.  Cities are well placed to lead this transition."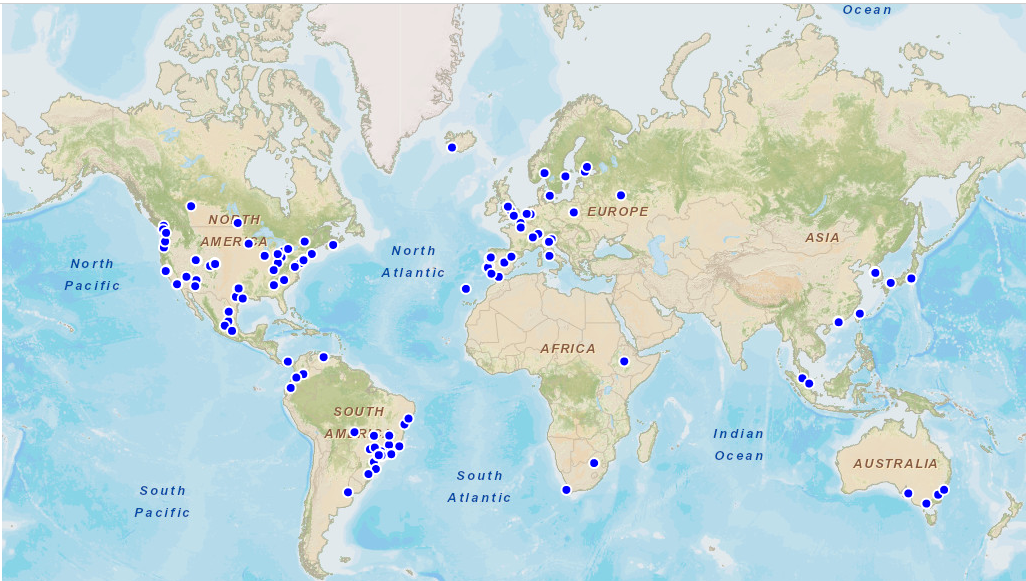 Check out our interactive map http://ow.ly/SsS9w  #CDPcities to see how green your city's energy mix is.
U.S. Cities
The city of Aspen, Colorado announced earlier this month that it will be running on 100 percent renewable energy by the end of the year, making it the third city in America to do so. Burlington, Vermont and Greensburg, Kansas, which decided to make the move after it was devastated by a powerful tornado in 2007, have also gone 100 percent renewable. Other U.S. cities, including Santa Monica and San Francisco, have set targets to transition to 100 percent renewable energy.
Austin and Los Angeles set targets of 55 percent by 2025 and 33 percent by 2020, respectively. It looks like Austin will hit its goal four years ahead of schedule thanks to the plummeting cost of solar and wind. Los Angeles's goal is part of California's renewables portfolio standard, which requires all utilities in the state to source 33 percent of their electricity sales from renewable sources by 2020. Another noteworthy state is Hawaii, which hasenacted the nation's first 100 percent renewable energy standard—mandating that all of the state's electricity comes from renewable sources no later than 2045.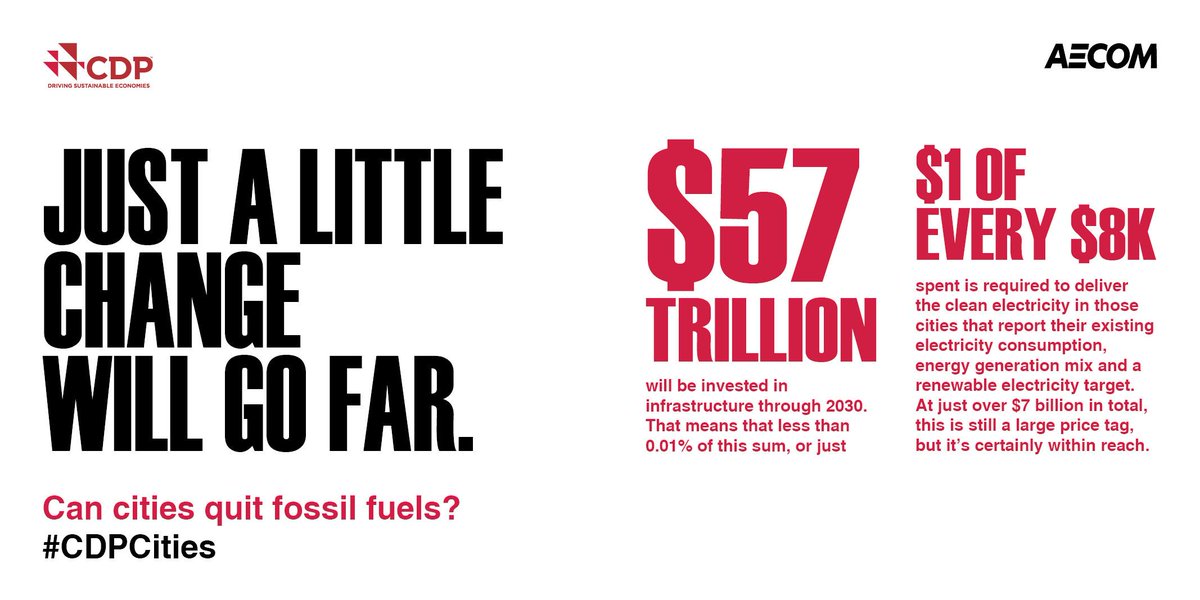 86% of cities see an economic opportunity in climate change. #CDPcities #COP21 http://ow.ly/SiBj5 
Worldwide
Worldwide, 109 cities have set renewable energy or electricity targets. Latin American cities are the least reliant on fossil fuels to power their electricity, though many rely on high amounts of hydro. The cities average 76 percent of their electricity from renewables. Brazil alone has at least 15 fully fossil fuel-free cities, and several others that are close to 100 percent renewable.
European cities are next. Participating cities there averaged 59 percent. Asia Pacific cities are the most dependent on fossil fuels, while North America and Africa fall somewhere in between Europe and Asia Pacific. Participating Asia Pacific cities receive, on average, 15 percent of their electricity from non-fossil fuel sources.
Addis Ababa, Ethiopia; Reykjavik, Iceland; and Curitiba, Brazil are some of the cities worldwide that have already met the 100 percent renewable energy goal. Stockholm, Sweden has pledged to be free of fossil fuels by 2040.
"I have set the ambitious goal for Stockholm to be—not just climate neutral—but fossil fuel free by 2040," said Karin Wanngård, the mayor of Stockholm. "I am fully aware that the city must excel in all aspects to reach this goal. Stockholm is already an acknowledged global climate leader, where energy consumption decreases, as do emissions and waste. Measuring and reporting our progress are extremely important tools in helping us succeed and to ensure that the city of Stockholm continues to be a frontrunner when it comes to fighting climate change."
Canberra, Australia has committed that by 2020, 90 percent of its electricity supply will be from large-scale renewables—delivering a 40 percent reduction in greenhouse gas emissions. Sydney, Australia is aiming for 30 percent renewables by 2030.
There are a number of islands taking the plunge as well. Samso in Denmark became the first island in the world to go 100 percent renewable. Tokelau in the South Pacific, El Hierro in Spain's Canary Islands and Kodiak Island in southern Alaska have all eliminated fossil fuels from their electrical supply. Aruba, St. Lucia, Grenada, the British Virgin Islands, the Bahamas, Turks and Caicos, and San Andres and Providencia, and Belize all participate in the Ten Island Challenge, which was created by Virgin founder Sir Richard Branson's climate group the Carbon War Room, now partnered with Amory Lovins' think tank the Rocky Mountain Institute, to encourage islands in the Caribbean to tap into their abundant supply of sunshine and wind to transition to renewable energy sources