A college degree is not optional for most good jobs in today's economy, so more and more students from low-income backgrounds are pursuing higher education, and they are most likely to end up at community colleges. Despite President Trump's recent comments that "We do not know what a 'community college' means," these institutions comprise more than 40 percent of the country's undergraduate population. While most community colleges were built after World War II to support the needs of the modern workforce—which would of course improve students' livelihoods as a result—they weren't explicitly designed to relieve poverty. Yet by default, given the limited reach of programs such as welfare and food stamps, community college has become one of America's largest and most important anti-poverty programs.  A 2017 survey found that 42 percent of community-college students nationally experienced food insecurity within the past month—which could mean missing meals altogether or not being able to afford balanced meals—while 12 percent were considered homeless at some point in the previous year
Colleges Are No Match for American Poverty
Amarillo College, in Texas, is working hard to accommodate low-income students—but it can only do so much. In the Atlantic, 2018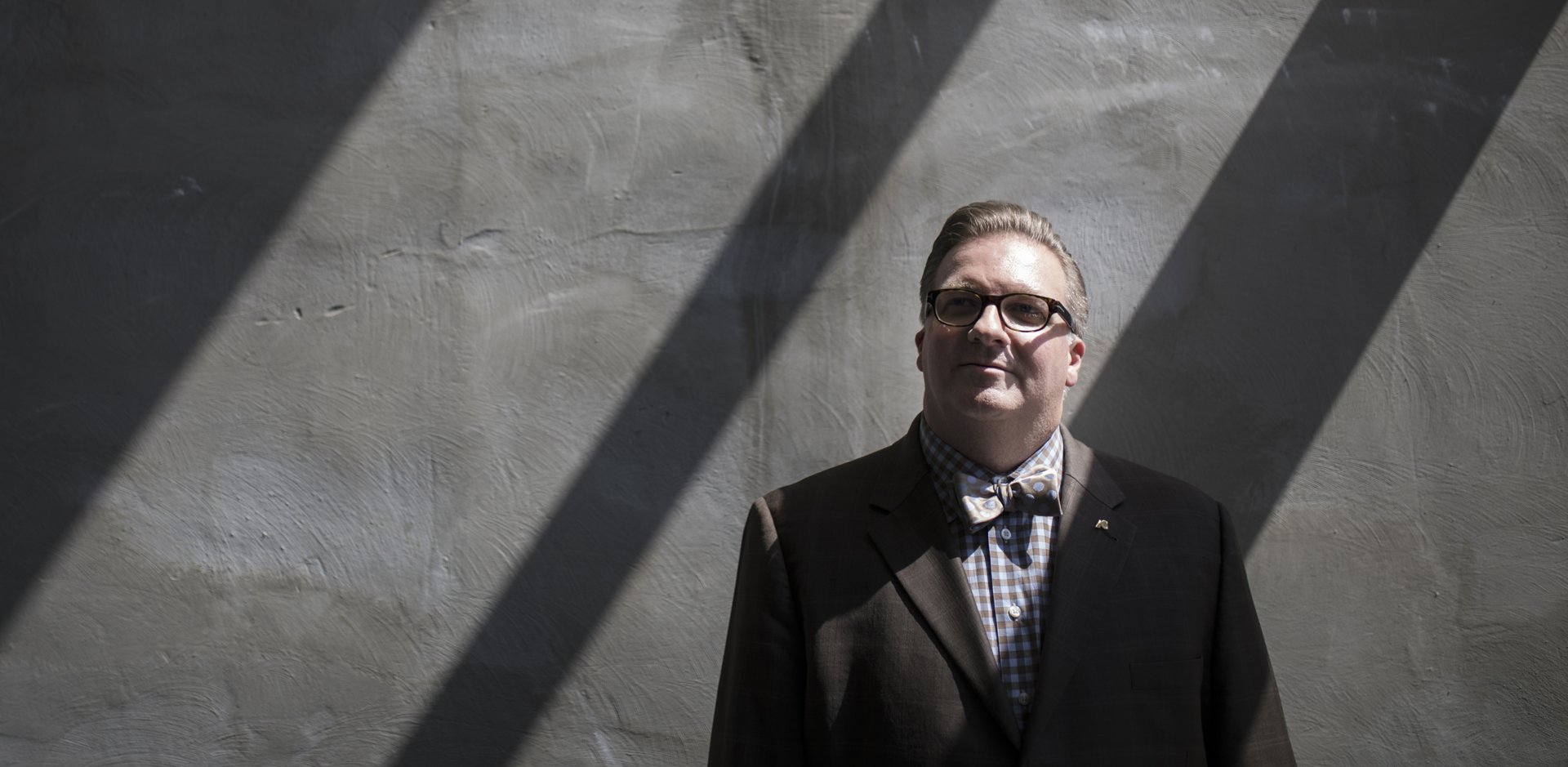 Russell Lowery-Hart spent a Texas winter weekend sleeping outside, even when a light rain fell and it grew so cold that he forced muddy shoes into his sleeping bag to warm his feet. By day, the 48-year-old became increasingly sunburned crisscrossing the streets of Waco, applying for fast-food jobs and searching for soup kitchens. He arrived at one charity at noon to find that lunch ended at 11:30; luckily, a homeless woman shared her cinnamon bread with him.
He was unshowered and unshaven, in the same secondhand clothing the whole weekend. By Sunday morning, the humiliations had undone him. When a family heading to church crossed the street to avoid him, he hollered out, "I'm a fucking college president, you can look at me!"
The family hustled away. But Lowery-Hart is, in fact, a college president. And he was on the streets to find a better way to lead a school where poverty intrudes into the classroom every day.
Lowery-Hart is the president of Amarillo College, a community college on the Texas Panhandle, and he had driven seven hours down to Waco to participate in a two-day, two-night simulation of homelessness run by a religious charity, in the hopes of more deeply relating to his many students who live in poverty. "Just having a food pantry like we do isn't enough," Lowery-Hart said in a video diary recorded by a friend that Sunday morning last February. He was flat on the grass, still burrowed inside his sleeping bag as if fending off the trials yet to come that day. Then, in a kind of a forlorn chant, he added, "It isn't enough, we're not doing enough, we have to do more."
Lowery-Hart was already doing a lot more than running a food pantry at Amarillo College. The school of 10,000 students has an emergency fund that can cut a check within hours to cover the car-repair or water bill that could push a student to drop a class—or quit school for good. The school employs social workers who counsel students through these types of financial crises, runs a legal-aid clinic, and offers free mental-health counseling (the latter is standard at private colleges but spotty in the community-college world). Last fall it debuted a low-cost day-care center that keeps its doors open 14 hours a day to serve student parents with jobs in the early morning or evening; students who qualify for a state subsidy only pay $5 a week. Tutoring is available evenings and weekends.
Administrators are working on an alert system that flags incoming students who are at high risk of struggling academically, and then assigns professors to reach out to them before trouble hits. In the fall, staff called and emailed over 800 students who had at least one dependent and a family income under $19,600 a year—less than half of what would be a living wage for a single parent or a one-income household with a child—to make sure they know about the school's support services. In its quest to improve student performance, the college is questioning academic traditions as fundamental as the length of a semester, which has been cut in half for many classes.
What separates Amarillo College from most of its peers is not any particular program, but how much it focuses on addressing the effects of poverty. The school and Lowery-Hart are being watched by college leaders all over the country, because finding realistic solutions for student poverty could be transformative for the U.S. higher-education system.
Among the poorest 40 percent of Americans, only 12 percent of young people born in the 1980s earned a bachelor's degree by age 25.
But a college degree is not optional for most good jobs in today's economy, so more and more students from low-income backgrounds are pursuing higher education, and they are most likely to end up at community colleges. Despite President Trump's recent comments that "We do not know what a 'community college' means," these institutions comprise more than 40 percent of the country's undergraduate population. While most community colleges were built after World War II to support the needs of the modern workforce—which would of course improve students' livelihoods as a result—they weren't explicitly designed to relieve poverty. Yet by default, given the limited reach of programs such as welfare and food stamps, community college has become one of America's largest and most important anti-poverty programs.
The federal Pell grant for low-income students maxes out at about $5,900 a year, which is usually more than enough to cover community-college tuition but too little to live on. (Starting in July, the maximum will go up to $6,095.) And the gap between a Pell grant's value and the cost of living grows bigger every year. The result is that many students are struggling with basic survival. A 2017 survey found that 42 percent of community-college students nationally experienced food insecurity within the past month—which could mean missing meals altogether or not being able to afford balanced meals—while 12 percent were considered homeless at some point in the previous year. Among Amarillo College students who took the same survey, 54 percent had experienced food insecurity within the past month, and 11 percent had been homeless in the past year. So the student body is not significantly needier than those of many other institutions, but the college leadership's interest in highlighting the extent of the need is much more unusual.
Beyond food insecurity, many students lurch from crisis to crisis, semester by semester. That's part of why community-college graduation rates are so low, with only four in 10 students earning a degree within six years.  
A number of signs suggest Amarillo College is doing better by its students than it did just a few years ago. The graduation rate is rising, more students are studying full-time, and students of color are doing as well as white students, according to Collin Witherspoon, the college's executive director of analytics and institutional research. But some of Lowery-Hart's biggest bets have yet to prove effective, and there are at least a few professors who question whether the fixation on poverty is in students' best interests.
After all, as the college experiments, it is the students in poverty who are taking the biggest gamble. They might be forgoing wages they could earn if they weren't in class, eating into their six years of lifetime Pell Grant eligibility on a semester they may not finish, or even taking out loans—although the latter is quite rare among Amarillo College students—that they will struggle to repay if they end up dropping out. Ending up worse off than when they started is a real possibility.
Mandi Wheeler, a math professor, loves serving in a coaching program for students who arrive at the college from the two low-income high schools in Amarillo—as an example, she recalled a young man she coached who arrived "scared to death" but soon blossomed in calculus.
But she questions Lowery-Hart's view that the college itself can be the route to stability for students even in the throes of crisis. Wheeler recalled one homemaker with young children who came to the college in pursuit of employability, soon after leaving an abusive husband. At the beginning of the semester, according to Wheeler, the mother was staying in a shelter and had no computer.
Wheeler was relieved when the woman withdrew from her class in order to take a new job. "They can't focus on learning the quadratic formula when they don't know where their next meal is coming from," she said. "My heart breaks for so many of those students that do have stuff going on … And then here I am saying, 'Where is your homework?'"

But colleges need to stick with this type of student if they are truly committed to helping lift families out of poverty, according to Sara Goldrick-Rab, a sociologist at Temple University. Goldrick-Rab, the lead researcher on the survey identifying high rates of hunger and homelessness in college, has been a major force in drawing attention to the phenomenon of student poverty.

Goldrick-Rab and a co-author are planning to publish a case study in June about Amarillo College, which drew her attention as one of the few places she's been able to find that's taking a systemic approach to fighting poverty. The report, Goldrick-Rab said, will highlight practices that other colleges should consider adopting. For example, she praised Amarillo's emergency aid fund for making grants within hours and without red tape, which she said makes it more useful to students in crisis. The fund asks for documentation of the expense a student needs help with—a lease or utility bill, for example—but doesn't require an application.
While emergency aid is spreading in popularity, some colleges worry about "frequent flyers" who keep coming back for more help. Goldrick-Rab called that "naïve to what poverty is."
"If they really get it, if really there are 'no excuses,' when they have impoverished students, then they have to roll with all those punches," she said, referring to the name of an Amarillo community initiative to address low educational attainment, "No Limits No Excuses." She continued, "It is not easy, and they don't get an immediate success story wrapped up with a bow."
Yet the potential payoff is more than worthwhile, Goldrick-Rab added, noting that a college degree can be transformative for an entire family. Even for students who don't go on to get a bachelor's degree, an associate's degree makes a real difference in earnings, worth thousands of dollars a year. And when parents get more education, their children tend to do better, not only in school but in all sorts of health outcomes.
And if not college, what is the path for the students whom Amarillo College is trying to lift out of poverty? People can't securely raise a family on a minimum-wage job. In an economy that increasingly has made a college degree practically a prerequisite for decent work, what other choice is there?
A few months after his weekend living "homeless" in Waco, Lowery-Hart was trying to identify the "more" that he'd declared from his sleeping bag the college needed to do. So he asked his director of social services, Jordan Herrera, to set up a lunch with some students who had experienced homelessness.
Lowery-Hart frequently asks students for advice. Once a week or so he sits down to converse with a few of them at random, buying them sandwiches from the Chick-fil-A food truck that replaced the cafeteria shuttered several rounds of budget cuts ago. On this particular warm day last May, he had club sandwiches and iced tea waiting in his office for two students. Justin Allen was a 32-year-old single father who was about to graduate from a dental-assistant program. The college had put him and his two kids up in a motel for a few weeks, after his father kicked them out over a money dispute.
Across the president's conference table was Alicia Pruett, a 44-year-old mother of six, who had the words "A Roller Coaster Ride" tattooed in curvy script down her left leg, originally a commentary on life with her husband but one that was proving equally germane to her college career. That she was still enrolled, after what she'd been through the last few months, already made her, in one sense, a success for Amarillo College's poverty initiative. Before signing up for Amarillo College in fall 2016, Pruett had been a stay-at-home mom, and before that had worked as a Comcast customer-service rep and a cook. She was seeking a degree in communications, hoping she could one day do PR for an adoption or foster agency. The main goal, though, was to give her kids a better life.

"I'm going to be able to give my kids everything that every parent wants to give to their kids," said Pruett, who lives with her husband and their five children, and also has an older son who is in her ex-husband's custody. "Which is a good birthday, a good home, the opportunity to be able to do things, to take vacations."
But not long after Pruett started school, her husband Mike fell out of work. A long-time roofer, he suffered from back problems but, she said, was turned down for disability benefits. When he took under-the-table manual-labor jobs out of desperation, he said, he was repeatedly cheated out of his paycheck.
The couple fell behind on their bills. A professor referred Pruett to the Advocacy and Resource Center, or ARC, the nucleus of the college's poverty work, where a small team including Herrera helps hundreds of students each semester through their financial and life crises, marshals the college's own resources, and hustles to connect students to every possible community or government program.
Pruett took advantage of the food pantry, and the college emergency fund covered half a month's rent and some utility bills. Herrera put Pruett in touch with a local church that also chipped in. More importantly, she helped Pruett get on the waitlist for a Section 8 housing program that provides affordable rentals to college students with families. Months later, just before Easter, the housing program offered Pruett's family a four-bedroom house for $1,000 a month. But when they gave notice to their current landlord, she put them out on the street with three days' notice, even though they wouldn't get the new place for a couple of weeks. Herrera tried to find shelter beds for the family, but no one could offer space for a family of seven. So the college paid for them to stay about 10 days in a Travelodge.
By the time Pruett found herself in Lowery-Hart's office, she and her family had been in the new house for a few weeks. Pruett and her husband were both interviewing for jobs at Sam's Club after Pruett's math professor put in a good word for them. Things were falling into place.
Pruett told Lowery-Hart that she would graduate, "no two ways about it," and that seemed like a decent bet. She earned a 3.75 GPA in her first semester, she told the president. When I later followed her to class, I learned that she was a star in her math section, beckoned over frequently by her classmates to explain problems.
But her story would be, for a long time to come, more of a cautionary tale than one of clear-cut success. Just the day before she showed up for the lunch in Lowery-Hart's office, she learned that her aging Chevy Suburban, the family's only means of transportation, was being repossessed. She was going to ask Herrera for help getting it back, but she had an even more pressing concern, which she kept to herself as she chatted with the president: She didn't know how she was going to feed her family dinner that night. The Pruetts were receiving $1,022 a month in food stamps, but with three meals a day for seven people, that works out to $1.60 per meal per person. They had a few days to go before the next month's benefits would replenish. And their bank account held just $17.
When it was time to head home and face dinner, Pruett set out from campus on foot, winding her way first past mansions with rose gardens and fountains near campus, then under a couple of highway overpasses and finally to her down-at-the-heels neighborhood not far from the city's business district. In addition to the laptop in her backpack, she was lugging a pack of diapers she picked up in Herrera's office. But she couldn't handle carrying groceries home as well, so she hadn't taken anything from the food pantry.
Mike and their kids, who ranged in age from 2 to 11, were in the yard, attacking the ground with hoes in preparation for a garden where they hoped to grow their own vegetables. Nine-year-old Lena, who aspires to be a cook like her mom, had blueberry bread in the oven.
Pruett stepped into the pantry to survey her options. There was Hamburger Helper, but no hamburger. Tuna fish, but no bread to make sandwiches. Some beans, but the kids don't like beans. She decided she would ask Mike to go out and get some hamburger so they could have spaghetti with meat sauce.
In between snuggling her two youngest kids and refereeing a video game the older ones were playing, Pruett described to me some of the ways that the family's financial crisis had impinged on her academic life. They couldn't afford internet service, so sometimes she would sit in her car at night in a college parking lot to use the campus Wi-Fi, piling on jackets to withstand the cold temperatures of nights on the high plains. Her GPA tumbled. She dropped a media course she loved because she was embarrassed to go to campus when the water was turned off and she couldn't shower.
That evening last May when they were scrambling to come up with dinner, Mike came back with hotdogs, buns, and canned chili to make chili dogs. Because they had less than $20 in their bank account, he could only get a $10 bill from the ATM, not enough for the hamburger. Pruett spread ketchup and mustard on the kids' hot dogs in loops so artful they betrayed her professional kitchen experience. The kids came to the table, and Lena and her 7-year-old brother, Robert, said "cheers" as they clinked their hot dogs together.
**

The Texas Panhandle is a windswept prairie 3,600 feet above sea level and bigger than West Virginia. Its heart is Amarillo, a pancake-flat city of around 200,000 bounded by cattle ranches and corn, cotton, and wheat fields that is in danger of growing poorer. In the view of many civic leaders, the community is overly dependent on meatpacking and trucking as well as on the motels and fast-food joints hugging Interstate I-40, the ribbon of highway tethering the vast Panhandle to the rest of the United States.

Here, the kindness of close-knit church communities meets the bootstraps mentality of pioneer days. In A Strong West Wind, her memoir of growing up in Amarillo in the 1950s and 1960s, the writer Gail Caldwell described the way the people of the Panhandle were hardened by ferocious hail storms, tornadoes, and even blizzards. "There are no trees or rises of the land to break the wind," she wrote, "and so the cattle can breathe the snow, in its horizontal flight, and drown. People, too, have been brought to their knees for generations by this kind of weather: In the midst of so much nothingness and force, it's difficult not to feel beholden to some larger design."
Over a decade ago, Lowery-Hart got involved with a community initiative to to get a handle on the threats to Amarillo's prosperity. The conclusion: lack of education, with only a third of adults in the city earning any kind of college degree, and a shortage of high-skilled job opportunities meant a perpetual brain drain.  
At the time, Lowery-Hart was an administrator at the local university, West Texas A&M. He became convinced that he could do something to help the prospects of his region, but more so at Amarillo College, where seven in 10 students are the first in their family to go to college and four in 10 are Latino. He often cites a statistic in the Harvard economist Edward Glaeser's book Triumph of the City—that

as the share of the population with college degrees increases by 10 percent, per-capita gross metropolitan product rises by 22 percent.
He eventually applied to Amarillo College for the position of vice president of academic affairs. To this day, he is sometimes brought to the verge of tears when talking about the challenges his students face. The reasons for his deep feelings harken back to his childhood in a small town outside Lubbock, when he took refuge in school from home life with an abusive, alcoholic father. Teachers "loved me even when I was unable to love myself," Lowery-Hart told me. "I've always been fighting for that student, because that student was me."

When Lowery-Hart arrived at Amarillo College in 2010, he began asking why the graduation rate, which that year was just 9 percent, was so low. He expected to hear students blame academic troubles—poor high-school preparation, perhaps, or inconvenient class schedules. Surveys and focus groups revealed an entirely different set of issues, all related to poverty: food, housing, utility bills, transportation.
Budget constraints have posed the biggest challenge to this work.
Community colleges receive less than half the government funding that public research universities do, and, echoing trends in other states, Texas is spending 15 percent less on higher education than it was before the recession. Amarillo College lost a total of $3.5 million in state funding for instruction in the last two state budgets, partially because of an enrollment dip, and cut dozens of staff positions a couple of years ago.
The largest source of the college's nearly $66 million budget this academic year was tuition and fees, which brought in $23 million, including financial aid awards to students from state and federal governments. The next biggest chunk was support from local taxes, about $21.3 million, with state support third at $13.5 million. However, other than salaries for social workers, the poverty work is largely funded by other means. A private foundation created in 1961 to handle donations to the college, the Amarillo College Foundation, bankrolls the emergency-aid fund, with a contribution of $60,000 this year. Other gifts and grants have helped with bits and pieces of the work. For example, a federal Perkins grant supports transportation and childcare for adult students in career and technical programs.
The college is typical in depending on a combination of tuition and state and local support, with grants from foundations and gifts from local benefactors coming in to support specific initiatives. A gift from a local bank, for example, funded a renovation project that made space for the ARC. Perhaps less typical is that the Amarillo College Foundation is relatively well off with $43 million in assets, and it gave the college and its students over $3 million for the 2015-2016 school year. The foundation for many years was focused on raising money for scholarships, according to Kathy Dowdy, its co-executive director. But in recent years, she said, the board has embraced Lowery-Hart's emphasis on combating poverty. The money they raise—largely from local families and businesses—is increasingly targeted at helping the college offer support to keep students from dropping out. "We have these students with 3.8 GPAs who all of a sudden find themselves homeless, and if we're not equipped to help them, we've lost the possibility of changing somebody's life," Dowdy said.
Students, meanwhile, don't get the same level of government support that previous generations did. In 1975, a federal Pell Grant covered 79 percent of the cost of attending a four-year public college. Today, it covers just 29 percent
. A
t the same time, more college students look on paper like Alicia Pruett—older, poor, underrepresented minorities. In the absence of more commitment from the states and federal government to higher education, leaders at many community colleges have come to the same realizations as Lowery-Hart—that educating their students effectively requires not just good academic programs, but also a host of supports to tackle poverty. At Patrick Henry Community College in rural Virginia, a scholarship program awards cars, donated by dealerships, as scholarships to a few students each year who need them to get to class. Houston Community College is offering scholarships for groceries. Tacoma Community College in Washington and the local housing authority provide housing vouchers to homeless students. Nineteen schools recently worked with a community-college-reform group called Achieving the Dream to change campus culture around these issues. Poverty is a growing concern, as well, at four-year colleges, where 36 percent of students are estimated to experience food insecurity.
Most colleges, however, have just a discrete poverty program or two—the food pantry, most likely, or the emergency aid. Lowery-Hart's ardor for the topic has made Amarillo College stand out considerably.

Lowery-Hart was named president of the college in 2014, and over time, he developed what he calls the college's theory of change. "Life-barrier removal" plus relationships "equals completion," he says—meaning that if the college can help a student overcome a life barrier, perhaps by connecting them to housing or food stamps, and also offer a meaningful personal relationship, the student will be more likely to graduate.
Sometimes he forms that relationship himself. One day in September, I accompanied him on his Chick-fil-A gambit to listen to students' concerns, and he approached three young people chatting in a lounge. It turned out only one of them, a 19-year-old named Julie, was enrolled in the college, but she was facing possible eviction and thinking about dropping out to get a second job. Her two friends had just tagged along with her to campus. Alexandra, 18, said she'd recently gotten clean after her mother kicked her out. Eddie, 20, had a young child and had spent time in jail. Both said they wanted to go to college soon, but neither felt ready quite yet.
Lowery-Hart listened to their life stories, then quickly made his pitch: He urged Alexandra and Eddie to sign up for classes that very day. Then he spent 45 minutes shepherding them around to meet advisors. He brought Julie to the ARC, then tried to find out whether there might be an on-campus job for her.
Later that September afternoon, Lowery-Hart told a group of staff that Alex and Eddie are the future of Amarillo. Whether they have a criminal record, or children of their own, or doubts about whether they can succeed, those not traditionally viewed as "college material" are, to him, exactly who the college should be serving.  
"Quit wishing for a different kind of student," he said. "We want to be the right college for the students we have."
**
When Amarillo College renovated the student-commons building at the center of its main campus two years ago, it drew together a variety of programs to create the ARC, which it set up on the first floor, surrounded by glass windows. Some staff worried that students would feel too exposed to come in to use the food pantry or talk to caseworkers, but demand for the ARC's services has grown dramatically. Herrera, the social-services director, who presides over the ARC, believes the prime location has taken some of the stigma out of asking for help.
Inside is a small suite of offices adorned with succulent plants and Mexican folk art, the neat food pantry, a supply of toiletries and toilet paper, and a clothing closet. Herrera and her staff have gone from restocking the pantry twice a month to twice a week.
Herrera is gregarious, and prone to talking about her work in the language of blessings and prayers. She is herself an Amarillo College graduate and grew up helping her mom, who left school after the sixth grade, run a small janitorial service. The rest of her team also come from backgrounds that help them understand the lives of students they help, including a social worker who was the first in her family to graduate from high school, and an assistant who is a "Dreamer" and spent a year saving waitressing tips in a shoebox to pay for college, because her undocumented status made her ineligible for financial aid.
On my visits to Amarillo, I've walked into the ARC to find the assistant on the phone helping students who are parents get reimbursement for babysitting bills, which is available through a federal grant. I've heard Herrera on the phone advising a student where to go for affordable car repair. And I've seen students dropping off plastic bags filled with donations for the food pantry, for which many professors offer extra credit.  "That's why social mobility is so hard. The bottom is extremely sticky."
I visited the ARC with Pruett when she came in, the morning after the chili dog dinner, to find out whether Herrera was going to be able to help her get her car out of repossession. She owed $950 to cover payments, plus $250 in fees. Herrera had done "a little bit of begging," she said, and the school would indeed be able to write a check—directly to the repo shop—for the $1,200. It would be the last money the college could help with for a while.

The fact that Pruett and her husband were both expecting to start jobs helped make the case, Herrera said. Not to mention that they wouldn't be able to get to work without the truck.

Pruett did a little dance in her chair. Then they discussed what she could do to raise her GPA back up again.

There is something shocking about a cash-strapped community college shelling out $1,200 to help a student get her car out of repo—on top of the motel bill, on top of the water bill, on top of the help with rent. Certainly, the unusual level of support the emergency fund gets from the Amarillo College Foundation is what makes this possible. But this kind of money still pales in comparison to what wealthier colleges spend as a matter of course on all their students. Community colleges spend less than $1,400 per student each year on all non-academic student services, a category that covers everything from mental-health and career counseling to support for student groups and intramural sports. That's compared to almost $4,500 per student at private four-year colleges. Of students who got emergency aid from Amarillo College in the fall of 2016, according to the college, 57 percent were still in school a year later, compared to 48 percent of the overall campus population—impressive given that the emergency-aid recipients are more likely to have major distractions in their lives.
When I told Goldrick-Rab, the expert on poverty in college, about Pruett's troubles, the professor said, "Poverty is going to try to knock her down at every turn and every month."
"That's why social mobility is so hard," she continued. "The bottom is extremely sticky—that's how we put it in sociology." But Goldrick-Rab added, "the return to this is not just the return to one woman—it's the return to her and her five kids. All the research shows that students like her might take a really long time to finish school, and at the same time, that degree will really pay off for her."

When Pruett left Herrera's office with the news that she would be able to get her truck back, she headed over to the Math Outreach Center to study for her final. Apart from its colorful grandfather clock that tutors built out of K'nex toys, the center is a drab room full of computers and faux wood tables. Yet during my visits to Amarillo, it was the most bustling place on the main campus.

Scattered around the room were several of Pruett's classmates, as well as a Navy veteran in his mid-70s who comes every day as he plugs away at his degree, and a tutor who was illiterate at 13 when he came to the U.S. as a Rwandan refugee. He was now about to graduate and pursue his BA in mechanical engineering.

Many students make this their study space of choice, but tutoring is also required for students who earn below a C in certain classes, and data suggest that the assistance can make a major difference. That's the conclusion of Witherspoon, the college's executive director of analytics and institutional research. As a former math professor and software developer, Witherspoon can do the kind of sophisticated data analytics for which many colleges pay private companies hundreds of thousands of dollars. And Lowery-Hart—like many of his peers—puts great stock in using data to guide decisions.
Perhaps the college's most dramatic change precipitated by data is the transition from traditional 16-week classes to 8-week mini terms. Amarillo students across the board are getting better grades in the shorter, more intense terms. One theory is that the shorter the term, the fewer days and weeks there are when a student could get thrown off, as Pruett did, because their water gets turned off, or their car breaks down, or a relative gets sick.
Some professors, however, think the eight-week terms are a big mistake. They say that students can't grapple effectively with difficult concepts in such a short period. The data only look good, the critics say, because instructors are taking pity on drowning students and offering them extra-credit opportunities, letting them rewrite papers, or simply inflating grades.
"These kids don't know how to read a textbook, they don't know how to study, they don't know how to write … and then we're rushing them through," said Deborah Harding, who teaches psychology and sociology at the school. "I think it's a terrible way to learn."
The concerns about grade inflation raise some uncomfortable questions about the "No Excuses" philosophy. Lowery-Hart says that students have to hold up their end of the bargain and earn a fair grade, but this remains a source of confusion among the faculty.
That said, there are a number of signs that Amarillo College is generally doing a better job serving students than it used to. For example, its three-year federal graduation rate for first-time, full-time students was 9 percent when Lowery-Hart joined the college in 2010. It then hovered around 15 percent for several years and most recently spiked up to 23 percent. (The national average for community colleges is 24 percent.)
Other aspects of the college's poverty agenda lack evidence of systemic improvement, including the ARC.
The college can point to students for whom help from the ARC clearly made the difference between dropping out and graduating, including Justin Allen, the single dad who was at the lunch with Pruett and Lowery-Hart. But Witherspoon's efforts to identify a broad impact through data have come up short.  
Goldrick-Rab, the Temple University professor, is planning to conduct a new evaluation in the fall. It's possible, she said, that the ARC's social workers, pantry, and emergency funds aren't making a big difference in students' lives. It's also possible that they are helping students, but it's difficult to prove without an expensive randomized experiment.

Lowery-Hart and his colleagues also know that, despite the earnestness of the "No Excuses" pledge, there will be failures. The gold standard in community-college reform today is a program that was pioneered at the City University of New York called Accelerated Study in Associate Programs (ASAP). It offers students a package of supports including intensive advising, scholarships, and free MetroCards for the New York subway. It's also very expensive—over $11,000 per student over three years—which is why it has yet to be widely adopted. At CUNY, ASAP has about doubled the three-year graduation rate—but only got it up to 52 percent.
In a society that offers so little support for a community-college education, and where growing up in poverty guarantees immense disadvantages, there's only so much even visionary college leaders can do.
Just weeks after getting her truck out of repo and starting a part-time job in the cafe at Sam's Club, Pruett called 911 with an attack of excruciating abdominal pain. It turned out she had a perforated bowel and a raging infection. She had an emergency colostomy, and then wore a colostomy bag the entire summer while the infection healed.
She had to put school on hold the first half of the summer, and missed weeks of work. The second job at Sam's for her husband, Mike, didn't materialize, he believes because of his felony record from years earlier. Once again without income, the family went without gas and water for parts of the summer, barbecuing and hauling ice chests from the neighbors.
When she went back to school after a second surgery in the fall, a new crisis hit. A year earlier, Mike had written a bad check at a grocery store when, Pruett says, they were desperate for food and diapers. Prosecutors offered him a plea deal, but only if he first paid back the $340 he owed the store. Now Mike faced a deadline to come up with the $200 he hadn't yet repaid —or face a jail sentence of up to six months.
Robert Love, the first assistant district attorney in Randall County, said his office does not want to send "hot check" offenders to jail, but rather wants them to pay restitution to their victims. But Alicia and Mike were broke, and neither had any family members in a position to give them cash, so they were convinced Mike was headed for jail. There was no way Alicia could stay in college without Mike pitching in with the kids, so I expected that she would check whether the ARC could help.
But perhaps she had taken it too much to heart when Herrera had warned her in the spring that the truck was the last thing the college could help with for awhile. At the same time, like many low-income and first-generation students, she has no trace of the sense of entitlement of a stereotypical college student. "The world doesn't owe you crap," she told me. Over the course of at least a month, Pruett avoided asking Herrera or the other social workers for help. She stopped by the ARC now and then to ask for an emergency gas card or to use the pantry, but when they asked how she was, she told them, wryly, that she was "living the dream."
Pruett told me that she just kept picturing a single parent who needed help even more than she did. "That's where guilt starts to play on me, because I think I'm taking away from another child," she said.
In the end, Pruett did confide in Herrera, and the school helped out with two utility bills. That allowed Alicia and Mike to scrape together the $200 to repay the grocery store and keep Mike out of jail.
It was a reprieve, for sure. There was no stability in the offing, however. Mike's plea deal left him owing about another $350 in court costs. Alicia Pruett's laptop was at the pawnshop. Still, shortly after that crisis passed, she told me she had no doubt that college was the right choice. She had a plan for when she gets her associate's degree—to go on to pursue a bachelor's degree at Louisiana State University. "I try to tell everybody that going back to school, next to being a mom, is probably the best thing I've ever done," Pruett said.
As the near-catastrophes have piled up in the year I've known Pruett, I haven't always been able to envision that rosy outcome—the diploma, the great job. In March, the family was facing possible eviction after Pruett, who was coping with the deaths of three family members, missed a deadline to submit paperwork to the affordable housing program. I haven't been able to reach her since then, and Herrera hasn't heard from her recently, either. So I don't even know what happened, except that she did finish her spring semester, according to Herrera.
Could she stay in school if her family lost their home, again? It feels like everything could unravel, leaving her with nothing to show for two years of college.
I mentioned Pruett's struggles to Lowery-Hart at the time when she thought Mike was headed for jail, and his first concern was that she didn't feel comfortable asking for more help.
"That's my biggest fear," he said. "We have students that use the food pantry, for example, and then they bring food back, they'll try to replenish it. Even when you talk to students that have been ultimately successful, there is that feeling like, 'oh, I require too much of you.'"
Lowery-Hart's voice was cracking; he was on the verge of tears. He furrowed his brow as he typed a text message to ask Herrera about Pruett's situation.
I then mentioned to him the concern among some faculty that the college runs the risk of giving troubled students false hope.
"Without us there is no hope," Lowery-Hart said. "I'll take the risk of false hope, because then there's still a chance. But no hope is no chance at all."