Bloomberg CityLab https://www.bloomberg.com/news/features/2021-08-13/can-courtyards-mount-a-comeback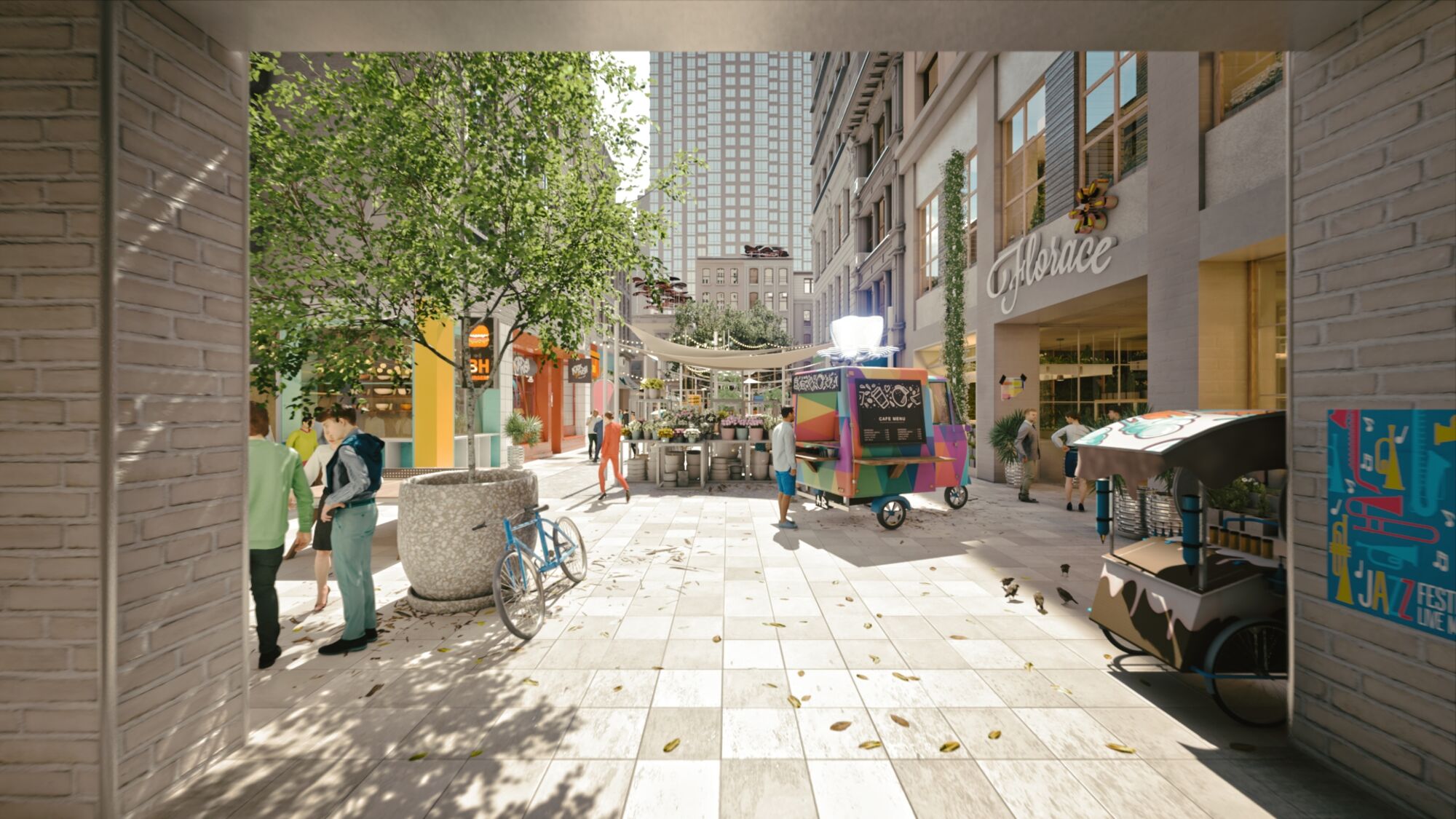 The idea of arranging housing around enclosed central spaces could find fresh applications in crowded urban areas like Manhattan, designers say. Elissaveta M. Brandon, August 13, 2021
The interior courtyards of New York City buildings have many lives. There is the private enclave for residents only. The lush garden so exclusive it's off-limits even to residents. And then there are the hidden courtyards, those urban voids waiting to be shaped into functional public space.
Take the Flower District in Manhattan, which once stretched from Broadway to 6th Avenue between 23rd and 33rd streets in the Chelsea neighborhood, but has since largely been reduced to 28th Street between Sixth and Seventh Avenues. As in many other parts of the city, typical lots in Chelsea go 100 feet deep, but the majority of these buildings — a mix of pre-war townhouses dwarfed by new glass towers like the hip Moxy hotel — don't stretch back that far because they require light and air at the back. That leaves secret courtyards inside many city blocks, many of them overgrown, inaccessible spaces, notwithstanding the occasional private garden.
Architecture firm ODA recently proposed to break open these blocks and activate the voids nestled within by linking them to the street via passageways. Dubbed "Beyond The Street," the project seeks to inject some commercial life back into the neighborhood, which has seen its once-vigorous flower industry wilt as floral wholesalers have fallen prey to rising rents and land values. By opening up these accidental courtyards, ODA is envisioning a revived ecosystem with ground-floor activity, small retail, cafes, art galleries, urban farming, and a diversified housing program.
"A place of urban celebration has died, and now we have a chance to bring it back," says ODA founder and executive director Eran Chen.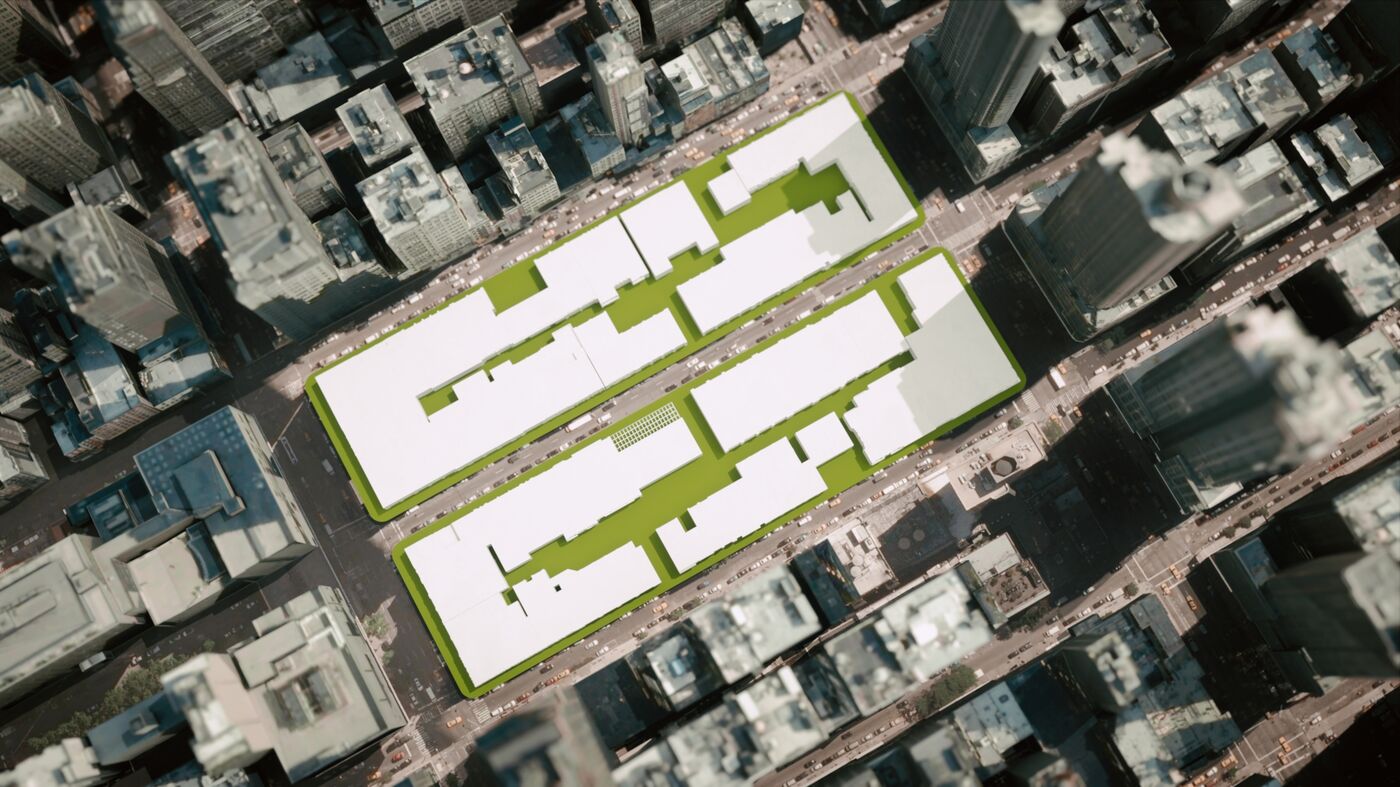 To do that, Beyond the Street proposes a zoning tweak that would encourage developers to build bigger courtyards in return for more building height; additional perks would be doled out if a passageway is created to connect the street to the inner courtyard. For existing buildings, the architects have earmarked a few underutilized parking lots that could provide the initial infrastructure needed to build these connections. Ultimately, a network of linked courtyards, both public and private, would honeycomb the neighborhood.
Chen's inspiration came from cities like Rome, Paris, or Barcelona — cities built in the classical and medieval eras. "The level of intimacy you find and the discovery of pockets of urban spaces is something that inspires me," he says. Medieval cities in Europe, she says, were "articulated around urban plazas connected to a network of pedestrian walkways that became for horses, then for cars." What if, Chen asks, we could take a dense, modern city like New York, and carve out some breathing room by harnessing the power of an 8,000-year old building archetype?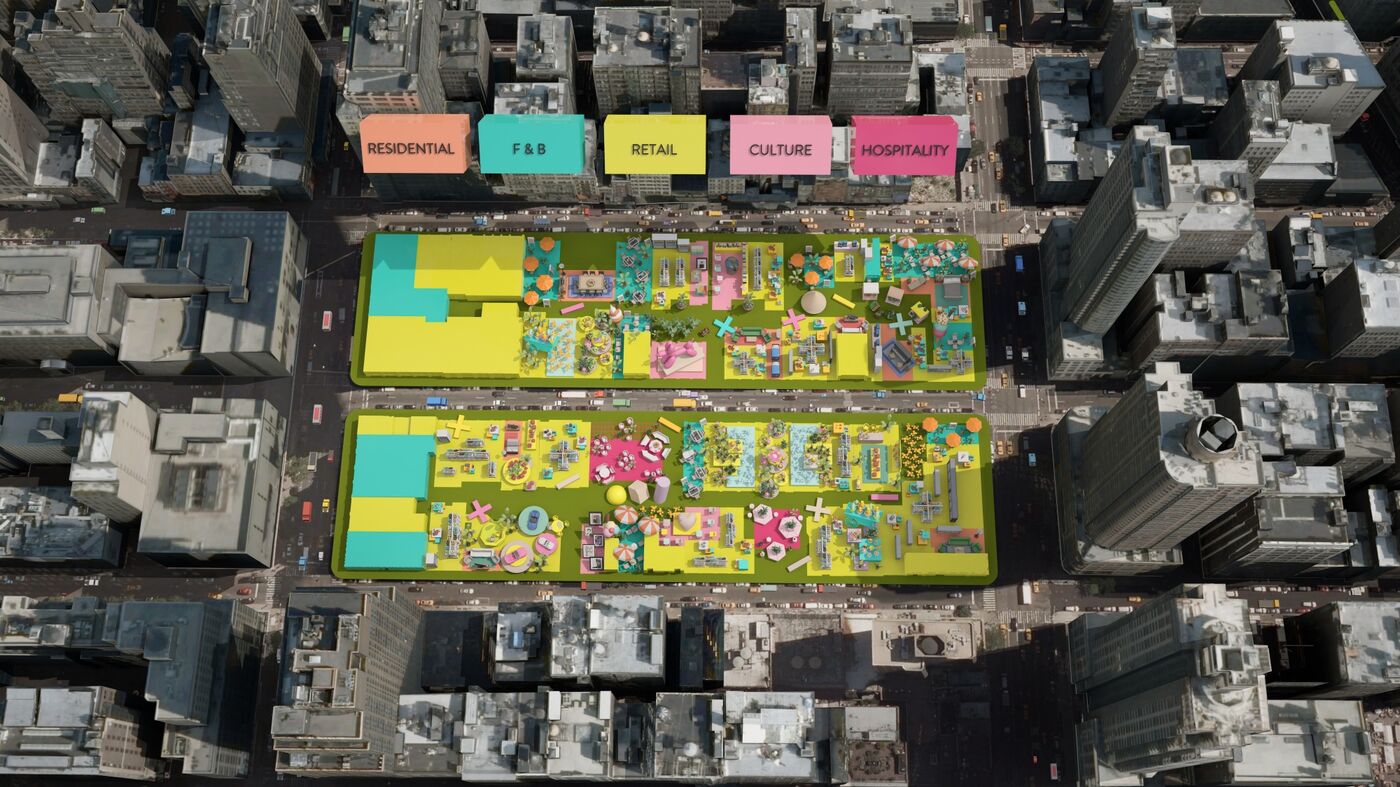 The earliest known courtyards can be traced back to the Jordan Valley of 6400 BC, where houses were built around a shared interior space surrounded by many small rooms. In the Middle Ages, it was most frequently used in monasteries, where the monks' rooms opened onto a secluded central space.
Since then, courtyards as private community spaces have percolated through many cultures and served many functions. Shanghai has the shikumen, a disappearing kind of courtyard building characterized by ornate stone gates and a central court ringed by rooms on three sides. Morocco has the riad, with its inward-looking houses articulated around an interior garden that lets families enjoy privacy in a naturally shaded environment, not unlike the distinctive compound houses of Accra in Ghana. Around Los Angeles, you find the now-endangered bungalow court, a popular early 20th-century housing style that packed a series of small homes around an enclosed patch of lawn. And much of Budapest is made up of enclosed buildings with long uninterrupted balconies that wrap around the inside and overlook a central courtyard.
"They are all over the world. If you start looking, you will find them," says Willemijn Wilms Floet, who teaches at the Delft University of Technology in the Netherlands. Her upcoming book, Urban Oases, due in November, is a love letter to the Dutch contribution to this architectural tradition, the hofje.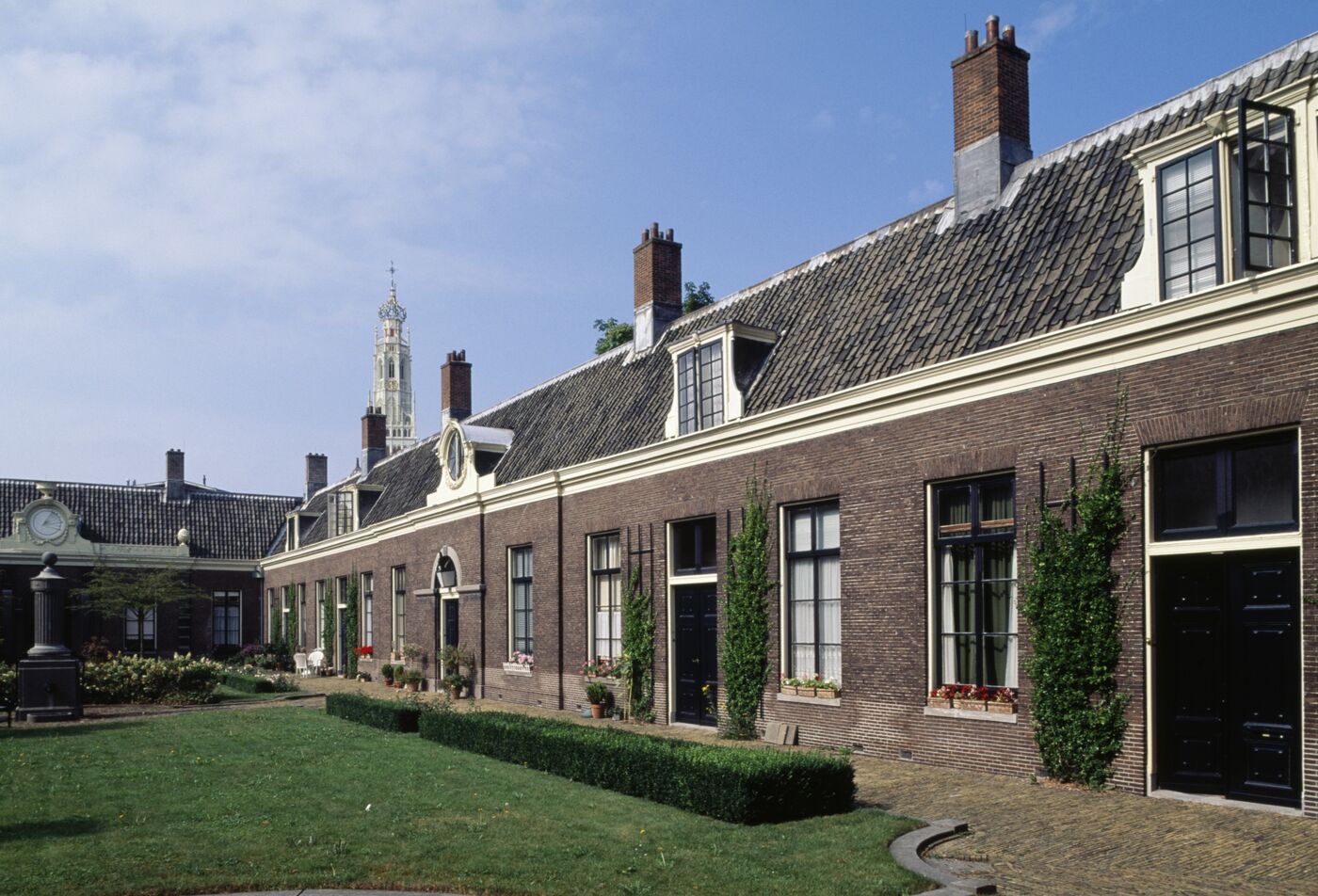 A fixture of cities like Amsterdam, Delft and Haarlem, whose oldest hofje dates back to 1395, a hofje consists of a series of low-rise homes wrapped around a courtyard garden. Though they look and feel like private spaces, many are open to the public. Some have become tourist attractions, others feature a middle path where visitors can go without disturbing the privacy of residents.
"Amidst this urban rush you have this peaceful oasis," says Wilms Floet. "You can build a threshold to control its public character." Some feature monumental gates, others are set off by fences that "look very closed, but if you try, it might open and then you come into another world."
The concept has been adapted for modern cities. In 2008, Geurst & Schulze architects completed Le Medi, a 93-residence housing complex in Rotterdam that blends the architectural tradition of the hofje with the Moroccan courtyard typology. "This hofje is another world — completely hidden and accessible to the public," says Wilms Floet.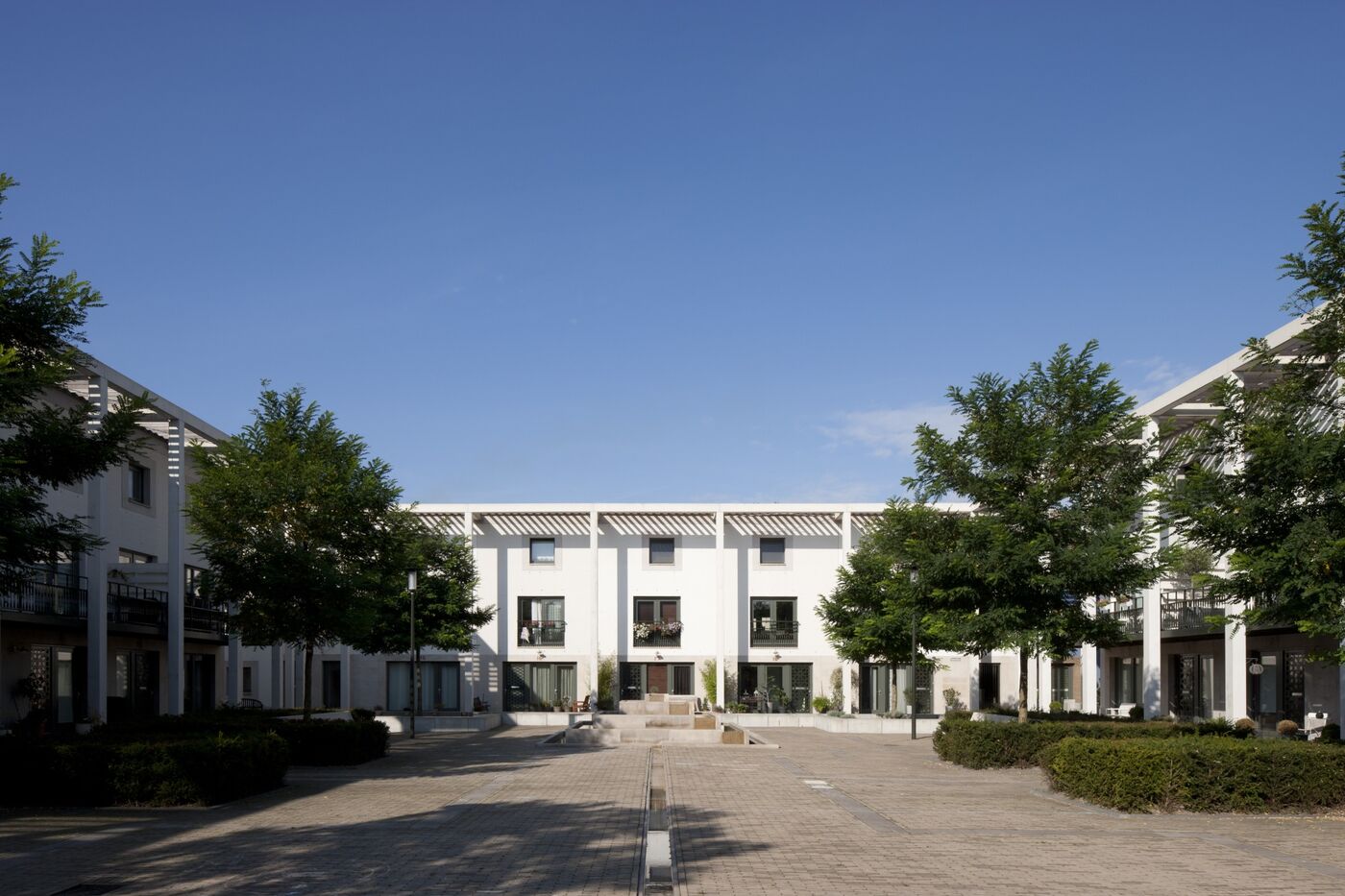 Le Medi is widely popular with residents, many of them young families who told researchers they chose the property because its vast central courtyard provides safe playing areas for children. That same thinking inspired the design of many other courtyard-based housing projects around the world. Some, however, haven't always succeeded as planned.
The seclusion of the design can breed public safety concerns, like in Winnipeg, where Centre Village — a forward-looking 2010 social housing complex designed by Canadian studio 5468796 Architecture that features an enclosed courtyard — has since been criticized as "a magnet for drinking and drug-taking at all hours." And sometimes, decades of neglect undermine the appeal of courtyard living, like in Barcelona's Eixample District, where a 19th century master plan for a grid of porous city blocks, each punctuated by a central garden, was compromised over time. Many of the courtyards were privatized, sealed up or cluttered with warehouses and parking lots, though in recent years, several have been revitalized and re-opened as public green space.
For ODA's Chen, mixed-use programming that keeps the courtyards busy is key to their success in dense environments like New York City. If you describe a courtyard as a hidden space, the image conjures up a lack of visibility — "an invitation for crime," he says. But if you activate these courtyards, "there's always eyes on the street."
Through his practice, Chen has long been an advocate for what he calls "the breathing room of buildings." In Denizen, a multifamily apartment building that fills two city blocks in Bushwick, Brooklyn, he carvedout a series of courtyards at the heart of the massive complex and left some of them open to the public — an idea that, for the developers, took some convincing, he says.
Integrating that kind of breathing room in the Flower District stands to be a bigger challenge, given real estate values in that part of the city. Ultimately, Chen envisions a Manhattan transformed by an island-wide network of linked courtyards, opening up an interior landscape of public space in one of the world's most densely built cities. It's a tall order — but New York City, like Rome, wasn't built in one day.
"Maybe the beauty of European courtyards is they've been built over time," says Chen. "Imagine Manhattan changing in this way over the next 100 years."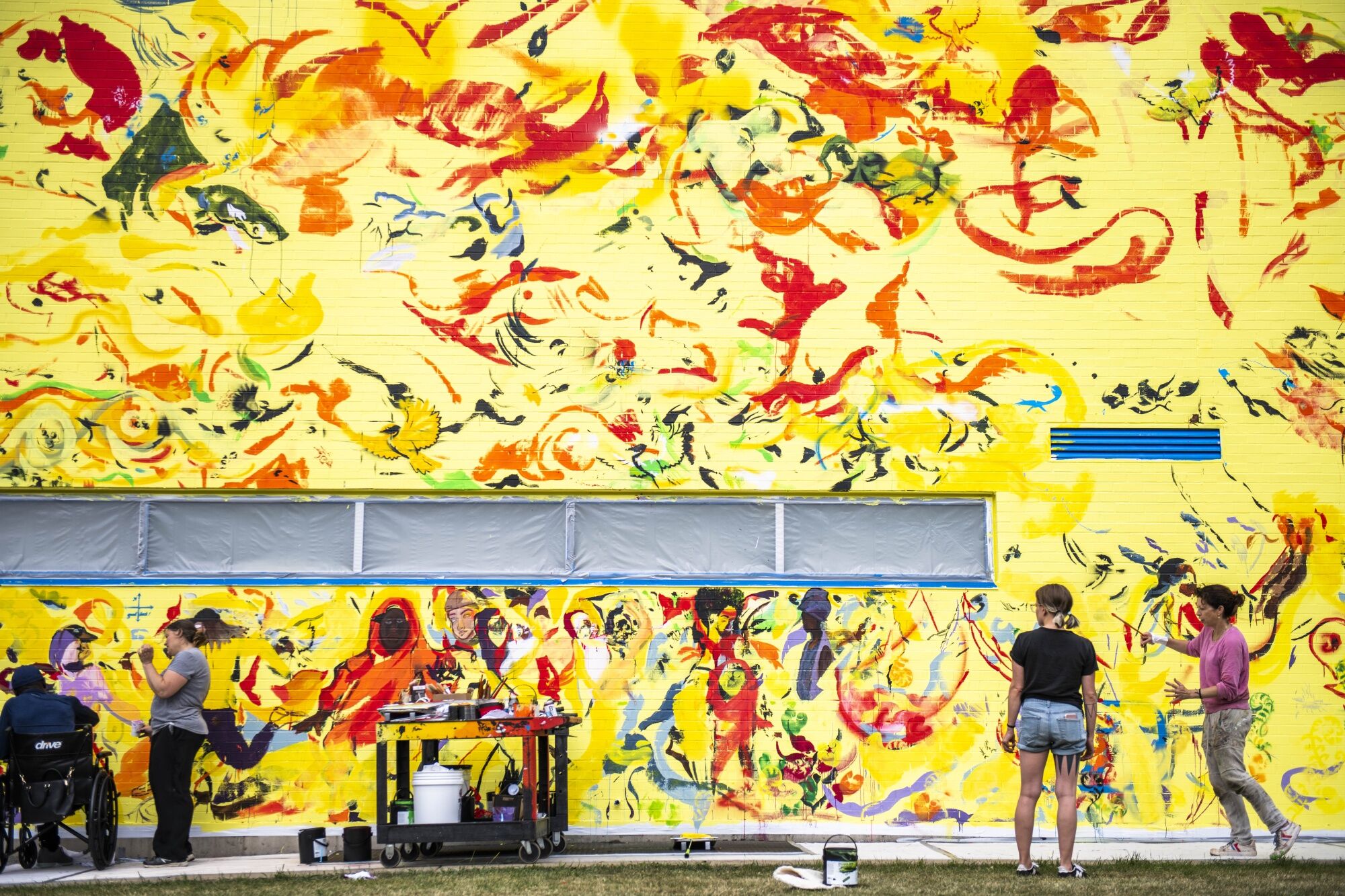 A Mural-Making Spree Lifts Spirits in Buffalo
A new piece from the painter Cecily Brown crowns an extraordinary surge of public art projects in Western New York. By Mark ByrnesAugust 12, 2021, 7:28 AM MDT Updated on August 12, 2021, 4:51 PM MDT
SHARE THIS ARTICLE
It's getting hard to keep track of all the murals being painted in Buffalo right now.
In June, the University at Buffalo painted a 36-foot-tall portrait of James Joyce on a brick wall downtown, to celebrate the coming centennial of his 1922 novel Ulysses. (The university is home to the world's largest collection of James Joyce's manuscripts and materials.) Then an image of civil rights icon John Lewis was unveiled on the side of a community services center on the city's East Side. The Albright-Knox Art Gallery, which has used its unique public art program since 2014 to bring in painters from all over the world, has added angular spectrums of color by Josef Kristofoletti on two sections of an affordable housing complex under construction downtown, and a wall of geometric forms by Maya Hayuk on a dynamic new community health center on the West Side. Even the city's tallest building — a stoic 1970s concrete office tower now experiencing an anything-goes reimagination courtesy its maverick new owner — is getting a two-sided mural along its notoriously stark Main Street underpass.
Yet all of these hardly scratch the surface of the Western New York city's mural boom. "From what I hear, Buffalo has 15 more murals coming this summer," says the artist Cecily Brown, a world-renowned painter whose first-ever mural was completed on a public school facade in July. "The only place I've been that has more murals is São Paulo."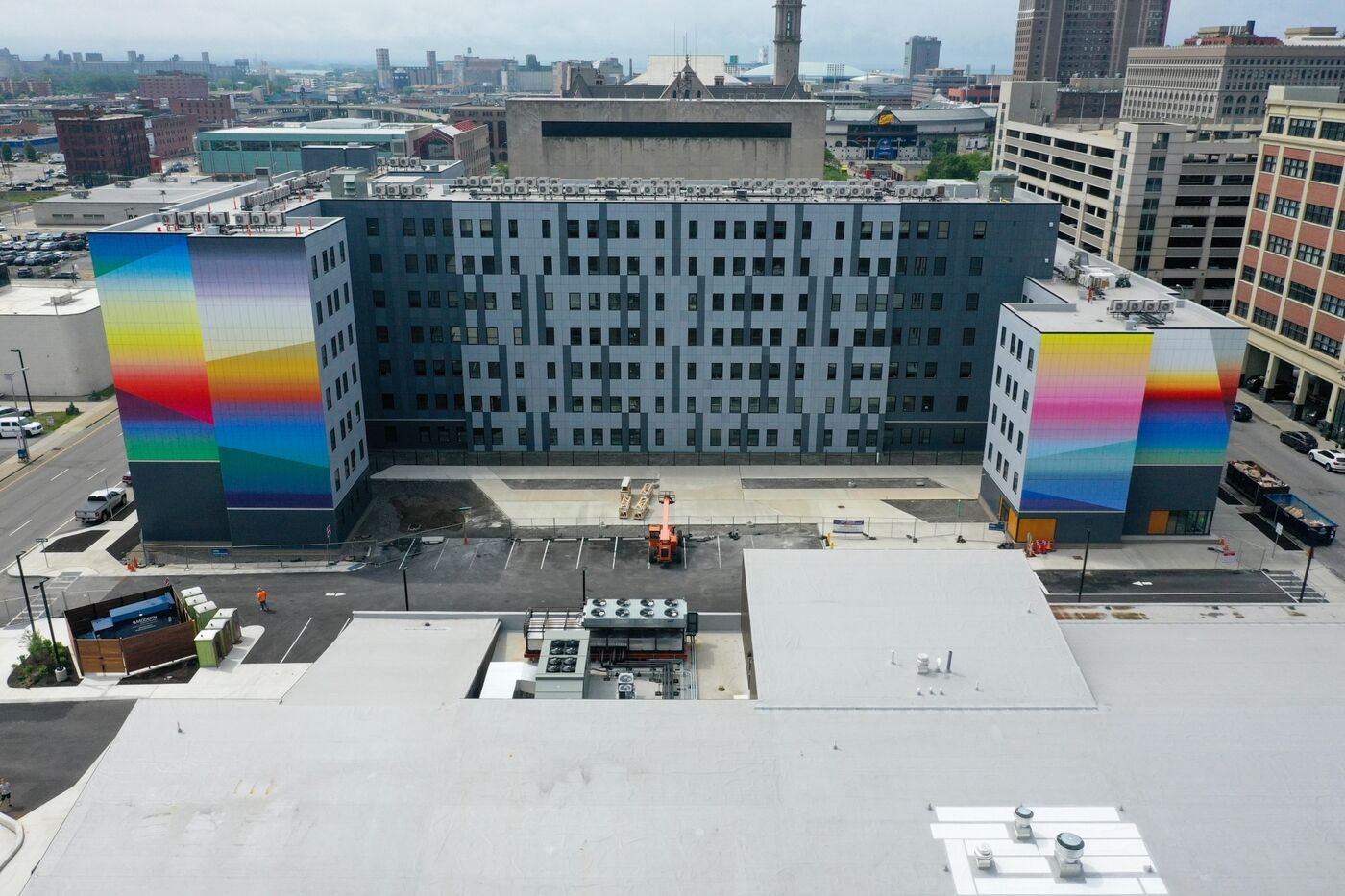 In part, the artistic activity reflects Buffalo's economic challenges. Like nearby Rochester, which also embarked on a mural-painting spree, scaffolds for artists sprout up around town in lieu of construction cranes. More than a decade ago, the city and county governments slashed services and municipal jobs in a brutal reckoning with its post-industrial economic reality. Vacant buildings and empty lots where now-demolished homes and buildings once sat pockmark many parts of the city, whose population has more than halved since 1950.
For years, the most exciting paint-based additions to the city's aging building stock were by its most prolific graffiti writers. But in today's Buffalo, where some neighborhoods have improved and the football team is much better, many locals are now filled with a kind of confidence and optimism that defies population trends and poverty rates. That swagger is best exemplified by a mural on the northern edge of downtown that proudly states "KEEP BUFFALO A SECRET," which immediately became a mandatory selfie spot upon its 2019 unveiling.
In this crowded street art scene, Brown's piece manages to leave its own distinct mark. The British-born, New York-based artist spent June and July painting "Flight of the Chickadee," a yellow cityscape filled with heavy red paint strokes crowned with a rich blue sky filled with flying birds. The mural is a partnership between the UB Arts Collaboratory, an initiative to boost ties between the university's and the city's arts communities, and the Bortolami Gallery's Artist/City program, which has been giving artists opportunities to work beyond the confines of galleries in major cities and get into unconventional urban settings since 2016. Most notably, Eric Wesley transformed an abandoned Taco Bell in Cahokia, Illinois, with paintings, sculptures and a corn field that reference fast food architecture; while conceptual artist Tom Burr arranged material representations of personal and local memories inside Marcel Breuer's then-vacant Pirelli Building in New Haven, Connecticut.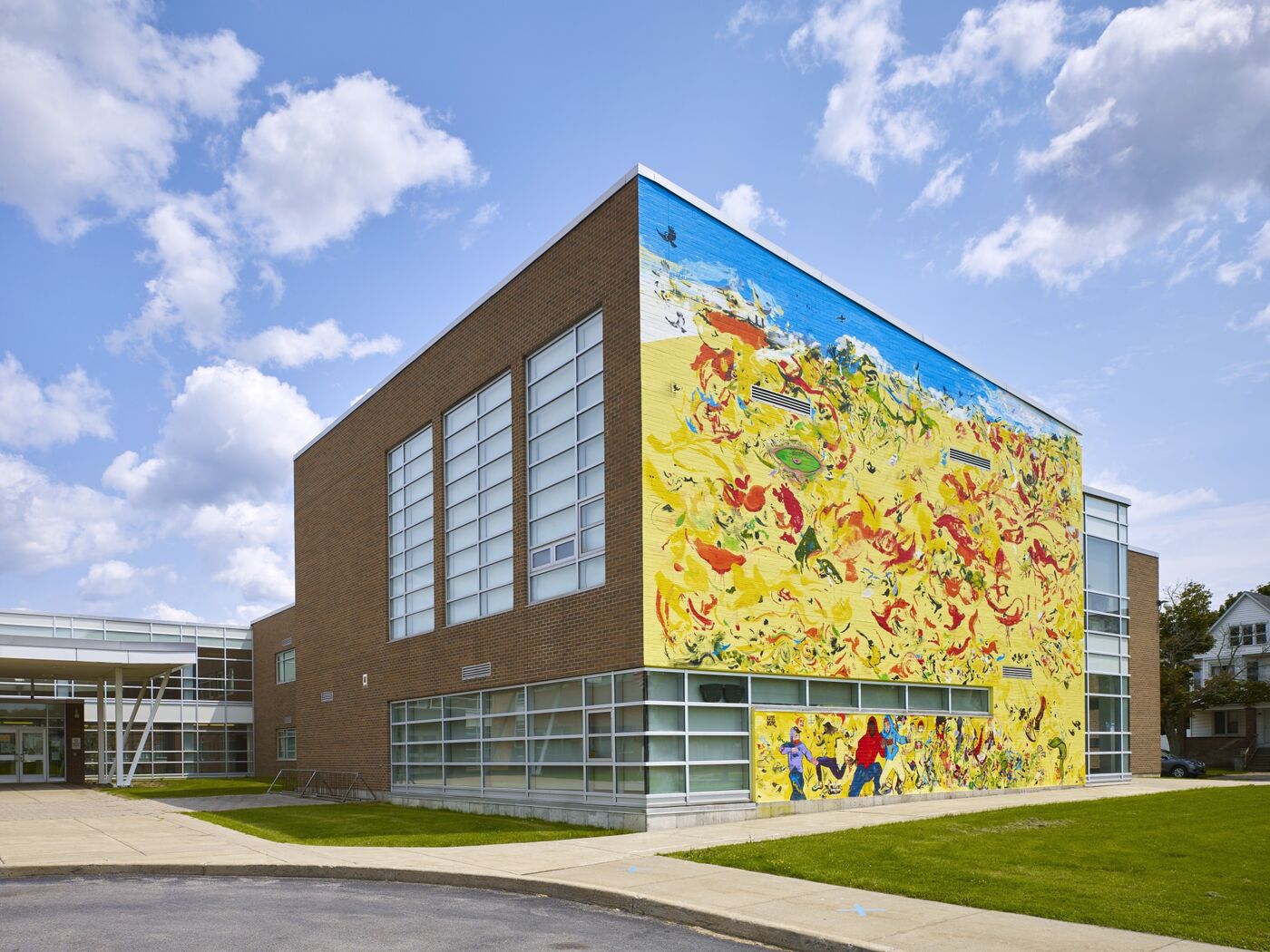 Brown had her eyes on participating in Artist/City for some time. "I had been thinking about expanding into the actual world, so I told [Stefania Bortolami, founder of Bortolami Gallery] I loved these Artist/City projects, and she was like, 'Well, do one!" Brown says.
The artist made a name for herself in the 1990s with her expressive and colorful paintings, often depicting erotic, hedonistic scenes in a frenzied Abstract Expressionist style. Her only other visit to Buffalo occurred in 2001, when the Albright-Knox featured her 1999 piece "Father of the Bride" in an exhibit featuring its recent acquisitions. Since then, Brown has enjoyed working at a much larger scale; a mural was overdue. "I've often wished [my works] could be more public," she says, "so in a way this was sort of an obvious next step for me."
The site she was given was a refreshingly unobvious choice. Brown was assigned a section of the Buffalo Academy for Visual and Performing Arts (BAVPA), a magnet performing arts public high school in Masten Park, a central section of the city that feels farther away from Buffalo's few prosperous neighborhoods than it really is. It sits just east of Main Street, the city's de facto racial dividing line, on a site that played a key role in its racial justice history. Built in 1964 for Woodlawn Junior High, the oldest portions of the building opened as a segregated school for Black children. Civil rights activists attempted to boycott the school board's decision by setting up alternative "freedom schools" but failed to draw enough students. In 1976, a federal court determined that the city had intentionally maintained a segregated public school system, with Woodlawn cited as a prime example. BAVPA, formed in 1977 in response to the ruling, moved into the former middle school after a modernization and expansion in 2007.
Ironically, the construction of the segregated school replaced one of the city's more cherished and integrated gathering places — Offerman Stadium, a ballpark that hosted the minor-league Buffalo Bisons until 1960. Offerman was the site of colossal home runs hit by the former Negro Leagues slugger Luke Easter, an ageless power hitter with a sausage side hustle, as well as the temporary home for the wayward, post-integration Indianapolis Clowns of the Negro Leagues. The story of the Clowns' early-1950s tenure in Buffalo, when a teenage shortstop named Henry Aaron was on the roster, was shared widely recently thanks to Andrew McCutchen, who uncovered it in honor of the city's Covid-era role as home field for MLB's Toronto Blue Jays while Canada closed its border to the U.S.
"I thought if you're the artist, you just show up and do the wall. But people want to be involved."
Art enthusiasts have also had Masten Park on their minds lately. The concrete walls of the bus depot just north of the school were transformed in 2017 into "The Freedom Wall," a collection of 28 portraits of U.S. civil rights leaders, both local and national. The Albright-Knox-initiated project — which initially received community pushback over its lack of Black artists — was later celebrated in a PBS documentary. The neighborhood was also the former home to artist Elizabeth Murray, one of the foremost figures in late 20th century painting. (She was one of the few women to have received a solo retrospective at MoMA before 2010.) This summer, the first posthumous retrospective of Murray is being exhibited inside a University at Buffalo gallery, sharing the little-known story about her two-year stint in Buffalo in the late 1960s, when she lived just south of Woodlawn Junior High.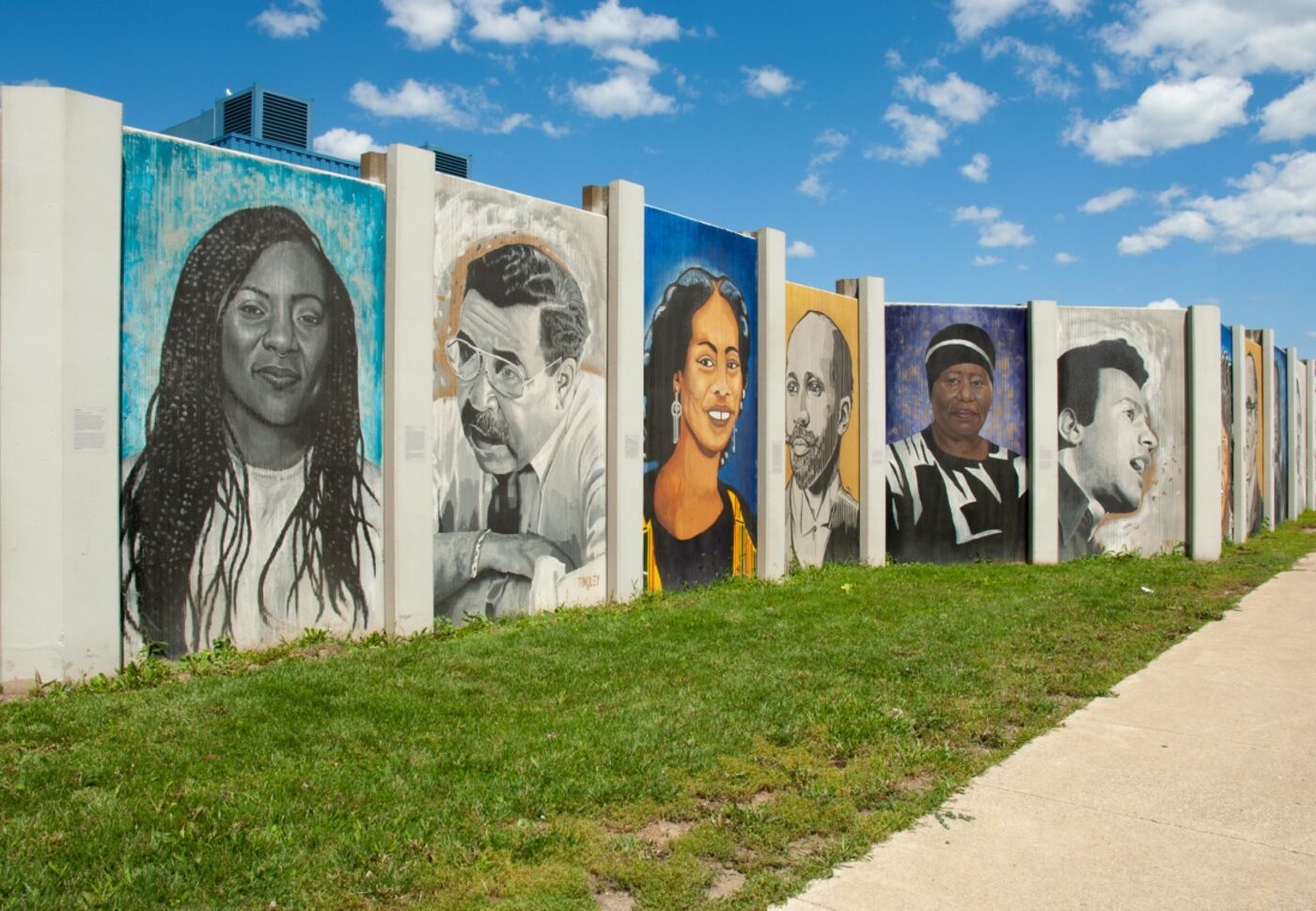 For Brown's mural, situated along the modern wing of the school, a team of local collaborators from a diverse range of art backgrounds was assigned to the artist by the UB Arts Collaboratory. The group included dancers and musicians as well as other painters. "We joked in the beginning we'd have to make sure it didn't turn into a reality show," says Brown, who typically paints in her studio and never lets anyone touch her works in progress. "Eight artists working together could be a disaster."
One of the artists, Julia Bottoms, was also a "Freedom Wall" contributor who jumped at the opportunity to work in Masten Park again. "Before 'The Freedom Wall,' I thought if you're the artist, you just show up and do the wall, but people want to be involved — even if it's just to tell you it's important that you're doing this, that you're making something beautiful for the community," says Bottoms. "It's an amazing opportunity not only to have a piece by Cecily here, but to have something that was taking direct feedback from locals about what they want to see in a piece by her."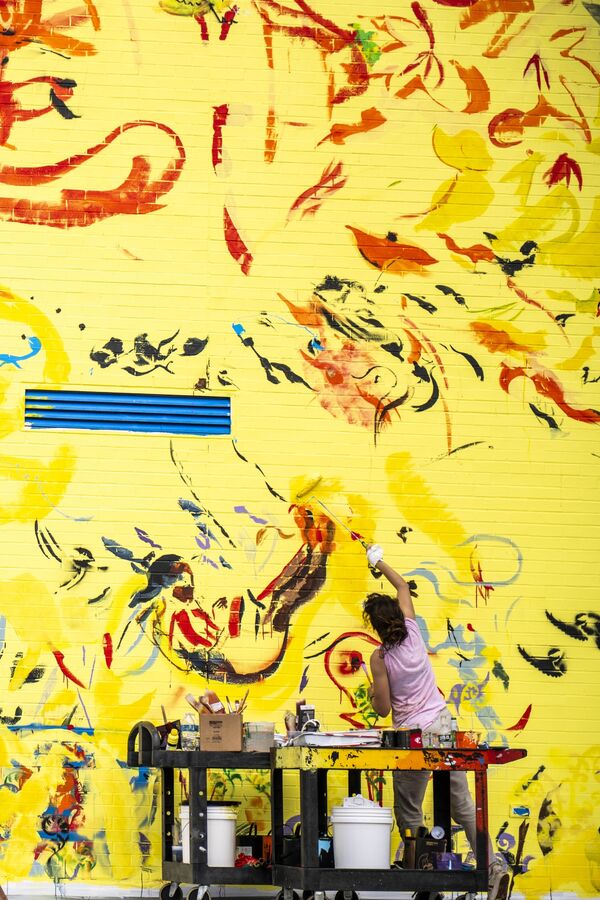 Despite the wealth of historic materials to work with, the group kept its focus on nature, especially plants and fauna. The site's baseball past did find its way into the scene, however. "Once I knew it had a baseball field, I thought that would be great," says Brown. "I don't know anything about sports, I just like the way a baseball field looks — it really opens everything up since my work can get dense."
Brown's art often blends elements of landscape and figures in motion, exploring "how something can go from quite legible … and transform into something abstract," she says. With a mural, she adds, "you're trying to almost make that explicit so the figures more gradually break down into abstract gestures and come back into configuration."
In brainstorming the piece, Brown's group decided that it would be useful to have more figurative forms at the bottom before transitioning to more abstract as one looks up. At the base of "Flight of the Chickadee," a group of BAVPA students selected by the school's faculty painted themselves in choreographed dance poses with the help of Naila Ansari, a SUNY Buffalo State assistant professor of theater. To pick the motions, she danced with the kids, who then posted their moves on TikTok. George Hughes, a University at Buffalo professor of art, transcribed the figures and made drawings based on the videos they supplied, and Brown incorporated Hughes' figures into her design. (A corresponding exhibit inside a downtown gallery run by the UB Arts Collaboratory displayed the sketches that led to the final product.) A thin section of glass that travels across most of the wall serves as a sort of divider between the student depictions at the base and the distinctly Cecily Brown landscape above.
"The big thrill is to have done something for everyone that is public and free," says Brown, whose "Figures In a Landscape 1" sold for $5.5 million last year. "I want these kids and future kids to love it, and for the people who work at the school and the neighbors to feel ownership over it."
The energy of "Flight of the Chickadee" energy is palpable, but what it's saying cannot be as quickly digested as the more visible murals around town that appear tailor-made for Buffalovers with Instagram followings. Having wanted to go big and beyond the gallery, Brown has accomplished something unique for herself and for her host city.
"I'm really happy," Brown says of the final result. "I normally never say that about my paintings, but because this was a collaboration it doesn't feel like I'm boasting." (Updated with additional information on the UB Arts Collaboratory in the sixth paragraph. )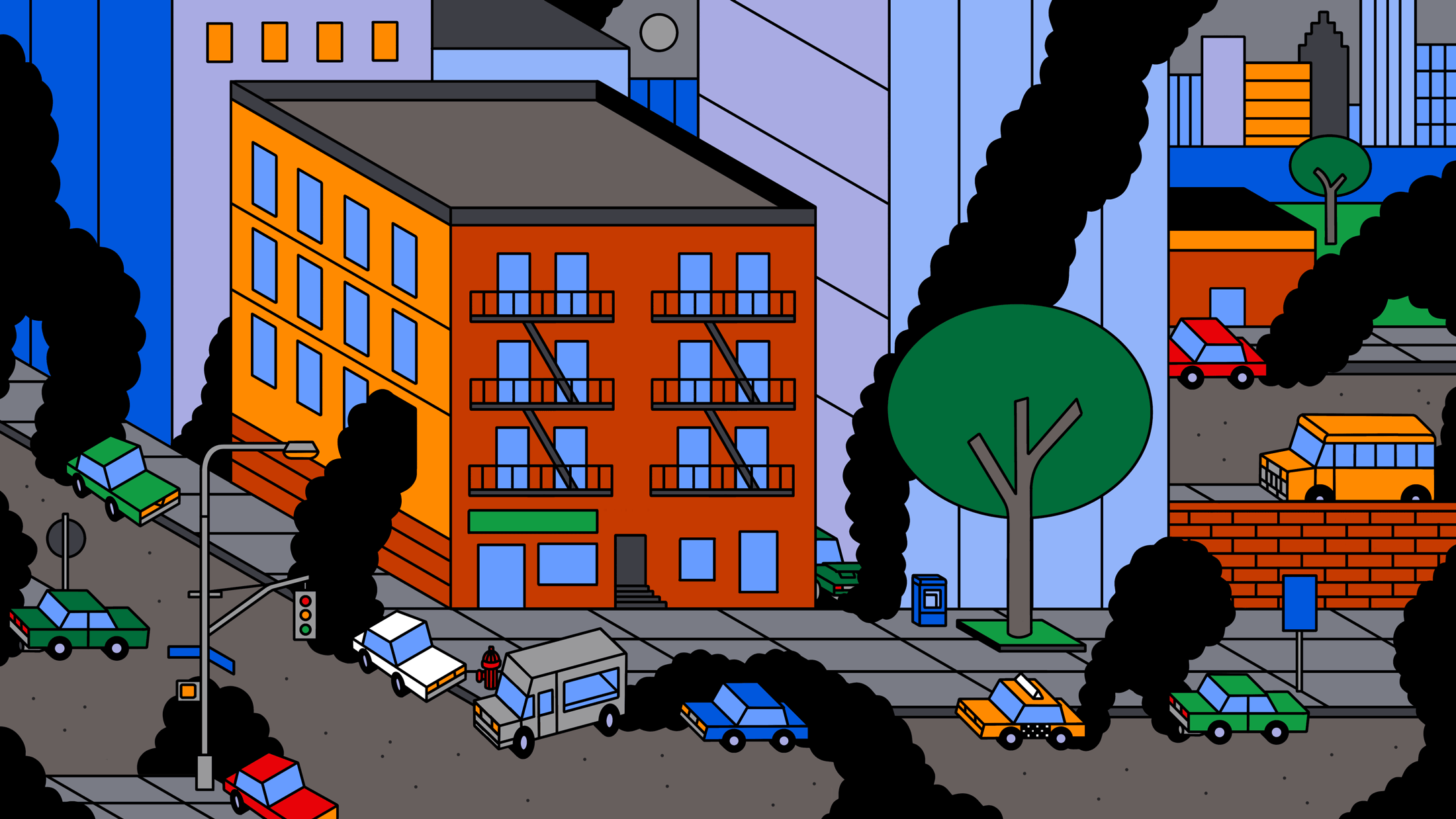 How to Win the War on Car Idling
Air-pollution laws, enforcement sprees and educational campaigns haven't worked. What will it take to make drivers shut off their engines when they're parked? By John SuricoAugust 10, 2021, 7:43 AM MDT
SHARE THIS ARTICLE
At the end of February 2020, just days before New York City reported its first coronavirus case, a crowd gathered in front of City Hall for a press conference that stirred to the sounds of "White Wedding" by Billy Idol.
Idol himself stood alongside Mayor Bill de Blasio, who proclaimed that "White Wedding" would be the walk-on music for all future City Hall policy announcements. The then-64-year-old rocker was there to help launch a new public awareness campaign, "Billy Never Idles," aimed at reminding New Yorkers to turn off their engines when not in use. "Shut it off!" Idol bellowed, in his signature style.https://platform.twitter.com/embed/Tweet.html?dnt=true&embedId=twitter-widget-0&features=eyJ0ZndfZXhwZXJpbWVudHNfY29va2llX2V4cGlyYXRpb24iOnsiYnVja2V0IjoxMjA5NjAwLCJ2ZXJzaW9uIjpudWxsfSwidGZ3X2hvcml6b25fdHdlZXRfZW1iZWRfOTU1NSI6eyJidWNrZXQiOiJodGUiLCJ2ZXJzaW9uIjpudWxsfSwidGZ3X3NwYWNlX2NhcmQiOnsiYnVja2V0Ijoib2ZmIiwidmVyc2lvbiI6bnVsbH19&frame=false&hideCard=false&hideThread=false&id=1233436952717856768&lang=en&origin=https%3A%2F%2Fwww.bloomberg.com%2Fnews%2Ffeatures%2F2021-08-13%2Fcan-courtyards-mount-a-comeback&sessionId=5689b5959703a3fa90d8cb2c93bc73a35cee0566&siteScreenName=citylab&theme=light&widgetsVersion=1890d59c%3A1627936082797&width=550px
The episode provided some memorably insane visuals, and soon after, billboards of Idol and the slogan emerged around the city. But then the pandemic crashed into New York City, and the War on Idling was quickly overshadowed. Anyone who walks down the streets of the city today knows who won.
Look around anywhere in the sweltering summer of 2021 and you'll probably see someone sitting in their car, parked, with fumes rising from the exhaust. Idling is not just a New York problem: It's a global phenomenon. Wherever there are cars, there are drivers cocooned in running vehicles, often immersed in their smartphones, seemingly oblivious to the internal combustion engine rumbling pointlessly a few feet away.
Call it a crisis of habit or negligence. Drivers who pull over in a "No Standing" zone — like in front of a fire hydrant or bus stop — are common culprits. Cab drivers, cops, and moms and dads waiting in school pick-up lines are notorious idlers, as are delivery trucks making stops, the number of which continues to soar with pandemic-era e-commerce. Some idling is based on the now-outdated understanding that you need to "warm up" a cold engine, especially in the winter, for several minutes. Long-haul truckers that lack auxiliary power units often must run their diesels all night to heat or cool their cabs as they sleep, a practice that can burn almost 2 gallons of fuel an hour. State and local laws that ban idling after several minutes are widespread, but they're almost universally flouted, as headlines repeatedly show.
According to the U.S. Department of Energy, heavy- and light-duty vehicles waste 6 billion gallons of fuel each year through idling. Half of those offenders are private vehicles, which together add about 30 million tons of carbon dioxide to the atmosphere each year. If idling stopped tomorrow, it'd be the equivalent of taking 5 million vehicles off the road. A 2009 paper said that idling alone made up 1.6% of America's total greenhouse gas emissions.
The abundant negative externalities of the practice have taken on new urgency amid the many climate-related crises of the last year. Beyond its carbon toll, idling contributes to air pollution, an increasingly prominent environmental justice issue as more researchers look into the links between Covid-19 and local air quality. And it's a powerful driver of the urban heat island effect — next time you want to be miserable, walk past a line of idling cars on a hot day and marvel at the volume of heat drivers pump out as they run what are essentially 300-horsepower gas-powered personal air conditioners.
On top of everything else, it's bad for your engine.
When New York Magazine's David Wallace-Wells wrote, in his book The Uninhabitable Earth, that we are "a civilization enclosing itself in a gaseous suicide, a running car in a sealed garage," it's hard not to think of idling as an all-too-literal manifestation of his metaphor — a constant reminder of humanity's refusal to make even the tiniest of behavioral adjustments (just reach down and turn a key!) to save itself. As far as climate change mitigation goes, getting people to stop idling is just about the lowest of the low-hanging fruit.
But most anti-idling initiatives boil down to education campaigns, pledges, and a few signs. And in general, they've failed miserably. So how can cities curb this cursed practice once and for all?

If you dig into this topic, you will quickly come across George Pakenham. The Wall Street banker is a "man on emission," as the 2012 autobiographical documentary Idle Threat, called him. Since 2005, Pakenham has been politely asking thousands of drivers of idling commercial vehicles around Manhattan to shut off their engine, handing them a simple business card with the legal fines attached. He kept an Excel spreadsheet of every encounter, with what he says was an 80% success rate. (I've had similar luck when I attempt to follow his example.)
About two months into his anti-idling odyssey, Pakenham rapped on the window of an idling limousine. "The driver told me, 'Leave me alone, I'm a cop, I'm on watch, go away,'" Pakenham says. As he walked away, the driver yelled out. "You know, there's a law against what I'm doing. I don't know what the law is, but I know there's a law against it. And if you're so damn interested in it, why don't you pursue it?"
That is how Pakenham, who labels himself a "vigilante" for better air, discovered what is the case for many cities: There has been an idling law on the books since the 1970s, but it is barely enforced. "Mostly symbolic," as one local newspaper in Utah described it, could be a term widely used.
Since idling is technically a moving violation, it's often not under the jurisdiction of traffic enforcement agents (TEAs). But since it's also an environmental issue, it is overseen by the city's Department of Environmental Protection (DEP), which doesn't have many officers walking the streets. Thus, idling is left in an enforcement purgatory; in many cities, barely any tickets for idling are written each year.
With a boost from the Environmental Defense Fund, Pakenham's push spurred media coverage and helped lead then-Mayor Michael Bloomberg to impose stricter limits on idling, particularly near schools, where children are more vulnerable to air pollution. (Michael R. Bloomberg is the founder and majority owner of Bloomberg LP, the parent of Bloomberg CityLab.) Still, the laws "lacked teeth," says Pakenham. New Yorkers (including the mayor) continued to idle.
But in 2018, the city's anti-idling movement notched a major victory: New York started what's known as the Citizens Air Complaint Program, the first of its kind in the nation. Essentially, citizens are invited to submit evidence of a truck or bus idling to DEP in exchange for a quarter slice of the fine, should one be issued. (Passenger vehicles are notably given a pass.)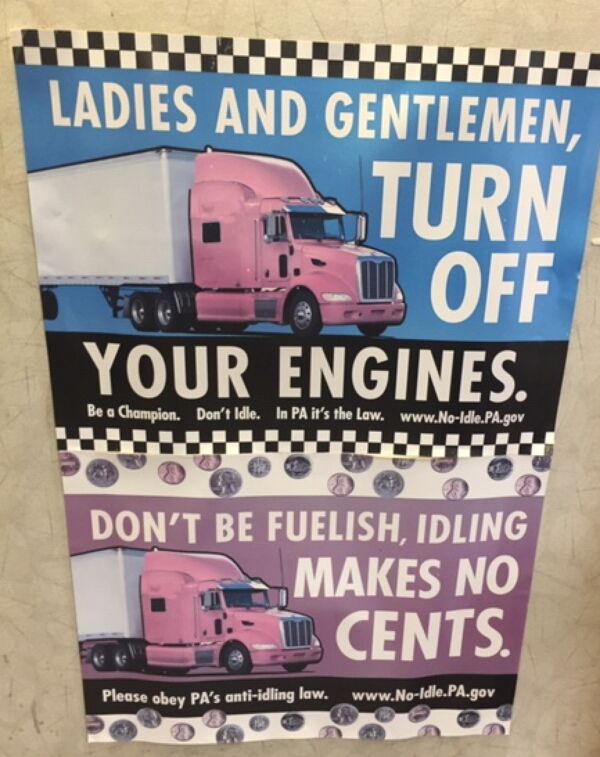 Before the law, only 24 idling-related summonses were given in 2017; in 2018, after the law was enacted, that number jumped to 1,038. Nearly 20,000 complaints have now been filed from about 2,500 people, 90% of which have resulted in summonses. Pakenham himself has made more than $10,000 in the hustle, he said. He's now part of a group of nearly 40 people who call themselves Idle Warriors; they submit the bulk of the videos. "They're very ardent, they're very professional, and they're very earnest in making this thing work," he says.
One member told me that an awareness campaign like "Billy Never Idles" isn't sufficient. "Education has been tried for a long time, but until there's a penalty associated, it's either a) I don't care; or b) I'm just waiting for someone," the member told me. (They requested anonymity, because they have received occasional threats from angry drivers.) "It's a tragedy of the commons, really."
These kinds of citizen watchdogs are needed, advocates say, because they outlast the enforcement spikes that some cities do. When I asked Pakenham if he thought that this was the best system — having residents report infractions, instead of the government — he bristled. "It's absurd that it's on citizens!" he said. The cash prize made it digestible, he added, but more institutional support was needed. The city was considering a smartphone app that would streamline submissions, he said, but talks have stalled since Covid. (Washington, D.C., and Philadelphia have since launched similar programs using various apps, but without the financial incentives.)
Calls to allow TEAs to enforce idling have been opposed by the New York Police Department, which cites logistical reasons; with the law as is, an officer would have to wait around three minutes before writing a ticket. Worries of confrontation have also been flagged, as police officials say traffic enforcement agents are more likely to be victims of assault than uniformed officers. A similar argument doomed a citizen complaint program for illegal parking in January. But this question comes at a time when advocates and policymakers are revisiting the role of police in traffic enforcement writ large, thanks to racial discrimination issues and other problems. Is it worth giving law enforcement more responsibilities? Or should a new approach be taken altogether?
To try to answer this, I reached out to Jeff Novich, who analyzed all 20,000 citizen complaints about idling in New York City this last June in a Medium post. Novich created the Reported app, which allows any user in New York to report a car that is blocking crosswalks, parked illegally, or driving recklessly. (It doesn't come with a cash prize.) "Citizens should always feel empowered to file complaints on drivers and be able to act on them without getting police involved," he argued. "But that's a fallback."
Like many transit advocates, Novich is skeptical that the police, even if further involved, would help solve the problem. "As a tax-paying resident, I should feel confident that enforcement is being done effectively," he said. "And I don't feel that way at all." The rampant use of illegal placards and official vehicles that are parked illegally (not just in New York) lends to his cause.
Instead, Novich said that cities should explore automated enforcement. While no camera currently exists for idling, Novich said he can imagine one that identifies and timestamps how long a vehicle is in a zone, similar to the parking enforcement system in Amsterdam. Thermographic cameras, for heat, are another option.
"At the very least, we have tech that could get us more accurate survey data to know what's going on," Novich said.

There's another kind of technology that promises to turn the tide in the war on idling — eventually. When every internal combustion-powered car and truck on the road is replaced by a battery-powered electric vehicle (EV), the phenomenon disappears.
Of course, that date still appears as a hazy oasis; EVs make up less than 5% of all new U.S. car sales. But in other countries, adoption is picking up speed. President Joe Biden is pushing to put as many EVs into U.S. garages as possible by 2030, and automakers are lining up to rid themselves of gas-fueled cars in the coming years.
Many newer cars, especially hybrids and low-emission vehicles (LEVs), already boast an anti-idling feature — stop-start systems that automatically shut the engine down when the car is in gear but not moving, to save gas. (Listen next time you're at a stoplight: a newer car will shut off entirely before cranking back up when the light turns green.) But these systems typically don't operate when the vehicle is idling in "park" for extended periods. And many owners are sufficiently annoyed by the feature to disable it.
Other forms of vehicle technology focus on nudging driver behavior.
"It's all about the data," says Kurt Wyman, the North America vice president of sales for Teletrac Navman, a telematics company that helps public and private organizations monitor their fleets. "If you capture data, you can start influencing the behavior."
In one city case study, the company tracked idling on police vehicles and found that, on average, a police car idled 20 minutes a day. "Just look at the raw numbers," he said. "If I have a thousand vehicles and every one is idling 20 minutes a day, if you just took two minutes off each one, that's probably tens of thousands of dollars of cost savings." When they analyzed the data, they determined where officers were idling and who the biggest offenders were. The system, says Wyman, "paid for itself in months."
The same results have been found in other cities that invested in anti-idling technology. Geography and other factors need to be considered, Wyman notes: Police cars in Phoenix during the summer may use their engines differently than those in Detroit in the winter. And he recommends sharing data regularly and extensively with municipal workers. One popular approach is gamification. Workers who turn off get a reward — a tactic commonly used in the car insurance industry. It's a supportive, rather than punitive, approach. "That encourages them to use the electronic lock," Wyman said, "rather than seeing it as Big Brother."
Cities electrifying their municipal fleets or cracking down on idling join others in the private sector. With a growing emphasis on "last mile" logistics, or the trip from a distribution hub to your front door, Wyman said private operators are showing heightened interest in reducing fuel costs and climate impacts. For fleets as large as, say, Amazon — which is planning to put 100,000 electric delivery vans on the road by 2030 — anything that reduces costs and negative externalities like air pollution and carbon emissions offers a competitive advantage. "They're paying attention," Wyman says.
Even if drivers don't self-enforce, London has a secret weapon: the Ultra-Low Emission Zone.
In London, where air quality is a major talking point, the war on idling has followed a similar script. The City of London Corporation launched Idling Action Days in 2015, says Kristina Drake, a spokeswoman. What first started as an informational campaign has since morphed into a suite of actions involving 31 local authorities, funded by City Hall.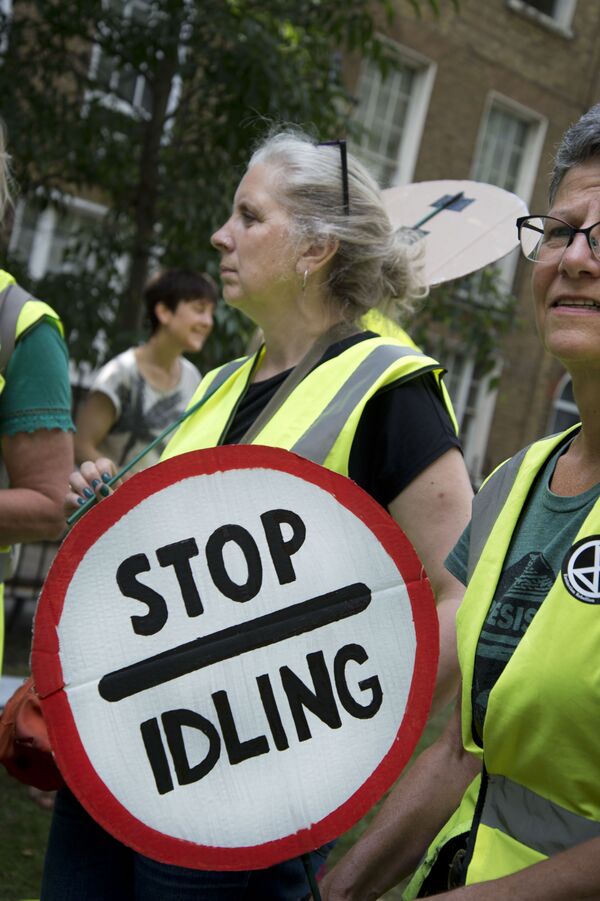 Local authorities have the power to penalize drivers for idling in the U.K., but Jack Alexander, a project officer with Idling Action London, says that working with those authorities made issues with existing legislation come to light. The fine itself — usually 20 pounds — isn't really enough to make a difference. Additionally, the officer must ask a driver to switch off their engine before issuing a fine. "In practice, this means fines are issued for failing to cooperate with an enforcing officer instead of for an idling contravention," Alexander says.
So even though there were an estimated 13,000 interactions last year between officers and drivers in participating authorities, few fines were issued. And the lack of clarity over how to enforce the law makes it confusing for drivers, too. "Ultimately, whilst we would welcome higher fines and fewer legal barriers to enforcement, we believe that enforcement alone is insufficient in driving behavior change around engine idling," Alexander says.
That's where the Idling Action campaign comes in. Local authorities that sign onto the educational campaign are instructed to train the contractors they hire in anti-idling behavior and obtain pledges for sticking to it. A number of major contractors — including Veolia, the French-based transportation services multinational — have since complied.
The effectiveness of anti-idling campaigns has been the subject of psychological study by U.K. researchers. One 2017 study looked at drivers at a Canterbury rail crossing who were presented with a spooky-looking sign illustrated with a pair of staring eyeballs and the message "Think of yourself: When barriers are down switch off your engine." They found that this appeal to a driver's "private self" activated a kind of internal surveillance and proved more effective than standard warning placards.
But even if drivers don't self-enforce, London has a secret weapon. The Ultra-Low Emission Zone (ULEZ), introduced by Mayor Sadiq Khan in 2019, charges drivers with older, more-polluting cars an additional fee to enter the city's central district (on top of a congestion fee). According to the city's figures, the program removes nearly 14,000 cars from the road every day and reduces air pollution in the area by a third. In October, ULEZ will expand to a size 18 times larger than the current area.
With backing from Westminster, Bath and Birmingham now also have "Clean Air Zones," and more cities are set to follow in the coming years. What the mechanism effectively does is force companies and private individuals to invest in cleaner, newer vehicles, which are less likely to idle.
Pakenham's one-man fight against idling in the U.S. — and his successful monetization of it — has stirred calls for a similar citizen bounty program in the U.K., too. In the times we've spoken, Pakenham has voiced frustration that more cities haven't shown a "real curiosity" in taking on idling. But he's hoping that the arrival of more aggressive policies, paired with growing awareness of the impact of our collective carbon footprint, will finally get folks to pay attention.
"Fundamentally, this is a public health issue. The bulk of air pollution in all of America is from the internal combustion engine. That's appalling," he says. "This is a solution. Nobody likes to go into their wallet, rich man or poor. Do it once, and you're not going to do it again."