"The way that we talk about climate change is too compartmentalised, too siloed from the other crises we face. A really strong theme running through the book is the links between it and the crisis of rising white supremacy, the various forms of nationalism and the fact that so many people are being forced from their homelands, and the war that is waged on our attention spans." – Naomi Klein
Interview with Naomi Klein: 'We are seeing the beginnings of the era of climate barbarism'
By Naomi Klein, 14 Sep 2019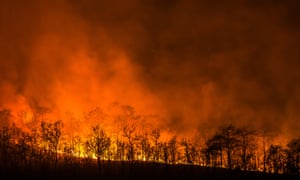 On a Friday in mid-March, they streamed out of schools in little rivulets, burbling with excitement and defiance at an act of truancy. The little streams emptied on to grand avenues and boulevards, where they combined with other flows of chanting children and teens. Soon the rivulets were rushing rivers: 100,000 bodies in Milan, 40,000 in Paris, 150,000 in Montreal. Cardboard signs bobbed above the surf of humanity: THERE IS NO PLANET B! DON'T BURN OUR FUTURE. THE HOUSE IS ON FIRE!
There was no student strike in Mozambique; on 15 March the whole country was bracing for the impact of Cyclone Idai, one of the worst storms in Africa's history, which drove people to take refuge at the tops of trees as the waters rose and would eventually kill more than 1,000 people. And then, just six weeks later, while it was still clearing the rubble, Mozambique would be hit by Cyclone Kenneth, yet another record-breaking storm.
Wherever in the world they live, this generation has something in common: they are the first for whom climate disruption on a planetary scale is not a future threat, but a lived reality. Oceans are warming 40% faster than the United Nations predicted five years ago. And a sweeping study on the state of the Arctic, published in April 2019 in Environmental Research Letters and led by the renowned glaciologist Jason Box, found that ice in various forms is melting so rapidly that the "Arctic biophysical system is now clearly trending away from its 20th-century state and into an unprecedented state, with implications not only within but also beyond the Arctic." In May 2019, the United Nations' Intergovernmental Science-Policy Platform on Biodiversity and Ecosystem Services published a report about the startling loss of wildlife around the world, warning that a million species of animals and plants are at risk of extinction. "The health of ecosystems on which we and all other species depend is deteriorating more rapidly than ever," said the chair, Robert Watson. "We are eroding the very foundations of economies, livelihoods, food security, health and quality of life worldwide. We have lost time. We must act now."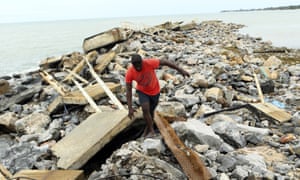 It has been more than three decades since governments and scientists started officially meeting to discuss the need to lower greenhouse gas emissions to avoid the dangers of climate breakdown. In the intervening years, we have heard countless appeals for action that involve "the children," "the grandchildren," and "generations to come". Yet global CO2 emissions have risen by more than 40%, and they continue to rise. The planet has warmed by about 1C since we began burning coal on an industrial scale and average temperatures are on track to rise by as much as four times that amount before the century is up; the last time there was this much CO2 in the atmosphere, humans didn't exist.
As for those children and grandchildren and generations to come who were invoked so promiscuously? They are no longer mere rhetorical devices. They are now speaking (and screaming, and striking) for them selves. Unlike so many adults in positions of authority, they have not yet been trained to mask the unfathomable stakes of our moment in the language of bureaucracy and overcomplexity. They understand that they are fighting for the fundamental right to live full lives – lives in which they are not, as 13-year-old Alexandria Villaseñor puts it, "running from disasters".
On that day in March 2019, organizers estimate there were nearly 2,100 youth climate strikes in 125 countries, with 1.6 million young people participating. That's quite an achievement for a movement that began eight months earlier with a single teenager deciding to go on strike from school in Stockholm, Sweden: Greta Thunberg.
The wave of youth mobilisation that burst on to the scene in March 2019 is not just the result of one girl and her unique way of seeing the world, extraordinary though she is. Thunberg is quick to note that she was inspired by another group of teenagers who rose up against a different kind of failure to protect their futures: the students in Parkland, Florida, who led a national wave of class walkouts demanding tough controls on gun ownership after 17 people were murdered at their school in February 2018.
Nor is Thunberg the first person with tremendous moral clarity to yell "Fire!" in the face of the climate crisis. Such voices have emerged multiple times over the past several decades; indeed, it is something of a ritual at the annual UN summits on climate change. But perhaps because these earlier voices belonged to people from the Philippines, the Marshall Islands and South Sudan, those clarion calls were one-day stories, if that. Thunberg is also quick to point out that the climate strikes themselves were the work of thousands of diverse student leaders, their teachers and supporting organisations, many of whom had been raising the climate alarm for years.
As a manifesto put out by British climate strikers put it: "Greta Thunberg may have been the spark, but we're the wildfire."
For a decade and half, ever since reporting from New Orleans with water up to my waist after Hurricane Katrina, I have been trying to figure out what is interfering with humanity's basic survival instinct – why so many of us aren't acting as if our house is on fire when it so clearly is. I have written books, made films, delivered countless talks and co-founded an organisation (The Leap) devoted, in one way or another, to exploring this question and trying to help align our collective response to the scale of the climate crisis.
It was clear to me from the start that the dominant theories about how we had landed on this knife edge were entirely insufficient. We were failing to act, it was said, because politicians were trapped in short-term electoral cycles, or because climate change seemed too far off, or because stopping it was too expensive, or because the clean technologies weren't there yet. There was some truth in all the explanations, but they were also becoming markedly less true over time. The crisis wasn't far off; it was banging down our doors. The price of solar panels has plummeted and now rivals that of fossil fuels. Clean tech and renewables create far more jobs than coal, oil, and gas. As for the supposedly prohibitive costs, trillions have been marshalled for endless wars, bank bailouts and subsidies for fossil fuels, in the same years that coffers have been virtually empty for climate transition. There had to be more to it.
Which is why, over the years, I have set out to probe a different set of barriers – some economic, some ideological, but others related to the deep stories about the right of certain people to dominate land and the people living closest to it, stories that underpin contemporary western culture. And I have investigated the kinds of responses that might succeed in toppling those narratives, ideologies and economic interests, responses that weave seemingly disparate crises (economic, social, ecological and democratic) into a common story of civilizational transformation. Today, this sort of bold vision increasingly goes under the banner of a Green New Deal.
Because, as deep as our crisis runs, something equally deep is also shifting, and with a speed that startles me. Social movements rising up to declare, from below, a people's emergency. In addition to the wildfire of student strikes, we have seen the rise of Extinction Rebellion, which kicked off a wave of non-violent direct action and civil disobedience, including a mass shutdown of large parts of central London. Within days of its most dramatic actions in April 2019, Wales and Scotland both declared a state of "climate emergency," and the British parliament, under pressure from opposition parties, quickly followed suit.
Humanity has a once-in-a-century chance to fix an economic model that is failing the majority of people on multiple fronts
In the US, we have seen the meteoric rise of the Sunrise Movement, which burst on to the political stage when it occupied the office of Nancy Pelosi, the most powerful Democrat in Washington, DC, one week after her party had won back the House of Representatives in the 2018 midterm elections. They called on Congress to immediately adopt a rapid decarbonisation framework, one as ambitious in speed and scope as Franklin D Roosevelt's New Deal, the sweeping package of policies designed to battle the poverty of the Great Depression and the ecological collapse of the Dust Bowl.
The idea behind the Green New Deal is a simple one: in the process of transforming the infrastructure of our societies at the speed and scale that scientists have called for, humanity has a once-in-a-century chance to fix an economic model that is failing the majority of people on multiple fronts. Because the factors that are destroying our planet are also destroying people's lives in many other ways, from wage stagnation to gaping inequalities to crumbling services to surging white supremacy to the collapse of our information ecology. Challenging underlying forces is an opportunity to solve several interlocking crises at once.
In tackling the climate crisis, we can create hundreds of millions of goods jobs around the world, invest in the most systematically excluded communities and nations, guarantee healthcare and childcare, and much more. The result of these transformations would be economies built both to protect and to regenerate the planet's life support systems and to respect and sustain the people who depend on them.
This vision is not new; its origins can be traced to social movements in ecologically ravaged parts of Ecuador and Nigeria, as well as to highly polluted communities of colour in the United States. What is new is that there is now a bloc of politicians in the US, Europe, and elsewhere, some just a decade older than the young climate activists in the streets, ready to translate the urgency of the climate crisis into policy, and to connect the dots among the multiple crises of our times. Most prominent among this new political breed is Alexandria Ocasio-Cortez, who, at 29, became the youngest woman ever elected to the US Congress. Introducing a Green New Deal was part of the platform she ran on. Today, with the race to lead the Democratic party in full swing, a majority of leading presidential hopefuls claim to support it, including Bernie Sanders, Elizabeth Warren, Kamala Harris and Cory Booker. It had been endorsed, meanwhile, by 105 members of the House and Senate.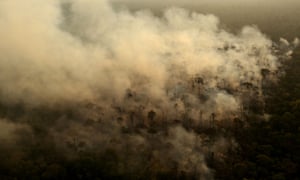 The idea is spreading around the world, with the political coalition European Spring launching a green new deal for Europe in January 2019 and a broad green new deal coalition of organisations in Canada coming together (the leader of the New Democratic party has adopted the frame, if not its full ambition, as one of his policy planks). The same is true in the UK, where the Labour party is in the middle of negotiations over whether to adopt a green new deal‑style platform.
Those of us who advocate for this kind of transformative platform are sometimes accused of using it to advance a socialist or anticapitalist agenda that predates our focus on the climate crisis. My response is a simple one. For my entire adult life, I have been involved in movements confronting the myriad ways that our current economic systems grinds up people's lives and landscapes in the ruthless pursuit of profit.No Logo, published 20 years ago, documented the human and ecological costs of corporate globalisation, from the sweatshops of Indonesia to the oil fields of the Niger Delta. I have seen teenage girls treated like machines to make our machines, and mountains and forests turned to trash heaps to get at the oil, coal and metals beneath.
The painful, even lethal, impacts of these practices were impossible to deny; it was simply argued that they were the necessary costs of a system that was creating so much wealth that the benefits would eventually trickle down to improve the lives of nearly everyone on the planet. What has happened instead is that the indifference to life that was expressed in the exploitation of individual workers on factory floors and in the decimation of individual mountains and rivers has instead trickled up to swallow our entire planet, turning fertile lands into salt flats, beautiful islands into rubble, and draining once vibrant reefs of their life and colour.
I freely admit that I do not see the climate crisis as separable from the more localised market-generated crises that I have documented over the years; what is different is the scale and scope of the tragedy, with humanity's one and only home now hanging in the balance. I have always had a tremendous sense of urgency about the need to shift to a dramatically more humane economic model. But there is a different quality to that urgency now because it just so happens that we are all alive at the last possible moment when changing course can mean saving lives on a truly unimaginable scale.
• On Fire: The Burning Case for a Green New Deal is published Allen Lane (£20). To order a copy go to guardianbookshop.com or call 0330 333 6846. Free UK p&p over £15, online orders only. Phone orders min p&p of £1.99.
• Naomi Klein will be in conversation with Katharine Viner at a Guardian Live event on 15 October.
Naomi Klein: 'We are seeing the beginnings of the era of climate barbarism'
The No Logo author talks about solutions to the climate crisis, Greta Thunberg, birth strikes and how she finds hope
• Read an extract from her new book, On Fire: The Burning Case for a Green New Deal here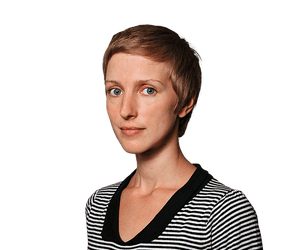 Sat 14 Sep 2019 03.01 EDTLast modified on Mon 16 Sep 2019 08.12 EDT
Shares5,326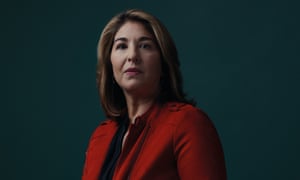 Why are you publishing this book now?
I still feel that the way that we talk about climate change is too compartmentalised, too siloed from the other crises we face. A really strong theme running through the book is the links between it and the crisis of rising white supremacy, the various forms of nationalism and the fact that so many people are being forced from their homelands, and the war that is waged on our attention spans. These are intersecting and interconnecting crises and so the solutions have to be as well.
The book collects essays from the last decade, have you changed your mind about anything?
When I look back, I don't think I placed enough emphasis on the challenge climate change poses to the left. It's more obvious the way the climate crisis challenges a rightwing dominant worldview, and the cult of serious centrism that never wants to do anything big, that's always looking to split the difference. But this is also a challenge to a left worldview that is essentially only interested in redistributing the spoils of extractivism [the process of extracting natural resources from the earth] and not reckoning with the limits of endless consumption.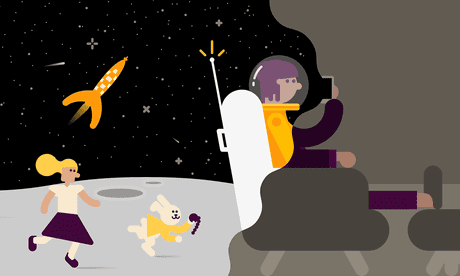 Read more
What's stopping the left doing this?
In a North American context, it's the greatest taboo of all to actually admit that there are going to be limits. You see that in the way Fox News has gone after the Green New Deal – they are coming after your hamburgers! It cuts to the heart of the American dream – every generation gets more than the last, there is always a new frontier to expand to, the whole idea of settler colonial nations like ours. When somebody comes along and says, actually, there are limits, we've got some tough decisions, we need to figure out how to manage what's left, we've got to share equitably – it is a psychic attack. And so the response [on the left] has been to avoid, and say no, no, we're not coming to take away your stuff, there are going to be all kinds of benefits. And there are going to be benefits: we'll have more livable cities, we'll have less polluted air, we'll spend less time stuck in traffic, we can design happier, richer lives in so many ways. But we are going to have to contract on the endless, disposable consumption side.Quick guide
Covering Climate Now: how more than 250 newsrooms are joining forces this week to spotlight the climate crisis
Show
Do you feel encouraged by talk of the Green New Deal?
I feel a tremendous excitement and a sense of relief, that we are finally talking about solutions on the scale of the crisis we face. That we're not talking about a little carbon tax or a cap and trade scheme as a silver bullet. We're talking about transforming our economy. This system is failing the majority of people anyway, which is why we're in this period of such profound political destabilisation – that is giving us the Trumps and the Brexits, and all of these strongman leaders – so why don't we figure out how to change everything from bottom to top, and do it in a way that addresses all of these other crises at the same time? There is every chance we will miss the mark, but every fraction of a degree warming that we are able to hold off is a victory and every policy that we are able to win that makes our societies more humane, the more we will weather the inevitable shocks and storms to come without slipping into barbarism. Because what really terrifies me is what we are seeing at our borders in Europe and North America and Australia – I don't think it's coincidental that the settler colonial states and the countries that are the engines of that colonialism are at the forefront of this. We are seeing the beginnings of the era of climate barbarism. We saw it in Christchurch, we saw it in El Paso, where you have this marrying of white supremacist violence with vicious anti-immigrant racism.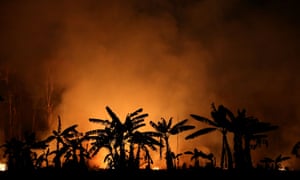 That is one of the most chilling sections of your book: I think that's a link a lot of people haven't made.
This pattern has been clear for a while. White supremacy emerged not just because people felt like thinking up ideas that were going to get a lot of people killed but because it was useful to protect barbaric but highly profitable actions. The age of scientific racism begins alongside the transatlantic slave trade, it is a rationale for that brutality. If we are going to respond to climate change by fortressing our borders, then of course the theories that would justify that, that create these hierarchies of humanity, will come surging back. There have been signs of that for years, but it is getting harder to deny because you have killers who are screaming it from the rooftops.
One criticism you hear about the environment movement is that it is dominated by white people. How do you address that?
When you have a movement that is overwhelmingly representative of the most privileged sector of society then the approach is going to be much more fearful of change, because people who have a lot to lose tend to be more fearful of change, whereas people who have a lot to gain will tend to fight harder for it. That's the big benefit of having an approach to climate change that links it to those so called bread and butter issues: how are we going to get better paid jobs, affordable housing, a way for people to take care of their families? I have had many conversations with environmentalists over the years where they seem really to believe that by linking fighting climate change with fighting poverty, or fighting for racial justice, it's going to make the fight harder. We have to get out of this "my crisis is bigger than your crisis: first we save the planet and then we fight poverty and racism, and violence against women". That doesn't work. That alienates the people who would fight hardest for change. This debate has shifted a huge amount in the US because of the leadership of the climate justice movement and because it is congresswomen of colour who are championing the Green New Deal. Alexandria Ocasio-Cortez, Ilhan Omar, Ayanna Pressley and Rashida Tlaib come from communities that have gotten such a raw deal under the years of neoliberalism and longer, and are determined to represent, truly represent, the interests of those communities. They're not afraid of deep change because their communities desperately need it.
The individual decisions that we make are not going to add up to anything like the kind of scale of change that we need
In the book, you write: "The hard truth is that the answer to the question 'What can I, as an individual, do to stop climate change?' is: nothing." Do you still believe that?
In terms of the carbon, the individual decisions that we make are not going to add up to anything like the kind of scale of change that we need. And I do believe that the fact that for so many people it's so much more comfortable to talk about our own personal consumption, than to talk about systemic change, is a product of neoliberalism, that we have been trained to see ourselves as consumers first. To me that's the benefit of bringing up these historical analogies, like the New Deal or the Marshall Plan – it brings our minds back to a time when we were able to think of change on that scale. Because we've been trained to think very small. It is incredibly significant that Greta Thunberg has turned her life into a living emergency.
Yes, she set sail for the UN climate summit in New York on a zero carbon yacht …
Exactly. But this isn't about what Greta is doing as an individual. It's about what Greta is broadcasting in the choices that she makes as an activist, and I absolutely respect that. I think it's magnificent. She is using the power that she has to broadcast that this is an emergency, and trying to inspire politicians to treat it as an emergency. I don't think anybody is exempt from scrutinising their own decisions and behaviours but I think it is possible to overemphasise the individual choices. I have made a choice – and this has been true since I wrote No Logo, and I started getting these "what should I buy, where should I shop, what are the ethical clothes?" questions. My answer continues to be that I am not a lifestyle adviser, I am not anyone's shopping guru, and I make these decisions in my own life but I'm under no illusion that these decisions are going to make the difference.
Some people are choosing to go on birth strikes. What do you think about that?
I'm happy these discussions are coming into the public domain as opposed to being furtive issues we're afraid to talk about. It's been very isolating for people. It certainly was for me. One of the reasons I waited as long as I did to try and get pregnant, and I would say this to my partner all the time – what, you want to have a Mad Max water warrior fighting with their friends for food and water? It wasn't until I was part of the climate justice movement and I could see a path forward that I could even imagine having a kid. But I would never tell anybody how to answer this most intimate of questions. As a feminist who knows the brutal history of forced sterilisation and the ways in which women's bodies become battle zones when policymakers decide that they are going to try and control population, I think that the idea that there are regulatory solutions when it comes to whether or not to have kids is catastrophically ahistorical. We need to be struggling with our climate grief together and our climate fears together, through whatever decision we decide to make, but the discussion we need to have is how do we build a world so that those kids can have thriving, zero-carbon lives?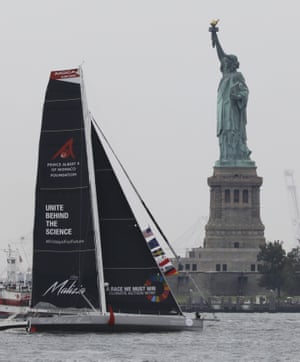 Over the summer, you encouraged people to read Richard Powers's novel, The Overstory. Why?
It's been incredibly important to me and I'm happy that so many people have written to me since. What Powers is writing about trees: that trees live in communities and are in communication, and plan and react together, and we've been completely wrong in the way we conceptualise them. It's the same conversation we're having about whether we are going to solve this as individuals or whether we are going to save the collective organism. It's also rare, in good fiction, to valorise activism, to treat it with real respect, failures and all, to acknowledge the heroism of the people who put their bodies on the line. I thought Powers did that in a really extraordinary way.
What are you views on what Extinction Rebellion has achieved?
One thing they have done so well is break us out of this classic campaign model we have been in for a long time, where you tell someone something scary, you ask them to click on something to do something about it, you skip out the whole phase where we need to grieve together and feel together and process what it is that we just saw. Because what I hear a lot from people is, ok, maybe those people back in the 1930s or 40s could organise neighbourhood by neighbourhood or workplace by workplace but we can't. We believe we've been so downgraded as a species that we are incapable of that. The only thing that is going to change that belief is getting face to face, in community, having experiences, off our screens, with one another on the streets and in nature, and winning some things and feeling that power.
You talk about stamina in the book. How do you keep going? Do you feel hopeful?
I have complicated feelings about the hope question. Not a day goes by that I don't have a moment of sheer panic, raw terror, complete conviction that we are doomed, and then I do pull myself out of it. I'm renewed by this new generation that is so determined, so forceful. I'm inspired by the willingness to engage in electoral politics, because my generation, when we were in our 20s and 30s, there was so much suspicion around getting our hands dirty with electoral politics that we lost a lot of opportunities. What gives me the most hope right now is that we've finally got the vision for what we want instead, or at least the first rough draft of it. This is the first time this has happened in my lifetime. And also, I did decide to have kids. I have a seven year old who is so completely obsessed and in love with the natural world. When I think about him, after we've spent an entire summer talking about the role of salmon in feeding the forests where he was born in British Columbia, and how they are linked to the health of the trees and the soil and the bears and the orcas and this entire magnificent ecosystem, and I think about what it would be like to have to tell him that there are no more salmon, it kills me. So that motivates me. And slays me.
• Naomi Klein will be in conversation with Katharine Viner at a Guardian Live event on 15 October.
Editorial: Climate change is already here. 2020 could be your last chance to stop an apocalypse
By THE TIMES EDITORIAL BOARDSEP. 15, 2019 7 AM
The world is drifting steadily toward a climate catastrophe. For many of us, that's been clear for a few years or maybe a decade or even a few decades.
But others have known that a reckoning was coming for much longer. A Swedish scientist first calculated in 1896 that adding carbon dioxide to the atmosphere could lead to warmer global temperatures. By the 1930s, scientists were measuring the increase, and in the late 1960s, they had documented the impact of melting ice in Antarctica. By 1977, Exxon-Mobil had recognized its own role in the warming of the ocean, the polar ice melt and the rising sea level.
For obvious reasons, Exxon-Mobil launched a massive public disinformation campaign to muddy the science and downplay the danger. But in retrospect, it needn't have bothered. Because even after the facts became incontestably clear, the world did shockingly little to protect itself. In the first 17 years after the Kyoto protocol committed its signatories to reducing greenhouse gas emissions, global emissions continued to rise. Decades of studied ignorance, political cowardice, cynical denialism and irresponsible dithering have allowed the problem to grow deeper and immeasurably harder to solve.A three-part series on climate changePart 2: Wealthy countries are responsible for climate change, but it's the poor who will suffer most
Part 3: Surviving climate change means an end to burning fossil fuels. Prepare yourself for sacrifices
But today, we are at an important turning point. The changing climate is no longer an abstract threat lurking in our distant future — it is upon us. We feel it. We see it. In our longer and deeper droughts and our more brutal hurricanes and raging, hyper-destructive wildfires. And with that comes a new urgency, and a new opportunity, to act.
Climate change is now simply impossible to ignore. The temperature reached a record-breaking 90 degrees in Anchorage this summer and an unprecedented 108 degrees in Paris. We can watch glaciers melting and collapsing on the web; ice losses in Antarctica have tripled since 2012 so that sea levels are rising faster today than at any time in the last quarter-century. Human migration patterns are already changing in Africa and Latin America as extreme weather events disrupt crop patterns, harm harvests and force farmers off their land, sending climate refugees to Europe and the United States.
It's often difficult to attribute specific events to climate change but, clearly, strange things are happening. In India, entire cities are running out of water, thanks, scientists say, to a dangerous combination of mismanagement and climate change. In Syria, the civil war that has killed hundreds of thousands of people and displaced more than 11 million is believed by many scientists to have been sparked at least in part by climate-related drought and warming. Closer to home, two invasive, non-native mosquito species that have the potential to transmit viruses, including dengue, Zika and yellow fever have recently been found in several California cities.
According to NASA, 18 of the 19 warmest years ever recorded have occurred since 2000. The last five years have been the hottest since record-keeping began in 1880. July set an all-time record.
Here's another reason we're at a turning point (at least in the United States): An election is coming.
For three years, Americans have been living under the willfully blind, anti-scientific, business-coddling rule of President Trump, who has stubbornly chosen climate denial over rationality. We now have an opportunity to resoundingly reject his policies by voting him out of office, along with congressional Republicans who enable him. There are plenty of reasons to fight for Trump's defeat in November 2020, but his deeply irresponsible climate policies — including moving to pull the U.S. out of the Paris climate agreement, roll back Barack Obama's emission limits on coal-fired plants, rescind rules governing methane emissions and relax national fuel emission standards — are among the strongest.
It is late — terribly late — for action, but with some luck, perhaps it is not too late to avoid some of the worst impacts of climate change. In nations across the world, people finally recognize climate change as a top or very serious threat, according to the Pew Research Center. In the U.S., even Republican voters — and especially younger ones — are waking up to the realities and dangers of a warming planet.
Fewer and fewer people today doubt the overwhelming scientific evidence: By burning fossil fuels for energy, humans have added so much carbon (and other greenhouse gases) to the atmosphere that we are changing nature itself, imperiling the delicate interdependence among species and putting our own survival at risk. Scientists say with certainty that we must radically transform how we make and use energy within a decade if we are to have any chance of mitigating the damage.
There are plenty of reasons to fight for Trump's defeat in November 2020, but his deeply irresponsible climate policies … are among the strongest.
But figuring out what must be done at this late stage is complicated. There are a wide range of emissions sources and many ways to approach them, ranging from the microsteps that can be taken by individuals — Do you have to take that car trip? That airline flight? — to the much more important macro-policies that must be adopted by nations.
Globally, 25% of greenhouse gas emissions today comes from burning fossil fuels to create heat and electricity, mostly for residential and commercial buildings; another 23% is the result of burning fuel for industrial uses. And 14% comes from transportation.
All that burning of carbon fuels needs to end; yet unless policies and politics change dramatically, it won't end. Even in this time of heightened clarity, two-thirds of new passenger vehicles bought in the U.S. last year were gas-guzzling pickup trucks and SUVs. Those SUVs will be on the road an average of eight years, and the pickups for more than 13 years, as the time to address the climate problem slips away. Blame for this falls not just on consumers, but also on the manufacturers and the government, which has done too little to disincentivize the driving of gas-powered cars.
In the years since Kyoto, the world has undertaken significant efforts to ratchet down energy consumption, curtail coal burning (the dirtiest of the fossil fuels) and turn to renewable energy sources, yet overall emissions have increased. Today there are 7.7 billion people on the planet — twice as many as 50 years ago — and more people means more demand for power, especially in fast-growing countries such as India and China. Last year saw a global acceleration of emissions, as total carbon levels in the atmosphere reached 414.8 parts per million in May, the highest recorded in 3 million years. The richer human society becomes, it seems, the more we poison the world.
Editorial: Why we wrote our series on climate change
At this point, the mission is no longer to avert or reverse climate change, but to mitigate its worst effects (by continuing to reduce emissions and slow warming) and to adapt to others. Adaptation might mean retreating from coastal developments as the seas rise or elevating roads and installing flooding pumps (as the city of Miami is already doing), or creating carbon sinks to remove carbon dioxide from the atmosphere, all while continuing to try to curtail further emissions.
None of this is cheap or easy, but neither is the alternative. 2017 ranks as the costliest year for severe weather events and climate disasters worldwide; in the U.S. there was more than $300 billion in cumulative damage, according to the National Oceanic and Atmospheric Administration. Obviously, the cost of dealing with inundated coastal areas — home to as many as 650 million people, or 8% of the world's population — will be extraordinarily high. And that's only one of the dangers on the horizon. We can expect people to be displaced by drought, river flooding, hurricanes and typhoons. Parts of the world can expect more food shortages, which some experts believe will lead in turn to political instability, civil unrest and mass migration. The U.S. military rightly refers to climate change as a "threat multiplier."
Fighting the rise in temperature and sea levels will be tough. Our democracy doesn't encourage politicians to take bold stances; our economic system doesn't encourage companies to sacrifice profits for the common good. And we humans are understandably disinclined to live differently or to make sacrifices. But we must stop dawdling and forge ahead if we are to protect ourselves and our planet.
This is Part 1 of a three-part series on climate change.
Part 2: Wealthy countries are responsible for climate change, but it's the poor who will suffer most
Wealthy countries are responsible for climate change, but it's the poor who will suffer most
By THE TIMES EDITORIAL BOARDSEP. 15, 2019 7 AM
Although the richest, most developed countries in the world are overwhelmingly to blame for the catastrophe of global climate change, they are not the ones who will suffer the most from it. Who will? You guessed it: the poorest countries.
The unfairness of that is self-evident, but so is the truth of it. For more than a century, the largest emitters of greenhouse gases, in total as well as per capita, have been the big developed nations, most notably the United States and the countries of Europe, which grew their economies by burning fossil fuels and spewing carbon from their factories, homes and cars. Today they still emit carbon and other greenhouse gasses disproportionately into the environment, although other big countries such as China and India have caught up.
Yet even as the wealthy nations drive the world toward ecological disaster, it is clearly the poor countries that will face the gravest consequences and have the most difficulty coping. For instance, low-lying Bangladesh, already battered by increasingly powerful cyclones, could lose 10% of its territory to the ocean within a few decades, displacing 18 million people.
Political instability and violence, influenced in part by droughts and poor harvests, have already driven millions of people from their homes in sub-Saharan Africa and Central America.
A recent study from Stanford University found that climate change is exacerbating global income inequality between wealthy nations in cooler regions, and poor nations in hotter parts of the world. This is due, at least in part, to the relative inability of poorer countries to pay for the projects necessary to mitigate the effects of climate change, including more extreme weather events and the deterioration of arable land in subsistence economies.A three-part series on climate changePart 1: Climate change is already here. 2020 could be your last chance to stop an apocalypse
Part 3: Surviving climate change means an end to burning fossil fuels. Prepare yourself for sacrifices
For instance, Miami Beach is spending hundreds of millions of dollars to raise streets and install pumps in preparation for the expected flooding from rising seas — but Port-au-Prince, Haiti, only 700 miles away, simply doesn't have the resources for such projects.
A report released last week found that extreme weather displaced 7 million people from their homes during the first half of 2019, especially in Asia and Africa. That set a new record, but researchers warned that the number of such events would increase as the climate continues to change.
So whose problem is this to fix? The simple answer, of course, is that the responsibility for mitigating climate change belongs to all of us: A global problem requires a global solution. We must all change our behavior and our policies.
But the effort must be led by the nations that reaped so many of the benefits of economic development and increased wealth through industrialization for so long. The poorest countries in the world need help finding the money, resources and technology to move toward a sustainable future without plunging themselves much further into crushing poverty and inequality. The richer countries, though they will have enormous costs of their own, have a moral obligation to step up.
The call for "climate justice" is not new. In 2010 and then again at the 2015 Paris agreement on climate change, wealthier nations pledged to donate to the so-called Green Climate Fund, building up to $100 billion per year by 2020. The fund was created under the auspices of the United Nations to help developing countries reduce the emissions that lead to climate change and adapt to the inevitable effects of it that are already underway. The goal of the fund is to use "public investment to stimulate private finance" for climate-related projects. It is governed by a board of representatives from 24 nations.
But in 2018, Oxfam found that the donor nations had fallen behind in meeting their pledge. The organization's senior climate change policy advisor called the money moving from rich countries to the least developed and most vulnerable "sadly inadequate." We would add: shameful. While the world burns, the politicians and bureaucrats fiddle.
So far, donor nations have coughed up only $10.3 billion and the Green Climate Fund has committed $5.2 billion of that to 111 projects around the world. President Trump, true to form, has vowed to "terminate" American contributions to the fund; to date, the U.S. has only sent $1 billion of the $3 billion that President Obama had pledged.
While the world burns, the politicians and bureaucrats fiddle.
Further, there is no official mechanism for determining how much different countries should provide. Like a farmer's roadside stand, the Green Climate Fund seems to be based on an honor system. As the World Resources Institute noted, the initial $10.3 billion in commitments was "a good start," but "more accidental than the product of a deliberate and transparent logic."
Self-preservation demands a much stronger sense of urgency.
Even as they change their own energy policies, the world's wealthier nations must also help developing countries create sustainable energy grids. We must confront China's counterproductive practice of building coal-fired power plants in developing nations to curry political influence. We must offer aid and policies to reverse deforestation in the Amazon, Indonesia and other vital forests that remove carbon from the atmosphere.
Editorial: Why we wrote our series on climate change
The rich nations must help heavily populated low-lying regions — such as India, Bangladesh, Indonesia and Thailand — prepare for the inevitable loss of habitable land, and the resulting human migration that will follow.
We also must help with mitigation efforts. Bangladesh, for instance, needs financial assistance for a program developing a salt-resistant strain of rice, in anticipation of seawater intrusion. African nations, where 600 million people do not have access to electricity, need help creating that power from renewables rather than fossil fuels. Sub-Saharan nations face longer and more severe droughts that will sharply reduce crops; the region needs biotechnology help and investment to create new hybrid crops that can thrive in harsher, drier climates.
There is no doubt that this will be expensive. But the cost of inaction would be astronomical, both in dollars and in human suffering. All too often, possible solutions to critical problems face headwinds from people who can't see beyond the dollar signs. But in the case of global warming, we have little choice. If a homeowner knows the roof is leaking, the electric lines are sparking and the foundation is beginning to crumble, he can't rationally decide not to spend the money to fix it. The investment here is in our continued survival — and it must be undertaken collectively with other nations around the world. To turn away would be catastrophic.
This is Part 2 of a three-part series on climate change.
Part 1: Climate change is already here. 2020 could be your last chance to stop an apocalypse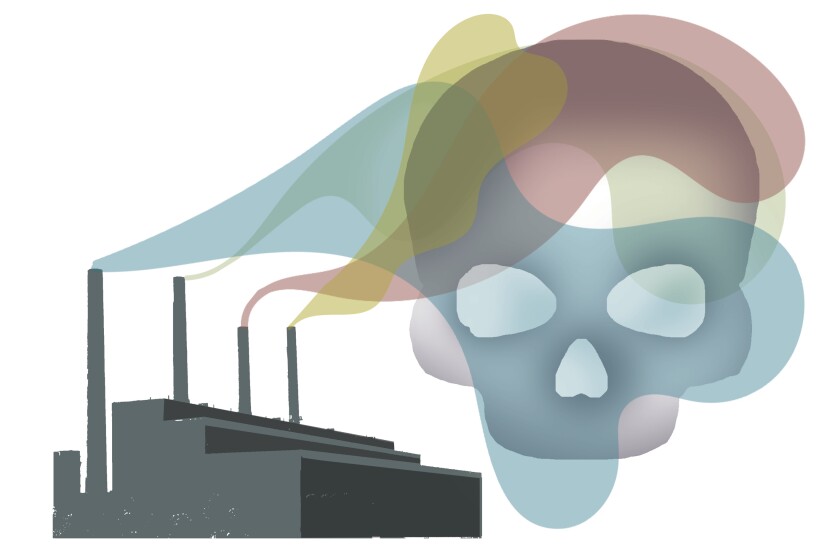 Part 3: Surviving climate change means an end to burning fossil fuels. Prepare yourself for sacrifices
Surviving climate change means an end to burning fossil fuels. Prepare yourself for sacrifices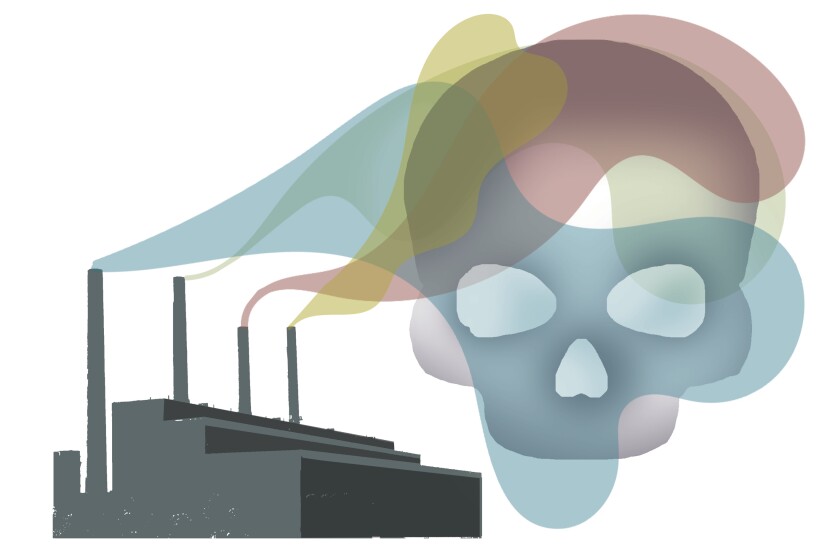 By THE TIMES EDITORIAL BOARDSEP. 15, 2019 7 AM
The evidence, the expert advice, common sense — they all point to a single unavoidable conclusion: Humankind has dragged its feet for so long on the looming crisis of climate change that it is no longer looming but is upon us, and will be impossible to undo.
It would be foolish, of course, to rule out nascent or not-as-yet conceived technological advances that could claw back some of the carbon and other greenhouse gases we've already emitted. But it would be equally foolhardy to count on them. What is required, at a minimum, is a radical change, as quickly as possible, in the way the world produces and consumes energy. The goal is to eliminate most future emissions, especially of carbon, and to "capture" the carbon that is emitted so that it does not enter the atmosphere.
Of course that alone won't solve all our planet's climate problems. We will have to deal with the trouble we have already set in motion and which can no longer be averted. That means, for example, crafting approaches to handle the flow of migrants as regions of the world become uninhabitable, protecting people in low-lying lands from rising oceans, and preparing for the excessive heat, longer droughts, more ferocious hurricanes and other extreme weather events that will, among other things, threaten the global food supply.A three-part series on climate changePart 1: Climate change is already here. 2020 could be your last chance to stop an apocalypse
Part 2: Wealthy countries are responsible for climate change, but it's the poor who will suffer most
But to keep the bad outcomes to a minimum, we must do what we can to not make the situation worse. That means continuing the fight to reduce emissions. A 2018 estimate put the annual cost to mitigate climate change if the world does nothing to curtail emissions at $500 billion per year by 2090 — and that's just for the United States. Globally, one estimate says, a temperature rise of 4 degrees Celsius would cost $23 trillion per year. So we must not let it get to that point.
The best way to keep human-generated carbon out of the atmosphere, where it and other greenhouse gases trap heat and drive up temperatures, is to not create it in the first place. The world has been making progress at this, but not nearly enough. In the United States, for instance, reliance on coal continues to decline, but in many cases, power plants that used to burn coal are now burning natural gas. That's an improvement, yes, but it's insufficient, since burning natural gas also releases carbon. Dishearteningly, total global emissions have actually increased substantially in the last two decades.
Here's one heartening fact: In April, the amount of energy the U.S. is capable of producing from renewable sources for the first time surpassed what it can produce from coal, and the gap is expected to widen as more power comes from wind, solar and other renewable sources and more fossil-fuel plants are shut down.
But globally the view is more dour. China has worked to ratchet back on burning coal at home (though it recently revived some mothballed projects), but it has been building coal-fired power plants in other countries, hoping to extend its political and economic influence at the expense of the global environment. That needs to stop.
By one estimate, about half of Africa does not have access to electricity. There and elsewhere, new power generation should not involve coal, but should be achieved with renewable sources. The developed nations must help build power grids in developing nations that give them the power they need without exacerbating our mutual suffering through increased carbon emissions.
Governments must not remain idle as the problem gets worse. For instance, there have been international calls since the 1997 Kyoto Protocol for governments to end domestic subsidies for fossil fuels, particularly oil. But they haven't. In the U.S., federal and state governments provide, in one conservative estimate, $20.5 billion a year in such subsidies — including industry-specific tax deductions and exemptions. About 80% of that money goes to the oil and gas industry and nearly all the rest to the coal industry. There are also more difficult to count (and more controversial to eliminate) consumption subsidies, including those that help low‑income families pay for the fossil fuels that heat their homes. If poorer people need assistance from government, government should find ways to do so that don't incentivize the continued use of carbon.
Editorial: Why we wrote our series on climate change
What will our world look like in 15 years if we begin to do what we have to do? Charging stations for motor vehicles as plentiful as gas stations are now. A significant drop in gas-powered vehicles through phased-out production, and government-funded buyback programs to get older cars off the road. Millions of people working to create new power systems; the world needs cheaper and more efficient solar panels, bigger and more efficient energy storage systems, more utility-scale renewable production facilities and more efficient hydro and geothermal technologies. Oil companies will no longer have such disproportionate influence on government policy. Perhaps they will have become energy companies, transitioning away from fossil fuels — or perhaps they will have been superseded by new energy providers.
Sacrifice will be a part of this too. Doing the right thing will require shifts in employment, changes in consumer habits (cutting way back on meat consumption, for instance, reduces global carbon emissions). We will drive less, ride more public transit, use less air conditioning. Costs will undoubtedly rise for goods we've taken for granted.
Is this level of change unachievable? Perhaps. For the moment, at least, the politics are against us. President Trump and his climate-denying supporters have moved the United States backward rather than forward. The recalcitrant oil and gas industry remains a powerful force to be reckoned with, too.
For the moment, at least, the politics are against us.
Yet the world has transitioned before. We thrived on whale oil until we decimated the whale population and discovered how to make kerosene from oil, and how to commercialize natural gas. This time the transition will have to happen a lot faster and will require more than just market forces. We'll need more government intervention through even stronger pacts than the 2015 Paris agreement under which the world's nations agreed (though President Trump has directed the U.S. to withdraw) to try to limit global temperature rise to significantly less than 2 degrees Celsius above preindustrial levels.
It's clear now that those promises will not be sufficient to avert the effects of climate change. But they provide a model upon which we must build to try to steer us away from, in essence, self-annihilation.
This is Part 3 of a three-part series on climate change.
Gas plants will get crushed by wind, solar by 2035, study says (Bloomberg)
2050 is too late – we must drastically cut emissions much sooner
Mine shutdowns in top US coal region bring new uncertainty
---
OPINIONEDITORIALSNEWSLETTERGet our weekly Opinion newsletterSubscribeThe Times Editorial Board
The Times' editorial board determines the editorial positions of the organization. The editorial board opines on the important issues of the day – exhorting, explaining, deploring, mourning, applauding or championing, as the case may be. The board, which operates separately from the newsroom, proceeds on the presumption that serious, non-partisan, intellectually honest engagement with the world is a requirement of good citizenship.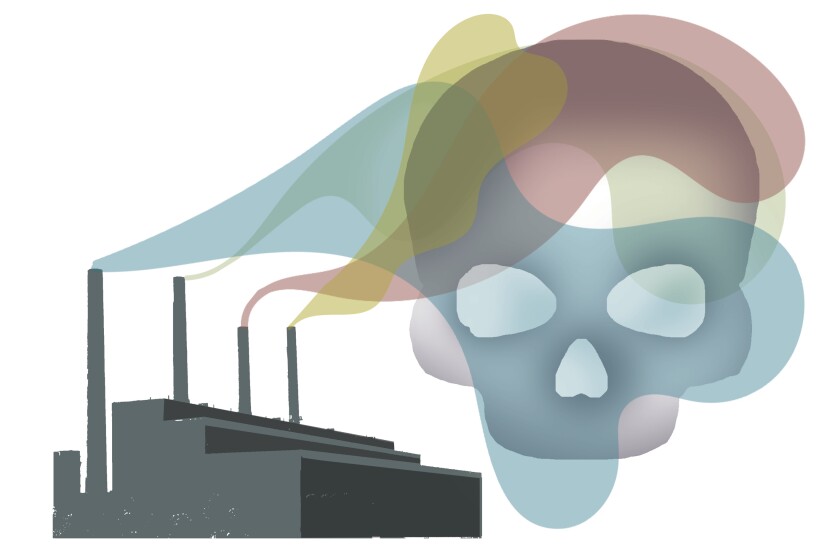 Part 3: Surviving climate change means an end to burning fossil fuels. Prepare yourself for sacrifices
---
OPINIONEDITORIALSNEWSLETTERGet our weekly Opinion newsletterSubscribeThe Times Editorial Board
The Times' editorial board determines the editorial positions of the organization. The editorial board opines on the important issues of the day – exhorting, explaining, deploring, mourning, applauding or championing, as the case may be. The board, which operates separately from the newsroom, proceeds on the presumption that serious, non-partisan, intellectually honest engagement with the world is a requirement of good citizenship.