Nearly 300 coal-fired power plants have been "retired" since 2010, according to the Sierra Club. It's a trend that continues despite President Trump's support for coal. That has left many communities worried that those now-idled places will simply be mothballed.
"We don't want to see sites like this rust away, be eyesores on the community and offer no real tax revenue going forward, no employment opportunities," says Denise Brinley, executive director at the Pennsylvania Governor's Office of Energy.
Her state has seen 14 coal plants shut down in the past nine years. As a result, the Department of Community and Economic Development has created a plan for redeveloping some of them.
The agency produces promotional "playbooks" that outline the characteristics of a site — both the benefits and drawbacks — and then offers ideas for what kinds of businesses might locate there.
One of the first plans is for a stretch of about 219 acres along the Susquehanna River in the small central Pennsylvania town of Shamokin Dam.
Drive into town, and you can't miss four tall smokestacks rising from a huge brick building. It housed the coal-fired power plant's steam generators, which produced electricity for more than six decades before the facility shut down in 2014.
These days there's new activity at the site. On the north edge, crews are laying a concrete foundation for a different kind of plant, a medical marijuana cultivating facility. It's quite a shift for the typically sedate power generation business.
"There were a few chuckles in the conference calls in the mornings when we were first talking about it as an opportunity," says Joe Zokaites, principal of Arcova, which is redeveloping the site. "But everyone is on board and supports it now."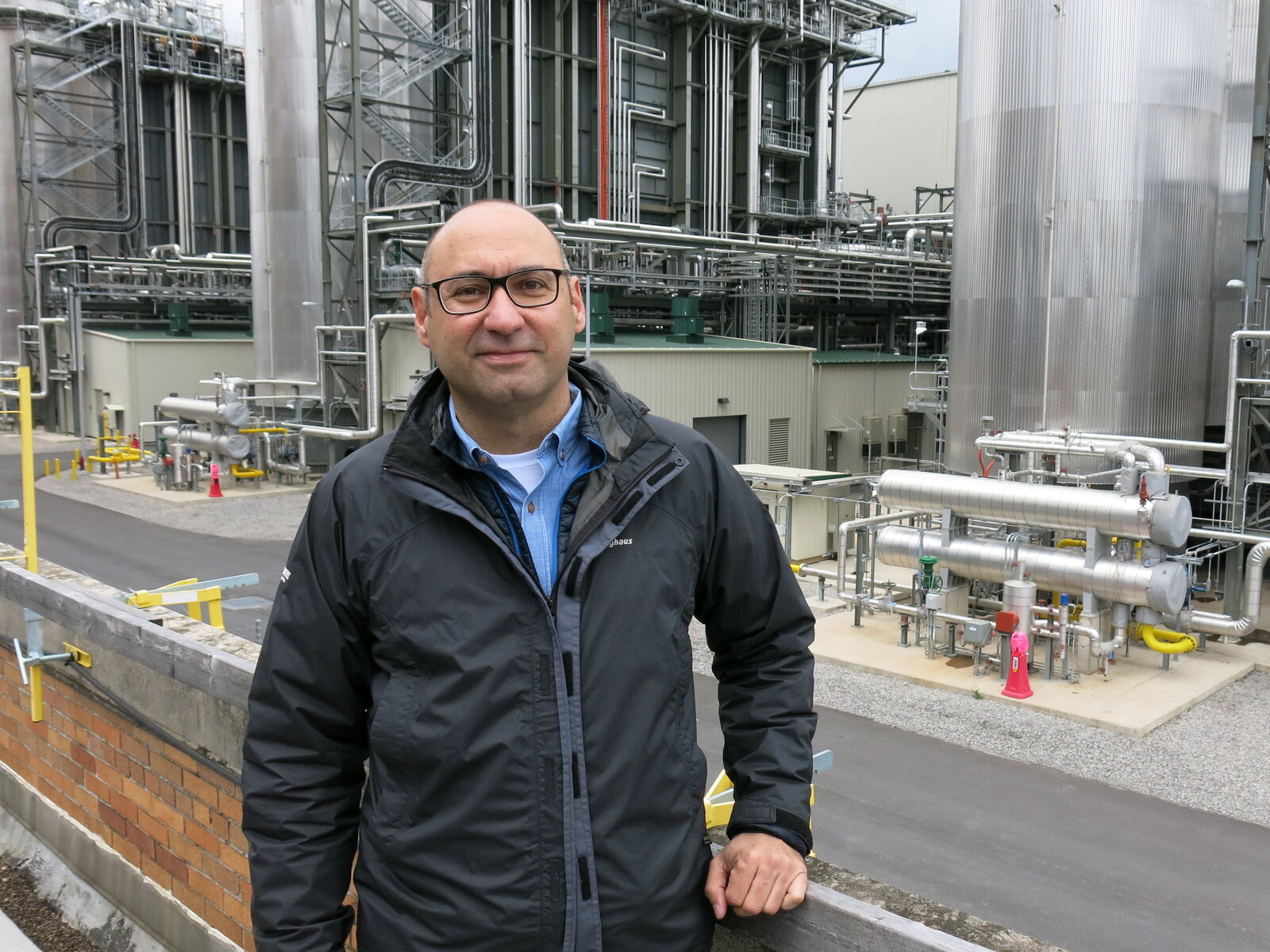 The Massachusetts company Insa is building the marijuana grow house and plans to sell to dispensaries in Pennsylvania.
This is just part of the plan for the Shamokin Dam site. A shiny new natural gas power plant has been built already. It takes up a fraction of the space the coal plant did, yet produces almost three times the electricity.
Pennsylvania's cheap and abundant natural gas supplies are a big reason coal plants here are shutting down.
Brinley, of the Governor's Office of Energy, says once a playbook is printed, copies are distributed to local leaders and companies looking to do business in Pennsylvania.
The plans acknowledge environmental concerns. Often there's pollution from decades of burning coal and storing ash.
A draft copy of the Shamokin Dam playbook shows the site wouldn't be suitable for building houses, and there would be limits on using the soil and groundwater.
The report suggests potential uses include a second natural gas power plant, which already is planned. Other options are a warehouse, wood waste recycling or a data center.
The plan also highlights assets, including nearby railroad tracks, access to municipal or river water, and power transmission lines.
The power lines could make it profitable to install solar panels where ash from the coal plant was dumped for many years. That ash disposal area now has soil on top and looks like a meadow, but it's not stable enough to construct a heavy building without expensive modifications.
Replacing coal plants with new renewable energy is an emerging trend around the country. It's happening in Washington and two sites in Massachusetts, one in Holyoke and Brayton Point.
Environmental groups cheer these transitions but say the federal government should play a bigger role in coordinating efforts across the country.
That's unlikely for now, as President Trump is more interested in boosting the coal business than easing a transition away from it.
Germany to spend €40bn to soften blow from coal closures  The FT reports that the German federal government has "agreed to spend €40bn to cushion the economic blow from the closure of coal mines and coal-fired power plants in eastern Germany and the Rhineland over the next two decades". The newspaper adds: "The compensation package is part of a historic effort to wean Germany off a fuel that has powered Europe's largest economy for centuries but that also counts among the dirtiest fuels around. Power plants that run on coal and lignite produced 40% of electricity in Germany last year — and are one of the main reasons why the country has struggled to meet its greenhouse gas emission reduction targets…According to the 44-page outline of the plan that was approved by cabinet on Wednesday, the €40bn will fund a long list of projects, including the creation of research and development centres in affected regions, the expansion of motorway and railway links, and the construction of landmark sites such as a sports arena for international competitions in Leipzig." AFP also covers the story, adding: "The top EU economy, having decided to phase out nuclear power by 2022, pledged in January to also end the use of dirty coal by 2038 in order to meet its climate targets." In January, Carbon Brief published analysis showing how far the planned 2038 coal phaseout could mean Germany breaching its Paris Agreement climate goals.
Meanwhile, the Guardian reports that mining giant BHP has told investors that it is looking to add more oil, copper and nickel resources to its portfolio, while souring on thermal coal because it thinks the fossil fuel will be phased out, "potentially sooner than expected".
People across Europe will need to work "drastically fewer hours" to avoid "disastrous climate heating" unless there is a radical decarbonising of the economy, reports the Guardian. This is according to new research from the thinktank Autonomy, which "shows workers in the UK would need to move to nine-hour weeks to keep the country on track to avoid more than 2C of heating at current carbon intensity levels. Similar reductions were found to be necessary in Sweden and Germany." The Guardian adds: "The findings are based on OECD and UN data on greenhouse gas emissions per industry in the three countries. It found that at current carbon levels, all three would require a drastic reduction in working hours as well as urgent measures to decarbonise the economy to prevent climate breakdown." The Independent also carries the story.
An (even more) inconvenient truth: Why carbon credits for forest preservation may be worse than nothing  ProPublica has published an in-depth feature examining carbon credits – and its lead author Lisa Song does not like what she found: "The desperate hunger for these carbon credit plans appears to have blinded many of their advocates to the mounting pile of evidence that they haven't – and won't – deliver the climate benefit they promise. I looked at projects going back two decades and…in case after case, I found that carbon credits hadn't offset the amount of pollution they were supposed to, or they had brought gains that were quickly reversed or that couldn't be accurately measured to begin with. Ultimately, the polluters got a guilt-free pass to keep emitting CO2, but the forest preservation that was supposed to balance the ledger either never came or didn't last."
Assessing the impacts of climate change on biodiversity: is below 2C enough? A new meta-analysis of 97 studies assesses how the distribution of species and their habitats is likely to be affected by climate change. The researchers focus on two metrics: the fraction of remaining species (FRS) and the fraction of remaining area (FRA) with suitable climate for each species. "We found an expected gradual decrease in both FRS and FRA with significant reductions of 14% and 35% between 1 and 2C increase in global mean temperatures," the researchers say, including "strong impacts" on both mammals and plants with FRS reductions of 19%. The study concludes: "Our research supports the pledge to limit climate change to 1.5C and preferably lower to protect biodiversity."