If you could do anything to improve transportation in your city, what would it be? Here are a few ideas you gave us, selected from 250 reader submissions. By EMILY GOLDBERG, June 19, 2019 Emily Goldberg is an engagement editor at POLITICO.
Cities across the country are coming up with innovative solutions to improve transportation. Seattle invested heavily in public transit, and it paid off: The city managed to grow its population and decrease its car traffic at the same time. New York will achieve a historic first by becoming the first American city to implement congestion pricing — charging vehicles to drive into the busiest parts of the city. San Francisco is going as far as to close off part of one of its busiest streets to traffic completely.
In our first What Works package of 2019 we detailed some big changes that are already in the works. But how else can cities make transportation better? More than 250 POLITICO readers dreamed big and shared their ideas on how they'd improve transportation if anything were possible. Here's 13 of those ideas, lightly edited and condensed for clarity.

Increase opportunities for telecommuting
"Create incentives for companies to give employees the option to work from home. The incentives can be in the form of tax breaks to those companies. Less people on the road means less traffic."
— Meghan Rose Hargreaves, technical writer, Hollywood, Fla.
Experiment with banning cars from the busiest parts of the city
"I would like to see Open Streets days where the downtown is mostly shut off to cars, every Saturday and Sunday. Open Streets allows people to see their city in a way they may have never previously considered, which over time makes many more people open to using transit or bicycles."
— Christopher Gillespie, marketing manager at CMG Financial, Philadelphia
… or charge drivers to go there
"For years, cities and states have tried to build their way out of congestion by adding more lanes of road, but the more road space that is added, the more cars fill the available space. To tackle this issue at its core, we would implement broad-based road pricing in places with viable transit alternatives by charging a fee for all vehicles. When all car users pay a price for their travel, people are incentivized to share space more efficiently."
— Brenden Dooley, senior policy associate at Uber, Washington, D.C.

… or just ban cars outright
"Ban all private cars from the city. Allow businesses to apply for permits (with an annual fee) for delivery vehicles, etc., but otherwise city streets should be reserved for public transit like buses, and green transportation like bikes, scooters and pedestrians.
— Charles Whitfield, software engineer, San Francisco
Build a hyperloop
"The last major push we had in the U.S. was the interstate in 1956. The idea that what worked in the '50s will solve the problems of today is absurd. A hyperloop can reach speeds up to 670 mph, carry 16,000 passengers per hour in each direction and connect distant cities in the same way that intracity metros connect neighborhoods."
— Jay Walder, CEO of Virgin Hyperloop One, Los Angeles
Make public transit a human right
"I would create universal basic mobility, giving everyone in the city access to safe, reliable, frequent transportation as a human right. In addition to guaranteeing a train or bus arrives on time, feels safe and looks clean, the city would be obligated to create transportation choices that treat people with dignity. If we get our priorities straight, big disruptions in transportation create an opportunity to more dynamically provide quality transportation choices that also bring happiness to our communities."
— Seleta Reynolds, Los Angeles Department of Transportation general manager, Los Angeles
… or charge based on income
"Institute a single payer universal mobility scheme for Southern Vancouver Island. Almost everyone would pay via income taxes and lower-income households would get free access. This would help reduce the squeeze on lower-income families in what is a hugely expensive place to live."
— Samuel Holland, student, Victoria, British Columbia

… or make it free for all
"When transit is free and driving costs money, many more people will ride. Along with that increased ridership will come a public desire for higher quality transit service. Just as drivers want pothole-free roads and accessible sidewalks in good repair, so will transit riders want more comfortable and convenient transit service in good repair, and they will vote to fund the maintenance and improvement."
— Robin Gold, bus operations analyst at Sound Transit, Seattle
End sexual harassment on public transit
"Sexual harassment on public transit is a serious disincentive, especially for women and gender nonconforming people. Eliminating sexual harassment on public transit would increase the frequency and consistency of ridership, which would in turn lead to less traffic, higher revenue for public transportation organizations, and more widespread public buy-in for public transit."
— Kate Hilts, digital strategist, Washington, D.C.
Digitize curb access
"In my dream world, curbs in every city would be fully digitized and updating in real time. Just as you filter airlines, dates and times when booking travel, with fully digitized curbs, transportation providers would be able to find, reserve and pay for access to curb space based on convenience, size, duration, price and amenities like charging stations."
— Stephen Smyth, CEO and co-founder of Coord, New York
Power traffic lights with artificial intelligence
"Update all traffic signals in the United States to include a 21st century traffic signal architecture. The system would allow for traffic lights to be coordinated to keep traffic flows moving, reduce idling, eliminate car pollution from idling and additional commute times and allow for a system that can use artificial intelligence to adjust signals based on real-time data."
— Mike Cunnington, constituent services rep for Rep. Anthony Gonzalez, Strongsville, Ohio
Separate different forms of transportation on different streets
"Designate streets for each mode of transportation. This would include moving cars to the major arteries, creating transit spines on the busiest streets and providing a dense network of streets for the most efficient mode: bikes and scooters. By tailoring each street to the speed and vulnerability of that mode, we can circumvent the dangers of mixing fast moving, loud, emissions-spewing cars with bikes and pedestrians."
— Willa Ng, director of mobility for Sidewalk Labs, New York
Encourage scooter and motorcycle use instead of cars
"The best congestion reduction technique for New York City would be to incentivize motorcycles and motor scooters. Light weight, fuel efficient two-wheeled vehicles reduce traffic, take up a fraction of the space of a car when parked, and reduce wear and tear on urban infrastructure. Two-wheeled vehicles should receive a 100% exemption from congestion based tolling, as well as free parking throughout the NYC area."
— Cheryl Stewart, founder of Riders Against Congestion, New York
Active transportation is the norm in Minnesota, in part from the efforts of the Bicycle Alliance of Minnesota, the Minnesota DOT and the Department of Health. After twenty-eight bike-focused workshops, the state has become a model for creating bikeable communities in the US.

Seattle DOT released its newest version of the city's Bicycle Master Plan, aiming to add 11 more miles of bike lanes by the end of 2019, although some funding details are still up in the air.

A new bill making the rounds in Pennsylvania wants to improve protected bike infrastructure and help make streets safer for all types of cyclists.
Learn about the state of U.S. bike infrastructure, what strides have been made to make the US more bikeable, and how we measure up to our international peers on Engineering.com.
Bettering Bike Infrastructure for U.S. Cities
Michael Molitch-Hou posted on June 07, 2019 | 1 Comment
FacebookPinterestTwitterFlipboardLinkedInEmailMore
Listen to this story
PlayMute
Unfortunately, for those of us in the U.S., bike infrastructure is seriously lacking. Not a single U.S. city made it onto the top 20 list of the Copenhagenize Index 2017, billed as the "world's most comprehensive inventory and ranking of bicycle-friendly cities," but also one of the few lists of bike-able locales.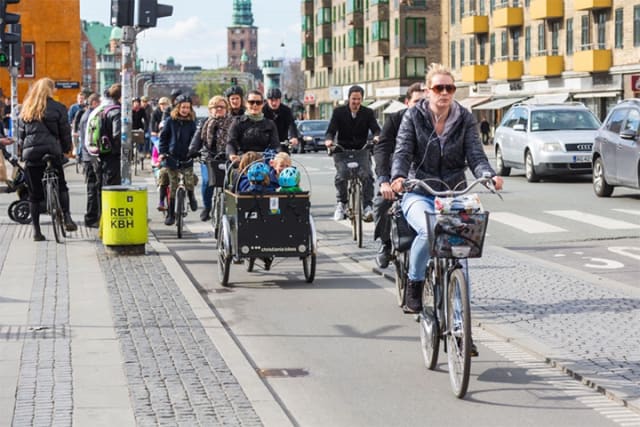 With five times as many bikes as there are cars, Copenhagen is considered the biking capital of the world. It's a city where 17 percent of families with kids even have a cargo bike, with a large storage section attached to the front. (Image courtesy of City IO.)
So, why is the U.S. so far behind the rest of the world in terms of bikability and what can it do to improve? In addition to compiling existing research, we spoke to Ken McLeod from the League of American Bicyclists to learn more.
The State of U.S. Bike Infrastructure
As we learned in our coverage of high-speed rail infrastructure, the U.S. has been a very personal-vehicle-obsessed nation since large business interests influenced infrastructure design in the middle of the last century. McLeod explained that, just as the federal government's priority on interstate highways thwarted the development of mature railways, so too did walking and biking get neglected.
"Certainly, if you look at our federal transportation policy, our big push was for the interstate highway system and then arterials and collector roads to funnel people to that [highway system]," McLeod said. "Really our federal policy from about 1955 until the 70s was just [highways]. Then, we brought in transit in I think the 70s and it wasn't until 1991 when we got some dedicated funding for biking and walking. There was a good almost 40-year period where our federal policy totally ignored the needs of people biking and walking."
Meanwhile, as was the case with high-speed rail, the tradition of bicycling as a primary means of transportation in other countries has become so widespread that entire highways (referred to as "cycling superhighways" or "bike freeways") are in the process of being built. While in the UK, a 16,575-mile bike network has been established, and in Belgium, 932 miles of 1,491 miles of cycle superhighway has been built.
These highways, which first started appearing around the 1980s, are filled with bicycles, recumbent bikes, cargo bikes and velomobiles. In some cases, mopeds, Segways and pedestrians are permitted at certain speeds. In most cases, the intent is to prevent as much stopping for automobile traffic as possible. For instance, in the UK's National Cycle Network, 5,273 miles are completely free of traffic.
Infrastructure in the U.S. has been improving since the early 80s, however. In a studyfor Transportation Research A, researchers note that federal spending has increased from just $5 million per year in 1991 to almost $1 billion per year in 2009. The authors explain "it is clear that federal funding for walking and cycling infrastructure and programs has increased dramatically over the past two decades. That infusion of federal funding for pedestrian and cycling infrastructure and programs has undoubtedly encouraged local and state governments to construct new and improved cycling facilities."
As a result, more Americans are biking, with total trips tripling between 1977 and 2009, and the number of workers cycling to work increasing 11 percent between 2009 and 2012, totaling 865,000 people (just 0.6 percent of the total population). Bike sharing programs are on the rise as well, with the number of "shared micromobility" trips (bikes, e-bikes and scooters) doublingfrom 2017 to 2018 at 84 million trips.
To increase these numbers and, therefore, decrease the environmental impact of human travel, the U.S. will still have to catch up. In Denmark, the biking capital of the world, 16 percent of all trips are made by bike. This number shoots up to 25 percent for trips of less than three miles. Copenhagenhas a bike commuting rate of about 41 percent.
"Nationwide, the national average is about 0.6 percent of people biking to work, which is a very low percentage," McLeod said. "Most people don't bike to work and most people, if you ask them to describe a safe route from their house to their work, would probably be unable to describe such a route."
What Makes a City Bikable?
As a part of its Bicycle Friendly America program, the League of American Bicyclists ranks communities, universities, states and businesses within the United States in terms of their bikability. Five cities in particular have achieved a "Platinum Award" under this program: Davis, Calif.; Boulder, Colo.; Fort Collins, Colo.; Madison, Wis.; and Portland, Oreg.
What makes these cities bike-friendly? The organization breaks the criteria down into "Five E's":
· Engineering: Physical infrastructure that gives bikers safe and easy ways to ride and park, such as well-connected biking networks, dedicated and protected bike lanes, and places to lock up one's bike.
· Education: Methods for engaging and teaching to the community, including online and physical presentations to make diverse groups of people aware of their rights and responsibilities on the road.
· Encouragement: Cultivating a healthy bike culture, from local bike-friendly events all the way to public bike-sharing programs.
· Enforcement: Safety officers who ensure that proper biking and traffic rules are followed.
· Evaluation and planning: Municipal programs and staff dedicated to ongoing bike planning and evaluation.
According to League of American Bicyclists, Davis has good bike paths, a robust network of paths on arterial and major streets, and very good public outreach. This has led to the highest bike commuting rate in the country, with 21.8 percent of all commuters biking to work.
Davis's Bicycle Friendly America report card. (Image courtesy of the League of American Bicyclists.)
"Davis is a really interesting place because, for years, it had the highest rates of biking to work in America and it's been a long-time leader in terms of making sure that there is bicycle infrastructure," McLeod said. "They were an early city to experiment with separated bike lanes. They also have a pretty good path system that supplements those separated bike lanes."
McLeod said that there are some pretty straightforward guidelines to instantly improving the bikability of a community.
"Typically, there's a state-of-the-art for how to build a bicycle-friendly community," McLeod explained. "That is going to include putting bike lanes on lower speed roads or lower traffic volume roads. Then, when you get a higher speed road or higher traffic volumes—like a 35-mile-per-hour road and as soon as you have traffic volume—the leading edge guidelines are saying to put separate protected bike lanes there, figure out how to make a raised or separated path for that road. The more separation or protection you can provide for people biking when you have higher speed or volume, the better."
A combined bike and turn lane in Eugene, Oregon. (Image courtesy of NACTO.)
In addition to conventional bike paths and barrier-protected cycle tracks, other infrastructure pieces—from the National Association of City Transportation Officials (NACTO)—that can be used to improve the rider experience are the following:
· Intersection treatments: Intersection designs that raise bicycle awareness and communicate right-of-way, such as bike boxes that allow riders to move before cars as the light turns from red to green or median refuge islands placed in the center of a street to protect bikes from traffic.
· Bike signals: Signs and lights to allow bicycle traffic at intersections, including electric signals at traffic lights.
· Bikeway marking: Signs and markings to denote the presence of bicycles or help riders find their way. Colored areas on bike lanes, for instance, can increase visibility. Wayfinding signs can help riders continue on a designated path route.
· Bike boulevards: Low-traffic streets that give bicycle travel priority.
The key is providing the bicyclist with a "continuous safe experience," which means not just a major bike path, but safe arterial streets and main streets that might lead to that path.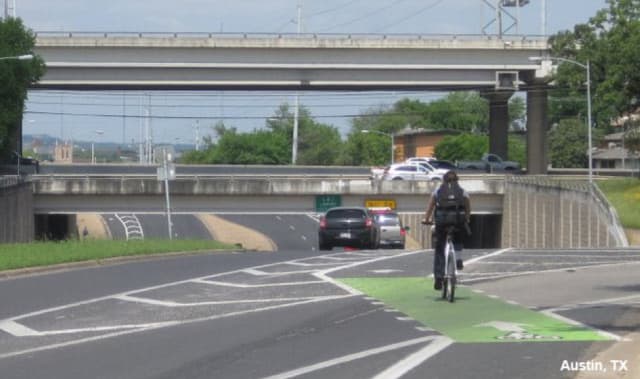 This bike lane in Austin, Tex., features a buffer between car and bike traffic, as well as colored bike facilities that both increase rider visibility and provide path markings for wayfinding. (Image courtesy of NACTO.)
"It's very rare that a path leads people directly from residential areas to job centers, and sometimes there's just not that last connecting infrastructure that helps people access their jobs," McLeod said. "When you have a long path like that, it's also really important to make sure that it has those connections to get that person from that path to where they want to go, whether that's a half-mile or three miles from that path."
NACTO performed a study that discovered that, not only do protected bike lanes improve safety, but they also encourage more people to ride bicycles. Interestingly, bike share programs do the same by increasing the visibility of biking, thereby increasing the alertness of drivers.
NACTO also found that these benefits were of particular importance for low-income bikers and riders of color, due to the fact that 49 percent of people who commute on bike have an income of less than $25,000 and that "Black and Hispanic bicyclists have a fatality rate 30% and 23% higher than white bicyclists, respectively."
Because bike infrastructure improvements are cheap, compared to other infrastructure projects, there is little argument against including them in transportation planning budgets. Below, the costs of common bicycle infrastructure components are laid out.
The cost of common bicycle infrastructure components. (Image courtesy of HSRC.)
Urban Planning for Bikable Cities
We've laid out a number of specific infrastructure tools that cities can cheaply deploy to improve the rider experience and encourage more biking. However, there is a broader view one can take to improve biking through urban planning, when more large-scale reconstruction is occurring.
Key to more pedestrian- and bike-friendly cities is connecting arterial streets with publicly accessible roads. This means fewer dead ends and cul-de-sacs, which drive all traffic onto just a handful of key streets.
An example of CTS Mexico's approach to making city blocks walkable and bikable. (Image courtesy of CTS Mexico.)
Additionally, car-free or limited-traffic roads that link to important destinations (schools, businesses, public transportation) give both pedestrians and bicyclists safe, streamlined routes to reach their destinations.
How to integrate green spaces to make a city walkable or bikable. (Image courtesy of CTS Mexico.)
When vehicle traffic on certain roads is heavy, those streets should be modified so they are inclusive to riders and walkers through the creation of wider sidewalks and smooth bikeways unobstructed by obstacles, like parked cars and guardrails.
CTS Mexico has created a specific guide for urban design (written for urban Mexico, but widely applicable to other locations) with regards to different modes of transportation. It includes exact specifications for the bicycling and walking planning above as well as numerous others.
The Benefits of Bicycle Infrastructure
There are obvious benefits from improved bicycle infrastructure for riders, most notably fewer traffic accidents. However, these benefits actually extend into the larger population. For instance, traffic can be reduced in some areas, as can air quality and equitable access to work.
According to the U.N. Intergovernmental Panel on Climate Change (IPCC), we have about 11 years to cut global greenhouse gas (GHG) emissions by roughly 45 percent if we want to prevent climate collapse without resorting to untested and undeveloped technologies. The IPCC's most recent report, however, does not take into account feedback cycles, such as melting permafrost (which releases methane and carbon dioxide) or shrinking albedo from melting glaciers (leading to more sunlight absorption by the oceans), that are widely believed to accelerate the climate crisis. Because atmospheric methane, a GHG that is 25 to 30 times more potent than carbon dioxide, is increasing more quickly than researchers previously estimated, there is a possibility that the permafrost is melting quickly. As a result, we may have even fewer than 11 years to cut even more emissions.
While shifting to "sustainable technology" like electric cars could make a dent in mitigating climate change, the dire outlook in the report only takes climate change into account, and does not even look at the impact that rapid species loss, water acidification, soil erosion and myriad other life-ending impacts industrialization is causing worldwide.
This raises the question: is sustainable technology really sustainable enough? In terms of transportation, are electric cars really a sufficient means of addressing our ecological collapse? Or could making life more walkable and bikable aid in addressing these issues?
Continuing Improvement
Even Davis still has a good deal of room to grow, according to the League's report card. In all five E categories, the city ranks 5s and 4s out of 10, even in Engineering. To improve its Engineering scores, for instance, Davis is encouraged to enhance its bike parking, including at transit and commercial areas, for a more diverse set of vehicles, such as cargo bicycles and e-bikes.
The fact that this is one of the five most highly ranked biking cities in the U.S. means that the country overall has a long trek ahead. McLeod believes that we're headed in the right direction, though. "We've been building on 30 years of federal support for biking and walking. So, a lot of conversations that were unaddressed for a long period of time have been addressed," McLeod reflected. "I think there's a good understanding of what tools we have to make things better for people biking and walking. At the same time, we saw an uptick in people biking to work earlier this decade—it peaked around 2014 and it's slowly been ebbing since then."
Because the solutions to improving bikability are comparatively simple and inexpensive, McLeod sees political leadership as a key to pushing momentum forward again.
"There hasn't been the same great political leadership in a broad sense to say that biking and walking are important things," he said, highlighting that automobiles are still prioritized in terms of urban planning. "There's kind of this ingrained thing that we have back from the 1950s about the best transportation system is the system that gets you somewhere quickly, and there's still an evolving mindset that incorporates having really great communities where people want to be, where people are safe, and where people can bike and walk."
There are plenty of resources available for cities interested in learning how to improve bicycling and pedestrian infrastructure for their communities, some in the form of free tools and guides and others in the form of expertise and consulting. Some examples include the League of American Bicyclists, NACTO, HUB Cycling and Copenhagenize. 
**
City Lab
There are a handful of policy phrases that reliably trigger outrage among urban mobility wonks. "Sharrow" is one; "parking minimum" is another. I'd like to suggest a couple more: "first in the country" and "staying ahead of our rivals." If you hear either spoken by your mayor or governor, head for the hills (or the next community meeting). More likely than not, your elected officials are basing mobility policy decisions not on cost-benefit analysis or strategic foresight, but on a classic modern insecurity: FOMO.What does FOMO have to do with urban mobility policy? Ideally, nothing. But in reality, quite a bit.
For the uninitiated, FOMO stands for "Fear Of Missing Out," and it's a common abbreviation in texts and social media chatter. If you're frantically visiting stores to get your hands on the hot new smart phone that everyone is talking about, blame FOMO. Same goes if you feel a pang of envy when you see your friend's gorgeous social media posts of her tropical vacation—and then hop online to check flights to the Caribbean.
What does FOMO have to do with urban mobility policy? Ideally, nothing. But in reality, quite a bit—especially with state and local officials swooning over autonomous vehicle technology and eager to show it off.
Consider Arlington, Texas, where in 2017, city officials unveiled an autonomous shuttle called Milo that transports people on a fixed route through its entertainment district. During the launch, a planning official seemed more excited about the novelty of the program than its potential value to citizens, gushing, "[Milo] will go down in history as the first time that a government, a municipal government, has really offered this as a service to the general public." No mention was made of whether the general public actually wanted the service in the first place.
At least Milo served a theoretical purpose; it's hard to say the same for Colorado's "first autonomous beer run" a few years ago, when the state's department of transportation provided highway patrol escorts for an autonomous truck transporting cases of beer on I-25 between Fort Collins and Colorado Springs. The stunt earned headlines and a place in the Guinness Book of World Records, but it left no lasting impact on Coloradans' lives.
Another Southwestern state also sought to dazzle with its early AV adoption—with far more serious consequences. In 2015, Arizona's governor Doug Ducey issued an executive order that provided nearly unfettered access to state roads for autonomous vehicle testing, with an eye toward impressing tech companies from California (Arizona's AV marketing blitz included a lengthy advertisement in the Harvard Business Review). It worked: Bay Area-based tech companies like Waymo and Uber brought their autonomous technologies to Arizona roads. Then, tragically, on March 18, 2018, a pedestrian named Elaine Herzberg was killed by an Uber autonomous vehicle whose safety driver was distracted as she watched a video on her phone. In the aftermath, the governor faced a firestorm of criticism for making his state the "the Wild West of autonomous vehicle testing."
Other examples of FOMO-induced mobility projects range from the transit agencies racing to launch micro-transit pilots (with no clear success stories), to the Hyperloop proposal between Baltimore and Washington, D.C. (now just the Loop, without the Hyper), to the $48 million the Las Vegas Convention Authority awarded to Elon Musk's Boring Company to build an underground "people mover" for Tesla vehicles to link convention center halls—extending all of 0.83 miles.
Cities are changing fast. Keep up with the CityLab Daily newsletter.
The best way to follow issues you care about.SubscribeLoading…
"Other cities are trembling with jealousy," gloated a Vegas booster when the Boring Company contract was announced. If so, they shouldn't be.
The problem with these projects is that they are the policy equivalent of Instagram glamour shots, crafted to elicit admiration and envy rather than improve lives. And, like the mayor of Springfield in TheSimpsons who is determined to get a new monorail before Shelbyville does, their backers insist on unveiling the shiny new technology ahead of anyone else.
But here's the thing: not all mobility firms are like the Boring Company (or Phil Hartman's slick monorail salesman in The Simpsons), attracted to FOMO-based opportunities like ants to a picnic. Companies can tell when policymakers are chasing a "wow" factor instead of real outcomes—and they respond accordingly.
Take May Mobility, an Ann Arbor-based startup providing autonomous vehicle shuttle services in cities including Detroit, Columbus, and Providence. Local leaders regularly reach out to the company proposing a deployment, but its leaders pass if they sense the offer is based in FOMO instead of substantive mobility goals. That's because a FOMO-inspired pilot may grab headlines, but it will probably wind down when the spotlight fades (like Colorado's autonomous beer run, which was not repeated). May Mobility's cofounder Alisyn Malek says, "I have to invest in the community for a new project, and after a six month-pilot concludes, I have to find budget to stay on. We don't work with communities operating out of FOMO."
Recommended
In fact, mobility policymakers would be wise to go in the opposite direction of FOMO, searching for unglamorous proposals offering the biggest bang for the buck improving mobility outcomes. Consider the lowly bus shelter, which, as Alon Levy has pointed out, is cheap to install and can make bus service more attractive by dramatically reducing perceived wait times between vehicle arrivals. It's easy to find examples of local leaders excitedly announcing an AV pilot, but when is the last time you heard about a mobility plan trumpeting bus shelter installations?
So, to the local officials out there, fight the temptation to amaze your peers with a new, sexy mobility technology—and instead embrace whatever solutions can bring the most benefit to the most people. It's your best chance to leave a legacy of improved lives—seize it!
After all, YOLO.