With its tan stucco exterior and red tile roof, the Rittenhouse home on South Star Canyon Drive looks a lot like the other houses in Power Ranch, a large planned community southeast of Phoenix.
Mark, a meat buyer for a grocery chain, and Anne, a nurse, bought the house for $293,000 in 2010 during the U.S. foreclosure crisis, which hit the Phoenix area particularly hard. At the time, local home prices were down about 50 percent from their peak in 2006. By late last year the market had recovered, and Mark and Anne were thinking about moving on.
They still liked Power Ranch, which had good schools and a network of parks and hiking trails where they walked their golden retriever. But a quirk in the 3,000-square-foot home's layout was grating. The kids' rooms were the size of typical master bedrooms, and the master was even bigger. But the living room was the only usable common space, a vexing issue when the family's two boys brought friends over. Mark suggested they could throw up a couple of walls and create a teenage quarantine zone. Anne shot him down. They needed a new place—fast. So they went house hunting.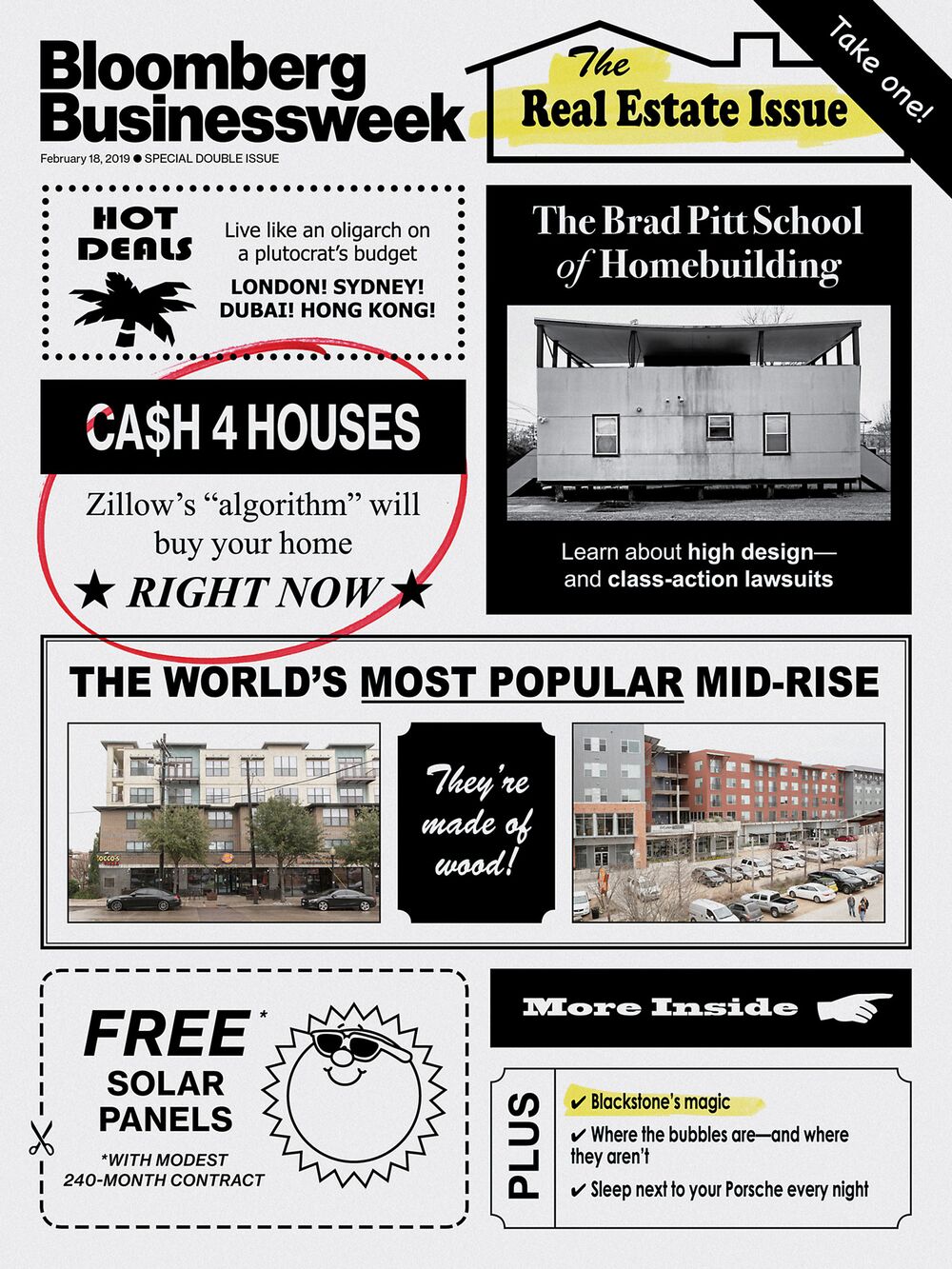 To buy a new home, the Rittenhouses would have to sell their old one. They started pricing repairs and debated whether it made more sense to sell first and move into a temporary rental, or if they should try to manage two transactions at once. Then they met a buyer willing to pay cash, who wasn't hung up on the big bedrooms or a little bit of dog damage. Their dream buyer? An algorithm.
The company behind the algorithm was Zillow Group Inc., better known for operating apps and websites that help buyers find homes. In May 2018 the Seattle-based company, whose home value estimates—"Zestimates," they're called—have become a sort of Kelley Blue Book for American homes, started an "instant offers" business. Zillow would buy houses, fix them up, and resell them, earning a fee for providing a simple, fast transaction.
For the Rittenhouses, who sold their home to Zillow for $513,800 and bought one with more living space, the process was easy enough. They entered some basic information into a website and then set up a time for a Zillow home inspector to come by. After that, it was a question of setting priorities. They could sell their home the traditional way. "Or we go with the Zillow route," Mark says. "We just accept their offer on the house and, you know, we don't have to worry about anything." For the privilege of taking the no-fuss all-cash offer, they paid Zillow a fee. The company charges 6 percent to 9 percent, more than the 5 percent commission typical for real estate agents in Phoenix.
For decades, selling a house in the U.S. was a low-tech, high-stress affair. You hired an agent, fixed your mind on a number, and decided how much time and money you wanted to spend repainting walls, redoing bathrooms, and making other repairs that had seemed too costly or inconvenient to make for your own benefit. You locked up your pets, lit some scented candles, and opened the door to a parade of strangers. Then you waited for an offer—ideally, more than one—and hoped your agent would be able to deliver the price you needed so you could afford your next abode.
There has long been another way, selling to the kind of investors who post signs under the highway overpass promising cash for ugly houses. Those home "flippers" have an unsavory reputation, partly because they're seen as pushing lowball offers to those behind on their mortgage payments or otherwise desperate—the newly divorced, the widowed, or the unemployed.
Zillow is part of a new breed of high-tech home flippers, sometimes called "iBuyers," that also includes Silicon Valley startups and a small group of adventurous real estate brokerages that have instant-offer operations. Armed with Wall Street and Silicon Valley capital and algorithms designed to make granular predictions about home prices, these investors are buying homes on a massive scale, wringing tiny profits out of each flip. That makes them valuable to the Rittenhouses and the thousands of other Phoenix-area homeowners who used them last year. It also makes them potentially scary to real estate agents, big-data skeptics, and anyone who remembers the recent history of innovations in housing finance.
"People expect to press a button and have magic happen"
Zillow was started in 2005 by Rich Barton and Lloyd Frink, who wanted to do for the housing market what their previous startup, Expedia Group Inc., did for air travel—that is, make it more transparent for consumers. Before online travel agencies such as Expedia, the best fares were generally available only to professional bookers. Likewise, before Zillow, as its founders would tell the story, shopping for a home was a bit like shopping in the dark. Zillow's mission, they claimed, was to turn the lights on.
Barton and Frink created the Zestimate, the company's effort to use public data to approximate home prices. Suddenly, people could look up the market value of any home in the U.S. in real time in the same way they might track the price of an ounce of gold or a share of a blue chip stock. Zillow included property records in all its listing pages, making it easy to look up how much your neighbors (or your exes) paid.
Such voyeuristic curiosity accelerated the company's growth. So did Zillow's decision to buy its main U.S. competitor, Trulia, in 2015. An average of 186 million unique users visited the company's websites and mobile apps each month during the third quarter of 2018, roughly triple that of Realtor.com, which averaged about 60 million users during the same period. Zillow makes money by offering its big audience to real estate agents, who pay for the privilege of putting their smiling faces and contact info in front of all those house hunters. The company expects 2018 ad revenue to be about $1.3 billion.
If agents resented Zillow's market power, they generally reserved their sharpest complaints for the Zestimate, which they've long said creates unrealistic expectations, leaving clients irate when offers come in below the expected number. Employees developed an arsenal of stock phrases explaining why a number was too high or too low. It's a Zestimate, not a Zappraisal, Zillow would say. If you want to know how much your home is really worth, sell it. That's more or less the argument Zillow used when, in 2017, it was sued unsuccessfully by a group of Chicago-area homeowners who said the company was undervaluing their houses.
At the same time, Zillow went out of its way to position itself as a partner to real estate agents, not a disrupter, and at first resisted the iBuyer trend. Spencer Rascoff, chief executive officer since 2010, liked to point out that Zillow sold ads, not homes. But as the pioneer Opendoor, which has raised more than $1 billion in venture capital since its 2014 founding, grew—and copycats, including startup Offerpad and brokerage Redfin Corp., started their own efforts—Zillow executives reconsidered. If getting an offer from an iBuyer became a crucial step in the selling process, they worried, Zillow could lose its audience and its advertising base. What's more, market researchers kept finding that consumers said they'd pay a modest premium to get a cash offer. "People expect to press a button and have magic happen," says Rascoff, a 43-year-old former Expedia executive who'd earlier started the travel search engine Hotwire, which he sold to Expedia for $700 million. Getting into the business of buying homes directly, Rascoff says, was "the only way to remain in a leadership position."
By the time Zillow began buying homes last spring, Rascoff had concluded that the new business would play to the company's strength in valuing homes and could be profitable in its own right. If the company were the buyer in 5 percent of transactions in the country's biggest housing markets, the business would generate more than $1 billion in annual profit, he said during a call with investors in May. Three months later, after Rascoff announced Zillow was acquiring a mortgage company, he did some more back-of-the-envelope math, determining that Zillow could take in $800 million a year in fees for making home loans. The company has also said it will sell leads to real estate agents who want to reach sellers who've already turned down a Zillow offer, a business that could be worth an additional $1 billion in revenue, according to Mike DelPrete of the University of Colorado at Boulder.
Wall Street has seemed more interested in the risks of Zillow's pivot than any possible payoff. Shares in the company fell 7.3 percent, to $49.84, the day after Rascoff made his announcement; they've declined sharply since. A slowing housing market and some unpopular changes to Zillow's ad-sales model arguably had a bigger impact on the stock, which is at about $36 per share. Concerns that the new business would require large investments and distract from the company's main business haven't helped either.
Zillow, the skeptics said, was moving from a high-margin business—online advertising—into a capital-intensive, low-margin one. (Infomercials notwithstanding, home flipping is generally a hard way to try to get rich.) The company would have to add billions of dollars in debt, expose itself to the risk of declining home prices, and hire thousands of workers to inspect, repair, and manage its properties.
Steve Eisman, a well-known investor who famously bet against subprime mortgage bonds ahead of the foreclosure crisis, told Bloomberg Radio in August that he'd decided to short shares of Zillow. Flipping distressed homes is a decent business in a good economy, he said, but it's a small business at best. Moreover, making offers at fair-market prices, as Zillow intended, is a lot riskier than traditional home flipping, because sellers will pull the trigger only if they know they're getting a good deal. "Why would a nondistressed seller sell their home" to Zillow, Eisman asked. "There's only two possibilities for that. Either, one, Zillow has mispriced the house," he said. "Or there's something wrong with the house."
Rascoff doesn't like to describe his company's homebuying business as flipping, because of the stigma, and more important, because he says it undersells the size of the opportunity. Only a small number of people will take a large discount to sell in a hurry; a greater number will pay a smaller amount for the convenience of not having to deal with agents and open houses. The corollary is that Zillow needs to sell its homes quickly to limit the amount of time it's on the hook for mortgage payments, home-ownership-association fees, and insurance premiums. It also needs to keep renovations to a minimum to preserve already small margins.
Not far from the Rittenhouse home, Zillow's bare-bones approach was on display at a three-bedroom house in the Phoenix suburb of Chandler, where a group of workers changed lightbulbs, refitted electrical outlets, and groomed the succulents. With a kidney-shaped pool and a classic split layout (the master suite on one side of the living room and the kids' bedrooms on the other), the house is nice, if unremarkable. That's also part of Zillow's strategy: Suburban boxes are easier to value accurately, since there are so many of them selling at any given time.
Zillow paid $335,300 for the Chandler house on Sept. 27, collecting a 6.5 percent fee from the seller, or a little less than $22,000. It budgeted $8,000 and 10 days for the renovation and about four months to resell it. That gave it time to replace the refrigerator and microwave, repair a leaky toilet, and make some basic cosmetic fixes, such as repainting the pool decking. The outdated master bathroom, on the other hand, and a purple accent wall in the living room were left untouched.
"In my past life, I might have added a closet to the den or put in new tiles in the master bath," says Leo Sanchez, a senior director in Zillow's Phoenix office, who previously worked in the single-family rental industry. "If we can get away with a touch-up, we'll do it that way and save a dollar."
Of course, renovations are beside the point if Zillow can't value a home properly. In its early days, the company's home-price estimator had a median error rate of 14 percent. The algorithms improved, but not in every case.
In 2016, Rascoff sold his four-bedroom home in Seattle's Madison Park neighborhood for $1 million, 40 percent lower than what his app claimed it was worth. Later that year the Zillow CEO paid more than $1 million above the Zestimate on a 13,000-square-foot mansion in the Brentwood section of Los Angeles. The company recently awarded a $1 million prize to a team of computer scientists whose work is supposed to help it push its error rate below its current 4.5 percent.
But even a 4 percent margin of error could be problematic in the instant-offer business. Zillow says it shoots for a 1.5 percent profit margin on every house. That means even a small miss on price can eat into the profit margin fast. The Chandler house sold at the end of December for $1,800 less than the company bought it for, highlighting Eisman's concerns.
This isn't just a problem for Zillow. "You could argue that because our algorithms are so powerful, we understand real estate prices better," says Glenn Kelman, CEO of Redfin. "You could also argue that a person who's lived in a house for 10 years has a pretty good algorithm in their head."
Pricing a home, meanwhile, is easy compared with managing thousands of investment properties. A few months pass from the time Zillow signs a contract to buy a home to the earliest time it can hope to sell it, meaning the company has to predict future prices. It also has to manage risk across its portfolio, like a quantitative hedge fund that uses data to invest in houses instead of stocks. Losing a little money on one house isn't a big deal if the company is making money on others; if the assumptions it uses to invest turn out to be wrong on a large scale, the mistake will be magnified.
Zillow stresses that the company isn't making offers based on Zestimates. It keeps its homebuying business separate to prevent any appearance of algorithmic monkey business. (The company could theoretically set Zestimates low to help it buy homes cheaply, or set Zestimates high to try to sell homes for higher prices.) A human real estate expert lays eyes on every offer before it goes out, to make sure the pricing software doesn't go haywire. In December the company sold homes for an average of 2 percent more than it bought them for, locking in a profit of $6,000 per home in addition to the fee sellers paid, according to Matthew Brooks, a senior analyst at Macquarie Capital USA Inc.
Zillow says if housing prices dropped, it could slow its pace of buying. It could also adjust its fees, raising them to compensate for the risk that prices will fall. Even a full-on housing-market crash, such as the one that defined Zillow's early years of existence, "would present a huge opportunity for us to popularize this type of method of home selling," Rascoff says, because sellers would be more eager to accept cash offers. The question in that hypothetical "is would we have the gumption to push through and the fortitude to hold hands and say, yeah? And hold our breath."
The three main iBuyers in Phoenix—Zillow, Opendoor, and Offerpad—bought roughly 4,700 homes last year, or about 4.5 percent of the market, according to the University of Colorado's DelPrete. Another institutional buyer, the startup Knock, began operating in the city this month. Brooks predicts the iBuyers will soon get to 20 percent of sales in the Phoenix market. In fact, there are now so many players making "offers" that another company, HomeLight, recently unveiled an Expedia-like comparison-shopping tool to make it easy for homeowners to get the best price. Zillow, which began buying homes in Houston on Feb. 11, is aiming to operate in 14 cities by this fall as it races to keep up with Opendoor, which has said it plans to buy and sell homes in 50 markets by the end of 2020. The opportunity is "scary, unknown, dangerous, huge, and awesome," says Barton, Zillow's co-founder and executive chairman.
In suburban Arizona, which has mostly recovered from the financial adventurism of the previous decade, not everyone sees demand for the service Zillow is selling. "I don't know what it is about Phoenix that it attracts every experiment in real estate," says Wendy Shaw, an agent at Realty One.
When the first iBuyers showed up in 2014, Shaw figured the businesses were providing a service nobody needed. Five years later, she concedes the companies are here to stay and hopes most buyers will use them to establish the minimum amount they'll sell for. "Instant offers give me a thing to compete against," she says. "Sellers are coming to me saying, here's my floor. Now what can you do for me?"
For his part, Mark Rittenhouse is less enthusiastic about the process now than when he sold his house. He appreciated the convenience of the deal and thought he got a fair price, but after deciding to sell to Zillow because he wanted to strike a fast deal, he walked away feeling like the whole thing was a little rushed. His family's new home is close enough that they still walk past the old one, which is languishing on the market.
Zillow listed the Rittenhouse home for $530,900 at the end of October, and has knocked $11,000 off the ask over the course of three small price cuts, a common technique designed to make a stale listing seem current. That's led Rittenhouse to wonder whether Zillow had applied the best possible strategy.
"We thought they started a little high," he says.