So what happens if we measure global poverty at the low end of this more realistic spectrum – $7.40 per day, to be extra conservative? Well, we see that the number of people living under this line has increased dramatically since measurements began in 1981, reaching some 4.2 billion people today. Suddenly the happy Davos narrative melts away.
And on Bill Gates' graph going back to 1820…Real data on poverty has only been collected since 1981. Anything before that is extremely sketchy, and to go back as far as 1820 is meaningless. Roser draws on a dataset that was never intended to describe poverty, but rather inequality in the distribution of world GDP – and that for only a limited range of countries. There is no actual research to bolster the claims about long-term poverty.
Jason Hickel wrote in the Guardian that poverty is not decreasing.  The conclusions based on a $1.90 per day poverty level are  "completely wrong."
**
Anthropologist Debunks Bill Gates' BS Narrative That Free-Market Capitalism Has Solved Crisis of Global Poverty: 
Calling billionaire Microsoft co-founder 'completely wrong,' Jason Hickels says "those defending poverty line you should be willing to live on it. Lookin' at you, Bill." 
Anthropologist and author Jason Hickel swiftly disabused readers of a narrative offered by Microsoft founder Bill Gates this week, rejecting the billionaire's statement on Twitter that "people underestimate just how much life has improved over the last two centuries."
The idea that the free-market capitalism has grown while solving the crisis of extreme poverty around the world may be tempting for some to embrace, Hickel wrote in the Guardian—but it is "completely wrong."
Ahead of his appearance at the World Economic Forum's annual meeting in Davos, Switzerland, Gates shared an infographic on Twitter claiming to show that extreme global poverty has plummeted since 1820, with 94 percent living in poverty 200 years ago compared with just 10 percent today.
In reality, Hickel wrote, people simply needed relatively little money to survive and thrive in 1820.
The global population as a whole hasn't gained more wealth in the last 200 years, he wrote—instead, "the world went from a situation where most of humanity had no need of money at all to one where today most of humanity struggles to survive on extremely small amounts of money," with much of the world having endured "a process of dispossession that bulldozed people into the capitalist labor system."
"Our world is richer than ever before, but virtually all of it is being captured by a small elite…It is madness—and no amount of mansplaining from billionaires will be adequate to justify it." —Jason Hickel, anthropologistAs European colonizers invaded the global south, Hickel added, millions lost control of their land and were forced "into European-owned mines, factories, and plantations, where they were paid paltry wages for work they never wanted to do in the first place"—all for the benefit of the rich.
Roser and Gates also promote what Hickel sees as an unrealistic view of true poverty, basing the infographic on an understanding of the global poverty line as living on $1.90 per day.
This poverty line is "obscenely low by any standard, and we now have piles of evidence that people living just above this line have terrible levels of malnutrition and mortality," wrote Hickel, leading many economists to recommend a poverty line of at least $7.40 per day.
On Twitter, Hickel suggested Gates would likely show less enthusiasm for the number of people subsisting on $1.90 per day if he had experienced such poverty in today's economy—or anything close to it—himself.
Hickel's analysis is far more in line with recent findings on poverty than the graphic shared by Gates and developed by Max Roser of Our World in Data. In recent months U.N. Special Rapporteur on Extreme Poverty Philip Alston has found that even in wealthy countries like the U.S. and Great Britain, "punitive" neoliberal policies have driven rising income inequality and pushed the poor to near "ruination."
Still, the notion that poverty levels have plummeted under free-market capitalism—the same economic system which has allowed just 26 billionaires to amass as much wealth as the 3.8 billion poorest people in the world—has also been promoted by other wealthy frequent Davos attendees including the musician Bono and author Steven Pinker. On Twitter, Hickel accused Bono of latching on to a convenient theory for those who have benefited immensely from capitalism while much of the world is left behind.
"Our world is richer than ever before, but virtually all of it is being captured by a small elite," Hickel wrote. "Only five percent of all new income from global growth trickles down to the poorest 60 percent—and yet they are the people who produce most of the food and goods that the world consumes, toiling away in those factories, plantations and mines to which they were condemned 200 years ago. It is madness—and no amount of mansplaining from billionaires will be adequate to justify it."
This work is licensed under a Creative Commons Attribution-Share Alike 3.0 License
**
Bill Gates says poverty is decreasing. He couldn't be more wrong
An infographic endorsed by the Davos set presents the story of coerced global proletarianisation as a neoliberal triumph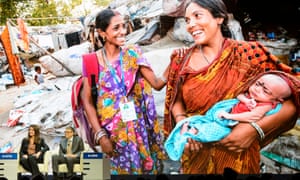 Last week, as world leaders and business elites arrived in Davos for the World Economic Forum, Bill Gates tweeted an infographic to his 46 million followers showing that the world has been getting better and better. "This is one of my favourite infographics," he wrote. "A lot of people underestimate just how much life has improved over the past two centuries."
Of the six graphs – developed by Max Roser of Our World in Data – the first has attracted the most attention by far. It shows that the proportion of people living in poverty has declined from 94% in 1820 to only 10% today. The claim is simple and compelling. And it's not just Gates who's grabbed on to it. These figures have been trotted out in the past year by everyone from Steven Pinker to Nick Kristof and much of the rest of the Davos set to argue that the global extension of free-market capitalism has been great for everyone. Pinker and Gates have gone even further, saying we shouldn't complain about rising inequality when the very forces that deliver such immense wealth to the richest are also eradicating poverty before our very eyes.
It's a powerful narrative. And it's completely wrong.
There are a number of problems with this graph, though. First of all, real data on poverty has only been collected since 1981. Anything before that is extremely sketchy, and to go back as far as 1820 is meaningless. Roser draws on a dataset that was never intended to describe poverty, but rather inequality in the distribution of world GDP – and that for only a limited range of countries. There is no actual research to bolster the claims about long-term poverty. It's not science; it's social media.
What Roser's numbers actually reveal is that the world went from a situation where most of humanity had no need of money at all to one where today most of humanity struggles to survive on extremely small amounts of money. The graph casts this as a decline in poverty, but in reality what was going on was a process of dispossession that bulldozed people into the capitalist labour system, during the enclosure movements in Europe and the colonisation of the global south.
Prior to colonisation, most people lived in subsistence economies where they enjoyed access to abundant commons – land, water, forests, livestock and robust systems of sharing and reciprocity. They had little if any money, but then they didn't need it in order to live well – so it makes little sense to claim that they were poor. This way of life was violently destroyed by colonisers who forced people off the land and into European-owned mines, factories and plantations, where they were paid paltry wages for work they never wanted to do in the first place.
In other words, Roser's graph illustrates a story of coerced proletarianisation. It is not at all clear that this represents an improvement in people's lives, as in most cases we know that the new income people earned from wages didn't come anywhere close to compensating for their loss of land and resources, which were of course gobbled up by colonisers. Gates's favourite infographic takes the violence of colonisation and repackages it as a happy story of progress.
But that's not all that's wrong here. The trend that the graph depicts is based on a poverty line of $1.90 (£1.44) per day, which is the equivalent of what $1.90 could buy in the US in 2011. It's obscenely low by any standard, and we now have piles of evidence that people living just above this line have terrible levels of malnutrition and mortality. Earning $2 per day doesn't mean that you're somehow suddenly free of extreme poverty. Not by a long shot.
Scholars have been calling for a more reasonable poverty line for many years. Most agree that people need a minimum of about $7.40 per day to achieve basic nutrition and normal human life expectancy, plus a half-decent chance of seeing their kids survive their fifth birthday. And many scholars, including Harvard economist Lant Pritchett, insist that the poverty line should be set even higher, at $10 to $15 per day.
So what happens if we measure global poverty at the low end of this more realistic spectrum – $7.40 per day, to be extra conservative? Well, we see that the number of people living under this line has increased dramatically since measurements began in 1981, reaching some 4.2 billion people today. Suddenly the happy Davos narrative melts away.
Moreover, the few gains that have been made have virtually all happened in one place: China. It is disingenuous, then, for the likes of Gates and Pinker to claim these gains as victories for Washington-consensus neoliberalism. Take China out of the equation, and the numbers look even worse. Over the four decades since 1981, not only has the number of people in poverty gone up, the proportion of people in poverty has remained stagnant at about 60%. It would be difficult to overstate the suffering that these numbers represent.
This is a ringing indictment of our global economic system, which is failing the vast majority of humanity. Our world is richer than ever before, but virtually all of it is being captured by a small elite. Only 5% of all new income from global growth trickles down to the poorest 60% – and yet they are the people who produce most of the food and goods that the world consumes, toiling away in those factories, plantations and mines to which they were condemned 200 years ago. It is madness – and no amount of mansplaining from billionaires will be adequate to justify it.
• Dr Jason Hickel is an academic at the University of London and a fellow of the Royal Society of Arts. His most recent book is The Divide: A Brief Guide to Global Inequality and its Solutions.
**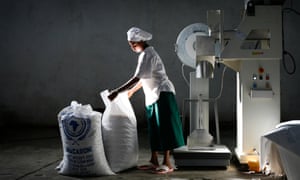 When the UN unveiled the new sustainable development goals two years ago, it was the one on inequality that captured everyone's attention. Goal 10 – "reduce income inequality within and among countries" – was let in at the 11th hour after a long fight by civil society groups in the face of fierce resistance.
And it's a timely intervention. Income inequality within countries has increased (pdf) virtually everywhere as a result of globalisation. And over the past 50 years the per capita income gap between the global north and south has roughly tripled in size, according to World Bank data.
Reversing these trends is crucial to restoring stability to a world shot through with crises. Goal 10 calls for a number of important reforms: improving social protections, reducing fees on migrant remittances, regulating global financial markets, and so on. But one stands out as particularly compelling, and that is the call for better wages.
This move vindicates a longstanding demand by developing countries. For decades, a group of scholars from the south have argued that the global wage gap is a major driver of inequality between poor countries and rich countries. And they don't just mean the obvious fact that different wages translate into different standards of living. They mean that, through the mechanism of international trade, the wage gap also actively produces inequality.
It was the Egyptian economist Samir Amin – a well-known critic of neocolonialism – who first articulated this argument in the 1970s. He noticed that if we look at the labour that goes into producing goods for trade between south and north, we see that workers in the south are paid much less than their northern counterparts – even when adjusted for productivity or units of output per hour. This means that when the north buys goods from the south, they pay far less than those goods would otherwise be worth. In other words, the north effectively siphons uncompensated value out of the south – it buys cheap and sells dear. But when the south buys goods from the north, on the other hand, they have to shell out for the north's comparatively high wages.
Amin called this "unequal exchange", and described it as a hidden transfer of value from south to north. 
How big is this transfer, exactly? Amin suggested we might calculate the scale of unequal exchange by comparing the south's existing earnings through trade to what they would be earning if we lived in a fairer world – one where the labour that goes into producing goods for trade was paid equal wages for equal productivity. Using this method, Amin calculated that in the 1960s, at the end of the colonial period, the south was transferring about $22bn to the north each year, or $160bn (£123bn) in today's dollars – twice the amount of aid and foreign investment they were receiving during the same period.
Following this logic, the scale of unequal exchange has only worsened over the intervening decades. Economists Zak Cope and Timothy Kerswell recently updated Amin's calculations for 2012, and found that the south's transfers due to unequal exchange had risen to an eye-popping $1.46tn (£1.13tn) per year, outstripping foreign aid by a factor of 11. 

This is a conservative estimate, they add. It assumes that southern workers are far less productive than their northern counterparts; but the productivity gap may not be as big as we think. In fact, southern workers are probably at least as productive since these days many of them work in foreign-owned factories (think of Apple's iPad factories) with highly efficient technology and rigid Taylorist rules, designed to extract as much as possible from every movement. If this is true, then the hidden transfer of value may be as large as $4.9tn (£3.8tn) each year.
Most neoclassical economists don't see this as a problem. It's only natural, they say, that workers in poor countries like Bangladesh earn less than workers in rich countries like Britain. In a world of free movement we might reach wage equilibrium, but in a world of rigid borders wages will fall in line with national economies.
This makes intuitive sense, on the face of it. But the problem with this approach is that it ignores the political forces that determine wages. It's easy to see how this works in our own countries. We know that institutional sexism and racism keep the wages of women and ethnic minorities artificially low. And we know that wages go down when right-wing politicians pass anti-union legislation or cut welfare and working standards. And then there are extreme examples like apartheid South Africa, where the whole legal regime was designed to keep African labour cheap and exploitable, allowing the white minority to pump uncompensated value out of black bodies for their own enrichment.
The same thing happens on the international stage. Take colonialism, for example. Colonial policy in most countries was designed to force people into the labour market, by kicking them off their land or imposing crushing taxes, leaving them with no choice but to work in European industries where employers could get away with paying rock bottom wages – when they paid wages at all. And because colonial powers could dictate the rules of trade, they were able to depress the prices of exports from their colonies, which in turn put downward pressure on wages.
After colonialism, western powers often intervened to topple pro-worker leaders in the south – like Salvador Allende, Mohammad Mossadegh, and Jacobo Árbenz – replacing them with rulers who would keep labour cheap and exploitable. During the 1980s and 1990s, structural adjustment programmes imposed by the IMF caused wages to collapse across the south. Today, many trade agreements compel developing countries to restrict unions and worker protections. And because globalisation allows companies to move easily across borders, employers can chill their workers' wage demands by threatening to pull up stakes and move somewhere cheaper.
All of this conspires to keep wages in the south artificially low. And it doesn't help that developing countries have the deck stacked against them at the World Bank, the IMF and the WTO. Because rich countries have all the power in these institutions, they get to make the rules that shape export prices and wages in the rest of the world.
The point is that wages are not somehow naturally low in the south – they have been made low by design. Wages are an effect of power.
Goal 10 understands this, and takes steps in the right direction. For example, it highlights the crucial fact that developing countries need a real voice at the World Bank, the IMF, and the WTO, which would allow them to negotiate for policies that protect their workers and treat their exports fairly. It also calls for easier movement of labour across borders. But aside from this it is vague on how we should go about bettering wages in the south.
There's an obvious solution: a global minimum wage. If capitalism is going to be globalised, it makes sense that we should globalise the rules and standards that protect people from it as well. Economist Thomas Palley recommends a floor set at 50% of each country's median wage, so it would be tailored to local economic conditions and cause minimum disruption to comparative advantage. The International Labour Organization has already proven that they have the capacity to manage such a system. And it would make good sense to couple it with a universal basic income. By allowing people to opt out of exploitative jobs, a basic income would force employers to raise wages – and would provide a crucial cushion for the workers who will soon be displaced by the rising tide of automation.
These ideas are not only feasible, they are quickly gaining traction. Implementing them will require a political struggle, to be sure. But if we want to stop the global inequality machine, it's a battle we'll have to fight
Basic income isn't just a nice idea. It's a birthright:A basic income could defeat the scarcity mindset, instil a sense of solidarity and even ease the anxieties that gave us Brexit and Trump Jason Hickel, The Guardian,
Every student learns about Magna Carta, the ancient scroll that enshrined the rights of barons against the arbitrary authority of England's monarchs. But most have never heard of its arguably more important twin, the Charter of the Forest, issued two years later in 1217. This short but powerful document guaranteed the rights of commoners to common lands, which they could use for farming, grazing, water and wood. It gave official recognition to a right that humans nearly everywhere had long just presupposed: that no one should be debarred from the resources necessary for livelihood.
But this right – the right of habitation – came under brutal attack beginning in the 15th century, when wealthy nobles began fencing off common lands for their own profit. Over the next few centuries, the enclosure movement, as it came to be known, shifted tens of millions of acres into private hands, displacing much of the country's population. Excluded from the basic means of survival, most were left with no choice but to sell themselves for wages for the first time.
And it wasn't only England. The same process unfolded across Asia and Africa and most of the global south as European colonisers staked private claim to lands and forests and waterways that were previously held in common, leaving millions dispossessed. In much of the colonial world the goal, or at least the effect, was to drive people into the capitalist labour market, where, in exchange for low wages and poor conditions, they and their descendants would power the mines, plantations and sweatshops for export to the west.
As the era of colonialism came to an end, the governments of many newly independent nations sought to reverse these patterns of historical dispossession with land reform programmes. But they were quickly forced to abandon this approach by big foreign landowners and international creditors. Instead, the new plan for eradicating poverty – the dream of development – came to hinge on drawing people ever deeper into the labour market. Jobs came to be hailed as the salvation of the poor: as the World Bank puts it, "jobs are the surest pathway out of poverty".  
But now this promise is beginning to look hollow. With the rise of robots, robust employment is no longer a realistic hope. We know that automation is a real threat to jobs in the global north, but the threat is much worse in the south. The main industries there, such as small electronics and textile manufacturing, are some of the easiest to automate. According to a United Nations report, up to two-thirds of jobs in developing countries could disappear in the near future.
This is all bitterly painful, particularly for the postcolonial world. First they were dispossessed of their land and promised jobs instead. Now they will be dispossessed of their jobs, and many will be left with literally no way to survive. Their dispossession will be absolute. Technological unemployment will almost certainly reverse the modest gains against poverty that have been made over the past few decades, and hunger will likely rise. 
Governments are scrambling to respond, and they don't have many options. But one stands out as by far the most promising: a universal basic income.
Once a fringe idea, basic income is now speeding its way into the public imagination. Finland is running a two-year experiment in basic income. Utrecht in the Netherlands is conducting a trial, too. Y Combinator is trying it out in Oakland in the US. Scotland looks likely to follow suit. And cash transfer programmes have already proven to be successful in Namibia, India and dozens of other developing countries, sparking what some scholars have billed as "a development revolution from the global south". In Brazil, to cite just one example, cash transfers helped to cut poverty rates in half in less than a decade.
But the success of basic income – in both the north and the south – all depends on how we frame it. Will it be cast as a form of charity by the rich? Or will it be cast as a right for all? 
Thomas Paine was among the first to argue that a basic income should be introduced as a kind of compensation for dispossession. In his brilliant 1797 pamphlet Agrarian Justice, he pointed out that "the earth, in its natural, uncultivated state was, and ever would have continued to be, the common property of the human race". It was unfair that a few should enclose it for their own benefit, leaving the vast majority without their rightful inheritance. As far as Paine was concerned, this violated the most basic principles of justice.
Knowing that land reform would be politically impossible (for it would "derange any present possessors"), Paine proposed that those with property should pay a "ground rent" – a small tax on the yields of their land – into a fund that would then be distributed to everyone as unconditional basic income. For Paine, this would be a right: "justice, not charity". It was a powerful idea, and it gained traction in the 19th century when American philosopher Henry George proposed a "land value tax" that would fund an annual dividend for every citizen.
The beauty of this approach is that it functions as a kind of de-enclosure. It's like bringing back the ancient Charter of the Forest and the right of access to the commons. It restores the right to livelihood – the right of habitation. 
Critics of basic income often get hung up on how to fund it. But once we come to see it as linked to the commons, that problem becomes more tractable. In the US state of Alaska natural resources are considered a commons, owned collectively by the people, so every resident receives an annual dividend from the state's oil revenues.
The Alaska model is popular and effective, and scholars have pointed out that the same approach could be applied to other natural resources, such as forests and fisheries. It could even be applied to the air, with a carbon tax whose yields would be distributed as a dividend to all. And the upshot is that this approach helps protect commons against overuse, giving our planet some room to regenerate.
Implementing this idea will require political will – but it is far from impossible. In fact, some research indicates that it might be politically easier to implement than other social policies. Even in the US, leading policymakers – including former treasury secretary Henry Paulson and two former Republican secretaries of state – have just put forward a carbon tax and dividend proposal. The idea of a basic income also has broad and growing support from high-profile figures including Elon Musk and Bernie Sanders.
There are risks, of course. Some worry that a basic income will only increase the nativism that is spreading across the world right now. Who will qualify for the transfers? People won't want to share with immigrants.
It's a valid concern. But one way to address it is to think in more universal terms. The earth's natural bounty belongs to all, as Paine pointed out. If the commons know no borders, why should a commons-linked income? Indeed, why should people in resource-rich nations get more than their neighbours in resource-poor ones? A tax on resources and carbon around the world could go into a global fund, in trust for every human. Dividends could be set at $5 per day – the minimum necessary for basic nutrition – corrected for each nation's purchasing power. Or we could set it at each nation's poverty line, or some ratio thereof. Scholars are already thinking about how such a system could be designed.
We already know, from existing experiments, that a basic income can yield impressive results – reducing extreme poverty and inequality, stimulating local economies, and freeing people from having to accept slave-like working conditions simply in order to stay alive. If implemented more broadly, it might help eliminate "bullshit jobs" and slash unnecessary production, granting much-needed relief to the planet. We would still work, of course, but our work would be more likely to be useful and meaningful, while any miserable but necessary jobs, like cleaning the streets, would pay more to attract willing workers, making menial work more dignified.
But perhaps most importantly of all, a basic income might defeat the scarcity mindset that has seeped so deep into our culture, freeing us from the imperatives of competition and allowing us to be more open and generous people. If extended universally, across borders, it might help instill a sense of solidarity – that we're all in this together, and all have an equal right to the planet. It might ease the anxieties that gave us Brexit and Trump, and take the wind out of the fascist tendencies rising elsewhere in nativism that is spreading across much of the world.
We'll never know until we try. And try we must, or brace ourselves for a 21stcentury of almost certain misery.
**
International development' is a loaded term. It's time for a rethink: Our organisation was formed 30 years ago to share ideas on making the poor richer. Now a new mindset has led the organisation to change its name, by Jennifer Lentfer, The Guardian,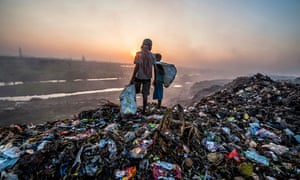 People would always give me a quizzical look. "And what is that, exactly?" they would ask, if brave enough to reveal their naiveté about what was to become the next decades of my life.
"Well, it's the study of how to help poor countries become richer," I would explain of my choice to study international development.
"Oh that's very good," my friends and family would invariably reply, my obvious altruism shining through. (Cough.)
And that's where it would end. The next part of the conversation about macroeconomics and international trade policy is rarely the stuff of great chit chat or dinner conversation outside of our specific professional bubble.
So what does international development really mean? And why is my organisation now dropping it from our name, changing it to Thousand Currents?
Making people richer by promoting economic growth has been the assumption at the centre of international aid and philanthropy since it began. Early modernist theory taught us that if "traditional" societies could be helped to develop in the same manner as more "developed" countries, there would be prosperity for everyone.
But this ignored the colonial roots of the sector and the inequities that existed in so-called rich countries. Today, more and more people are recognising that neoliberal models of development belie the ecological realities of the earth's capacity, as well as basic human rights.
In 1985, when the founders of my organisation came together with like-minded people – those who wanted to build on local wisdom and create an alternative to top-down development – the name International Development Exchange (Idex) seemed right. The organisation strove to ignite cultural exchange and also change how US citizens related to the global south. They were not united around raising GDP, but around improving people's economic opportunities, working conditions, health, education, and overall wellbeing.
Since I finished graduate school and since Idex began its work over 30 years ago, the international development field has changed. It is now a loaded term, carrying the weight of parachuted-in "expertise" and resources perhaps best described by Ross Coggin's 1976 poem, The Development Set:
We bring in consultants whose circumlocution

Raises difficulties for every solution –

Thus guaranteeing continued good eating

By showing the need for another meeting.
I was focused on HIV as my career began. The premise was that more information would result in changed behaviour. I was trained to be a technical expert, flying across oceans to share my knowledge with villagers about how to develop a project budget and obtain funding. Wouldn't well-planned projects deliver just that? I quickly realised that my fancy education did not teach me about crucial contextual knowledge that creates space for dialogue, critical thinking, collective decision-making, mobilising networks, and holding powerful external actors accountable.
The limitations of thinking of development purely from a western-defined, economic growth-fuelled perspective are hard to ignore. Neoliberal development policies and approaches have resulted in economic, social, and environmental failures. Our global food system is broken, dominated by corporate-driven agricultural policies that push out small-scale farmers. The world's richest 1% now have more wealth than the rest of the world combined. Unchecked natural resource consumption has led to a climate crisis that threatens our planet and our collective futures.
And that is why last year, after 30 years, Idex decided to change its name.
We wanted a powerful concept from the natural world to express the positive, transformational changes emanating from women, young people, and indigenous leadership in the global south. Though we suffer setbacks – such as the jailing of Stella Nyanzi in Uganda, the death of Sheila Abdus-Salaam in New York City, or the murder of natural resources defenders in Honduras – grassroots organisations and movements on all continents are bucking the "old school" paradigm of development.
What hasn't changed in 30 years is that the people living and working closest to these problems are the source of the solutions. Currents, like visionary grassroots leaders and locally-led solutions, have force and direction and are part of a moving, interdependent global picture.
Today, Thousand Currents is focused on addressing our shared global challenges, not just the issues faced by a marginalised community or a poor country. That requires new approaches from donors in acknowledgement of this complexity – unrestricted financial support, multi-year timeframes, and new skills and personnel that reflect the world we want to see.
We dropped "international development" from our name, because when small, yet formidable pockets of people power come together, that's when Thousand Currents sees results.
Old notions of development no longer serve us, and neither do rote bureaucratic responses to our urgent problems. We must move faster, think more creatively, build stronger relationships, and engender more effective collective action.
Currents affect every single person on the planet every single day. And all of us – donors, grassroots activists, UN employees – are currents of change.
Jennifer Lentfer is the director of communications of Thousand Currents. Follow @intldogooder and @1000Currents on Twitter.
**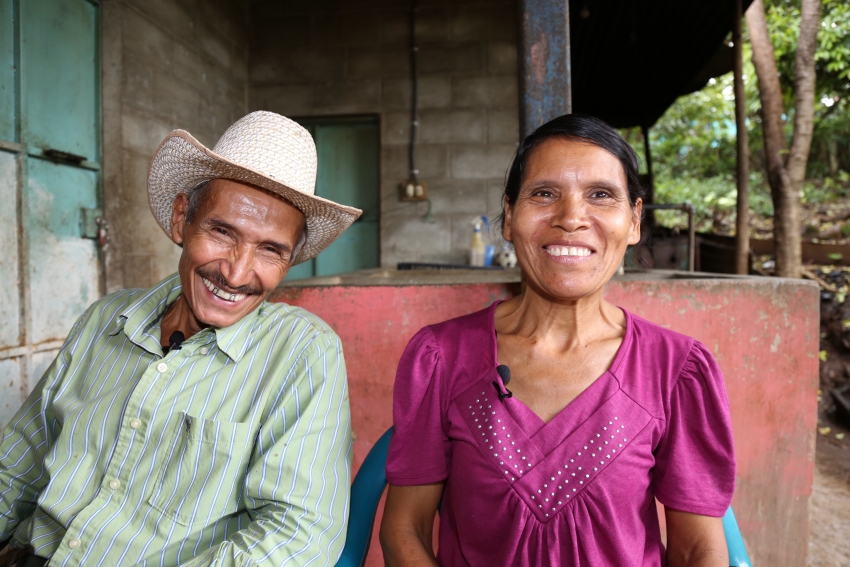 ACT LOCALLY » JANUARY 29, 2019
This Community Built a Democratically Controlled Water System. Now They Have To Defend It.
Across El Salvador, water rights are under threat from corrupt politicians and corporations.
[Tacuba is] emblematic of the fight for justice in an unequal world.
Sitting in sagging plastic lawn chairs at their family's modest farmhouse, Tomás Zúniga and his wife, Fredisvina, remember building their community's water system two decades ago, a system that supplies thousands of local residents in the municipality of Tacuba in southwestern El Salvador.
Tomás Zúniga, a rail-thin campesino with a pencil mustache and white cowboy hat, says "it was a miracle from God" in a 2018 online video produced by the international humanitarian group Oxfam and the Salvadoran magazine FOCOS. "In the period of one to five months, water was arriving in places where we had never known tap water before."
But the months of construction through dense jungle terrain, supported by $1.7 million from international aid groups, would prove only the beginning of their trials. In El Salvador, impoverished peasants increasingly find themselves in conflict over water with the likes of Coca-Cola, water-intensive export agriculture, upscale residential developments, and, as in Tacuba, corrupt local governments.
In 2007, Tacuba's then-mayor, Joel Ramírez Acosta of the right-wing Nationalist Republican Alliance party (ARENA), seized control of the community water system, installing new valves that allowed him to redirect water to neighborhoods that supported him and ARENA. According to local residents, he reduced water access while doubling water fees to the seven communities that had built the system. In 2016, police arrested Zúniga and the rest of the water system's democratically elected leaders on charges of stealing the water from the system they had built.
"[Tacuba is] emblematic of the fight for justice in an unequal world," says Karen Ramírez, who leads community organizing around water issues for the Salvadoran humanitarian group Asociación Pro Vida. "It is the worst case we've seen."
Thanks to local and international pressure, the men were released after a week in jail. Now, nearly two years later (and more than a decade after the system was seized), Tacuba residents are still fighting to regain ownership. Even if they succeed, national developments could overturn any victory.
In spring 2018, ARENA retook control of the country's national assembly and introduced a bill that would transfer water management to the private sector. Social justice groups, the left-wing Farabundo Martí National Liberation Front party and the Roman Catholic Church denounced the bill, arguing that it would put water beyond the reach of poor Salvadorans.
After it was introduced in June 2018, the proposal sparked massive street protests, and the country's Roman Catholic Episcopal Conference sent a communique to the Vatican, pledging, "We will not permit the poor to die of thirst."
ARENA denies the law would "privatize" water. The World Bank, which activists in El Salvador and elsewhere accuse of pressuring governments to privatize as a condition on its loans, denies this, preferring to discuss "public-private partnerships" (PPPs).
Michael Tiboris, a water fellow at the Chicago Council on Global Affairs, says when it comes to water the difference is semantic: The vast majority of so-called privatized water systems have always been PPPs, since private companies rarely build the costly infrastructure. "What private companies want is to manage systems that have already been built, because you can make money on that," he says.
The proposed water law would create a governing board to regulate water access. ARENA's critics argue that the party will stack the board with members who would do the bidding of the party's corporate donors, like La Constancia, a Coca-Cola "bottling partner" that has faced massive protests against its plan to expand its bottling plant—and thus its water use—in Nejapa, a municipality outside San Salvador.
Social movements fear that water privatization will lead to more situations like the one in Tacuba, where impoverished communities end up locked in multiyear struggles with no end in sight.
"To be an advocate or defender of the right to water, as we're doing, costs dearly," Fredisvina de Zúniga says in the 2018 Oxfam interview. "You have to go through difficult situations like those that have happened to us."
Christine MacDonald is an investigative reporter specializing in corporate environmental malfeasance. She is a fellow with The Investigative Fund of The Nation Institute.
http://inthesetimes.com/article/21654/el-salvadors-water-system-corrupt-politicians-community
**
by
 Common Dreams
European Colonizers' Genocide of 56 Million Native Americans So Devastating "It Literally Cooled the Planet" 
by 
The mass genocide of the Native American people by European colonizers during the 15th and 16th centuries—in which an estimated 56 million indigenous people, or 90 percent of the population, were wiped out by violence and disease—was so complete and devastating, new research shows, that it triggered a planetary cooling.
According to scientists at the University College London, the Europeans' mass killing of natives in the Caribbean and the Americas led to the populations' agricultural systems to go untended, leading to an overgrowth of vegetation all over the region. So many new trees and plants grew over a total area of about 55 million hectares, that the vegetation absorbed significant amounts of carbon from the atmosphere and caused the planet to cool down.
This period was marked by a drop in global temperatures by .15 degrees Celsius (or .27 degrees Fahrenheit), disrupting agriculture around the world and leading to several famines in Europe.
The genocide was so complete, the study says it led to what historians call the Little Ice Age in the late 16th and early 17th centuries. 
Author and 350.org co-founder Bill McKibben pronounced the findings "beyond horrifying."
The report, published in Quarternary Science Reviews, "demonstrates that human activities affected the climate well before the industrial revolution began," Reading University climate science professor Ed Hawkins, who was not involved in the study, told the BBC.
The study also shows, researchers said, how much work is needed to reverse the current trajectory of deforestation and fossil fuel extraction—both of which cause carbon dioxide to build up in the atmosphere.
The genocide "resulted in an area the size of France being reforested and that gave us only a few parts per million" of carbon dioxide which was absorbed us from atmosphere, researcher Chris Brierley told the BBC.
That "shows us what reforestation can do," he added. "But at the same, that kind of reduction is worth perhaps just two years of fossil fuel emissions at the present rate."
This work is licensed under a Creative Commons Attribution-Share Alike 3.0 License
**
America colonisation 'cooled Earth's climate' b
31 January 2019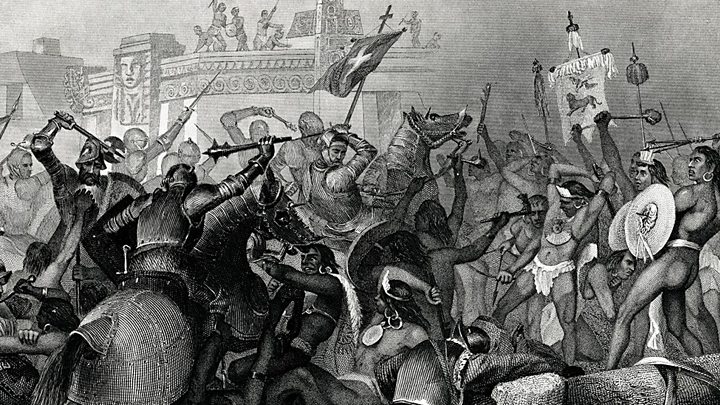 Colonisation of the Americas at the end of the 15th Century killed so many people, it disturbed Earth's climate.
That's the conclusion of scientists from University College London, UK.
The team says the disruption that followed European settlement led to a huge swathe of abandoned agricultural land being reclaimed by fast-growing trees and other vegetation.
This pulled down enough carbon dioxide (CO₂) from the atmosphere to eventually chill the planet.
It's a cooling period often referred to in the history books as the "Little Ice Age" – a time when winters in Europe would see the Thames in London regularly freeze over.
"The Great Dying of the Indigenous Peoples of the Americas led to the abandonment of enough cleared land that the resulting terrestrial carbon uptake had a detectable impact on both atmospheric CO₂ and global surface air temperatures," Alexander Koch and colleagues write in their paper published in Quaternary Science Reviews.
Welcome to the Meghalayan Age -The Meghalayan, the youngest stage, runs from 4,200 years ago to the present. It began with a destructive drought, whose effects lasted two centuries, and severely disrupted civilisations in Egypt, Greece, Syria, Palestine, Mesopotamia, the Indus Valley, and the Yangtze River Valley.It was likely triggered by shifts in ocean and atmospheric circulation.

The Meghalayan Age is unique among the many intervals of the geologic timescale in that its beginning coincides with a global cultural event produced by a global climatic event, says Stanley Finney, professor of geological sciences at Long Beach State University and Secretary-General of the International Union of Geological Sciences (IUGS), which ratified the ICS proposal.

The middle phase of the Holocene will be referred to as the Northgrippian, and runs from 8,300 years ago up to the start of the Meghalayan. The onset for this age was an abrupt cooling, attributed to vast volumes of freshwater from melting glaciers in Canada running into the North Atlantic and disrupting ocean currents.

The oldest phase of the Holocene – the exit from the ice age – will be known as the Greenlandian.

A depiction of a 17th Century Frost Fair at Temple Stairs on London's Thames River
What does the study show?
The team reviewed all the population data it could find on how many people were living in the Americas prior to first contact with Europeans in 1492.
It then assessed how the numbers changed in following decades as the continents were ravaged by introduced disease (smallpox, measles, etc), warfare, slavery and societal collapse.
It's the UCL group's estimate that 60 million people were living across the Americas at the end of the 15th Century (about 10% of the world's total population), and that this was reduced to just five or six million within a hundred years.
The scientists calculated how much land previously cultivated by indigenous civilisations would have fallen into disuse, and what the impact would be if this ground was then repossessed by forest and savannah.
The area is in the order of 56 million hectares, close in size to a modern country like France.
This scale of regrowth is figured to have drawn down sufficient CO₂ that the concentration of the gas in the atmosphere eventually fell by 7-10ppm (that is 7-10 molecules of CO₂ in every one million molecules in the air).
"To put that in the modern context – we basically burn (fossil fuels) and produce about 3ppm per year. So, we're talking a large amount of carbon that's being sucked out of the atmosphere," explained co-author Prof Mark Maslin.
"There is a marked cooling around that time (1500s/1600s) which is called the Little Ice Age, and what's interesting is that we can see natural processes giving a little bit of cooling, but actually to get the full cooling – double the natural processes – you have to have this genocide-generated drop in CO₂."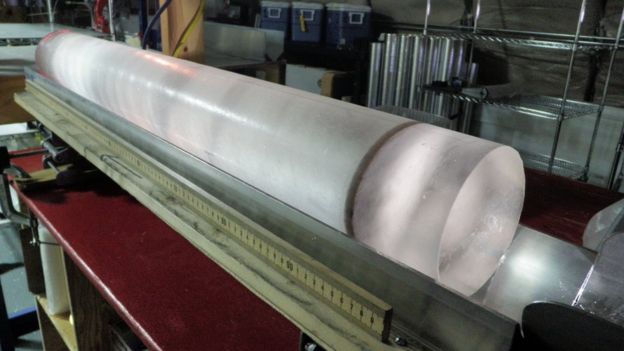 Where's the support for the connection?
The drop in CO₂ at the time of the Great Dying is evident in the ice core records from Antarctica.  Air bubbles trapped in these frozen samples show a fall in their concentration of carbon dioxide.
The atomic composition of the gas also suggests strongly that the decline is being driven by land processes somewhere on Earth.
In addition, the UCL team says the story fits with the records of charcoal and pollen deposits in the Americas.  These show the sort of perturbation expected from a decline in the use of fire to manage land, and a big grow-back of natural vegetation.
Ed Hawkins, professor of climate science at Reading University, was not involved in the study. He commented: "Scientists understand that the so-called Little Ice Age was caused by several factors – a drop in atmospheric carbon dioxide levels, a series of large volcanic eruptions, changes in land use and a temporary decline in solar activity.
"This new study demonstrates that the drop in CO₂ is itself partly due the settlement of the Americas and resulting collapse of the indigenous population, allowing regrowth of natural vegetation. It demonstrates that human activities affected the climate well before the industrial revolution began."
Are there lessons for modern climate policy?
Co-author Dr Chris Brierley believes there is. He said the fall-out from the terrible population crash and re-wilding of the Americas illustrated the challenge faced by some global warming solutions.
"There is a lot of talk around 'negative emissions' approaches and using tree-planting to take CO₂ out of the atmosphere to mitigate climate change," he told BBC News.
"And what we see from this study is the scale of what's required, because the Great Dying resulted in an area the size of France being reforested and that gave us only a few ppm. This is useful; it shows us what reforestation can do. But at the same, that kind of reduction is worth perhaps just two years of fossil fuel emissions at the present rate."
The study also has a bearing on discussions about the creation of a new label to describe humanity's time – and impacts – on Earth.
This epoch would be called the Anthropocene, and there is currently a lively debate over how it should be recognised in the geological record.
Some researchers say it would be most obvious in deposits that record the great acceleration in industrial activity from the 1950s onwards.
But the UCL team argues that the Great Dying in the Americas shows there are significant human interactions that left a deep and indelible mark on the planet long before the mid-20th Century.
**
To deal with climate change we need a new financial system, by Jason Hickel in The Guardian, 2016
Abolishing debt-based currency isn't a new idea, but it could hold the secret to ending our economies' environmentally damaging addiction to growth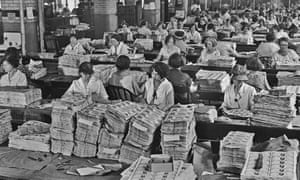 When it comes to global warming, we know that the real problem is not just fossil fuels – it is the logic of endless growth that is built into our economic system. If we don't keep the global economy growing by at least 3% per year, it plunges into crisis. That means we have to double the size of the economy every 20 years, just to stay afloat. It doesn't take much to realise that this imperative for exponential growth makes little sense given the limits of our finite planet.
Rapid climate change is the most obvious symptom of this contradiction, but we're also seeing it in the form of deforestation, desertification and mass extinction, with species dying at an alarming rate as our consumption of the natural world causes their habitats to collapse. It was unthinkable to say this even 10 years ago, but today, as we become increasingly aware of these crises, it seems all too clear: our economic system is incompatible with life on this planet.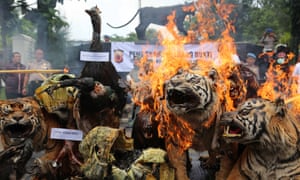 The question is what to do about it. How can we redesign the global economy to bring it in line with the principles of ecology? The most obvious answer is to stop using GDP to measure economic progress and replace it with a more thoughtful measure – one that accounts for the ecological and social impact of economic activity. Prominent economists like Nobel Prize winner Joseph Stiglitz have been calling for such changes for years and it's time we listened.
But replacing GDP is only a first step. While it might help refocus economic policies on what really matters, it doesn't address the main driver of growth: debt. Debt is the reason the economy has to grow in the first place. Because debt always comes with interest, it grows exponentially – so if a person, a business, or a country wants to pay down debt over the long term, they have to grow enough to at least match the growth of their debt. Without growth, debt piles up and eventually triggers an economic crisis.
One way to relieve the pressure for endless growth might be to cancel some of the debt – a kind of debt jubilee. But this would only provide a short-term fix; it wouldn't get to the real root of the problem: that the global economic system runs on money that is itself debt.
This might sound a bit odd, but it's quite simple. When you walk into a bank to take out a loan, you assume that the bank is lending you money it has in reserve – money that it stores somewhere in a vault, for example, collected from other people's deposits. But that's not how it works. Banks only hold reserves worth about 10% of the money they lend out. In other words, banks lend out 10 times more money than they actually have. This is known as fractional reserve banking.
So where does all that additional money come from? Banks create it out of thin air when they make loans – they loan it into existence. This accounts for about 90% of the money circulating in our economy right now. It's not created by the government, as most people assume: it is created by commercial banks in the form of loans. In other words, almost every dollar that passes through our hands represents somebody's debt. And every dollar of debt has to be paid back with interest. Because our money system is based on debt, it has a growth imperative baked into it. In other words, our money system is heating up the planet.
Once we realise this, the solution comes into view: we need banks to keep a bigger fraction of reserves behind the loans they make. This would go a long way toward diminishing the amount of debt sloshing around in our economy, helping reduce the pressure for economic growth.
But there's an even more exciting solution we might consider. We could abolish debt-based currency altogether and invent a new money system completely free of intrinsic debt. Instead of letting commercial banks create money by lending it into existence, we could have the state create the money and then spend it into existence. New money would get pumped into the real economy instead of just going straight into financial speculation where it inflates huge asset bubbles that only benefit the mega-rich.
The responsibility for money creation would be placed with an independent agency that – unlike our banks – would be democratic, accountable, and transparent, so money would become a truly public good. Commercial banks would still be able to lend money at interest, but they would have to back it dollar for dollar with their own reserves. In other words, there would be a 100% reserve requirement.
This is not a fringe proposal. It has been around since at least the 1930s, when a group of economists in Chicago proposed it as a way of curbing the reckless lending that led to the Great Depression. The Chicago Plan, as it was called, made headlines again in 2012 when progressive IMF economists put it forward as a strategy for preventing the global financial crisis from recurring. They pointed out that such a system would dramatically reduce both public and private debt and make the world economy more stable.
What they didn't notice is that abolishing debt-based currency also holds the secret to getting our system off its addiction to growth, and therefore to arresting climate change. As it turns out, reinventing our money system is crucial to our survival in the Anthropocene – at least as important as getting off fossil fuels. And this idea is already beginning to gain traction: in the UK, the campaigning group Positive Money has generated momentum around it, building on a series of excellent explanatory videos.
The idea has its enemies, of course. If we shift to a positive money system, big banks will no longer have the power to literally make money out of nothing and the rich will no longer reap millions from asset bubbles. Unsurprisingly, neither of these groups would be pleased by this prospect. But if we want to build a fairer, more ecologically sound economy, that's a battle that we can't be afraid to fight.