London's ultra-low emission zone: good or bad idea? C
ampaigners say it will cut pollution, but opponents claim it will hit poor people hardest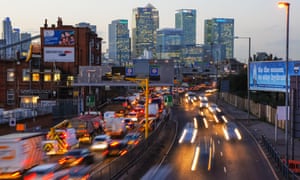 "I'm just really glad the ULEZ is coming. Children's lungs can't wait," says Jemima Hartshorn, a Brixton resident who helped set up campaign group Mums For Lungs.
London's filthy air makes chronic illnesses worse, shortens life expectancy and damages lung development in children. Levels of nitrogen dioxide, mostly produced by diesel vehicles, have been illegally high since 2010 in the vast majority of urban areas in the UK. Noxious emissions make chronic illnesses worse and shorten life expectancy, typically by six months (and by 9-11 years in those whose early death is caused by air pollution).
A spokesperson for the mayor said: "London's toxic air increases the risk of asthma and dementia and can damage children's lung growth. The mayor has delivered a series of hard-hitting measures to tackle our filthy air, from cleaning up the bus fleet to introducing a toxicity charge in central London for the most polluting vehicles. A vital step will be the introduction of the ultra-low emission zone in April next year, which will be the toughest emission standard adopted by any city in the world and will improve air quality for millions of Londoners."
Simon Alcock, head of public affairs at Client Earth, a firm of environmental lawyers, says the city has "no choice" but to bring in the ULEZ because of the already illegal levels of NOx in the city's air. "If water was as dirty as our air, we would have taken action much earlier," he says.
Earlier this year, the high court ruled that the government's current policy on air pollution was unlawful, and ordered changes.
But Alcock acknowledges the issues faced by diesel drivers.
"Everyone was encouraged to buy diesels by successive governments as they thought it was good for climate change. But it was really bad for your health. I think it's really important that we help drivers to make the shift, through scrappage schemes or making electric vehicles cheaper to buy."
The case against: 'The poorest will be hit hardest'
The ULEZ charges will be "Sadiq Khan's poll tax", warns Gareth Bacon, leader of the Conservatives in the Greater London Assembly.
"The introduction of a daily £12.50 charge simply to use their cars, when they had previously done so without incurring any charge (other than the usual cost of motoring, which is not cheap in the UK) is going to come as a shock to a great many people," he says.
He is supportive of the original central London ULEZ proposed by Boris Johnson, but with an implementation date of 2020, and is opposed to the 2021 expansion of the ULEZ to cover a bigger area.
"It will impact huge numbers of people. More than 3.5 million people live inside this zone and many more pass through it on a daily basis. The zone boundary dissects a dozen London boroughs and residents will suddenly find short trips to, for example, do the weekly shopping, take their child to school or to attend a hospital appointment costing them an additional £12.50 per trip. For those living inside the zone, it will cost them £12.50 every time they turn on their ignition – if they need to drive their car every day, that is the equivalent of an additional tax burden of £4,500 per year. The people hit hardest will be the poorest because many will not be able to afford to upgrade their vehicle."
Meanwhile, one petition on Change.org, which now has more than 25,000 signatures, claims that the ULEZ is "a stealth tax and nothing to do with air pollution! Also what steps have Transport for London taken to cope with the already struggling bus, tube & train services? Absolutely nothing!"
TfL says that all new taxis must be zero-emission, but existing ones – even a diesel bought in 2017 – can run for up to 15 years without being subject to the charge.
FAQs  
Are disabled people exempted?
Yes. Keepers of vehicles registered with a "disabled" or "disabled passenger vehicles" tax class will benefit from a "sunset period" after the ULEZ starts, meaning they won't have to pay until 26 October 2025.
How will dirty cars be caught in the wider zone? Will thousands more cameras have to be erected?
TfL has about 1,000 cameras for the congestion charge zone, but the expanded ULEZ will be 18 times bigger. Quite how small hops within the expanded zone will be monitored is not yet clear. TfL has not said how many more cameras will be put in place, but it may use "existing infrastructure and transportable cameras". It will be interesting to see if this includes the ANPR cameras that currently exist on many buses to catch cars wrongly using bus lanes.
Will there be a scrappage scheme for older vehicles?
Yes, but only for small businesses using dirty vans. Just before Christmas the mayor, Sadiq Khan, announced a £23m scrappage scheme for businesses with 10 or fewer employees to switch to cleaner vehicles. Khan now wants the government to step up and fund an extension of the scrappage scheme to low income households.
I live in the C-charge zone. Do I get a residents' discount?
Yes – but for a limited time only. If your vehicle is registered for the residents' C-charge discount you will get a 100% discount off the ULEZ charge until 24 October 2021. 
How will I know I've entered the ULEZ?
There will be no barriers or toll booths. Cameras will read number plates and check if the vehicle meets the ULEZ standards. TfL is erecting hundreds of road signs warning motorists of the start of the ULEZ at the current congestion charge zone.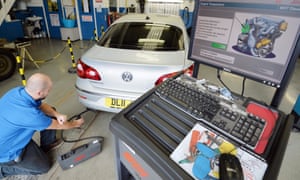 What are the actual emission standards my vehicle has to meet?
The ULEZ charges will be enforced based on the declared emissions of the vehicle rather than the age, although a rule of thumb is that it affects diesels made before 2015 and petrol cars before 2006.
Petrol cars must meet the Euro 4 standard on emissions to drive into the ULEZ, while diesels must meet Euro 6. Motorcycles and mopeds must meet the Euro 3 standard. For diesels, the Euro 6 standard sets a maximum NOx emission at 80mg/km, compared with the 180mg/km level that was required for cars that met the previous Euro 5 emissions standard. This is why so many diesels, even relatively new ones, will fail the ULEZ test.
Won't Brexit mean we dump the Euro standards?
No. TfL says the use of Euro standards will not be affected in the short to medium term by Brexit as manufacturers will still make vehicles to the same standards and with the same classifications.
Will it cut traffic in London?
TfL is forecasting a cut of 5% in overall car traffic in central London once the ULEZ comes into force. The congestion charge zone, introduced 15 years ago, has resulted in 30% fewer private vehicles entering the city centre. But that has been offset by a rise in Uber and other private hire vehicles, from 4,000 a day to 18,000. They currently don't have to pay the congestion charge, but will have to do so from 8 April 2019.
Links to cities with carfree zones, and a few words about the benefits…
January 10th, 2019 by Zachary Shahan, Director of Clean Technica.com 
As some of you know, my deep background is in city planning. I got a graduate degree in city & regional planning from the University of North Carolina at Chapel Hill back in the day.
There are many interesting things to learn in that field (look up "induced demand," for example). I loved it! But there are two fundamental points that don't take a grad degree to figure out:
If you make it really easy to drive cars in a city, your city gets a lot less walkable and generally enjoyable for humans outside of vehicles.
To make a place highly walkable and enjoyable for humans, you gotta put some serious limits on cars.
Oslo is one of the top cities in the world for electric vehicles. Even back in 2017, it was making ginormous headlines with news that 60% of new car sales in the city were plug-in car sales — 40% fully electric and 20% plug-in hybrids. Despite its relatively small size, Oslo is currently the #5 city globally in terms of electric cars on its streets. All of that EV leadership already makes it a clear leader in clean transport and more enjoyable, healthier air for citizens, but the city is taking things a step further (pun not initially intended).
Oslo is moving to boot cars altogether — well, restrict car use within certain areas of the city.
"The city designated certain streets for pedestrians or public transit only, restricted the ability of nonresidents to drive through the center, and removed hundreds of parking spots from city streets while creating designated parking spots for disabled citizens and businesses that require a car," Jonathan Wolfe of the New York Times reports.
"The plan to get rid of cars in the city center started in 2015, and officials overcame resistance from business owners concerned that a full ban on cars would lead to a decrease in customers," Camille Fink of Planetizen writes. Yes, always a concern of business owners and almost always backwards — generally speaking, foot traffic is better than car traffic for business. People strolling around in leisure are more likely to decide on a whim to buy something.
As you know well if you're a CleanTechnica regular, numerous cities and even countries are considering gas and diesel car bans, but some especially bold cities have been banning cars from their centers for decades, and others are toying with the idea or have it baked into coming legislation. Madrid has been making slow progress on the topic at least since 2014. Helsinki indicated years ago it intends to be car-free by 2025.
Actually, parts of many cities are car-free. But, the more, the merrier — if you actually want to make more urban places enjoyable for us humans.
Images in gallery published under Creative Commons license by Ignaz Wiradi, Ignaz Wiradi, Ignaz Wiradi, Ignaz Wiradi, and dconvertini (click links for detailed usage rights).