The third-largest coal company in the United States has declared bankruptcy, leaving the future of its more than 1,000 workers uncertain. The announcement is also the latest indicator that the faltering coal industry is spinning further into decline despite the efforts of President Donald Trump to save it.
Wyoming-based Cloud Peak Energy filed for Chapter 11 reorganization on Friday, a move that has been expected since at least the spring. The company has pointed to a weak market as a leading reason for its struggles, in addition to sluggish success in expanding exports. Officials said the company's mines will continue to operate throughout the bankruptcy process; Cloud Peak operates two mines in Wyoming and one in Montana.
"While we undertake this process, Cloud Peak Energy remains a reliable source of high-quality coal for customers," Cloud Peak President and CEO Colin Marshall said in a statement.
The company's workers lack union protections. But even coal miners backed by unions are at risk — a ruling earlier this year allowed a coal company to abandon union contracts. And broader threats to federal funding for miner benefits are jeopardizing pensions for tens of thousands of workers.
Cloud Peak's financial troubles reflect the broader realities of coal, which is being displaced by cheaper energy sources, including natural gas and renewables. Since 2015, major coal companies Alpha Natural Resources, Peabody Energy, Arch Coal, Mission Coal, and Westmoreland Coal have all declared bankruptcy amid falling profits and increasing concerns over long-term viability.
While that trend has continued through several presidential administrations, more coal plants closed during Trump's first two years in office than during the entire first term of the Obama administration.
In total, at least 50 U.S. coal plants have shuttered under Trump as of this month, according to a Sierra Club report released last week. The uptick reflects market realities but it also comes despite the White House's best efforts to revive coal.
Trump has strongly supported the coal industry since becoming president, going so far as to advocate for a controversial bailout of the struggling sector. While that plan has fallen by the wayside amid pushback, the administration's larger backing has not. Documents obtained recently under the Freedom of Information Act (FOIA) show that the Interior Department has even altered federal endangered species protections in order to help the coal industry.
Meanwhile, workers on the ground are being severely impacted. In February, a judge ruled that bankrupt coal company Westmoreland could legally abandon its union contract obligations with United Mine Workers of America (UMWA). That decision has compromised the health care benefits and pensions once promised to hundreds of current and retired miners.
At the time of the ruling, a representative for UMWA told ThinkProgress that many of those impacted are sick and unable to work after years spent in coal mines, leaving them in need of health care.
Westmoreland's workers are unionized, but that isn't the case for Cloud Peak. Bill Corcoran, regional campaign director for the Sierra Club's Beyond Coal project, said Monday that the Wyoming company's approximately 1,200 workers lack union protections and that their future is uncertain following the bankruptcy news. As Cloud Peak has edged towards bankruptcy, Corcoran told ThinkProgress, the company's workers have already endured the brunt of the fallout.
"[Cloud Peak] has typically slashed or eliminated health care benefits for their workers," he said, pointing to a larger trend of coal companies cutting worker benefits while bolstering the bonuses given to executives in order to incentivize them to stay.
The impact of coal company closures on their workers has long been a concern for unions and coal communities, but the issue has gained heightened prominence recently. As climate change becomes a leading issue for the U.S. public, lawmakers have faced a conundrum over how to protect those most impacted by a shift away from fossil fuels — namely, workers.
Under the Green New Deal resolution proposed in February by Rep. Alexandria Ocasio-Cortez (D-NY) and Sen. Ed Markey (D-MA), coal miners and other impacted workers would see a "just transition," one that would theoretically protect their livelihoods.
It has been unclear exactly what such a shift would look like, but unions and labor rights organizations have said a plan like this will be crucial to secure their support. Some unions have been skeptical of the Green New Deal precisely because they have not yet seen legislation that would guarantee the protections of current fossil fuel workers.
Meanwhile, outside of union protections nearly 100,000 coal miners are at risk of losing their pensions by 2022 or sooner as coal companies continue to edge towards bankruptcy. The average benefit provided by the federal Pension Benefit Guaranty Corporation (PBGC) is only around $600 a month, but current and retired miners say that amount is critical to their well-being. The PBGC is heading towards insolvency, with bipartisan efforts in the Senate to rescue the fund currently stalled.
Corcoran emphasized that it is unclear what might happen to Cloud Peak's current workers and that it is hard to say how the company might proceed. But he noted that the current downward trajectory of coal is at odds with worker security.
Efforts by Trump and lawmakers supportive of the coal industry are also failing to address that long-term problem, Corcoran said, noting that they have steered away from proposals to retrain workers in the renewables sector, for example.
"The real question," he said, "is how are we helping workers transition?"
**
Cloud Peak Energy, the coal giant that operates two Wyoming mines, filed for bankruptcy Friday amid mounting debt and declining demand.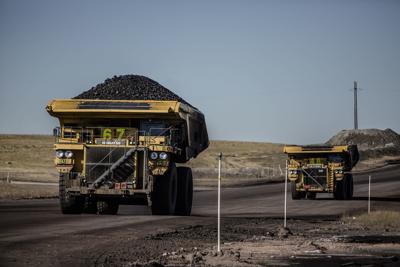 Cloud Peak Energy, the coal giant that operates two Wyoming mines, filed for bankruptcy Friday amid mounting debt and declining demand.
The filing follows months of troubling signs for the Powder River Basin operator, which for a time avoided the economic difficulties of its competitors but had of late experienced growing financial challenges as the market for its product diminished.
The company chose not to make a $1.8 million debt payment on March 15 and received additional extensions in April. A new deadline to pay its debt was set for 11:59 p.m. Friday. Instead, the coal firm filed bankruptcy paperwork in federal court in Delaware hours before the deadline was set to expire.
The company's filing indicated it had, as of the end of the year, nearly $929 million in assets and almost $635 million in total debts.
In its announcement, the company said its mining operations would continue as normal as it moves through the bankruptcy process. But the filing represents the latest concerning episode for coal, which has been one of the main drivers of the state's economy, along with oil and natural gas.
Friday's announcement comes only days after Gov. Mark Gordon said he was optimistic about coal's future. In a statement after the filing, the governor said coal is an integral part of the nation's and the world's energy portfolio and will remain so for years.
"That is a fact," Gordon said. "The proof is in the global energy patterns from last year. I believe we need to find solutions that support coal energy and address climate change. This news about Cloud Peak reinforces why I have advocated so strongly to innovate and advance the conversation about coal energy beyond polarized political rhetoric."
Powder River producer
Cloud Peak owns three Powder River Basin mines: the Antelope and Cordero Rojo in Wyoming and Spring Creek in Montana. The mines shipped 50 million tons of coal in 2018.
Cloud Peak is Wyoming's third-largest coal producer, and its mines represent 20 percent of the state's coal miners in the Powder River Basin.
Following the filing, speculation almost immediately began that Cloud Peak would sell its mines. Landowners group Powder River Resource Council called on the state of Wyoming to "aggressively participate" in the bankruptcy proceedings.
"We are gravely concerned that employees' and retirees' pensions and healthcare benefits will be taken away, and that millions of dollars of ad valorem taxes owed to Wyoming counties for coal already produced will be left unpaid," the group's vice chairman, Bob LeResche, said in a statement. "Our greatest fear is that reclamation of Cloud Peak's large mines will cease, and that financial assurances required by law will prove inadequate."
Unlike the nation's other coal giants, Peabody Energy and Arch Coal, Cloud Peak avoided the bankruptcies and layoffs that followed the coal downturn in 2015 and 2016.
While those companies struggled, Cloud Peak enjoyed a reputation for making smart choices, focusing entirely on the Powder River Basin. When Peabody and Arch were struggling through bankruptcy in 2016, Cloud Peak turned a second-quarter profit.
Signs of distress
But the company has been under increasing financial pressure over the last year as its debts accumulated and its profits per ton of coal plummeted. Demand for coal weakened, and Cloud Peak did not have the debt relief that Arch and Peabody received when those companies emerged from bankruptcy.
Last year, Cloud Peak began showing more signs of financial distress: a June announcement that it would consolidate its offices, an October decision to cut retiree benefits and a warning in December that it would be delisted from the New York Stock Exchange.
Cloud Peak is the fourth major coal producer in Wyoming, the top coal-mining state, to file for bankruptcy in recent years. Bristol, Tennessee-based Alpha Natural Resources filed for bankruptcy in 2015, followed by top-producing Peabody Energy and Arch Coal in 2016. Westmoreland Coal, which operates the Kemmerer Mine in southwest Wyoming, filed for bankruptcy in October.
Inexpensive and cleaner-burning natural gas, and increasingly inexpensive wind and solar power, have become attractive alternatives to coal power in the U.S. None of the Powder River Basin's huge, open-pit coal mines has had to close. But the outlook for thermal coal, the type used to fire power plants, has been bleak.
A federal government report released Thursday predicts coal in the months ahead will account for 25 percent of U.S. power generation, down by about half over the past decade. The trend continues despite President Donald Trump's efforts to back away from a wide range of environmental regulations affecting coal.
Wyoming officials have meanwhile sought to encourage carbon-capture technology by funding research at a Gillette-area power plant. Any marketable results from that work remain years away from wide-scale use.
The Associated Press contributed to this report.