Anyone in Sweden is theoretically entitled to permanent tenancy of a rent-controlled apartment. In recent decades, however, lack of supply in areas of greatest demand has created very long waiting lists. Facing a housing crunch almost a century ago, Sweden's capital built 'Barnrikehus' for low-income families. Today the rent-controlled apartments are some of the city's more sought-after properties. By Feargus O'Sullivan, Bloomberg, March 30, 2021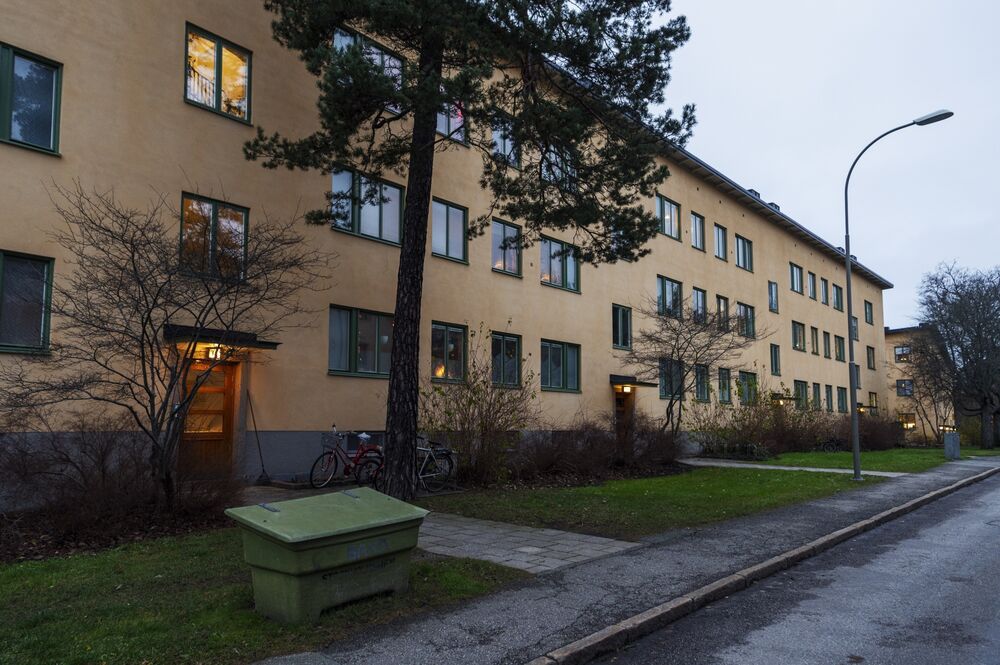 Feargus O'Sullivan is a writer for CityLab in London, focused on European infrastructure, design and urban governance.@FeargusOSull ShareTweetPostEmail
It's easy to see why the 1930s housing blocks that ring inner Stockholm are sought after. Plain but inviting midrise modernist buildings, clad in brick or pastel colored plaster, these city-built tenements combine suburban calm with a handy location. Find a space in one, and you can get into town quickly but still live on an all-but silent street overlooking lawns and spindly birches.
The apartments inside — rarely exceeding two bedrooms and often with just one — exemplify an internationally admired modest-but-comfortable Scandinavian style. Look at their interiors in real estate listings and you find design tics that seem all but uniform across Sweden's middle class: white walls, pale wood, ferns, shaggy textiles and a rigorously muted palette in which, if someone wants a daring pop of color, they'll probably go for beige.
Despite their quality, these homes have a backstory rooted in poverty and need. For some original tenants, living in these blocks was once even considered shameful. While small, they were originally built for larger, poor families — a group that in 1930s Sweden suffered some of the worst housing conditions in Europe.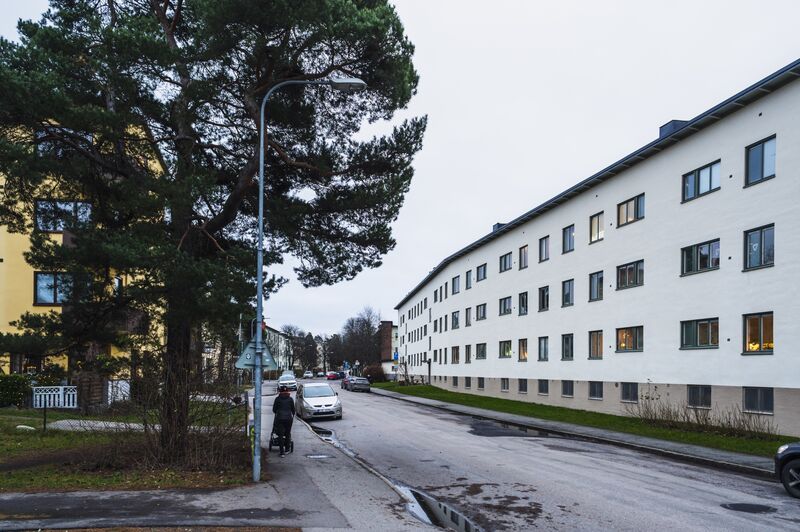 It's this role that gave these unassuming buildings their name: the Barnrikehus [pronounced "Barn-reek-eh-HUUSS"], or "child-rich house."  They illuminate not just how Sweden's welfare state was born, but also how the Scandinavian social democratic dream has shifted over the decades — causing the Barnrikehus to be rejected as a model, before returning again in recent years as a possible inspiration for tackling Sweden's contemporary problems.
Sweden may be a global model for many today, but its twentieth century reputation for stable, welfare-supported affluence was built against a history of want and dysfunction. By the 1930s, Depression-hit Sweden had the lowest birth rate in Europe. It wasn't just hard times, or the lack of affordable childcare facilities that discouraged people from having children. It was also an absence of decent housing.
At that time Stockholm was still mainly confined within the limits of what was dismissively known in Sweden as the "stone town" — dense districts of stone and brick buildings. Poorer Stockholmers here mostly lived in grim, light-starved tenements, referred to as "rental barracks" (and very similar to Berlin's Mietskaserne). Built around dingy courtyards these buildings were often owned by exploitative landlords that offered short-term rentals of new, still-damp buildings to the very poor. Referred to as "mushrooms," these tenants served to dry out the walls with their stove and body heat so that higher-paying renters could then replace them. Families with many children were often rejected as too complicated to house.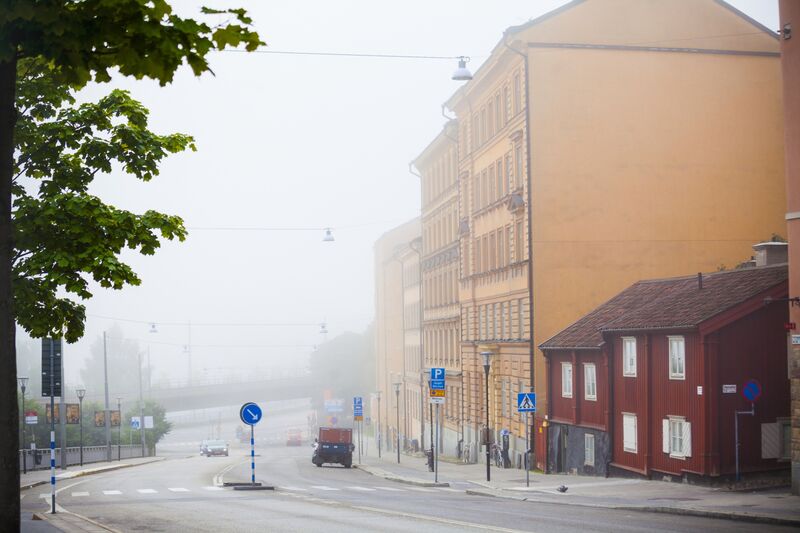 While the architecture of Stockholm's Stone Town districts — their population thinned — is now considered highly attractive, early 1930s Stockholm must to its poorer residents have felt like a larger version of It's a Wonderful Life's Pottersville. Swedish society was acutely aware of these problems. They even appeared in popular culture, where Ingrid Bergman's first major role was in a 1935 film exploring the poor birth rate (although the film blames it not on housing but pleasure-seeking women).
The real pivot for change, however, was the work of two sociologists: future Nobel Peace Prize winner Alva Myrdal and her husband Gunnar. In their hugely influential 1934 book Crisis in the Population Question, the Myrdals advocated free health care, child benefits, affordable access to professional childcare and a rebalancing of domestic work to make it easier for women to perform paid work. A pillar of this proposed program was better housing, accessed via subsidized rents or favorable loans. Partly under the Myrdal's influence, Swedish municipalities started to develop their substantial landholdings to give poorer families somewhere better to live.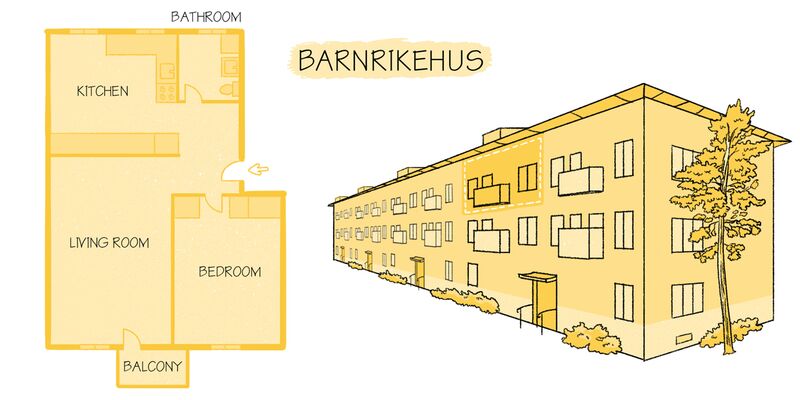 This new housing sprang up on the fringes of Stockholm and other Swedish cities. Influenced by the functionalist architecture displayed at the 1930 Stockholm Exhibition, the typical Barnrikehus was a slab-like midrise building of four or five floors, typically built no deeper than 12 meters (around 40 feet) so that good airflow could prevent the spread of tuberculosis. The architecture of their brick or plaster facades might have seemed strikingly plain at the time, but their spartan aesthetic and leafy surroundings answered a yearning for cleaner, calmer surroundings that many cities around the world aspired to at the time. Thanks to their (usually) pitched roofs and alignment to streets — still flanking them or at right angles as opposed to the park-like settings and taller towers segregated from roads of the post-war period — they now seem relatively traditional.
A Modest Utopia
Equipped with central heating, toilets and hot water, these complexes offered laundry rooms, an abundance of surrounding open space and, sometimes, a nursery for working mothers. While the apartments' construction could be either by municipal housing companies or private contractors, rents were subsidized by the municipality. In a bid to boost the birth rate, costs were reduced for each child in a family. This made their rents lower the more children a family possessed, skewing tenancies toward the larger, poorer families they hoped to attract.
These model homes were nonetheless quite shockingly small by today's standards, with floor spaces of around than 40 square meters (430 square feet) common. An apartment of the era preserved by the Stockholm City Museum initially housed a family of six with just one bedroom: Two children slept on the living room sofa and another two on a fold-out bench in the kitchen that was covered each evening with a roll-out mattress. That these dimensions were an improvement for the family says something about their previous living conditions.
Targeted as they were at people on low incomes, the apartments were still seen as low status places to live by many. "There was a certain stigma attached to the Barnrikehus, much like that attached today to social housing in many countries" says Martin Grander, a housing researcher at Malmö University. "This was especially true of the children, who didn't want to tell their peers that they lived there."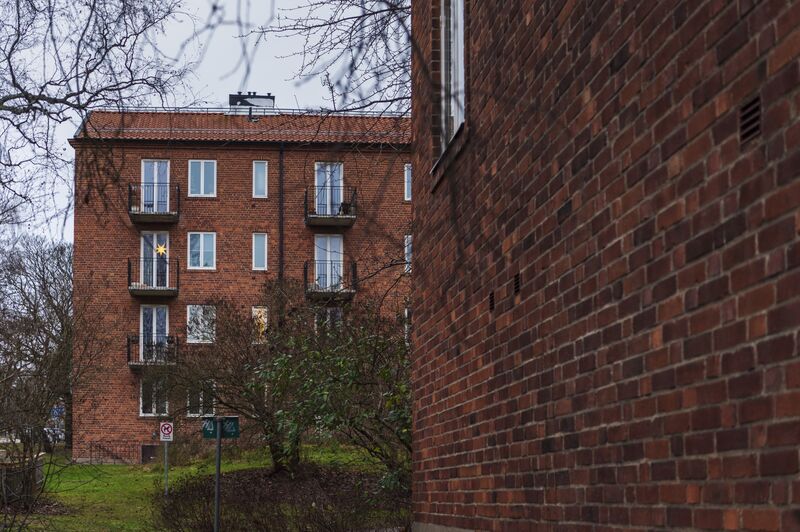 It was partly awareness of this stigma that saw Sweden's social democratic government move away from a policy of providing subsidized housing specifically to the needy, to develop in the post-war period a system in which all Swedes could access affordable, rent-controlled housing regardless of income. This system was made possible by now legendary spurts of building from municipal construction companies — first the "ABC City" of the 1950s, then the Million Program of 1964-74 , so-named after the number of homes it planned to build — which designed entire new districts on a scale that far exceeded anything achieved in the 1930s and (apart from the U.K.) was unmatched in western Europe. It's this system, now creaking a little on its hinges, that has seen the Barnrikehus become something rather different from how it was conceived. To understand why requires a look at how the Swedish housing market works.
Rethinking the System
Anyone in Sweden is theoretically entitled to permanent tenancy of a rent-controlled apartment. In recent decades, however, lack of supply in areas of greatest demand has created very long waiting lists — up to 20 years in parts of Stockholm. While waiting for a permanent tenancy, people on this list can only access apartments on shorter-term leases of a year or two, or in some cases use the black market to bribe their way into a sublet.
Wealth and connections are another way off the list. Richer people in the major cities frequently buy apartments on the private market, or a share in a co-op, which are frequently suspected of favoring people who already know other co-op members. (Waiting lists are not made public.) Without money and/or knowledge of how to best work the system, lower income and minority Swedes tend to end up in farther-flung, municipally built housing with less access to jobs and services. In the long run, most people end up with decent, relatively affordable homes that make housing in, say, London or New York seem exorbitantly priced and shabby. The system has nonetheless strayed from the original dream of easily accessible housing for all.
The fate of Stockholm's Barnrikehus, which have risen in status from welfare tool to desired addresses, shows this. "The Swedish rent system means that we have lots of very nice apartments owned by the municipality in central Stockholm with very low rent," says Grander, the Malmö University researcher. "They are extremely attractive and sought-after — it's a dream for every middle class household to live in one. This means that, in Stockholm at least, the Barnrikehus aren't used for what they were originally intended. If you look at the queue times on the rental housing list, they are very hard to get."
While no one would actively choose to house large families in such small units nowadays, the recent exclusion of lower income citizens from the better connected areas, where Stockholm's Barnrikehus are found, has re-sparked a debate over affordable housing in Sweden, he says. "Today we have a huge housing shortage in urban areas that is very acute for households with limited means or children — especially single parents. More or less the same groups are being shut out as in the 1930s — and we are having the same debates today."
The idea of targeted social housing specifically for vulnerable groups is thus now back on several Swedish political parties' menus, seeking to address a situation in which, despite overall affluence, inequality is growing by the year. Certainly, the extremely poor living conditions that made the Barnrikehus necessary have largely gone. But contemporary Sweden's housing issues nonetheless show that the sense of civic purpose and drive for equality that spawned their creation are something the country still very much needs to keep alive.