So what do we do? We urgently need a new Politics of Home. More generally, the need for a distinction between work and downtime should enter the political vocabulary as a fundamental right, and the organisations dedicated to trying to enforce it – most notably, the network of small freelance unions that are dotted across Europe and the US – need to be encouraged and assisted.   It is time, too, that we begin to understand that the great wave of popular resentment sweeping across advanced societies is partly about the way the modern economy shreds some of people's most basic emotional attachments. We all know the modern rules: millions of people have to leave where they grew up to find even halfway dependable work; and they find that creating any kind of substitute home somewhere new is impossible. For people at the bottom of the economic hierarchy, life proves to be unendingly precarious and often itinerant. For those slightly further up, the best available option seems to be a version of the student lifestyle that extends well into your 30s.
By John Harris in The Guardian, 18 June 2018
In a world of digital nomads, we will all be made homeless: Whose utopia is this, when people have to sever emotional links and leave where they grew up to find dependable work?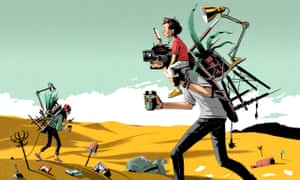 The office-space empire WeWork was founded eight years ago in New York. It currently leases 240,000 sq metres of real estate in London alone, which reportedly makes it the city's largest user of offices after the British government. The basic deal is simple enough: you can either pay to put your laptop wherever there is space, or stump up a little more for a more dependable desk or entire office – and, in either case, take advantage of the fact that, with operations in 20 countries, WeWork offers the chance to traverse the planet and temporarily set up shop in no end of locations.
Part of the WeWork idea, moreover, is that a place to toil is only part of what is on offer. As well as your workspace, there will be free beer on tap, regular yoga and pilates sessions, and more. As the working day winds on and such distractions – along with the necessity of meeting other footloose hotshots, and comparing "projects" – take up more of your time, a couple of questions might spring to mind: what is work, and what is leisure? And does the distinction even count for much any more?
Other customers of the company may be troubled by an even more fundamental conundrum: where is their workplace – and what, by contrast, constitutes home? WeWork is slowly expanding into a new venture called WeLive, up and running in New York and Washington DC, set to open for business in Seattle, and also planned for Tel Aviv. If accommodation is proving hard to find, you need company, and your life as a freelance means you have no permanent workplace where you can meet like-minded people, here is a solution: a range of tiny studio flats and slightly bigger dwellings, built around communal areas, kitchens and laundrettes – in the same building as WeWork office space.
Miguel McKelvey, one of the company's two founders, has said that the idea is partly aimed at people who are "always working or always semi-working". The mountain of press coverage this innovation has sparked includes a telling quote from one euphoric resident in Manhattan: "You just roll out of bed, go down the elevator and get to work." This, apparently, is the future: despite its slow start, WeWork's chief executive, Adam Neumann, insists that "WeLive is going to be a bigger business than WeWork".
Four years after stories broke of employees who worked up to 90 hours a week living in camper vans at Google's HQ in northern California, a WeLive-esque lifestyle will presumably take root at a new Google campus taking shape nearby, which will sit among 10,000 new "housing units". Up the road, Facebook's Willow Village development looks set to deliver something similar. Meanwhile, for tech high flyers lucky enough to have no fixed employer or workplace, as well as WeLive, there is an even more alluring option: Roam, which is pitched at "digital nomads", and offers flexible "co-working and co-living" spaces in London, San Francisco, Miami, Tokyo and Ubud, in Indonesia. For upwards of $500 a week, such people can now wander around the world, mixing life and work – "two activities that quickly become indistinguishable within Roam's confines", as the New York Times put it.
It is telling that this blurring of work and leisure, and the fading-out of any meaningful notion of home, is reflected at every level of the tech industry – from shared houses that double as start-up "incubators" (see the hit HBO comedy Silicon Valley), through the co-working and co-living spaces springing up in urban China, to the factories in the same country where workers churning out iPhones sleep in dormitories. The erosion of any barrier between grafting and downtime is reflected in big tech's innate insistence that we are "on" at all times – checking our feeds, sending emails, messaging colleagues. You see the same things even more clearly among rising numbers of networked homeworkers – translators, CV writers, IT contractors, data inputters – whose lives are often a very modern mixture of supposed flexibility, and day-to-day insecurity.
So what do we do? We urgently need a new Politics of Home. God knows, there will always be a market for expensive fads; and with prices for WeLive studios starting at over £2,300 a month, more fool anyone who takes the bait. But, as proved by other developments in the US and China – and a trailblazing scheme in London (at Old Oak, in Willesden) where cramped en suite rooms and access to a workspace can be had for a relatively affordable £245 a week – the worldwide push towards mixing up co-working and co-living highlights a big issue: the dire shortage of affordable urban housing.
More generally, the need for a distinction between work and downtime should enter the political vocabulary as a fundamental right, and the organisations dedicated to trying to enforce it – most notably, the network of small freelance unions that are dotted across Europe and the US – need to be encouraged and assisted.
It is time, too, that we begin to understand that the great wave of popular resentment sweeping across advanced societies is partly about the way the modern economy shreds some of people's most basic emotional attachments. We all know the modern rules: millions of people have to leave where they grew up to find even halfway dependable work; and they find that creating any kind of substitute home somewhere new is impossible. For people at the bottom of the economic hierarchy, life proves to be unendingly precarious and often itinerant. For those slightly further up, the best available option seems to be a version of the student lifestyle that extends well into your 30s.
For all that some people seem to luxuriate in the weightlessness this fosters, it is surely no way to spend any sizable share of your adult life. And what if you want to push beyond footloose living and start a family?
It is a token of the surreal future some people want to push us towards that WeWork may have the beginnings of an answer to that question, albeit for the few people who can afford it. The company has recently spawned an educational offshoot called WeGrow (so far focused on a private elementary school in New York) that teaches kids a range of skills including mindfulness and "conscious entrepreneurship". But the idea is apparently to put WeGrow schools in WeWork properties across the world, so digital nomads can carry their disorientated offspring from place to place, and ensure they have just as flimsy an idea of home as their parents do.
Not for the first time, you may well read this stuff and wonder: whose utopia is this?
John Harris is a Guardian columnist
On the far eastern edge of Miami's Little Havana, beyond a tall black gate, sit four century-old wooden buildings made of strong Dade County pine, arranged around a courtyard with a pool. Letters on the frontmost building's pale yellow facade identify it as the Miami River Inn. One of the city's very first hotels, it was built in 1908 to house transient laborers working on the docks, back when Miami was still a frontier outpost of barely 5,000 people. Locals have long harbored a belief that the bottom floor of one house is haunted.
At the time of the inn's construction, the surrounding area was known as Riverside; like the rest of the city, it became a hotbed of real estate speculation over the coming decades. As a new residential neighborhood grew around it, the inn remained a holdout from another era. In the '80s, its rent was $100 a week, and the buildings were crumbling. Then, in 1990, a preservationist bought the property and turned it into a bed-and-breakfast, and in 2015, it was flipped again to a hip hotel group. Two years ago, the buildings were leased by a start-up that intended to return them to their original use, housing itinerant workers — albeit a very different kind.
That company is called Roam, and since its founding in 2015, it has constructed an international housing network for so-called digital nomads, a growing demographic of people who travel the world while working remotely over the internet. Roam operates complexes of furnished, single-occupancy residences in four cities (Miami, Tokyo, London and Ubud, in Bali), with three more on the way (in New York, Berlin and San Francisco). The idea is that you never have to leave the system: Roam is everywhere you want to be. Residents pay rent starting at $500 a week to comfortably live and work, two activities that quickly become indistinguishable within Roam's confines.
More than a mere chain of upscale hostels, Roam signals the crystallization of a moment long in the making. Telecommuting has been feasible since the days of dial-up, but the early digital nomads were pioneers, planning solo trips around the world, seeking out spare rooms and spotty connections in the name of escaping drudgery back home. Roam aims to make dislocation easy and glamorous, transforming digital nomadism into a mainstream, off-the-rack proposition. To date, Roam has hosted more than 2,200 members, a wandering group of entrepreneurs, programmers, freelancers, retirees and tourists who call themselves "Roamies" the way stationary types might namedrop their hometowns.
In October, I went to Miami to try out the Roam brand of nomadism for a week. My Uber from the airport passed through the city sprawl at dusk and deposited me outside the Miami River Inn gate. I punched in the key code I had received by email and swung open the heavy door. Inside, cutesy chalkboard signs pointed the way to Roam's communal kitchen and its co-working space, while warning nonmembers to stay out. In the courtyard, canvas shades were stretched among palm trees, sheltering clusters of wire chairs; a shipping container had been turned into an open-air bar with outdoor couches. I wandered, slightly lost, around the compound until I found Luisa Paganini, Roam's young head of customer operations and the acting community manager in Miami. She handed me keys for a room on the second floor of the yellow house.
I opened the door onto a bedroom with an attached bathroom and enclosed porch, sparsely furnished with all-white side tables, dresser and bed, but no desk or television. The room's white walls lacked even the desultory kitsch of hotel art, which I never thought I would miss until it was gone. My suitcase was the only sign of human life. I didn't feel haunted; I felt like the ghost.
The morning after my arrival, I met Roam's founder, Bruno Haid, a tall 40-year-old Austrian who lives out of a single black duffel bag and wears only black and white. At the time, he was fully nomadic, with no apartment of his own, preferring instead to crash with friends or at his company's residences. We had made plans to meet the night before, but he fell asleep while working in bed in one of the other identically outfitted rooms. We convened in the courtyard and walked out of the Roam gate into the neighborhood for breakfast at a Cuban coffee stand. Haid was dressed for the heat, in Toms, a thin white T-shirt and black shorts brief enough to identify him as European. His eyes are a shocking pale blue, and he sported no fewer than three man-buns: two in his wiry dark hair and one in his beard.
"How's your Spanish?" Haid asked me with slight trepidation as we neared the stand. I told him I stopped studying in middle school. Instead, he enunciated carefully in English: "I'll have a cor-ta-di-to." Like many people who are most at home in airports, Haid had an aura of unbelonging. It wasn't just his lack of street Spanish that betrayed him as a nonlocal, or the profuse sweat he broke into in the sun. It was as if he weren't really occupying the same space that I was. And, in a way, he wasn't. Haid's entire pitch to consumers is that cities and countries today can be refashioned as backdrops behind a laptop screen to be swapped smoothly at will. Indeed, a glossy placelessness is part of Roam's core product. "You always need a sense of place and home," Haid said later in the day, as we wandered through the area's blocks of quiet, rundown apartments. "The question is, does it need to be geographical?"
Though he doesn't look the part, Haid spent much of his life in the hospitality business. He grew up at his family's small inn in Obergurgl, a tiny Alpine village in Austria with 5,000 inhabitants in the winter and only a handful in the summer. He spent most of his time alone in nature, escaping from the inn's tight communal quarters. "Our living room was literally the guest room," he says. He didn't have his own bedroom, forcing an early adjustment to sharing space, something he hated as a boy.
Yet the flow of tourists through Obergurgl gave Haid a hint of the wider world, which he escaped into as soon as he was able. He learned computer programming from print magazines and eventually, in 2005, founded a start-up that built custom search engines. By 2011, it had been folded into another company and then closed, leaving Haid, at 33, successful but directionless. He bummed around London and San Francisco for a while, using up accumulated airline points, staying with friends and feeling as if he had missed out on his youth.
As Haid was becoming more itinerant, the "digital nomad" lifestyle was emerging from the intoxicating ether of techno-utopianism into the real world. The term's commonly cited origin is a 1997 book, "Digital Nomad," by Tsugio Makimoto, a Japanese semiconductor scientist, and David Manners, a British journalist. The book presciently predicts that advances in communication technology "will make us geographically independent of our homes and offices," leading to "cerebral nomadism" — we will travel the world hunting down information and relationships, much as our ancestors stalked the plains for prey.
It wasn't until around 2007 that a coterie of bloggers began promoting the lifestyle and its possibilities. The trend lashed together backpacker culture, monetized web presences and the happiness-optimization schemes of Timothy Ferriss, whose influential book "The 4-Hour Workweek: Escape 9-5, Live Anywhere, and Join the New Rich" was published that year. One early advocate was Tynan Smith, a former professional gambler and pickup artist — he appears in Neil Strauss's "The Game" under the pseudonym Herbal — turned blogger, who decided to go nomadic in early 2008. Traveling the globe became a way for Smith to regulate his cost of living according to how much his various online hustles brought in, a strategy that Ferriss called "geoarbitrage." If you're scraping together $1,000 a month, the logic goes, the money will go further in Thailand than in New York.
With the rise of smartphones, roaming data plans and cheaper air travel, this strategy has proved popular. Nomad hubs have been cropping up anywhere a low cost of living intersects with a high quality of life, most often in Southeast Asia: Chiang Mai, Bangkok, Ubud and Ho Chi Minh City have all become popular destinations on the circuit, as have cheap European cities like Lisbon and Madrid. During his initial travels, he says, Smith mostly encountered backpackers running down their savings, but subsequent generations of nomads emerged: first, marketing consultants often banking on sketchy S.E.O. schemes; next, freelance writers and programmers. Lately, Smith says, he increasingly encounters full-time employees whose bosses allow them to travel and work remotely.
While living part time in a Mission District warehouse commune that he helped establish, Haid came upon the thriving Bali nomad scene during a prolonged stay in Ubud in late 2014. With the nearby tropical beaches, convenient co-working spaces and attractive nomadic crowd, "life was really, really good," he told me, his voice tinged with more than a hint of nostalgia. "I experienced firsthand that you can be just as productive in this beautiful, nice environment where you can have perfect $9 massages each day and amazing coffee." A start-up, Haid reasoned, could offer the same experience to anyone with enough money and an appropriate passport. At first he called the business Caravanserai, the word for Silk Road merchant hostels, but he simplified it after getting too many blank stares.
Haid sought investors in 2015, when you could still practically stumble into venture capital, especially with a pitch that went something like "Uber for international housing." He brought on two co-founders, Dane Andrews and Flo Lauber, and raised $3.4 million to open Roam's first spaces, at the Miami compound and a converted boutique hotel in Ubud, which features a polished-cement communal kitchen and a courtyard pool. Roam Tokyo is in Akasaka, with blindingly minimalist rooms and a vintage-furnished communal kitchen. The London location is a plush Victorian in the upscale Chelsea neighborhood, attracting human rights lawyers commuting to The Hague as well as start-up developers.
Roam has evolved into a miniature global corporation, with a dozen staff members, most of them digital nomads themselves, living among its locations, communicating through the chat platform Slack, checking in over weekly conference calls and scanning any print mail that comes in for online dispersal. Roam has no offices and no headquarters except its locations. For its clients and employees alike, the start-up provides a comprehensive structure for a post-place life.
Later that day, Haid and I toured the Roam Miami grounds, passing the koi pond and outdoor tables under the palms, and a lone hammock in a circle of white sand next to the co-working space. Each of the four houses features shared amenities, like a yoga room or an art studio. We settled in the communal kitchen attached to the yellow house, where Roamies constantly flowed in and out. They came through to get coffee from the forever-brewing pot, grab a gluten-free artisanal cookie from the honor-system pantry or just look for a chat. It felt like an office kitchen, which in a sense it also was.
My conversations with Haid wandered from mundane details of hospitality design — choosing the right industrial fixtures in the kitchen, for heavy use — to the philosophical roots of nomadism. A surprising thing about Haid is the range of leftist flourishes he adds to any discussion, referencing everything from radical economists and the British filmmaker Adam Curtis to Verso Books and the state of "late capitalism." In his mouth, they seemed less a coherent politics than a business plan, a means of predicting and profiting from the incipient future. Traditional careers began disintegrating after the financial crisis, Haid theorized, and soon advances in A.I. and robotics will cause further disruption. "There is not necessarily work there for everyone," he said. If jobs are no longer static or stable, then the notion of a permanent home must also be rethought. Nomadism, Haid argued, allows the discontented or disenfranchised to design new, sustainable lifestyles in the global marketplace. It's a means of letting human capital find the path of least resistance, wherever it may be.
There is a vicious plausibility to Haid's vision. The macroeconomic pressures he describes in the urbanized West — a lack of affordable housing and linear careers — are particularly tough on millennials, who are also, incidentally or not, a historically unattached generation, with low rates of marriage, homeownership and childbearing. If the usual trappings of adulthood don't seem attainable, and a permanent sense of precariousness seems unavoidable, why not embrace impermanence instead? Already there are partial nomads all around you; you just might not think of them that way yet. There's the writer who spends a few months of every year in Berlin, making up for diminishing freelance wages with cheap Neukölln rent; the curator bouncing between New York and Los Angeles; the artist jumping from Tokyo residency to Istanbul fellowship. In the competitive freelance economy, geographic mobility has become a superficial sign of both success and creative freedom: the ability to do anything, anywhere, at any time.
Those in less artsy careers who chase that same sort of freedom may find it illusory. The new technologies that have liberated us from place have also made employers more comfortable with remote workers, but only because we can be so easily monitored. Combine this interconnectivity with an increasing population of freelancers — over a third of the American work force makes money in the so-called gig economy — and you have the makings of a nomad boom. Haid estimates his target customer base to be around 1.2 million people who make over $80,000 a year and could live anywhere. Pieter Levels, creator of the social network Nomad List, believes there to be a nomad population in the high hundreds of thousands.
Haid claims that Roam is already profitable. In crowded cities, it's not hard to keep rooms occupied — empty spaces are also listed on Airbnb — and the company has a clever business model that limits its risk: Property developers work with Roam to format and furnish buildings, then Roam leases and operates them, much as a hotel does. (The Miami compound is on a five-year lease.) Roam's largest cost is scouting new locations, which can be difficult. The company started Roam Madrid in a former convent, but it closed it after finding the conditions too austere even for nomads.
The major selling point of Roam is its community, in which no one is supposed to feel strange or isolated, as Haid once did, for leading an itinerant life. The Miami crowd, I found, was surprisingly diverse in age and race. (Like the tech industry that the nomad scene came from, its adherents skew young, white, Western and male.) Over the week, I hung out with South American software developers, two coupled entrepreneurs from Switzerland, a middle-aged American contractor who works for I.B.M. on international events, an Israeli machine-learning expert and a 75-year-old retired real estate agent, Lino Darchun, who seemed to recognize in Roam an opportunity to counteract loneliness. "My wife passed away," he told me. "I wanted to just make a lifestyle change." He went on: "I can afford something pricier than Roam, but I had such a good time here." And the community did seem like a better place than most to redefine yourself. Another Roamie, a 48-year-old named Stacie Harrison, was also grieving. She lost her boyfriend, a pilot, to a plane crash in 2016 and moved to Roam Miami from Phoenix, her hometown.
Daily routines around the compound varied in proportions of work and socializing. The Israeli, Uri Wolfovitz, commuted to a nearby WeWork to collaborate with his start-up co-founder, who actually lived in Miami. Wolfovitz had no long-term plans to stay, because, as he explained, the start-up would thrive or die within a year. Miami is decidedly second-rate as a tech hub, so he was stuck in a limbo that made Roam useful, if not ideal. "It's no place to start a company," he told me with characteristic bluntness in the kitchen one afternoon. "This city is [expletive]."
I have to admit that becoming a digital nomad had its personal appeal, especially given that Roam was made for people like me. I'm a freelance writer by trade; I live in a rented apartment in Brooklyn, and I already work from a co-working space. My millennial precariousness is balanced, if that's the word, by an ability to make rash decisions that renders my situation more bearable: I could theoretically bail at any time and become a vegan surfer in Ubud, filing dispatches to editors still marooned behind their Midtown desks. The option was always there, and in the back of my mind, I thought of Miami as a trial run for true escape: Bali did sound nice.
At Roam, I found an instant routine, with morning yoga classes on the lawn in the company of a stray black cat ("Roamy"), nightly beers at the outdoor picnic table and a weekly email newsletter listing special events and new-member introductions ("Brent and Michael, married for 25 years, sold their home in Seattle last year and are now planning several years of travel"). On Wednesdays, there's a "family dinner." For the one I attended, Hanna Boethius, half of the couple from Switzerland and a freelance nutritionist, led the charge with a low-carb, gluten-free meal of sous-vide steak, raw broccoli salad and vegetable lasagna without noodles.
As Hanna and her husband, Sebastian, founder of a remote software agency, hustled about the kitchen, I perched in the corner with Harrison, whose enthusiasm never flagged. "It's like a hybrid between a summer camp for adults and a reality-TV show without the cameras," she cheerfully warned me about life at the compound. At Roam, she was working on a website that helps users posthumously distribute their digital documents; progress on the site seemed slow, and when I inquired, she blamed the developer she contracted — who was also remote. More than the younger members, Harrison seemed to struggle with the consequences of her newly unbounded lifestyle. "I feel like all of my old belief systems say I should get a job and find a regular apartment, and my new, emerging belief systems are saying maybe there's another way," she told me as she showed me around her sunny, spotless room later in the week. "I needed a fresh start. I'm all about doing what makes me happy — I just want to be by the beach."
The environment encouraged a fast, confessional intimacy. Remote freelance work was one of the few things we all had in common, and so it was a constant topic of discussion: how to stay motivated, entrepreneurial, sane. Sebastian tried to sell me, to no avail, on the benefits of "keto-clarity," or the enlightened mental state that comes from a low-carb, high-fat diet.
Sometimes Roam felt more like immersive group therapy than tourism, because I wasn't leaving the compound that much anyway. I didn't have a rental car, and dense Miami traffic made even Uber a hassle. One evening, Marco Andrade, a young Brazilian software engineer, taught a group of us how to play the not-safe-for-work version of Bears Vs Babies, an overwhelmingly complex card game that involves genitalia, explosive diarrhea and fighting monsters. Then we moved on to Cards Against Humanity. More than anything else, it reminded me of high school in the suburbs without a driver's license.
In this closed social system, roles and hierarchies develop much as they do on reality shows, just as Harrison had suggested to me at dinner. Long-term residents like Gregg Albert, the gregarious I.B.M. contractor, and a Bloomberg journalist named Nathan Crooks, who had each been living there for six months or more, acted out an earned authority, introducing new guests into the routine. Roam's live-in community managers played camp counselors, urging on social activity in a pleasant albeit intermittently patronizing way. As Roamies arrived and departed, even in the week I was there, the social texture shifted in subtle and compelling ways, placating any incipient boredom: It was always changing and remaining the same.
Can you imagine a pair of noise-canceling headphones for geography? That's how I started to think of Roam. When you want to, you can block out your sense of place entirely and exist in a hazy, calm, featureless space that could be anywhere. This nomadic bubble goes beyond a hotel in that it stretches around the world and is built to encompass your entire life; it promises to become your post-geographical home. Yet I found there to also be an anxiety to this hermetic placelessness, no matter how beautifully unburdened or minimalist it appears. Living anywhere is a lot like living nowhere.
Haid sees nomadism as a solution to our technologized, globalized lives, but it seems less like a fix than like an extension or intensification of the same condition. You travel in order to work, or vice versa, but the work becomes all-consuming. For better or worse, Roam has a way of removing what makes travel travel: culture shock, surprises and even loneliness, that feeling of being somewhere no one can find you.
I went to Miami anticipating a lifestyle shift. I could lie on the beaches the city was built to provide access to, get things done and explore a different place while being supported in my esoteric freelancer habits by a like-minded group. But the last of these goals was the only one I could ever seem to advance. I occupied most of my time at the bamboo Ikea desks of the co-working space, sweating over a coffee mug, trying to write — just as I do in Brooklyn. On the last morning at Roam, I realized I had barely even seen the ocean, so I took a car from Little Havana to Crandon Park Beach, an island nature preserve that used to be a coconut plantation. I left my bag on the sand and waded out into the warm, shallow water.
It was comforting to float there alone, moving with the gentle waves as they passed. It felt like what I should have been doing all along — embracing freedom, warm weather, the open horizon — but I had spent so much time being a nomad that I forgot to do the actual traveling. It's not much of a solution to the predations of capitalism: You can go anywhere, as long as you never stop working.