Budget priorities in New Zealand: taking mental health seriously, improving child well-being, supporting Maori and Pacifika aspirations, building a productive nation and transitioning to a low-emissions economy.
We usually think of a country's wealth or capital in terms of its financial bottom line — its gross domestic product. But last week, New Zealand challenged the world to assess it in terms of a very different commodity, as the country released the first "wellbeing budget."
To Prime Minister Jacinda Ardern, the purpose of government spending is to ensure citizens' health and life satisfaction. GDP alone, she said, "does not guarantee improvement to our living standards," nor does it "take into account who benefits and who is left out."
The budget requires all new spending to go toward five specific wellbeing goals: bolstering mental health, reducing child poverty, supporting indigenous peoples, moving to a low-carbon-emission economy, and flourishing in a digital age.
To measure progress toward these goals, New Zealand will use 61 indicators tracking everything from loneliness to trust in government institutions, alongside more traditional issues like water quality.
Ardern, who has spoken of empathy as the trait most needed in political leaders nowadays, said her government has "laid the foundation for not just one wellbeing budget, but a different approach for government decision-making altogether."
This approach appeals to many progressives — but it's also attracted criticism from some who think it's airy-fairy marketing spin at best and fiscally irresponsible policy at worst.
"New Zealanders won't benefit from a government that is ignoring the slowing economy and focusing instead on branding," said Amy Adams, a lawmaker in the opposition center-right National Party. "We're facing significant economic risks over coming years, but this government is focusing on a marketing campaign."
Though its effectiveness has yet to be tested, the government's plan does seem to be a good-faith effort to try something new. For instance, it's investing more than $200 million in services for survivors of domestic and sexual violence, which Ardern said is "the biggest single investment ever" in the issue in New Zealand's history.
Ardern's supporters also emphasize that money isn't the only type of capital that matters. Mental health and a sense of community, for example, are equally important forms of capital even though they may be more intangible.
At a time when some argue the traditional capitalist model has made us more anxious and isolated than previous generations, defining success less strictly in terms of wealth and more in terms of overall wellbeing is likely to appeal to many people.
Other countries may come to embrace New Zealand's approach. In fact, some have already anticipated it.
The fourth king of Bhutan coined the term "Gross National Happiness" in the 1970s, when he began asserting that "Gross National Happiness is more important than Gross Domestic Product." It was more than just a quippy one-liner. The kingdom began conducting surveys to measure its citizens' levels of "all forms of capital," as one local happiness researcher put it. By 2008, Bhutan had officially enshrined GNH in its constitution.
Amid the global financial crisis, national happiness became the subject of policy conferences and college courses. France commissioned a study on it, which leading economists — Amartya Sen, Joseph Stiglitz, and Jean-Paul Fitoussi — completed in 2009. In 2011, the OECD released its first wellbeing report on its member countries, and in 2012, the UN began releasing its annual World Happiness Report.
The wellbeing approach has been gaining momentum from Latin America to the Middle East. In 2013, Ecuador appointed a state secretary of buen vivir, an understanding of the good life — rooted in indigenous spirituality — that entails living in harmony with nature. And in 2016, the United Arab Emirates appointed a minister of state for happiness and wellbeing.
New Zealand has taken one step further by deciding to make wellbeing the organizing principle of its national budget. The results of this grand social experiment will be watched closely over the coming years by governments worldwide. How the experiment turns out will likely influence their willingness to try it, too.
New Zealand's Ardern Ramps Up Spending in Her 'Wellbeing' Budget
By Tracy WithersMay 29, 2019, 8:01 PM MDT Updated on May 29, 2019
Government forecasts lower surpluses after this fiscal year
Big winners include mental health, children and hospitals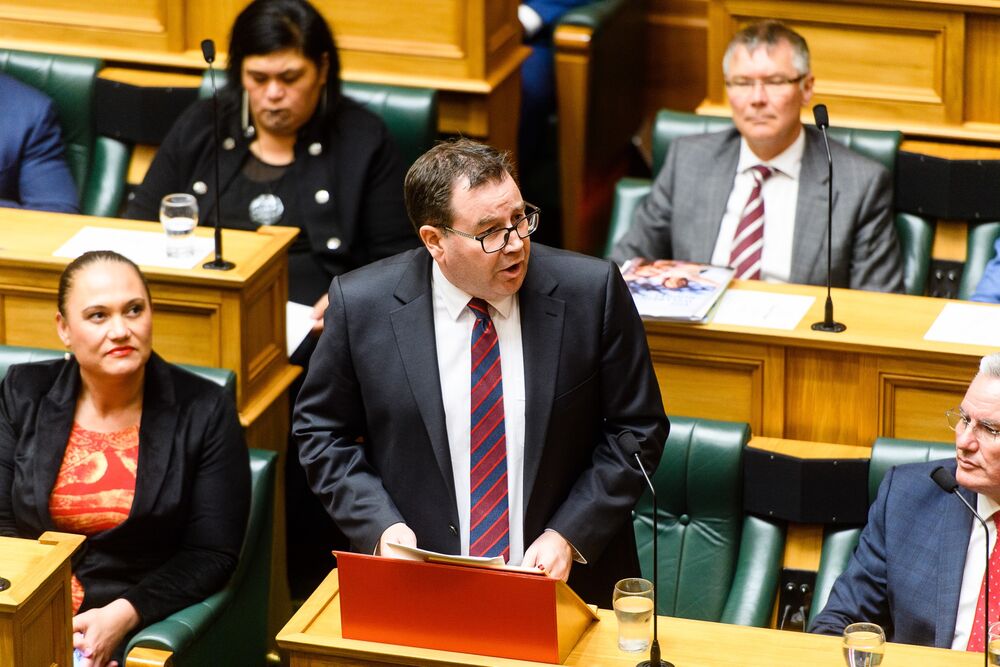 New Zealand forecast lower surpluses and higher debt in favor of delivering fiscal stimulus to a sluggish economy in a budget aimed squarely at improving people's well-being. The government plans NZ$15.2 billion ($10 billion) of new operating spending over the next five years and NZ$10.4 billion of capital investment, Finance Minister Grant Robertson said Thursday in Wellington. While the surplus for the current fiscal year will be bigger than previously forecast, it narrows to NZ$1.3 billion in the year through June 2020 –- the smallest since 2015.
Prime Minister Jacinda Ardern has promoted the country's first "Wellbeing Budget'' as a focus on metrics that matter to people's lives rather than just economic growth, with significant spending on tackling mental health issues, child poverty and family violence. But a slowing global economy and sluggish domestic demand means the government will borrow more and run smaller surpluses to deliver its policies.
New Zealand Budget 2019: Winners and Losers
The increased investment "will stimulate the domestic economy in the face of this global slowdown, and outweighs the costs of higher spending and debt,'' Robertson said. "With interest rates at historic lows, now is the time to make the high value investments we need to secure our future living standards.''
Biggest Spending Plans:NZ$1.9 billion for mental health servicesNZ$1.1 billion to support vulnerable childrenNZ$1.7 billion on hospitalsNZ$1 billion on railways
Surpluses from 2020 onwards will be cumulatively NZ$11 billion smaller than forecast in December's half-year update. Borrowing is forecast to climb in nominal terms and will be higher as a share of gross domestic product.
The government said it will sell NZ$5 billion more bonds over the next three years. Ten-year yields rose 3 basis points to 1.75% after the announcement, while the New Zealand dollar was little changed, buying 65.2 U.S. cents at 3 p.m. in Wellington.
New Zealand's economy will grow just 2.1% in the year through June, down from 2.9% projected in December, according to Treasury Department forecasts. Growth will pick up to 3% in the following fiscal year in response to government spending but will then ease gradually as the stimulus fades and population growth slows, Treasury said.
"We expect weaker growth and inflation than the Treasury," said Nathan Penny, senior economist at ASB Bank in Auckland. "We would cite capacity constraints and low business confidence as key limiting factors likely to cap growth in 2019-20 and subsequent years."
Debt Target
Despite higher debt levels, Robertson will meet his self-imposed budget responsibility rules which include reducing net debt to 20% of GDP within five years of taking office.
Net debt will peak at 20.7% of GDP by June 2021 before dropping to 19.9% by June 2022. Beyond that, the government has adopted a debt target of 15-25% to give it flexibility to respond to economic conditions, Robertson said last week.
The government adopted a "well-being" approach to the budget because it argued that a fixation on economic expansion says little about how the benefits of that growth are being shared, and fails to tackle urgent social issues.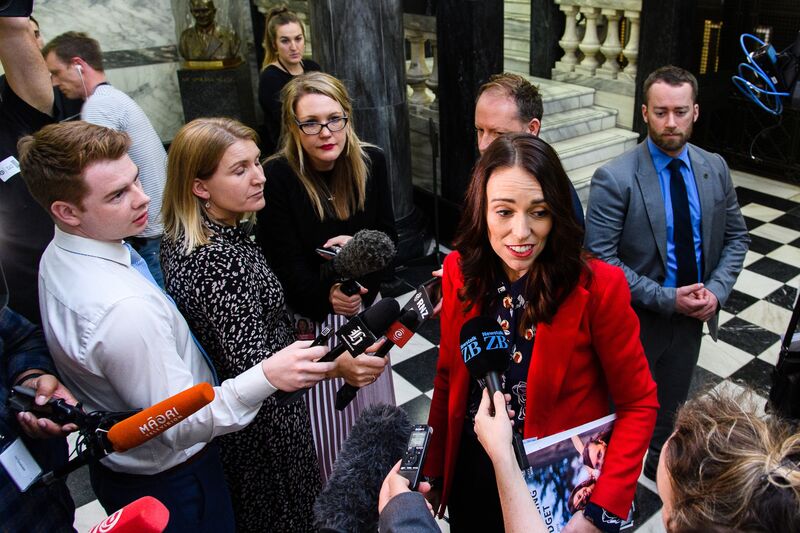 "While economic growth is important –- and something we will continue to pursue –- it alone does not guarantee improvements to our living standards,'' said Ardern. "Nor does it measure the quality of economic activity or take into account who benefits and who is left out or left behind.''
Accordingly, the budget was compiled using five priorities. They are: taking mental health seriously, improving child well-being, supporting Maori and Pacifika aspirations, building a productive nation and transitioning to a low-emissions economy.
The budget's release was thrown into disarray when the opposition National Party began revealing some details earlier this week. The Treasury subsequently called in the police, saying its systems had been hacked, but earlier Thursday withdrew that allegation.(Updates with economist comment in 8th paragraph.)