From PV Mag June 2020 https://pv-magazine-usa.com/2020/07/01/more-utilities-bypassing-natural-gas-bridge-and-going-straight-to-renewables/
Tucson Electric Power (TEP) and Colorado Springs Utilities (CSU) both outlined their plans to skip the gas bridge as they transition away from coal in their resource plans. TEP's proposal calls for closing all of its coal-fired generation by 2031 and replacing this capacity with 2,457 MW of new wind and solar generation and 1,400 MW of battery storage. Similarly, Colorado Springs' plan also calls for replacing coal capacity with wind, solar and storage generation. It plans to add 500 MW of new wind generation, 150 MW of new solar and 400 MW of battery capacity. To enable the early retirement of its 208 MW Martin Drake Power Plant in 2023, CSU will be installing temporary natural gas generators at the site "to ensure system reliability." CSU said that it will remove these generators as its new renewable and storage projects are completed.
350CO Colorado Springs, CO — Today, in a historic 7-2 vote, the Colorado Springs Utilities (CSU) Board voted to accelerate the timeline for closure for its two coal plants and make critical investments in renewable energy. Martin Drake, one of the nation's last urban coal plants will now close by 2023 and Ray Nixon will close by 2030. The utility board voted to approve portfolio #17 for its 2020 Electric Resource Plan (ERP), replacing 416 megawatts (MW) of coal-fired power with 500MW of new wind energy, 150 MW of solar power, and over 400MW of battery storage in order to ensure modern and reliable energy for Colorado Springs. CSU leadership has ensured that no employees will lose their jobs in the utility's energy, creating a national model for a just transition off fossil fuels. 
"Today's monumental decision will make our community safer without more fossil fuels. History tells us that low-income communities and communities of color disproportionately bear the burden of ugly, toxic power plants in their neighborhoods. But this form of injustice is coming to an end in Colorado Springs," said Amy Gray, Volunteer & JEDI Director with 350 Colorado.
The 500MW of new wind power will be Colorado Springs' first investment in what is now the cheapest form of energy in the state. A 2019 analysis by Strategen found that retiring both Drake and Nixon by 2023 and replacing them with wind would save customers $160 million. 
"Earlier this year, Colorado College met its carbon neutrality goals, and other Colorado communities are doing their part to reduce emissions and combat climate change. This new energy plan is Colorado Springs doing it's part too," said Westly Joseph, a student leader with Colorado College's Office of Sustainability. "It is our city leaders' responsibility to ensure that my generation has a safe future here in Colorado Springs. We need a clean energy future and now Colorado Springs is on the path to get there."
Local volunteers and grassroots organizations have been advocating for the closure of Drake for over a decade, citing the plant's numerous air quality violations. In the final vote today, the decision by the utilities board took into account critical opinions from ratepayers across Colorado Springs, including evaluating youth input. Over 200 local residents provided public comment in support of Portfolio #17, sending a strong message in favor of bold climate action. 
"This decision is a huge step forward in our state's efforts to address the climate crisis and reduce pollution in order to protect the health and safety of Coloradans," said Micah Parkin, Executive Director of 350 Colorado. "We applaud the decision-makers and activists who have worked tirelessly over the past decade to bring about this important moment shifting to a more affordable, clean energy future."
The Martin Drake Coal Power Plant was originally scheduled to be decommissioned in 2035 and there were no prior plans to close the Nixon Power Plant. Today's vote closes Martin Drake 12 years ahead of schedule, which will improve the air quality for thousands of Colorado Springs residents living in its shadow. 
"Today is a historic win for Colorado Springs and the region, but the work to move Colorado off of coal is not done yet. Xcel Energy was one of the first utilities to make the commitment to 80% carbon-free electricity by 2030, but now it's the only utility with plans to operate coal plants in Colorado past 2030. Cleaning up the electric sector is essential to meeting Colorado's greenhouse reduction goals, and the state's largest utility will need to do its part. Let's take a moment to celebrate Colorado Springs City Council voting for the future, but after today, all eyes are on Xcel Energy and its Colorado coal plants," said Anna McDevitt Senior Campaign Rep Beyond Coal with Colorado Sierra Club
PG&E agreed to no more gas plants, in support of no gas in new construction statewide.
Meanwhile, Florida Power & Light (FPL) and Jacksonville's municipal utility, JEA, entered into an agreement under which they will rely on existing natural gas and new solar generation to retire their jointly-owned facility, Unit 4 at Plant Scherer, the largest coal-fired plant in the US. According to the IEEFA, to replace JEA's share of the unit's output, the two utilities signed a long-term, fixed-price power purchase agreement under which FPL will sell electricity to JEA from one of its exiting gas-fired generation units. Under the agreement, JEA can opt to switch to solar power at the 10-year mark.
**
Components of Democratic House/Select Committee/Kastor plan:
A two-year 20% increase in the solar ITC for systems under 20 kilowatts (kW), originally contained in a January 2019 bill introduced by Colorado Rep. Joe Neguse (D-Boulder)
Amendments to the Federal Power and Public Utilities Regulatory Policies (PURPA) acts that would encourage utilities to include storage and other "non-transmission alternatives" in their transmission planning.
**
Renewable energy's share of German power mix at 55.8% in H1
FRANKFURT, July 1 (Reuters) – Renewable energy's share of Germany's overall power supply mix rose by 8.8 percentage points in the January to June period to 55.8%, data from Europe's biggest state-funded research and development service showed on Wednesday.
Out of total power production of 243.8 terawatt hours (TWh), solar, wind, biomass and hydroelectric generation together produced 136.1 TWh in that six months, according to data from the Fraunhofer organisation of applied science.
Overall production in the period was down by 11% year-on-year due to sharp falls in demand, especially from industry, during the coronavirus pandemic.
Generators responded by throttling back output at fossil fuels plants, which cannot be stored at meaningful scale.
By contrast, green power output was up 8.4% on the year, benefiting from favourable weather conditions, priority dispatch on power networks, and continuously expanding capacity.
High wind speeds and high solar intensity more than overrode a decline in hydroelectric output.
Europe's biggest economy is aiming for renewables to provide 65% of its power mix by 2030. It plans to abandon nuclear energy by 2022, and has just confirmed an orderly long-term exit from hard coal by 2033 and brown coal by 2038.
Coal burning was the big loser in the first half. Output from brown coal plants dropped 36.3% to 33.6 TWh and hard coal plants by 46% to 14.4 TWh in Jan-June, Fraunhofer said.
As carbon emissions price also increased and gas prices declined, more electricity producers switched to generating from gas-to-power plants. Their supply to public grids rose 13.9% to 28 TWh in the six months to June.
The cost of mandatory carbon emissions allowances covering coal and gas-fired power output on Wednesday hit 11-month highs of over 28 euros a tonne. (Reporting by Vera Eckert; Editing by Jan Harvey)Our Standards:The Thomson Reuters Trust Principles.
JULY 1, 2020 Reuters
Japan to shut or mothball 100 ageing coal-fired power plants -Yomiuri
TOKYO (Reuters) – Japan is looking to suspend or close as many as 100 older, inefficient coal-fired power plants by about 2030, the Yomiuri daily newspaper reported on Thursday.
Closures on that scale would mark a major shift in the government's strong support for coal in the world's third-biggest economy. Japan is the only Group of Seven nation to be rolling out plans for new coal power stations, a major contributor to carbon and other emissions that stoke global warming.
Without citing sources, the Yomiuri said industry minister Hiroshi Kajiyama is set to announce soon that nearly 90% – about 100 – of 114 power plants built before the mid-1990s and deemed inefficient by the government will be closed or mothballed.
Contacted by Reuters, an official at the Ministry of Economy, Trade and Industry (METI) confirmed the government views 114 of Japan's 140 coal-fired plants as inefficient. The official said Japan has set out plans to phase out inefficient coal power plants by 2030.
"But we have not made any decisions to retire or suspend 100 plants," the official said.
Coal accounts for 32% of Japan's energy supply mix and the country needs to take "firm measures" to get that level to a target of 26% by 2030, another METI official said on Wednesday, speaking at a meeting of a panel to discuss resource and energy policy.
Japan has come in for criticism from non-governmental organisations, some other nations and, recently, major Japanese companies like giant supermarket retailer Aeon Co. (8267.T) for its reliance on fossil fuels.
The world's third-biggest economy ramped up coal use to record levels after the Fukushima nuclear disaster in 2011 led to the shutdown of most atomic reactors, which once supplied about a third of Japan's electricity.
Reporting by Chang-Ran Kim, Ritsuko Shimizu and Yuka Obayashi; Writing by Aaron Sheldrick; Editing by Uttaresh.V and Kenneth Maxwell
**
Renewable energy breaks UK record in first quarter of 2020
'Substantial increase' in wind and solar power helped to generate 47% of Britain's electricity
Jillian Ambrose, The Guardian, Thu 25 Jun 2020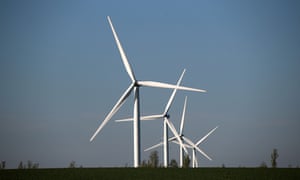 Renewable energy made up almost half of Britain's electricity generation in the first three months of the year, with a surge in wind power helping to set a new record for clean energy.
The government's official data has revealed that renewable energy made up 47% of the UK's electricity generation in the first three months of the year, smashing the previous quarterly record of 39% set last year.
The government's renewable energy data includes electricity from the UK's windfarms, solar panels and hydro power plants as well as bioenergy generated by burning wood chips instead of coal.
The "substantial increase" in the UK's total renewable energy output was chiefly driven by a growth in electricity generated by solar panels and windfarms which climbed by more than a third over the last year, according to the government's energy analysts.
The report added that the start up of new windfarms combined with the UK's unusually wet and windy weather at the start of the year – particularly storms Ciara, Dennis and Jorge – helped to generate record wind power generation.
Offshore windfarms powered the largest increase in renewable energy in the first quarter of the year, climbing by 53% compared with the previous year, while onshore wind generation grew by a fifth.
In total, wind power generated 30% of the UK's electricity in the first quarter, beating the previous record of 22.3% set in the final months of 2019.
Rebecca Williams, of Renewable UK, said the renewable energy industry's records were bound to be broken again in the years ahead as the government worked on "a massive expansion of renewables as part of the UK's green economic recovery".
Britain last week set a new coal-free record of more than two months for the first time since coal-fired power generation began during the Industrial Revolution, following a surge in renewable energy due to bright, breezy weather and low demand during the Covid-19 lockdown.
Williams said the government's record quarterly data showed the clean energy transition "written very large indeed" because the records had been set at the coldest time of year "when we need it most".
The rise of renewable energy combined with a steady supply of nuclear power, which made up about 15% of the UK generation mix, drove fossil fuel power plants to a new record low in the first quarter.
Gas-fired power plants made up less than a third of UK generation in the first quarter compared with over 40% in the first months of 2019, and coal-fired power made up 3.8% of electricity generated in the UK.
**
Colorado's cleanest energy options are also its cheapest
New modeling shows the state can decarbonize — at a savings.By David Roberts@drvoxdavid@vox.com Nov 7, 2019, 10:50am EST
Share this story
Of all the states in the US, Colorado may be the best prepared for a genuine, large-scale energy transition.
For one thing, thanks to its bountiful sunlight and wind, Colorado has enormous potential for renewable energy, most of which is untapped. The state currently generates only 3 percent of its electricity from solar and just under 18 percent from wind.
The political climate is favorable as well. As of earlier this year, Democrats have a "trifecta" in the state, with control over the governorship and both houses of the legislature. Gov. Jared Polis campaigned on a promise to target 100 percent clean electricity by 2040. In their last session, he and the legislature passed a broad suite of bills meant to boost renewable energy, reform utilities, expand EV markets, and decarbonize the state economy.
Colorado has the three main ingredients it needs to get going on clean energy: a healthy economy, plentiful sunlight and wind, and Democrats firmly in charge of state government.
Over the last year or so, energy systems modeler and analyst Christopher Clack, with his team at the energy research outfit Vibrant Clean Energy (VCE), has been taking a close look at what Colorado is capable of in terms of clean energy, and what it might cost. (The research was commissioned by renewable energy developer Community Energy.)
VCE has built a model called WIS:dom (ahem, "Weather-Informed energy Systems: for design, operations, and markets"). It can simulate the Colorado electricity system with incredibly granular accuracy, down to a 3-kilometer, 5-minute range, year-round. Using that tool, they have simulated various clean-energy initiatives the state might take, and their impact.
I've been tracking their progress. In January, I wrote about their initial finding, that Colorado could save $2.5 billion through 2040 by shutting down all its coal plants. In August, I wrote about the second paper, which found that electrifying the state's transportation fleet is the single biggest decarbonization step it could take and would save consumers money.
(This kind of modeling tells us nothing about the political challenges of achieving these goals, of course. But it can tell us what is possible.)
Now the third report is out, and it takes on the big question: Can Colorado decarbonize its entire state economy in line with its ambitious goals? (The state's newly passed climate law sets targets of 50 percent decarbonization by 2030 and 90 percent by 2050.) Can it achieve deep decarbonization and still provide reliable, affordable power?
Spoiler: Yes, it can.
The world may be a raging dumpster fire, but Colorado has the potential to be an island of sanity, moving toward a cleaner, cheaper, healthier energy system in a way that benefits all state residents. Let's take a look at the paper.
Three scenarios for Colorado, and the cleanest is the cheapest
VCE modeled three scenarios through 2040, using conservative technology cost assumptions and minimizing the import of energy from other states and the need for new transmission infrastructure:
Business as usual (BAU) keeps all active coal plants running;
Retire coal pushes all active coal plants into retirement but otherwise lets the electricity sector evolve according to current economics (a mix of wind, solar, and natural gas); and
Deep decarbonization retires all coal, drives down emissions in the power sector by expanding wind and solar and minimizing natural gas, and electrifies transport (80 percent EVs), space and water heating (60 percent heat pumps), and other sectors. (It also builds 200 MW worth of hydrogen-producing facilities in the state, to help get at the more difficult-to-decarbonize sectors.)
The first and perhaps most important thing to note is that in all scenarios, Coloradans receive a stable, reliable supply of electricity. There is no technical barrier to a mostly decarbonized power sector; the state's grid is perfectly capable of handling it.
The second thing to note is that in all scenarios, average retail electricity rates decline over time, but they decline most and fastest through deep decarbonization. Cleaner energy benefits all Colorado ratepayers, not just those who have an EV or solar panels.
The most expensive option for Colorado consumers is to keep the coal plants running:
Relative to BAU, deep decarbonization saves Coloradans $4.8 billion in electricity costs through 2040. Of that, $1.5 billion is invested in renewable energy, electrification, and storage technologies, so the savings net out to $3.3 billion.
Third, deep decarbonization brings savings in other sectors as well. VCE reports:
The total savings between 2018 and 2040 for transportation are estimated to be $15.6 billion (real 2017$), which equates to a saving of almost $680 million per year. The total savings between 2018 and 2040 for heating are estimated to be $9.7 billion, which amounts to an annualized saving of $424 million. Therefore, the combined savings are $25.3 billion by 2040, at an annual average amount of approximately $1 billion.
All told, that averages out to annual savings of $97 per electricity customer, $528 per heating customer, and $611 per vehicle through 2040. Not a bad deal for Coloradans.
When all the costs are tallied up — electricity, transportation, and heating system costs — the deep decarbonization scenario comes in the cheapest.
And the cheapest method is also the cleanest
As the name indicates, the deep decarbonization scenario reduces the most greenhouse gas emissions — about twice again what is reduced by the retire-coal scenario.
The key is that retiring coal only reduces emissions in the electricity sector. Electrifying transportation and heating also radically reduce emissions in those sectors.
Overall reductions in greenhouse gas emissions in the deep decarbonization scenario, VCE writes, "are more than 36% by 2025, 56% by 2030 and 69% by 2040 compared with 2005 levels." Cumulatively through 2040, 1 billion metric tons of carbon dioxide emissions would be avoided. That would put Colorado in line with its legislative goals.
Deep decarbonization cranks up electricity demand and blows out solar and wind
By transitioning transportation, heating, and other sectors over to the power grid, the deep decarbonization scenario increases electricity demand relative to the other scenarios by about 25 percent.
The increase in electricity demand gives grid operators more options. Energy storage, in the form of batteries and EVs, allows much of this demand to be "shifted" to times of day when renewables are more plentiful. A grid with more controllable electricity demand can integrate more renewable energy.
Here's the kind of power that would be dispatched in the three scenarios:
As you can see, in the retire-coal scenario, the lost coal is replaced with a mix of solar, wind, and natural gas. In the deep decarbonization scenario, coal and natural gas are both replaced (though some residual natural gas remains), occasioning a huge rise in solar, wind, and storage.
Interestingly, though deep decarbonization would mean more electricity demand, it would mean 10 percent lower overall energy demand, mainly because demand would decline in transportation.
Electric vehicles are inherently superior to internal combustion engines in several ways. More of the energy they generate goes to motion, and less to waste heat. "EVs convert about 59%–62% of the electrical energy from the grid to power at the wheels," says the Department of Energy. "Conventional gasoline vehicles only convert about 17%–21% of the energy stored in gasoline to power at the wheels." With less energy required to move the same distance, demand declines even if vehicle miles traveled (VMT) don't.
EVs also deliver more torque, for better acceleration. There are fewer moving parts, so they break down less often and are easier to service. All told, they are cheaper to own and require less energy.
Deep decarbonization means jobs
The "business as usual" model would create almost no additional jobs in the electricity sector. Retire-coal would create some in the early years, as coal plants are shuttered and capacity is built to replace them, but then it would level off.
Deep decarbonization, on the other hand, would create more jobs with each passing year, as enormous amounts of fossil fuel capacity are replaced with enormous amounts of clean energy.
This only stands to reason: if Colorado takes on the much more ambitious task of deep decarbonization, it will take more work to get there.
Cheap renewable energy is changing the whole picture
Obviously, in the real world, Colorado can't just turn a dial and switch its vehicle fleet to EVs, its residential furnaces to heat pumps, and its natural gas power plants to solar and wind. All of those things will require additional legislation and years of work. There will be political costs, opportunity costs, and transition costs along the way; it won't be as smooth or efficient in practice as it looks in these graphs.
But if the core story — that Colorado's cleanest choice is also its cheapest — seems too good to be true, it's only because most people have failed to fully grasp how cheap clean energy has gotten, and how fast it's getting cheaper.
Already in Colorado, wind+storage projects are bidding in at prices lower than the operational costs of existing coal plants in the state; solar+storage projects are cheaper than 75 percent of them. It costs less to shut the coal plants down and replace them than to keep them running.
And given the falling costs of energy storage, it's increasingly possible to envision phasing out natural gas as well, which is why the biggest power utility operating in Colorado, Xcel Energy, recently committed to going 100 percent carbon-free by 2050.
Low-cost renewable energy has endless knock-on effects. Among other things, it means that it's much, much cheaper to fuel a vehicle with electricity than it is to fuel it with gasoline or diesel. And it's much cheaper over the long run to heat a building with an electric heat pump than it is to burn natural gas. A large-scale transition to electricity in those and other sectors will save consumers enormous amounts of money.
What Clack's modeling shows is that it is possible to engineer such a transition while still providing reliable, low-cost electricity to everyone in the state. There is no technical barrier, no need for an entirely new grid, no need to wait on new technologies. The main barriers now, in Colorado as in so many other places across the globe, are social and political. The tools are at hand. All that's needed are will and courage.
**
https://www.reuters.com/article/us-usa-drilling-abandoned-specialreport/special-report-millions-of-abandoned-oil-wells-are-leaking-methane-a-climate-menace-idUSKBN23N1NL The U.S. figures are sobering: More than 3.2 million abandoned oil and gas wells together emitted 281 kilotons of methane in 2018, according to the data, which was included in the U.S. Environmental Protection Agency's most recent report on April 14 to the United Nations Framework Convention on Climate Change. That's the climate-damage equivalent of consuming about 16 million barrels of crude oil, according to an EPA calculation, or about as much as the United States, the world's biggest oil consumer, uses in a typical day. (For a graphic on the rise in abandoned oil wells, click tmsnrt.rs/2MsWInw ) The actual amount could be as much as three times higher, the EPA says, because of incomplete data. The agency believes most of the methane comes from the more than 2 million abandoned wells it estimates were never properly plugged.
Legal Resources for Decarbonization
PHASING OUT THE USE OF FOSSIL FUELS FOR THE GENERATION OF ELECTRICITY (CH. 24)
In order to achieve a low-carbon world, it is essential to make the use of energy far more efficient and to introduce a very significant amount of renewable or otherwise carbon-free generation. Yet, these steps alone will not decarbonize electricity. Each scenario in the DDPP reports envisions dramatic reductions in the use of fossil fuels to generate electricity. Fossil-fired generation, utilizing coal and natural gas, provides a lion's share of the gigawatt hours serving end-use customers, and shows no sign of abating. History does not support the assumption that cleaner technologies will push out the dirtier ones. What are needed are affirmative actions designed to phase out the use of fossil fuels to generate electricity. Affirmative steps come in various forms. They start with planning—recognizing current patterns of fossil fuel use and charting a different course. Action can include some combination of specific state and federal prohibitions on the use of fossil fuels by all electric service providers; limits on GHG emissions; closure or divestment of government-owned fossil-fueled generators; and the implementation of policies that have a direct or indirect effect on the cost of power from carbon-emitting sources. The chapter expands on the nature of the challenge and describes the range of solutions in greater detail. The chapter has two appendices. The first, written by Stephen Herzenberg, recommends social policies to accelerate a fossil fuel phaseout. The second, written by Michael Gerrard, recommends ways of addressing stranded assets.
13 TOPICS FOUND
Coal Storage Bans [2 resources]Natural Gas Transition Proceedings [3 resources]Regional Transmission Planning [5 resources]Restricting Fossil-Fuel Powered Electric Plants [17 resources]Federal Fossil Fuel Phaseouts [4 resources]Carbon Adders in Rates and Utility Planning [7 resources]Impacting Power Plant Economics Through Cooling Water Restrictions [3 resources]Coal Ash Restrictions [2 resources]Divesting from Fossil Fuels [7 resources]Social Policies to Facilitate a Just Carbon Transition [19 resources]Stranded Assets and Climate Disclosures [20 resources]Prohibiting Oil and Gas Extraction [11 resources]Fossil-Free Communities [2 resources]