Bloomberg, 2018 https://www.bloomberg.com/news/articles/2018-10-03/universal-basic-mobility-is-a-human-right
Universal Basic Income (UBI) has long been talked about as a way to address income inequality, but there's a solution that directly stimulates employment: Universal Basic Mobility (UBM), by simply getting people to jobs.
In areas where commutes are long, it's hard for children to escape poverty, and in many cities, areas with poor mobility have high unemployment and low incomes. The right to freedom of movement precedes the U.S. Constitution and is enshrined in the Universal Declaration of Human Rights: It's not merely a human right, it's the foundation of a healthy economy.
Universal Basic Mobility would be a system of partnerships and/or policies that provide a minimum level of mobility to all members of society. An isolated, static population is unhealthy, unproductive and unhappy. A mobile population is economically, culturally, and socially dynamic. UBM can harness automation and new mobility platforms to accelerate economic growth, providing everyone with access to employment and the means to improve their quality of life.
We expect UBM in the United States to emerge from a new trend called Mobility-as-a-Service . MaaS is the transportation equivalent of Netflix: a monthly subscription fee gives you access to multiple mobility services on a single platform. The dominant form of mobility over the last 50 years in the U.S. has been privately owned cars, but over the last few years, especially in large cities—new mobility services have emerged: ride-hailing services, bikeshare, and carshare. MaaS plans are emerging that will offer all these services, on a subscription basis.
In 2018, Bloomberg reported MaaS was being tested by three major U.S. ridesharing companies. Via offers ViaPass, and Uber and Lyft offer shared passes. These companies are also expanding to incorporate more forms of transportation: Uber acquired JUMP (electric bikes) and has announced plans to integrate public transit to become a true mobility platform, and Lyft acquired Motivate (bikeshare) and is beginning to add public transit in certain cities.
For a basic user, MaaS plan pricing resembles smartphone plan pricing. The most fully realized MaaS plan is Whim in Helsinki, Finland, that charges approximately $50 per month for limited service including public transit, bikeshare, and limited ridesharing; and $500 per month for full ridesharing service that replaces personal car ownership. MaaS could significantly drive down the amount people—especially urban residents—pay to travel over the course of a year, because while personal cars sit idle 95 percent of the time, shared cars and bikes get much higher utilization—creating efficiencies and cost savings.
A hypothetical UBM policy today could provide a credit allowing everyone to access a combination of MaaS choices over a period of time—a plan might include 10 public transit rides, 10 bikeshare or e-scooter trips, and one shared taxi trip under five miles; another policy might allow everyone to choose a certain dollar value of whatever combination of choices suits their needs.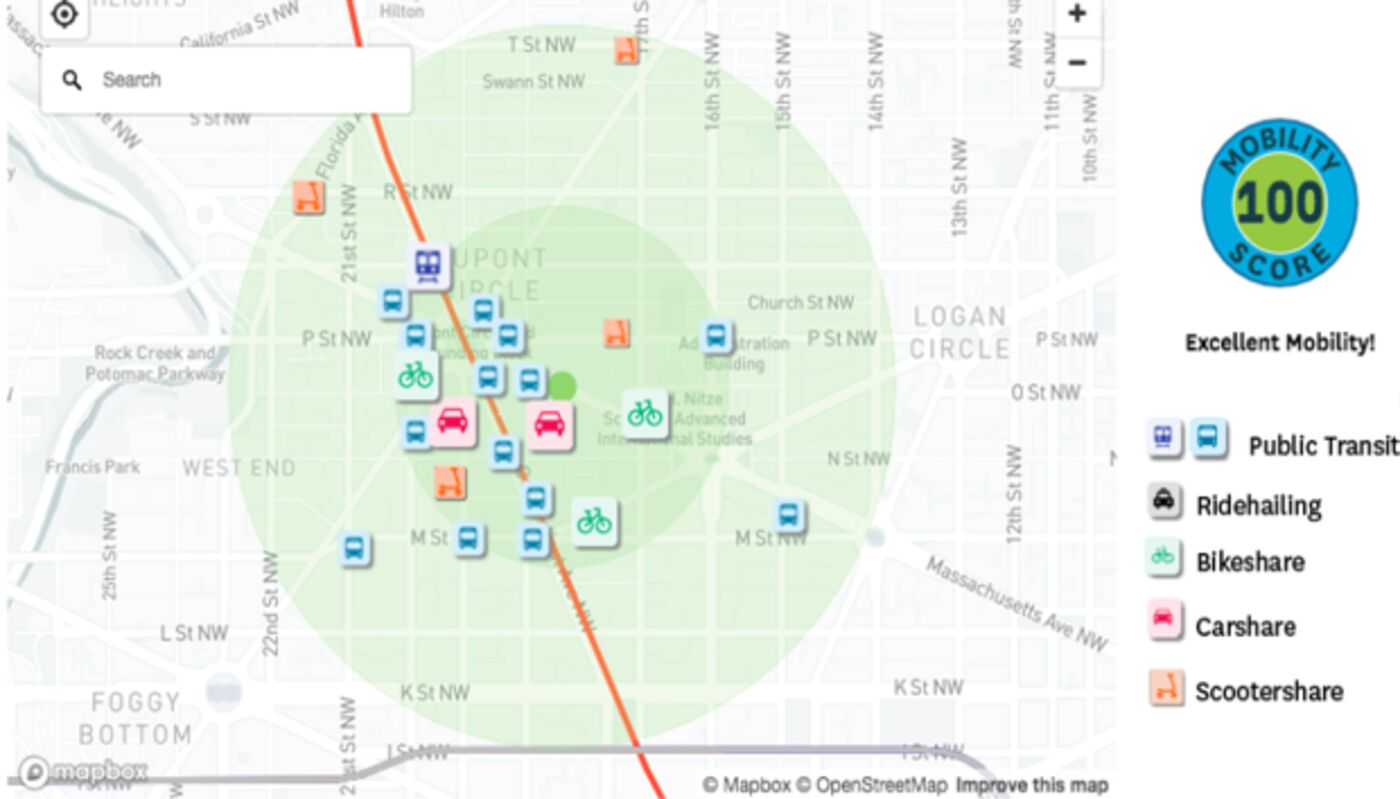 As the cost drops, access to transport mobility will seem like a right, like internet and phone connectivity. While it may sound farfetched, think of the early days of mobile phones and broadband: For a number of years universal service was limited to landlines, while mobile and internet were considered specialty services; only some people had them and few thought access to the technology a right. But as prices dropped, the Telecommunications Act of 1996 laid the groundwork for expanding universal access from landline phones to broadband Internet and mobile phones. Now at least $10 per month of "lifeline" phone and data subsidies are available to low-income people nationwide — some states offer even more.
The logic is powerful: Just like connectivity, mobility provides essential access to job opportunities, family, and serves basic needs like food, shelter, and medical care. Just as you can't get a job if you don't have a phone for an interview, you can't get to an in-person interview without mobility—or to and from work once you're hired.
A right to mobility doesn't mean free mobility for everyone, but there are strong incentives to make at least some services free, like public transit. Estonia has implemented free public transit nationally, and Paris is studying it. In cities with free public transit, a common theme is that the collective benefits of encouraging its use by everyone—enabling cities to reduce traffic, pollution, and parking in central areas—outweigh the relatively low cost of providing it to everyone.
For bikeshare and e-scooters, the collective benefits are the same and operating costs are potentially even lower. Because of the potential environmental benefits, it would be wise for governments to extend UBM benefits to everyone rather than solely to low-income citizens.
How far should UBM plans allow you to travel? Ultimately, this is going to be a region-specific question that also relates to the cost of different mobility services. The mobility experience is local, and policy must be responsive at that level. It needs to provide access to jobs, as well as essential goods and services like healthy food, medical care, and banking.
UBM also provides a "safety net" against disastrous loss of mobility, and the employment consequences. A major problem with areas that depend on personal car mobility is that it's all-or-nothing. When someone loses their car or driver's license, the consequences are profound—including job loss and poverty.
How might UBM be implemented?
We see at least three ways: municipal partnerships with mobility companies, municipal policy, and federal policy.
There are a few current municipal programs headed in the direction of providing UBM. The small city of Monrovia in Los Angeles County created its own MaaS plan called GoMonrovia, replacing its local public transit dial-a-ride service with subsidized Lime bikes and Lyft rides; long-distance travelers are expected to transfer to L.A. Metro or Foothill Transit. Larger cities may be able to set UBM policies across all mobility providers. Oakland, California, is currently asking e-scooter companies to create an unlimited use plan for low-income residents. The city has proposed $5 per year for unlimited rides (but hasn't yet been able to address lack of adequate scooters in lower income areas).
The time is ripe for the emergence of a nonprofit group to coordinate these efforts, pushing towards national Universal Basic Mobility. Because mobility providers are currently subject to state and municipal regulators rather than a national regulator like the FCC (chartered to ensure universal access) national nonprofit groups should work to negotiate and coordinate more uniform policies and national marketing strategies, much like EveryoneOn does for universal broadband internet.
In urban transportation, the Federal Transit Administration (FTA) is charged with "maximiz[ing] the safe, secure, and efficient mobility of individuals." Some of its research programs—like the Mobility-On-Demand Sandbox—point in the right direction, but it would take a major change in the FTA to make UBM a priority.
To evaluate UBM programs, policymakers will need high quality data for decision making. Public access to mobility data can be secured through a data registry or through commercially available services like TransitScreen's MobilityScore, which turn big data about supply, demand, and access to all forms of mobility into maps and analytics. Open real-time data will also be critical to creating an efficient mobility marketplace.
UBM gives us a single framework for talking about the future of urban mobility. Currently, a variety of public policies recognize the importance of basic mobility: free and subsidized public transit, paratransit, and free bikeshare or e-scooter programs for low-income groups. UBM combines all of these different conversations into a single conceptual framework.
In the long run, UBM will be affordable enough that the public or even private sector could fund it. UBM is a highly targeted investment that gives everyone a better chance at being meaningfully employed and participating in the economy. Cities that enact UBM will prosper, while cities that don't will fall behind.
Universal Basic Mobility Is Coming. And It's Long Overdue
People need easy access to work and to essential services to live decent, independent lives. Cities need Universal Basic Mobility. It's a human right.Matt Caywood and Alex Roy, October 3, 2018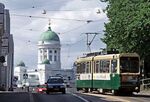 Universal Basic Income (UBI) has long been talked about as a way to address income inequality, but there's a solution that directly stimulates employment: Universal Basic Mobility (UBM), by simply getting people to jobs.
In areas where commutes are long, it's hard for children to escape poverty, and in many cities, areas with poor mobility have high unemployment and low incomes. The right to freedom of movement precedes the U.S. Constitution and is enshrined in the Universal Declaration of Human Rights: It's not merely a human right, it's the foundation of a healthy economy.
Pittsburgh is seeking to make universal basic mobility accessible to low-income residents through a new mobility-as-a-service (MaaS) platform that offers access to public transit and shared mobility services. 
Move PGH, designed by Transit App, will give users trip-planning and booking information from its partners — electric scooters from Spin,car-shares from Zipcar, electric mopeds from Scoobi, carpool services through Waze Carpool — as well as real-time bus and train information from TransitScreen. The platform will also support 50 new mobility hubs: locations that bring together multiple transportation options, including collections of shared vehicles.
The city will offer monthly subscriptions, covered by grant funding, to Move PGH partner services for 100 low-income individuals for six months as part of a universal basic mobility pilot. The Manchester Citizens Corp., a local community development organization, will also provide "trip coaching" to ensure those individuals know how to use the provided services. "Access to transportation and mobility is the No. 1 way to improve someone's economic stability," said Kim Lucas, assistant director of the Pittsburgh Department of Mobility and Infrastructure (DOMI). Move PGH will encourage "affordable, sustainable mobility" instead of private car ownership, Lucas added.
As new mobility options have flooded cities, private companies have sprung up to organize those options and give users various one-stop apps for trip planning. Companies like Uber and Lyft have tried to bundle services and transit information in their own platforms; other companies, like Transit and Cubic, have sought partnerships with cities and transit agencies. Some even integrate ticketing and payment information to handle cross-platform trips in one place. 
Move PGH brings together a variety of private partners with DOMI and the city's Port Authority, which controls public transit, for a city-led app with multiple transportation options, including e-scooters. Language in a recently passed state budget bill allows Pittsburgh to permit e-scooters, which had previously been illegal in Pennsylvania.
Regina Clewlow, CEO of transportation data firm Populus, which worked with Spin and DOMI on data sharing for the platform, said cities could learn a lot from the "open ecosystem" model that brought together multiple siloed data and management sources. By leveraging existing technology, Clewlow said, Pittsburgh can help "steer the outcome of the platform."
The platform will also support the creation and location of mobility hubs that will collect vehicles and place them in accessible, reliable locations for users, based on where the vehicles are most often used and picked up.
Karen Lightman, executive director of Metro21: Smart Cities Institute at Carnegie Mellon University, said the range of public and private partners in one place means that DOMI can incentivize safer and more sustainable mobility in line with the city's transportation goals.
"Spin couldn't do this on its own, the Port Authority couldn't do this on its own. This doesn't happen without the public-private partnership," said Lightman, whose institute was involved in early discussions around the Move PGH platform. "So much of our infrastructure has been focused on cars … but this platform is focused on helping humans get around."
The MaaS platform is also a significant step in Pittsburgh's push to achieve universal basic mobility, the idea that governments should offer an affordable, accessible baseline of transportation to all residents. According to the U.S. Bureau of Transportation Statistics, transportation was the second-largest expenditure for American households in 2019, trailing only housing when excluding certain spending on behalf of households, like health care benefits.
Reducing that expense, Lucas said, can create new employment and health care opportunities for low-income residents. The varied transportation options available through Move PGH and the interest in placing mobility hubs in low-income areas, she added, should encourage households to not rely exclusively on a costly private vehicle and instead explore how alternative options can be more convenient or sustainable. 
"We want to make sure all trips are being done in the best way possible. You should be able to get fresh fruits and vegetables without having to drive a car," Lucas said. 
Some transit agencies have also explored free or discounted fares for low-income residents, especially as the agencies recover from the COVID-19 pandemic. Lucas said the results of the six-month universal basic mobility pilot will guide future affordable mobility efforts, adding that there was little concern about discounted subscriptions reducing revenue. 
"We hope to make a compelling case that when you're able to help people make mobility gains, you improve their economic situation," Lucas said. "Maybe we can find resources to support that from places other than riders' pockets."
** https://pittsburghpa.gov/press-releases/press-releases/5084
Pittsburgh Launches Innovative Mobility and Equity Initiatives Move PGH and Universal Basic Mobility
PITTSBURGH, PA (July 9, 2021) Mayor William Peduto joined the Department of Mobility and Infrastructure (DOMI) and partners today in launching Move PGH – a first of its kind Mobility as a Service (MaaS) system. Move PGH integrates transit and shared mobility in both physical and digital "mobility hubs" making multimodal travel in the city easy and convenient.  
This new system of integrated services enables the second program, a "Universal Basic Mobility" pilot, which will provide up to 100 local low-income residents with monthly transit subscriptions and shared mobility services to address mobility insecurity.  
Both programs support the City's equity principles that all Pittsburghers can easily access fresh food, afford basic transportation and safe travel without reliance on a vehicle.
"Transportation mobility is key to economic mobility and a major determinant in household health, education, and welfare. In Pittsburgh, too many residents are one missed bus or one flat tire away from losing their job or missing a critical appointment," said Mayor Peduto. "Universal Basic Mobility, using the services of Move PGH, will demonstrate that when people have a readily available transportation back-up plan they are able to access more opportunities and climb the economic ladder." 
Move PGH is the first integrated MaaS project in the U.S. to connect traditional and emerging low-cost, shared transportation options into a single, easy to use system. Travelers can find a bus, bike, scooter, moped, car or shared ride using the Transit app or by visiting one of the 50 new mobility hubs throughout the city.  
The two initiatives are the result of more than two years of work by a unique public-private-nonprofit partnership. Led by DOMI and built around existing foundational systems of public transit and bike share, Move PGH integrates a coalition of existing and new "last mile" service providers organized by Spin including:  
In addition to improving transportation flexibility and resiliency for the general public, the Move PGH Universal Basic Mobility demonstration will specifically test if reliable access to transit and a range of shared mobility options improves employment and health outcomes for low-income workers and their households.  
Grant funding will cover the cost of monthly subscriptions to Move PGH partner services for 100 low-income individuals for six months. The Manchester Citizens Corporation will further support these individuals with "trip coaching" to ensure they know how to use the various services. Spin is providing funding to researchers at Carnegie Mellon University and will also be working with Urban Institute to evaluate the demonstration to potentially serve as a national model.  
Move PGH and the Universal Basic Mobility demonstration are funded by the Richard King Mellon Foundation and Spin, in partnership with InnovatePGH.
Additional Comments from Move PGH Partners:
Bike Share Pittsburgh, Healthy Ride  "Healthy Ride has had the honor of working with Pittsburgh communities for the past six years to build a more equitable bike share program," said David White, Executive Director, Bike Share Pittsburgh. "We've more than doubled our network while prioritizing marginalized communities, established a Community Coalition of partners who inform major organizational decisions, and are re-building our system in 2022 to include e-bikes that will make it easier for more people to utilize bikes to get around. Pittsburghers deserve more ways to get around, and we're excited to be a part of this inclusive network of services. 
InnovatePGH – "InnovatePGH's mission to accelerate Pittsburgh's standing as a global innovation hub requires exactly the type of next-generation mobility solutions provided by Move PGH; we are thrilled to be a member of the coalition," said Sean Luther, Executive Director of InnovatePGH. "As the fiscal sponsor for this exciting public/private partnership, we are particularly grateful to the R.K. Mellon Foundation and the New Urban Mobility Alliance, whose generosity will make getting around our city easier and more joyful for all Pittsburghers." 
New Urban Mobility Alliance (NUMO) – "NUMO strongly supports innovative and inclusive public-private partnerships like Move PGH," said Harriet Tregoning, Director of NUMO, "which is unique in its approach to improve access to mobility for Pittsburgh residents by bringing private new mobility services, city agencies and the broader community together. Tackling systemic transportation inequities means addressing how lack of access to transportation options limits access to jobs, inhibits economic mobility and makes it challenging for residents to get where they need to go safely, conveniently and affordably. With the launch of the city's mobility hub network, and collaborating with public transit, bike share and a diverse suite of mobility services options, Pittsburgh is demonstrating its commitment to building an integrated, multimodal transportation system that is accessible to all and can lead to more equitable outcomes."
Port Authority  "Real accessibility means having the freedom to go where you want to go and the ability to get there," said Port Authority CEO Katharine Kelleman. "Port Authority is proud to provide the access, and we're excited for Move PGH, together with Transit, to offer the options. We may be the primary agency that moves our region forward, but we're happy that our riders have so many other reliable transit options that allow them to be able to access our region. 
Scoobi  "We're looking forward to the addition of new electric form factors and other mobility providers  improving local transportation systems through this collaborative effort to reduce roadway congestion and carbon emissions as Pittsburgh continues its transformation into a more sustainable City," stated Scoobi Founder, Michael Moran.  "We're also excited to announce the pending launch of our reengineered mobile app, a 50% increase of our vehicle fleet with the addition of new service areas, and a number programs to increase mobility access to underserved neighborhoods." 
Spin – "Making mobility cleaner, more equitable, and more reliable is central to Spin's mission; participating in this first-of-its-kind project gets us that much closer," said Ben Bear, CEO of Spin. "As a Pittsburgh native, it's been rewarding to be able to launch our pilot, and watch this project come to fruition giving residents a suite of options making it as easy to get around without a car as it is with a car. What I'm most proud of is that the City is pioneering a universal basic mobility pilot that will give a group of low-income residents access to Move PGH. We hope Move PGH can become a model for how micromobility operators can collaborate with cities and other mobility companies to better serve the public."
Transit – "Bringing multiple mobility options together for better trips is what Transit does best, and we're excited to be part of the City's launch of Move PGH," said David Block-Schachter, Chief Business Officer at Transit. "Move PGH brought together all the mobility options available in Pittsburgh, and with the addition of Mobility Hub locations directly on our map, Pittsburghers have everything they need to get the most out of Move PGH." 
Waze Carpool  – "The City of Pittsburgh is helping to create a more mobile, equitable and safe environment for its residents, which is why Waze is excited to partner on the launch of Move PGH. At Waze, we are committed to ending traffic together, and we could not do that without the support of cities like Pittsburgh," said Adam Fried, Head of Global Partnerships at Waze. "Waze Carpool makes it easy and fun for Wazers to commute together, saving Pittsburghers time and money. Drivers and riders with similar origins and destinations in Pittsburgh will be matched, helping to reduce strain on the roads and the environment throughout the city." 
Zipcar – "Zipcar is proud to be part of Pittsburgh's coalition of transportation providers, expanding access to mobility for Pittsburgh residents," said Justin Holmes, Vice President, Marketing and Public Policy, Zipcar. "We are dedicated to providing convenient and affordable mobility solutions to the city, especially to those without easy access to vehicles or alternative modes of transportation. Whether it be for essential trips or travel beyond the city limits to see family and friends, Zipcar is here to support." 
**
GO Monrovia CA
Reimbursement for new bike owners  Monrovia's newest active transportation pilot program! This program subsidizes the purchases of bike and bike accessories for those who live and work in Monrovia. Additionally, to encourage active transportation, track your bike activity for a weekly raffle for $50 gift card to a Monrovia business of your choice! Purchases should be made between July 1, 2021 and August 31, 2021
Adult Bike
$200
Adult Tricycle
$250
Adult E-Bike
$300
Child's Bike
$100
Bike Accessories
Up to $50 for accessories per application
‣ Child Bike Carrier
‣ Helmet
‣ Lock
‣ Bike Light
‣ Tile/Air Tag
Once application is approved, you can expect to receive 50% of the reimbursement via check within 2-3 weeks.

The remaining 50% will be reimbursed upon the completion of a final survey when the pilot program ends in November 2021.
If your household qualifies as low-income (based on HUD FY 2021 Income Limits), you will receive 100% of your reimbursement upon application approval.
GOMONROVIA BY RIDE-HAILING
Those who live, work and are visiting Monrovia can take advantage of our enhanced public-private transit program through Lyft to take a ride anywhere in our service area at a reduced rate! Currently, you can take a regular Lyft ride (up to 4 passengers) for $3.00!
In an effort to flatten the curve and limit the spread of COVID-19, ride-hailing apps like Lyft and Uber have temporarily disabled the shared ride option.
Kaplan would like to make scooters even more popular among lower income groups. She wrote a proposed set of regulations for shared scooters, which the Oakland City Council is prepared to pass on Monday.
A five dollar, unlimited membership for low-income riders
Unlike San Francisco, which temporarily banned scooters while deciding which brands would be allowed in the city, Oakland's plan would allow scooter companies to stay. They will, however, be expected to meet a number of requirements. For example, companies will have to provide staff to move scooters out of the way if they're parked unsafely.
Perhaps the most distinctive part of the plan requires that companies offer a low-income membership option: unlimited short rides for just five dollars per year (or a package of "equivalent" value).
"I really want to make sure that as we're adding new mobility options that we're not leaving behind the same communities that are already underserved," says Kaplan.
Anyone who gets food stamps or subsidized energy bills would qualify for the affordable membership.
Spokespeople for the scooter companies Lime and Skip said they support Oakland's ordinance, but declined to endorse the five dollar membership. Both companies already offer a 50 percent discount for low income riders.
Representatives for the company Bird did not respond to requests for comment.
Kaplan says there will be some wiggle room for the city and the scooter companies to figure out exactly what kind of low-income discount works best.
"I do think that they will in fact do it. And of course if they don't then they don't get to operate in Oakland," says Kaplan.
But making scooters available to all isn't as simple as lowering the price tag.
Lack of scooters in East Oakland
Chuck Davis is a 20-year-old who works for Oakland's Original Scraper Bike Team, teaching youth how to build and fix bikes. His bike is his favorite ride. But he's also into scooters.