Renewable energy, housing and and transport are just some areas where new policies could cut emissions fast, by Fiona Harvey The Guardian,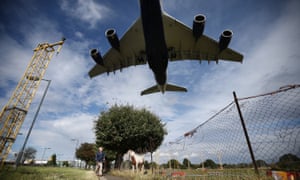 More wind farms, solar power and electric cars: these are likely to be the future of the UK, under government plans announced this week to seek a zero-carbon economy in the next 30 years.
Some of the less obvious effects could be just as transformative, however, involving innovations such as smart houses and smart roads, widespread changes to the countryside wrought by new tree-planting and new farming practices designed to conserve soils.
There may need to be restrictions, too – in air travel, private transport, new building construction and our food and waste habits.
At the meeting this week of heads of government of the Commonwealth, government minister Claire Perry made the surprise announcement that she would ask the Committee on Climate Change, the government's statutory advisers on climate change, to consider ways the UK could become "net zero-carbon" by 2050. That is widely regarded as being in line with the goals of the 2015 Paris agreement on climate change, which require governments to hold global warming to no more than 2C above pre-industrial levels, with an aspiration to hold warming to less than 1.5C, regarded as the limit of safety for small islands, which risk being swamped by rising sea levels.
Though her words were rather vague, the commitment was widely interpreted as laying the groundwork for a major change to the UK's long-term climate policy. Currently, ministers are pledged to cutting emissions by 80% by 2050. To reduce them to net zero by the same date, with only three decades to go, is a big step up.
Dustin Benton, policy director at Green Alliance, a thinktank, said the government would have to bring forward new measures as a matter of urgency. "The government has made real progress on some issues, such as diesel cars and offshore wind, but there are glaring holes in areas such as energy efficiency and onshore renewables," he said. "The UK can achieve net zero emissions, but to do so the government will need to fill these gaps and develop a new set of policies."
Benton highlighted waste, housing and transport as key areas in which new policies could cut emissions fast, and said progress on these could give the government the confidence to continue with the policies needed.
Renewable energy is likely to be one of the chief beneficiaries. The industry has had a turbulent time in the last few years, with the removal or slashing of key subsidies and clear messages from ministers under the last government that onshore wind turbines were unwelcome.
However, thanks largely to the growth in renewables, the UK's electricity network was able to run without coal for two days this week, a landmark achievement.
Emma Pinchbeck, executive director of trade body Renewable UK, said: "It is in the UK's best interests for ministers to be ambitious on climate change action. The science shows we need to stay within 2C for the good of all nations, including the UK and Commonwealth countries. Meanwhile, rapid technology developments suggest that successful future economies will be those powered by low-carbon energy."
Noting that wind power is now the cheapest new form of power in the UK, she presented a vision of the UK's low-carbon future in which society broadly would benefit, because it would mean "renewable energy, better quality homes, cleaner and more efficient transport systems and smart technologies". She said: "What's best for the planet can also turn out to be best for the economy and for people."
However bright the low-carbon future, hard choices will have to be made. Greenpeace's executive director John Sauven spelled it out: no new runway at Heathrow. "The data show that the challenges posed by emissions from transport – land, sea and air – and our reliance on gas for heating will have to be confronted as a matter of urgency. The government must accept that no new runway at Heathrow will fit inside our carbon budget."
Less comfortably for many environmental campaigners, the government is also likely to have to consider new nuclear reactors. The plans for the UK's first new atomic power plant in a generation, at Hinkley Point, have already run into controversy. The price paid to France's partly state-owned EDF has been decried as far too high, and construction has proceeded slowly.
On energy efficiency, too, the government will need a new approach. The flagship "green deal" policy aimed at encouraging householders to take on loans to insulate their properties proved a failure, and nothing new has been proposed to take its place. Ministers have shown little sign of wishing to grapple with the problem. Another technology that might have helped towards zero-emissions targets, carbon capture and storage, was scrapped under George Osborne and would be costly to revive.
On a separate front, however, there have been important positive signals. As well as reducing greenhouse gas emissions, the UK could meet its carbon targets by increasing the absorption of carbon dioxide. Plans to grow new forests have been enthusiastically endorsed by Michael Gove, the environment secretary. This could provide a "carbon sink" to reduce the UK's contributions to global warming. Likewise, better management of the soil by farmers could increase its carbon storage capacity, and Gove has made clear he sees this as a priority.
If all these developments are not enough, ministers may also seek refuge in an often overlooked part of climate change policy. Since the Kyoto protocol of 1997, systems of trading carbon have been mooted and approved as ways of generating investment flows from the rich to the poor world. The idea is that rich countries that find it costly to cut their emissions can instead offset them by funding emissions reduction projects, such as wind farms or solar panels, in poorer nations. This is controversial, as many green campaigners insist that emissions cuts must be made at home, but it may be an option ministers wish to keep open.