Climate Home News, April 17, 2020
French and British initiatives to involve ordinary people in climate policy are adapting their work in light of the coronavirus pandemic
Citizens Assembly in France and the UK are moving online amid lockdowns to fight the Covid-19 pandemic. (Photo: Climate Assembly UK)
By Chloé Farand
As governments mull over multi-billion packages to weather the economic impacts of the coronavirus pandemic, citizens' assemblies could have a role to play in shaping a green recovery.
In France and the UK, citizens' assemblies set up to make climate policy recommendations have moved online to continue their work amid restrictions to contain the spread of the virus.
Both countries are among the worst affected by the pandemic. More than 15,700 people have died in France and 12,100 in the UK as of Thursday, according to the World Health Organisation.
France's citizens' assembly was launched following "yellow vest" protests that were sparked by a 2018 hike in fuel tax. It was tasked to come up with measures to reduce the country's emissions at least 40% by 2030 from 1990 levels "in a spirit of social justice".
Its 150 members, drawn from a cross-section of society, met in person over five weekends starting in October 2019. Then Covid-19 hit and the authorities ordered people to stay home and avoid non-essential journeys.
Undeterred, the citizens assembly took its penultimate session online over two days at the start of April. The agenda was adapted to discuss the economic and social consequences of the coronavirus pandemic and how recovery measures could support climate action.
Ivassenko Thomas@ThomasIvassenko






C'est parti pour une première journée de travail en ligne avec les 150 membres de la #ConventionCitoyenne pour le #climat

Heureux de les retrouver dans cet hémicycle virtuel

De retour dès que possible au @lecese pour la session #7, session finale de la Convention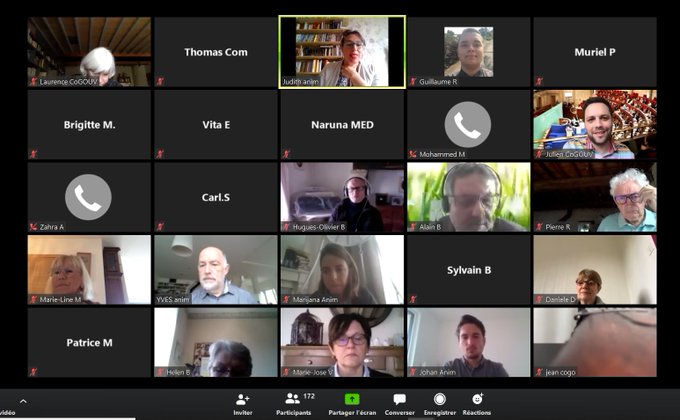 162:30 AM – Apr 3, 2020Twitter Ads info and privacySee Ivassenko Thomas's other Tweets
Following its online session, the assembly decided to send 50 of the 150 propositions it is working on to the French government, in the hope of influencing the Covid-19 recovery plan.
The propositions, obtained by Climate Home News, were not made public as they still need to be voted on at one last session.
Some of the French assembly's draft proposals
An investment plan for public transport: encouraging ride-sharing and cycling, modernising railway infrastructure, reducing VAT on train tickets, banning the sales of new private vehicles emitting more than 110 gCO2/km from 2025 and more than 90 gCO2/km from 2030, and creating more incentives for electric, hybrid and hydrogen vehicles
An investment plan for agriculture: promoting local food networks, ensuring 50% of agricultural land is developed according to agro-ecology practices by 2040
Reducing the carbon footprint of manufacturing and production by encouraging local distribution networks, reducing pollution and incentivising sustainable approaches
Scaling up the recycling sector by 2023 and promoting the repair of products
Improving the energy efficiency of 20 million homes and making energy efficiency renovation on buildings compulsory by 2040
Promoting renewable energy production of small units to ensure all citizens, businesses and local authorities can contribute to green electricity production from 2023
Containing urban sprawl
Banning advertising for the most polluting products based on a CO2 rating score and encouraging public messaging against excessive consumption
Ensuring public support for innovation is aligned with goals to reduce emissions and boost clean technologies by 2025
Reforming the EU's commercial politics to promote local distribution networks and avoid over-consumption
The assembly warned the French government not to repeat the mistakes made after the 2008 financial crisis, which saw investments in carbon-intensive and fossil fuel industries.
Instead, it urged the government to ensure investments made as part of the recovery effort are "socially acceptable" and benefit green solutions and the energy transition.
It called for recovery measures to prepare for "a different social and economic model, that is more human and more resilient in the face of future crisis" by reducing France's dependence on imports, boosting jobs and reducing emissions.
Laurence Tubiana, co-president of the assembly's governance committee and a key architect of the Paris Agreement, praised the assembly members for their patience in taking their work online.
"Sometimes the organisation of our citizens' assembly for the climate is like crossing the Amazon without a map," she said.
South Korea to implement Green New Deal after ruling party election win
The UK's assembly is also moving online to continue its work to draw up measures for the UK to achieve net zero emissions by 2050.
The last of four weekends due to be held at the end of March was cancelled following the coronavirus outbreak. Instead the 110-member assembly will split its final work across three weekends of virtual Zoom meetings, starting 18/19 April and finishing 16/17 May.
Sarah Allan, of Involve, a public participation charity commissioned by the UK Parliament to facilitate the assembly, said members were keen to finalise their work despite Covid-19 restrictions.
Test calls were held with all participants to ensure everyone was able to navigate the online meeting software. Two people had to take a break after being affected by coronavirus. One other member has been suffering from medical issues not related to Covid-19.
"But nobody has dropped out or doesn't want to take part anymore," Allan said.
The UK assembly's final sessions will focus on electricity generation, negative emissions technologies to remove carbon from the atmosphere and finalising its recommendations. Speakers and experts have pre-recorded presentations to be discussed in smaller break-out groups.
Assembly members will also be given the opportunity to discuss the impact of the pandemic. Allan said the assembly's experts were still discussing how best to approach the issue.
"We are talking almost weekly with the French assembly," she said.
Climate news in your inbox? Sign up here
According to a survey by pollsters Opinium, 48% of the British public agrees the government should respond "with the same urgency to climate change as it has with Covid-19" – 28% of respondents said it shouldn't.
The model for holding citizens' assemblies, even at times of crisis, has gathered international interest.
"I have emails in my inbox from Canada and Australia wanting to talk about how we are holding the assembly online," said Allan.
But the pandemic has also stopped some assemblies in their tracks.
Teresa Ribera, Spain's vice prime minister and minister for the ecological transition, told Climate Home News the launch of the country's citizens' assembly on climate change had had to be postponed.
"We realised that it didn't make much sense to start working on this in a moment when we have stated the importance of social distancing," she said. "But all the preparatory work was done so we will be in a position to launch it as soon as the general circumstances allow us to do so."
Related Posts:
https://www.coloradopolitics.com/coronavirus/polis-recovery-committee-stumbles-out-the-gate-with-latino-forum/article_d7cac9de-79ae-11ea-82b7-efc078c2c89a.html
The Colorado Latino Forum said Wednesday it's not getting the answers it needs from Gov. Jared Polis' Council on Economic Stabilization and Growth.
The left-leaning organization sent a letter to the governor Tuesday noting it had tried to contact the council via the state's web page that solicits feedback to no avail.
"We have sought the input of State Legislators and they appear to not have a full picture of what is happening within the CESG," Latino Forum co-chair Ean Thomas Tafoya said in a statement. "To date, the only look inside this structure has been via media coverage naming a few of the council members, including the Chair Federico Peña.
"To be clear, transparency into this process is non-negotiable."
RELATED: Who's who on the governor's COVID-19 response teams
Conor Cahill, a spokesman for the governor, said the council is working for all Coloradans.
"This pandemic is a threat to our economy and way of life," he told Colorado Politics in an email. "The Governor has said many times that he wants to ensure Colorado bounces back stronger than before and has tasked the emergency Council for Economic Stabilization and Growth to identify strategies to support that goal. The Council's purpose is to respond to the economic needs of all Coloradans.
"The newly formed council is only two weeks in operation and is being assembled in the midst of a national pandemic. Over a hundred citizens have volunteered to serve."
He said the web page is allowing everyone to submit recommendations to the council.
"The Governor believes the Latino community will play a big part in Colorado's economic bounce back which is one of the reasons he appointed Federico Pena as Chairman. Chairman Pena is actively working to fully equip the council with representation from community and civic leaders, nonprofits, unions, private sector leaders and bipartisan legislative representatives," Cahill said. "Given the emergency nature of the Council's formation, this process is ongoing. As the Council's formation and operations become established, its official communications and findings will be published on its website."
Polis worked with corporate leaders and legislators to form advisory councils to work on the state's response and recovery to the COVID-19. He announced the appointments on March 20 "to explore the full scope of economic impacts of COVID-19 in our state and make recommendations to mitigate the uncertainty faced by households and their communities."
Legislative Republicans also have complained about being left out of the loop by Polis, a Democrat.
The Colorado Latino Forum wants a full list of the members each of the eight committees and access to the meetings held by videoconferencing. The organization also asked if the committee meetings were being recorded. If so, they should be available online for the public, the forum stated in its letter.
The organization asked why there isn't a committee on housing.
"Housing is clearly the most pressing issue for the people of our state," the letter states, asking which committee would handle the issue.
The official committees are:
Financial Services Committee
Entrepreneurs, Local, Rural, Women & Minority Led Businesses and Nonprofits Committee
Infrastructure Committee
Workforce/Education Committee
Arts and Culture Committee
Energy Committee
Tourism Committee
Outdoor Recreation Committee
Other Latino Forum concerns outlined in the request to the governor: undocumented immigrants, climate change and public vetting of potential new policies and legislation.
The letter was endorsed by the Colorado Latino Forum Board: co-chairs Thomas Tafoya and Xochitl Gaytan with Veronica Barela, Arturo Jimenez, Lisa Calderón, Miguel Ceballos-Ruiz, Annie Martinez, Juan Marcano, Crystal Murillo and Victoria Aguilar.
"The community plays a vital role in vetting any policy recommendations early in the process. Gaytan said in a statement Wednesday. "The people must be at the table."
Read more on: Climate Politics | EU | UN climate talks | citizens assembly | Coronavirus | Covid-19 | France | Spain | UK
Sponsored content
Low-carbon farming in Brazil can benefit farmers and curb climate change
How Madagascar shapes southern Africa's rainfall: climate modeller adds puzzle piece
Electric buses offer Latin American and Caribbean transport a green and profitable future
Inuit knowledge can help shape Arctic shipping policies as ice thaws
Grassroot organisations share climate knowledge through exchange visits
Latest News
Coronavirus: which governments are bailing out big polluters?
Four more EU nations back a green post-coronavirus recovery
East Asia's green test – Climate Weekly
Citizens' assemblies on climate change seek to shape the post-Covid recovery
Coronavirus crisis underscores small islands' climate vulnerability
Most popular
1South Korea to implement Green New Deal after ruling party election win2European Green Deal must be central to a resilient recovery after Covid-193Coronavirus: plane-free skies spur research into warming impact of aviation4China may delay submitting climate plans amid economic slowdown5Citizens' assemblies on climate change seek to shape the post-Covid recovery
© 2020 Climate Home News Ltd. All rights reserved.