DOD report says a combination of global starvation, war, disease, drought, and a fragile power grid could have cascading, devastating effects.
By Nafeez Ahmed, Oct 24 2019
According to a new U.S. Army report, Americans could face a horrifically grim future from climate change involving blackouts, disease, thirst, starvation and war. The study found that the US military itself might also collapse. This could all happen over the next two decades, the report notes.
The senior US government officials who wrote the report are from several key agencies including the Army, Defense Intelligence Agency, and NASA. The study called on the Pentagon to urgently prepare for the possibility that domestic power, water, and food systems might collapse due to the impacts of climate change as we near mid-century.
The report was commissioned by General Mark Milley, Trump's new chairman of the Joint Chiefs of Staff, making him the highest-ranking military officer in the country (the report also puts him at odds with Trump, who does not take climate change seriously.)
The report, titled Implications of Climate Change for the U.S. Army, was launched by the U.S. Army War College in partnership with NASA in May at the Wilson Center in Washington DC. The report was commissioned by Gen. Milley during his previous role as the Army's Chief of Staff. It was made publicly available in August via the Center for Climate and Security, but didn't get a lot of attention at the time.
The two most prominent scenarios in the report focus on the risk of a collapse of the power grid within "the next 20 years," and the danger of disease epidemics. Both could be triggered by climate change in the near-term, it notes.
"Increased energy requirements" triggered by new weather patterns like extended periods of heat, drought, and cold could eventually overwhelm "an already fragile system."
The report also warns that the US military should prepare for new foreign interventions in Syria-style conflicts, triggered due to climate-related impacts. Bangladesh in particular is highlighted as the most vulnerable country to climate collapse in the world.
"The permanent displacement of a large portion of the population of Bangladesh would be a regional catastrophe with the potential to increase global instability," the report warns. "This is a potential result of climate change complications in just one country. Globally, over 600 million people live at sea level."
Sea level rise, which could go higher than 2 meters by 2100 according to one recent study, "will displace tens (if not hundreds) of millions of people, creating massive, enduring instability," the report adds.
The US should therefore be ready to act not only in Bangladesh, but in many other regions, like the rapidly melting Arctic—where the report recommends the US military should take advantage of its hydrocarbon resources and new transit routes to repel Russian encroachment.
But without urgent reforms, the report warns that the US military itself could end up effectively collapsing as it tries to respond to climate collapse. It could lose capacity to contain threats in the US and could wilt into "mission failure" abroad due to inadequate water supplies.
Total collapse of the power grid
The report paints a frightening portrait of a country falling apart over the next 20 years due to the impacts of climate change on "natural systems such as oceans, lakes, rivers, ground water, reefs, and forests."
Current infrastructure in the US, the report says, is woefully underprepared: "Most of the critical infrastructures identified by the Department of Homeland Security are not built to withstand these altered conditions."
Some 80 percent of US agricultural exports and 78 percent of imports are water-borne. This means that episodes of flooding due to climate change could leave lasting damage to shipping infrastructure, posing "a major threat to US lives and communities, the US economy and global food security," the report notes.
At particular risk is the US national power grid, which could shut down due to "the stressors of a changing climate," especially changing rainfall levels:
"The power grid that serves the United States is aging and continues to operate without a coordinated and significant infrastructure investment. Vulnerabilities exist to electricity-generating power plants, electric transmission infrastructure and distribution system components," it states.
As a result, the "increased energy requirements" triggered by new weather patterns like extended periods of heat, drought, and cold could eventually overwhelm "an already fragile system."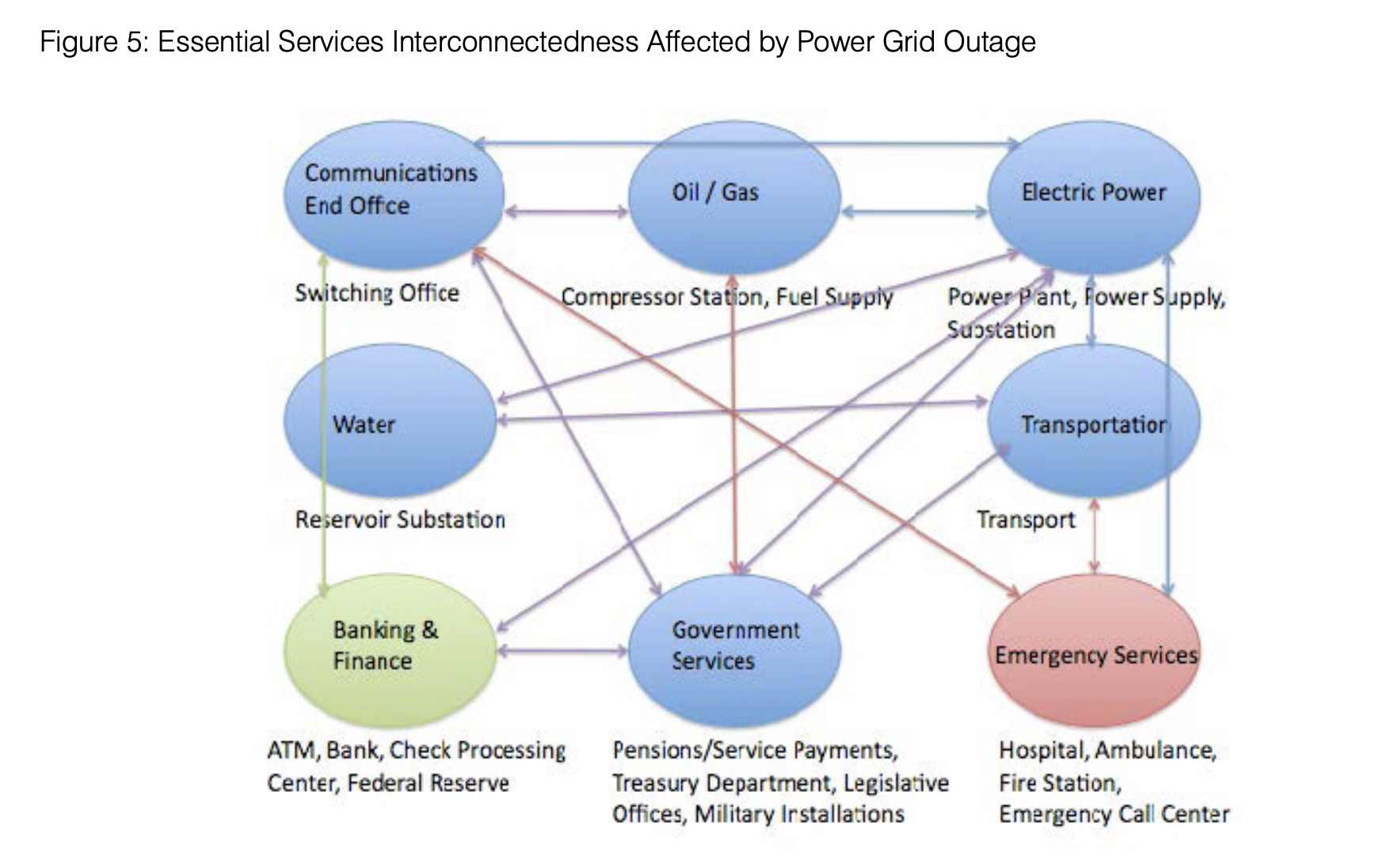 A DIAGRAM FROM THE REPORT.
The report's grim prediction has already started playing out, with utility PG&E cutting power to more than a million people across California to avoid power lines sparking another catastrophic wildfire. While climate change is intensifying the dry season and increasing fire risks, PG&E has come under fire for failing to fix the state's ailing power grid.
The US Army report shows that California's power outage could be a taste of things to come, laying out a truly dystopian scenario of what would happen if the national power grid was brought down by climate change. One particularly harrowing paragraph lists off the consequences bluntly:
"If the power grid infrastructure were to collapse, the United States would experience significant:
Loss of perishable foods and medications
Loss of water and wastewater distribution systems
Loss of heating/air conditioning and electrical lighting systems
Loss of computer, telephone, and communications systems (including airline flights, satellite networks and GPS services)
Loss of public transportation systems
Loss of fuel distribution systems and fuel pipelines
Loss of all electrical systems that do not have back-up power"
Although the report does not dwell on the implications, it acknowledges that a national power grid failure would lead to a perfect storm requiring emergency military responses that might eventually weaken the ability of the US Army to continue functioning at all: "Relief efforts aggravated by seasonal climatological effects would potentially accelerate the criticality of the developing situation. The cascading effects of power loss… would rapidly challenge the military's ability to continue operations."
Also at "high risk of temporary or permanent closure due to climate threats" are US nuclear power facilities.
There are currently 99 nuclear reactors operating in the US, supplying nearly 20 percent of the country's utility-scale energy. But the majority of these, some 60 percent, are located in vulnerable regions which face "major risks" including sea level rise, severe storms, and water shortages.
Containment
The report's authors believe that domestic military operations will be necessary to contain future disease outbreaks. There is no clear timeline for this, except the notion of being prepared for imminent surprises: "Climate change is introducing an increased risk of infectious disease to the US population. It is increasingly not a matter of 'if' but of when there will be a large outbreak."
Areas in the south of the US will see an increase in precipitation of between .5 and .8 mm a day, along with an increase in average annual temperatures of 1 to 3 degrees Celsius (C) by 2050.
Along with warmer winters, these new conditions will drive the proliferation of mosquitos and ticks. This in turn will spur the spread of diseases "which may be previously unseen in the US", and accelerate the reach of diseases currently found in very small numbers such as Zika, West Nile Virus, Lyme disease, and many others:
"The US Army will be called upon to assist in much the same way it was called upon in other disasters. Detailed coordination with local, state and federal agencies in the most high risk regions will hasten response time and minimize risk to mission."
A new era of endless war
The new report is especially significant given the Trump administration's climate science denial. Commissioned by General Mark Milley, now the highest ranking military officer in the United States, the report not only concludes that climate change is real, but that it is on track to create an unprecedented catastrophe that could lead to the total collapse of US society without serious investments in new technology and infrastructure. However, while focusing on projected climate impacts, the report does not discuss the causes of climate change in human fossil fuel emissions.
The report was written by an interdisciplinary team active across several US government agencies, including the White House's Office of American Innovation, the Secretary of Defense's Protecting Critical Technology Task Force, NASA's Harvest Consortium, the US Air Force Headquarters' Directorate of Weather, the US Army's National Guard, and the US State Department. The US Army War College did not respond to a request for comment.
Their report not only describes the need for massive permanent military infrastructure on US soil to stave off climate collapse, but portends new foreign interventions due to climate change.
The authors argue that the Syrian civil war could be a taste of future international conflicts triggered by climate-induced unrest. There is "no question that the conflict erupted coincident with a major drought in the region which forced rural people into Syrian cities as large numbers of Iraqi refugees arrived," they say.
The resulting conflict "reignited civil war in Iraq," and heightened military tensions between the US and Russia.
"The Syrian population has declined by about 10 percent since the start of the war, with millions of refugees fleeing the nation, increasing instability in Europe, and stoking violent extremism," the report concludes.
The most urgent case for a potential US intervention, however, is the South Asian country of Bangladesh.
With half its 160 million-strong population currently living at sea level, some 80 million Bangladeshis are set to be displaced as huge areas of the country become "uninhabitable" due to climate impacts: "How will this large scale displacement affect global security in a region with nearly 40 percent of the world's population and several antagonistic nuclear powers?"
With a population eight times that of Syria's, the report explains, "permanent displacement of a large portion of the population of Bangladesh would be a regional catastrophe with the potential to increase global instability."
The authors recommend the US Army work with the State Department and USAID to "strengthen the resilience of [Bangladeshi] government agencies and provide training for the Bangladeshi military."
Water scarcity will destabilize nations—and the U.S. Army
While sea level rise offers one specific type of risk, another comes from water scarcity due to climate change, population increase, and poor water management. The report describes water scarcity as a near-term risk driving civil unrest and political instability.
By 2040, global demand for fresh water will exceed availability, and by 2030 one-third of the world population will inhabit the "water-stressed regions" of North Africa, Southern Africa, the Middle East, China, and the United States, the report notes.
The decline in water availability over the next two decades will lead to an increase in "social disruption" in poor, vulnerable regions.
Water scarcity is also a driver of possible global food system failure, which could trigger new "outbreaks of civil conflict and social unrest."
The report depicts a global food system increasingly disrupted by "rapid freeze-thaw cycles in spring and fall, soil degradation, depletion of fossil water aquifers, intensified spread of agricultural pests and diseases, and damage to shipping infrastructure as a consequence of flooding."
Such food system instability will result in "significant increases in mortality in vulnerable locations, which are those where DoD-supported humanitarian intervention is most likely."
But foreign military interventions, particularly in water scarce regions of the Middle East and North Africa, might not be viable unless the US Army invents or acquires radical new technologies to distribute adequate levels of water to soldiers.
The problem is so bad and so expensive, the report says, that the Army "is precipitously close to mission failure concerning hydration of the force in a contested arid environment."
Water is currently 30-40 percent of the costs required to sustain a US military force operating abroad, according to the new Army report. A huge infrastructure is needed to transport bottled water for Army units. So the report recommends major new investments in technology to collect water from the atmosphere locally, without which US military operations abroad could become impossible. The biggest obstacle is that this is currently way outside the Pentagon's current funding priorities.
Rampaging for Arctic oil
And yet the report's biggest blind-spot is its agnosticism on the necessity for a rapid whole society transition away from fossil fuels.
Bizarrely for a report styling itself around the promotion of environmental stewardship in the Army, the report identifies the Arctic as a critical strategic location for future US military involvement: to maximize fossil fuel consumption.
Noting that the Arctic is believed to hold about a quarter of the world's undiscovered hydrocarbon reserves, the authors estimate that some 20 percent of these reserves could be within US territory, noting a "greater potential for conflict" over these resources, particularly with Russia.
The melting of Arctic sea ice is depicted as a foregone conclusion over the next few decades, implying that major new economic opportunities will open up to exploit the region's oil and gas resources as well as to establish new shipping routes: "The US military must immediately begin expanding its capability to operate in the Artic to defend economic interests and to partner with allies across the region."
Senior US defense officials in Washington clearly anticipate a prolonged role for the US military, both abroad and in the homeland, as climate change wreaks havoc on critical food, water and power systems. Apart from causing fundamental damage to our already strained democratic systems, the bigger problem is that the US military is by far a foremost driver of climate change by being the world's single biggest institutional consumer of fossil fuels.
The prospect of an ever expanding permanent role for the Army on US soil to address growing climate change impacts is a surprisingly extreme scenario which goes against the grain of the traditional separation of the US military from domestic affairs.
In putting this forward, the report inadvertently illustrates what happens when climate is seen through a narrow 'national security' lens. Instead of encouraging governments to address root causes through "unprecedented changes in all aspects of society" (in the words of the UN's IPCC report this time last year), the Army report demands more money and power for military agencies while allowing the causes of climate crisis to accelerate. It's perhaps no surprise that such dire scenarios are predicted, when the solutions that might avert those scenarios aren't seriously explored.
Rather than waiting for the US military to step in after climate collapse—at which point the military itself could be at risk of collapsing—we would be better off dealing with the root cause of the issue skirted over by this report: America's chronic dependence on the oil and gas driving the destabilization of the planet's ecosystems.
https://www.vice.com/en_us/article/8xwygg/the-collapse-of-civilization-may-have-already-begun Nafeez Ahmed
Global food system failure
According to Dr. Wolfgang Knorr, Principal Investigator at Lund University's Biodiversity and Ecosystem Services in a Changing Climate Program, the risk of near-term collapse should be taken far more seriously by climate scientists, given the fact that so much is unknown about climate tipping points: "I am not saying that Bendell is right or wrong. But the criticism of Bendell's points focuses too much on the detail and in that way studiously tries to avoid the bigger picture. The available data points to the fact that some catastrophic climate change is inevitable."
Bendell argues that the main trigger for some sort of collapse—which he defines as "an uneven ending of our normal modes of sustenance, security, pleasure, identity, meaning, and hope"—will come from accelerating failures in the global food system.
We know that it is a distinct possibility that so-called multi-breadbasket failures (when major yield reductions take place simultaneously across agricultural areas producing staple crops like rice, wheat, or maize) can be triggered by climate change—and have already happened.
As shown by American physicist Dr. Yaneer Ban Yam and his team at the New England Complex Systems Institute, in the years preceding 2011, global food price spikes linked to climate breakdown played a role in triggering the 'Arab Spring' uprisings. And according to hydroclimatologist Dr. Peter Gleick, climate-induced drought amplified the impact of socio-political and economic mismanagement, inflicting agricultural failures in Syria. These drove mass migrations within the country, in turn laying the groundwork for sectarian tensions that spilled over into a protracted conflict.
In my own work, I found that the Syrian conflict was not just triggered by climate change, but a range of intersecting factors—Syria's domestic crude oil production had peaked in the mid-90s, leading state revenues to hemorrhage as oil production and exports declined. When global climate chaos triggered food price spikes, the state had begun slashing domestic fuel and food subsidies, already reeling from the impact of economic mismanagement and corruption resulting in massive debt levels. And so, a large young population overwhelmed with unemployment and emboldened by decades of political repression took to the streets when they could not afford basic bread. Syria has since collapsed into ceaseless civil war.
This is a case of what Professor Thomas-Homer Dixon, University Research Chair in the University of Waterloo's Faculty of Environment, describes as "synchronous failure"—when multiple, interconnected stressors amplify over time before triggering self-reinforcing feedback loops which result in them all failing at the same time. In his book, The Upside of Down: Catastrophe, Creativity and the Renewal of Civilization, he explains how the resulting convergence of crises overwhelms disparate political, economic and administrative functions, which are not designed for such complex events.
From this lens, climate-induced collapse has already happened, though it is exacerbated by and amplifies the failure of myriad human systems. Is Syria a case-study of what is in store for the world? And is it inevitable within the next decade?
In a major report released in August, the UN's Intergovernmental Panel on Climate Change (IPCC) warned that hunger has already been rising worldwide due to climate impacts. A senior NASA scientist, Cynthia Rosenzweig, was a lead author of the study, which warned that the continued rise in carbon emissions would drive a rise in global average temperatures of 2°C in turn triggering a "very high" risk to food supplies toward mid-century. Food shortages would hit vulnerable, poorer regions, but affluent nations may also be in the firing line. As a new study from the UK Parliamentary Environment Audit Committee concludes, fruit and vegetable imports to countries like Britain might be cut short if a crisis breaks out.
When exactly such a crisis might happen is not clear. Neither reports suggest it would result in the collapse of civilization, or even most countries, within 10 years. And the UN also emphasizes that it is not too late to avert these risks through a shift to organic and agro-ecological methods.
NASA's Gavin Schmidt acknowledged "increasing impacts from climate change on global food production," but said that a collapse "is not predicted and certainly not inevitable."
The catastrophic 'do-nothing' scenario
A few years ago, though, I discovered first-hand that a catastrophic collapse of the global food system is possible in coming decades if we don't change course. At the time I was a visiting research fellow at Anglia Ruskin University's Global Sustainability Institute, and I had been invited to a steering committee meeting for the Institute's Global Research Observatory (GRO), a research program developing new models of global crisis.
One particular model, the Dawe Global Security Model, was focused on the risk of another global food crisis, similar to what triggered the Arab Spring.
"We ran the model forward to the year 2040, along a business-as-usual trajectory based on 'do-nothing' trends—that is, without any feedback loops that would change the underlying trend," said institute director Aled Jones to the group of stakeholders in the room, which included UK government officials. "The results show that based on plausible climate trends, and a total failure to change course, the global food supply system would face catastrophic losses, and an unprecedented epidemic of food riots. In this scenario, global society essentially collapses as food production falls permanently short of consumption."
Jones was at pains to clarify that this model-run could not be taken as a forecast, particularly as mitigation policies are already emerging in response to concern about such an outcome: "This scenario is based on simply running the model forward," he said. "The model is a short-term model. It's not designed to run this long, as in the real world trends are always likely to change, whether for better or worse."
Someone asked, "Okay, but what you're saying is that if there is no change in current trends, then this is the outcome?"
"Yes," Jones replied quietly.
The Dawe Global Security Model put this potential crisis two decades from now. Is it implausible that the scenario might happen much earlier? And if so why aren't we preparing for this risk?
When I asked UN disaster risk advisor Scott Williams about a near-term global food crisis scenario, he pointed out that this year's UN flagship global disaster risk assessment was very much aware of the danger of another global "multiple breadbasket failure."
"A projected increase in extreme climate events and an increasingly interdependent food supply system pose a threat to global food security," warned the UN Global Assessment Report on Disaster Risk Reduction released in May. "For instance, local shocks can have far-reaching effects on global agricultural markets."
Climate models we've been using are not too alarmist; they are consistently too conservative, and we have only recently understood how bad the situation really is.
Current agricultural modelling, the UN report said, does not sufficiently account for these complex interconnections. The report warns that "climate shocks and consequent crop failure in one of the global cereal breadbaskets might have knock-on effects on the global agricultural market. The turbulences are exacerbated if more than one of the main crop-producing regions suffers from losses simultaneously."
Williams, who was a coordinating lead author of the UN global disaster risk assessment, put it more bluntly: "In a nutshell, Bendell is closer to the mark than his critics."
He pointed me to the second chapter of the UN report which, he said, expressed the imminent risk to global civilization in a "necessarily politically desensitized" form. The chapter is "close to stating that 'collapse is inevitable' and that the methods that we—scientists, modellers, researchers, etc—are using are wholly inadequate to understand that nature of complex, uncertain 'transitions,' in other words, collapses."
Williams fell short of saying that such a collapse scenario was definitely unavoidable, and the UN report—while setting out an alarming level of risk—did not do so either. What they did make clear is that a major global food crisis could erupt unexpectedly, with climate change as a key trigger.
Climate tipping points
A new study by a team of scientists at Oxford, Bristol, and Austria concludes that our current carbon emissions trajectory hugely increases this risk. Published in October in the journal Agricultural Systems, the study warns that the rise in global average temperatures is increasing the likelihood of "production shocks" affecting an increasingly interconnected global food system.
Surpassing the 1.5 °C threshold could potentially trigger major "production losses" of millions of tonnes of maize, wheat and soybean.
Right now, carbon dioxide emissions are on track to dramatically increase this risk of multi-breadbasket failures. Last year, the IPCC found that unless we reduce our emissions levels by five times their current amount, we could hit 1.5°C as early as 2030, and no later than mid-century. This would dramatically increase the risk of simultaneous crop failures, food production shocks and other devastating climate impacts.
In April this year, the European Commission's European Strategy and Policy Analysis System published its second major report to EU policymakers, Global Trends to 2030: Challenges and Choices for Europe. The report, which explores incoming national security, geopolitical and socio-economic risks, concluded: "An increase of 1.5 degrees is the maximum the planet can tolerate; should temperatures increase further beyond 2030, we will face even more droughts, floods, extreme heat and poverty for hundreds of millions of people; the likely demise of the most vulnerable populations—and at worst, the extinction of humankind altogether."
IMAGE: FETHI BELAID/AFP VIA GETTY IMAGES
But the IPCC's newer models suggest that the situation is even worse than previously thought. Based on increased supercomputing power and sharper representations of weather systems, those new climate models—presented at a press conference in Paris in late September—reveal the latest findings of the IPCC's sixth assessment report now underway.
The models now show that we are heading for 7°C by the end of the century if carbon emissions continue unabated, two degrees higher than last year's models. This means the earth is far more sensitive to atmospheric carbon than previously believed.
This suggests that the climate models we've been using are not too alarmist; they are consistently too conservative, and we have only recently understood how bad the situation really is.
I spoke to Dr. Joelle Gergis, a lead author on the IPCC's sixth assessment report, about the new climate models. Gergis admitted that at least eight of the new models being produced for the IPCC by scientists in the US, UK, Canada and France suggest a much higher climate sensitivity than older models of 5°C or warmer. But she pushed back against the idea that these findings prove the inevitability of collapse, which she criticized as outside the domain of climate science. Rather, the potential implications of the new evidence are not yet known.
"Yes, we are facing alarming rates of change and this raises the likelihood of abrupt, non-linear changes in the climate system that may cause tipping points in the Earth's safe operating space," she said. "But we honestly don't know how far away we are from that just yet. It may also be the case that we can only detect that we've crossed such a threshold after the fact."
In an article published in August in the Australian magazine The Monthly, Dr. Gergis wrote: "When these results were first released at a climate modelling workshop in March this year, a flurry of panicked emails from my IPCC colleagues flooded my inbox. What if the models are right? Has the Earth already crossed some kind of tipping point? Are we experiencing abrupt climate change right now?"
Half the Great Barrier Reef's coral system has been wiped out at current global average temperatures which are now hovering around 1°C higher than pre-industrial levels. Gergis describes this as "catastrophic ecosystem collapse of the largest living organism on the planet." At 1.5°C, between 70 and 90 percent of reef-building corals are projected to be destroyed, and at 2°C, some 99 percent may disappear: "An entire component of the Earth's biosphere—our planetary life support system—would be eliminated. The knock-on effects on the 25 percent of all marine life that depends on coral reefs would be profound and immeasurable… The very foundation of human civilization is at stake."
But Gergis told me that despite the gravity of the new models, they do not prove conclusively that past emissions will definitely induce collapse within the next decade.
"While we are undeniably observing rapid and widespread climate change across the planet, there is no concrete evidence that suggests we are facing 'an inevitable, near term society collapse due to climate change,'" she said. "Yes, we are absolutely hurtling towards conditions that will create major instabilities in the climate system, and time is running out, but I don't believe it is a done deal just yet."
Yet it is precisely the ongoing absence of strong global policy that poses the fatal threat. According to Lund University climate scientist Wolfgang Knorr, the new climate models mean that practically implementing the Paris Accords target of keeping temperatures at 1.5 degrees is now extremely difficult. He referred me to his new analysis of the challenge published on the University of Cumbria's ILFAS blog, suggesting that the remaining emissions budget given by the IPCC "will be exhausted at the beginning of 2025." He also noted that past investment in fossil-fuel and energy infrastructure alone will put us well over that budget.
…In his recent paper, Bardi used computer models to test how Tainter's framework stood-up. He found that diminishing returns from complexity were not the main driver of a system's decline; rather the decline in complexity of the system is due to diminishing returns from exploiting natural resources.
In other words, collapse is a result of a form of endless growth premised on the unsustainable consumption of resources, and the new order of increasingly unresolvable crises this generates.
In my view, we are already entering a perfect storm feedback loop of complex problems that existing systems are too brittle to solve. The collapse of Syria, triggered and amplified partly by climate crisis, did not end in Syria. Its reverberations have not only helped destabilize the wider Middle East, but contributed to the destabilization of Western democracies.
In January, a study in Global Environment Change found that the impact of "climatic conditions" on "drought severity" across the Middle East and North Africa amplified the "likelihood of armed conflict." The study concluded that climate change therefore played a pivotal role in driving the mass asylum seeking between 2011 and 2015—including the million or so refugees who arrived in Europe in 2015 alone, nearly 50 percent of whom were Syrian. The upsurge of people fleeing the devastation of their homes was a gift to the far-right, exploited by British, French and other nationalists campaigning for the break-up of the European Union, as well as playing a role in Donald Trump's political campaigning around The Wall.
To use my own terminology, Earth System Disruption (ESD) is driving Human System Destabilization (HSD). Preoccupied with the resulting political chaos, the Human System becomes even more vulnerable and incapable of ameliorating ESD. As ESD thus accelerates, it generates more HSD. The self-reinforcing cycle continues, and we find ourselves in an amplifying feedback loop of disruption and destabilization.
Beyond collapse
Is there a way out of this self-destructive amplifying feedback loop? Bardi's work suggests there might be—that collapse can pave the way for a new, more viable form of civilization, whether or not countries and regions experience collapses, crises, droughts, famine, violence, and war as a result of ongoing climate chaos.
a "Seneca Rebound" often takes place in which new societies grow, often at a rate faster than preceding growth rates.
This is because collapse eliminates outmoded, obsolete structures, paving the way for new structures to emerge which often thrive from the remnants of the old and in the new spaces that emerge.
He thus explains the Seneca Rebound as "as an engine that propels civilizations forward in bursts. If this is the case, can we expect a rebound if the world's civilization goes through a new Seneca Collapse in the coming decades?"
Bardi recognizes that the odds are on a knife-edge. A Seneca Rebound after a coming collapse would probably have different features to what we have seen after past civilizational collapses and might still involve considerable violence, as past new civilizations often did—or may not happen at all.
"Very little if anything is being done to stop emissions and the general destruction of the ecosystem"
On our current trajectory, he said, "the effects of the destruction we are wreaking on the ecosystem could cause humans to go extinct, the ultimate Seneca Collapse." But if we change course, even if we do not avoid serious crises, we might lessen the blow of a potential collapse. In this scenario, "the coming collapse will be just one more of the series of previous collapses that affected human civilizations: it might lead to a new rebound."
It is in this possibility that Bardi sees the seeds of a new, different kind of civilization within the collapse of civilization-as-we-know-it.
I asked Bardi how soon he thought this collapse would happen. Although emphasizing that collapse is not yet inevitable, he said that a collapse of some kind within the next decade could be "very likely" if business-as-usual continues.
"Very little if anything is being done to stop emissions and the general destruction of the ecosystem," Bardi said. "So, an ecosystemic collapse is not impossible within 10 years."
Yet he was also careful to point out that the worst might be avoided: "On the other hand, there are many elements interacting that may change things a little, a lot, or drastically. We don't know how the system may react… maybe the system would react in a way that could postpone the worst."
Release and renewal
The lesson is that even if collapse is imminent, all may not be lost. Systems theorist Jeremy Lent, author of The Patterning Instinct, draws on the work of the late University of Florida ecologist C. S. Holling, whose detailed study of natural ecosystems led him to formulate a general theory of social change known as the adaptive cycle.
Complex systems, whether in nature or in human societies, pass through four phases in their life cycle, writes Lent. First is a rapid growth phase of innovation and opportunity for new structures; second is a phase of stability and consolidation, during which these structures become brittle and resistant to change; third is a release phase consisting of breakdown, generating chaos and uncertainty; the fourth is reorganization, opening up the possibility that small, seemingly insignificant forces might drastically change the future of the forthcoming new cycle.
It is here, in the last two phases, that the possibility of triggering and shaping a Seneca Rebound becomes apparent. The increasing chaos of global politics, Lent suggests, is evidence that we are "entering the chaotic release phase," where the old order begins to unravel. At this point, the system could either regress, or it could reorganize in a way that enables a new civilizational rebound. "This is a crucially important moment in the system's life cycle for those who wish to change the predominant order."
So as alarming as the mounting evidence of the risk of collapse is, it also indicates that we are moving into a genuinely new and indeterminate phase in the life cycle of our current civilization, during which we have a radical opportunity to mobilize the spread of new ideas that can transform societies.
I have been tracking the risks of collapse throughout my career as a journalist and systems theorist. I could not find any decisive confirmation that climate change will inevitably produce near-term societal collapse.
But the science does not rule this out as a possibility. Therefore, dismissing the risk of some sort of collapse—whether by end of century, mid-century, or within the next 10 years—contravenes the implications of the most robust scientific models we have.
All the scientific data available suggests that if we continue on our current course of resource exploitation, human civilization could begin experiencing collapse within coming decades. Exactly where and how such a collapse process might take off is not certain; and whether it is already locked in is as yet unknown. And as NASA's Gavin Schmidt told me, local collapses are already underway.
From Syria to Brexit, the destabilizing socio-political impacts of ecosystemic collapse are becoming increasingly profound, far-reaching and intractable. In that sense, debating whether or not near-term collapse is inevitable overlooks the stark reality that we are already witnessing climate collapse.
And yet, there remains an almost total absence of meaningful conversation and action around this predicament, despite it being perhaps the most important issue of our times.
The upshot is that we don't know for sure what is round the corner, and we need better conversations about how to respond to the range of possibilities. Preparation for worst-case scenarios does not require us to believe them inevitable, but vindicates the adoption of a rational, risk-based approach designed to proactively pursue the admirable goal for Deep Adaptation: safeguarding as much of society as possible.
Jem Bendell's Deep Adaptation approach, he told me, is not meant to provide decisive answers about collapse, but to catalyze conversation and action.
"For the Deep Adaptation groups that I am involved with, we ask people to agree that societal collapse is either likely, inevitable or already unfolding, so that we can have meaningful engagement upon that premise," he said. "Deep Adaptation has become an international movement now, with people mobilizing to share their grief, discuss what to commit to going forward, become activists, start growing food, all kinds of things."
Confronting the specter of collapse, he insisted is not grounds to give-up, but to do more. Not later, but right now, because we are already out of time in terms of the harm already inflicted on the planet: "My active and radical hope is that we will do all kinds of amazing things to reduce harm, buy time and save what we can," he said. "Adaptation and mitigation are part of that agenda. I also know that many people will act in ways that create more suffering."
Most of all, the emerging science of collapse suggests that civilization in its current form, premised on endless growth and massive inequalities, is unlikely to survive this century. It will either evolve into or be succeeded by a new configuration, perhaps an "ecological civilization", premised on a fundamentally new relationship with the Earth and all its inhabitants—or it will, whether slowly or more abruptly, regress and contract.
What happens next is still up to us. Our choices today will not merely write our own futures, they determine who we are, and what our descendants will be capable of becoming. As we look ahead, this strange new science hints to us at a momentous opportunity to become agents of change for an emerging paradigm of life and society that embraces, not exploits, the Earth. Because doing so is now a matter of survival.