By Chuck Collins, Inequality This Week (Labor Day 2018) inequality@ips-dc.org
At the Institute for Policy Studies, we've been worrying about the wild divide between how companies treat their CEOs and their workers for well over two decades now. My colleagues Sarah Anderson and Sam Pizzigati have just released our 25th annual Executive Excess report.
The study's key finding: Two-thirds of the U.S. corporations that rake in the most federal tax dollars, either via contracts or subsidies, pay their CEOs more than 100 times what they pay their median workers. Stats like that have this report making waves, with write-ups in the Guardian and USA Today, along with a viral video from Senator Bernie Sanders.
American taxpayers are subsidizing wide gaps in compensation at major U.S. corporations that receive lucrative federal government contracts and subsidies, a new report shows.
More than two-thirds of the top 50 publicly held federal contractors and federal corporate subsidy recipients paid their CEOs more than 100 times the median pay of their workers in 2017, according to the analysis by the Institute for Policy Studies, a think tank focused on equality issues.
As a result, high-earning chief executives at many companies with major federal contracts or subsidies in part "owe their personal good fortune to America's taxpayers," the report concluded.
"Taxpayers should not be subsidizing extreme pay gaps in any way, whether through tax, contracting, or subsidy policies," said Sarah Anderson, the report's co-author.
The analysis was based on a comparison of federal contract and subsidy awards with pay ratio data that publicly traded companies disclosed this year for the first time under a new federal regulation enacted by the Securities and Exchange Commission.
USA Today: The pay ratio between the $400,000 U.S. presidential salary in 2017 and the $82,406 average annual compensation for federal employees is roughly 5-1.
In contrast, the report cited data that showed the 2017 pay ratios for the top 50 corporate federal subsidy recipients was 153-1. Similarly, the ratios for the top 50 corporate recipients of federal contracts was 188-1, the data showed.
The largest pay gap among the top 50 federal contractors was the 806-1 ratio reported by DXC Technology, a Virginia-based internet technology services company, the report said.
The ratio represented the gap between the nearly $32.2 million annual total compensation earned by J. Michael Lawrie, the company's chairman, president and CEO, and the $39,945 median compensation for an employee without applying cost of living adjustments, the company reported.
PPG Industries, a Pittsburgh-based global manufacturer of paints and coatings, had the largest pay gap among the 50 largest corporate recipients of federal subsidies, the report said. PPG reported a 382-1 pay ratio between the more than $14.2 million that its CEO M.H. McGarry received in 2017 and the $37,307 median compensation for an employee.
Large corporate pay gaps matter, the report said, because U.S. employee wages have largely stagnated since the 1970s while corporate and financial executives now head about two-thirds of the nation's top 1 percent of households.
Additionally, mammoth levels of corporate compensation "give executives an incentive to take excessive risks and "contribute to short-term decision making," the report said.
Separately, a 2016 Stanford University survey cited by the report found that many Americans feel that corporate CEOs are overpaid. As a result, a majority would support sharp cuts in corporate compensation, the survey found.
The top 50 government contractors paid their CEO more than 25 times the median worker's pay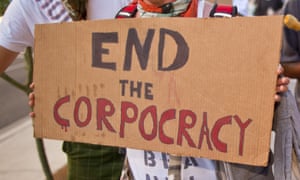 Some of the most extreme examples of the gap between executive and median worker pay occurs at companies directly supported by federal contracts and subsidies, a new study has found.
The latest Executive Excess report, published annually by the Institute for Policy Studies, a Washington-based thinktank, found that at many federally funded companies the gap is far in excess of what ordinary American taxpayers find acceptable.
Some of the largest defense contractors are the most glaring culprits, the report found.
The study, Taxpayers Subsidize Giant Corporate Pay Gaps, found that more than two-thirds of the top 50 government contractors and top 50 recipients of federal subsidies, receiving a total of $167bn, currently pay their chief executive officer more than 100 times their median worker pay.
At the top of the scale are leading military contractors, with the top bosses at Lockheed Martin, Boeing, General Dynamics, Raytheon and Northrop Grumman each earning an average of $21m, or between 166 and 218 times average worker pay.
Nearly 70%, or $35.2bn, of Lockheed Martin's $51bn in sales last year, came from business with the US government. With a CEO-worker ratio of 186-to-one, chief executive Marillyn Hewson went home with $23m compared to a worker average of $123,000.
Another company, the Geo Group, which took in $663m in 2017 from the justice department and homeland security to maintain immigrant family detention centers, paid CEO George Zoley $9.6m, or 271 times the employee average of just over $35,000.
The study also singled out Yum! Brands, beneficiary of a $7.25m taxpayer-backed loan from the Overseas Private Investment Corporation to finance the expansion of KFCs and Pizza Huts in Mongolia. The fast food giant paid its CEO 1,358 times as much as its median employee in 2017.
Even Walmart, the go-to source for government purchases of everything from TVs and doughnuts to $5 gift cards, paid half of its 2.3 million employees less than $19,177 last year. The company's CEO, the study found, made 1,188 times that amount.
"We believe this is a good moment for policymakers to use some of this CEO-to worker pay gap to recoup some of the windfalls that went to companies through tax reform by putting tax penalties on companies with extreme gaps," said Anderson.
Public support for such measures appears to be building ahead of November's midterm elections, with states including Rhode Island, Minnesota, Connecticut, Illinois and Massachusetts, and cities such as San Francisco and Portland, Oregon, moving to impose pay-ratio caps.
The new data comes as previous studies indicate that corporate tax savings have done little to even out the executive-worker pay gap and, indeed may have exacerbated them as companies utilize the windfall to fund share-buybacks largely benefiting stock-holding senior management and institutional shareholders.
No CEO should earn 1,000 times more than a regular employee
A 2015 study by the Rock Center for Corporate Governance at Stanford University found that 74% of Americans believe that CEOs are not paid the correct amount relative to the average worker.
"There is a clear sense among the American public that CEOs are taking home much more in compensation than they deserve," wrote David Larcker, co-author of Americans and CEO Pay: 2016 Public Perception Survey on CEO Compensation, a survey reported that the public had little knowledge of CEO compensation and often underestimated it by a factor of 10.
The study, amid growing awareness of executive-worker pay disparities, also found that the public support for caps on CEO pay has approval across party lines, with 52% of Republicans and 66% of Democrats expressing support for executive pay limits.
Negin Owliaei, D.C. Restaurant Reaches $1.5 Million Settlement Amid Tipped Pay Debate. A class-action lawsuit against a D.C. institution underscores the need for one fair wage.
Bob Lord, The Arithmetic of the CEO-Worker Pay Divide. Sometimes percentages alone don't do justice to the injustice of corporate pay.
Elsewhere on the web
Amy Fleming, Heat: the next big inequality issue, Guardian. By 2100, an estimated 74 percent of the world's population will face deadly heat for at least 20 days a year.
Simon Kuper, Moneyland: how the super-rich looted their own countries to create an elite global haven, New Statesman. Offshore wealth can tell us a great deal about everything from worldwide kleptocracy to declining public services.
Jarrid Green, Community Control of Land and Housing, Democracy Collaborative. How expanding the capacity and number of community land trusts can address the social and ecological consequences of land speculation.
Jim Hightower, Our Economy Is More Concentrated Than Ever, OtherWords. Just four tech superpowers have raked in half of this year's stock price gains by the 500 largest U.S. corporations.
Matthew Yglesias, A social wealth fund proposal: the American Solidarity Fund, Vox. People's Policy Project founder Matt Bruenig has a new approach to combating wealth inequality.
We Once Jailed CEOs for Their Crimes. Remember?
Jeffrey Skilling, the ex-CEO of the now-bankrupt energy giant Enron, has got to be steaming. Skilling helped Enron soar high up in the Fortune 500, then sank into infamy when his company went bankrupt in 2001 amid revelations of widespread fraud. Five years later, a federal judge sentenced Skilling to 24 years in prison. Last week, federal authorities released the 64-year-old to a halfway house, the first step to outright release. Enron's collapse cost shareholders billions and employees their life savings. Skilling personally has had to pay $45 million in fines and over $75 million in legal fees — and his 20-year-old son died while he was serving his time. But Skilling has yet another reason to fume. None of the top CEOs responsible for the fraud that ushered in the 2008 financial crash — and wreaked much more havoc on America than Enron — has yet faced a day behind bars and, notes federal judge Jed Rakoff, likely never will.