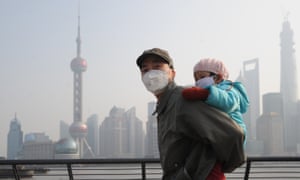 The life expectancy of children born today will be shortened by 20 months on average by breathing the toxic air that is widespread across the globe, with the greatest toll in south Asia, according to a major study.
Air pollution contributed to nearly one in every 10 deaths in 2017, making it a bigger killer than malaria and road accidents and comparable to smoking, according to the State of Global Air (SOGA) 2019 study published on Wednesday.
In south Asia, children can expect to have their lives cut short by 30 months, and in sub-Saharan Africa by 24 months, because of a combination of outdoor air pollution caused by traffic and industry, and dirty air indoors, largely from cooking fires. In east Asia, air pollution will shorten children's lives by an estimated 23 months. However, the life expectancy burden is forecast to be less than five months for children in the developed world.
"That the life of children is being shortened so much came as really quite a shock," said Robert O'Keefe, the vice-president of the Health Effects Institute, which produced the report. "There is no magic bullet but governments should be taking action."
Alastair Harper, the head of campaigns and advocacy at Unicef UK, which has warned repeatedly of the threat to children's health, said: "This adds to a bleak picture of how polluted air impacts the health of society's most vulnerable groups, particularly children. Evidence continues to mount showing a relationship between exposure to toxic air and low birthweight, reduced lung development and childhood asthma."
He added: "It's clear with better monitoring of global pollution data we will improve our understanding of the issue and how we can tackle it. The damage to children's health is happening right now."
Although young children face particular threats, such as stunted lung development that will last throughout their lives, older adults are also at risk: nearly nine in 10 deaths attributable to air pollution were in the over-50s. Ageing populations in many parts of the world are likely to increase the death toll for years to come, said O'Keefe.
Air pollution accounts for 41% of global deaths from chronic obstructive pulmonary disease, 20% from type 2 diabetes, 19% from lung cancer, 16% from ischaemic heart disease, and 11% of deaths from stroke, according to the report, described as the most systematic annual study of the health effects of global air pollution.
However, there are signs that actions taken by governments are working, including reducing forms of some particulate pollution in the developed world.
O'Keefe also pointed to China's levels of air pollution, which have bucked the developing world trend by starting to fall in the last several years. China's 2013 action plan set air quality targets and measures to reduce the reliance on coal and make industry cleaner, while controlling the number of vehicles in some cities and investing in clean energy. "They have kept on pursuing this, they have dispatched government officials to these places to enforce, and air pollution has begun to turn a corner in China," he said.
According to the report, south Asia had the highest level of exposures to PM2.5, a size of particulate that can cause breathing difficulties and cardiovascular problems, with the rate in Nepal and India nearly twice the rate of China's exposure to the particles. Among the countries with the lowest levels were the US, Norway, Canada, Sweden and New Zealand, though the Maldives, Brunei and Estonia also scored well on the measure.
Broadly, this disparity between less and more developed countries on this form of pollution is seen across the world, with developing countries suffering PM2.5 exposures that are four to five times those of more-developed countries.
Household air pollution is another key issue, with 3.6 billion people estimated to be exposed globally, with a "double whammy" for the health of those also exposed to high levels of outdoor pollution. In the developing world, reliance on solid fuels, such as biomass for cooking and heating, is the main source of indoor pollution.
Last year's SOGA study found dirty air was nearly ubiquitous among the global population, with more than 90% of people worldwide breathing in dangerous air, the result of industrial expansion, increasing traffic and exposure to indoor pollution from solid-fuel cooking fires.
Air pollution is an increasing concern across the world, with studies linking it to a wide range of effects on health, from dementia to miscarriage, and it has been described as a global emergency.
O'Keefe said measures to take included investing in electric vehicles, and renewable energy. But he warned that investing in some infrastructure, such as coal-fired power, could "lock in" air pollution for years to come.
**
Air pollution linked to psychotic experiences in young people
Teens living in dirty air 70% more likely to have symptoms such as paranoia, study finds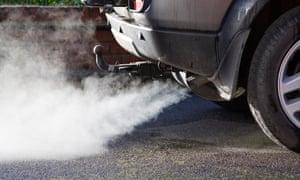 Young people living with higher levels of air pollution are significantly more likely to have psychotic experiences, according to the first study of the issue.
Researchers analysed the experiences of more than 2,000 17-year-olds across England and Wales and found that those in places with higher levels of nitrogen oxides had a 70% higher chance of symptoms such as hearing voices or intense paranoia.
People growing up in cities were already known to have more psychotic experiences than those outside urban areas and the new work suggests toxic air is one potential reason. But the type of study done cannot prove a causal link, and other factors such as noise could be important.
Psychotic experiences are much more common in adolescents than in adults, but those having these symptoms when young are more likely to develop serious mental illnesses later. With more people around the world living in cities every year, scientists are particularly keen to uncover the reasons for mental ill health in urban centres.
The study took into account other potential causes of psychotic experiences, such as smoking, alcohol and cannabis use, family income and psychiatric history, and measures of neighbourhood deprivation. "[Nitrogen oxides] explained about 60% of the association between urban living and psychotic experiences," said Joanne Newbury at King's College London, who led the research. Other factors may include genetic susceptibility and experience of crime.
Nitrogen oxides come largely from diesel vehicles and are at illegal levels in most British towns and cities, with the government having lost three times in the high court over its failure to cut pollution quickly. Research is linking air pollution with an increasing range of ill health, including reduced intelligence, dementia and depression, while other work has revealed air pollution can reach the brain.
"There seems to be some link between exposure to air pollution and effects in the brain and this [new research] is perhaps another example of this," said Prof Frank Kelly, at King's College London and also part of the research team. "Children and young people are most vulnerable to the health impacts of air pollution owing to the juvenility of the brain and respiratory system."
But psychotic experiences were significantly more common among teens living in the top 25% most polluted places. "In areas with the highest levels of [nitrogen oxides], there were 12 teens who reported psychotic experiences for every 20 teens who did not, said Newbury. "In areas with lower levels, there were only seven teens who reported psychotic experiences for every 20 teens who did not."
The researchers also found a link to small particle pollution, with psychotic experiences 45% more common for those teens exposed to higher levels. However, they said that while this first study provided good evidence, it was important other studies were done to confirm the findings.
"The study makes a valuable contribution to the growing body of evidence that air pollution may affect more than just cardiovascular and respiratory health," said Stefan Reis, the head of atmospheric chemistry and effects at the Centre for Ecology & Hydrology. "This new study makes a compelling case to investigate a range of mental health outcomes of air pollution exposure."
"People living in cities are subjected to high concentrations of toxic particles and gases from exhaust fumes on a daily basis," said Dr Ellen Wood, from the Doctors Against Diesel campaign group. "This study adds to the growing evidence that air pollution could have devastating and far reaching consequences on our physical and mental health, that is put at further risk if policymakers do not address this public health emergency."
"We urgently need to see policies that equitably reduce polluting vehicles on our roads, and replace them with affordable, sustainable and accessible public transport," said Rebecca Daniels, at the global health charity Medact.
**
Air pollution causes 'huge' reduction in intelligence, study reveals
Impact of high levels of toxic air 'is equivalent to having lost a year of education'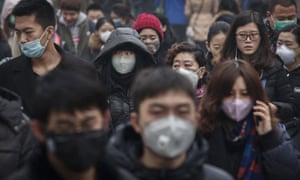 Air pollution causes a "huge" reduction in intelligence, according to new research, indicating that the damage to society of toxic air is far deeper than the well-known impacts on physical health.
The research was conducted in China but is relevant across the world, with 95% of the global population breathing unsafe air. It found that high pollution levels led to significant drops in test scores in language and arithmetic, with the average impact equivalent to having lost a year of the person's education.
"Polluted air can cause everyone to reduce their level of education by one year, which is huge," said Xi Chen at Yale School of Public Health in the US, a member of the research team. "But we know the effect is worse for the elderly, especially those over 64, and for men, and for those with low education. If we calculate [the loss] for those, it may be a few years of education."
Previous research has found that air pollution harms cognitive performance in students, but this is the first to examine people of all ages and the difference between men and women.
The damage in intelligence was worst for those over 64 years old, with serious consequences, said Chen: "We usually make the most critical financial decisions in old age." Rebecca Daniels, from the UK public health charity Medact, said: "This report's findings are extremely worrying."
Air pollution causes seven million premature deaths a year but the harm to people's mental abilities is less well known. A recent study found toxic air was linked to "extremely high mortality" in people with mental disordersand earlier work linked it to increased mental illness in children, while another analysis found those living near busy roads had an increased risk of dementia.
The new work, published in the journal Proceedings of the National Academy of Sciences, analysed language and arithmetic tests conducted as part of the China Family Panel Studies on 20,000 people across the nation between 2010 and 2014. The scientists compared the test results with records of nitrogen dioxide and sulphur dioxide pollution.
They found the longer people were exposed to dirty air, the bigger the damage to intelligence, with language ability more harmed than mathematical ability and men more harmed than women. The researchers said this may result from differences in how male and female brains work.
Derrick Ho, at the Hong Kong Polytechnic University, said the impact of air pollution on cognition was important and his group had similar preliminary findings in their work. "It is because high air pollution can potentially be associated with oxidative stress, neuroinflammation, and neurodegeneration of humans," he said.
Chen said air pollution was most likely to be the cause of the loss of intelligence, rather than simply being a correlation. The study followed the same individuals as air pollution varied from one year to the next, meaning that many other possible causal factors such as genetic differences are automatically accounted for.
The scientists also accounted for the gradual decline in cognition seen as people age and ruled out people being more impatient or uncooperative during tests when pollution was high.
Air pollution was seen to have a short-term impact on intelligence as well and Chen said this could have important consequences, for example for students who have to take crucial entrance exams on polluted days.
"But there is no shortcut to solve this issue," he said. "Governments really need to take concrete measures to reduce air pollution. That may benefit human capital, which is one of the most important driving forces of economic growth." In China, air pollution is declining but remains three times above World Health Organisation (WHO) limits.
According to the WHO, 20 of the world's most polluted cities are in developing countries. China, home to several of those cities, has been engaged in a "war against pollution" for the past five years.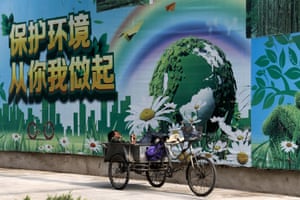 The results would apply around the world, Chen added. The damage to intelligence was likely to be incremental, he said, with a 1mg rise in pollution over three years equivalent to losing more than a month of education. Small pollution particles are known to be especially damaging. "That is the same wherever you live. As human beings we have more in common than is different."
Aarash Saleh, a registrar in respiratory medicine in the UK and part of the Doctors Against Diesel campaign, said: "This study adds to the concerning bank of evidence showing that exposure to air pollution can worsen our cognitive function. Road traffic is the biggest contributor to air pollution in residential areas and the government needs to act urgently to remove heavily-polluting vehicles from our roads."
Daniels said: "The UK's air is illegally polluted and is harming people's health every day. Current policies are not up to the scale of the challenge: government must commit to bringing air pollution below legal limits as soon as possible."