After the killing of Daunte Wright during a traffic stop, a legal expert and historian explains how design, decriminalization and disarming police could lead to safer streets. By Laura Bliss April 14, 2021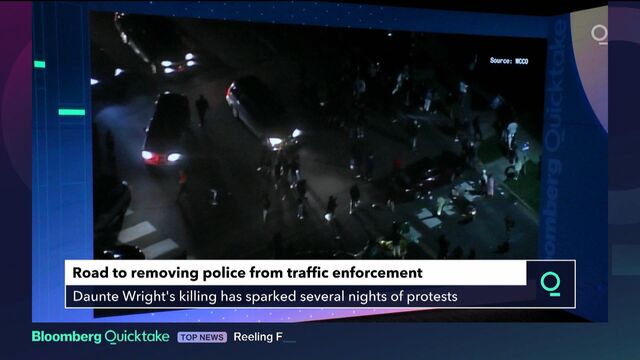 Lawmakers Push for Change in How Police Conduct Traffic Stops
Laura Bliss is a writer and editor for CityLab in San Francisco, focused on transportation and technology. She also writes MapLab, a biweekly newsletter about maps.@mslaurabliss
On Sunday afternoon, Daunte Wright was pulled over for having expired registration tags in the Minneapolis suburb of Brooklyn Center. When police approached his vehicle, officers also noticed an item hanging on his rear-view mirror — an air-freshener — which is illegal in Minnesota. A few minutes later, Wright, a 20-year-old Black man, was dead, shot by white police officer Kim Potter. According to Brooklyn Center Police Chief Tim Gannon, Potter had meant to deploy her Taser. Both Potter and Gannon resigned on Tuesday, and Potter now faces second-degree manslaughter charges.
Traffic stops — the most common interaction between police and the public — disproportionately affect Black people. The incident, which bears a resemblance to several other high-profile police killings of Black people in recent years, has sparked several nights of protests in the Minneapolis region and rekindled demands from lawmakers, activists and legal scholars to remove traffic enforcement from other police duties in U.S. cities.
"Sandra Bland. Philando Castile. Daunte Wright," tweeted Representative Cori Bush of Missouri on Monday. "All their deaths began with a traffic stop. Remove police from traffic enforcement. We can't keep adding names to this list." More from CityLab +
Equality, What It Actually Means to Pass Local 'Reparations', City Leaders May Be More Optimistic About Park Equity Than They Should Be, How St. Louis's First Black Woman Mayor Will Lead With a Racial Equity Lens, Bay Area Girls Lead Campaign Against Sexual Harassment on Public Transit
That appeal is an element in the broader "defund the police" movement, which gained traction through the racial justice protests of 2020 by calling to decrease or eliminate funding for police departments and reimagine policing duties. It has so far produced mixed results: Some cities actually increased budgets for law enforcement, while others took steps such as decreasing police presence in schools and transit systems and shifting funds to community benefit programs and mental health crisis response teams. Only one city, Berkeley, California, moved to prohibit police officers from conducting traffic stops and transfer that duty to unarmed traffic agents. That plan is still taking shape, and similar proposals have been debated in Cambridge, Massachusetts; St. Louis Park, Minnesota; Montgomery County, Maryland; New York City; and the state of Florida.
But what would removing police from traffic enforcement actually look like? How did policing become so intimately entwined with American roads, and can that relationship be undone? Sarah Seo, a professor of law at Columbia University, explored those questions in her 2019 book Policing the Open Road: How Cars Transformed American Freedom. She talked to CityLab recently about the future of law enforcement in a post-traffic-stop world. The conversation has been edited and condensed.
How exactly does one remove traffic enforcement from policing? I'm guessing there's a range of answers about how to unbundle law enforcement from traffic services, from automated traffic enforcement to building streets that don't require so much intensive policing. But in the short term, what does this idea contain?
No one solution will solve the problem. There are a lot of things to try that we haven't yet, and you mentioned a few of them. Automated enforcement is one. Redesigning streets to promote safety is another. A lot of policies currently prioritize human enforcement solutions over engineering for public safety.
There are also a number of regulatory offenses that currently justify police pulling someone over, as in the case with Daunte Wright. While these regulatory offenses are meant to protect public safety, when you have an armed officer enforcing public safety laws, that's a recipe for an unnecessarily dangerous situation. Part of the answer is unarmed public safety officers to enforce public safety on streets and highways.
Again, it's got to be a multi-pronged, holistic approach to thinking about prioritizing safety rather than crime control. When I say that, I don't mean to downplay the importance of crime control. I mean that investigating crime on the road through the use of traffic enforcement is highly ineffective and is not worth the problems we have today with discriminatory policing.
Why do we have these two things together in the first place?
The argument in my book is that modern policing came right after the mass production of cars, and that it was because of the need to enforce traffic laws that policing developed and modernized into what we know it as today.
So the first question is: When cars were first mass produced, how were traffic laws first enforced? It was through 19th-century ways of enforcing the law, such as civil lawsuits and voluntary associations like the Automobile Association and chambers of commerce that tried to convince people to obey the rules. But those didn't work very well, so there was a need to hire more traffic cops and give them more power because managing traffic proved to be pretty hard.
The second question is: How did the police get so much power when enforcing traffic? It was when the U.S. really became an automobile society, with a lot more people driving to work and to socialize. Police departments and municipal governments realized traffic cops could look for violations of criminal law as well as traffic law. This was around the time of Prohibition, so then they were looking for alcohol. Now it's what we see today when we think about police officers or patrollers using traffic stops as pretext to look for drugs.
How would redesigning streets help the problem?
There is a history of roads and streets designed to promote safety without human enforcers. As a historic example, before the right-side-of-the-road norm was established, it caused confusion which side people should drive on. One approach was to lay down the law with human enforcers, but it turned out that just painting a yellow line did a much better job. So engineers and transportation officials could think about designing better without human enforcers. As a more contemporary example, New York City has put up raised medians to encourage more biking and keep cyclists safe by keeping bike lanes separate from traffic lanes.
But better design wouldn't do a lot for pretextual traffic stops like the one that led to Wright's killing. After pulling him over for expired tags, police officers discovered that he had a warrant, and things escalated from there. But we've also seen how more minor infractions such as broken tail lights, or the failure to signal a lane change that led to Sandra Bland's killing, can lead to the same result.
I'm not sure what Wright's warrant was for, but sometimes it's not not even because a crime was committed. You could have a warrant for not appearing in court to pay a fine. And those are reasons related to money, not necessarily to a crime that's been committed. [Editor's Note: Wright had an outstanding gross misdemeanor warrant for failing to appear at an April 2 hearing on a 2020 charge for carrying a pistol without a permit and fleeing a peace officer.]
This is really hard because safety infractions like broken tail lights don't have to do with people wanting to violate them. People don't drive with broken tail lights because they want to. It's usually because they're too poor to replace that right away. Yet fining them for that violation and escalating for failing to pay on time and failure to appear in court — which then can escalate into an arrest warrant — creates a cycle of debt that never gets to the heart of the issue of wanting people to drive vehicles safely.
A response to that situation would recognize that setting really high fines and punishing failures to appear in court are counterproductive to the reality of peoples' lives, since they need to get to work to pay off a traffic fine or ticket. One easy solution is to get rid of that punitive response and to build in more time for people to comply with safety regulations. Maybe there could even be government subsidies to help people move toward complying with safety rules. Another easy thing is to get rid of traffic fines and court fees as a source of revenue for city departments, as places like Los Angeles County and San Francisco are starting to do.
To me, this is all a reflection of how necessary it is to drive to get to work, to doctor's appointments and to take your kids to school in American society. It's a pretty essential to American life.
Based on the proposals to remove police from traffic enforcement out there right now, what stands out to you about them? What are some of their caveats?
From what I've seen in many of these conversations, many of them would still have police handling reckless driving like DUIs. That's a hard case because that scenario does seem more dangerous for a non-police agent to handle. But I still don't think it should necessarily be a matter involving an armed law enforcement officer. I think it's a matter of how we train the traffic agent and how we handle the cases. In general, a lot of these proposals are limited to civil and more minor violations, like broken tail lights and air fresheners. Even if we just started there, I think it would go a long way to ameliorate the problem.
Your book explores the origins of policing the road as well as more recent evolutions in U.S. law that would have major implications for how we put an end to this violence. What are some of those?
My book ends with a description of Fourth Amendment law, of what police can and can't do on the road. There has been a huge development of the Fourth Amendment over the past century — it's what I call a thicket of procedural laws that have given police more powers. And I don't know how the law can undo that, because once there is a law for police to enforce something, it gives a lot of discretion to how officers can enforce it. And new laws that govern how police enforce them don't do a lot of work. The simplest way to undo it is decriminalization, because if there are no crimes to enforce then that reduces the need for policing. Decriminalizing marijuana or other controlled substances would go a long way since they make up a large fraction of law enforcement encounters.
Ultimately, removing policing from traffic enforcement seems to ram up against the way we've built the environment to make people rely on cars. Are there other ways around those barriers?
I think there are two answers. One, if we get to fully automated, self-driving cars that are programmed not to violate traffic laws, that would end pretextual traffic stops. So that is one possibility. The other is reimagining how cities are built to rely less on cars and design so that people don't have to think about whether they are obeying the law or not. I've love to see more conversations between urban designers, transportation policy experts and legal scholars to think about how to design urban space so that we can be safe without having to be conscious about acting in compliance with safety laws. That would be really exciting.
Public transportation is a big part of that, but that has to involve a cultural shift too. So with my little coterie of experts, I'd throw in a culture maker to somehow envision a society where we don't celebrate the car as the only way to travel safely or get from A to B in the most efficient way. I think about all those stories during the pandemic, of people buying more cars in New York City because they didn't want to take public transit anymore. How do we get people more excited about and embracing public transit, rather than every household having two to three cars? We have to reimagine not just our space and geography, but also our culture. (Updates with information on manslaughter charges for Kim Potter in first paragraph. )