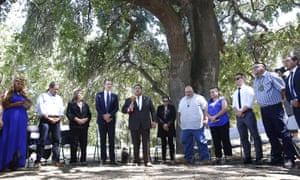 California's governor made history this week when he formally apologized to Native Americans, acknowledging the brutal genocide and "war of extermination" declared by the state's first governor in 1851.
While indigenous people across California welcomed the long overdue statement, many had a similar response: now what?
"An apology is great, but what does it look like in terms of moving into action?" said Morning Star Gali, a member of the Pit River tribe, in northern California. "We're still here. We're still fighting for recognition. We're fighting for the protection of our sacred places. We're fighting for visibility."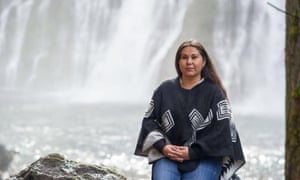 Some Native American leaders and activists are now pushing for Governor Gavin Newsom's apology to lead to a serious discussion about reparations for indigenous people.
Echoing the debate in Congress this week about reparations for black Americans, indigenous groups argue that government should compensate Native Americans for harms, some of which continue today. The state of California, indigenous leaders told the Guardian, should be looking at land and water rights, education, cultural revival, criminal justice and more.
Returning stolen land
Violence against Native Americans in California took place much more recently than in older American states on the east coast. In 1850, the state passed a law to remove Native Americans from their lands, separate children from their families, strip people of their cultures and languages, and create a system of indentured servitude, Newsom said.
The only compensation for land is land
In the following decade, California's leaders organized and funded militia campaigns against indigenous people, creating what one historian recently called a "state-sponsored killing machine".
Today, there are more than 100 federally recognized tribes in California – and many more that are unrecognized. More than 700,000 Native people live in the state. Restoring indigenous land rights would be one of the most direct and meaningful ways to right these wrongs, Native leaders said.
"This is all stolen land … We are landless Indians in our own territory," said Corrina Gould, a spokesperson for the Confederated Villages of Lisjan/Ohlone, a tribe that originated in the region that is now the San Francisco Bay Area and is not federally recognized.
"The only compensation for land is land," Gould added, quoting the Native author Winona LaDuke.
Javier I Kinney, executive director of the Yurok tribe, along the Klamath river in northern California, said there were roughly 1m acres of Yurok ancestral territory outside of the tribe's reservation land that the tribe would like to reacquire "so that we will be made whole".
"Tribes have really had the key to that knowledge of how to sustainably manage and be the stewards of lands," he added.
Some said reparations should also mean supporting the tribes still fighting for water rights in southern California.
Some local governments have recently returned land to indigenous owners, Morning Star Gali said, arguing that those processes should be replicated in the wake of the apology. In Sonoma County, known as California's wine country, officials agreed in 2015 to transfer nearly 700 acres of the Kashia Band of Pomo Indians' ancestral lands back to the tribe.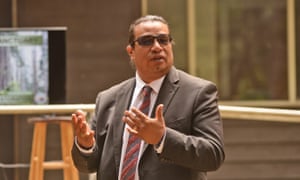 "The day we took ownership was one of the most emotional experiences of my life," said the tribe's chairman, Reno Keoni Franklin, adding that California should now support similar efforts throughout the state. "Kashia created a blueprint to follow … a process that protects our sovereign rights and at the same time gives us back precious sites."
Fixing education: 'Tell the truth'
Tribal leaders also argued that school curricula should accurately depict California's genocidal legacy – instead of glossing over the violence.
Roxanne Dunbar-Ortiz, author of An Indigenous Peoples' History of the United States and a California State University professor emerita, argued that land seizures from Native tribes should be central to the US history curriculum."Make that a requirement," she said.
Dallas Goldtooth, campaigner with the Indigenous Environmental Network, said Native people had long been "erased from the narrative of California". "California economically and politically wouldn't be where it is if it wasn't for the massive amount of land that was stolen," Goldtooth argued.
Others said the role of the Catholic missions in the violence against Native communities should be taught. Many argued there should be a systematic effort to take down statues and monuments honoring those responsible for genocide, and that towns and schools named after violent settlers should be renamed.
Margaret Moss Read more
The state should instead resurrect monuments that make clear to residents and visitors that California was built on massacres – and that indigenous people continue to live on their lands here, they said.
"People come here from all parts of the world, not knowing Ohlone people still exist here," said Gould.
And California should "put their money where their mouth is", added Vincent Medina, of the Muwekma Ohlone tribe, saying he would like to see funding and resources to help "revive our culture, which has been severely damaged from ongoing suppression by Americans".
Seeking justice
California should also address the mistreatment of Native people in the justice system, leaders said.
California has one of the highest numbers of cases of missing and murdered indigenous women and girls among US regions. Native Americans are disproportionately locked up in the state's jails and prisons, and indigenous students are suspended at significantly higher rates than white students. In some parts of northern California, police continue to harass and mistreat Native people, Dunbar-Ortiz said.
"How do you make this right? How can we heal this situation?" asked Abby Abinanti, chief judge of the Yurok tribal court. "The wrongs are pretty complicated."
The state should support indigenous communities' separate systems of justice, which, in sharp contrast to the US model of long-term punishment by incarceration, focus on repairing harm, Native leaders said. "You've got a system set up, and many people think that's the definition of justice," said Judge Abinanti, whose court uses alternative processes. "It's not. It's adefinition."
Others said Newsom's apology should translate to better mental health services for Native people and stronger supports for communities dealing with alcoholism, drug addiction and other struggles rooted in intergenerational trauma.
On Tuesday, Newsom told reporters that he hadn't yet considered financial reparations or other specific measures, but he did announce the creation of a Truth and Healing Council to "provide Native Americans a platform to clarify the historical record and work collaboratively with the state to begin the healing process".
Goldtooth said he hoped Newsom's order would spark apologies and reckonings across the country – and a national conversation about reparations: "What that looks like ultimately should be defined and led by Native people."Topics