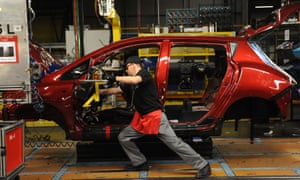 Ministers have been urged to bring forward their 2040 ban on new diesel and petrol car sales by a decade, a move which an environmental thinktank said would almost halve oil imports and largely close the gap in the UK's climate targets.
The Green Alliance said a more ambitious deadline of 2030 is also needed to avoid the UK squandering its leadership on electric cars.
While the number of electric cars being sold in the UK has rocketed in the past four years, Germany overtook the UK last year in its rise in the registrations of new plug-in hybrids and 100% battery-powered cars. A 2030 ban on combustion engine models would boost sales of electrified cars in the UK and even raise the prospect of the country becoming an net vehicle exporter, the Green Alliance said.
While the UK lags behind Germany on conventional car manufacturing, a fifth of the electric cars sold in Europe in 2016 were made at Nissan's Sunderland plant in north-east England. BMW has pledged to make its electric Mini at its plant in Oxford, but UK-headquartered Jaguar Land Rover chose to build its first flagship electric car, the i-Pace, in Austria.
Dustin Benton, policy director at Green Alliance, said: "The government's recent industrial strategy cites clean growth as one of the biggest economic opportunities for the UK, but if we keep building and buying dirty cars we'll miss the growth opportunity of the century."
The transport sector overtook energy in 2016 as the UK's single biggest source of carbon emissions, as power generation has switched away from coal and towards renewables.
Carbon emissions from the average new car also rose last year for the first time in nearly two decades, as drivers opted for bigger models.
The Green Alliance found that an earlier phase-out for new diesels and petrol cars would affect the looming gap in the UK's legally binding 2030 climate target. A 2030 deadline would cut the gap by 85%, or 98 million tonnes CO2e.
Sticking with a 2040 date would also lead to fossil-fuelled cars causing air pollution until the second half of the century, the thinktank said, given the average UK car is scrapped after 14 years. Four committees of MPs last week warned that air pollution is a "national health emergency" and called on the government to take tougher action.
Earlier action would also ease the UK's reliance on oil imports at a time when oil and gas production from the North Sea is declining. Imports would be cut by nearly 50% by 2035, saving up to an estimated £6.63bn each year, the thinktank said.
While ministers last summer followed France by pledging to halt new petrol and diesel car sales by 2040, other countries are looking to ban them years earlier. Scotland is aiming for 2032, India wants to only sell electric models by 2030 and Norway, the world leader on the take-up of battery-powered cars, has set a 2025 deadline.
The Green Alliance said the government could take several other measures to sustain the UK's leadership on electric cars, including public procurement. A grant of up to £4,500 to buyers of electric cars should also be extended, the group said, and government could further help by setting manufacturers sales targets for electric cars, starting at 15% of all cars sold in 2022 and rising to 45% by 2025.
The car industry body, the SMMT, said outright bans on petrol and diesels risked harming the new car market, and the sector could be undermined if not given enough time to adjust.
By John Vidal, in The Guardian, Want to cut air pollution? Get rid of your car: Governments must accept the stark fact that cars must be removed from the street altogether, 
Iwrite this from St Martin's, one of the largest of the Isles of Scilly, where in five days spent among its 120-odd inhabitants I have seen only three moving cars, two tractors and a few boats. With 28 miles of Atlantic ocean in one direction between it and Cornwall, and just a few rocks before the Canadian coastline in the other, St Martin's has some of the cleanest air in the world.
My landlord, Andrew, sees the benefits. Both his grandparents are 92 and still active, no one he knows has asthma, and lung and heart diseases are uncommon, he says. Harold Wilson always holidayed on the neighbouring island of St Mary's, but his pipe-smoking never caught on.
Word of the grim state of air on "mainland" UK reaches everyone here. A few days ago came reports suggesting hundreds of thousands of young people in Britain are being exposed to illegal levels of air pollution from diesel vehicles. Then there was new evidence showing that toxic air travels through pregnant women's lungs and lodges in their placentas. A third study showed how air pollution affects intelligence, and another showed it to be the biggest environmental risk in Europe, causing an estimated 400,000 premature deaths a year. Today, there are reports of a new study suggesting that air pollution increases the chance of getting dementia.
For Scillonians, used to gulping fresh sea air only, this is all academic. But what can people in grossly polluted British cities do about the staggering levels of pollution, apart from escape occasionally to places like St Martin's? How hard is it really to eliminate most pollution?
Not very, say the cities and countries that have tried to reduce it. It's not expensive, and it can be politically popular. Indeed, all the research shows that places that reduce pollution benefit financially in both the short and long term.
As a start, we can all experience the less-polluted life. This weekend, as part of World Car-Free Day, London will close 50 major streets to traffic, and Manchester, Leeds, Bristol, Glasgow, Cardiff, Oxford, Cambridge and Liverpool will also ban cars from parts of their city centres. All it has taken is a pledge, a temporary decree and a few plastic bollards.
Birmingham, car capital of the UK, resolutely refuses to join in. Poor Brum. The effect of removing cars on a grand scale from a large city is revelatory. Aside from the rare quietness and extra space, the air smells and tastes different. It may be imaginary, but people also seem to converse and smile more. The health effects are dramatic. Brussels closed its city centre to cars last Sunday, and within hours the levels of black carbon and nitrogen dioxide in the city's air decreased by at least 30%. Nearly everyone approved.
The car – at least in some EU cities – is on the run. But British and US cities are putting their faith more in technology and individual action. This approach is also beginning to work, with sales of electric cars skyrocketing. This week, we passed the milestone of 4m zero-emission electric vehicles (EVs) on the road worldwide. That's not many out of more than one billion cars, but the speed of change suggests that the electric car will go mainstream over the next generation. We're predicted to hit the 5m mark in about six months' time, with one in four to five cars built predicted to be all or partly electric within a decade. This may not dramatically reduce pollution unless the electricity they run on is renewable, but individuals should at least be able to opt to "fill up" on clean electricity.
But technology is not enough. The air will never meet even the lowest World Health Organisation standards until governments accept that cars must be removed from the street altogether, and major investments be made in walking, cycling and public transport.
Countries that have invested in pollution-free transport have reaped the benefits. Academics calculate that Dutch investment in cycling not only prevents about 6,500 deaths each year, but saves government spending of nearly £20bn a year, as well as lengthening average life expectancies by six months.
The Royal College of Physicians recommends, for a start, that we spend £10 a head on alternatives to cars: far less than planned spending on new roads. It could be enough to kickstart an emission-free economy that is good for health, the climate and the pocket.
As individuals, we can learn to avoid heavily polluted streets by taking backstreets; apps can show us in real time where the pollution hotspots are; and we can avoid buying diesels or sitting in front of open fires. These all offer individual respite from the clouds of gases and particles we emit, but will not bring about real change.
We must also understand that air pollution comes not just from cars but from ships, farming, heating of houses and workplaces, and the burning of firewood and rubbish. We can wean cars off fossil fuels, but that is just the start. Ultimately, we need to both get out of our cars, and burn fewer fossil fuels.
For that to happen, we need to think very differently about how we live. On St Martin's in the Isles of Scilly, it's just about possible to imagine that.
• John Vidal is a former Guardian environment editor
Want To Buy A New Car For Free In 10 Years? Buy An Electric Car Today
September 30th, 2018 by Michael Barnard
---
In Canada, buying an electric car means your next car is "free." Or at least, that's what a just released report from the 2 Degrees Institute (2DI) of Canada indicates.
2DI has been around for 14 years, although it rebranded in 2015 to align with its focus on helping individuals and families make better decisions to shrink their carbon footprints. The organization wants to enable people to do their part directly, as there are many NGOs focused on pointing governments and industry in the right direction. The 2 degrees part is, of course, a reference to the 2 degrees Celsius agreed-upon limit to warming, set at the COP21 conference in Paris.
2DI has an excellent group of science advisors stocked full of solid researchers, science communicators, and several respected institutions represented.
Dr. Pieter Tans, NOAA's Earth System Research Laboratory
Dr. James Hansen, Columbia
Dr. Paul Slovic, UofOregon
Dr. Jeremy Shakun, Boston College
Dr. Hendrik Wolff, Simon Fraser
James Hoggan, DeSmogBlog
Dr. Edward Maibach, Center for Climate Change Communication
Dr. Geoff Dutton, NOAA Earth System Research Laboratory
According to Ryan Logtenberg, 2DI's Director, the Board has accrued slowly over multiple projects and years as the Institute grew and developed its network and strength. The Institute is mostly self-funded, but Logtenberg told me that the second-largest source of income is through an annual grant from the BC's Ministry of Environment and Climate Change Strategy.
For the report in question, Logtenberg pulled together a small team including himself and two regular collaborators, Prof. James Pawley of the University of Wisconsin-Madison and a 2DI Board member, and Barry Saxifrage, self-proclaimed chart geek with the National Observer and Visual Carbon. They realized that while there were good studies done in other parts of the world, they wanted to create a Canada-specific version to help families in each province make better choices for themselves and their children.
Their methodology is transparent and good. They gathered gasoline, electricity, and vehicle maintenance costs for each province from credible sources. They selected basic family cars available in Canada in both internal combustion and electric drivetrain options, the Volkswagen Golf and the Kia Soul. No Tesla Model S100D drag racers in the group, just cars that average families might own.
They looked not at the annual distance individual cars were driving, but at household mileage to ensure that families would have information most relevant to their needs. They looked at both a 10 year and 250,000 kilometer (155,000 mile) lifespan of cars to ensure that they were not artificially picking a sweet spot.
What they found surprised even them.
We knew that EVs were less expensive to operate, but after running the numbers, we were completely surprised by how substantial the savings were.

— Prof. James Pawley, University of Wisconsin-Madison
Certainly, one of the things which surprised me was the claim that none of the top 10 repairs done on cars applied to electric cars at all. It seemed unlikely, so I reviewed the source and it not only seems credible, the statement is true as well.
Catalytic converters? Not on an EV.
Evaporative Emissions (EVAP) Purge Control Valves. Nope.
Fuel injectors? That's just silly.
Loose fuel cap? Sure.
Ignition coils and spark plugs? Wait, do cars still have those? It turns out that they do — they are just buried in the engine and are one of the things you generally are supposed to let professionals with computerized toolkits play with. Gapping your own plugs is apparently a thing of the past.
So, how big were the savings? About $27,000 (Canadian) for fuel and maintenance over the lifespan, more than the price of many new cars in Canada.
This varied somewhat by province, with oil & gas–dominated Alberta seeing by far the highest savings of roughly $36,000, partly because people in that province drive the furthest per year. Tiny Prince Edward Island of Anne of Green Gables fame saw the lowest savings of around $22,000 over 10 years.
Of course, there are inevitable questions about the underpinning assumptions of the report, but it's transparent about those as well. The initial cost of vehicles is well-explored with per-province subsidies. Unfortunately for the report, something which will likely be addressed, the new conservative Ontario government eliminated electric car subsidies along with a raft of other positive programs, including 758 renewables contracts, just as the report was released.
Similarly, the potential for battery replacement was explored. Their choice to not include battery replacement costs in the 10 year lifespan seems reasonable, but could be argued. For a Tesla Model 3, a battery around the size of those in the cars in the study is projected to cost around $6,500 (US) or about $8,400 (Canadian). That would eat into the economic case somewhat, but would still leave close to $19,000 (Canadian) to put toward the next car. EVs will be cheaper then and batteries likely more robust as well.
The report is another data point showing that a family's total cost of ownership of electric cars is better than for gasoline or diesel vehicles. And with all of the other benefits — including health, much lower greenhouse gas emissions, and typically greater safety — it's not hard to see that the shift to electric cars will only accelerate.