2-11-20, Fast Company. WORLD CHANGING IDEAS, Scientists analyzed 1,700 cities and determined how to design safe streets, by Kristin TOUSSAINT
Every day, more than 3,700 people die on the world's roads. Road traffic crashes result in more than a million deaths and tens of millions of injuries each year, and are predicted to become the fifth leading cause of death globally by 2030, according to the World Health Organization. Some cities have taken steps to reduce these traffic-related deaths through Vision Zero initiatives, but in many places, it hasn't been enough.
So what's the secret to reducing road injuries? It's about getting people out of their cars and designing cities around public transit.
Researchers from Columbia University's Mailman School of Public Health; the University of Melbourne's Transport, Health, and Urban Design Research Hub; and the Barcelona Institute of Global Health looked at the urban roadway design of nearly 1,700 cities across the world, along with local road injury statistics, for a study recently published in Lancet Planetary Health. Lead researcher Jason Thompson from the University of Melbourne wanted to highlight how important urban planning is to reducing such injuries.
IT'S QUITE CLEAR THAT PLACES THAT TENDED TO HAVE MORE AVAILABLE PUBLIC TRANSIT, PARTICULARLY RAIL TRANSIT, TENDED TO HAVE LOWER INCIDENTS OF INJURIES. "
Public health researchers have been studying road injuries for years, and Christopher Morrison, an assistant professor of epidemiology at Columbia and one of the study authors, says there has been some progress with reducing the rate of car crashes relative to the amount of people that are driving. "But what this research is looking at is, how does the way we design our cities affect injury incidents and the public health burden?" he says. "What this work very strongly suggests is that the best approach is to get people out of cars in the first place, and to design cities in ways that people are using motor vehicles less."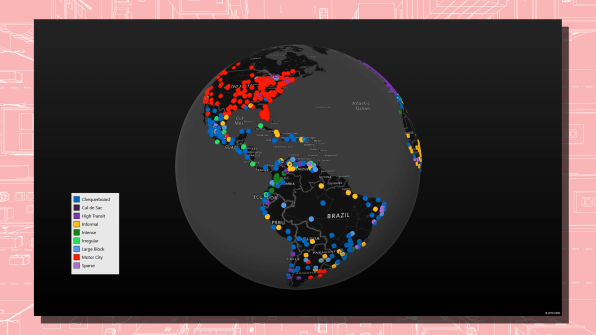 Out of those nearly 1,700 cities, researchers identified nine design types, based on density, road network, and public transportation. Those types range from "informal" cities with a low, informal road infrastructure and low rail transportation, to "cul de sac" cities with dense, tight road networks; from "motor" cities, which exemplify the "Manhattan grid" and have a medium amount of mass transit, to "high transit" cities, which have the greatest level of railed mass transit available.
By categorizing these cities into design types, the focus was less about identifying specific examples—and thus pointing to one city that is doing it "right"—and more about the specific road designs. "It's quite clear that places that tended to have more available public transit, particularly rail transit, tended to have lower incidents of injuries," Morrison says. Those places tended to be Western European cities, such as Paris, London, and Amsterdam.
The "cul de sac" type, which represents Southeast Asian cities such as Jakarta, Indonesia, and Nonthaburi, Thailand, and often had mixed transportation use, tended to perform the poorest, meaning they had high road injuries.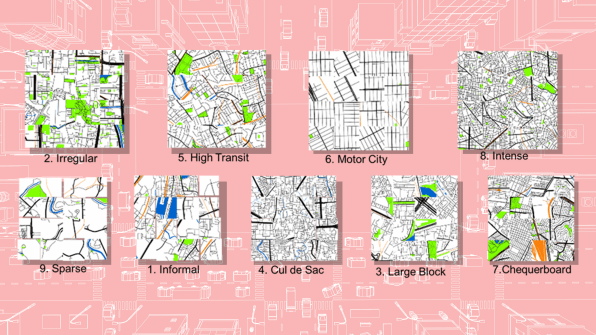 The researchers wanted to be broad and simply identify the best "city footprint" for reducing injuries, because there will always be specific examples that run counter to that trend. "In the same way that if you're studying tobacco use and lung cancer, everybody's got the excuse of an auntie who smoked forever and never had problems," Morrison says. "What we were interested in was that average." The study also didn't look into other factors that often surround transportation, like congestion, cost, and so on.
IT'S TO EVERYBODY'S BENEFIT TO MOVE PEOPLE OUT OF MOTOR VEHICLES AND INTO PUBLIC TRANSIT, AND THE BEST WAY WE CAN DO THAT IS BY IMPROVING INFRASTRUCTURE FOR PUBLIC TRANSIT."
Still, there are more general takeaways here, too, and that's because these findings aren't all that surprising. "It's concordant with what we know about urban planning from many other studies, which is that where we can divert people away from motor vehicle use and onto public transit, we will improve the public health for the roadway users themselves and also for general populous, reduce risks for injury and death for individuals, reduce congestion, reduce air pollution," Morrison says. "So it's to everybody's benefit to move people out of motor vehicles and into public transit, and the best way we can do that is by improving infrastructure for public transit."
Improving that infrastructure, though, is a long-term and often cost-heavy strategy that has to fit into a lot of other parts of city life. The researchers aren't suggesting we immediately restructure our cities, "but it does mean as we're thinking about new urban development," Morrison says, "encouraging public transit is a very, very good way of reducing the burden of motor injuries."
In the meantime, and for all those cities that aren't planning new urban development but still want to curb traffic deaths, officials from nearly 100 countries will meet at the end of February in Stockholm to discuss what steps they can take to halve their road deaths and injuries by 2030, according to the World Health Organization. That aim is in line with global targets agreed to in the United Nations Sustainable Development Goals. The meeting in Stockholm will be hosted by the Swedish government in collaboration with WHO, and will end with a declaration that lays out key recommendations and a call for international cooperation to reduce these traffic incidents worldwide.
Cities can get rid of cars—and build urban ski slopes.
BY KRISTIN TOUSSAINT Fast Company
You may think the only changes to cities have been negative ones, and yes, urban areas have certainly seen increased traffic and heightened housing problems, but plenty of places have also debuted new features that aim to make a positive impact. Whether adapting to climate change, trying to be more inclusive to underserved populations, or updating their infrastructure with new technology, cities around the world are serving as laboratories to test bold ideas.
Here's a look at some of the most fun and interesting urban innovations of 2019, proving that some cities are already in the future and are using their corners of the world to make our planet a little bit better.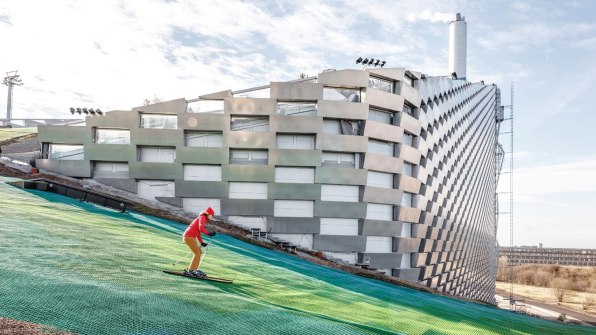 COPENHAGEN OPENED THE WORLD'S FIRST COMBINATION SKI SLOPE-POWER PLANT
As part of the Danish city's pledge to be carbon neutral by 2025, Copenhagen finally opened CopenHill, a multipurpose power plant that also serves as a public destination and has been years in the making. The 44,132-square-foot waste-to-energy plant can not only provide 150,000 homes with electricity and heating but also offers sporty residents a roof park with hiking trails and ski slopes and a 279-foot climbing wall on its exterior.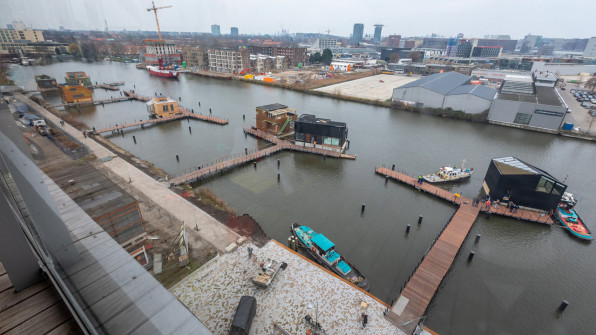 AMSTERDAM CREATED A FLOATING NEIGHBORHOOD WITH SELF-SUFFICIENT HOMES
Climate change threatens to flood cities around the world, and Amsterdam is preparing for that precarious future with a floating neighborhood. Designed by architecture firm Space&Matter, the neighborhood is located on a canal and features homes outfitted with solar panels on their roofs, batteries in their basement, and a network that connects each home to its neighbors so residents can trade energy. The buildings also have green roofs where owners can grow plants, and their wastewater goes to a biorefinery to become even more energy.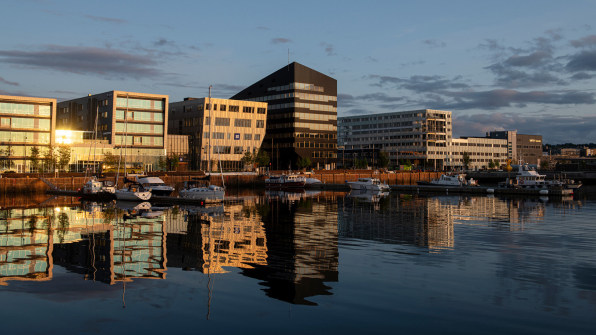 TRONDHEIM CONSTRUCTED A SUPER-ENERGY-EFFICIENT BUILDING
Trondheim, Norway, is a city of extremes—in the winter it gets five hours of daylight, but in the summer, a full 20—and this year, it debuted an extremely energy-efficient building. Built by the global architecture firm Snøhetta, Powerhouse Brattørkaia generates twice as much energy as it needs from the sun, providing excess energy to neighboring buildings and electric transit. Its solar panels can harvest all that energy over the summer and store it for the dark winter, and it's an example of a bold new idea that aims to use buildings like this to power the cities around them.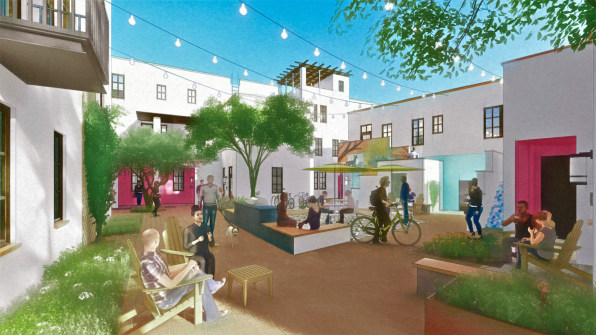 MIAMI STARTED REWARDING RESIDENTS FOR GETTING AROUND WITHOUT THEIR OWN CARS
Like lots of other cities, Miami has a traffic problem, and to try to curb the use of cars it launched Velocia, an app that works as a public-private partnership between Miami-Dade transit and services such as Bolt e-scooters and SwiftSeat carpooling. For every commute a resident takes on one of these transit options, they'll earn points toward their next travel, which might be a free half-hour on a Citi Bike or a MetroRail pass. Though we may be designing entirely car-free communities in the future, this was a step by one city plagued with traffic problems to reduce its single-car use without drastically changing its infrastructure.
The car, it's been said, is king in America. In most places, life is impossible without one. Even in most dense cities, presumably the places where it would be easiest to live without a car, municipal codes often include requirements for a certain number of parking spots per person for any new building.  But a new neighborhood in Tempe, Arizona, will be an outlier, by fully prioritizing people over vehicles. If you want to live there, you have to agree to not have your own personal automobile.
Arizona
Culdesac Tempe, a 1,000-person development set to open fall 2020, bills itself as the "world's first post-car real estate developer." Founders Ryan Johnson and Jeff Berens say they want to provide people the option of living a car-free lifestyle. The mixed-use Culdesac Tempe neighborhood is a $140 million project, capitalized by traditional real estate investors, and will include a dog park, restaurants, market hall, grocery store, and gym, with access to a light rail that connects to downtown Tempe, the airport, and Arizona State University.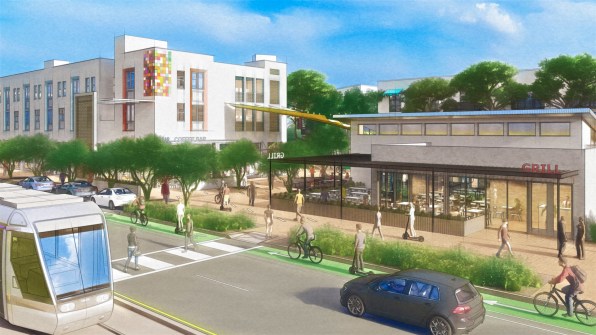 But don't worry, they understand the car remains vital: Though residents will be banned from owning or parking a car onsite per their lease, the Culdesac Tempe neighborhood will still be accessible for emergency vehicles, service vehicles (like if you need a couch delivered), and ride-shares, which will have designated pickup and drop-off locations around the perimeter. There will also be a small fleet of car-share vehicles (a partner has not yet been named) that will be available as a transportation option for residents when they want to go beyond where the neighborhood's light rail can take them.
Parking lots won't be completely extinct in Culdesac Tempe, either. "Because this is a mixed-use neighborhood and it has lots of restaurants, and because most of [nearby] Phoenix will, for the foreseeable future, use cars, we have lots of parking for those purposes. So there's a small parking lot for restaurant visitors to use, there's a parking lot for the friends and visitors of the residents to come," Berens says. "But the feel of the community, it's as if you're living in a park, and so there's no asphalt streets running inside of it. It's using things like permeable pavers or decomposed granite."
In cities across the country, on-street and garage parking options occupy a sizeable chunk of real estate; 40% of the land area in Seattle is currently used for parking, and New York City has 12 Central Parks' worth of on-street spots alone. "Whereas a normal urban development would really have to use a lot of land for parking, by not having to design for cars, space is freed up for things like a park or for bike paths and walkways and retail and other things that people want to have at their front door," Berens says.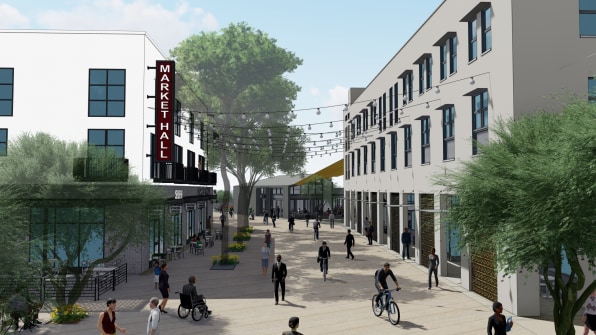 They're not alone in their vision for car-free living. Traffic has worsened, pollution threatens both our personal health and that of the planet, cars are proving to be a continuing threat to pedestrian and cyclist safety, and research is building on the mental and physical health benefits of public green spaces and the harms of long car commutes, and so more communities are questioning why we've been so devoted to the automobile in the first place.
A Freiburg, Germany, neighborhood has gone car-free, as have areas of Oslo, Barcelona, Copenhagen, and more. The entire city of Paris banned cars for a day. All of this has served as inspiration (and learning material) for Culdesac, and the company hopes to help pave the way for more municipalities to go car-free (or car-less).
"The history of cities and urban development is very much one of one place pioneering something new and then other places replicating it and making it even better," says Berens. "We expect what we're doing in Tempe to set a precedent for a different type of development [and] many cities have already reached out to us about wanting to incorporate some of the things we're doing in Tempe in other places."
Culdesac has called this the "first car-free neighborhood from scratch in the United States," and though Berens concedes that of course those nitpickers who point out that "every neighborhood before the car was invented was built as a car-free neighborhood" are technically correct, the point still stands that since then, the car has dictated urban design. "Recently, transportation has been innovating but real estate hasn't kept up," he says. "What we're doing is harnessing the new innovations in transport to enable a new type of land use that creates more walkability and offers life at your front door."
This first Culdesac neighborhood will house 1,000 people, and the founders say there's already an "enormous" amount of demand to live within its car-free borders. Most units are one bedroom, and will be "priced competitively" compared to new apartment buildings in the area. They picked Tempe because both Berens and Johnson are Arizona natives going back generations, but also because the local government has proven to be forward thinking. This marks the country's first and only agreement, according to Culdesac, between a city and a developer to build a neighborhood community with no residential parking. Culdesac also worked with the fire and police departments, along with city planners, to think about how the neighborhood could be safe and accessible for everyone.
Maricopa County, where Tempe is located, has also been the fastest-growing county in the U.S. for three years running, and the space where Culdesac Tempe will be—which developers officially broke ground on last week—is near the light rail, downtown, and Arizona State, and yet was previously completely undeveloped. To Berens and Johnson, it was a natural place to start, and that blank canvas offered a unique opportunity.
If you're concerned about how to get around a place like Tempe that reaches sweltering, 100-plus degrees in summer without the comforts of a car (and its air conditioning), the Culdesac founders say there's nothing to worry about. They factored in location-specific considerations like temperature when designing the neighborhood, and that means Culdesac Tempe's "connective courtyard design" allows for cross-ventilation and plenty of shaded space for those walking around. Though cities tend to be hotter due to the urban heat island effect from buildings and pavement absorbing sunlight, more green space in this new neighborhood means almost twice as much shade coverage than the local standard, and those courtyards can also act like public spaces for community events or simply friendly neighborhood interactions.
This is just the beginning for Culdesac, they say. "After this, we want to build another one and a bigger one, that might be 10 times as big," says Johnson. "The advantages of using mobility to impact how we build, they compound at scale, and so there's more that we can do to make an even better neighborhood as we build bigger." In Culdesac Tempe, residents will be able to walk from end to end in a few minutes, but with a bigger neighborhood, there are more ways innovation transportation options can be integrated.
"Ultimately our goal is to build the first car-free city in the United States," says Berens, but whether that's from scratch isn't yet clear, since he notes each project will be informed by its local context. "The goal is to create a city where everyone can access jobs and amenities without feeling like they need to own a car. Some people may still choose to own a car, but the structure of the city would be set up to enable a car-free lifestyle."
OSLO MADE ITS CITY CENTER CAR-FREE
Going a step further in the effort to prioritize pedestrians and cyclists over cars, this year the Norwegian capital removed more than 700 parking spots from its downtown area and replaced them with bike lanes, plants, tiny parks, and benches. Oslo is one of a few cities hopping on the car-free trend, and it's been working toward this goal for a few years, but 2019 marked the start of a car-free downtown. The effort doesn't only help people get around without traffic, either; it improves air quality, helps fight climate change, and enhances the quality of life.
You Might Also Like: