Brennan Center, by Michael German, "Hidden in Plain Sight: Racism, White Supremacy, and Far-Right Militancy in Law Enforcement," Facebook, Twitter, Share. SUMMARY: The government's response to known connections of law enforcement officers to violent racist and militant groups has been strikingly insufficient. August 27, 2020 – full report further down.
https://www.brennancenter.org/our-work/research-reports/hidden-plain-sight-racism-white-supremacy-and-far-right-militancy-law
https://witnessla.com/wp-content/uploads/2020/08/Marked-Draft-CJLP-Report-to-Stakeholders-re-Deputy-Gangs.pdf – 50 years of Deputy Gangs in LA County Sheriff's Department: Identifying root causes and effects to advocate for meaningful reforms – Excerpt at bottom.
**
Lawmakers Call for Investigation Into 'Violent Contingent' of LA Deputies
The Department of Justice was asked to "investigate the actions of a violent contingent of deputies" within the LASD that "adhere to white supremacist ideologies, belong to 'criminal gangs,' and engage in an 'aggressive style of policing' motivated by racism."
BY JEFFERY MARTIN ON 9/3/20 Newsweek
Some members of Congress are calling for an investigation into allegations that some deputies in the Los Angeles Sheriff's Department (LASD) belong to groups that follow white supremacist ideologies.
The request from members of the Committee on Oversight and Reform came after a wrongful death lawsuit was filed Tuesday against the county by the family of Andres Guardado, who was killed by an LASD deputy in June. In the lawsuit, it was alleged that the deputies involved in Guardado's shooting were potentially affiliated with rogue groups within the department.
In the letter, the Department of Justice was asked to "investigate the actions of a violent contingent of deputies" within the LASD that "adhere to white supremacist ideologies, belong to 'criminal gangs,' and engage in an 'aggressive style of policing' motivated by racism."
"The allegations of abusive behavior by these criminal gangs within the LASD are deeply disturbing," the letter said. "If true, they represent egregious violations of the civil rights of the residents of the communities subjected to their violence and to the deputies who oppose these heinous practices."
Jamie Raskin, the Chairman of the Subcommittee on Civil Rights and Civil Liberties, and Vice-Chair of the Committee on Oversight and Reform California Congressman Jimmy Gomez signed the letter. Eric S. Dreiband, Assistant Attorney General of the Civil Rights Division of the U.S. Department of Justice, was listed as the recipient of the letter. In a statement sent to Newsweek on Thursday, the LASD referred to the content of the letter as "filled with unsubstantiated allegations, hearsay, and inflammatory rhetoric."
"Soon after being sworn into office, Sheriff Alex Villanueva began the process of implementing a policy to sternly address these issues," the LASD said. "We take these allegations very seriously and a policy specifically addressing misconduct by illicit groups, deputy cliques, and subgroups has been briefed to the entire department and is being vigorously enforced by unit commanders. The Department is taking aggressive action in disciplining those employees that use their association in cliques to engage in misconduct against others, inside or outside the organization."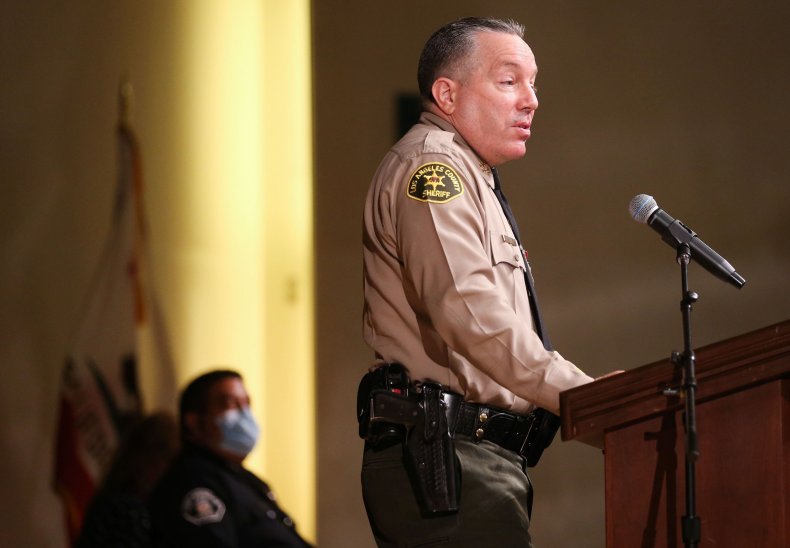 According to the statement, the FBI and Attorney General had already been asked to "monitor certain investigations with the Department," meaning the request made by the Congressmen had already placed into motion.
Officers involved in Guardado's shooting were identified as LA County Deputies Miguel Vega and Chris Hernandez. Guardado was working as a security guard at an auto shop. After Vega and Hernandez observed Guardado speaking to an individual in a vehicle that was blocking the business entrance, Guardado allegedly brandished a firearm at the deputies. After giving chase on foot down a driveway, Guardado allegedly put the gun down and lay face down. As officers approached Guardado to place in him in handcuffs, Guardado allegedly reached for the weapon. Vega then allegedly fired six shots from his sidearm, with five of those bullets striking Guardado in the back.
Vega and Hernandez were not equipped with body cameras. Surveillance footage from other businesses in the area was unavailable, according to investigators.
In August, Vega and Hernandez were described as prospective members of a gang called the Executioners in a deposition given by Deputy Austreberto Gonzalez. Gonzalez filed a claim against LA County claiming that the gang had taken control of the Compton, California division on the LASD. He also alleged that he had faced retaliation from members of the Executioners after instigating an internal investigation against another officer.
The Executioners allegedly bear tattoos such as skulls, weaponry and Nazi symbolism. Some deputies aspiring to join the gang are given new tattoos after prove their loyalty by "breaking the law or violating LASD protocol, often by committing acts of police brutality or being involved in a shooting," the letter said.
Los Angeles County Sheriff Alex Villanueva said in an August press conference that cliques like the Executioners within the LASD would not be tolerated.
"We are holding our employees accountable to the rule of law and I will not tolerate any group of employees that mistreats any member of the community or any member of the department, period," Villanueva said.
Newsweek reached out to the U.S. Department of Justice for comment.
Updated 9:59 p.m. EST 9/3/2020: This story has been updated with a statement from the Los Angeles County Sheriff's Department.
**
Compton: Violent gang of LA sheriff's deputies have Nazi tattoos, colleague claims
Tuesday 11 August 2020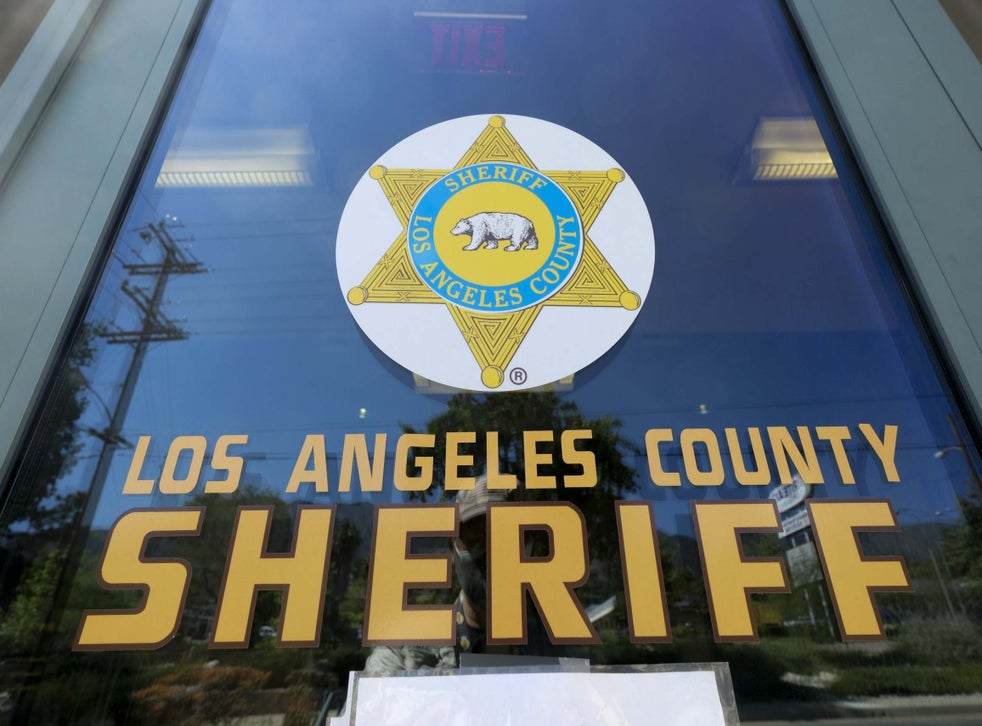 A violent gang of Los Angeles County sheriff's deputies who call themselves "The Executioners" control a patrol station in Compton through force, threats, work slowdowns and acts of revenge against those who speak out, a deputy alleges in a legal claim.
Austreberto Gonzalez, a former Marine and a sheriff's deputy since 2007, said in a notice of claim ahead of a planned lawsuit that the gang retaliated against him for months after he anonymously reported a fellow deputy for allegedly assaulting a coworker in February "to further the reputation of the gang".
Mr Gonzalez later received a text message with a photo of graffiti at the station, he said. The graffiti allegedly said, "Art is a rat".
On Tuesday, Councillor Michelle Chambers said she saw the graffiti at the station as recently as last week. It has since been removed, she said.
Ms Chambers said at a news conference that it's unacceptable Compton residents are still dealing with reports of excessive force in the wake of George Floyd's death in Minneapolis police custody last May.
Read more LAPD funding officially slashed by $150m following racism protests and LA police arrest black store owners and locals instead of looters
Ms Chambers, as well as Compton Mayor Aja Brown and City Attorney Damon Brown and others, called on the state attorney general's office and the US Department of Justice to investigate the sheriff's station. Other community members at the news conference told stories of their interactions with deputies, which ranged from disrespectful exchanges to motor vehicle stops to arrests.
Mr Gonzalez's 23 June claim was first reported by The Los Angeles Times on Thursday.
The allegations against the Compton deputies follow accusations of other gangs in the department — called the Spartans, Regulators, Grim Reapers and Banditos — that also share tattoos and a history of violence, the Times said.
Sheriff Alex Villanueva said last week during a Facebook Live event that "there is no gang of any deputies running any station". But he later issued a statement saying he takes the allegations seriously "and recently published a policy specifically addressing illicit groups, deputy cliques, and subgroups".
The statement said the issue is being investigated.
Another departmental statement, issued after the Compton news conference on Tuesday, said multiple investigations are underway — including one by the FBI.
Laura Eimiller, an FBI spokesperson, said she could not confirm or deny the existence of a potential investigation into the Compton sheriff's station.
The state attorney general's office also said "to protect its integrity, we are unable to comment on a potential or ongoing investigation".
Compton has contracted with the sheriff's department since 2000 to provide law enforcement for the city. The $22m (£16.8m) annual contract is in the third year of a five-year agreement, officials said.
Mr Gonzalez estimates that there are 20 "inked" members of the Executioners gang in the station, and another 20 who are prospective members or close associates. Members have to "earn their ink."
The "inked" members have matching tattoos — "a skull with Nazi imagery, holding an AK-47" — that indicate their affiliation with the gang, Mr Gonzalez alleged in his claim. There are no black or female members.
The deputy also accused the gang of threatening work slowdowns by disregarding radio calls or responding to them slowly, as well as instituting illegal arrest quotas, if they did not get their desired schedules or assignments.
BRENNAN CENTER AUG 2020 REPORT
Racial disparities have long pervaded every step of the criminal justice process, from police stops, searches, arrests, shootings and other uses of force to charging decisions, wrongful convictions, and sentences. footnote1_rqhi0fe1 As a result, many have concluded that a structural or institutional bias against people of color, shaped by long-standing racial, economic, and social inequities, infects the criminal justice system. footnote2_p4tgd002 These systemic inequities can also instill implicit biases — unconscious prejudices that favor in-groups and stigmatize out-groups — among individual law enforcement officials, influencing their day-to-day actions while interacting with the public.
Police reforms, often imposed after incidents of racist misconduct or brutality, have focused on addressing these unconscious manifestations of bias. The U.S. Department of Justice (DOJ), for example, has required implicit bias training as part of consent decrees it imposes to root out discriminatory practices in law enforcement agencies. Such training measures are designed to help law enforcement officers recognize these unconscious biases in order to reduce their influence on police behavior.
These reforms, while well-intentioned, leave unaddressed an especially harmful form of bias, which remains entrenched within law enforcement: explicit racism. Explicit racism in law enforcement takes many forms, from membership or affiliation with violent white supremacist or far-right militant groups, to engaging in racially discriminatory behavior toward the public or law enforcement colleagues, to making racist remarks and sharing them on social media. While it is widely acknowledged that racist officers subsist within police departments around the country, federal, state, and local governments are doing far too little to proactively identify them, report their behavior to prosecutors who might unwittingly rely on their testimony in criminal cases, or protect the diverse communities they are sworn to serve.
Efforts to address systemic and implicit biases in law enforcement are unlikely to be effective in reducing the racial disparities in the criminal justice system as long as explicit racism in law enforcement continues to endure. There is ample evidence to demonstrate that it does.
In 2017, the FBI reported that white supremacists posed a "persistent threat of lethal violence" that has produced more fatalities than any other category of domestic terrorists since 2000. footnote3_h7c51u23 Alarmingly, internal FBI policy documents have also warned agents assigned to domestic terrorism cases that the white supremacist and anti-government militia groups they investigate often have "active links" to law enforcement officials. footnote4_2h8b4m24
The harms that armed law enforcement officers affiliated with violent white supremacist and anti-government militia groups can inflict on American society could hardly be overstated. Yet despite the FBI's acknowledgement of the links between law enforcement and these suspected terrorist groups, the Justice Department has no national strategy designed to identify white supremacist police officers or to protect the safety and civil rights of the communities they patrol.
Obviously, only a tiny percentage of law enforcement officials are likely to be active members of white supremacist groups. But one doesn't need access to secretive intelligence gathered in FBI terrorism investigations to find evidence of overt and explicit racism within law enforcement. Since 2000, law enforcement officials with alleged connections to white supremacist groups or far-right militant activities have been exposed in Alabama, California, Connecticut, Florida, Illinois, Louisiana, Michigan, Nebraska, Oklahoma, Oregon, Texas, Virginia, Washington, West Virginia, and elsewhere. footnote5_62lh98d5 Research organizations have uncovered hundreds of federal, state, and local law enforcement officials participating in racist, nativist, and sexist social media activity, which demonstrates that overt bias is far too common. footnote6_3inyui06 These officers' racist activities are often known within their departments, but only result in disciplinary action or termination if they trigger public scandals.
Few law enforcement agencies have policies that specifically prohibit affiliating with white supremacist groups. Instead, these officers typically face discipline, if at all, for more generally defined prohibitions against conduct detrimental to the department or for violations of anti-discrimination regulations or social media policies. Firings often lead to prolonged litigation, with dismissed officers claiming violations of their First Amendment speech and association rights. Most courts have upheld dismissals of police officers who have affiliated with racist or militant groups, following Supreme Court decisions limiting free speech rights for public employees to matters of public concern. footnote7_4ldh0277 Courts have given law enforcement agencies even greater latitude to restrict speech and association, citing their "heightened need for order, loyalty, morale and harmony." footnote8_jg5lzx68
Some officers who have associated with militant groups or engaged in racist behavior have not been fired, however, or have had their dismissals overturned by courts or in arbitration. Such due process is required to ensure integrity and equity in the disciplinary process and protect falsely accused police officers from unjust punishments. Certainly, there will be cases where an officer's behavior can be corrected with remedial measures short of termination. But leaving officers tainted by racist behavior in a job with immense discretion to take a person's life and liberty requires a detailed supervision plan to mitigate the potential threats they pose to the communities they police, implemented with sufficient transparency to restore public trust.
Progress in removing explicit racism from law enforcement has clearly been made since the civil rights era, when Ku Klux Klan–affiliated officers were far too common. But, as Georgetown University law professor Vida B. Johnson argues, "The system can never achieve its purported goal of fairness while white supremacists continue to hide within police departments." footnote9_bn1bo659 Trust in the police remains low among people of color, who are often victims of police violence and abuse and are disproportionately underserved as victims of crime. footnote10_rhusiho10 The failure of law enforcement to adequately respond to racist violence and hate crimes or properly police white supremacist riots in cities across the United States over the last several years has left many Americans concerned that bias in law enforcement is pervasive. footnote11_hwqn2r611 This report examines the law enforcement response to racist behavior, white supremacy, and far-right militancy within the ranks and recommends policy solutions to inform a more effective response.
Inadequate Response to Affiliations with White Supremacist and Militant Groups
The FBI's 2015 Counterterrorism Policy Directive and Policy Guide warns that "domestic terrorism investigations focused on militia extremists, white supremacist extremists, and sovereign citizen extremists often have identified active links to law enforcement officers." footnote1_bpaozw812 This alarming declaration followed a 2006 intelligence assessment, based on FBI investigations and open sources, that warned of "white supremacist infiltration of law enforcement . . . by organized groups and by self-initiated infiltration by law enforcement personnel sympathetic to white supremacist causes." footnote2_naed1y713 Active links between law enforcement officials and the subjects of any terrorism investigation should raise alarms within our national security establishment, but the federal government has not responded accordingly.
The FBI and the Department of Homeland Security (DHS) have identified white supremacists as the most lethal domestic terrorist threat to the United States. footnote3_52k017n14 In recent years, white supremacists have executed deadly rampages in Charleston, South Carolina, Pittsburgh, Pennsylvania, and El Paso, Texas. footnote4_2zm1riw15 Narrowly thwarted attempts by neo-Nazis to manufacture radiological "dirty" bombs in Maine in 2009 and Florida in 2017 show their dangerous capability and intent to unleash mass destruction. footnote5_zpyn8es16 These groups also pose a lethal threat to law enforcement, as evidenced by recent attacks against Federal Protective Service officers and sheriff's deputies in California by far-right militants intent on starting the "Boogaloo" — a euphemism for a new civil war — which killed two and injured several others. footnote6_5i5w6ou17
Any law enforcement officers associating with these groups should be treated as a matter of urgent concern. Operating under color of law, such officers put the lives and liberty of people of color, religious minorities, LGBTQ+ people, and anti-racist activists at extreme risk, both through the violence they can mete out directly and by their failure to properly respond when these communities are victimized by other racist violent crime. Biased policing also tears at the fabric of American society by undermining public trust in equal justice and the rule of law.
The FBI's 2006 assessment, however, takes a narrower view. It claims that "the primary threat" posed by the infiltration or recruitment of police officers into white supremacist or other far-right militant groups "arises from the areas of intelligence collection and exploitation, which can lead to investigative breaches and can jeopardize the safety of law enforcement sources or personnel." footnote7_9cwhmhx18 Though the FBI redacted significant passages of the assessment before releasing it to the public, the document does not appear to address any of the potential harms these bigoted officers pose to communities of color they police or to society at large. Rather, it identifies the main problem as a risk to the integrity of FBI investigations and the security of its agents and informants.
In a June 2019 hearing before the House Committee on Oversight and Reform, Rep. William Lacy Clay (D-MO) asked Michael McGarrity, the FBI's assistant director for counterterrorism, whether the bureau remained concerned about white supremacist infiltration of law enforcement since the publication of the 2006 assessment. McGarrity indicated he had not read the 2006 assessment. footnote8_0wirx8z19
When asked more generally about the issue, McGarrity said he would be "suspect" of white supremacist police officers, but that their ideology was a First Amendment–protected right. The 2006 assessment addresses this concern, however, correctly summarizing Supreme Court precedent on the issue: "Although the First Amendment's freedom of association provision protects an individual's right to join white supremacist groups for the purposes of lawful activity, the government can limit the employment opportunities of group members who hold sensitive public sector jobs, including jobs within law enforcement, when their memberships would interfere with their duties." footnote9_gjmcoiz20
More importantly, the FBI's 2015 counterterrorism policy, which McGarrity was responsible for implementing, indicates not just that members of law enforcement might hold white supremacist views, but that FBI domestic terrorism investigations have often identified "active links" between the subjects of these investigations and law enforcement officials. Its proposed remedy is stunningly inadequate, however. The guide simply instructs agents to use the "silent hit" feature of the Terrorist Screening Center watchlist so that police officers searching for themselves or their white supremacist associates could not ascertain whether they were under FBI scrutiny.
While it is important to protect the integrity of FBI terrorism investigations and the safety of law enforcement personnel, Congress has also tasked the FBI with protecting the civil rights of American communities often targeted with discriminatory stops, searches, arrests, and brutality at the hands of police officers. The issue in these cases isn't ideology but law enforcement connections to subjects of active terrorism investigations. It is unlikely that the FBI would be similarly hesitant to act if it received information that U.S. law enforcement officials were actively linked to terrorist groups like al-Qaeda or ISIS, or to criminal organizations like street gangs or the Mafia. Yet many of the white supremacist groups investigated by the FBI have longer and more violent histories than these other organizations. The federal response to known connections of law enforcement officers to white supremacist and far-right militant groups has been strikingly insufficient.
A Long History of Law Enforcement Involvement in White Supremacist Violence
White supremacy was central to the founding of the United States, sanctified in law and practice. It was the driving ideology behind the European colonization of North America, the subjugation of Native Americans, and the enslavement of kidnapped Africans and their descendants. Policing in the early American colonies was often less about crime control than maintaining the racial social order, ensuring a stable labor force, and protecting the property interests of the white privileged class. Slave patrols were among the first public policing organizations formed in the American colonies. footnote1_osenkzk21 Put simply, white supremacy was the law these earliest public officials were sworn to enforce. Even states such as New York, Pennsylvania, Ohio, Indiana, and Illinois that banned slavery enacted racist "Black laws," which restricted travel and denied civil rights regarding voting, education, employment, and even residency for free Black people. footnote2_5k80q9f22 The U.S. Congress passed the Fugitive Slave Act of 1850, which required law enforcement officials in free states to return escaped slaves to their enslavers in the South. footnote3_0x84tjw23
When slavery was finally abolished in the United States after the Civil War, de jure white supremacy lived on through Black codes and Jim Crow laws. In 1882, Congress passed the Chinese Exclusion Act, an openly racist law halting Chinese immigration and denying naturalization to Chinese nationals already living in the United States. footnote4_jb0276724 The Immigration Act of 1924 was also explicitly racist, codifying strict national origin quotas to limit Italian, eastern European, and nonwhite immigration. The law barred all immigration from Japan and other Asian countries not already excluded by previous legislation. footnote5_c6n299y25
As the United States expanded westward, government agents enforced policies of violent ethnic cleansing against Native Americans and Mexican Americans. In the early 20th century, Texas Rangers led lynching parties that targeted Mexican Americans residing in Texas border towns on specious allegations of banditry. footnote6_33hf7n026 Where the laws were deemed insufficient to dissuade nonwhites and non-Protestants from exercising their civil rights, reactionary groups such as the Ku Klux Klan used terrorist violence to enforce white supremacy. Law enforcement officials often participated in this violence directly or supported it by refusing to fulfill their duty to protect the peace and hold lawbreakers to account. By the 1920s, the KKK alone claimed 1 million members nationwide from New England to California, and had fully infiltrated federal, state, and local governments to advance its exclusionist agenda. footnote7_92ti21f27
Many states outside the Deep South maintained "sundown towns" where police officers and vigilante mobs enforced official and quasi-official policies prohibiting Black (and often other nonwhite) people from remaining in town past sunset. footnote8_7izqq4q28 Into the 1970s, there were an estimated 10,000 sundown towns across the United States. footnote9_8jc4h2n29 Police enforcement of white supremacy was never just a regional problem.
Hidden in Plain Sight
In 1964, civil rights workers James Chaney, Andrew Goodman, and Michael Schwerner went missing in Mississippi during the Freedom Summer voter registration drive, shortly after being released from a Philadelphia, Mississippi, jail where they had been taken to pay a speeding fine. footnote1_zh8mz2f30 President Lyndon Johnson ordered FBI Director J. Edgar Hoover to send FBI agents to find them. Searchers found the bodies of eight black men, including two college students who were working on the voter registration drive, before an informant's tip finally led the agents to an earthen dam where Chaney, Goodman, and Schwerner were buried. After local law enforcement refused to investigate the murders, the Justice Department charged 19 Ku Klux Klansmen with conspiring to violate Chaney, Goodman, and Schwerner's civil rights. Two current and two former law enforcement officials were among those charged. An all-white jury convicted seven of the Klansman but only one of the law enforcement officers. footnote2_td9wqp531
While the Mississippi Burning case was the most notorious, it was far from the last time white supremacist law enforcement officers engaged in racist violence. There is an unbroken chain of law enforcement involvement in violent, organized racist activity right up to the present. In the 1980s, the investigation of a KKK firebombing of a Black family's home in Kentucky exposed a Jefferson County police officer as a Klan leader. In a deposition, the officer admitted that he directed a 40-member Klan subgroup called the Confederate Officers Patriot Squad (COPS), half of whom were police officers. He added that his involvement in the KKK was known to his police department and tolerated so long as he didn't publicize it. footnote3_n4cr79d32
In the 1990s, Lynwood, California, residents filed a class action civil rights lawsuit alleging that a gang of racist Los Angeles County sheriff's deputies known as the Lynwood Vikings perpetrated "systematic acts of shooting, killing, brutality, terrorism, house-trashing and other acts of lawlessness and wanton abuse of power." footnote4_17s73sr33 A federal judge overseeing the case labeled the Vikings "a neo-Nazi, white supremacist gang" within the sheriff's department that engaged in racially motivated violence and intimidation against the Black and Latino communities. In 1996, the county paid $9 million in settlements. footnote5_34xnkfb34
Recent reporting suggests this overtly racist gang activity within the sheriff's department continues. footnote6_d1x0j8w35 In 2019, Los Angeles County paid $7 million to settle a wrongful death lawsuit against two sheriff's deputies for shooting an unarmed Black man after testimony revealed that they were part of a group of deputies with matching tattoos in the tradition of earlier deputy gangs. A pending lawsuit accuses the same two officers of beating an unarmed Black man while yelling racial epithets. footnote7_ypgb6ke36 A Los Angeles County Board of Supervisors investigation revealed that almost 60 lawsuits against alleged members of deputy gangs have cost the county about $55 million, which includes $21 million in cases over the last 10 years. These deputy gangs pose a threat to their fellow law enforcement officers as well, according to two recently filed lawsuits. In one, a deputy alleges he had been bullied by deputy gang members for five years, and finally viciously beaten by the gang's enforcer. footnote8_knqd87g37 In another, a deputy who witnessed the attack alleged he suffered threats and retaliation from deputy gang members after reporting it to an internal affairs tip line. footnote9_mon8udx38 In 2019, the FBI reportedly initiated a civil rights investigation regarding gang activity at the sheriff's department. footnote10_33m3ed339
Only rarely do these cases lead to criminal charges. In 2017, Florida state prosecutors convicted three prison guards of plotting with fellow KKK members to murder an inmate. footnote11_zb11w2r40 Federal prosecutions are even rarer. In 2019, the Justice Department charged a New Jersey police chief with a hate crime for assaulting a Black teenager during a trespassing arrest after several of his deputies recorded his numerous racist rants. This incident marked the first time in more than a decade that federal prosecutors charged a law enforcement official for an on-duty use of force as a hate crime. footnote12_xdn7tb141 A jury convicted the police chief of lying to FBI agents but was unable to reach a verdict on the hate crime charge, which prosecutors vowed to retry. footnote13_553cp3g42
More often, police officers with ties to white supremacist groups or overt racist behavior are subjected to internal disciplinary procedures rather than prosecution. In 2001, two Texas sheriff's deputies were fired after they exposed their KKK affiliation in an attempt to recruit other officers. footnote14_eo069qw43 In 2005, an internal investigation revealed a Nebraska state trooper was participating in a members-only KKK chat room. footnote15_h5b7c4n44 He was fired in 2006 but won his job back in an arbitration mandated by the state's collective bargaining agreement. On appeal, the Nebraska Supreme Court upheld his dismissal, determining that the arbitration decision violated "the explicit, well-defined, and dominant public policy that laws should be enforced without racial or religious discrimination, and the public should reasonably perceive this to be so." footnote16_fo3nc6g45 Three police officers in Fruitland Park, Florida, were fired or chose to resign over a five-year period from 2009 to 2014 after their Klan membership was discovered. footnote17_89gfzef46 In 2015, a Louisiana police officer was fired after a photograph surfaced showing him giving a Nazi salute at a Klan rally. footnote18_qjxbhbw47
In 2019, a police officer in Muskegon, Michigan, was fired after prospective homebuyers reported prominently displayed Confederate flags and a framed KKK application in his home. The police department conducted an investigation into potential bias, examining the officer's traffic citation rate and reviewing an earlier internal affairs investigation into an excessive force complaint and two previous on-duty shootings, each of which were found justified. (The investigation uncovered a third, previously unreported shooting in another jurisdiction that was not further described). footnote19_lq7wg6148 Although the internal investigation documented the officer citing Black drivers at a higher rate than the demographic population in the district he patrolled, it determined that the officer was not a member of the KKK and had shown no racial bias on the job. Still, the report concluded that the community had lost faith in the officer as a result of the incident, and the police department fired him. footnote20_exyeojr49 The officer settled a grievance he filed with the Police Officers Labor Council regarding his termination, agreeing to retire in exchange for his full pension and health insurance. footnote21_8zg79y150
In June 2020, three Wilmington, North Carolina, police officers were fired when a routine audit of car camera recordings uncovered conversations in which the officers used racial epithets, criticized a magistrate and the police chief in frankly racist terms, and talked about shooting Black people, including a Black police officer. One officer said that he could not wait for a declaration of martial law so they could go out and "slaughter" Black people. He also announced his intent to buy an assault rifle in preparation for a civil war that would "wipe 'em off the [expletive] map." The officers confirmed making the statements on the recording, but they claimed that they were not racist and were simply reacting to the stress of policing the protests following the killing of George Floyd. In addition to the officers' dismissal, the police chief ordered his department to confer with the district attorney to review cases in which the officers appeared as witnesses for evidence of bias against offenders. footnote22_wpuodby51
In July 2020, four police officers in San Jose, California, were suspended pending investigation into their participation in a Facebook group that regularly posted racist and anti-Muslim content. In a post about the Black Lives Matter protests, one officer reportedly responded, "Black lives really don't matter." In a positive development, the San Jose Police Officers' Association president vowed to withhold the union's legal and financial support from any officer charged with wrongdoing in the matter, stating that "there is zero room in our department or our profession for racists, bigots or those that enable them." footnote23_0qaefkp52
In some cases, law enforcement officials who detect white supremacist activity in their ranks take no action unless the matter becomes a public scandal. For example, in Anniston, Alabama, city officials learned in 2009 of a police officer's membership in the League of the South, a white supremacist secessionist group. The police chief, however, determined that the officer's membership in the group did not affect his performance and allowed him to remain on the job. In the following years the officer was promoted to sergeant and eventually lieutenant. footnote24_80u1e0d53 It wasn't until 2015, after the Southern Poverty Law Center published an article about a speech he had given at a League of the South conference in which he discussed his recruiting efforts among other law enforcement officers, that the police department fired him. footnote25_pb9sjik54 A second Anniston police lieutenant found to have attended the same League of the South rally was permitted to retire. The fired officer appealed his dismissal. After a three-day hearing, a local civil service board upheld his removal. The officer then filed a lawsuit alleging that his firing violated his First Amendment free speech and association rights, but a federal court affirmed the termination.
The Anniston example demonstrates the need for transparency, public accountability, and compliance with due process to successfully resolve these cases. The Anniston Police Department and city officials knew about these officers' problematic involvement in a racist organization for years, but it took public pressure to finally compel action. They then responded correctly, in awareness of the public scrutiny, by dismissing the officer in a manner that provided the due process necessary to withstand judicial review. The department then implemented a policy requiring police officers to sign a statement affirming that they are not members of "a group that will cause embarrassment to the City of Anniston or the Anniston police department." footnote26_medb20t55 It requested conflict resolution training from the DOJ Community Relations Service. These were positive steps to begin rebuilding public trust. But as in many of these cases, during the nine years when avowed white supremacist police officers served in the Anniston Police Department (including in leadership positions), there was not a full evaluation or public accounting of their activities. The Alabama NAACP requested that the DOJ and U.S. attorney examine the officers' previous cases for potential civil rights violations, but there is no evidence that either ever initiated such an investigation. footnote27_8d34fs756 This decision forfeited another opportunity to restore public confidence in law enforcement.
Unfortunately, there is no central database that lists law enforcement officers fired for misconduct. As a result, some police officers dismissed for involvement in racist activity are able to secure other law enforcement jobs. footnote28_x07oc8q57 In 2017, the police chief in Colbert, Oklahoma, resigned after local media reported his decades-long involvement with neo-Nazi skinhead groups and his ownership of neo-Nazi websites. footnote29_h81507p58 A neighboring Oklahoma police department hired him the following year, claiming he had renounced his previous racist activities and held a clean record as a police officer. footnote30_2jx7gq159
In 2018, the Greensboro, Maryland, police chief was charged with falsifying records to hire a police officer who had previously been forced to resign from the Dover, Delaware, police department after he kicked a Black man in the face and broke his jaw. The same officer was later involved in the death of an unarmed Black teenager, which sparked an investigation that revealed 29 use of force reports at his previous job, including some that found he used unnecessary force. The previous incidents were never reported to the Maryland police certification board. footnote31_zk9efac60
Prosecutors have an important role in protecting the integrity of the criminal justice system from the potential misconduct of explicitly racist officers. The landmark 1963 Supreme Court ruling in Brady v. Maryland requires prosecutors and the police to provide criminal defendants with all exculpatory evidence in their possession. footnote32_u344o5261 A later decision in Giglio v. United States expanded this requirement to include the disclosure of evidence that may impeach a government witness. footnote33_ue944t362 Prosecutors keep a register of law enforcement officers whose previous misconduct could reasonably undermine the reliability of their testimony and therefore would need to be disclosed to defense attorneys. This register is often referred to as a "Brady list" or "no call list."
Georgetown Law Professor Vida B. Johnson has argued that evidence of a law enforcement officer's explicitly racist behavior could reasonably be expected to impeach his or her testimony. footnote34_bsa7m1r63 Prosecutors, therefore, should be required to include these officers on Brady lists to ensure defendants they testify against have access to the potentially exculpating evidence of their explicitly racist behavior. This reform would be an important measure in blunting the impact of racist police officers on the criminal justice system. In 2019, progressive St. Louis prosecutor Kimberly Gardner placed all 22 of the St. Louis police officers that the Plain View Project identified as posting racist content on Facebook on her office's no call list. footnote35_zm06s1564
Lack of Mitigation Policies to Protect Communities Against Biased Police Officers
The process required to properly address a police officer's known identification with groups like the KKK or neo-Nazi skinheads, which have decades-long histories of violence, might seem arduous, but these are actually the easy cases. Far more frequently, law enforcement officers express bias in ways that are more difficult for police administrators to navigate.
New white supremacist organizations and other far-right militant groups can often form extemporaneously, then splinter, change names, and employ disinformation campaigns to mask their illicit activities, which makes it difficult to determine whether an officer's affiliation with a particular group presents a conflict with law enforcement obligations or not. For instance, sheriff's deputies in Washington State and Louisiana were fired in 2018 for publicly supporting and joining the Proud Boys, a far-right "Western chauvinist" fight club founded in 2016 that disavows racism but often acts in concert with white supremacist groups during violent rallies. footnote1_gwz7sk465 The East Hampton, Connecticut, police department came to a different conclusion about such an affiliation in 2019, however, and determined that an officer who joined the Proud Boys and paid membership fees did not violate department policies and would face no discipline. (The officer claimed to have left the group.) footnote2_k2mxhi166
Other law enforcement officials do not associate with white supremacist groups, but engage in overtly racist activities in public, on social media, or over law enforcement–only communication channels and internet chat rooms. In a 2019 report, the Plain View Project documented 5,000 patently bigoted social media posts by 3,500 accounts identified as belonging to current and former law enforcement officials. The report sparked dozens of investigations across the country. footnote3_3x5xqoi67 The Philadelphia Police Department, for example, placed 72 officers on administrative duties pending an investigation into their racist social media activity, ultimately suspending 15 with intent to dismiss. Other officers will face disciplinary action, including suspensions, but will remain on the force. footnote4_1itz3et68 Thirteen of 25 Dallas police officers investigated for objectionable social media postings received disciplinary actions ranging from counseling to suspensions without pay. footnote5_q1o6lfl69 Only 2 of the 22 current St. Louis police officers identified in the report were terminated. footnote6_mxq4fmg70 The St. Louis prosecutor placed all 22 of them on a list of police officers that her office would not call as witnesses, however. footnote7_tqy5pcq71
The San Francisco Police Department attempted to fire nine officers whose overtly racist, homophobic, and misogynistic text messages were uncovered in a 2015 FBI police corruption investigation. After years of litigation, the California Supreme Court finally rejected the officers' appeal in 2018, which paved the way for disciplinary action to proceed. footnote8_qk9bai872 As the case was pending, five other San Francisco police officers were found to have engaged in racist and homophobic texting, at times mocking the investigation of the earlier texts. footnote9_iqgbu9k73 It is perhaps unsurprising then that in 2016 the Justice Department determined that San Francisco police officers stopped, searched, and arrested Black and Hispanic people at greater rates than white people even though they were less likely to be found carrying contraband. footnote10_y9szzrb74 In a positive development, when the texting scandal broke in 2015, the San Francisco district attorney established a task force to review 3,000 criminal prosecutions that used testimony by the offending officers, dismissing some cases and alerting defense attorneys to potential problems in others. footnote11_0457nzm75
In 2019, an internal U.S. Customs and Border Protection investigation revealed that 62 Border Patrol agents, including the agency's chief, participated in a secret Facebook group that included racist, nativist, and misogynistic material, including threats to members of Congress. footnote12_rn2264b76 It is unclear whether disciplinary measures have been taken against these agents. The Border Patrol has tacitly supported vigilante activities by border militia groups on the Southwest border that have demonstrated a propensity for illegal violence over many years. footnote13_pnfzza777
Four Jasper, Alabama, police officers received two-week suspensions for making an "OK" hand signal in a group photograph after a drug bust. The controversial gesture signifies "white power" in the far-right subculture, but is also innocuous and commonplace in other contexts, which provides those who use it with cover to claim benign intentions. footnote14_059027m78 In the context of the photograph, the intent of the gesture was clear, but the officers were allowed to remain on the job. footnote15_k0q0tw279 The mayor of Jasper suggested that the department may require diversity training in the future. footnote16_1ix1ewz80
There are cases when an officer's conduct may indicate bias but does not necessarily justify termination, perhaps because of unclear policies. A photograph of a tattoo on the bare forearm of a Philadelphia police officer caused controversy when observers noted that it resembled Nazi iconography. The officer claimed he was not a Nazi and that the tattoo, which included a stylized eagle and the word "Fatherland," simply represented his German heritage. footnote17_c76yu6g81 The department, which lacked a specific tattoo policy, cleared the officer of wrongdoing. It subsequently adopted a policy prohibiting "offensive, extremist, indecent, racist or sexist [tattoos] while on duty." The officer in question was grandfathered in and allowed to remain on the job despite the tattoo, though he agreed to cover it while working. Previously published material linking the officer to a neo-Nazi group was reportedly not considered during the investigation, which determined that he had never "expressed any racial bias on the job." footnote18_f3c9uff82 The officer's patrol duties were not altered, leaving members of the community concerned.
When a police department fails to address allegations of officer involvement in white supremacist activities in a timely and transparent manner, it can undermine the public's perceptions of an entire department, particularly when use of force issues arise. For example, in Portland, Oregon, the National Lawyers Guild filed an excessive force lawsuit against a police officer who pepper-sprayed nonviolent antiwar protesters, including children and a TV camerawoman, in 2002 and 2003. footnote19_layzmmu83 The city of Portland paid $300,000 to settle the lawsuit, but the officer was not disciplined and instead received a promotion. During the lawsuit, however, a whistleblower came forward and alleged that as a young man, the officer was an Adolf Hitler admirer who publicly shouted racist and homophobic rhetoric, vandalized property with Nazi graffiti, dressed in Nazi uniforms, and collected Nazi memorabilia. footnote20_s1psfhe84 A second longtime friend of the officer later confirmed these allegations and contended that the officer had maintained his Nazi ideology while working at the Portland Police Bureau. He provided evidence that the officer had, while working for the police department, illegally erected a memorial to five Nazi soldiers, including one SS officer suspected of war crimes, in a public park. footnote21_xy3in2c85 The officer dismantled the shrine and someone reportedly stashed the plaque in the Portland city attorney's office, where it remained undiscovered until after the brutality lawsuit had concluded. The officer later claimed that he was not a Nazi but just a "history geek." footnote22_pmagsmr86
In 2010, the Portland Police Bureau suspended the officer for two weeks for erecting the Nazi shrine. footnote23_tm9o3nk87 However, Portland rescinded this disciplinary action in 2014 in order to settle a defamation lawsuit the officer had filed against a superior who called him a Nazi. footnote24_uo2s9ln88 The officer then continued to be promoted to positions of authority within the bureau.
This history became relevant because the Portland Police Bureau was again accused of bias in its response to a series of violent rallies instigated by far-right militants and white supremacist groups from 2016 through 2019. Portland police and DHS agents appeared inappropriately sympathetic to violent members of the far-right groups, while conducting mass arrests and indiscriminately using less-lethal munitions against antiracist and antifascist counterprotesters. footnote25_mlqg2pk89 DHS officers were captured on video soliciting the assistance of militia members to arrest antiracist protesters. footnote26_u52sj4q90
A draft report of an Independent Police Review investigation into the bureau's response to the rallies appeared to substantiate these concerns. It quoted a police lieutenant who "felt the right-wing protesters were 'much more mainstream' than the left-wing protesters." footnote27_uozg2wl91 Allegations of the bureau's bias surfaced again when Willamette Week, Portland's alternative weekly newspaper, published friendly text messages between a Portland Police Bureau lieutenant and the out-of-state leader of a far-right group whose members had engaged in violence at these rallies. The texts included advice on how one member with an active warrant could avoid arrest and details about the movements of opposing groups. footnote28_o5l4c5b92 The bureau later claimed the texts were intended to gather intelligence and cooperation from the far-right group to prevent violence at the rallies. footnote29_al8fdsj93 The FBI brought no charges even though several of the violent far-right militants had traveled interstate in order to engage in the rallies.
In May 2019, the Portland City Council hired a private police auditing company to conduct an independent investigation of the police bureau's response to the far-right protests. footnote30_kbonnte94 To date, the auditing company has held no public hearings and issued no progress reports.
The Portland Police Bureau was not the only law enforcement agency criticized for its apparent bias as white supremacists and far-right militants engaged in violent protests around the country. California Highway Patrol investigators treated neo-Nazi skinheads who stabbed antiracist counterprotesters at a 2016 Sacramento rally as victims and sought their cooperation in investigating the counterprotesters and a wounded Black journalist. footnote31_l4kxdxf95 Police in Anaheim, California, arrested seven antiracism protesters at a KKK rally in 2016, but did not charge the Klansman who stabbed three people. footnote32_wh67wy896
In Huntington Beach, California, park police refused to investigate the battery of OC Weekly journalists by members of the white supremacist Rise Above Movement at a 2017 pro–Donald Trump march, citing a lack of resources. The Orange County district attorney did, however, prosecute an antifascist protester who attempted to defend the journalists by slapping one of the white supremacist attackers. footnote33_qo5f0d297 The FBI later charged four members of the Rise Above Movement for engaging in violence at a series of riots, including the Huntington Beach attack, but a federal judge dismissed the charges, arguing that the 50-year-old Anti-Riot Act was unconstitutional. footnote34_w76m4pg98
In 2019, a group of Proud Boys in Washington, DC, disrupted a permitted flag burning by members of a communist group in front of the White House, instigating a scuffle. DC police arrested two of the communists but escorted the Proud Boys away. Some officers fist-bumped them as they later walked into a bar. An investigation determined that the officers had not violated any police policies. footnote35_w9i72n099
Justice Department Shirks Its Duty to Police Law Enforcement Misconduct
Not only does the U.S. Justice Department fail to properly prioritize investigations of white supremacist violence and hate crimes, it also fails to utilize all necessary resources to address police violence and racism. footnote1_q445q2i100 Federal prosecutors declined to prosecute 96 percent of FBI civil rights investigations involving police misconduct from 1995 to 2015, turning down more than 12,700 complaints, according to a Reuters analysis of DOJ records. footnote2_6w9i2zd101
Federal prosecutors do face a high evidentiary bar when bringing criminal cases against law enforcement officials, which require proof that the officers willfully intended to violate the victim's civil rights in their use of force. footnote3_znbgkbe102 It is not enough to prove that an officer's intentional use of excessive force resulted in a denial of a victim's constitutional rights. The civil rights statute that covers police brutality, 18 U.S.C. § 242, requires prosecutors to prove that police officers intended to use excessive force and that they did so with the specific intent to violate the victim's constitutional rights. footnote4_ixyy1lo103
The Justice Department has been delinquent in gathering data about overtly racist police conduct. The lack of a federal database that tracks this type of misconduct or membership in white supremacist or far-right militant groups makes discovering evidence of intent more difficult. The FBI only began collecting data on law enforcement use of force in 2018, after Black Lives Matter and other police accountability groups pushed for more federal oversight of police violence against people of color. footnote5_ne8ak9e104 This is a positive step, but the data relies on voluntary reporting by law enforcement agencies, a methodology which has led to serious deficiencies in hate crime reporting.
In addition to criminal penalties, the Justice Department also has the authority under 42 U.S.C. § 14141 and § 3789d(c)(3) to bring civil suits against law enforcement agencies if it can demonstrate a "pattern or practice" of civil rights violations. footnote6_5mcd5wx105 Civil suits have a lower evidentiary bar, but they target department-wide problems rather than individual officers' misconduct. These cases often reach settlement agreements or "consent decrees," which provide for a period of DOJ oversight of agreed upon reform efforts. The Obama administration opened 20 pattern and practice investigations of police departments, doubling the number initiated by the Bush administration, and entered into at least 14 consent decrees with police agencies. footnote7_f54amh9106 The Justice Department has not developed metrics to evaluate the effectiveness of these efforts in curbing police violence or civil rights abuses, however. footnote8_778jibg107
The Trump administration abandoned police reform efforts championed by Obama's Justice Department. Attorney General Jeff Sessions ordered a review of civil rights pattern and practice cases and, on his last day in office, signed a memo establishing more stringent requirements for Justice Department attorneys seeking to open them, which limited the utility of this tool in curbing systemic police misconduct. footnote9_9wxhww1108 Sessions also killed a program operated by the DOJ Office of Community Oriented Policing Services that evaluated police department practices and offered corrective recommendations in a more collaborative way that avoided litigation. Attorney General William Barr has indicated similar disdain for law enforcement oversight, once threatening that communities that do not give support and respect to law enforcement "might find themselves without the police protection they need." footnote10_4fy0eh0109
The Justice Department offers civil rights and implicit bias training to law enforcement and often mandates it in consent decrees following pattern and practice lawsuits. While this training may be important to help sensitize law enforcement to unconscious bias, its effectiveness in curbing police bias remains unproven. footnote11_3ka4yer110 An obvious deficiency in implicit training sessions is the failure to address overt racism and white supremacy within law enforcement. A police trainer quoted in The Atlantic said overt racism is "just something that you don't admit. . . . If we admit that, then what does it mean about how we serve the public?" footnote12_94m90po111 Another told The Forward, "If [antibias training] is not presented in a very nimble way, officers will assume that what you're saying is that officers are racist. . . . In my experience, that has tended to close officers up to whatever content you provide." A third trainer told MSN.com, "When they walk into the classroom, the officers are somewhere between defensive and downright hostile. They think we're gonna shake our fingers at them and call them racist." Some studies suggest that implicit bias training can even be counterproductive by reinforcing racial stereotypes. footnote13_hhu6sia112
During the June 2019 House oversight committee hearing discussed earlier in this report, Representative Clay asked Deputy Assistant Director Calvin Shivers, who manages the FBI's civil rights section, whether the bureau provides any resources or training to state and local police departments to help them identify white supremacists attempting to infiltrate their agencies. footnote14_ifn1iu0113 Shivers said the training that the FBI's civil rights section provides to law enforcement is focused on helping them identify hate crimes that may occur within their jurisdictions. He did not identify any training focused on identifying and weeding out officers who actively participate in white supremacist and far-right militant groups.
The continued presence of even a small number of far-right militants, white supremacists, and other overt racists in law enforcement has an outsized impact on public safety and on public trust in the criminal justice system and cannot be ignored. Leaving individual agencies to police themselves in a piecemeal fashion has not proven effective at restoring public confidence in law enforcement. Instead, there should be a comprehensive plan — one that involves federal, state, and local governments — to ensure that law enforcement agencies do not tolerate overtly racist conduct. The final section of this paper proposes several recommendations to include in such a plan.
Protest Policing Reveals Law Enforcement Bias
The police response to nationwide protests that followed the murder of George Floyd in May 2020 includes a number of officers across the country flaunting their affiliation with far-right militant groups. A veteran sheriff's deputy monitoring a Black Lives Matter protest in Orange County, California, was photographed wearing patches with logos of the Three Percenters and the Oath Keepers — far-right militant groups that often challenge the federal government's authority — affixed to his bulletproof vest. After an activist group publicized the photograph, the sheriff said it was "unacceptable" for the deputy to wear the patches and placed him on administrative leave pending an investigation. footnote1_15sjzuz114
A 13-year veteran of the Chicago Police Department is under investigation after photographs surfaced that showed him wearing a face covering with a Three Percenters' logo while on duty at a protest, though a supervisor was pictured with him at the scene and apparently did not complain. footnote2_qseqica115 The officer had reportedly been the subject of several previous misconduct lawsuits, including an excessive use of force suit following a nonfatal shooting. The city of Chicago paid $400,000 to settle those suits.
In Salem, Oregon, a police officer was recorded on video asking heavily armed white men dressed like militia to step inside a building or sit in their cars while the police arrested protesters for failing to comply with curfew orders, "so we don't look like we're playing favorites." After a public outcry, the Salem police chief apologized for the appearance of favoritism, but determined the officer was only trying to gain the militants' compliance with the curfew. footnote3_bx7qptc116
A police officer in Olympia, Washington, was placed under investigation for posing in a photograph with a heavily armed militia group called Three Percent of Washington. One of the militia members posted the photograph on social media, claiming that the officer and her partner had come over to thank them as they guarded a local shopping center. footnote4_74rx2l5117
In Philadelphia, police officers stood by and failed to intervene when mostly white mobs armed with bats, clubs, and long guns attacked journalists and protesters. footnote5_39ldnfw118 The district attorney has vowed to investigate the matter. The following month, however, Philadelphia police officers openly socialized with several men wearing Proud Boys regalia and carrying a Proud Boys flag at a "Back the Blue" party at the Fraternal Order of Police Lodge. footnote6_33m2b85119
The affinity some police officers have shown for armed far-right militia groups at protests is confounding given that many states, including California, Illinois, Oregon, Pennsylvania, and Washington, have laws barring unregulated paramilitary activities. footnote7_5sj1zmr120 And it is most troubling because far-right militants have often killed police officers. The overlap between militia members and the Boogaloo movement — whose adherents have been arrested for manufacturing Molotov cocktails in preparation for an attack at a Black Lives Matter protest in Nevada, inciting a riot in South Carolina, and shooting, bombing, and killing police officers in California — highlights the threat that police engagement with these groups poses to their law enforcement partners. footnote8_etmsth3121
Recommendations
Federal, State, and Local Law Enforcement Agencies
The failure of federal, state, and local law enforcement agencies to aggressively respond to evidence of explicit racism among police officers undermines public confidence in fair and impartial law enforcement. Worse, it signals to white supremacists and far-right militants that their illegal acts enjoy government approval and authorization, making them all the more brazen and dangerous. Winning back public trust requires transparent and equal enforcement of the law, effective oversight, and public accountability that prioritizes targeted communities' interests.
Where police officers are found to be involved in white supremacist or far-right militant activities, racist violence, or related misconduct, police departments should initiate mitigation plans designed to ensure public safety and uphold the integrity of the law. Mitigation plans could include referrals to prosecutors, dismissals, other disciplinary actions, limitations of assignments to reduce potentially problematic contact with the public, retraining, and intensified supervision and auditing. Law enforcement officials and prosecutors have an obligation to provide defendants exculpating information in their possession, including information about police witnesses' misconduct that may reasonably impeach their testimony. Prosecutors should include officers known to have engaged in overtly racist behavior to Brady lists. footnote1_r7edl4b122 These lists should be shared among federal, state, and local prosecutors' offices to ensure fair trials for all defendants in all jurisdictions.
The most effective way for law enforcement agencies to restore public trust and prevent racism from influencing law enforcement actions is to prohibit individuals who are members of white supremacist groups or who have a history of explicitly racist conduct from becoming law enforcement officers in the first place, or from remaining officers once bias is demonstrated. All law enforcement agencies should do the following:
Establish clear policies regarding participation in white supremacist organizations and other far-right militant groups, and on overt and explicit expressions of racism — with specificity regarding tattoos, patches, and insignia as well as social media postings. These policies should be properly vetted by legal counsel to ensure compliance with constitutional rights, state and local laws, and collective bargaining agreements, and they must be clearly explained to staff.
Hire a diverse workforce to more accurately reflect the demographic makeup of the communities the agency serves, and promote them fairly through the ranks.
Establish mitigation plans when biased police officers are detected. Mitigation plans could include referrals to internal affairs, local prosecutors, or the DOJ for investigation and prosecution; termination or other disciplinary action; limitations of assignments to reduce potentially problematic contact with the public; retraining; and intensified supervision and auditing.
Establish reporting mechanisms to ensure evidence of overtly racist behavior by a police officer is provided to prosecutors and employ Brady lists or similar reporting mechanisms to ensure defendants receive notice.
Encourage whistleblowing and protect whistleblowers.
Federal Government
The Justice Department has acknowledged that law enforcement involvement in white supremacist and far-right militia organizations poses an ongoing threat, but it has not produced a national strategy to address it. Not only has the department failed to prosecute police officers involved in patently racist violence, it has only recently begun collecting national data regarding use of force by law enforcement officials. footnote2_og5eeel123
Congress should direct the Justice Department to do the following:
Immediately establish a working group to examine law enforcement associations with white supremacist and other far-right militant groups to assess the scope and nature of the problem in a report to Congress.
Develop an evidence-based national strategy based on this review, designed to protect the security and civil liberties of communities policed by law enforcement officers who are active in white supremacist or far-right militant organizations. A national strategy will ensure U.S. attorneys and FBI offices across the country properly prioritize these investigations and harmonize their tactics to guarantee equal justice for all. The national strategy should include data and metrics to evaluate the effectiveness of the methodologies it employs.
Require the FBI to survey its domestic terrorism investigations involving white supremacists and other overtly racist or fascist militant groups to document and report to the DOJ all indications of active links between these groups and law enforcement officials. This would both inform the department's assessment and national strategy and, where evidence of potential civil rights violations or other criminal activities by these law enforcement officers exists, allow investigations to be initiated.
Require the FBI to determine whether any law enforcement officials it investigates for civil rights violations or other criminal matters have connections to violent white supremacist organizations or other far-right militant groups, have a record of discriminatory behavior, or have a history of posting explicitly racist commentary in public or on social media platforms. This information should be provided to FBI agents assigned to domestic terrorism matters for investigative and intelligence purposes, and to federal, state, and local prosecutors to consider their inclusion on Brady lists.
Require the FBI to report any federal, state, or local official assigned to a federal task force who is discovered during initial screenings or periodic background investigations to have active links to any white supremacist or other militant groups, to have engaged in racist behavior, or to have posted overtly racist commentary to on social media to the DOJ and to their departments. Where appropriate based on available evidence, the Justice Department should bar these officials from further participation with federal task forces and report the information to appropriate departmental heads and state and local prosecutors for potential inclusion on Brady lists.
Analyze the data collected by the FBI in its law enforcement use of force database to assist in developing the national strategy. The FBI should evaluate each use of force complaint for indications that racial or ethnic bias motivated the violence. Where evidence reasonably indicates a violation of federal, state, or local laws, cases should be referred for prosecution.
Establish a formal mitigation plan to implement when evidence indicates that an identified law enforcement officer poses a public security threat or a risk of harm to any protected class or community. Such a plan could include federal, state, or local investigations and prosecutions; civil rights lawsuits and consent decrees; reporting information identifying the officer to other federal, state, or local authorities for appropriate employment action; and placement of identified officers on Brady lists maintained by federal, state, and local prosecutors to ensure that defendants in criminal cases and plaintiffs in civil actions against these officers have appropriate impeachment evidence available.
Establish a public hotline for reporting racist activity by law enforcement officials and strengthen whistleblower protections for federal law enforcement agents.
The Domestic Terrorism Prevention Act of 2019, a Senate bill introduced by Sen. Dick Durbin (D-IL), includes a provision that requires the FBI to assess the threat posed by white supremacist and neo-Nazi infiltration of law enforcement and the military. This assessment should be informed by data collected from FBI investigations and surveys of federal, state, and local law enforcement agencies, and from data collected for the law enforcement use of force database.
Lastly, Congress should pass the End Racial and Religious Profiling Act of 2019 to ban all federal, state, and local law enforcement agencies from profiling based on actual or perceived race, ethnicity, religion, national origin, gender, gender identity, or sexual orientation. Banning racial profiling would mark a significant step toward mitigating the potential harm caused by racist officers undetected within the ranks.
Endnotesfootnote1_rqhi0fe1. Joseph Guzman, "California Police Stop Black Drivers at Higher Rates, Analysis Finds," Changing America, The Hill, January 3, 2020, https://thehill.com/changing-america/respect/equality/476685-california-police-stop-black-drivers-at-higher-rates; Brad Heath, "Racial Gap in U.S. Arrest Rates: 'Staggering Disparity,'" USA Today, November 18, 2014, https://www.usatoday.com/story/news/nation/2014/11/18/ferguson-black-arrest-rates/19043207/; German Lopez and Javier Zarracina, "Study: Black People Are 7 Times More Likely than White People to Be Wrongly Convicted of Murder," Vox, March 7, 2017, https://www.vox.com/policy-and-politics/2017/3/7/14834454/exoneration-innocence-prison-racism; German Lopez, "There Are Huge Racial Disparities in How US Police Use Force," Vox, November 14, 2018, https://www.vox.com/identities/2016/8/13/17938186/police-shootings-killings-racism-racial-disparities; Timothy Williams, "Black People Are Charged at a Higher Rate Than Whites. What if Prosecutors Didn't Know Their Race?" New York Times, June 12, 2019, https://www.nytimes.com/2019/06/12/us/prosecutor-race-blind-charging.html; and Christopher Ingraham, "Black Men Sentenced to More Time for Committing the Exact Same Crime as a White Person, Study Finds," Washington Post, November 16, 2017, https://www.washingtonpost.com/news/wonk/wp/2017/11/16/black-men-sentenced-to-more-time-for-committing-the-exact-same-crime-as-a-white-person-study-finds/.
footnote2_p4tgd002. Radley Balko, "There's Overwhelming Evidence that the Criminal Justice System Is Racist. Here's the Proof," Washington Post, June 10, 2020, https://www.washingtonpost.com/news/opinions/wp/2018/09/18/theres-overwhelming-evidence-that-the-criminal-justice-system-is-racist-heres-the-proof/.
footnote3_h7c51u23. Federal Bureau of Investigation and Department of Homeland Security, Joint Intelligence Bulletin, White Supremacist Extremism Poses Persistent Threat of Lethal Violence, May 10, 2017, https://www.documentcloud.org/documents/3924852-White-Supremacist-Extremism-JIB.html.
footnote4_2h8b4m24. Federal Bureau of Investigation, Counterterrorism Division, Counterterrorism Policy Directive and Policy Guide, April 1, 2015 (updated November 18, 2015), 89, https://assets.documentcloud.org/documents/3423189/CT-Excerpt.pdf.
footnote5_62lh98d5. Becky Bratu, "Two Alabama Officers Put on Leave for Alleged Ties to 'Hate Group,'" NBC News, June 17, 2015, https://www.nbcnews.com/news/crime-courts/two-alabama-officers-put-leave-alleged-ties-hate-group-n377421; Michael Winter, "KKK Membership Sinks 2 Florida Cops," USA Today, July 14, 2014, https://www.usatoday.com/story/news/nation/2014/07/14/florid-police-kkk/12645555/; Michelle Fox, "Texas Officers Fired for Membership in KKK," ABC News, January 7, 2006, https://abcnews.go.com/US/story?id=93046&page=1; Andy Campbell, "KKK Cop Fired After Nazi Salute Photo Surfaces," Huffington Post, September 3, 2015, https://www.huffpost.com/entry/kkk-cop-fired-nazi-salute_n_55e885d9e4b0c818f61b24c2; Angela Helm, "Color Me Shocked: 2 Virginia Police Officers Fired for Ties to White Supremacist Orgs," Root, April 22, 2019, https://www.theroot.com/color-me-shocked-2-virginia-police-officers-fired-for-1834211339; Phil Helsel, "Three Fired Over Nazi Salute Photo with West Virginia Corrections Employee," NBC News, December 6, 2019, https://www.nbcnews.com/news/us-news/three-fired-over-nazi-salute-photo-west-virginia-corrections-employees-n1097566; State v. Henderson, 277 Neb. 240 (2009), https://caselaw.findlaw.com/ne-supreme-court/1479842.html; Mariel Padilla, "Michigan Police Officer Is Terminated After K.K.K. Application Was Found in His Home," New York Times, September 13, 2019, https://www.nytimes.com/2019/09/13/us/officer-charles-anderson-ku-klux-klan.html; Nick Budnick, "The Cop Who Liked Nazis," Willamette Week, February 10, 2004 (updated January 24, 2017), https://www.wweek.com/portland/article-2933-the-cop-who-liked-nazis.html; Paighten Harkins, "Interim Colbert Police Chief to Resign amid Report of Connection to Neo-Nazi Websites," Tulsa World, August 27, 2017, https://www.tulsaworld.com/homepagelatest/interim-colbert-police-chief-to-resign-amid-report-of-connection/article_98d1bd9e-9ad8-553e-84cd-8d63d360e0c8.html; Katie Shepherd, "Clark County Sheriff Deputy Fired After Wearing a Proud Boys Sweatshirt," Willamette Week, July 20, 2018, https://www.wweek.com/news/courts/2018/07/20/clark-county-sheriff-deputy-fired-after-wearing-a-proud-boys-sweatshirt/; Michael Kunzelman, "Connecticut Police Officer: I Quit Proud Boys Over Fears of 'Far-Left' Attacks," Hartford Courant, November 13, 2019, https://www.courant.com/news/connecticut/hc-news-connecticut-proud-boys-police-officer-20191113-73r6pb7zv5halbwja7le5jvjwu-story.html; George Joseph, Raven Rakia, and Ethan Corey, "Claims of Racism and Brutality Dog Los Angeles County Sheriff 'Deputy Gangs,'" Appeal, September 28, 2018, https://theappeal.org/claims-of-racism-brutality-dog-los-angeles-county-sheriff-deputy-gangs/; Richard Winton, "O.C. Deputy Under Investigation After Wearing Extremist Paramilitary Patch at George Floyd Protest," Los Angeles Times, June 3, 2020, https://www.latimes.com/california/story/2020-06-03/orange-county-deputy-three-percenters-patch-george-floyd-protest; and "CPD Investigating After Officer Wore Extremist Militia Logo to Downtown Protest Saturday," CBS Chicago, June 9, 2020, https://www.msn.com/en-us/news/us/cpd-investigating-after-officer-wore-extremist-militia-logo-to-downtown-protest-saturday/ar-BB15dByT.
footnote6_3inyui06. Rashad Robinson, "We Can't Trust Police to Protect Us from Racist Violence. They Contribute to It," Guardian, August 21, 2019, https://www.theguardian.com/commentisfree/2019/aug/21/police-white-nationalists-racist-violence.
footnote7_4ldh0277. See, e.g., Pickering v. Board of Education, 391 U.S. 563 (1968); and Garcetti v. Ceballos, 547 U.S. 410, 417 (2006).
footnote8_jg5lzx68. See, e.g., Garcetti, 547 U.S. 410, 417; Oladeinde v. City of Birmingham, 230 F.3d 1275, 1293 (11th Cir. 2000); Doggrell v. City of Anniston, 277 F. Supp. 3d 1239 (N.D. Ala. 2017), https://casetext.com/case/doggrell-v-city-of-anniston-1; and State v. Henderson, 277 Neb. 240. See also Robin D. Barnes, "Blue by Day and White by (K)night: Regulating the Political Affiliations of Law Enforcement and Military Personnel," Iowa Law Review 81 (1996): 1085.
footnote9_bn1bo659. Vida B. Johnson, "KKK in the PD: White Supremacists in Law Enforcement and What to Do About It," Lewis and Clark Law Review 23 (2019): 211.
footnote10_rhusiho10. Vida B. Johnson, "The Epidemic of White Supremacist Police," Appeal, August 7, 2017, https://theappeal.org/the-epidemic-of-white-supremacist-police-4992cb7ad97a/.
footnote11_hwqn2r611. See, e.g., Matt Coker, "7 Charged in Anaheim KKK Melee — But Stabby Klanner Not One of Them," OC Weekly, July 1, 2016, https://www.ocweekly.com/7-charged-in-anaheim-kkk-melee-but-stabby-klanner-not-one-of-them-7305812-2/; James Queally, "Ku Klux Klan Rally in Anaheim Erupts in Violence; 3 Are Stabbed and 13 Arrested," Los Angeles Times, February 26, 2016, http://www.latimes.com/local/lanow/la-me-ln-klan-rally-in-anaheim-erupts-in-violence-one-man-stabbed-20160227-story.html; Sam Levin, "How a California Officer Protected Neo-Nazis and Targeted Their Victims," Guardian, January 25, 2019, https://www.theguardian.com/us-news/2019/jan/25/california-police-neo-nazis-antifa-protest; Frank John Tristan, "Huntington Beach Pro-Trump March Turns into Attack on Anti-Trump Protestors," OC Weekly, March 26, 2017, https://www.ocweekly.com/huntington-beach-pro-trump-march-turns-into-attack-on-anti-trump-protesters-press-7991623/; Frances Robles, "As White Nationalist in Charlottesville Fired, Police 'Never Moved,'" New York Times, August 25, 2017, https://www.nytimes.com/2017/08/25/us/charlottesville-protest-police.html; and Arun Gupta, "Riotlandia: Why Portland has Become the Epicenter of Far-Right Violence," Intercept, August 26, 2019, https://theintercept.com/2019/08/16/portland-far-right-rally/.
footnote1_bpaozw812. FBI, Counterterrorism Division, Counterterrorism Policy Directive and Policy Guide, 89.
footnote2_naed1y713. Federal Bureau of Investigation, Counterterrorism Division, Intelligence Assessment, White Supremacist Infiltration of Law Enforcement, October 17, 2006, 4, http://s3.documentcloud.org/documents/402521/doc-26-white-supremacist-infiltration.pdf.
footnote3_52k017n14. Federal Bureau of Investigation and Department of Homeland Security, White Supremacist Extremism Poses Persistent Threat of Lethal Violence, 4.
footnote4_2zm1riw15. See, e.g., Weiyi Cai et al., "White Extremist Ideology Drives Many Deadly Shootings," New York Times, August 5, 2019, https://www.nytimes.com/interactive/2019/08/04/us/white-extremist-active-shooter.html.
footnote5_zpyn8es16. See, e.g., Walter Griffin, "Report: 'Dirty Bomb' Parts Found in Slain Man's Home," Bangor Daily News, February 10, 2009, https://bangordailynews.com/2009/02/10/politics/report-dirty-bomb-parts-found-in-slain-mans-home/; and Tim Elfrink, "Neo-Nazi National Guardsman Busted in Florida Keys Had 'Radioactive Material,' Bombs," Miami New Times, May 23, 2017, https://www.miaminewtimes.com/news/brandon-russell-neo-nazi-florida-national-guardsman-had-radioactive-material-bombs-9366836.
footnote6_5i5w6ou17. Jay Barmann, "Santa Cruz Shooter Charged along with 'Boogaloo Movement' Accomplice in Oakland Shooting of Federal Officers," SFist, June 16, 2020, https://sfist.com/2020/06/16/santa-cruz-cop-killer-charged-along-with-boogaloo/.
footnote7_9cwhmhx18. FBI, Counterterrorism Division, White Supremacist Infiltration of Law Enforcement, 3.
footnote8_0wirx8z19. Confronting Violent White Supremacy (Part II): Adequacy of the Federal Response—Hearing before the Subcommittee on Civil Rights and Civil Liberties of the Committee on Oversight and Reform, House of Representatives, 116th Cong. 22 (2019), https://docs.house.gov/meetings/GO/GO02/20190604/109579/HHRG-116-GO02-Transcript-20190604.pdf.
footnote9_gjmcoiz20. FBI, Counterterrorism Division, White Supremacist Infiltration of Law Enforcement, 6. See also Pickering, 391 U.S. 563; Garcetti, 547 U.S. 410, 417.
footnote1_osenkzk21. Gary Potter, "The History of Policing in the United States, Part 1," Police Studies Online, Eastern Kentucky University, June 25, 2013, https://plsonline.eku.edu/insidelook/history-policing-united-states-part-1.
footnote2_5k80q9f22. See David Dorado Romo, "To Understand the El Paso Massacre, Look to the Long Legacy of Anti-Mexican Violence at the Border," Texas Observer, August 9, 2019, https://www.texasobserver.org/to-understand-the-el-paso-massacre-look-to-the-long-legacy-of-anti-mexican-violence-at-the-border/.
footnote3_0x84tjw23. Catherine A. Paul, "Fugitive Slave Act of 1850," Social Welfare History Project, Virginia Commonwealth University Libraries, 2016, https://socialwelfare.library.vcu.edu/federal/fugitive-slave-act-of-1850/.
footnote4_jb0276724. Irene Hsu, "The Echoes of Chinese Exclusion," New Republic, June 28, 2018, https://newrepublic.com/article/149437/echoes-chinese-exclusion.
footnote5_c6n299y25. "The Immigration Act of 1924 (The Johnson-Reed Act)," Office of the Historian, Department of State, https://history.state.gov/milestones/1921-1936/immigration-act.
footnote6_33hf7n026. Nicholas Villanueva Jr., The Lynching of Mexicans in the Texas Borderlands (Albuquerque: University of New Mexico Press, 2017).
footnote7_92ti21f27. See, e.g., Clay Risen, "The Ku Klux Klan's Surprising History," review of The Second Coming of the KKK: The Ku Klux Klan of the 1920s and the American Political Tradition, by Linda Gordon, New York Times, December 4, 2017, https://www.nytimes.com/2017/12/04/books/review/linda-gordon-the-second-coming-of-the-kkk.html; Patrick Lacroix, review of Not a Catholic Nation: The Ku Klux Klan Confronts New England in the 1920s, by Mark Paul Richard, Humanities and Social Sciences Online, March 2016, https://networks.h-net.org/node/15697/reviews/117687/lacroix-richard-not-catholic-nation-ku-klux-klan-confronts-new-england; and Cecilia Rasmussen, "Klan's Tentacles Once Extended to Southland," Los Angeles Times, May 30, 1999, https://www.latimes.com/archives/la-xpm-1999-may-30-me-42577-story.html.
footnote8_7izqq4q28. James W. Loewen, Sundown Towns: A Hidden Dimension of American Racism (New York: The New Press, 2005); and James Loewen, "Was Your Town a Sundown Town?," UU World, February 18, 2008, https://www.uuworld.org/articles/was-your-town-sundown-town.
footnote9_8jc4h2n29. Loewen, "Was Your Town a Sundown Town?"
footnote1_zh8mz2f30. See, e.g., "Murder in Mississippi," American Experience, PBS, https://www.pbs.org/wgbh/americanexperience/features/freedomsummer-murder/; "Mississippi Burning," Famous Cases & Criminals, FBI, https://www.fbi.gov/history/famous-cases/mississippi-burning.
footnote2_td9wqp531. U.S. Department of Justice, Civil Rights Division, Investigation of the 1964 Murders of Michael Schwerner, James Chaney, and Andrew Goodman, June 2016, 13–14, http://docshare04.docshare.tips/files/31625/316255786.pdf.
footnote3_n4cr79d32. In Re the Courier-Journal and Louisville Times Company, Petitioners, v. Robert Marshall and Martha Marshall, Respondents, 828 F.2d 361 (6th Cir. 1987); Marshall v. Bramer, 828 F.2d 325 (6th Cir. 1987).
footnote4_17s73sr33. Hector Tobar, "Deputies in 'Neo-Nazi' Gang, Judge Found: Sheriff's Department: Many at Lynwood Office Have Engaged in Racially Motivated Violence Against Blacks and Latinos, Jurist Wrote," Los Angeles Times, October 12, 1991, https://www.latimes.com/archives/la-xpm-1991-10-12-me-107-story.html.
footnote5_34xnkfb34. Celeste Fremon, "The Downfall of Sheriff Baca," Los Angeles Magazine, May 14, 2015, https://www.lamag.com/longform/downfall/2/.
footnote6_d1x0j8w35. George Joseph, Raven Rakia, and Ethan Corey, "Claims of Racism and Brutality Dog Los Angeles County Sheriff 'Deputy Gangs,'" Appeal, September 28, 2018, https://theappeal.org/claims-of-racism-brutality-dog-los-angeles-county-sheriff-deputy-gangs/.
footnote7_ypgb6ke36. Maya Lau, "Cop Group with Matching Skull Tattoos Costs Taxpayers $7 Million in Fatal Shooting," Los Angeles Times, June 18, 2019, https://www.latimes.com/local/lanow/la-me-sheriff-tattoo-settlement-20190618-story.html.
footnote8_knqd87g37. Jovana Lara and Lisa Bartley, "Compton Deputy Alleges Savage Beating by LASD-based 'Executioner' Gang, ABC7, August 6, 2020, https://abc7.com/compton-deputy-gang-executioners-attacked-beating/6356565/.
footnote9_mon8udx38. Alene Tchekmedyian and Maya Lau, "L.A. County Deputy Alleges 'Executioner' Gang Dominates Compton Sheriff Station, Los Angeles Times, July 30, 2020, https://www.latimes.com/california/story/2020-07-30/sheriff-clique-compton-station-executioners.
footnote10_33m3ed339. Alene Tchekmedyian, "Deputies Accused of Being in Secret Societies Cost L.A. County Taxpayers $55 million, Records Show," Los Angeles Times, August 4, 2020, https://www.latimes.com/california/story/2020-08-04/sheriff-deputy-clique-payouts.
footnote11_zb11w2r40. Derek Hawkins, "Ex-Prison Guards in Ku Klux Klan Plotted to Kill a Black Inmate. An FBI Informant Caught Them," Washington Post, August 16, 2017, https://www.washingtonpost.com/news/morning-mix/wp/2017/08/16/ex-prison-guards-in-ku-klux-klan-plotted-to-kill-a-black-inmate-an-fbi-informant-caught-them/.
footnote12_xdn7tb141. Lisa Rose, "This Is the First Police Officer Charged with a Federal Hate Crime in at Least 10 Years," CNN, December 21, 2018, https://www.cnn.com/2018/12/21/politics/first-police-officer-charged-with-hate-crime-in-years/index.html.
footnote13_553cp3g42. See, e.g., Isaac Avilucea, "Former Bordentown Police Chief Frank Nucera Wants Verdict Thrown Out Based Off White Juror Guilt," Trentonian, December 17, 2019 https://www.trentonian.com/news/former-bordentown-chief-frank-nucera-wants-verdict-thrown-out-based/article_83507f0e-210f-11ea-9e97-57fba72c1239.html; and Isaac Avilucea, "Victim in Frank Nucera Hate-Crime Case Accused of Beating Up Girlfriend in Trenton," Trentonian, May 18, 2020, https://www.trentonian.com/news/victim-in-frank-nucera-hate-crime-case-accused-of-beating-up-girlfriend-in-trenton/article_16f2adc8-9932-11ea-97a1-03fc21d5cf33.html.
footnote14_eo069qw43. Fox, "Texas Officers Fired."
footnote15_h5b7c4n44. Associated Press, "Court Upholds Firing of Trooper with Klan Ties," NBC News, February 7, 2009, http://www.nbcnews.com/id/29432935/ns/us_news-life/t/court-upholds-firing-trooper-klan-ties/#.XjP0by2ZN0s.
footnote16_fo3nc6g45. State v. Henderson, 277 Neb. 240.
footnote17_89gfzef46. Associated Press, "Police Ties to Ku Klux Klan Shock Florida Town of Fruitland Park," Guardian, July 21, 2014, https://www.theguardian.com/world/2014/jul/21/police-ku-klux-klan-florida-fruitland-park.
footnote18_qjxbhbw47. Campbell, "KKK Cop Fired."
footnote19_lq7wg6148. Muskegon Police Department, Muskegon Police Department Inquiry into Allegations of Potential Bias by Officer Charles Anderson, September 1, 2019, https://www.muskegon-mi.gov/cresources/IA%2019-06%20Official%20Report%20Anderson%20Inquiry%20with%20redactions.pdf.
footnote20_exyeojr49. "Ex-Michigan Police Officer Fired for Framed KKK Document Denies Racial Bias in New Report," Chicago Tribune, September 24, 2019, https://www.chicagotribune.com/midwest/ct-kkk-michigan-police-officer-20190924-iu2nsaoj2fbu7kuqqyxwdntpc4-story.html.
footnote21_8zg79y150. Lynn Moore, "Cop Fired for KKK, Confederate Flag 'Memorabilia' Signs Separation Agreement," MLive, May 8 2020, https://www.mlive.com/news/muskegon/2020/05/cop-fired-for-kkk-confederate-flag-memorabilia-signs-separation-agreement.html.
footnote22_wpuodby51. Wilmington Police Department, Professional Standards Report of Internal Investigation, June 11, 2020, p. 8, https://www.wilmingtonnc.gov/home/showdocument?id=12012.
footnote23_0qaefkp52. Jason Green and Robert Salonga, "San Jose Police Officers' Racist Posts Exposed by Blogger," Mercury News, June 26, 2020, https://www.mercurynews.com/2020/06/26/san-jose-police-officers-racist-facebook-posts-exposed-by-blogger/.
footnote24_80u1e0d53. Maddy Crowell and Sylvia Varnham O'Regan, "Extremist Cops: How US Law Enforcement Is Failing to Police Itself," Guardian, December 13, 2019, https://www.theguardian.com/us-news/2019/dec/13/how-us-law-enforcement-is-failing-to-police-itself?CMP=share_btn_tw.
footnote25_pb9sjik54. Doggrell, 277 F. Supp. 3d 1239.
footnote26_medb20t55. Crowell and O'Regan, "Extremist Cops."
footnote27_8d34fs756. William Thornton, "Anniston, Justice Dept. Partnership Aimed at Reducing Tension," AL.com, June 26, 2015, https://www.al.com/news/anniston-gadsden/2015/06/anniston_justice_dept_partners.html.
footnote28_x07oc8q57. Timothy Williams, "Cast-Out Police Officers Are Often Hired in Other Cities," New York Times, September 10, 2016, https://www.nytimes.com/2016/09/11/us/whereabouts-of-cast-out-police-officers-other-cities-often-hire-them.html.
footnote29_h81507p58. Rachel Knapp, "New Colbert Police Chief Linked to Neo-Nazi Websites Claims Identity Theft," News12 (Sherman, TX), August 26, 2017, https://www.kxii.com/content/news/New-Colbert-police-chiefs-name-linked-to-neo-Nazi-websites-441804593.html.
footnote30_2jx7gq159. Kelly Weill, "Oklahoma Police Chief Resigns over Neo-Nazi Ties, Gets Job in Neighboring Police Force," Daily Beast, September 17, 2018, https://www.thedailybeast.com/oklahoma-police-chief-resigns-over-neo-nazi-ties-gets-job-in-neighboring-police-force; Michael Hutchins, "Former Colbert Police Chief with Neo-Nazi Background Back in Law Enforcement," Herald Democrat, September 13, 2018, https://www.heralddemocrat.com/news/20180913/former-colbert-police-chief-with-neo-nazi-background-back-in-law-enforcement.
footnote31_zk9efac60. Glynis Kazanjian, "Eastern Shore Police Chief Gets Suspended 2-Year Sentence for Falsifying Cop's Hiring Papers," Maryland Matters, January 17, 2020, https://www.marylandmatters.org/blog/eastern-shore-police-chief-gets-suspended-2-year-prison-sentence-for-falsifying-hiring-papers/.
footnote32_u344o5261. Brady v. Maryland, 373 U.S. 83 (U.S. 1963).
footnote33_ue944t362. Giglio v. United States, 405 U.S. 150, 153 (U.S. 1972).
footnote34_bsa7m1r63. Vida B. Johnson, "KKK in the PD," 205, 234.
footnote35_zm06s1564. "Prosecutor Adds 22 St. Louis Officers to 'Exclusion List' Over Racist Facebook Posts," CBS News, June 19, 2019, https://www.cbsnews.com/news/prosecutor-adds-22-st-louis-officers-to-exclusion-list-over-racist-facebook-posts/.
footnote1_gwz7sk465. Katie Shepherd, "Clark County Sheriff Deputy Fired After Wearing a Proud Boys Sweatshirt"; Luke Barnes, "Sheriff's Deputy Fired After Social Media Posts Reveal Ties to Far-Right Proud Boys," ThinkProgress, August 17, 2018, https://thinkprogress.org/sheriffs-deputy-fired-for-being-part-of-far-right-proud-boys-group-3d445cbbaf57/; and Emily Gorcenski, "The Proud Boys: A Republican Party Street Gang," Political Research Associates, http://feature.politicalresearch.org/the-proud-boys.
footnote2_k2mxhi166. Michael Kunzelman, "Chief: Officer's Proud Boys Membership Didn't Break Policy," Associated Press, October 15, 2019, https://apnews.com/12ece8cedbf045259dcddebf619141e7.
footnote3_3x5xqoi67. Dakin Andone, "This Group Compiled Police Officer's Offensive Facebook Posts. Now Departments are Taking Action," CNN, June 20, 2019, https://www.cnn.com/2019/06/20/us/plain-view-project-police-investigating/index.html.
footnote4_1itz3et68. Alicia Victoria Lozano, "13 Philadelphia Officers to Be Fired Over Racist, Violent Facebook Posts," NBC10 Philadelphia, July 18, 2019, https://www.nbcphiladelphia.com/news/national-international/philadelphia-police-officers-facebook-posts/170494/; and Chris Palmer, "2 More Philly Cops to Be Fired in Facebook Probe, Bringing Total to 15," Philadelphia Inquirer, September 11, 2019, https://www.inquirer.com/news/philadelphia-police-facebook-scandal-15-cops-fired-christine-coulter-20190911.html.
footnote5_q1o6lfl69. Cassandra Jaramillo, "Dallas Police Department Disciplines 13 Officers for Offensive Social Media Posts," Dallas Morning News, January 30, 2020, https://www.dallasnews.com/news/crime/2020/01/31/dallas-police-department-disciplines-13-officers-for-offensive-social-media-posts/.
footnote6_mxq4fmg70. "2 St. Louis Police Officers Fired Over Facebook Posts," Associated Press, December 10, 2019, https://www.cbsnews.com/news/prosecutor-adds-22-st-louis-officers-to-exclusion-list-over-racist-facebook-posts/.
footnote7_tqy5pcq71. "Prosecutor Adds 22 St. Louis Officers to 'Exclusion List' Over Racist Facebook Posts," CBS News, June 19, 2019.
footnote8_qk9bai872. Alan Pyke, "Racist, Homophobic SF Cops Will Likely Be Fired, After Years-Long Court Saga," ThinkProgress, September 13, 2018, https://thinkprogress.org/sf-cops-who-exchanged-racist-homophobic-texts-will-likely-be-fired-after-years-long-court-saga-f94aa43ccc94/.
footnote9_iqgbu9k73. "DA: SFPD Officers Sent Recent Racist Texts Mocking the Racist Text Scandal," SFist, March 31, 2016, https://sfist.com/2016/03/31/da_sfpd_officers_sent_even_more_and/.
footnote10_y9szzrb74. Community Oriented Policing Services (COPS), Collaborative Reform Initiative: An Assessment of the San Francisco Police Department, Department of Justice, October 2016, xi, https://www.sfdph.org/dph/files/jrp/DOJ-Report.pdf.
footnote11_0457nzm75. Maura Dolan, "3,000 Cases Possibly Affected by S.F. Police Texting, D.A. Says," Los Angeles Times, May 7, 2015, https://www.latimes.com/local/lanow/la-me-ln-sf-police-probe-20150507-story.html.
footnote12_rn2264b76. Zolan Kanno-Youngs, "62 Border Agents Belonged to Offensive Facebook Group, Investigation Finds," New York Times, July 15, 2019, https://www.nytimes.com/2019/07/15/us/politics/border-patrol-facebook-group.html; and Ryan Devereaux, "Border Patrol Chief Carla Provost Was a Member of Secret Facebook Group," Intercept, July 12, 2019, https://theintercept.com/2019/07/12/border-patrol-chief-carla-provost-was-a-member-of-secret-facebook-group/.
footnote13_pnfzza777. Ryan Devereaux, "The Bloody History of Border Militias Runs Deep — And Law Enforcement Is Part of It," Intercept, April 23, 2019, https://theintercept.com/2019/04/23/border-militia-migrants/.
footnote14_059027m78. David Neiwert, "Is That an OK Sign? A White Power Symbol? Or Just a Right-Wing Troll?," Southern Poverty Law Center, September 19, 2018, https://www.splcenter.org/hatewatch/2018/09/18/ok-sign-white-power-symbol-or-just-right-wing-troll.
footnote15_k0q0tw279. John Bowden, "Alabama Police Officers Suspended for Making Hand Gestures Linked to White Power," Hill, July 17, 2018, https://thehill.com/blogs/blog-briefing-room/news/397509-alabama-police-officers-suspended-for-making-hand-gesture.
footnote16_1ix1ewz80. Anna Beahm, "Jasper Police Officers Suspended for 'White Power' Hand Symbol in Post-Arrest Photo," AL.com, July 17, 2018 (updated March 6, 2019), https://www.al.com/news/2018/07/jasper_officers_suspended_for.html.
footnote17_c76yu6g81. Albert Samaha, "'They Can't Fire You for What's in Your Head': A Cop with a Tattoo He Swears Isn't a 'Nazi Tattoo' Says a Lot About Police Free Speech," Buzzfeed News, https://www.buzzfeednews.com/article/albertsamaha/they-cant-fire-you-for-whats-in-your-head.
footnote18_f3c9uff82. Samaha, "They Can't Fire You."
footnote19_layzmmu83. Francesca Monga, "Tales of the Tape: Protesters Use Video Cameras to Track Overly Aggressive Cops," Willamette Week, April 1, 2003 (updated January 24, 2017), https://www.wweek.com/portland/article-1904-tales-of-the-tape.html; and Nick Budnick, "The Badge and the Swastika: Lawyer Attacks Cop's Interest in Nazi History," Willamette Week, September 30, 2003 (updated January 24, 2017), https://www.wweek.com/portland/article-2506-the-badge-and-the-swastika.html.
footnote20_s1psfhe84. Budnick, "The Badge and the Swastika."
footnote21_xy3in2c85. Budnick, "The Cop Who Liked Nazis."
footnote22_pmagsmr86. James Pitkin, "The Ice Man Weepeth: A Portland Cop Denies a New Video's Accusations of Nazism," Willamette Week, October 13, 2009 (updated January 24, 2017), https://www.wweek.com/portland/article-11156-the-ice-man-weepeth.html.
footnote23_tm9o3nk87. Maxine Bernstein, "Portland Police Chief Suspends Capt. Mark Kruger for Erecting a Shrine on Rocky Butte to Five Nazi-Era Soldiers," Oregonian, November 17, 2010 (updated January 10, 2019), https://www.oregonlive.com/portland/2010/11/portland_police_chief_suspends_1.html.
footnote24_uo2s9ln88. Maxine Bernstein, "Portland Police Capt. Mark Kruger's Past Discipline to Be Erased — Including for Tribute to Nazi-Era Soldiers — under City Settlement," Oregonian, July 16, 2014 (updated January 10, 2019), https://www.oregonlive.com/portland/2014/07/portland_police_capt_mark_krug.html
footnote25_mlqg2pk89. Maxine Bernstein, "'Kettling' of Counter-Protesters Last June Not Legally Justified, Review Says," Oregonian, May 31, 2018 (updated January 30, 2019), https://www.oregonlive.com/portland/2018/05/portland_police_oversight_repo.html; and Jason Wilson, "Portland Far-Right Rally: Police Charge Counterprotesters with Batons Drawn," Guardian, August 5, 2018, https://www.theguardian.com/us-news/2018/aug/04/patriot-prayer-to-carry-guns-at-portland-rally-as-fears-of-violence-rise.
footnote26_u52sj4q90. Arun Gupta, "Playing Cops: Militia Member Aids Police in Arresting Protester at Portland Alt-Right Rally," Intercept, June 8, 2017, https://theintercept.com/2017/06/08/portland-alt-right-milita-police-dhs-arrest-protester/.
footnote27_uozg2wl91. Katie Shepherd, "Portland Police Saw Right-Wing Protesters as 'Much More Mainstream' than Leftist Ones," Willamette Week, June 27, 2018, https://www.wweek.com/news/courts/2018/06/27/portland-police-saw-right-wing-protesters-as-much-more-mainstream-than-leftist-ones/.
footnote28_o5l4c5b92. Katie Shepherd, "Texts Between Portland Police and Patriot Prayer Ringleader Joey Gibson Show Warm Exchange," Willamette Week, February 14, 2019, https://www.wweek.com/news/courts/2019/02/14/texts-between-portland-police-and-patriot-prayer-ringleader-joey-gibson-show-warm-exchange/.
footnote29_al8fdsj93. Maxine Bernstein, "Portland Cop's Chatty Texts to Patriot Prayer Spur Outrage but Are Standard Police Strategy, Experts Say," Oregonian, February 16, 2019, https://www.oregonlive.com/crime/2019/02/police-experts-weigh-in-on-portland-lieutenants-controversial-text-messages-with-patriot-prayer-leader.html.
footnote30_kbonnte94. Conrad Wilson, "Portland Hires National Group to Investigate How Police Handle Protests," Oregon Public Broadcasting, May 15, 2019, https://www.opb.org/news/article/portland-national-police-foundation-investigation-protests/.
footnote31_l4kxdxf95. Sam Levin, "California Police Worked with Neo-Nazis to Pursue 'Anti-Racist' Activists, Documents Show," Guardian, February 9, 2018, https://www.theguardian.com/world/2018/feb/09/california-police-white-supremacists-counter-protest; Sam Levin, "Stabbed at a Neo-Nazi Rally, Called a Criminal: How Police Targeted a Black Activist," Guardian, May 25, 2018, https://www.theguardian.com/world/2018/may/25/neo-nazi-rally-california-stabbing-police-target-black-activist; Sam Levin, "How a California Officer Protected Neo-Nazis and Targeted Their Victims," Guardian, January 25, 2019, https://www.theguardian.com/us-news/2019/jan/25/california-police-neo-nazis-antifa-protest.
footnote32_wh67wy896. A. C. Thompson, "Federal Judge Dismisses Charges Against 3 White Supremacists," Frontline, PBS, June 4, 2019, https://www.pbs.org/wgbh/frontline/article/federal-judge-dismisses-charges-against-3-white-supremacists/.
footnote33_qo5f0d297. Frank John Tristan, "Rise Above, Unmasked: A Former Weekly Intern Recalls How His Surf City Assault Became an FBI Criminal Probe into an Alt-Right Group," OC Weekly, November 8, 2018, https://www.ocweekly.com/rise-above-unmasked-a-former-weekly-intern-recalls-how-his-surf-city-assault-became-an-fbi-criminal-probe-into-an-alt-right-group/; and R. Scott Moxley, "DA Whitewashed Neo-Nazi in Assault Trial from 2017 Trump MAGA Rally," OC Weekly, August 21, 2019, https://www.ocweekly.com/white-supremacist-antifa-trump/#.XV4Die-38AR.twitter.
footnote34_w76m4pg98. Thompson, "Federal Judge Dismisses Charges."
footnote35_w9i72n099. Rachel Kurzius, "D.C. Police Can't Determine Whether Officers Who Fist Bumped Proud Boy on July 4 Violated Policy," DCist, February 7, 2019, https://dcist.com/story/20/02/07/officers-who-fist-bumped-proud-boy-on-july-4-didnt-violate-policy-d-c-police-determine/.
footnote1_q445q2i100. See Michael German and Sara Robinson, "Wrong Priorities on Fighting Terrorism," Brennan Center for Justice, October 31, 2018, https://www.brennancenter.org/our-work/research-reports/wrong-priorities-fighting-terrorism.
footnote2_6w9i2zd101. Brian Bowling and Andrew Conte, "Trib Investigation: Cops Often Let Off Hook for Civil Rights Complaints," Tribune-Review, March 12, 2016, https://archive.triblive.com/news/nation/trib-investigation-cops-often-let-off-hook-for-civil-rights-complaints/.
footnote3_znbgkbe102. "Justice Department Rejects 96% of Civil Rights Cases Against Police — Report," Guardian, March 14, 2016, https://www.theguardian.com/us-news/2016/mar/14/justice-department-rejects-civil-rights-cases-against-police.
footnote4_ixyy1lo103. Andrea J. Ritchie and Joey L. Mogul, "In the Shadows of the War on Terror: Persistent Police Brutality and Abuse of People of Color in the United States," DePaul Journal for Social Science 1 (2016): 234–35, https://via.library.depaul.edu/cgi/viewcontent.cgi?article=1075&context=jsj. See Screws v. United States, 325 U.S. 91, 101 (1945); and United States v. Guest, 383 U.S. 745, 761 (1966).
footnote5_ne8ak9e104. Erin Donaghue, "In a First, FBI to Begin Collecting National Data on Police Use of Force," CBS News, November 22, 2018, https://www.cbsnews.com/news/fbi-to-begin-collecting-national-police-use-of-force-data/.
footnote6_5mcd5wx105. "Addressing Police Misconduct Laws Enforced by the Department of Justice," United States Department of Justice, updated December 13, 2019, https://www.justice.gov/crt/addressing-police-misconduct-laws-enforced-department-justice.
footnote7_f54amh9106. Mike Levine, "Why the Justice Department's Review of Police Agreements Matters," ABC News, April 4, 2017, https://abcnews.go.com/Politics/justice-departments-review-police-agreements-matters/story?id=46566294.
footnote8_778jibg107. Kimbriell Kelly, Sarah Childress, and Steven Rich, "Forced Reforms, Mixed Results," Washington Post, November 13, 2015, https://www.washingtonpost.com/sf/investigative/2015/11/13/forced-reforms-mixed-results/?utm_term=.d816a65b1e6b.
footnote9_9wxhww1108. Katie Benner, "Sessions, in Last-Minute Act, Sharply Limits Use of Consent Decrees to Curb Police Abuses," New York Times, November 8, 2018, https://www.nytimes.com/2018/11/08/us/politics/sessions-limits-consent-decrees.html; and Office of the U.S. Attorney General to Heads of Civil Litigating Components, United States Attorneys, "Principles and Procedures for Civil Consent Decrees and Settlement Agreements with State and Local Governmental Entities," memorandum, November 7, 2018, https://www.justice.gov/opa/press-release/file/1109621/download.
footnote10_4fy0eh0109. Joshua Clark Davis, "William Barr's Police-Fueled War on Civil Rights," Nation, December 27, 2019, https://www.thenation.com/article/archive/barr-police-civil-rights/; and U.S. Department of Justice, "Third Annual Attorney General's Award for Distinguished Service in Policing," video, December 3, 2019, https://www.justice.gov/opa/video/third-annual-attorney-general-s-award-distinguished-service-policing.
footnote11_3ka4yer110. See Ari Feldman, "Activists Want Bias Training for Cops. ADL Provides It. But Does It Work?," Forward, June 17, 2020, https://forward.com/news/national/448948/police-george-floyd-protest-implicit-bias/; Tomas Chamorro-Premuzic, "Implicit Bias Training Doesn't Work," Bloomberg Opinion, January 4, 2020, https://www.bloomberg.com/opinion/articles/2020-01-04/implicit-bias-training-isn-t-improving-corporate-diversity?sref=LSnlJj5m; Michael Hobbes, "'Implicit Bias' Trainings Don't Actually Change Police Behavior," Huffington Post, June 12, 2020, https://www.huffpost.com/entry/implicit-bias-training-doesnt-actually-change-police-behavior_n_5ee28fc3c5b60b32f010ed48; and Jeremy Stahl, "The NYPD Paid $4.5 Million for a Bias Trainer. She Says She's Not the Solution," Slate, June 18, 2020, https://slate.com/news-and-politics/2020/06/lorie-fridell-implicit-bias-policing.html.
footnote12_94m90po111. Tom James, "Can Cops Unlearn Their Unconscious Biases?," Atlantic, December 23, 2017, https://www.theatlantic.com/politics/archive/2017/12/implicit-bias-training-salt-lake/548996/.
footnote13_hhu6sia112. Michelle M. Duguid and Melissa C. Thomas-Hunt, "Condoning Stereotyping? How Awareness of Stereotyping Prevalence Impacts Expression of Stereotypes," Journal of Applied Psychology 100 (2015): 343–59, https://pubmed.ncbi.nlm.nih.gov/25314368/; and "Ironic Effects of Anti-Prejudice Messages," Association for Psychological Science, July 6, 2011, https://www.psychologicalscience.org/news/releases/ironic-effects-of-anti-prejudice-messages.html.
footnote14_ifn1iu0113. Confronting Violent White Supremacy (Part II), 22–23.
footnote1_15sjzuz114. Sara Cardine, "O.C. Sheriff's Officials Investigating Deputy Seen Wearing Extremist Insignia at Costa Mesa Protest," Los Angeles Times, June 3, 2020, https://www.latimes.com/socal/daily-pilot/news/story/2020-06-03/o-c-sheriffs-officials-investigating-deputy-seen-wearing-extremist-insignia-at-costa-mesa-protest.
footnote2_qseqica115. "CPD Investigating After Officer Wore Extremist Militia Logo to Downtown Protest Saturday," CBS Chicago, June 9, 2020, https://www.msn.com/en-us/news/us/cpd-investigating-after-officer-wore-extremist-militia-logo-to-downtown-protest-saturday/ar-BB15dByT.
footnote3_bx7qptc116. Katherine Cook, "Salem Police Chief Apologizes in Response to Viral Video of Officer with Armed Group," KGW (Portland, OR), June 6, 2020, https://www.kgw.com/article/news/local/protests/salem-police-chief-apologizes-in-response-to-viral-video-of-officer/283-d7f4ce66-6f8d-4a25-a478-ae3999648d51.
footnote4_74rx2l5117. Chuck Tanner and Devin Burghart, "Three Percenters Pose With Olympia Police Officer, Sparks Need for Thorough Investigation," Institute for Research and Education on Human Rights, June 18, 2020, https://www.irehr.org/2020/06/18/three-percenters-pose-with-olympia-police-officer-sparks-need-for-thorough-investigation/#_ftn3.
footnote5_39ldnfw118. Anna Orso, "Police Under Fire for 'Coddling' Violent Groups of White People in Fishtown, South Philly," Philadelphia Inquirer, June 26, 2020, https://www.inquirer.com/news/philadelphia/philadelphia-protests-marconi-plaza-fishtown-south-philadelphia-protests-20200626.html.
footnote6_33m2b85119. Jeremy Roebuck, Ellie Rushing, and Oona Goodin-Smith, "Philly's Police Union Says It Didn't Invite Proud Boys to a Pence After-Party. It Didn't Ask Them to Leave, Either," Philadelphia Inquirer, July 10, 2020, https://www.inquirer.com/news/proud-boys-philly-police-fop-mike-pence-mcnesby-trump-alt-right-20200710.html.
footnote7_5sj1zmr120. "Prohibiting Private Armies at Public Rallies: A Catalogue of Relevant State Constitutional and Statutory Provisions," Institute for Constitutional Advocacy and Protection, February 2018, https://www.law.georgetown.edu/icap/wp-content/uploads/sites/32/2018/04/Prohibiting-Private-Armies-at-Public-Rallies.pdf.
footnote8_etmsth3121. Assessing the Threat from Accelerationists and Militia Extremists: Hearing Before the Subcomm. on Intelligence and Counterterrorism of the H. Comm. on Homeland Security, 116th Cong. 12 (2020) (statement of Heidi L. Beirich, cofounder and executive vice president, Global Project Against Hate and Extremism), https://homeland.house.gov/imo/media/doc/Testimony%20-%20Beirich.pdf; and Robert Gearty, "2 Affiliated with 'Boogaloo' Extremist Group Charged with Inciting a Riot: SC Sheriff," Fox News, June 6, 2020, https://www.foxnews.com/us/2-affiliated-with-boogaloo-extremist-group-charged-with-inciting-a-riot-sc-sheriff; Dan Noyes, "I-Team: Air Force Sergeant Arrested on Suspicion for Killing of Deputy in Santa Cruz County," ABC7 News (San Francisco), June 8, 2020, https://abc7news.com/steven-carrillo-santa-cruz-carillo-california-sheriff-deputy-killed/6236742/.
footnote1_r7edl4b122. Vida B. Johnson, "KKK in the PD," 205, 234.
footnote2_og5eeel123. Federal Bureau of Investigation, "National Use-of-Force Data Collection," Criminal Justice Information Services (CJIS), https://www.fbi.gov/services/cjis/ucr/use-of-force.
By Alene Tchekmedyian, LA Times.October 6, 2020 | EDUCATE!
Los Angeles County's top watchdog said Monday that substantial evidence exists that a secretive group of tattooed deputies at the East L.A. sheriff's station are "gang-like and their influence has resulted in favoritism, sexism, racism and violence."
In a 32-page report probing activities of the Banditos clique, Inspector General Max Huntsman alleged that Sheriff Alex Villanueva "continues to promote a code of silence regarding these sub-groups" which have plagued the agency for decades.
The inspector general's report was largely centered around the Sheriff's Department's criminal investigation of a fight in 2018 at an off-duty party at Kennedy Hall, an event space near the station, where several deputies said they were attacked by members of the clique. The Internal Criminal Investigations Bureau interviewed dozens of deputies, but according to the report "almost completely ignored" evidence of the Banditos' role in the events.
"Minimal questions were asked about the Banditos and in the interviews during which the witnesses brought up the Banditos by name, very few follow-up questions were asked," the report said, adding that 23 witnesses declined to give interviews. The report also criticized the failure of prosecutors to scrutinize the Banditos in their review of the case.
The L.A. County district attorney's office in February declined to file charges against a sergeant and three deputies involved in the off-duty brawl, saying there was "insufficient evidence" that they committed battery or any other crimes.
Villanueva has fired back against criticism of his handling of deputy cliques, saying he shook up the leadership at the East L.A. station early in his tenure and, more recently, moved to discipline 26 employees for misconduct related to the Kennedy Hall incident. (Some of those employees were the alleged victims, their attorney said.)
The administrative investigation conducted by the Sheriff's Department found that some employees at the station were acting as so-called shot callers, controlling scheduling and events at the station, Cmdr. April Tardy has said, using a term often used to describe top leaders in prisons and gangs.
Villanueva also has said he has implemented — and is vigorously enforcing — a new policy that prohibits membership in illicit groups. Investigators will ask deputies accused of misconduct about their membership in deputy cliques such as the Banditos, he said.
The inspector general's report echoed some of the department's findings, pointing to evidence that a group of veteran deputies with ties to the clique have "undue influence over the daily activities and assignments" at the station. Some younger deputies allege that the group used their influence, and sometimes force and violence, to push deputies out of the station for "failing to live up to the Banditos' work ethic," the report said.
In a lawsuit filed against the county last year, eight deputies alleged that they were routinely harassed by the clique, denied backup on dangerous calls, pressured to quit or leave the station and overloaded with calls at the end of their shifts, among other complaints.
The IG's report recommended that the Sheriff's Department thoroughly investigate internal criminal allegations and compel statements from all witness deputies who do not invoke their right against self-incrimination. Los AngelesPolice AbuseRacismViolence
**
Sheriff Villanueva to fire or suspend 26 people involved in off-duty Banditos fight
By ALENE TCHEKMEDYIAN, AUG. 13, 2020
Los Angeles County Sheriff Alex Villanueva has moved to discipline 26 employees for misconduct related to a fight during an off-duty East L.A. station party at which several deputies said they were attacked by tattooed members of the Banditos clique of LAPD officers.
Villanueva would not say how many of those employees he was seeking to fire, but a source with knowledge of the investigation said three deputies — Rafael Munoz, Gregory Rodriguez and David Silverio — face termination.
Cmdr. April Tardy said the policy violations included a failure to report the September 2018 incident to supervisors, as well as violations of policies that govern general behavior and conduct toward others.
The administrative investigation, which involved interviews with more than 70 people, found that some employees at East L.A. station were acting as so-called "shot callers," controlling scheduling and events at the station, she said, using a term often used to describe top leaders in prisons and gangs.
An attorney for Munoz, Rodriguez and Silverio could not immediately be reached for comment.
Villanueva said the Sheriff's Department will begin asking deputies accused of misconduct about their membership in deputy cliques such as the Banditos, which have plagued the agency for decades. He has said he also put measures in place in February that prohibit deputies from participating in illicit cliques.
"I'm adopting a zero-tolerance policy," Villanueva told reporters Thursday. "If you form a group, you mistreat people, yes, we will seek to make sure you're no longer a member of the department."
He added later: "But we're not gonna go on an inquisition and go through the entire 18,000 employees of the department to see if they have a tattoo or they're a member of a group. That would be inappropriate and wildly speculative. We're trying to run an organization, not engage in a witch hunt."
County Supervisor Hilda Solis, whose district includes East L.A., said in a statement that Villanueva's action is "long overdue."
"These are matters that need to be swiftly addressed to prevent more harm. The more we learn about deputy secret cliques, the more we deserve greater transparency and accountability of wayward deputies who disregard their colleagues and those they were sworn to serve and protect," she said. "Implementing a zero-tolerance policy is one important step, but ensuring that the policy is instituted and practiced is key."
Ron Hernandez, president of the Assn. for Los Angeles Deputy Sheriffs, said "ALADS does not condone unprofessional conduct by deputy sheriffs, on or off duty. That said, we support a fair and deliberate process of accountability."
He said the union encouraged members to participate in an ongoing study of deputy cliques by the nonprofit research group Rand Corp., which is scheduled to be completed next year.
Defenders of the deputy groups have said they represent not rogue cliques but camaraderie and a fellowship of hard workers. And sheriff's officials have previously argued that deputies have an individual right to freedom of expression and association.
Observers called the move to ask accused deputies about their clique membership potentially groundbreaking if carried through.
"If they really do that in all discipline cases going forward that will be historic," said Inspector General Max Huntsman. "I'll believe it when I see it."
Vincent Miller, who represents eight deputies, including those who said they were attacked at Kennedy Hall, said Villanueva's announcement was hollow and intended to give the appearance that he's tackling the problem when he is really serving as an "advocate for the gangs" while hiding behind the 1st Amendment.ADVERTISEMENT
"It's way too late, way too little. And it doesn't tell us anything about the systemwide deputy gang problem," Miller said. He said his clients found "rat" scribbled on their cars and lockers. Two of them, he said, found a dead rat outside their homes — including one just a few days ago. All eight had to transfer out of the East L.A. station because of the hostility, he said.
The discipline comes after the L.A. County district attorney's office in February declined to file charges against a sergeant and three deputies involved in the incident at Kennedy Hall, saying there was "insufficient evidence" that Sgt. Michael Hernandez as well as Munoz, Rodriguez and Silverio committed battery or any crimes. In a 28-page memo, prosecutors said 21 deputies identified as possible witnesses declined to be interviewed.
Because they weren't compelled to provide statements, Huntsman has said the criminal investigation amounted to a cover-up.
"So as a result, a criminal prosecution was avoided — one in which the facts and details of the Banditos might have come into public light," Huntsman said recently.ADVERTISEMENT
Villanueva's move follows recent allegations from a whistleblower deputy that a gang of deputies who call themselves the Executioners dominate the Compton sheriff's station. Chief Matt Burson said Thursday that the groups have caused "great embarrassment and concern" to the department and the community. He said the department's Internal Affairs Bureau has launched a probe into the existence of the Executioners, but that "our intent is to examine the department in its entirety."
"I am absolutely sickened by the mere allegation of any deputy hiding behind a badge to hurt anyone," said Burson, who is in charge of professional standards.
Recent claims and lawsuits have underscored that elected sheriffs have failed for decades to root out the problem of tattooed deputy subgroups operating out of several Sheriff's Department stations and using what critics allege are violent, intimidating tactics in communities. And it's been costly.
Los Angeles County has paid out roughly $55 million in settlements in dozens of cases where sheriff's deputies are accused of belonging to cliques. Those cases involve incidents that date to the early 1990s, when what a federal judge described as a "neo-Nazi, white supremacist gang" called the Vikings operated within Lynwood station. Other payouts involve the 3000 Boys and the 2000 Boys, involved in beatings at Men's Central Jail.ADVERTISEMENT
Last year, the county settled for $7 million a lawsuit brought by the family of a 31-year-old man who was shot and killed by deputies during a foot chase in 2016. Deputies claimed the man, Donta Taylor, had a handgun, but no weapon was found.
Samuel Aldama, one of two deputies who shot at Taylor, admitted under oath to having a tattoo on his calf depicting a skull with a rifle and a military-style helmet emerging from flames. Aldama said he knew of other deputies at the Compton station with the tattoo, but he denied that the image represented membership in a club.
Aldama's captain at the time said under oath in 2018 that he didn't try to identify which deputies had tattoos out of respect for their 1st Amendment rights and the privileges granted to them by the Peace Officer Bill of Rights.
According to the attorney for the Compton whistleblower, the image on Aldama's calf was found on a mouse pad and pencil holder at the station desk of an alleged member of the Executioners.
Alene Tchekmedyian covers the Los Angeles County Sheriff's Department. She previously wrote about the county's criminal courts and breaking news throughout California. Before joining The Times in 2016, she reported on crime and policing for the Glendale News-Press and Burbank Leader. She grew up in Huntington Beach and graduated from UCLA.
2013, Courthouse News
Deputies Say Racist Gang Wields|Power at Top of L.A. Sheriff's Dept.
MATT REYNOLDSFacebookTwitterEmail
     LOS ANGELES (CN) – White racist gangs operate at the highest levels of Los Angeles County's Sheriff's Department, threatened the lives of deputies who exposed it and branded them as "race traitors" and "snitches," two deputies claim in court.
     Deputies Michael Rathbun and James Sexton sued Los Angeles County, Sheriff Leroy Baca, Undersheriff Paul Tanaka, Lt. Greg Thompson and "Detective Perkins," in Federal Court.
     They seek damages for retaliation, constitutional violations, malicious prosecution, conspiracy, harassment and other charges.
     The 39-page complaint makes alarming allegations, including that the Sheriff's Department hid an inmate from the FBI, that Thompson and Tanaka covered up an incident involving a skinhead deputy, and that Sheriff Baca blew off the threats to his deputies and was indifferent to the corruption.
     Rathbun and Sexton claim they worked in an intelligence unit known as Operation Safe Jails (OSJ), using jail informants to help prevent gang violence and crime in America's largest local jail system.
     Though Lt. Thompson and Undersheriff Tanaka oversaw the intelligence unit, they are members of a racist cop gang, the Vikings, according to the complaint.
     "On or about August 2011, Lt. Thompson ordered Rathbun, Sexton, and other members of OSJ to transfer and hide a specific inmate, 'Anthony Brown.' Rathbun and Sexton learned that the inmate was being hidden from the Federal Bureau of Investigation. On information and belief, the order to hide Anthony Brown came from Sheriff Baca and Undersheriff Tanaka in an effort to obstruct a federal investigation," the complaint states.
     Anthony Brown is an FBI informant who reported on abuse in county jails, the Los Angeles Times reported in August 2012.
     In a subhead to the Aug. 27 story, the Times wrote: "Anthony Brown, the FBI informant who reported on abuse within L.A. County jails, is serving 423 years to life for armed robbery and has a history of making unfounded allegations about police."
     In their complaint, Rathbun and Sexton claim: "Increasingly, Thompson ordered OSJ to engage in activities meant to 'keep the FBI out of the jails.' In fact, discussions were held about wiring interview rooms when FBI agents or informants were present. On information and belief, Thompson was carrying out the directives of Sheriff Baca and Undersheriff Tanaka."
     Rathbun says he was "stunned" by what happened next: "On or about February 2012, an informant told Rathbun and Sexton that Deputy Joseph Britton, who was assigned to Men's Central Jail, was engaged in illegal behavior in association with a powerful white gang member (while on duty and using his powers as a law enforcement official), who was in charge of illicit activity at MCJ. Rathbun and Sexton provided a confidential intelligence memorandum to Lt. Thompson. Moreover, Rathbun had the powerful white gang member moved to high-powered housing," the complaint states.
     It continues: "On the same day, Sexton provided Thompson with an analogous memorandum about another prison official, Remington Orr, and improper association with a prison gang.
     "A few days later, Rathbun followed up with Lt. Thompson about the memorandum.
     Thompson informed Rathbun that he showed the memorandum to Deputy Britton and inquired whether the allegations were true.
     "Rathbun was stunned. The memorandum was unredacted and thus, Britton was informed about Rathbun and Sexton's identities as well as the identity of the informant. Thompson had intentionally placed Rathbun, Sexton, and the informant in danger.
     "On information and belief, Thompson showed Britton the memorandum in order to intimidate Rathbun and Sexton as well as give Britton the heads up and thus, permit Britton to cover up any illegal activity.
     "In contrast, Thompson forwarded the Orr memo to ICIB, which ensnared Orr in a narcotics sting. Subsequently, Orr was terminated.
     "Britton and Orr were treated completely differently. While Orr is black, Britton is Caucasian.
     "News of Rathbun and Sexton's confidential memorandum was disseminated throughout the jail system by Thompson and other LASD personnel. Rathbun and Sexton were now referred to as snitches by LASD deputies and officials.
     "Additionally, LASD deputies and officials began to use inmates against Rathbun and Sexton. An inappropriate relationship exists between certain LASD personnel and various inmate jail gangs, especially white supremacist. LASD personnel use these jail gangs as proxies or agents to retaliate against other LASD deputies and inmates. Within these inappropriate alliances, the gangs are given certain privileges that they are otherwise legally precluded from. Similarly, the gangs provide LASD personnel with certain benefits, which include carrying out certain tasks on behalf of LASD personnel. Thus, these gangs often act under color of law because of powers delegated or provided by LASD.
     "In late February 2012, Sexton was corned in the OSJ office. Two OSJ deputies told Sexton in a threatening manner that he and Rathbun 'better shut up or else' about the Britton matter. Both deputies were on duty, and in department uniform. "Officially, LASD deputies are not permitted to wear their firearms in certain parts of jail facilities. On information and belief, the deputies were following orders from Lt. Thompson, Sheriff Baca and/or Undersheriff Tanaka to intimidate and/or silence Sexton and Rathbun.
     "The OSJ team at Men's Central Jail refused to work or cooperate with Rathbun and Sexton. In fact, MCJ [Men's Central Jail] deputies accused Rathbun of 'fucking up their program' by moving the powerful white gang member from MCJ. At all relevant times, certain members of OSJ associated with, and cooperated with, certain jail gangs, including partaking in illicit activities. Sheriff Baca and/or Undersheriff Tanaka knew or should have known about these improper relationships, but took no action to stop it and implicitly ratified the improper conduct.
     "Soon thereafter, Rathbun and Sexton's informant was moved without their consent. The informant was moved out of protective custody and into the general population. Consequently, the informant's life was placed in serious jeopardy. After Rathbun and Sexton interceded, the MCJ OSJ team had no answer (at least, claimed no answer) as to why the informant was moved out of protective custody.
     "Subsequently, Sexton was informed that Lt. Thompson ordered the move of the informant after Rathbun and Sexton's confidential memorandum. On information and belief, Thompson wanted to neutralize the informant by providing white supremacy gangs with access to him. Moreover, Thompson intended to send Rathbun and Sexton a 'message' that bad things would happen (i.e., physical or bodily harm) if Rathbun and Sexton did not backtrack or drop the Britton matter.
     "Sheriff Baca and/or Undersheriff Tanaka knew or should have known about Thompson's actions. On information and belief, Sheriff Baca and/or Undersheriff Tanaka supported and ratified Thompson's misconduct.
     "On or about March 2012, Sexton conducted an interview of a suspect at LASD custody facilities. Besides members of LASD and the inmate, no one else was present. The interview somehow ended up on YouTube. Sexton's identity was publicly disclosed and thus, his well-being placed in jeopardy.
     "Sexton asked Lt. Thompson to investigate the incident, but Thompson replied that Sexton should forget about it. Thompson took no action or any investigation about how an in-custody interview found its way on the Internet. On information and belief, LASD personnel, including but not limited to Lt. Thompson, leaked the interview in order to further intimidate Rathbun and Sexton."
     Rathbun claims that to "cope with the intense pressure," he became dependent on alcohol and "got into a fender bender" and was charged with "misdemeanor DUI."
     He claims that unidentified department officials tried to leak video of his arrest to the media, "in a further effort to discredit Rathbun and ruin his life."
     The complaint continues: "Subsequently, 'white power' literature was left at Rathbun's home. No other homes had such material distributed and no prior incidents of this nature had previously occurred. Rathbun's home address is confidential because he is a peace officer and thus, his life would be placed in jeopardy if the information was either public or known to certain individuals. Members of LASD are the only individuals with access to such sensitive information. On information and belief, LASD officials, including members of the OSJ teams, used their contacts with white supremacy gangs to threaten Rathbun.
     "LASD personnel, using jail gangs as their agents, labeled Rathbun and Sexton as 'race traitors.'"
     Then Rathbun's misdemeanor was upgraded to a felony "without any notice," the complaint states.
     It continues: "Rathbun's criminal attorney was not notified. Fortunately, Rathbun discovered the new charges and appeared in court. Otherwise, a bench warrant would have been issued for Rathbun and he would have been taken to Men's Central Jail, exposing him to criminals he had been investigating for years.
     "Absolutely no legal or factual basis ever existed for a felony DUI."
     Rathbun and Sexton say they reported the threats and harassment Sheriff Baca, who was "dismissive and unmoved."
     The complaint continues: "In the summer of 2012, Rathbun and Sexton went to the FBI and disclosed various information, including evidence about LASD's violation of various state and/or federal laws. At this time, LASD personnel were under unofficial orders from the department not to speak or cooperate with the FBI. Rathbun and Sexton were under no official duty to report the various legal violations but did so despite directives from LASD to the contrary.
     "In the summer of 2012, Rathbun was suspend[ed] without pay. Rathbun plead[ed] his case with Chief Yim, who ignored Rathbun's concerns. Numerous members of the department who committed a DUI are given much greater leniency. On information and belief, LASD officials discovered that Rathbun had spoken to the FBI, and thus, his suspension without pay was retaliation for the disclosure.
     "In contrast, Lt. Thompson was transferred to Narcotics Division. The new assignment was a coveted position. Undersheriff Tanaka made sure Thompson was given the new position."
     The plaintiffs say that after they spoke to Los Angeles Times, and testified in August 2012 before a federal grand jury they were subjected to threats and more intimidation: "On or about November 2012, Lt. Thompson's son, Deputy Matt Thompson, and another LASD deputy cornered Sexton. The two men informed Sexton that 'the boss is aware that Rathbun and he testified in front of the grand jury.' But the 'boss' did not think he would get indicted, yet Sexton and Rathbun will 'answer' for their testimony. Thompson's son and the other LASD employee delivered their threat while on duty and in uniform. On information and belief, the threat was conveyed at the direction of Sheriff Baca, Undersheriff Tanaka, and/or Lt. Thompson.
     "On or about late 2012, Rathbun's vehicle was vandalized on LASD property.
     "In late 2012, high-ranking LASD officials expressed concern Lt. Thompson may attempt to kill Sexton and Rathbun.
     "In late 2012, Rathbun discovered that LASD personnel, including Detective Perkins, were the ones who escalated his DUI charge from a misdemeanor to a felony."
     The harassment and retaliation were unrelenting, the men say in the complaint: "Rathbun and Sexton have each been targets of bogus IA [Internal Affairs] investigations, which are merely meant to ruin their careers further. In fact, Rathbun and Sexton have been involved in four internal investigations each. The LASD has a practice and pattern of using internal investigations to retaliate against employees. Sheriff Baca and Undersheriff Tanaka put into place such practices and used it extensively against plaintiffs.
     "Lt. Thompson is a close confidante of Undersheriff Paul Tanaka. Thompson, like Tanaka, is a tattooed member of the 'Vikings.' In fact, Tanaka got his 'Viking' tattoo when he was a sergeant, which is odd because it is quite rare to have supervisors get such a tattoo."
     A federal judge determined as long ago as 1991 that the Vikings "were a racist group of deputies who existed within the Los Angeles County Sheriff s Department and Lynwood Station," the complaint states, citing Thomas v. County of Los Angeles, case no. CV 90-5217. It continues: "Thompson was a named individual defendant in Thomas v. County of Los Angeles. This group had terrorized minority members of the general public by using unjustified force, fabricating evidence, and engaging in cover-ups. On information and belief, Tanaka and Thompson adopted the 'Viking' brand of law enforcement.
     "In fact, Tanaka allowed and encouraged the further development of deputy gangs within the LASD. For instance, the Regulators flourished in the Department. When some LASD officials tried to stop these gangs, they were stopped and retaliated against by Tanaka. Similarly, Tanaka allowed and encouraged deputy gangs in the jails. At various points in time, Tanaka would recite a version of his 'working in the gray' message.
     "Tanaka's 'working in the gray' is an informal policy that directs LASD members to operate outside the confines of the law, in contravention of state and federal laws. Lt. Thompson and Deputy Britton 'work in the gray.' LASD officials' attempts to obstruct justice and interfere with federal investigations is pursuant to the 'work in the gray' policy.
     "While Tanaka directed/ordered such illegal activities, Sheriff Baca ratified the unlawful actions. Baca has tolerated Tanaka's misdeeds. Baca has done nothing to break up the deputy gang-cliques inside the LASD. Baca has done nothing to combat discrimination, harassment, and retaliation based either on protected activities or protected characteristics."
     The plaintiffs cite two other deputies who they say were subjected to violent threats, including at gunpoint, for objecting to the institutional racism and violations of law and the Constitution.
     In sum, the officers say: "Defendants Baca, Tanaka, Thompson, Perkins and Does 1-6, acting within the course and scope of their duties as peace officers of the Los Angeles County Sheriffs Department, deprived plaintiffs of their rights to free speech as delineated herein above, and thereafter in violation of plaintiffs' due process rights proceeded to make threats, falsify evidence, submit false police reports and offer perjurious testimony so as to ensure that plaintiffs would be harmed."
     Rathbun and Sexton seek a jury trial, lost wages and benefits, including future wages and benefits, medical and legal expenses, civil penalties, and damages for 11 counts, including Bane Act violations, municipal liability, and state and federal labor violations.
     They are represented by Milad Sadr with Goldberg & Gage of Woodland Hills.
**
Police violence, cliques, and secret tattoos: fears rise over LA sheriff 'gangs'
Investigation faces skepticism amid concerns that groups, linked to a history of attacks on inmates, are resurgent
Andrew Gumbel in Los Angeles, Aug 2018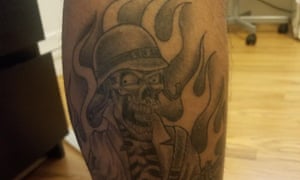 John Sweeney knew from his four decades as a civil rights lawyer that something about the police shooting of Donta Taylor was off.
Taylor, a 31-year-old African American, had been walking from a friend's house in Compton to a nearby grocery store one summer night when members of the county sheriff's department challenged him, gave chase and ended up firing more than a dozen shots at him along a lonely concrete pathway alongside a canal.
To Sweeney, who had cut his teeth as an associate of the legendary civil rights lawyer Johnnie Cochran, the 2016 killing smacked of an execution, the work of renegade police officers reveling in violence for the sake of it. It was no more than a hunch, at first.
The police claimed that Taylor had been wearing gang colors – Compton is the birthplace of the notorious Crips and Bloods – and had pulled a semi-automatic handgun from his waistband. But no gun was ever found at or near the scene, and Taylor was not suspected of being involved in criminal activity when the officers approached.
"They stopped him for no reason. No reason!" Sweeney said in an interview with the Guardian. "He'd gone out to buy a Sprite and a single [cigarette]. And it hit me that something was going on, that they were doing this to become a member of something or to gain favor … because this is not policing."
Sweeney later learned that the same two officers had delivered a savage beating to another young black man in Compton a few months earlier. Sheldon Lockett had been standing with a friend outside his godmother's house in broad daylight when, according to eyewitnesses, the officers showered him with racial abuse, repeatedly used a Taser on him and shoved a night stick into an eye socket, causing him permanent damage. Again, the officers claimed to have seen a gun. Again, no gun was ever found.
Then came the moment of truth.
At a deposition hearing in May, Sweeney asked one of the officers, Samuel Aldama, if he harbored racial animus toward African Americans, and Aldama spent close to five minutes struggling to give an answer. At first Aldama said he did have ill feelings, then changed tack and said he'd misunderstood the question.
Next, Sweeney asked Aldama if he had a tattoo. After some hesitation, Aldama showed an elaborate image on his calf of a frightening skeletal figure wielding a rifle. Between 10 and 20 deputies at the Compton station had the same tattoo, he acknowledged.
We suspect there are a lot of victims of this gang — John Sweeney
Sweeney hadn't known about the tattoo in advance. But he did know that the Los Angeles sheriff's department had a history of violent gang-like cliques that glorify violence for its own sake and pressure deputies to break the rules so they can prove their bona fides and "earn their ink" in the form of just such hidden tattoos.
The revelation wasn't just a Perry Mason moment in court. It has jolted civic leaders in Los Angeles, just a few years after an epic scandal in which sheriff's deputies, supported and protected by senior officers up to the sheriff himself, were found to have engaged in systematic beatings of prisoners, helped smuggle drugs and other contraband in and out of jail on behalf of White Power gang leaders, and worked to conceal aspects of the scandal from the FBI.
Lee Baca, the former sheriff, as well as his former No 2 and close to a dozen former sheriff's deputies, have been prosecuted and convicted of an array of offenses from abuse of police power to obstruction of justice.
Jim McDonnell, the current boss of what is America's largest county police department, has ordered an internal investigation into what he called "renegade cliques" and insisted – despite an official finding by the district attorney's office last year in favor of Aldama and his partner, Mizrain Orrego – that the Compton incidents are still being investigated.
That has done little to satisfy McDonnell's internal critics, who complain he has been a reformer in name only, and threatens to cast a harsh spotlight on everything from controversial shootings to staff and equipment shortages as McDonnell faces an unexpectedly tough re-election battle against a 30-year department veteran in November.
It has also incensed civil rights leaders, six years after a county report coauthored by McDonnell (then police chief in the port city of Long Beach) which described how deputies belonging to secret cliques would dare each other to beat or kill jail inmates and let them add details to their tattoos every time they did. Deputies would sometimes get into fights with rival clique members – including a notorious dust-up at a department Christmas party in 2010 that led to six deputy firings – or beat up honest deputies who refused to accept the dare.
The concern is that this behavior is now making a resurgence, in part because some rank-and-file deputies have developed an us-versus-them mentality following the rise of Black Lives Matter and other civil rights groups angry about police shootings of civilians, and in part because the department brass has not been cleaned up the way McDonnell promised when he took office.
"This goes a whole lot higher up in the Compton station," Sweeney charged. "The captain claims he didn't know. These officers change from their civilian clothes into their uniforms in the locker room every day, and you're going to tell me, up to 20 people have that tattoo and it's not going to raise questions? Of course they knew about it."
A union representative at a different sheriff's station, who spoke frankly on condition that he not be identified, told the Guardian that not all tattoos were equal. Some deputies got them as a mark of genuine pride, an indication that they were willing to do the job right and go after violent criminals regardless of the risks. For others, though, tattoos were more secret, and more sinister.
"Why does it have to be a skull holding a rifle? How does that stand for hard work?" the union rep said of the Compton ink. "What it indicates is more of a thug mentality, doing things that are – wink, wink – not exactly above board. It starts to change the way deputies treat each other. At the East LA station, friends have told me about three different tattoos. Sometimes the three groups fight each other. That's totally unacceptable, not at all how cops should be behaving."
A decade ago, the department was in thrall to a shadow leadership structure in which deputies were encouraged to "work in the gray". Many maintained a code of silence about abuses both to protect each other and to earn promotions. Dirty cops who kept to the code were said to be "in the car" with the undersheriff, Paul Tanaka, a one-time member of the notorious clique the Lynwood Vikings.
In his youth, Tanaka had been one of five Viking officers held responsible for the killing of an unarmed Korean immigrant who ran a stop sign in Lynwood in 1988. Three years later, a federal judge described the Vikings as a "neo-Nazi, white supremacist gang" who routinely flouted the constitution. The department ended up paying nearly $10m in settlements because of the Vikings' actions, and Tanaka's career appeared doomed – until Baca took office and put him on the fast track to the top.
As undersheriff, Tanaka had an executive email list of trusted underlings – a list that many in the department hoped McDonnell would use for guidance in purging the ranks. Instead, insiders say, McDonnell has kept many of Tanaka's former acolytes and in several instances promoted them. (Tanaka himself is serving a five-year sentence for conspiracy and obstruction.)
All that is likely to come under renewed scrutiny as the November election approaches. The dark horse candidate challenging McDonnell, the retired police lieutenant Alex Villanueva, has based his entire campaign on the need for reform and what he calls a corrupt political patronage system shredding morale.
"In comes McDonnell and not only did he leave the entire system intact," Villanueva told the Guardian, "he left the key players intact in the same positions and promoted them … He's surrounded himself with people giving him bad advice. It's the fox guarding the henhouse."
The union rep broadly concurred. "The rank and file absolutely loathe McDonnell," he said. "I don't know if it's a compulsion or a delusion, but he's focused almost entirely on the cosmetic. He has done almost nothing towards serious reform, and the radio frequency goes down about once a week, but we're spending $1m to replace the silver buttons on our belts with brass ones. What has that got to do with anything?"
McDonnell himself has sought to play down the significance of the Compton shootings, saying the revelations in Aldama's deposition do not "in any way reflect [the sheriff's department] of today". The captain at the Compton station told the Los Angeles Times that Aldama was confined to desk duty, while Orrego has been fired for an unrelated offence.
John Sweeney, however, is continuing to apply the pressure. In the next few days he will put billboards up around Compton asking for anyone who believes he or she has been victimized by Aldama or Orrego to come forward. "We suspect there are a lot of victims of this gang," Sweeney said. "This may be the tip of the iceberg."
Topics US policing Los Angeles Black Lives Matter movement news
**
2013, The Guardian:
Retired sheriff's commander Bob Olmsted, who is challenging Baca for the voter-elected position of sheriff in 2014, said in a statement on Monday that the arrests "underscore the high level of corruption that has plagued the Sheriff's Department". He said that as a commander he tried "several times" to notify the sheriff and his command staff about "ongoing abuses and misconduct" in Men's Central Jail, but his "concerns fell on deaf ears".
"I knew I had to act, and as a result, I notified the FBI of the department's culture and acceptance of excessive force, inmate abuse, sheriff's gangs, and corruption," Olmsted said.
In 2012 the American Civil Liberties Union sued the sheriff's department, claiming the sheriff and his top commanders had condoned violence against inmates. The organization released a report documenting more than 70 cases of misconduct by deputies.
Last month the county announced the appointment of a veteran Los Angeles County prosecutor, Max Huntsman, to head a new office of inspector general that will oversee the sheriff's department.
As of Monday, the county's jails held more than 18,700 inmates.
**
2016, The Guardian, Former Los Angeles sheriff Lee Baca will go to trial in corruption case. Baca withdrew a guilty plea Monday on charges of lying to federal authorities in an effort to thwart an FBI investigation into abuses at jails he ran. Associated Press in Los Angeles. Mon 1 Aug 2016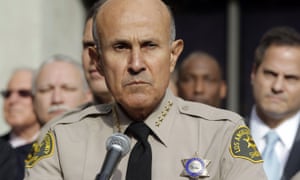 The former Los Angeles County sheriff Lee Baca withdrew a guilty plea Monday and chose to go to trial on a charge of lying to federal authorities in an effort to thwart an FBI investigation into abuses at the jails he ran.
The decision was made at a hearing after last-minute negotiations between defense attorneys and prosecutors on a new plea agreement.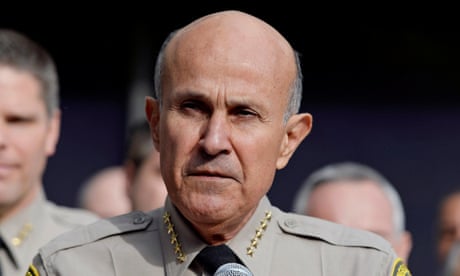 Baca, 74, had pleaded guilty to lying to federal authorities under a deal that called for no more than six months in prison. But a federal judge rejected that sentence last month as too lenient, saying it failed to address Baca's "gross abuse of the public's trust".
Negotiations continued through the weekend to find a compromise that would suit Baca, federal prosecutors and the judge.
"It's frustrating for [Baca] because he's looking for a degree of certainty. He wants this very much to be over," the defense lawyer Michael Zweiback said before the decision was made. "If he's not going to be in a situation where he has some understanding of what he's walking into, then he may feel he has no alternative but to fight for his life and go to trial."
One of the main challenges was uncertainty about what term would satisfy the judge. Federal court rules bar judges from taking part in plea negotiations, and Zweiback said Anderson did not provide a number of months or years that would satisfy him.
Prosecutors cannot mention the prior guilty plea in the trial.
The prospect that Baca will go through a public trial is another dramatic twist in a corruption scandal that blossomed after his deputies learned an inmate was an FBI informant.
Baca, who cut the figure of a fit, trim military officer in a crisp khaki uniform during his 16-year reign, was known for his unconventional approach to running the nation's largest sheriff's department. He jetted around the world to promote a softer style of law enforcement, advocating for jailhouse education and a better understanding of different cultures.
But in his jails, a band of rogue deputies was beating inmates, and supervisors were helping cover up the violence. After discovery of the FBI mole who was trying to gather evidence of beatings, Baca and other higher-ups tried to derail the investigation, having underlings shuffle the inmate to different jails under different names and trying to intimidate an FBI agent.
Baca long denied any role in the scandal and claimed he was out of touch with the goings-on in the jails. In his guilty plea, he acknowledged ordering deputies to "do everything but put handcuffs on" a female agent.
More than 20 members of the department have been convicted on charges ranging from assault to obstruction of justice, including his former second-in-command, who was sentenced to five years in federal prison.
Anderson surprised many court observers when he rejected the plea deal.
"It's one thing to lie," Anderson said. "It's another thing entirely … when the chief law enforcement officer of the county of Los Angeles is involved in a wide-ranging conspiracy to cover up abuse and corruption."
One factor that might have come into play in the decision-making for Baca's attorneys is the state of Baca's mind.
Doctors have said he's in the early stages of Alzheimer's and able to function. But he will probably experience severe cognitive impairment in five to 10 years.
"He's going to be locked up during the healthiest period of his life … and certainly the most aware period that he's got left," said the attorney J Vincent Aprile II, who has written about defending elderly clients.
Withdrawing the plea and forcing prosecutors to get a grand jury indictment and go to trial would buy Baca more time as lawyers prepare for trial.
If his condition declined during that delay, he could be deemed incompetent to stand trial or appear as a sympathetic figure to a jury and be acquitted.
Discussing the prospect with Baca that any delay would allow him to remain free before his mind diminishes, however, would be a tough task, said the defense lawyer Steve Cron, who is not involved in the case.
"I'm not saying it's not going to happen, but that's not a conversation I'd ever want to have with a client," Cron said. "That's a pretty grim choice." Topics
**
Deputy gangs have survived decades of lawsuits and probes. Can the FBI stop them?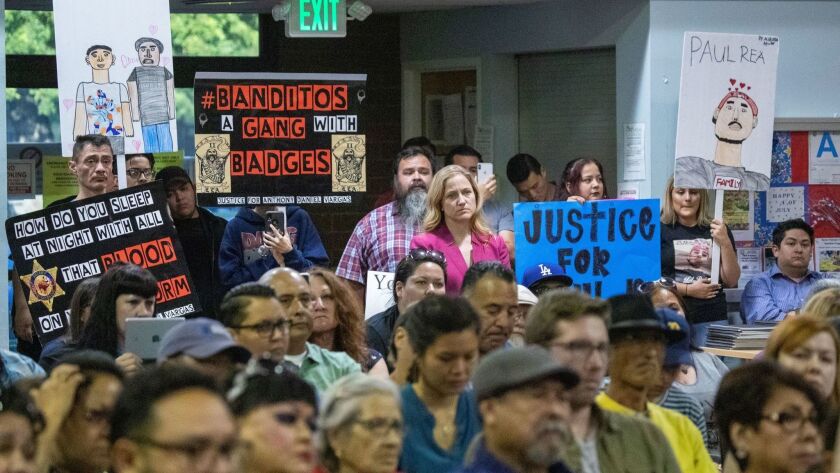 By MAYA LAU, LA Times, 7/15/19
For decades, the Los Angeles County Sheriff's Department has been under pressure to break up tattooed gangs of deputies accused of misconduct. But senior department officials, county leaders and prosecutors have failed to root out a subculture of inked clubs that pervades the nation's largest sheriff's agency.
Now, the FBI has opened an investigation of these secret societies that seeks to accomplish what high-powered sheriffs, blue-ribbon commissions and millions of dollars in lawsuits over the last 50 years have not: identify deputies who brand themselves with the matching tattoos and determine whether the groups they belong to encourage or commit criminal behavior.
The FBI probe into deputy gangs spotlights the shortcomings of local efforts, which have mostly been piecemeal, often resulting in investigations that focus on isolated acts of wrongdoing.
"I think it reveals that the various county agencies can't or won't conduct a thorough, credible, independent investigation," said Sean Kennedy, a Loyola Law School professor and member of the Sheriff Civilian Oversight Commission.
"The Sheriff's Department can't investigate itself. The district attorney doesn't seem interested in investigating the internal gangs. I would think being a member of an internal clique or gang raises serious questions about testifying deputies' bias and credibility," he said.
The Sheriff's Department did not respond to that comment. On Friday, the department issued a statement from Sheriff Alex Villanueva saying he was unaware of any ongoing investigation by the FBI but would fully cooperate with such a probe.
Greg Risling, a spokesman for the district attorney's office, declined to comment.
The FBI may have the means to discourage participation in the clandestine gangs that commonly sport ink featuring imagery of skulls and weapons, legal experts said. Each deputy's design often includes a unique number denoting his place in the lineage of lawmen chosen as members. The groups are said to extract taxes, disguised as fundraisers for good causes, from other deputies.
"The feds are known for being pretty successful where others haven't been," said Laurie Levenson, a former federal prosecutor who teaches criminal law at Loyola Law School.
Levenson said wiretaps and undercover agents are effective tools that federal officials could use in a case like this one. Notably, federal grand juries could compel deputies to reveal their tattoos and talk about their actions in secret without allowing other deputies to tailor their testimony in order to cover for one another, she said.
Sheriff's Department officials have said the 1st Amendment prevents them from ordering deputies to expose their ink, but those concerns would not apply if the tattoos are evidence of involvement in a group that engages in criminal activity, Levenson said.
She added that a federal investigation could also end up demonstrating — as many deputies have argued — that there is no criminal element to the inked groups.
"At the end of all this, a grand jury may have absolutely nothing to say," Levenson said. "Having a bunch of tattooed deputies marching in there who have not committed crimes could be the best thing that ever happened to these officers."
The Times reported Thursday that FBI agents have been asking deputies about the inner workings of the Banditos, a club of deputies at the Sheriff's Department's East L.A. station who brand themselves with matching tattoos of a skeleton with a sombrero, bandolier and pistol, according to three people with close knowledge of the matter.
The agents have been trying to decipher whether leaders of the Banditos require or encourage prospects to commit illegal acts — planting evidence, engaging in unlawful shootings — to gain membership in the group, said the sources, who spoke to The Times on the condition of anonymity because the investigation is ongoing.
The FBI agents have also been asking about similar behavior by other groups like the Spartans and Regulators at the department's Century station, and the Reapers, who operate out of a station in South Los Angeles, the sources said.
The probe follows allegations of harassment and beatings by members of the Banditos at an off-duty party last fall. The revelations have stoked public outrage about the groups, most recently at town hall meetings last week that were focused on issues at the East L.A. station.
"We have a cancer that is infiltrating the Sheriff's Department. That cancer is the gangs…. The gangs are coddled and encouraged by the sheriff," Gil Botello, an East L.A.-born resident, told the oversight commission at a public meeting Thursday. "Enough with the stories. Enough with the dialoguing. We need you to take action."
Officials and community members have long expressed concerns over secret societies of inked deputies that date as far back as the 1970s with the Little Devils at the East L.A. station. Other groups such as the Pirates, Jump Out Boys and Cavemen have surfaced over the years, with the cliques so enmeshed in department culture that their existence does not strike many deputies as odd.
When news emerged in 1990 that a group of Lynwood station deputies known as the Vikings were engaging in street gang behavior, flashing hand signs and addressing one another as "homeboy" or "OG" for "original gangster," then-Sheriff Sherman Block launched a department inquiry into possible wrongdoing by the group, which sported tattoos of a blond Viking head.
The revelations came after 81 residents in the mostly black and Latino area filed a federal class-action lawsuit accusing members of the station of racism, brutality and trashing their homes. A federal judge in the case concluded in 1991 that the Vikings were a "neo-Nazi, white supremacist gang" that operated under leaders who "tacitly authorize deputies' unconstitutional behavior."
Though he pledged an investigation of improper conduct, Block made light of the allegations of gangster behavior, saying that "gangs get a kick out of the fact that deputies have their own sign." He added that the brotherhoods "could be a very positive thing" and a "badge of honor," according to contemporaneous news reports.
Block's treatment of misconduct as an issue that's separate from the wider gang subculture in the department is one that subsequent sheriffs would repeat. Some critics say sheriffs have sent mixed messages about the groups.
Former Sheriff Lee Baca repeatedly denounced the inked clubs even as his undersheriff, Paul Tanaka, was publicly known to have a Vikings tattoo for years during his service as one of the department's top commanders. Tanaka is now in prison for conspiracy and obstructing an FBI investigation into deputy jail abuse, a scheme for which Baca was also convicted.
Former Sheriff Jim McDonnell abolished several logos used in the department that he deemed offensive, including an insignia that refers to the East L.A. station as "Fort Apache." He announced a "comprehensive study" of deputy cliques but took pains to say that it was not a formal investigation and that he was mindful of deputies' 1st Amendment rights in having the tattoos. Shortly after taking office, Villanueva brought back the banned East L.A. station logo, which also features an image of a boot with a riot helmet, the words "Low Profile," and a Spanish phrase that means "Always a kick in the pants." Critics say the symbol casts the station as a Wild West outpost of deputies who crack down on locals. The logo arose out of confrontations between law enforcement and anti-Vietnam War protesters during the 1970 Chicano Moratorium rally, according to KPCC/LAist.
Villanueva, who served at the East L.A. station for seven years as a young patrol deputy, has defended the logo as a source of pride that has nothing to do with the Banditos. He recently implemented a policy that specifically bars department members from participating in any groups that promote conduct that violates people's rights, and in June, his office presented a criminal case against four alleged Banditos to the district attorney.
Still, Villanueva has said there's nothing wrong with the existence of the Banditos or other inked deputy clubs as long as members don't commit misconduct. He's downplayed much of the conduct of the groups as "intergenerational hazing."
Villanueva's undersheriff, Timothy Murakami, said at a public meeting in March that the department was not looking into the Banditos or other exclusive groups as a "systemic issue."
"Right now we're just looking at the actions of individual subjects, not the group as a whole," he said, adding that an investigation could be broadened if warranted.
Blue-ribbon panels have issued scathing critiques of internal deputy gangs to limited effect.
The Kolts Commission, created in response to uproar over excessive force by deputies, conducted a sweeping inquiry into the Sheriff's Department and recommended in 1992 that officials investigate and punish deputies who act like gang members. The agency dismissed the advice.
"The department is confident there are no racist deputy gangs or cliques within the organization and therefore disagrees that an internal investigation is appropriate," said then-Sheriff Block.
In response to recommendations by the Citizens' Commission on Jail Violence in 2012, the department began training new deputies about destructive cliques and rotating jail assignments more regularly in order to prevent clubs from forming.
Evidence of groups of deputies with coordinated skull tattoos have nonetheless resurfaced at stations including Compton and Palmdale.
Defenders of the clubs say they boost morale and are formed by deputies who go beyond what's expected of them by staying late and showing bravery and an eagerness to go after criminals.
Det. Ron Hernandez, president of the Assn. for Los Angeles Deputy Sheriffs, has said that he has a tattoo associated with the now-shuttered Firestone station and that it signified a fellowship of hard workers, not a rogue clique.
"I think the department should focus more on the value of a deputy's work product," he told The Times last year.
Michael Gennaco, who monitored the Sheriff's Department for more than a decade as head of the Office of Independent Review, which is no longer in operation, said it has been extremely difficult to simply get rid of the internal gangs.
He said officials have struggled to hit the right balance between protecting individual deputies' rights to freedom of expression and association while stopping the groups from becoming vehicles for improper or illegal behavior.
Some deputies fired for misconduct tied to internal gangs have sued and gotten their jobs back, Gennaco noted.
Actions by deputies who are members of the clandestine groups have cost county taxpayers millions in lawsuits over the last several decades. In justifying the settlements, the county's lawyers often cite specific behavior by deputies without any acknowledgment of their alleged gang affiliation.
County supervisors have asked for an official tally of each case against the county involving allegations of secret deputy cliques since 1990 and the amounts the county had to pay out in each case.
Miriam Krinsky, a former federal prosecutor who served as executive director of the Citizens' Commission on Jail Violence, said news of the FBI investigation is a reminder of the "'Groundhog Day'-like phenomenon" in addressing inked deputy groups.
"The decades of reports sitting on bookshelves should be enough to convince people that there is a problem here," she said. "And certainly the millions of dollars paid in lawsuit settlements should reinforce the recognition that there is a problem."
2020, Los Angeles Times
**
https://witnessla.com/wp-content/uploads/2020/08/Marked-Draft-CJLP-Report-to-Stakeholders-re-Deputy-Gangs.pdf – 50 years of Deputy Gangs in LA County Sheriff's Department: Identifying root causes and effects to advocate for meaningful reforms
I. Introduction ………………………………………………………………………………………. 1
II. Debates over Nomenclature: Are the LASD Subgroups "Deputy Gangs"? .. 1
III. Known LASD Deputy Gangs or Cliques ………………………………………………. 2
Banditos …………………………………………………………………………………………… 3
Buffalo Soldiers ……………………………………………………………………………….. 4
Cavemen ………………………………………………………………………………………….. 4
Cowboys ………………………………………………………………………………………….. 4
Executioners …………………………………………………………………………………….. 5
Grim Reapers …………………………………………………………………………………… 5
Jump Out Boys …………………………………………………………………………………. 6
Little Devils ……………………………………………………………………………………… 7
Pirates ……………………………………………………………………………………………… 7
Rattlesnakes ……………………………………………………………………………………… 8
Regulators ……………………………………………………………………………………….. 8
Spartans …………………………………………………………………………………………… 9
Tasmanian Devils …………………………………………………………………………….10
Three-Thousand Boys ………………………………………………………………………10
Two-Thousand Boys ………………………………………………………………………..10
Vikings …………………………………………………………………………………………..11
Wayside Whities ……………………………………………………………………………..12
IV. Successive Sheriffs Resist Acknowledging and Addressing Deputy Gangs…………………………………………………………………………………………………….. 13
V. The Negative Effects of Fifty Years of Unchecked Deputy Gangs …………. 17
A. Escalation of Uses of Force: The High Cost of Lives Lost and Multi-Million Dollar Settlements ………………………………………………………17
B. Deputy Gangs Undermine Constitutional Policing ……………………..19
ii
C. LASD Members Make False and Misleading Statements to Hide the Existence and True Nature of Deputy Gangs ……………………………..21
D. Deputy Gangs Infect the Fairness of the Justice System ………………22
1. Criminal Justice: Brady Violations Lead to Wrongful Convictions ……………………………………………………………………….22
2. Civil Justice: Structuring Settlements to Hide Deputy Gangs and Cliques from the Public ………………………………………………………25
VI. Moving Forward: Implementing the Recommendations of the President's Task Force on Twenty-First Century Policing …………………………………… 26
SPECIFIC RECOMMENDATIONS …………………………………………………………….. 27