Now that Democrats have won control of the House of Representatives, the days of unchecked conservative power and liberal despair may be waning. Congressional committees vested with the authority to hold hearings, conduct investigations and serve subpoenas are likely to look into Russian meddling in the 2016 elections, Donald Trump's tax returns, the bungled hurricane response in Puerto Rico, the firing of former FBI director James Comey and resignation of attorney general Jeff Sessions, and much more.
"We are coming to do something that is very important for our country: a more open Congress with accountability to the public," California representative Nancy Pelosi, the once and probably future speaker of the House, said on Face the Nation. "We are not doing any investigation for a political purpose, but to seek the truth."
If Pelosi and House Democrats are sincere about restoring integrity to Congress, uncovering threats to democracy and seeking the truth, they should also investigate a corporation that has done long-term and probably irrevocable damage to our politics and planet: ExxonMobil.
Our era is defined by interlocking crises of truth, democracy and ecology. ExxonMobil is a major actor at that intersection.
Internal and external documents compiled by InsideClimate News, the Los Angeles Times and researchers at Harvard University reveal that ExxonMobil, the world's largest fossil fuel corporation, knew as early as 1977 – and potentially as early as the 1950s – that its business activities could wreak havoc on the climate.
In the late 1970s and early 1980s, the company outfitted the largest supertanker in its fleet with instruments to monitor the oceanic absorption of carbon dioxide and hired scientists and mathematicians to study global warming. They developed in-house climate change models and published their findings in peer-reviewed journals.
In a 1978 memo, one Exxon Research manager wrote: "This may be the kind of opportunity that we are looking for to have Exxon technology, management and leadership resources put into the context of a project aimed at benefiting mankind."
But by the late 1980s, the oil giant had changed its stance. In 1988, an Exxon public affairs manager wrote that the company should "emphasize the uncertainty" of climate science. This became the "Exxon position" – and so began one of the greatest conspiracies of our time.
Borrowing from big tobacco's playbook, Exxon and other oil corporations launched public relations campaigns to sow doubt about the science behind climate change. Exxon took out full-page ads in the New York Times, Wall Street Journal and Washington Post, among others. One ad described climate change as "unsettled science". Another, titled Reset the Alarm, made a claim the company knew to be false: "We still don't know what role man-made greenhouse gases might play in warming the planet."
ExxonMobil and other fossil fuel corporations have spewed emissions into the atmosphere while bearing little or no cost for the damage
A peer-reviewed study of the corporation's public and private communications by Geoffrey Supran and Naomi Oreskes of Harvard University demonstrates that ExxonMobil actively misled the public about climate science and its implications. Exxon also hid the implications of climate science and policy from its shareholders, inflating the value of the fossil fuel assets that it would have had to abandon to meet international climate targets.
But Exxon's deceits run even deeper. Over the years, the company channeled about $30m to researchers and activist groups promoting disinformation about global warming. Documents from the Bush administration reveal the company played a key role in dissuading the former president from signing the Kyoto protocol. In league with other fossil fuel corporations – most notably Koch Industries and the American Petroleum Institute – Exxon transformed the Republican party into the enemy of scientific fact.
All the while, ExxonMobil and other fossil fuel corporations have spewed emissions into the atmosphere while bearing little or no cost for the damage – and driving us headlong into a climate crisis. The latest report from the UN Intergovernmental Panel on Climate Change, informed by thousands of leading studies, makes it plain: to avoid catastrophic warming of more than 1.5C (, humanity must transition from dirty to clean energy by 2030.
ExxonMobil and the other fossil fuel corporations most responsible for climate change should pay their fair share to address this crisis. But if their continuing lobbying efforts are any indication, they will not. Oil and gas interests spent over $100m to stop climate action at the ballot box in the midterm elections – doling out over $41m in Colorado and $31m in Washington to defeat state-level ballot initiatives that would have restricted fracking operations to a safe distance from homes and schools and made carbon polluters pay for their waste.
Recently, Congresswoman-elect Alexandria Ocasio-Cortez joined youth climate activists in a sit-in at the Capitol Hill office of Pelosi, demanding House Democrats pursue a Green New Deal. In response, Pelosi has reaffirmed that she will revive the select committee on climate change disbanded by Republicans. For the sake of all of us, House Democrats have a duty to use the authority of that and other committees to investigate Exxon.
Big Oil v. The Planet is the fight of our lives. Democrats must choose a side by David Sirota, The Guardian
The industry has political supremacy even in left-leaning states, but immediate action can hold off an environmental state of emergency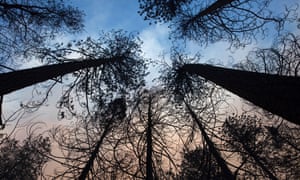 The world's leading scientists issued a report warning of total planetary dystopia unless we take immediate steps to seriously reduce carbon emissions. Then, oil and gas corporations dumped millions of dollars into the 2018 elections to defeat the major initiatives that could have slightly reduced fossil fuel use.
Though you may not know it from the cable TV coverage, this was one of the most significant – and the most terrifying – stories of the midterms. For those who actually care about the survival of the human race, the key questions now should be obvious: is there any reason to hope that we will retreat from "drill baby drill" and enact a sane set of climate policies? Or is our country – and, by extension, our species – just going to give up?
Before answering, it is worth reviewing exactly what happened over these last few months, because the election illustrates how little the fossil fuel industry is willing to concede in the face of a genuine crisis. While the dominant media narrative has been about Democratic voters euphorically electing a House majority and yelling a primal scream at Donald Trump, the loudest shriek of defiance was the one bellowed by oil and gas CEOs. As the Intergovernmental Panel on Climate Change warned that we have only 12 years to ward off an ecological disaster, those oil and gas executives' message to Planet Earth was unequivocal: drop dead. 
That message was most explicit in Colorado, where a drilling and fracking boom is happening in the middle of fast-growing suburbs. With oil and gas companies seeking to put noxious derricks and rigs near population centers, local activists backed a ballot measure called Proposition 112 that aimed to make sure new fossil fuel infrastructure is set a bit farther away from schools, hospitals, residential neighborhoods and water sources.  The initiative was a response to a state government so awash in fossil fuel campaign cash that it has blocked legislation to merely allow regulators to prioritize the health and safety of residents when those regulators issue permits for drilling and fracking.
According to an industry analysis, Proposition 112 would have left much of the oil and gas reserves near Denver accessible for extraction, but yes, it is true – at a time when climate scientists say we must keep fossil fuel deposits in the ground, there was a chance the initiative would have stopped some extraction.
The oil and gas industry could have looked across a Colorado ravaged by climate-intensified wildfires, droughts and floods and decided to accept the modest measure, knowing that the initiative is the absolute minimum that is required at this perilous moment. Instead, fossil fuel companies did the opposite: they poured $40m into opposing Proposition 112 and spreading insidious agitprop.
Despite scientists warning that fracked natural gas threatens to worsen climate change, oil and gas operatives in the state promoted cartoonishly dishonest claims that burning fossil fuel "is cleaning our air and improving health". As Colorado's local media effectively erased the term "climate change" from its election coverage, the industry managed to defeat the measure by outspending its proponents 40-to-1. In the process, fossil fuel companies' scorched-earth campaign was a clear statement that in the face of an environmental cataclysm, oil and gas moguls will not accept even a tiny reduction in their revenues.
In the Pacific north-west and the south-west, it was a similar tale.
In Washington State, petroleum giants funneled $25m into defeating a proposal to require polluters to pay some of the costs of the climate change havoc they are wreaking. The measure, which would have assessed a $15 fee for every ton of greenhouse gases they emit, was beaten with 56% of the vote, after the industry's ad campaign featured criticism from a former state attorney general – who viewers weren't told now works at Chevron's law firm. In all, $13m of the funding against the measure came from BP – a company that simultaneously claims to unsuspecting consumers that it supports a carbon tax.
In sun-baked Arizona, you may have thought solar energy would be a fairly easy pitch. However, after the owner of the state's major energy provider poured nearly $30m into the election, Arizonans soundly rejected a ballot initiative to force the utility to get more of its power from renewable sources. 
Meanwhile, in a single California county, the fossil fuel industry spent a whopping $8m to defeat a citizens' initiative to ban new drilling and fracking.
Realizing that they may have overreached, some fossil fuel industry spokespeople are now telling lawmakers that oil and gas companies really do want to work collaboratively on environmental issues. However, their behavior in the election proved that the industry is not operating in good faith. Oil and gas CEOs showed that they will gladly accelerate the climate crisis if doing so allows them to rake in more money.
And make no mistake about it: the industry's roughly $100m in campaign spending this year was not just about one individual election cycle. It was a shock-and-awe spectacle designed to intimidate any prospective campaigns, organizations and movements that want to challenge the political supremacy of oil and gas – and some prominent Democrats in Washington seem to be cowering in fear.
Always nervous about the donor class and about electoral blowback from Republicans, some congressional Democrats now seem intent on avoiding any direct confrontation over climate change policy.
Indeed, days before the election, the Hill newspaper surveyed lawmakers and major environmental groups, and found that "Democrats are unlikely to pursue major climate change legislation if they win the House majority, despite a growing body of evidence suggesting time is running out to address the issue."
As her own state was being incinerated by climate-intensified wildfires, the House Democratic leader, Nancy Pelosi, faced pressure for climate action from new lawmakers like New York Representative-elect Alexandria Ocasio-Cortez – but Pelosi would only commit to reviving a moribund congressional committee to study the issue. The conflict-averse posture follows the party recently rescinding its policy of rejecting fossil fuel campaign cash, as well as Democratic Representative Vicente Gonzalez of climate-ravaged Texas setting up a new Oil & Gas Caucus to promote the "economic benefits of fully harnessing the country's natural resources".
And yet, amid the thick smoke of wildfires and industry propaganda, there is still reason to believe that our children are not guaranteed to live in a real-life version of Mad Max: Fury Road.  Our fate is not – yet – sealed, as long as those who want humanity to survive pay attention to exactly what science, the fossil fuel industry and the political trends are telling us, and then act accordingly in the arenas where immediate progress is most likely.
First and foremost, there are now 14 states that have the trifecta of Democratic control of the governorship and both legislative chambers. Those include major fossil fuel producing states such as Colorado, New Mexico and California. Democratic leaders in these states cannot claim that climate inaction is a product of Republican intransigence – the Democrats in these locales have uninhibited power. And so if activists work to hold these local Democratic lawmakers accountable, there is a good chance they can force legislatures to enact emissions standards, renewable energy mandates and other environmental rules that will bolster the fight against climate change.
The courts are another arena where the climate fight seems to be accelerating. There, teenagers are mounting a landmark case arguing that the government's refusal to restrict carbon emissions is endangering the next generation's constitutional right to life, liberty and property. A federal judge also just blocked the Keystone XL pipeline, saying that the Trump administration had improperly "discarded prior factual findings related to climate change".
At the same time, state attorneys general are pursuing a lawsuit examining whether the oil industry deliberately buried science that showed the dangers of climate change. Those cases, which bring even more pressure on the industry, can be supported by concurrent hearings and subpoenas from the low-profile House science committee, which is expected to be chaired by Texas Democratic Representative Eddie Bernice Johnson, who has called for more aggressive action on climate change.
So, considering both the election setbacks and opportunities, let's go back to those original questions: is there reason to hope or are we just going to give up? The answer is contingent on our ability to focus in an age of distraction.
Will those who truly care about the survival of humanity muster the discipline to occasionally look away from the Washington DC garbage fire and focus more activism on the state and local level? Will a media that obsesses over Trump's tweets find the will to more diligently cover a climate crisis that threatens the planet? Will our political class behold the fossil fuel industry's sociopathy and realize that we face an existential choice between profits and ecological survival?
In short, will we as a society finally start treating this emergency as an actual emergency?
If the answer is yes, then there is still reason to believe we are not doomed – but we better get to work, because there's no time to spare.
David Sirota is a Guardian US columnist and an investigative journalist 
We have 12 years to limit climate change catastrophe, warns UN:  Urgent changes needed to cut risk of extreme heat, drought, floods and poverty, says IPCC by Jonathan Watts, The Guardian, Global environment editor,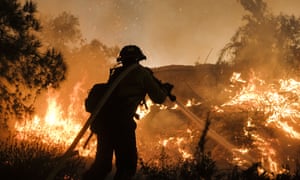 The world's leading climate scientists have warned there is only a dozen years for global warming to be kept to a maximum of 1.5C, beyond which even half a degree will significantly worsen the risks of drought, floods, extreme heat and poverty for hundreds of millions of people.
The authors of the landmark report by the UN Intergovernmental Panel on Climate Change (IPCC) released on Monday say urgent and unprecedented changes are needed to reach the target, which they say is affordable and feasible although it lies at the most ambitious end of the Paris agreement pledge to keep temperatures between 1.5C and 2C.
The half-degree difference could also prevent corals from being completely eradicated and ease pressure on the Arctic, according to the 1.5C study, which was launched after approval at a final plenary of all 195 countries in Incheon in South Korea that saw delegates hugging one another, with some in tears.
"It's a line in the sand and what it says to our species is that this is the moment and we must act now," said Debra Roberts, a co-chair of the working group on impacts. "This is the largest clarion bell from the science community and I hope it mobilises people and dents the mood of complacency."
Policymakers commissioned the report at the Paris climate talks in 2016, but since then the gap between science and politics has widened. Donald Trump has promised to withdraw the US – the world's biggest source of historical emissions – from the accord. The first round of Brazil's presidential election on Sunday put Jair Bolsonaro into a strong position to carry out his threat to do the same and also open the Amazon rainforest to agribusiness.
The world is currently 1C warmer than preindustrial levels. Following devastating hurricanes in the US, record droughts in Cape Town and forest fires in the Arctic, the IPCC makes clear that climate change is already happening, upgraded its risk warning from previous reports, and warned that every fraction of additional warming would worsen the impact.
Scientists who reviewed the 6,000 works referenced in the report, said the change caused by just half a degree came as a revelation. "We can see there is a difference and it's substantial," Roberts said.
At 1.5C the proportion of the global population exposed to water stress could be 50% lower than at 2C, it notes. Food scarcity would be less of a problem and hundreds of millions fewer people, particularly in poor countries, would be at risk of climate-related poverty. 
At 2C extremely hot days, such as those experienced in the northern hemisphere this summer, would become more severe and common, increasing heat-related deaths and causing more forest fires.
But the greatest difference would be to nature. Insects, which are vital for pollination of crops, and plants are almost twice as likely to lose half their habitat at 2C compared with 1.5C. Corals would be 99% lost at the higher of the two temperatures, but more than 10% have a chance of surviving if the lower target is reached.
Sea-level rise would affect 10 million more people by 2100 if the half-degree extra warming brought a forecast 10cm additional pressure on coastlines. The number affected would increase substantially in the following centuries due to locked-in ice melt.
Oceans are already suffering from elevated acidity and lower levels of oxygen as a result of climate change. One model shows marine fisheries would lose 3m tonnes at 2C, twice the decline at 1.5C.
Sea ice-free summers in the Arctic, which is warming two to three times faster than the world average, would come once every 100 years at 1.5C, but every 10 years with half a degree more of global warming.
Time and carbon budgets are running out. By mid-century, a shift to the lower goal would require a supercharged roll-back of emissions sources that have built up over the past 250 years.
The IPCC maps out four pathways to achieve 1.5C, with different combinations of land use and technological change. Reforestation is essential to all of them as are shifts to electric transport systems and greater adoption of carbon capture technology.
Carbon pollution would have to be cut by 45% by 2030 – compared with a 20% cut under the 2C pathway – and come down to zero by 2050, compared with 2075 for 2C. This would require carbon prices that are three to four times higher than for a 2C target. But the costs of doing nothing would be far higher.
"We have presented governments with pretty hard choices. We have pointed out the enormous benefits of keeping to 1.5C, and also the unprecedented shift in energy systems and transport that would be needed to achieve that," said Jim Skea, a co-chair of the working group on mitigation. "We show it can be done within laws of physics and chemistry. Then the final tick box is political will. We cannot answer that. Only our audience can – and that is the governments that receive it."
He said the main finding of his group was the need for urgency. Although unexpectedly good progress has been made in the adoption of renewable energy, deforestation for agriculture was turning a natural carbon sink into a source of emissions. Carbon capture and storage projects, which are essential for reducing emissions in the concrete and waste disposal industries, have also ground to a halt.  Reversing these trends is essential if the world has any chance of reaching 1.5C without relying on the untried technology of solar radiation modification and other forms of geo-engineering, which could have negative consequences.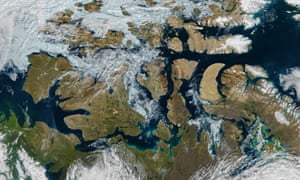 In the run-up to the final week of negotiations, there were fears the text of the report would be watered down by the US, Saudi Arabia and other oil-rich countries that are reluctant to consider more ambitious cuts. The authors said nothing of substance was cut from a text.
Bob Ward, of the Grantham Research Institute on Climate Change, said the final document was "incredibly conservative" because it did not mention the likely rise in climate-driven refugees or the danger of tipping points that could push the world on to an irreversible path of extreme warming.
The report will be presented to governments at the UN climate conference in Poland at the end of this year. But analysts say there is much work to be done, with even pro-Paris deal nations involved in fossil fuel extraction that runs against the spirit of their commitments. Britain is pushing ahead with gas fracking, Norway with oil exploration in the Arctic, and the German government wants to tear down Hambach forest to dig for coal.
At the current level of commitments, the world is on course for a disastrous 3C+ of warming. The report authors are refusing to accept defeat, believing the increasingly visible damage caused by climate change will shift opinion their way.
"I hope this can change the world," said Jiang Kejun of China's semi-governmental Energy Research Institute, who is one of the authors. "Two years ago, even I didn't believe 1.5C was possible but when I look at the options I have confidence it can be done. I want to use this report to do something big in China."
Regardless of the US and Brazil, he said, China, Europe and major cities could push ahead. "We can set an example and show what can be done. This is more about technology than politics."
James Hansen, the former Nasa scientist who helped raised the alarm about climate change, said both 1.5C and 2C would take humanity into uncharted and dangerous territory because they were both well above the Holocene-era range in which human civilisation developed. But he said there was a huge difference between the two: "1.5C gives young people and the next generation a fighting chance of getting back to the Holocene or close to it. That is probably necessary if we want to keep shorelines where they are and preserve our coastal cities."
Johan Rockström, a co-author of the recent Hothouse Earth report, said scientists never previously discussed 1.5C, which was initially seen as a political concession to small island states. But he said opinion had shifted in the past few years along with growing evidence of climate instability and the approach of tipping points that might push the world off a course that could be controlled by emissions reductions.
"Climate change is occurring earlier and more rapidly than expected. Even at the current level of 1C warming, it is painful," he told the Guardian. "This report is really important. It has a scientific robustness that shows 1.5C is not just a political concession. There is a growing recognition that 2C is dangerous."
The IPCC global warming report spares politicians the worst details
The dangers if governments ignore efforts to limit warming to 1.5C are more grave than the summary makes out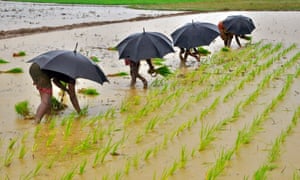 A report by the Intergovernmental Panel on Climate Change confirms the enormous wisdom that governments showed in Paris in December 2015, when they agreed to the goal of "pursuing efforts" to limit global warming to 1.5C.
The report's summary for policymakers paints a sobering picture of the potentially terrible impacts of allowing global mean surface temperature to rise by 2C compared with pre-industrial levels: more extreme weather, sea level rise and ocean acidification, with detrimental effects on wildlife, crops, water availability and human health.
But the policymakers, or at least their aides, should make the effort to read the whole report. Incredibly, the stark summary is still a relatively conservative assessment of the consequences we might face if global warming does exceed 1.5C. 
The report is a comprehensive review of the published evidence painstakingly compiled by hundreds of authors and reviewers over the past two and a half years. The summary of the report was approved line by line by governments, including the US, Australia and Saudi Arabia, during long and intensive discussions last week in South Korea.
It is written in matter-of-fact language, but it omits some of the biggest risks of climate change, which are described in the full text.
For instance, the summary indicates that warming of 2C would have very damaging impacts on many parts of the world. But it does not mention the potential for human populations to migrate and be displaced as a result, leading to the possibility of war.  This is a risk that many governments around the world have already recognised, with climate change often highlighted in national security assessments as a "threat multiplier", which could increase the chances of political instability and conflict.
The summary also leaves out important information about so-called "tipping points" in the climate system, beyond which impacts become unstoppable, irreversible or accelerate. It acknowledges that the land-based ice sheets in Greenland and west Antarctica may be destabilised even by warming of 1.5C, ensuring several metres of sea level rise over the coming centuries. But there is no mention of other important thresholds that might, for instance, halt the Gulf Stream in the Atlantic, or cause shifts in the occurrence of the monsoons in Africa and Asia.
It is not clear why such crucial information has been left out of the summary. Perhaps the authors felt that there are too many uncertainties in our knowledge to be definitive. But the danger is that policymakers will assume the absence of these very significant risks from the summary means that researchers have assessed them to be unimportant or impossible.
Uncertainties are also evident in the summary assessment of the economics of climate change and the cost of doing something about it. It indicates that, to keep to the 1.5C target, carbon prices would need to be three to four times higher than for 2C. But on the overall investment required, it states: "The literature on total mitigation costs of 1.5C mitigation pathways is limited and was not assessed in this report".
In fact, a paper on this subject was published by British economists, including some of my colleagues, in the journal Annual Review of Environment and Resources. It examined the evidence on the total investments required and concluded that over the course of this century they would only need to be 50% higher to limit warming to 1.5C instead of 2C. So not quite as scary as the numbers for a specific hike on carbon prices might suggest.
The question now is whether world leaders such as Donald Trump and Scott Morrison, the prime minister of Australia, will ignore the IPCC report and continue their policy of inaction on climate change, including a disregard of the Paris agreement, when the impacts so clearly threaten the lives and livelihoods of people in their countries and around the world.
Bob Ward is policy and communications director at the ESRC Centre for Climate Change Economics and Policy at the London School of Economics and Political Science. 
The Earth is in a death spiral. It will take radical action to save us, by George Monbiot in The Guardian
Climate breakdown could be rapid and unpredictable. We can no longer tinker around the edges and hope minor changes will avert collapse
Only those who stand outside the failed institutions can lead this effort.
It was a moment of the kind that changes lives. At a press conference held by climate activists Extinction Rebellion last week, two of us journalists pressed the organisers on whether their aims were realistic. They have called, for example, for UK carbon emissions to be reduced to net zero by 2025. Wouldn't it be better, we asked, to pursue some intermediate aims?
A young woman called Lizia Woolf stepped forward. She hadn't spoken before, but the passion, grief and fury of her response was utterly compelling. "What is it that you are asking me as a 20-year-old to face and to accept about my future and my life? … This is an emergency. We are facing extinction. When you ask questions like that, what is it you want me to feel?" We had no answer.
Softer aims might be politically realistic, but they are physically unrealistic. Only shifts commensurate with the scale of our existential crises have any prospect of averting them. Hopeless realism, tinkering at the edges of the problem, got us into this mess. It will not get us out. 
Public figures talk and act as if environmental change will be linear and gradual. But the Earth's systems are highly complex, and complex systems do not respond to pressure in linear ways. When these systems interact (because the world's atmosphere, oceans, land surface and lifeforms do not sit placidly within the boxes that make study more convenient), their reactions to change become highly unpredictable. Small perturbations can ramify wildly. Tipping points are likely to remain invisible until we have passed them. We could see changes of state so abrupt and profound that no continuity can be safely assumed.
Only one of the many life support systems on which we depend – soils, aquifers, rainfall, ice, the pattern of winds and currents, pollinators, biological abundance and diversity – need fail for everything to slide. For example, when Arctic sea ice melts beyond a certain point, the positive feedbacks this triggers (such as darker water absorbing more heat, melting permafrost releasing methane, shifts in the polar vortex) could render runaway climate breakdown unstoppable. When the Younger Dryas period ended 11,600 years ago, temperatures rose 10C within a decade.
I don't believe such a collapse is yet inevitable, or that a commensurate response is either technically or economically impossible. When the US joined the second world war in 1941, it replaced a civilian economy with a military economy within months. As Jack Doyle records in his book Taken for a Ride, "In one year, General Motors developed, tooled and completely built from scratch 1,000 Avenger and 1,000 Wildcat aircraft … Barely a year after Pontiac received a navy contract to build anti-shipping missiles, the company began delivering the completed product to carrier squadrons around the world." And this was before advanced information technology made everything faster. 
The problem is political. A fascinating analysis by the social science professor Kevin MacKay contends that oligarchy has been a more fundamental cause of the collapse of civilisations than social complexity or energy demand. Control by oligarchs, he argues, thwarts rational decision-making, because the short-term interests of the elite are radically different to the long-term interests of society. This explains why past civilisations have collapsed "despite possessing the cultural and technological know-how needed to resolve their crises". Economic elites, which benefit from social dysfunction, block the necessary solutions.
The oligarchic control of wealth, politics, media and public discourse explains the comprehensive institutional failure now pushing us towards disaster. Think of Donald Trump and his cabinet of multi-millionaires; the influence of the Koch brothers in funding rightwing organisations; the Murdoch empire and its massive contribution to climate science denial; or the oil and motor companies whose lobbying prevents a faster shift to new technologies.
It is not just governments that have failed to respond, though they have failed spectacularly. Public sector broadcasters have systematically shut down environmental coverage, while allowing the opaquely funded lobbyists that masquerade as thinktanks to shape public discourse and deny what we face. Academics, afraid to upset their funders and colleagues, have bitten their lips.
Even the bodies that claim to be addressing our predicament remain locked within destructive frameworks. Last Wednesday I attended a meeting about environmental breakdown at the Institute for Public Policy Research. Many people in the room seemed to understand that continued economic growth is incompatible with sustaining the Earth's systems.
As the author Jason Hickel points out, a decoupling of rising GDP from global resource use has not happened and will not happen. While 50bn tonnes of resources used per year is roughly the limit the Earth's systems can tolerate, the world is already consuming 70bn tonnes. At current rates of economic growth, this will rise to 180bn tonnes by 2050. Maximum resource efficiency, coupled with massive carbon taxes, would reduce this at best to 95bn tonnes: still way beyond environmental limits. Green growth, as members of the institute appear to accept, is physically impossible.
Yet on the same day, the same institute announced a major new economics prize for "ambitious proposals to achieve a step-change improvement in the growth rate". It wants ideas that will enable economic growth rates in the UK at least to double. The announcement was accompanied by the usual blah about sustainability, but none of the judges of the prize has a discernible record of environmental interest.
Those to whom we look for solutions trundle on as if nothing has changed. As if the accumulating evidence has no purchase on their minds. Decades of institutional failure ensures that only "unrealistic" proposals – the repurposing of economic life, with immediate effect – now have a realistic chance of stopping the planetary death spiral. And only those who stand outside the failed institutions can lead this effort.
Two tasks need to be performed simultaneously: throwing ourselves at the possibility of averting collapse, as Extinction Rebellion is doing, slight though this possibility may appear; and preparing ourselves for the likely failure of these efforts, terrifying as this prospect is. Both tasks require a complete revision of our relationship with the living planet.
Because we cannot save ourselves without contesting oligarchic control, the fight for democracy and justice and the fight against environmental breakdown are one and the same. Do not allow those who have caused this crisis to define the limits of political action. Do not allow those whose magical thinking got us into this mess to tell us what can and cannot be done.
• George Monbiot is a Guardian columnist