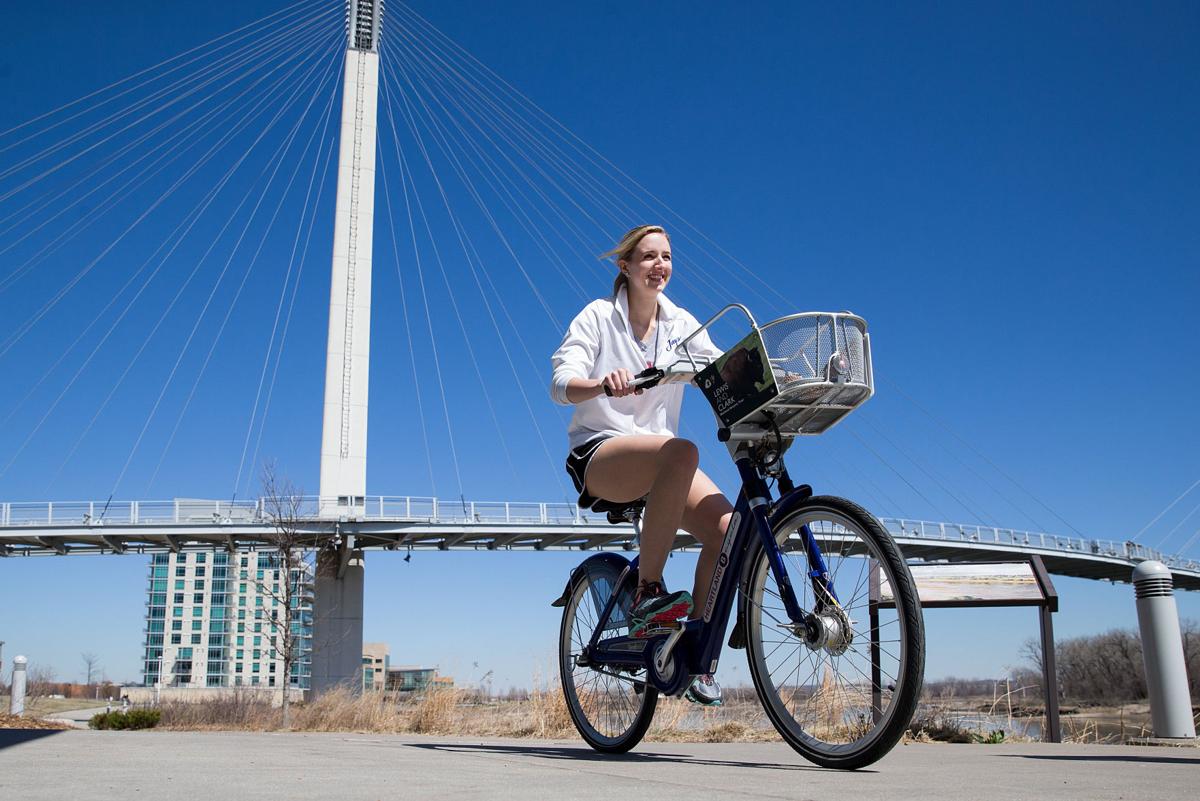 Creighton University student Taylor Pick checks out bicycles using the Heartland B-cycle service in 2015.
B-cycle will add 36 stations and 150 bikes. Organizers hope to have the first round of new equipment, which includes 20 bikes, installed in Omaha next year, said Ben Turner, executive director of Heartland B-cycle.
The program will help meet many goals related to the city's master plan, particularly in providing multiple modes of transportation, said Derek Miller, the city's transportation planner. He said he wants more bikes accessible to more people.
The city signed onto the project last month.
New stations will be placed near existing bus stops and the planned Bus Rapid Transit route east of 72nd Street. Officials are looking at areas along Farnam Street and western parts of downtown, as well as stops in north and South Omaha. They focus on placing stations in well-populated areas.
"Ideally they'll be spread across the entire community," Miller said. "We have to take it incrementally."
This project will target existing public transit users, but officials also hope to draw new users, including those who can't afford cars.
"There are a great number of Omahans who can't drive or don't have financial means to drive a car," Miller said. "Another important part of all this is to provide more mobility for our citizens."
Federal and state grants provided $1.2 million for the project.
The state grant, from the Nebraska Environmental Trust, contributed $292,000 to the project. It also will provide some additional support for operating costs, Turner said.
The federal grant, which was worth $930,000, required a city partner. That means the city will take ownership of all new equipment purchased with the grant money.
This year more than 16,000 trips were taken on B-cycle bikes. That's up from 1,000 trips when the system debuted with 33 bikes in 2011.
For a fee, people can rent a bike from a B-cycle station, ride it and return it to any station.
B-cycle added new bikes to stations in downtown Omaha this summer, in part to accommodate College World Series crowds. Another station was temporarily relocated earlier this month to the trailhead of the Wabash Trace Nature Trail in Council Bluffs.
"There's a powerful opportunity for bike sharing to be a transit extender," Turner said. "We think it has the ability to shorten people's commutes."
kelsey.stewart@owh.com, 402-444-3100, twitter.com/kels2