Agence France-Presse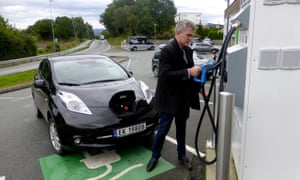 Zero-emission, mainly all-electric as well as a few hydrogen-powered cars accounted for 20.9% of total sales in 2017, official figures released on Wednesday showed. Hybrid vehicles accounted for 31.3%, including 18.4% for plug-in hybrids, the Norwegian Road Federation calculated.
This represents an increase over the previous year, when zero-emission and hybrid cars accounted for 15.7% and 24.5% respectively of total sales, making Norway a world leader in electrifying road transport.
Norway, the biggest producer of oil in western Europe, has set itself the ambitious goal of selling only new zero-emission cars starting from 2025.
Unlike diesel or gasoline cars, which are heavily taxed, electric cars benefit from a very generous tax system, making their purchase prices relatively competitive. Their owners also enjoy many privileges such as free city tolls, ferries, parking and recharging in public car parks, as well as having the right to drive in bus lanes.
Authorities plan to gradually reduce some measures whose benefits and costs are disputed by critics.
In 2017 the rightwing government tried to remove one of the tax exemptions on large and luxurious electric sedans in what was dubbed the "Tesla tax", but was later forced to pull back due to opposition from its centre-right allies.
"We need to go from 21% market share to 100% in seven years, which means we still have a way to go even if it's going in the right direction and the increase compared to 2016 is satisfactory."
While there was a large interest in electric and hybrid cars, proven by long waiting lists for new vehicles, manufacturers had been slow to meet this demand, with lengthy delivery times and a lack of models, Bu said.