Heat-trapping gases broke records in 2018, climate report finds
Last year said to be fourth-warmest since 1800s and sea levels the highest on record
Emily Holden in Washington, The Guardian, Tue 13 Aug 2019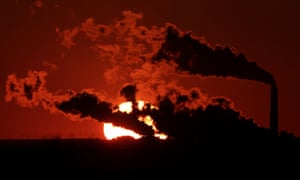 The gases heating the planet at higher levels in 2018 than humans have ever recorded, according to an authoritative report published by the American Meteorological Society and compiled by the US government.

Greenhouse gases were at levels unseen in 60 years of modern measurements and 800,000 years of ice core data, the study found. The data used in the 325-page report was collected from more than 470 scientists in 60 countries.

The global annual average for carbon dioxide, which is elevated because of human activities such as driving cars and burning fuel, was 407.4 parts per million, 2.4 ppm higher than in 2017. The warming influence of CO2 and other gases in the atmosphere is now nearly 43% stronger than in 1990.

2018 was the fourth warmest year since the mid-to-late 1800s. Temperatures were 0.3C to 0.4C higher than the average between 1981 and 2010. Only 2015, 2016, and 2017 were hotter.

Sea levels were the highest on record, and sea surface temperatures were also near a record high.

The National Oceanic and Atmospheric Administration said the report "found that the major indicators of climate change continued to reflect trends consistent with a warming planet".

The extent of Arctic and Antarctic sea ice was near a record low, and glaciers continued to melt and lose mass for the 30th year in a row. Mexico reported its third warmest year in its 48-year record, and Alaska reported its second warmest in its 94-year record. Australia had its third warmest year since 1910, with a rapidly intensifying and expanding drought and significant fires.

Europe experienced its second warmest year since at least 1950. Several countries set or came close to temperature records, including Bosnia and Herzegovina, Croatia, France, Greece, Italy and Serbia, Sweden recorded its highest ever monthly temperature of 22.5C in Stockholm in July, and France experienced a heatwave with temperatures above 40C in late July and early August.

Lithuania and Latvia declared states of emergency in response to severe heat and drought. . In Sweden and Greece there were unprecedented wildfires. Low water levels in the Rhine and Danube made it harder to transport goods and run power plants.

Despite huge wildfires in the Arctic and the US recently, fire activity globally was the lowest on record in 2018, the result of humans have turned grasslands that have burned into agricultural areas.

Hawaii saw a new US record for precipitation over 24 hours, at 1,262 mm at Waipā Gardens in Kauai, and India set a new world record for three-day rainfall of 710.2 mm in Iduki district.

There were 14 weather and climate events in the US that each caused more than $1bn in damage, the fourth highest figure since records began in 1980. Hurricane Michael was the fourth strongest storm to ever hit the continental US, killing more than 30 people and causing between $15bn and $20bn in damages.

There was also a record number of Category 5 storms in the tropics, where 11 were recorded. Super typhoon Mangkhut killed 160 people and caused $6bn in damages in the western North Pacific, and tropical storm Son-Tinh killed 170 in Vietnam and Laos.

The Caribbean suffered coral bleaching and South America experienced seven extreme snowfall events.
'Furthest north lightning strikes in Alaska forecaster memory' hit as high temperatures and widespread fires plague region
Edward Helmore The Guardian, Tue 13 Aug 2019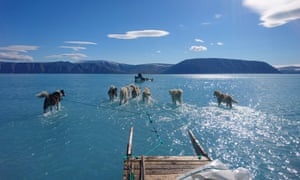 Multiple lightning strikes have been observed 300 miles from the North Pole, according to the US National Weather Service, in the latest sign of extreme changes to the Arctic environment.
The strikes, detected by the NWS station in Fairbanks, Alaska, were produced by towering storm clouds. They were detected on Saturday, and while not unique, come as the region is experiencing record-low sea ice levels, high temperatures and widespread fires on areas of tundra.
An extreme ice-melt in Greenland is estimated to have produced a run off of 197bn tons of ice-sheet water into the Atlantic, enough to raise sea levels by 0.5mm, or 0.02in, in a one-month time frame. On a single day, 1 August, Greenland lost 12.5bn tons of surface ice to the sea.
At the same time, a wildfire has been burning in western Greenland while Siberian wildfires have produced smoke haze circling the upper regions of the globe.
According to a NWS tweet and statement, the lightning strikes hit an area of sea ice or open ocean waters mixed with ice, near 85 degrees north, 120 degrees east.
"This is one of the furthest north lightning strikes in Alaska forecaster memory," the NWS stated.
Fairbanks meteorologist Ryan Metzger told the Washington Post that he could not say if the strikes were unique, partly because meteorologists say they don't always focus on that area.
"I wouldn't say it's never happened before, but it's certainly unusual, and it piqued our attention," Metzger said.
The strikes are the latest sign that Arctic warming is accelerating beyond predictions due to human-caused global climate change. In July, Alaska had its hottest month on record with temperatures breaching 90F in Anchorage, exceeding those in Miami.
There is no longer any sea ice present in Alaskan waters, with Bering Sea ice beginning its annual melt in February while the extent of Arctic sea ice is at its lowest in at least 1,500 years, according to research.Topics
2°C: Beyond The Limit – Extreme Climate Change Has Arrived In America A Washington Post analysis of more than a century of National Oceanic and Atmospheric Administration temperature data across the Lower 48 states and 3,107 counties has found that major areas are nearing or have already crossed the 2 degree Celsius mark. (Washington Post)
Rare Lightning Strikes 300 Miles From North Pole Amid Hot Summer in the Arctic Multiple lightning strikes were detected within 300 miles of the North Pole, the National Weather Service said, an unusual event for the area. "This is one of the furthest north lightning strikes in Alaska forecaster memory," the weather service said in a statement. Alaska just recorded its warmest July—and warmest month—on record.  (USA Today)
Climate Change Is Making Hawaii's Beaches More Dangerous In Hawaii, coastal erosion, warming water and rising sea levels are prompting changes on the beach. Lifeguards are relocating watch towers, emergency responders have started tracking heat-related illnesses and officials are bracing for more jellyfish, stronger rip currents and increased exposure to water-borne diseases. (Honolulu Civil Beat)