Modern Project Prioritization for Transportation Investments
https://ctedd.uta.edu/wp-content/uploads/2021/03/Noyce_ProjectPrioritization_Report_CTEDD.pdf SSTI
Project prioritization among transportation agencies has always been an evolving practice. At its core, it means setting goals and aligning decision-making processes to meet those goals. This study is aimed at making that process easier. For this study, the team reviewed project prioritization programs at 21 transportation agencies, including 14 state departments of transportation (DOTs) and 7 metropolitan planning organizations (MPOs), through a combination of interviews, online questionnaire, and publicly available written documentation. Some key lessons came from a case study of Virginia's SMART SCALE program, which has resulted in lower average project costs and funding for a broad range of multimodal projects. The main findings can be summarized in terms of three important opportunities in project prioritization: (1) establishing flexible funding programs, (2) evaluating key outcomes, and (3) maximizing benefits per dollar spent. This document was sponsored by the U.S. Department of Transportation, University Transportation Centers Program.
WSDOT – Multimodal accessibility
Information and examples of how and why we measure ease of use of the state's transportation network.
Measuring accessibility grows understanding
Sometimes the term "accessibility" is used in reference to the rules under the Americans with Disability Act. In this case, "accessibility" is about mobility; how people on the move reach their destinations.
When people travel, they generally do it with purpose: work, play, school, run errands, etc. Measuring accessibility brings WSDOT closer to figuring out what people care about when they travel – how difficult it is to reach their destinations by different travel modes. Accessibility measures take into account both the condition of the transportation system and the way the land is used in its service area. By measuring accessibility, WSDOT can:
Identify multimodal mobility problems and opportunities for improvement, including those unrelated to the speed of vehicles – e.g. gaps in the multimodal network that hamper economic growth.
Use engagement with stakeholders to help identify strategies that support prioritized modes (e.g. promoting demand management and transit-friendly roadway treatments along corridors with high-transit usage).
Predict outcomes, track performance and weigh multimodal trade-offs (e.g. widening roadways may improve accessibility for people traveling in cars to regional destinations, but it may also reduce accessibility for vulnerable populations trying to cross to local destinations).
WSDOT uses accessibility metrics to:
Better understand the link between environmental justice and health, and its effect on economic vitality.
Evaluate multimodal accessibility around train stations.
Develop a Level of Traffic Stress matrix that will help evaluate bicyclist and pedestrian comfort and mobility.
Identify where the statewide demand response gaps are for the Human Services Transportation Plan.
Using GIS tools to measure accessibility
WSDOT uses the GIS add-in, Cube Access, to measure accessibility. This tool provides scores that rate access to destinations for each method of travel. It can also calculate travel times to certain types of destinations and identify the number of that type of destination within "x" minutes of travel from the starting location. We are able to determine:
Points of interest, like schools, grocery stores, or parks (HERE Technologies, a navigation company).
Jobs by type and earnings (LODES Longitudinal Employer-Household Dynamics Origin Destination Employment Statistics).
Demographics like race, income, age, veteran and disabled status, and limited English-speakers (Census & American Community Survey).
All-street network with average traffic speeds at four different times of day, number of lanes, turn restrictions, speed limits and other characteristics (HERE Technologies).
Transit stops, routes and headways (GTFS).
Bicycle and pedestrian networks with adjustable Level of Service ratings (based on facility type, number of lanes, and speed limit by default).
Cube Access (formerly Sugar Access) Introductory Video (mp4) More about the tool and the data
Metadata
Points of Interest (PDF 486MB)
Others using accessibility metrics
Virginia's Smart Scale. The Virginia DOT has measured accessibility improvements for the last three rounds of its Smart Scale project prioritization process and applied Cube Access in its second round.
Hawaii's SmartTRAC (PDF 12MB). The Hawaii DOT applied accessibility metrics using Cube Access for the first round of its SmartTRAC project prioritization in 2018, with technical support from SSTI and Smart Growth America.
Accessibility examples from metropolitan planning organizations (MPOs)
Atlanta Region's Plan (Atlanta, 2016)
Long Range Transportation Plan 2040 (Boston, 2015)
2040 Transportation Policy Plan (St. Paul, 2015)
Mobility 2040 (Dallas, 2016)
2050 Regional Transportation Plan (San Diego, 2011)
Regional Transportation Plan 2040 (Detroit, 2013)
Regional Transportation Plan 2040 (Los Angeles, 2016)
UTAH – Access to Opportunities
What is "Access to Opportunities"?
A basic purpose of our transportation system is to efficiently connect residents to activities and destinations. Access to opportunities, also referred to as accessibility or ATO, is a way to measure how well people can connect to basic needs and amenities including jobs, schools, grocery and other retail, parks, community centers, recreation, and entertainment.
Measuring current and future ATO is an important component to both the development and implementation of the Wasatch Choice 2050 vision for our region. Broadly, ATO metrics quantify how well the current and future transportation system works with land use to help our economy thrive.
More directly, increased accessibility can have significant impacts on overall community livability while improving individuals' connections to the things that foster upward mobility — education, employment, healthcare, social service, and other basic amenities. ATO serves as a guide for WFRC and its partner organizations, as we collectively pursue the best possible transportation plans and land use decisions in support of community choice and economic vitality.
How do we measure ATO? ATO can be assessed using a variety of frameworks and scales.
Regional Access to Opportunities
At a regional scale, Access to Opportunities is a metric that is estimated and forecasted using the regional Travel Demand Model, and the results can be visualized in map form using geographic information systems (GIS).
WFRC's ATO measures combine the performance of the transportation system during rush hour, and factor in the distribution of households and workplaces around the region.
ATO describes the efficiency of how metro area residents travel between home, work and other desired destinations.
ATO can be used to describe key labor market components – the average number of jobs that are reachable to a resident within a set travel time, or the number of employees or households a firm or business might draw if located within a specific place. In both cases, the pattern and intensity of development and the transportation system have a significant impact.
Both shorter travel times and an increased presence of employment and other opportunities result in higher accessibility scores. Travel times can be shortened by improving one or more of the following: proximity of destinations to homes, enhanced transit service, or a reduced road congestion.
WFRC land use and travel models allow for the accessibility impacts of land use decisions and transportation enhancements to be forecasted and explored a decade or more into the future.
Local Access to Opportunities
At a local scale, where an individual city or neighborhood is considered, Access to Opportunities can be measured in finer detail than the regional Travel Demand Model provides, and can consider additional travel modes such as biking and walking.
Local accessibility metrics consider a wider range of destinations including the locations where important goods, services, and activities can be obtained. In short, this is the ease with which we can reach existing amenities that help support livability, such as grocery stores, health care facilities, parks and public spaces, or a transit stop that links residents to employment, goods and services. Accessibility in this sense is best where there is a mix of land uses at the neighborhood scale, good street connectivity, and a safe walking environment.
Open WFRC's Access to Opportunities Map Housing and transportation choices have a profound effect on the ability of Americans to access jobs and can shape the economic health of entire regions. From dense urban downtowns to small rural towns, a lack of housing and transportation choices can limit access to opportunity and stifle economic growth by isolating residents from jobs and other essential services.
-Housing and Urban Development Access to Opportunities Metrics and Data
Access to Opportunities (ATO) metrics are a family of measures that describe how well the region's household, employment, and goods/service locations are connected to each other by the transportation system. WFRC has developed several methods to quantify ATO within the region and is working on a few additional measures.
TAZ Zone-Based ATO
The two maps at right show regionwide ATO metrics for 2019, calculated for both auto and transit modes at the traffic analysis zone (TAZ) level. The TAZ-based ATO metrics consider 1) our region's distribution of households and jobs, 2) travel time to the workplace during the peak commute hours, and 3) an inverse weighting of opportunities that fully counts those that are nearby and a discounting for others in proportion to how far way they are. The Cube Voyager script for calculating TAZ_based ATO is built into the Wasatch Front travel demand model (v8.3.1) and employs mode-specific distance decay functions that reflect regional travel patterns.
These maps show a composite view of workplace accessibility. Composite ATO allows the accessibility for residential areas to be viewed on equal footing as job-intensive areas, by combining household access to nearby jobs together with workplace access to members of the labor force into a single metric. This is accomplished by scaling job area measures to household area measures using the region's jobs-to-household ratio.
The same TAZ-level ATO data can be normalized within a smaller area to better see local variation in accessibility. Expand any of the three Small Area Workplace Accessibility Map sections below to view accessibility from a city-scale perspective. Maps are available for existing ATO (2019) and projected future ATO (2050) that account for socioeconomic growth and infrastructure projects planned in the 2019 – 2050 Regional Transportation plan (RTP). A third series of maps shows the net gain in ATO between 2019 and 2050.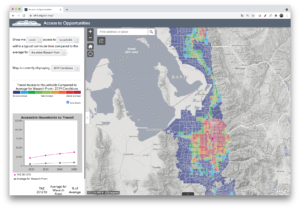 The same TAZ-based Access to Opportunities (ATO) data displayed in the Small Area Workplace Accessibility pdf maps below, can now be accessed from the WFRC ATO webmap.
The web map will also display a trend line for each TAZ that factors in future land use and transportation system performance at that location relative to the regional average.
Regional ATO for Auto and Transit Modes (TAZ-based)
Grid-Based ATO
WFRC developed a grid-based Access To Opportunities map layer for the region to support a portion of the scoring system used to prioritize local transportation projects for funding programmed by WFRC as part of the Transportation Improvement Program (TIP).
This grid-based ATO metric, termed Commute Source Intensity, considers both job and housing densities within approximately 1/4 mile of a project of each grid cell. The grid-based approach — wherein each cell is about the size of a downtown city block — is a simple, easy to understand method that is appropriate for local scale analysis. The Commute Source Intensity GIS polygon dataset available for download from data.wfrc.org.Grid-based Commute Source Intensity ATO map
Network-Based ATO
WFRC is collaborating with Mountainland Association of Governments (MAG), UDOT, UTA, and UGRC (Utah's state GIS office) to create and sustain a multimodal GIS dataset of the transportation network, including roads, transit, and bike lanes, and bike/ped pathways.
The multimodal network dataset, together with GIS data depicting the location of schools, groceries, community centers, health care and social service providers, and parks, are expected to be put to use for ATO analysis at a neighborhood scale in the coming year.Network-based ATO analysis exampleUsing ATO to Understand the Needs of Equity Focus Areas
Our work with ATO and WFRC Equity Focus Areas is featured on the Equity Planning page.
ATO can help us see gaps between residents and employment opportunities and other basic needs at a neighborhood-level. This is especially relevant for underserved populations that may benefit most from alternate forms of transportation in order to access key needs.Communicating Access to Opportunities
There are many ways to communicate ATO at various scales and through different demographic or employment lenses.
Overall, the level of accessibility varies significantly across our metropolitan region. For example, the average household can access around 33,000 jobs in a 30 minute transit commute within the Wasatch Front region; 57 percent of the region's population has "less than average" access to opportunity, while close to 30 percent of the population has access to one and a half times the regional average within a 30 minute commute. This is due to the spatial distribution and intensity of households, jobs, and the reach and frequency of the transit system.
Strategies for Increasing Access
An Access to Opportunities measure can facilitate decision-making for and beyond transportation planning. For example, the measure can also be useful in home purchasing, businesses or government facilities site selection, and in supporting upward socioeconomic mobility. Cities and developers can improve access to opportunity in myriad ways, such as mixing uses and clustering growth near high speed and high frequency transit.
Land-use solutions that improve Access to Opportunities include:
Growth centers near high-capacity transportation,
Higher densities,
Intermixing homes and jobs, and
Street design that encourages local investment along the street.
Transportation solutions that can improve Access to Opportunities include:
Reduced congestion,
A more connected street network,
Increased transit frequency and coverage,
Bicycle and pedestrian connections, and
Higher travel speeds on key commuter (non-neighborhood) routes.
How does WFRC use this measure in our planning efforts?
Since 2017, WFRC has made a significant effort to operationalize Access to Opportunities (ATO) measures to better link transportation, land use, and economic development. These include:
A performance-based planning system was defined and implemented for the 2019-2050 Regional Transportation Plan. As a result, ATO metrics were incorporated into scenario evaluation and project prioritization scoring for roadway, transit, and active transportation projects.
ATO was approved by Trans Com, starting in FY19, as a component of project technical scores (15%) for Surface Transportation Program project funding that is competitively awarded by WFRC.
The Wasatch Front Economic Development District (WFEDD) adopted Access to Opportunities as a key economic development strategy. It is expected that ATO metrics will be monitored over time to gauge progress within the region.
The ATO framework and supporting data resources continue to be a focal point for workshops and other WFRC outreach efforts with cities and counties in our region.
MassDOT Process for Prioritizing Capital Projects Recommendations JUL 02 2015
MassDOT Secretary and CEO Stephanie Pollack today announced the publication of new recommendations for the evaluation and prioritization of proposed capital projects.
The recommendations have been submitted to MassDOT by an independent Project Selection Advisory Council, which has worked for 18 months to develop a new process for selecting transportation investments.
"This new prioritization system will help us to make important decisions about our capital resources in a way that is smarter and more transparent," said Secretary Pollack. "I want to thank the members of the Project Selection Advisory Council for their hard work in the development of these new criteria, and their continued efforts as we enter the implementation phase."
In 2013, the Legislature established the Project Selection Advisory Council and charged it with developing a uniform, data-driven, and transparent approach to scoring and ranking capital transportation projects for funding. The new process, which MassDOT will begin to implement immediately, seeks to ensure that transportation dollars are spent in a multi-modal and strategic manner and are distributed in a regionally balanced way across the Commonwealth.
"This report represents real progress for MassDOT," said Jeffrey B. Mullan, Council member and former MassDOT Secretary. "Although there is much more work still to be done, the Council has laid the foundation for continued improvement in how the Commonwealth prioritizes its investments, an increasingly important issue today. I look forward to the implementation phase and to the additional work ahead."
Throughout the period of its work, the eight-member Project Selection Advisory Council held 12 public meetings and six public hearings across Massachusetts.
The recommended evaluation process applies to two types of projects: (1) modernization projects, which replace and rehabilitate existing transportation assets, and (2) capacity projects, which add new transportation capacity or expand existing connections. Projects will be ranked according to a weighted formula that takes into account cost effectiveness, economic impact, environmental and health effects, mobility, safety, social equity, and system preservation.
"In the end, our aim was to develop a formula that would effectively evaluate the relative merit of each project, and to do so in a way that would not favor any one mode of travel, or any one region of the Commonwealth," said Frank DePaola, Council Member and Interim General Manager of the MBTA. "There is no question that there are a large number of worthy projects out there, but the question this formula seeks to answer is: how do we maximize our return on investment by funding the best possible projects within financial constraints?"
The Project Selection Advisory Council's report has been filed with the Legislature, and implementation of the criteria is expected to begin shortly with the development of the FY2017-FY2021 capital investment plans for MassDOT and the MBTA. The Council has agreed to continue to advise and assist MassDOT and the MBTA through initial implementation of the recommendations.
Information about the Council is available at: http://www.mass.gov/massdot/projectselection.
**
NCDOT Project Prioritization
https://connect.ncdot.gov/projects/planning/Pages/PrioritizationResources.aspx
Illinois Department of Transportation Data-Driven Decisions for Capacity Projects
The Illinois Department of Transportation is in the process of developing the Data-Driven Decisions tool, allowing us to improve how we determine investment decisions for capacity projects throughout the State. The concept of Data-Driven Decisions for project selection is used throughout the nation and encouraged by the U.S Department of Transportation.
Transportation System Background
Illinois is the 5 th largest economy in the nation, by GDP, and that prosperity would not be possible without our vast transportation network. For more information please visit our network overview page .
Key Transportation Metrics
Transportation Funding
Funding for IDOT projects comes from multiple sources including:
Rebuild Illinois
Motor Fuel Tax (MFT)
Portion of the Motor Vehicle Registration (MVR)
Federal Funding
The majority of these funds are allocated toward system maintenance projects. Remaining funds can then be allocated toward expansion, capacity, or other types of projects. IDOT strives to use all available funding as efficiently as possible, keeping our vital transportation network running.
Why is IDOT Developing the Tool?
Transportation funding is limited and a majority of IDOT's funds are allocated toward system maintenance projects. To increase transparency and select projects in an equitable manner IDOT began developing this Data-Driven Decision tool.
The Data-Driven Decisions Tool will enhance transparency in the project selection process and demonstrate why IDOT selects one project over another. Goals and selection criteria will allow IDOT to identify projects which provide the greatest benefit for the state, its residents, and supports the department's mission.
How is IDOT Developing the Tool
IDOT is developing the tool with guidance from the following:
Existing planning documents, including IDOT's Long-Range Transportation Plan
Federal guidance urging the use of performance based project selection set forth by Moving Ahead for Progress in the 21st Century Act (MAP-21)
Counsel from state and national experts including transportation stakeholders and the Federal Highway Administration
Input from the local and regional leaders, and the public
Accepted industry metrics
What is the Tool
Based on the work done thus far, IDOT has developed a process which will select projects based on five goal areas and thirteen selection criteria. These proposed goals and criteria will help IDOT make investment decisions on capacity projects in a transparent and equitable manner.Expand All
Goal: Traffic Operations/ Congestion – View 3 criteria
Goal: Safety – View 1 criteria
Goal: Economic Development –View 3 criteria
Goal: Environmental Impacts/ Livability – View 5 criteria
Goal: Regional Rating – View 1 criteria
The Department hosted a webinar on September 29, 2021 on the proposed criteria. A recording of the webinar can be found by clicking here. A copy of the presentation is available here. As a reminder, While the comment period is closed, input is always welcome. If there are additional thoughts or comments please send an email to DOT.STIP@Illinois.gov . https://idot.illinois.gov/data-driven-decisions.html
Virginia
SMART SCALE is a process that helps Virginia meet its most critical transportation needs using limited tax dollars. It evaluates potential transportation projects based on key factors like how they improve safety, reduce congestion, increase accessibility, contribute to economic development, promote efficient land use, and affect the environment.
The anticipated benefits are calculated and the projects are scored and ranked. This information is used by the Commonwealth Transportation Board to help guide and inform their project selection decisions.
Feb. 22, 2022 Pre-Application Applicant Training
Mar. 1, 2022 Pre-Application Opens
Apr. 1, 2022 Pre-Application Closes at 11:59 PM
WelcomeWelcome to the Prioritization Resources site. Here you will find helpful information related to NCDOT's project prioritization process and the Strategic Transportation Investments (STI) Law. This page contains information for Prioritization 6.0 (the current round of Project Prioritization). More general information about STI and the State Transportation Improvement Program (STIP) can be found under "Other Links" on the right.

What's Happening NowPrioritization 6.0The initial P6.0 Workgroup met monthly from October 2018 through May 2019. Workgroup recommendations were presented to the NC Board of Transportation on June 6, 2019 and approved on June 27, 2019.Project submittal opened to Prioritization partners in early October 2019 and closed in August 2020. Final quantitative scores were released on November 12, 2021​.Due to rising costs for projects funded in the currently adopted 2020-2029 STIP, little to no funding is projected to be available for projects in P6.0. Therefore, the P6.0 Workgroup has reconvened to meet monthly. On August 4, 2021, the Workgroup and the NC Board of Transportation decided to halt the P6.0 process. After completing final data scores, P6.0 will not continue with the Local Input Point assignment or finalizing total project scores. The 2024-2033 STIP will be developed using existing projects from the currently adopted 2020-2029 STIP, and the Workgroup will help to determine this process.

The Prioritization Data page can still be viewed for additional information, such as:

P6.0 GIS Data
Prioritization Training documentation
P6.0 Submittal Guidance documents
Congestion Management Project Information (P5.0, P4.0, P3.0)
Archives from P5.0 and prior prioritization cycles (P4.0, P3.0, etc.)

In addition, the SPOT Office has recorded previous informational webinars on various topics as listed below.

P6.0 Scoring Components Webinar (June 25, 2019 – second session) – CLICK HERE
P6.0 Bike/Ped Cost Estimation Tool Webinar (July 23, 2019) – CLICK HERE
P6.0 Local Input Point Webinar (February 4, 2021 – first session) – CLICK HERE


Prioritization 5.0P5.0 helped produce the Draft 2020-2029 STIP, which was released in January 2019 for public comment and adopted by the NC Board of Transportation in September 2019. More information on the current STIP can be found under "Other Links" on the right.
Upcoming Key Dates​Fall 2022Draft 2024-2033 STIP released​Spring 2023Draft STIP public comment periodSummer 20232024-2033 STIP approved by Board of Transportation
Local Input Point MethodologiesAll P5.0 methodologies can be in the archives of the Prioritization Data page, as well as NCDOT Division Engineer preliminary and final local input point assignments. MPO and RPO local input point assignments can be found at each organization's website. P6.0 methodology information will be updated as P6.0 progresses.
STI Results
Training and Presentations
Resources
Other Links
Videos
Bicycle & Pedestrian Project Development & Design Guidance
Design guidelines, bicycle accommodations types, and bicycle route signing and mapping.
AASHTO
FHWA
MUTCD
NACTO
SRTS NON-INFRASTRUCTURE
US ACCESS BOARD