The Labor Department reported a near record low unemployment rate nationwide in December. But is the number of jobs a good measure of the health of the economy anymore? One argument against that measure: Nearly half of all working Americans have low-wage jobs (as in, an annual income of $18,000). And most of those 53 million workers are between the ages of 25 and 54, not the burger-flipping teenagers that people tend to believe work those jobs. Or as Eric Levitz at New York magazine so eloquently put it: "Jobs, Jobs Everywhere, But Most of Them Kind of Suck." // New York Times, CBS News, New York magazine
When Shelters Are Full, Sleeping Outside Can Be the Only Option
The Supreme Court may review an Idaho lawsuit that's forced cities to change the way they treat the homeless.By Esmé E Deprez and Noah BuhayarDecember 6, 2019, 2:00 AM MST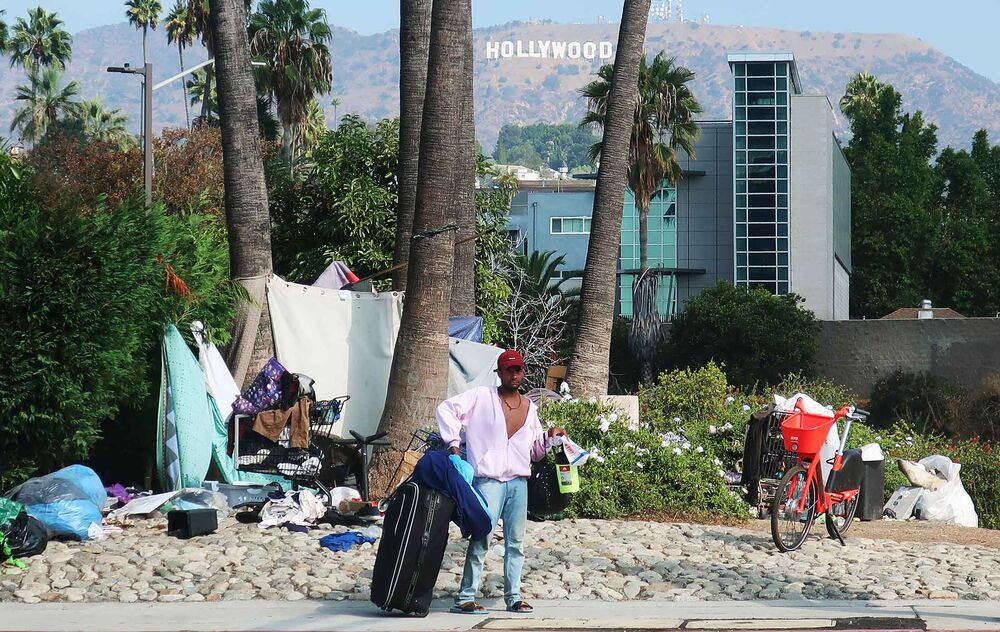 LISTEN TO ARTICLE
4:36
SHARE THIS ARTICLE
The law can't punish you for being homeless. But what about actions you must take because you're homeless, such as sleeping on the street when shelters are full and there's nowhere else to go?
The U.S. Court of Appeals for the 9th Circuit ruled last year that public camping bans, when no reasonable alternative exists, are tantamount to criminalizing a person's existential condition—referred to in legal terms as a person's status—and therefore violate the Eighth Amendment's prohibition against "cruel and unusual punishments." The case, Martin v. City of Boise, was first brought a decade ago when attorneys representing six homeless people (including lead plaintiff Robert Martin) sued the Idaho capital in U.S. District Court. "Conduct at issue here is involuntary and inseparable from status—they are one and the same," Judge Marsha Berzon wrote for the 9th Circuit, "given that human beings are biologically compelled to rest." Boise has asked the U.S. Supreme Court to review and overturn the decision, and the justices could announce whether they'll weigh in as soon as this month.
"Courts and legal scholars have been trying to disentangle conduct from status for years," says Sara Rankin, who directs the Homeless Rights Advocacy Project at the Seattle University School of Law. A Supreme Court review of Martin v. Boise would mark the high court's first decision on the constitutionality of government ordinances criminalizing homelessness, she says. Whether the court decides to take the case or not, it will have vast implications for how the 1,600 municipalities in nine states that fall under the 9th Circuit approach homelessness.
Severe shortages of affordable housing and emergency shelter beds, particularly in the American West, have led to a surge in people sleeping below highway underpasses and in public parks. Cities nationwide have responded by criminalizing various acts of homelessness, such as camping and sleeping in public, sitting and lying down in public, panhandling, and living in vehicles.
Such laws aren't just unethical, advocates for the homeless say, they're ineffective, saddling people with fines and arrest records that make it even harder for them to secure stable housing and employment. Moreover, study after study has shown that when related expenses such as policing and emergency room visits are factored in, providing housing for the chronically homeless is less expensive than preserving the status quo.
Boise's homeless population—which in January hovered around 700, less than a tenth of whom were unsheltered—pales compared with those of many of its Western neighbors. In Los Angeles County, 44,000 of the almost 60,000 homeless lack proper shelter. So do almost half the 11,200 homeless in Seattle and two-thirds of the 8,000 in San Francisco.
In an August petition to the Supreme Court, lawyers for Boise (the team includes Theodore Olson of Bush v. Gore fame) argued that the 9th Circuit's decision creates a "de facto constitutional right to live on sidewalks and in parks." They warned that letting the ruling stand would leave governments "powerless" to preserve health and safety as homeless encampments spread. If cities can't police sleeping in public, they argued, what about other "universal and unavoidable consequences of being human," such as urination and defecation?
Mike Journee, a spokesman for Boise's mayor, says his city is pursuing progressive policies, building unrestricted supportive housing and working with schools on family homelessness. "All the work we're doing on those kind of solutions could be rendered moot if the very basic ability to address camping in our streets is taken away from us," he says.
In the wake of the 9th Circuit ruling, park rangers in California's Sacramento County stopped issuing citations to people camping, and Thousand Oaks amended its ordinance to restrict sleeping on public property to nighttime hours. But lawyers on the Martin side say Boise's claims of "far-reaching and catastrophic" consequences are overblown. In an October filing, they quote the 9th Circuit's own description of its ruling as "narrow." Cities can still prohibit sleeping or camping "at particular times or in particular locations," they write, and nothing in the ruling dictates that they build sufficient shelter.
Handicapping whether the Supreme Court will take the case is more art than science. There's no direct split among federal appeals courts, which might make the justices less likely to want to enter the fray. Still, the Boise case could stand a better-than-usual chance, in part because of the 20 outside briefs urging the justices to hear it.
The National Law Center on Homelessness & Poverty is helping to represent the plaintiffs in court. Its executive director, Maria Foscarinis, says cities have plenty of other ways to address homelessness once criminalization is put out of reach, such as boosting the supply and accessibility of housing. The ruling provides an opportunity to get creative, she says.BOTTOM LINE – A Supreme Court review of Martin v. Boise would mark the high court's first decision on the constitutionality of government ordinances criminalizing homelessness.