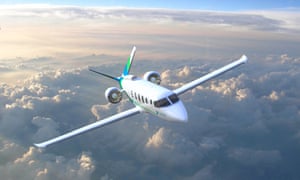 A Seattle-area startup backed by the venture capital arms of Boeing and JetBlue Airways has announced plans to begin selling a hybrid-electric commuter aircraft by 2022.
The small plane is the first of several planned by Zunum Aero, which said it would seat up to 12 passengers and be powered by two electric motors, dramatically reducing the travel time and cost of trips under 1,000 miles (1,600km).
Zunum's plans and timetable underscore a rush to develop small electric aircraft based on rapidly evolving battery technology and artificial intelligence systems that avoid obstacles on a road or in the sky.
In a separate but related development, Boeing said on Thursday it planned to acquire a company that specialises in electric and autonomous flight to help its own efforts to develop such aircraft.
Several companies, including Uber Technologies and European planemaker Airbus, are working on electric self-flying cars.
Zunum does not expect to be the first to certify an electric-powered aircraft with regulators. Rather, it is aiming to fill a market gap for regional travel by airlines, where private jets and commercial jetliners are too costly for many to use.
Zunum's planes would be intended to fly from thousands of small airports around big cities to cut regional travel times and costs.
"Airlines are very keen to know how to fly a shorter distance and make money on it," said Matt Knapp, co-founder and chief aeronautic engineer of the Kirkland, Washington-based company.
A flight from Silicon Valley to Los Angeles, for instance, would leave from Palo Alto, San Carlos, Hayward or Reid Hillview airports and arrive in Santa Monica, Burbank, Hawthorne or San Gabriel Valley airports. The cost would be about $120 one way, the company said.
The travel time of over four hours would be cut in half by avoiding the crowds and security lines at big hubs that are required for larger planes. About 96% of US air traffic travels through 1% of its airports, leaving thousands of small airports virtually untapped, Knapp said.
Electric-vehicle batteries, such as those made by Tesla and Panasonic, would power Zunum's motors, although Zunum has no commitment with either company. A supplemental jet-fuel engine and electrical generator would be used to give the plane a range of 700 miles and ensure it stayed aloft after the batteries are exhausted, Knapp said.
Zunum plans to make a larger plane seating up to 50 passengers at the end of the next decade, and the range of both would increase to about 1,000 miles as battery technology improved, Knapp said.
The planes eventually would fly solely on battery power and were being designed to fly with one pilot and to eventually be remotely piloted, he said.
Recent advances in battery technology, lightweight electric motors and carbon composite airframes would cut the cost of flying Zunum's aircraft to about eight cents per seat-mile, about one-fifth that of a small jet or turboprop plane, Knapp said.
"We're getting airline pricing down on a small plane and doing it for short distances," Knapp said. "That kind of aircraft doesn't currently exist."
Zunum first announced its plans for hybrid-electric aircraft in April, and revealed that Boeing HorizonX and JetBlue Technology Ventures had invested in its initial round of venture funding. On Thursday it disclosed specifications and a timetable for the vehicle entering service.
Zunum says the plane would cruise at about 340mph (550kph) and at altitudes of about 25,000 feet (7,600 meters) – slower and lower than conventional jets.
The motor, which Zunum is designing, will drive a fan similar to the bypass fan on a jet engine, but without a jet's combustion. Zunum has started talks with plane makers about building the airframe, and it is building non-flying prototypes of the powertrain to test batteries, the electrical system, software and other components, Knapp said.
Current battery technology can only power the plane for about 100 miles so a fuel-powered engine would be used to generate electricity to power the motors for additional range.
5 Oct 2017 by Nicolas Zart on Clean Technica
Zunum Aero Electric Hybrid Regional Planes 
Zunum aircraft aims to tap into a not so well represented market, that of regional flights with a range of up to 1,000 miles. This is good news since we are now more than ever shuttled back and forth through impersonal enormous airport hubs that bring us away from our final destination and force us through the dreadful connection rigmarole. The only options available today are chartered local flights, or learn how to fly and then rent one. However, regional flights from mainstream carriers are very limited, expensive to operate with the cost handed down to travelers and simply not that practical. This stalemate will eventually disappear with the renewal of smaller airports hops as it was more common a few decades ago.
Aiming squarely at the $1 trillion stock of aircraft serving regional routes, Zunum wants to slash operating costs and bring them more in line with those of regular commercial airliners. What Zunum also brings to the plate is that its Aero platform will be much quieter with the hybrid system. They are designed to compete with mid-sized aircraft, but with quietness, a greener footprint, and faster door-to-door service to secondary airports. This also means less noise, which is something regional airports will rejoice over.
The Zunum Aero Electric Hybrid Regional Planes Announcement
Zunum announced that the Aero will cost 8 cents per seat mile or $250 per hour for the aircraft. It will have a maximum cruising speed of 340 MPH with a take-off distance of 2,200 feet and a range of 700 miles. All of this will come with 80% lower emissions and noise.
According to Logan Jones, Managing Director at Boeing HorizonX, and a Zunum investor: "Zunum is reinvigorating the regional market with a solution that's both innovative and realistic… We see them as a leader in electric aviation, building on proven technologies, with a mature technical and commercial team."
Zunum shared more information on its hybrid-electric series powertrain as well. The battery system will allow for a seamless transition from hybrid to electric power. The electric propulsors will have variable pitch fans and will allow for a 40% reduction noise on the runway. Zunum estimates that this will translate to a 75%  noise drop for local communities.
So where are the batteries? They will rest inside the wings and will be fully integrated but will enable a quick swap or recharge at airports, and this is perhaps the key advantage the Zunum Aero provides. With fresh packs in its hubs and quick recharging DC stations in secondary airports, the Aero would be favored over traditional jet engines.   
Zunum goes even further by implementing a control system that will optimize power management, fault detection, and recovery in real-time flight conditions.
JetBlue Onboard the Zunum Aero
A company that stands to win the most from opening secondary airport routes is JetBlue. JetBlue and Boeing have backed Zunum since April of this year, according to fellow writer Steve's article, Hybrid Electric Airplane Startup Zunum Aero Collects Investments From JetBlue & Boeing. And according to Bonny Simi, President of JetBlue Technology Ventures, another Zunum investor, "We believe that the regional transportation industry is ripe for disruption and we're excited to support Zunum and its efforts to help introduce a new era of aviation."
The economics that the Zunum aircrafts bring mean more work for 5,000 under-utilized secondary airports, as well as lightening up the load for other mid-range aircraft that would be better used on other routes. Zunum expects its Aero aircraft could deliver significantly lower door-to-door times, costs, and emissions below than what is commercially available today.
The Serious Need To Redesign Routes and Approaches
If you've ever watched the trajectory of any given flight, either long range or short hops, you will find they never fly a direct route. Taking off from and landing at airports means circling around the landing sites. International routes correct their navigation courses more than once during their flight. All of this adds time and fuel, thus raising prices on the overall effectiveness of traveling. Trains have answered this prickly problem by rolling directly into the heart of most cities. It is also noteworthy to see that the FAA is currently looking into ways of having aircraft radar systems better detect traffic and give them direct routes. This would make the Aero a perfect contender for secondary more direct routes, especially with cities that have more stringent noise ordinances. Zunum believes a Boston to Washington, DC flight would take 2 hours and 30 minutes door-to-door, compared to 4 hours and 50 minutes today.
Let The Zunum Aero Testing Begin
Zunum Aero plans to do test flights by 2019 and will open a second development center near Chicago for ground tests. It is surrounding itself with senior technologists from various fields, including power electronics, electric motors, propulsors and more from folks having worked on the Boeing 787, the Lockheed Martin F35, and the Rolls Royce Ultrafan.
According to founder and Aero Chief Engineer Matt Knapp: "This aircraft is going to transform how we live and work… We've pushed ourselves to challenge conventional wisdom and the limits of engineering to deliver an aircraft of which we are extremely proud — one that offers efficiency and performance without compromise."
Conclusion
So what's in a company name? Zunum is derived from the Mayan "tzunuum," which means hummingbird, according to Steve's article. How a propos! We're excited to see the Zunum Aero continuing to gather momentum and can only imagine the comments on those V tails.