A group of high school students Wednesday asked Minnesota's new governor to pass an executive order to regulate greenhouse gas emissions and propose a plan to reduce the impact of climate change by promoting renewable energy.
A coalition of groups led by the clean change youth organization iMatter and Climate Generation's Youth Environmental Activists have created an umbrella organization, Minnesota Can't Wait, that offered lawmakers a 10-point "Green New Deal" platform. The initiative calls for generating all power from renewables, creating a statewide smart grid and ceasing construction of pipelines, including the controversial Line 3 Enbridge project.
The youth organization wants to end investment in any fossil fuel infrastructure and continue to make Minnesota a national green economy model.
The proposal is certain to meet some resistance in a state with a Democratic House and governor but a narrowly divided Republican Senate. Organizers said they remain optimistic because Gov. Tim Walz affirmed his support last year for the group's regulatory proposal while campaigning. He also allowed the group to use his Capitol office for Wednesday's news conference and agreed to meet with them.
Students affiliated with iMatter have already succeeded in pressuring city councils in Minnesota to create long-range climate action plans, including in St. Louis Park, St. Paul, Minneapolis, Grand Marais and Eden Prairie. At least 14 iMatter youth groups are active in the state.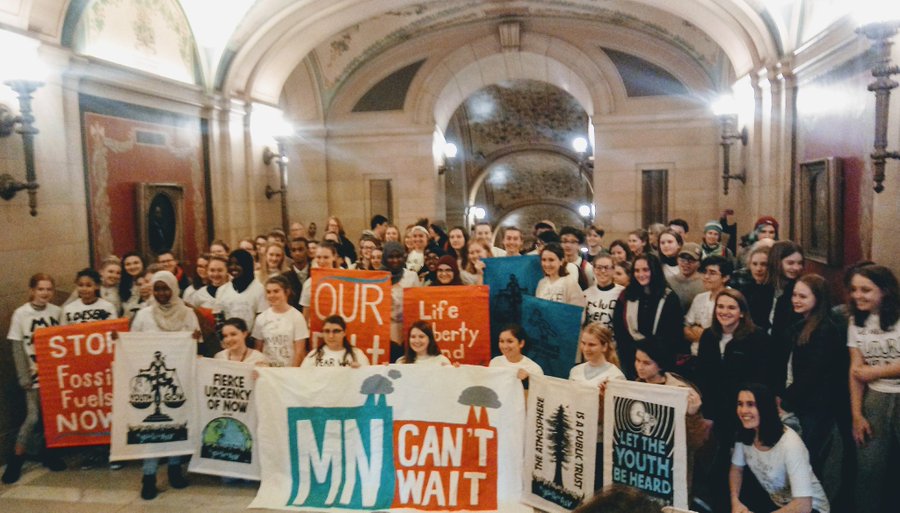 Lia Harel, a senior at Hopkins High School in suburban Minneapolis, said she and several members of Minnesota Can't Wait met with Walz in September and highlighted their proposal that the pollution control agency regulate carbon emissions. Walz has not shied away from speaking about climate change, mentioning it several times during his campaign and noting it again last week when introducing his new pollution control agency commissioner, Laura Bishop.
Minnesota Can't Wait members said they understand the political barriers to greenhouse gas emission reductions, but Harel said they decided "we can no longer take action on just what is politically possible, but also what is necessary."
Sophia Manolis, a senior at South High in Minneapolis, said Minnesota Can't Wait is a response to the lack of action at the federal level fueled by a belief the state should remain a national level in combating climate change. "I'm optimistic," she said. "We'll see what he says. For the Green New Deal, I'm excited that some parts of it might get passed."
Anna Grace Hottinger, a sophomore in the EdVisions Off Campus statewide online school, is new to political activism but quickly recognized what they're up against. Many politicians, she said, receive money from fossil fuel interests, making change toward a clean economy all that much harder. Still, she believes the state could at least agree to a moratorium on future pipelines and pass Green New Deal legislation.
Minnesota can't wait for bold, but necessary, action to combat climate change. We, the young people of Minnesota, are calling on our leaders to do what's needed for our state to stop emitting greenhouse gases and be fossil fuel free within a decade. We want a transition to clean renewable energy that is equitable for all Minnesotans because the longer we delay, the more it threatens the health, safety, and happiness of our generation and all who follow.
Minnesota Can't Wait is comprised of several youth-led campaigns for climate action.
Stop the Line 3 tar sands pipeline and all other proposed new fossil fuel projects to help speed the transition to clean, renewable energy sources.
Use existing legal authority to reduce and limit greenhouse gas pollution through the Minnesota Pollution Control Agency.
Modeled after the National Green New Deal, this statewide bill calls for necessary actions to address climate change, while at the same time creating thousands of green jobs in a sustainable economy.
Climate change is already affecting us now, but the worst impacts will be felt by the next generation. Student leaders from across Minnesota are making a stand. Listen as they tell you why they are asking for action now.
The Facts
We can no longer ignore reality. Climate change is all around us. Extreme weather events, rising sea levels, increasingly damaging wildfires and changing ecosystems across the globe show us what the future will hold if we do nothing.
We now have the highest levels of greenhouse gases in recorded history, and the last four years have seen the highest global temperatures on record.
If Minnesota acts now, we can make a difference. If we do nothing, we are putting future generations at risk.
4% ACTUAL GREENHOUSE GAS REDUCTIONS
The most recent data shows that Minnesota has only reduced greenhouse gas emissions by 4% by 2014, compared to 2004 levels. 
30% GREENHOUSE GAS REDUCTION GOAL
Minnesota's Next Generation Energy Act, signed by Governor Pawlenty, commits Minnesota to reduce greenhouse gas emissions 30% by 2025, compared to 2004 levels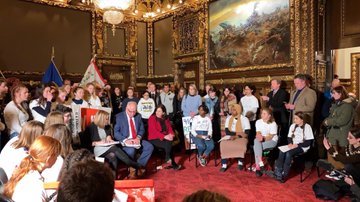 Minnesota Can't Wait@mncantwait

Thank you

@

GovTimWalz

and

@

LtGovFlanagan

for meeting with us today!! We recognize that this is one step of many but we can't wait any longer for action. We look forward to seeing you take executive order as soon as possible.
The argument that jobs could be lost during a transition to clean energy can be countered with data showing jobs in renewable energy now outnumber those in the fossil fuel industry, Hottinger said. The reality that climate change "impacts everyone" is becoming more apparent, she added, as the fires in California showed. Celebrities and lower middle-class residents saw their homes go up in smoke, she said.
Minnesota Can't Wait grew out of the work of iMatter, Climate Generation and a group of youth intervenors who testified against Enbridge's Line 3 pipeline in regulatory proceedings at the Public Utilities Commission. They came together last year to lobby then-Gov. Mark Dayton to try to get him to require the pollution control agency to develop rules to regulate carbon emissions, said Sarah Goodspeed, youth and policy manager at Climate Generation. Dayton declined to take action.
The students' proposals were put together with legal assistance from the Minnesota Center for Environmental Advocacy and supported by several other environmental and clean energy organizations, including Minnesota Interfaith Power and Light. Kevin Lee, the center's climate and energy program director, worked with Minnesota Can't Wait on the rulemaking proposal. The Legislature has granted the pollution control agency the power to regulate greenhouse gases, he noted, leaving the governor the option to simply give it the direction to begin the process.
Where that might lead remains a question. Minnesota could join one of the nation's two cap-and-trade marketplaces, one in the East and other in California, Lee said. Or it could impose pollution limits on, say, industrial facilities or businesses.
Should the executive order come to pass, Minnesota Can't Wait will want to see progress, quickly.
"What's most exciting about this is that our youth are feeling a great urgency that their future is being put at risk," Goodspeed said. "They don't want to bicker about the details. They want urgent action because it's their future on the line.  They're putting a moral call for action out there."
ABOUT FRANK JOSSI.