Also see from the US:  Public Transportation's Impact on Rural and Small Towns: A Vital Mobility Link 

And from Laura Bliss at City Lab, 10 Oct 2017:

For rural Americans who don't have access to cars, basics like grocery shopping and doctor's appointments can turn into an arduous struggle. With few transit options at low densities, the expense and hassle of finding an alternative ride can mean important appointments simply get skipped.

That's a problem. Rural communities increasingly reflect a group of people who don't drive—they're older, less mobile, and poorer. That's the gist of a new report by the American Public Transportation Association. While transit systems in large urban centers rightly draw most attention from advocates, ignoring the growing demand for service in far-flung towns risks shutting out some of the neediest would-be riders.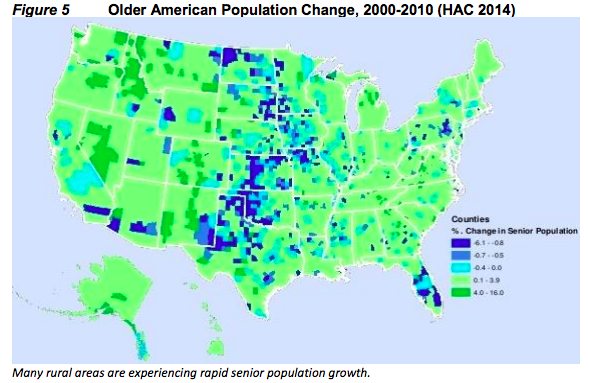 Ridership in rural areas, the report finds, has grown since 2007, which was the year the Bureau of Transportation Statistics began collecting data. Between that year and 2015, total rural ridership increased by 7.8 percent, compared to 2.3 percent in urban areas. In both categories, ridership has fallen off in 2015 and 2016, likely due to the recent drop in gas prices. But according to APTA, small-town passenger bases might be a little more resilient to those in big cities—as workers and families have left rural America in search of opportunity, per capita ridership rates have kept growing.
It seems that's largely because as small towns shrink, those left behind are grayer than average—older Americans make up 17 percent of rural populations, compared to 13 percent in cities and 14 percent nationwide. Their share of rural populations is growing steadily, just as it is overall. Whether these individuals can "age in place" successfully depends in part on how well they can get around, especially once the car isn't an option. Drivers licenses drop off after age 70, and accumulating health conditions impede a person's ability to control a vehicle.

Small towns also have a higher proportion of former service members: Roughly 30 percent of enrollees in the Department of Veterans Affairs Health Administration system live in rural areas, and 44 percent of these veterans have at least one service connected health condition—conditions that can hinder their ability to drive. As a group, individuals with disabilities take about 50 percent more trips on transit that those without.
And although car ownership rates are higher in rural parts of the U.S. than urban, so are poverty rates. Lower median incomes increase the cost of driving as a share of personal income: Rural households spend about seven percent points more of their budgets on transportation than those in cities.
These points underscore the value of transit—whether it's a traditional bus, or an emerging microtransit service—in America's least-connected places. Rather than promise to resurrect dying industries, lawmakers might serve their rural constituents better if they supported investments in mobility as a foundation of economic mobility itself, says Darnell Grisby, APTA's director of policy development and research. Perhaps there's a political calculus to be made, too: Low-income older Americans may need transit, but they tend not to vote for candidates that support it. "These are the constituencies of the current president," says Grisby.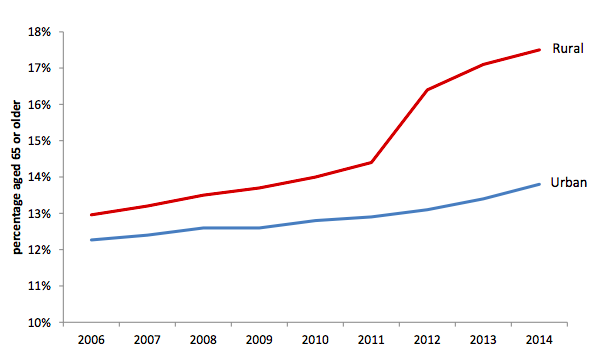 The recent story of transit ridership is all about how you slice and dice the data. Thanks to demographic forces, rural areas are gaining a base of captive riders, for better or for worse. But rural transit use hasn't really been bucking national trends. Across the U.S., transit ridership has grown overall since before the Great Recession, but over the past two years, a drop in gas prices has knocked that trend line south in both rural and urban areas. Over the long run, establishing lasting ridership gains that aren't tied to fuel costs depends on quality of service. That's true for small towns and big cities alike.
| | |
| --- | --- |
| Time: Tuesday, 28/Nov/2017: 3:30pm – 6:30pm | Location: Small conference room 2 |
Presentations and workshop
Presentations
Demand Oriented Mobility Solutions for Rural Areas
Technische Universität Darmstadt, Germany
Conventional public transport is facing major difficulties in rural areas of Germany due to current societal and demographical changes. A decreasing population endangers the already bristle financial situation of public transport.
Accordingly, only major links to and from cities are serviced, and services in rural areas can only persist as an extension to school bus service, adding only a few additional trips per day assuring a minimum of mobility. On average, 75% of trips in rural areas are covered using private cars, which, considering demographic change, is leading to more seniors that do not want or might not be able to drive anymore being dependent on private cars. Flexible mobility solutions e.g. communal carpooling have never caught on and faced major financial problems.
This study wants to explore alternative mobility solutions for rural areas.
Purpose:
In the dawn of autonomous driving, flexible, economically viable carpooling options emerge. Reducing transit personnel can cut operation costs considerably. The sharing economy is growing quickly, and sharing rides is becoming a feasible option for a lot of people. Uber and Lyft are in successful operation in urban areas in the United States, and car sharing schemes are gaining attention in German cities, as well.
This study, however, will focus on sharing rides in rural areas, where one can find very different conditions in comparison to inner city mobility. Trip distances are longer, with potentially fewer people that could share a ride. The goal of this study is to determine the feasibility of introducing flexible mobility solutions on a large scale in rural areas, using autonomous carpooling.
It has already been shown that shared taxi services can reduce the number of cars in large cities by up to 80% in Lisbon when getting rid of private vehicles altogether.
The potential of shared mobility in rural areas still needs to be explored.
Methodology:
Major trends to estimate public transport demand and supply until 2030 are taken into consideration in this study.
According to these changes, a model of a rural area is established to simulate the implementation of autonomous carpooling and investigate economic feasibility.
The demand is modelled in the simulation software anylogic depicting the real mobility demand of one administrative district in Germany. Induced changes in demand are taken into consideration.
The supply scenarios include autonomous carpooling with different vehicle sizes. The supply is modelled with and without a driver to compare service times and estimate operational costs.
Findings/Implications:
The main results will be information about the level of service that can be achieved with a fixed number of vehicles, the number of vehicles needed to achieve a certain level of service during peak hours, average customer waiting time, average detour per trip, overall distance driven daily and average cost per passenger and trip. Based on that, we can estimate the feasibility of a shared (autonomous) mobility solution for rural areas.
This study will conclude in September of 2017.
First results will be available in July 2017 and will be implemented in the corresponding paper.
---
MaaS in rural areas
1VTT Technical Research Centre of Finland Ltd., Finland; 2Lappeenranta university of technology
Purpose
The purpose of this paper is to present special characteristics of rural areas on MaaS development based on a project co-funded by Ministry of Agriculture and Forestry of Finland. The paper presents rural mobility SWOT and challenges, as well as goals and vision. Also solutions for MaaS services regarding collaboration, services & markets, planning & decision-making and technology & information will be proposed. In addition next steps in rural MaaS development will be presented.
Methodology
The results are based on interviews, literature study and workshops. In total nine workshops were organised: two workshops in each of four regions and one national consolidation workshop. The regional workshops included group work on vision and actions required to reach the vision, and covered the following aspects: business including tourism and deliveries, citizens and subsidized transport services including statutory social and health service transportation.
Findings
Rural areas have challenges organizing transport services efficiently due to long distances, sparse population and narrow flows of people and material. Population in rural areas is decreasing and aging, lowering vehicle occupancy rates and causing increasing social and health service transportation. All this combined with tightening financial target cause challenges in organizing efficient mobility and transport services in rural areas. The rural MaaS vision emphasizes well-being and accessibility with an appropriate service level and cost-efficiency.
Collaboration of different stakeholders – business, public sector and people – is the key for MaaS services in rural areas. New pilots with impact assessment are needed, and best practices disseminated. Special characteristics of rural areas need to be taken into account e.g. in legislation and financing. Technology is an enable for efficient MaaS services, thus digitalization of data and utilizing open/ defined interfaces is recommended. A tool kit for MaaS pilot/ service development is needed to promote the development and implementation of new MaaS services.
Implications
There are several structural and legislative changes ongoing in Finland. As the operational environment is changing, services and stakeholders need to renew along. Rural areas have a great potential in organizing transport services more efficiently. More collaboration and pilots and an open mind-set towards new services are needed to promote rural MaaS.
---
Opportunities of MaaS in US and rural areas
DemandTrans, Denmark
Purpose
European urbanites enjoy dense networks of general use public transit (PT) in contrast to America's cities that suffer individual cars have been the dominant force to a greater extent than in Europe. The same lack of fixed route based PT coverage applies to rural areas in Europe. Network coverage can be supplemented with flexible traffic solutions that can act as glue in the network. It is therefore crucial that flexible traffic solutions (1) become visible and accessible in trip planners, (2) are defined in models/modes and (3) can be used across different local and regional geographies. These three attributes of flexible solutions are crucial before MaaS can function outside the metro areas on a large scale.
Methodology
Our approach in this paper and presentation is to describe the necessary steps to implement MaaS in regions that have not historically enjoyed the high level of service of European-style transport operations. First, we describe a traffic model with geographic descriptions of traffic applications, including each mode in a trip chain. Next, using case studies from US systems, we describe the realistic operating possibilities for automation of ordering and planning transportation to reduce unit costs. Finally, we make the case for the "back office" handling and process optimization of demand-responsive trips, drawing comparisons to existing practice and an ideal state.
Findings
Our research and practical experience in this area demonstrate several key findings for the future growth of MaaS in rural areas. First, there is a need to adapt GTFS-Flex for a variety of use cases. Second, we illustrate how MaaS can act as "insurance" or a quality alternative in areas historically dominated by automobile travel, in some cases where automobile ownership severely restricts mobility and access. Finally, we describe the market that can be created for vehicles being utilized in flexible services.
need for adapting GTFS-flex?

description of flex traffic mode setup's

creation of a market space for vehicles resources for flex services – Access to use dedicated and nondedicated vehicles to perform same services

MaaS can act as insurance in areas dominated by private car driving
Implications
To ensure everyone has access to a meaningful MaaS, it is crucial to creating business/traffic model that ensures the provision of transport services also in rural areas and in other areas with poor traffic coverage.
There is a need to organize transport market for flexible transport.
Focus
Access to MaaS in areas with poor traffic coverage

The need to be figured out " all" modes/model of flexible transport

Lower cost for creating demand-responsive options – to ensure access to transit from area with poor PT coverage to equalize alternatives to autos
More integration of elderly, and disabled services will increase transit productivity
Create a business model /setup to create joint offerings between providers participating in the regional MaaS. One of the lessons that can be learned from Denmark Flex system with nationwide integration, is that Municipalities and regions agreement to pool funding, gave access to cheaper transport and better resources availability
There is intense competition to be the first company to market with a fully autonomous, driverless ride-sharing service, and if the news that The Information recently dropped is accurate, then Google/Alphabet-owned Waymo will be offering one imminently.
According to anonymous sources, the self-driving car unit is planning to launch a fully driverless fleet of cars before the end of the year. Initially the service is tipped as launching in Chandler, a suburb of Phoenix that has already been the site of extensive testing by Waymo. There a number of factors that favor Chandler — the good weather (although Waymo recently showed that extreme heat is no challenge), relatively few pedestrians, wide streets — but most pertinent detail is that Arizona has some of the most permissive laws regarding self-driving vehicles in the whole of the US. In the state you're able test vehicles without a driver on board, as long as it's possible for a licensed driver to take control of the vehicles remotely if necessary, and for them to bear responsibility for the vehicles.
Given that there are less than three months left of the year, it's fair to say that a 2017 launch is pretty ambitious. However, even if it takes until 2018, Waymo will still have the jump on rival services such as Lyft. It's not just the time that is running against Waymo, the anonymous sources have also said that the vehicles are experiencing problems. In certain situations there have been delays between between the car's requests for help and the responses from the humans in the command center. There have also been reports that the cars repeatedly struggle with navigating left turns.
If this news really does come to pass it might be a bit of a shock to those people who remain steadfastly skeptical about self-driving cars, and it'll signal a big step towards a driverless future.