---
Louisville, Kentucky doesn't have smog-filled skies like Los Angeles or Beijing. But people who live there know the air is often unhealthy to breathe. Signs along the interstate highways leading to the city warn of low air quality. Residents share stories of persistent coughs that went away while they were on vacation, only to reappear when they arrived home. They joke about living in Coronary Valley. "The air in Louisville takes years off your life, regardless of your overall health status," says Veronica Combs, director of the Institute for Healthy Air, Water, and Soil, a local nonprofit focused on the connections between environmental and human health. 
 Where You Live Determines How Long You Live
Where you live in the city can have dramatic effects on your health. Residents in the city's poorer neighborhoods — those closest to Louisville's industrial areas — live 11 years less than those in more upscale neighborhoods where trees, parks, and green spaces are common. That dichotomy caught the attention of Dr. Aruni Bhatnagar of University of Louisville Medical Center. Would planting more trees make people healthier, he wondered? "There has never been a rigorous scientific study that quantified the health effects of urban greening," says Bhatnagar. "This will be the first attempt to understand, is nature a viable, replicable therapy?"
The Green Heart Project Has Begun
At first, his colleagues laughed at him, but now the idea has turned into the Green Heart Project. It will be the first large-scale scientific study of the relationship between trees and human health in the world. "What we learn in Louisville is going to affect people all over the world," says Ray Yeager, a researcher with the University of Louisville Medical Center laboratory that is in charge of the program. "Essentially, we're designing a big clinical trial where nature is the pharmaceutical," says Pascal Mittermaier, head of the Global Cities program at The Nature Conservancy.
The first part of the project began in October with the collection of baseline data on the neighborhoods involved. 50 passive air monitors will be used together with more sophisticated sensors on cell towers around the area. The network will monitor temperature, the level of particulates in the air, and the amount of volatile organic compounds present.
Once that data is collected, 8,000 trees will be planted in selected neighborhoods, based on input from The Nature Conservancy and the Hyphae Design Laboratory, which is adding its experience in urban planning and green infrastructure design to the Great Heart Project. Then 700 neighborhood residents will allow themselves to be monitored using blood and urine samples. The tests will collect data on dozens of chemicals, including cortisol and adrenaline — both of which are produced when the body is under stress.
Urine Into Data
"This is where we transform urine into data," says Ray Yeager. "We're essentially relying on people to volunteer as human environmental monitors." The project will take place over a 5 year period. Some of the chemicals and compounds the researchers are looking for appear right away in the body but some require months or even years to make their presence known. At the end of the study, data from neighborhoods where trees were planted will be compared to that from neighborhoods where no new trees were planted.
Trees do more than just convert carbon dioxide into oxygen during photosynthesis. The tiny hairs on each leaf also trap some of the particulates in the air. We are just becoming aware of the health impact of particulates as a result of the notoriety surrounding the Volkswagen diesel cheating scandal that broke in 2015. Particulates smaller than 2.5 microns can actually pass through the lungs and into the bloodstream, leading to coronary disease. Particulate pollution can be as much as a third lower in the vicinity of trees. Planting trees and shrubs along highways can reduce pollution from passing vehicles by up to 60%, according to a study by a local school in Louisville. 
Who Pays For Trees?
You might think that any government would feel obligated to take measures that could add years to the lives of its citizens, but you would be wrong. Louisville, like most urban areas, has spent no money on planting trees over the past several years as other budget priorities like salaries for police and fire, trash pickup, and money for schools have shouldered their way to the front of the line. The ultimate goal of the Green Heart Project is to provide Louisville with a canopy of trees that will clean the air and promote the health of all residents. But that will cost millions, money the city doesn't have.
The scientific community says that better health and fewer sick days will offset the expense, but that is like saying taking a vacation will make you happy and happy people live longer. It may be true, but there is no direct connection between healthy lifestyles and municipal budgets.
Chris Chandler, urban conservation director for The Nature Conservancy in Louisville, says, "We don't have a choice. Our friends and family all breathe this air." He believe the findings from the Green Heart Project will help communities prioritize their efforts and open doors to new sources of funding for urban greening as conservationists build partnerships with the public health community. "All cities are cash-strapped. They're looking for information on the right place to plant the trees to see the best return on their investment, the biggest benefit for their people," Chandler says. "Towns like Louisville are where you roll up your sleeves and get things done."
Source: The Nature Conservancy
LOUISVILLE, KY. 
Imagine trees as a drug to prevent heart disease.
Aruni Bhatnagar, a medical professor at the University of Louisville, does — along with a team that unveiled a $14.5 million research project in Louisville on Thursday.
"We think (trees) might be more effective than statins," the air pollution expert said of the widely prescribed class of drugs used to lower blood cholesterol, a risk factor for heart disease and stroke.
The Green Heart project, as it's called, involves the University of Louisville, The Nature Conservancy, The Institute for Healthy Air, Land and Soil and other partners who will transform four South Louisville neighborhoods with as many as 8,000 trees and other plantings.
The area is roughly between Churchill Downs, Iroquois Park and Louisville International Airport. It's home to about 22,000 Louisvillians.
The trees will need to be large enough to make a difference right away. That means some could be as tall as 30 feet.
Trees, shrubs and other plants will be placed where they can best soak up lung-damaging air pollution, like along the Watterson Expressway or other busy roads within the study area. Researchers at the university and across the country – backed by $8.5 million from The Nature Conservancy and other grants from the National Institutes of Health and other sources — will then closely track the health of as many as 700 residents, looking primarily at any cardiovascular response.
The idea that human health is related to trees extends back to the story of Genesis, where a tree of life was planted in the Garden of Eden to bring immortality. In recent decades, scientists have been exploring the connections between health and trees.
This study seeks to add more certainty to earlier research that's associated trees with improved public health but has fallen short on definitive conclusions and details, the Green Heart partners said.
—
Trees breathe in their own way, taking up the heat-trapping gas carbon dioxide while creating life-sustaining oxygen. While trees produce volatile organic compounds — a source of ozone pollution — they also absorb ozone and other pollutants and trap especially dangerous tiny particles.
But Bhatnagar said that "nobody has evaluated the specific health effects of planting green spaces."  There have been no other studies like it, where people's health is monitored before, during and after a major, neighborhood-scale tree planting, he added.
The health of people who live near the newly planted greenery will be compared to those who live elsewhere in the study area.  "We are hopeful to see changes in a few years," he said.  It's like a drug trial, with nature as the drug.
"Instead of giving someone a pill, we are giving them greenness," said Chris Chandler, director of urban conservation with The Nature Conservancy's Kentucky chapter.
The trees, he said, will be "some of the largest that will be able to be transplanted," he said, adding that "it (will be a) really unique urban laboratory."  With guidance from the public, Green Heart team members will be deciding where and what to plant based on what's best for reducing air pollution. That could include obtaining permits to plant in state and federal rights of ways, as well as permission from property owners, he said.  
Trees also could be planted at homes, churches, schools, businesses and parks, along with shrubs and native grasses and other plants, he said.
Nobody in the four neighborhoods will be told not to plant trees nor will any other tree planting initiatives there be discouraged, Chandler said.
"We are going to build a relationship with the community," said Veronica Combs, executive director of philanthropist Christy Brown's air, water and soil institute. The institute has identified 200 community leaders and begun to meet with them. "We are getting their feedback," she said, noting trees are not everyone's top priority.  Crime is a top concern for many, she added.
In addition to studying cardiovascular health, researchers also plan to see if there are any changes in crime rates, stress, economics and other social-psycho outcomes. Some studies suggest trees can help in those areas, too.
Some people will want new trees on their property and other's won't, said Nancy Bowman-Denton, president of the Beechmont Neighborhood Association, one of the four neighborhoods chosen for the study. The others: Jacobs, Wyandotte and Wilder Park.  But she said "the more trees the better," adding that the association's board of directors is very receptive to the program.  "I'm excited about it," she said. "This is another way Louisville can move forward and be an example of a community that's responsive to the needs of its people."
—
A city-sponsored study in 2015 found Louisville was losing some 54,000 tree a year due to age, disease and storms — and that was before the emerald ash borer began wiping out tens of thousands of additional trees locally.
The Louisville metro area has also long suffered from poor air quality. While it's much improved over decades past, the region still struggles to meet ever-tightening clean-air standards for ozone and the smallest particulates.  And like in other cities, roads and freeways jammed with cars and trucks and their exhaust pipes can create localized pollution hot spots.
The new research has its roots in a pilot project at a Louisville school. The Healthy Air, Water and Soil Institute, of which Bhatnagar is a board member, the city of Louisville, the university and other partners, first experimented with trees and air pollution last year.
A wall of trees and shrubbery was planted in the front lawn of St. Margaret Mary school to act as a filter for the air pollution from vehicles on Shelbyville Road. The levels of the smallest particulates dropped as much as 60 percent, and there were indications that some students' immune systems had improved, Bhatnagar said.
While tree advocates often speak of the value of trees — they also cool cities and reduce stormwater pollution and sewage overflows — their specific benefits to air quality and human health have not been "nailed down yet," said Portland State University environmental sciences professor Linda A. George, who has researched the subject but is not involved in the Louisville study.
"There is quite a bit of variation in the literature about the role of trees (with) some studies show an effect other do not. Usually, this kind of variability means that there are other variables involved," she said.
Still, in Portland, her research has calculated the potential annual respiratory health benefit from trees due to a reduction of just one pollutant, nitrogen dioxide. That Oregon city could thank its  trees for an estimated 7,000 fewer days of missed school due to asthma in youth; 54 fewer emergency room visits of all ages; and 46 fewer hospitalizations among the elderly due to respiratory problems triggered by the pollutant, which is associated with tailpipe emissions.
—
And U.S. Forest Service researchers in 2013 found that the massive loss of ash trees over 18 years in 15 Midwestern states, including Indiana, to the emerald ash borer was perhaps connected to thousands of premature deaths of people.
That paper did not prove any particular cause. But the authors suggested a combination of reasons why losing 100 million trees might have led to more human death, including the fact that trees help clean the air of pollutants, lower temperatures and generally make people feel better and reduce stress.
In the fight against heart disease, Bhatnagar said he's looking to this new Louisville research for a potential game-changer.
"Heart disease rates have been coming down," he said, but in recent years the rate has slowed and flattened out. "We think we need to try something different," he said.  As much as 70 percent of heart disease is "completely preventable," yet it remains the largest cause of death.
Lifestyle factors such as poor diet and lack of exercise have long been associated with heart risk, with recommendations continuing to target people's behavior or choices.  "But there are certain things in the environment" that are also risk factors, he said.
The study could have potential implications for billions of people who live in cities across the globe with unhealthy air because of particulates, he said.  This could lead to a model "that could guide and advise people how greenness could be used to promote health and minimize exposure to pollutants. This is a test case. We do this grand experiment … and then it informs other cities."
**
Study shows tree leaves can capture 50%+ of particulate matter pollution
By Michael Graham Richard (@Michael_GR) Science / Natural Sciences on Treehugger, December 2, 2013
CC BY-SA 2.0 Wikimedia
Nature's high-tech air scrubbers
Breathing is not optional, so air pollution matters. Recent studies by the World Health Organization (WHO) have shown that air pollution kills more people than AIDS and malaria combined and causes cancer. Thankfully, a lot of progress has been made in many places, but some others are still quite bad (especially in the Middle-East and Asia, and Europe could improve a lot too — see the map below).
We always knew that trees are good air filters, but it's been hard to quantify just how much. One new study from Lancaster University, in the U.K., tried to do so. What they found is quite interesting, and one more reason to hug a tree today!
Map of global air pollution compiled by the World Health Organisation/Public Domain
The scientists started by measuring how much air pollution go into a certain number of houses in Lancaster using dust monitoring devices and by swiping surfaces and then analyzing what was collected with magnetic remanence, a technique that provides information on concentrations of iron-bearing particles.
Then the team placed a screen of 30 young silver birch trees in wooden planters in front of four of the houses, including one of the control houses, for 13 days. Wipes from all eight houses showed that ones with the tree screens had 52 to 65% lower concentrations of metallic particles. A comparison of all of the dust monitoring data from the two original control houses confirmed that drop, showing a 50% reduction in PM1, PM2.5, and PM10 in the house with the trees in front.

By examining the silver birch leaves with a scanning electron microscope, the researchers confirmed that the hairy surfaces of the leaves trapped metallic particles. Like the particles measured inside the houses, these metallic particles are most likely the product of combustion and brake wear from vehicles passing by. Previous work has indicated a strong correlation between the amount of material identified by magnetic remanence and benzo(a)pyrene, a carcinogenic polycyclic aromatic hydrocarbon found in particulates, Maher says. (source)
So when do we start planting trees everywhere? Not that we needed this study to tell us that it's a good idea, but it never hurts to add some evidence on top of the mountain that we already have.
If you're looking to do this on a smaller scale, here are the best air-filtering indoor plants according to NASA.
**
Trees Trap Environmental Particulate Matter on IFL Science 
Everyone knows that trees help clean the air by converting carbon dioxide into oxygen – but it appears that they are able to do more than that. A recent study has shown that silver birch trees can absorb as much as 50% of the particulate matter generated by automobiles. This comes from lead author Barbara Maher from the University of Lancaster and has been published in the journal Environmental Science & Technology.
Automobiles generate a lot of particulate matter (PM) in the form of exhaust, brake pad dust, and general metallic road dust. These particles, which can be solid or liquid, are kicked up into the air. This PM has already been linked to respiratory problems like asthma and lung disease, and those who live in urban settings are at an increased risk for these diseases due to heavier and more frequent exposure. Because the bits are so small, they are easily inhaled and become embedded in respiratory tissue.
The study sought to understand how trees control pollution, so that landscapers can get the most out of both form and function of the trees. The researchers used silver birch trees, which are found throughout Europe and in southwest Asia. It is important to note that not all trees have the same ability to collect PM.
The study was carried out on one city block and PM content was determined based on dust samples taken from each of the eight homes participating in the experiment. This was done to determine how much PM was being inhaled by the families on the street. After initial samples were taken, the streets were then lined with silver birch trees in front of four of the homes, effectively creating a barrier between the home and the streets full of cars. A moist towelette was used to collect dust samples from the television screen, while a PM detector scanned the air every ten minutes. At the end of the nearly two-week-long trial, the research team noticed that the houses with a birch tree screen had over a 50% decrease in metallic PM compared to the homes that did not.
The team then needed to find out how the trees were able to filter out PM so efficiently. After examining leaves with a scanning electron microscope, they discovered that tiny hair-like structures were responsible for removing the particulates from the air. 
Large amounts of further study are needed to see how readily the leaves filter the PM, if it has any adverse affect on the trees, and if the PM will actually stay trapped on the leaves or if it will shake out heavy PM to be blown on houses downwind.
rees planted along a city street could screen residents from sun and noise – but more importantly, they can also protect them from the polluted air. A new study has shown that tree leaves can capture more than 50% of the polluting particulate matter – the main source of urban pollution and a trigger for disease.
Barbara A. Maher and her colleagues at Lancaster University, in the U.K., wanted to get some numbers from a real-life situation, so they moved from the lab to the street – analyzing row of eight houses without any trees screening the air. They tracked the amount of dust and particulate matter entering two of the houses as controls and then also used dust monitoring devices to gather data for every 10 minutes for five days. They also used simple wet wipes to gather dust from LED or plasma television screens inside four houses and tested them for metal concentrations.
After they had their initial data, they planted a screen of 30 young silver birch trees in wooden planters in front of four of the houses, including one of the control houses, for 13 days and then gathered data using the exact same techniques. Their results showed 52 to 65% lower concentrations of metallic particles and an overall 50% decrease in the quantity of polluting particulates in the houses.
Interestingly enough, oysters do something similar in the marine environment – they're filter feeders and get a lot of the sediment out of the water, leading to cleaner, clearer water. When the Europeans first came across the Atlantic the Chesapeake bay had so many oysters that the bay was described as crystal clear! As any local or visitor probably knows, that's really not the case nowadays. Needless to say, just like with trees in most cities of the world, oyster populations are also dwindling – a worrying fact, considering the beneficial effects they have.
Journal Reference:
Barbara A. Maher *, Imad A. M. Ahmed , Brian Davison , Vassil Karloukovski , and Robert Clarke – Impact of Roadside Tree Lines on Indoor Concentrations of Traffic-Derived Particulate Matter. Environ. Sci. Technol., Article ASAP. DOI: 10.1021/es404363m
BBC Science, Environment
Growth of city trees can cut air pollution, says report 
By Mark Kinver, Environment reporter, BBC News, 31 October 2016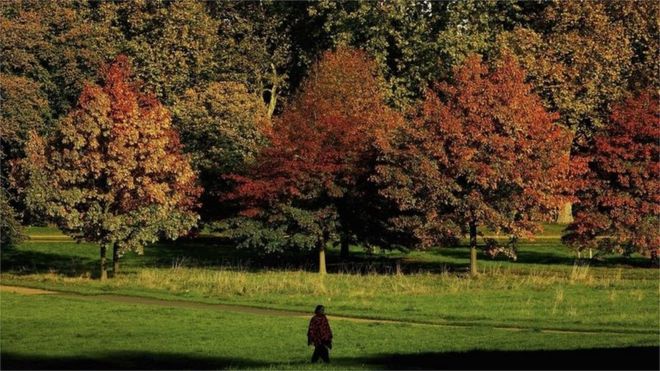 Planting trees is a cost-effective way to tackle urban air pollution, which is a growing problem for many cities.
A study by US-based The Nature Conservancy (TNC) reported than the average reduction of particulate matter near a tree was between 7% and 24%.
Particulate matter (PM) is microscopic particles that become trapped in the lungs of people breathing polluted air.  PM pollution could claim an estimated 6.2 million lives each year by 2050, the study suggests.
Lead author Rob McDonald said that city trees were already providing a lot of benefits to people living in urban areas.  "The average reduction of particulate matter near a tree is between 7-24%, while the cooling effect is up to 2C (3.6F). There are already tens of millions of people getting those kinds of benefits," he said.
Dr McDonald said the study of the use of trees in 245 cities around the world compared the cost-effectiveness of trees with other methods of cooling and cleaning air.  "On that front, trees are cost competitive with other options," he told BBC News.
"When you change a bus from diesel to gasoline, for example, you reduce particulate matter pollution, and trees are certainly in the same ball park."  However, the TNC report highlighted that most of the cities featured in the study were losing more trees than they were gaining.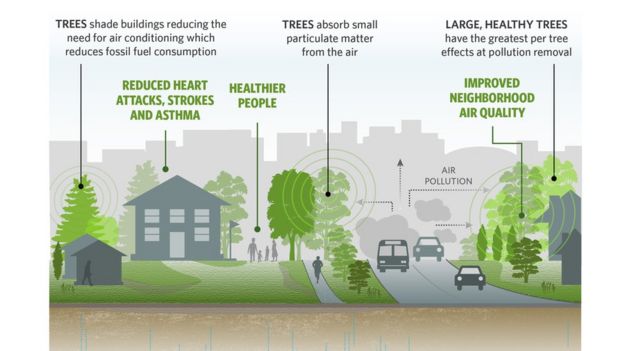 According to the UN World Health Organization (WHO), about 90% of the global population living in cities in 2014 was exposed to particulate matter that exceeded the WHO air quality guidelines.
The UN agency estimates that outdoor air pollution caused three million premature deaths in 2012, with the vast majority occurring in low- to middle-income nations.  The WHO Health Statistics 2016 says air pollution is "caused by inefficient energy production, distribution and use, especially in the industrial, transportation and building sectors, and by poor waste management".
It adds that transport systems based primarily on individual motorised transport can lead to further deterioration in air quality.
As everyone within an urban area breathes the same air, the pollution does not discriminate – both rich and poor are exposed to the dangers. But, it adds, people living near the source or busy roads are more exposed and more affected.
The WHO says that the air quality in many cities is not monitored, making it difficult to get an accurate understanding of the global impact of air pollution.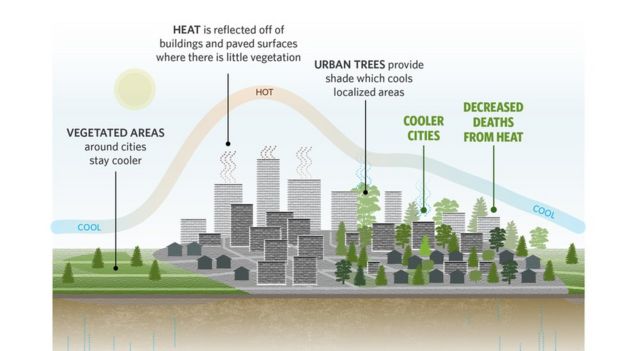 Dr McDonald observed: "Trees are by no means a replacement for all the other things cities need to do in order to clean their air but they are part of the suite of tools that cities can draw on.
"We also looked at how much more trees could help if we planted more trees. We found that there was a lot more scope there. All of the cities we looked at, if all the people in them spent an extra US $4 a year on planting trees, you could save between 11,000 and 36,000 lives each year. This is mostly as a result of having cleaner air.
"As well as the avoided mortality, there is even more avoided hospitalisation, and it will benefit tens of millions of folks.
"In this urban century when there are going to be an extra two billion people in cities, smart cities should be thinking about how nature and trees can be part of the solution to keep air healthy."
However, planting trees in an urban setting is not without potential pitfalls. One is regarding the flow of air in heavily polluted streets, particularly ones with large volumes of traffic. Thick canopies can limit the circulation of air, trapping the poor quality air at low levels, where people breathe.
Dr McDonald said this was an issue that the report considered.  "Air flow certainly matters," he said. "What we talk about in the report is a planting strategy. For example, on streets where there is a lot of traffic and particulate matter, the advice is to ensure there is enough space between your trees to ensure that you are still getting enough air flow in order to prevent that negative outcome.  "However, on most residential streets, where there is relatively less traffic, we found that the issue of air flow blockage is much less of an issue."
Forgotten landscape
Although trees have long been part of urban life, either by design or consumed by expanding urban areas, they had been sidelined in the second half of the 20th Century.
In a 2014 report, following what was described as the "largest city tree survey of its kind", it was calculated that London's trees provided "at least £133 million of benefits every year in terms of air pollution removal, carbon sequestration and reducing the amount of water going into drains".
One charity that aims to promote the arboriculture additions to urban environments is UK-based Trees for Cities.
Describing its missions, the charity says: "We focus on planting trees where the social and environmental impact on local people is greatest.  "In London this might mean planting trees to clean the air and making our communities healthier places to live, whilst in Addis Ababa it's planting fruit trees for food and sustainable livelihoods."
By raising awareness of the ecosystem services they can play, the TNC report's authors hope that urban trees can become an integral part of cityscapes once again.
"One of our goals outlined in the report is to remind cities that you have the parks or urban forestry department on one side and the health department on the other side. On this issue at least, they need to be talking to each other," Dr McDonald suggested.  "I am really hopeful that if more cities start thinking that way then we will see a rebirth in urban tree planting."
By Ruby Thomas, Record Staff Writer
Over the past two weeks, what looks like a miniature forest has sprouted on one half of St. Margaret Mary School's front yard.  The transformation on the school's campus is part of an experiment called "Green for Good" aimed at reducing air pollution in the city. It is also a response to Pope Francis' call, from his encyclical "Laudato Si'," to "care for our common home," said Wendy Sims, the school's principal.
The "Green for Good" project is a collaboration between the University of Louisville (U of L), the City of Louisville's office of sustainability and the local Institute for Healthy Air, Water and Soil.
Close to 60 deciduous trees and pines were planted on the western half of the school's front yard, which is located along the heavily trafficked corridor of Shelbyville Road across from the Oxmoor Mall.  The canopy of trees is meant to act as a filter for roadway air pollution seeping into the school building.  St. Margaret Mary was chosen to be a part of the experiment earlier this year because of its proximity to a busy main road and its large lawn, said Sims.
About 80 students and members of the school's faculty and staff are also part of the study. Each has provided U of L medical personnel with samples of blood and urine for a baseline measurement of pollutants in their bodies.
The participants also answered questions about their overall health and received a Fitbit wireless device to measure their activity over the next couple of months.
Researchers conducting the experiment have also been monitoring the air quality at the school and will do so after all the trees have been planted.
Sims said the school community is excited about being a part of the project and that the students are "very interested" in what's happening. The tree buffer may bring some relief from pollutants that aggravate allergies and asthma in students, Sims said. And the learning opportunities that accompany the project are a good by-product.
Both Sims and Father William Hammer, pastor of St. Margaret Mary Church, said this project has presented a new way for students to look at stewardship.  "Our mission is to teach them to use their gifts to serve others and this is a way to do that," said Sims.
The lesson here, she said, is that "doing something small can make a difference in the lives of others." She hopes the project will affirm the school's mission of developing character and stewardship.
Father Hammer said the project is providing a lesson in the concept of "integral ecology," which the Holy Father talks about in "Laudato Si': On Care for Our Common Home." The lesson is one he hopes students will take with them well into the future, he said.
"Our Holy Father has been calling us all to an integral ecology," said Father Hammer. "We have a gift of life, which is a gift from God. It's integrated in with God's whole plan of creation. Without the proper care of our environment, we're not caring for each other."
By the students observing and taking part in this project, "we're planting seeds in them," said Father Hammer. His hope, he explained, is that when they are adults who may own businesses that they'll remember to factor "integral ecology" into their decision making.
Sims said she hopes the project will teach students that their actions are "not just about right here, right now. The connectedness matters. It's about reaching out into the larger community and the world," she said. "I hope that is what we are teaching students everyday."
Eighth-grader Ella Johnson and seventh-grader Matthew Chou, two of the students who volunteered to provide samples for the study, said they wanted to take part, because they think the project is good for the community.
Chou said he thought it was a "smart idea" that would "help the community" and a "good way of getting more greenery" on the school's campus. "I hope it will help with pollution and that the air will be more breathable."
Johnson said, "I hope it'll make our community a healthier place to live and that our school will be healthier, too."
Better health is the project's aim, according to Maria Koetter — director of the city's office of sustainability, one of the agencies collaborating on the project.
"The goal is to be able to qualify the improvements to health that will be realized once a green buffer has been installed, as well as air quality improvements," said Koetter, a member of Holy Spirit Church. "Any time we can plant more trees it's a win."
Koetter added that St. Margaret Mary School has embraced the project.
The planting of trees will continue into the first week of November. Researchers will collect data through close to the end of the year, Koetter said. All the data will be compiled by spring. Koetter said organizers hope to replicate this study across the city. To learn more about the "Green for Good" project, visit louisvilleky.gov/government/sustainability.
Green for Good – a project at the nexus of health and sustainability
Louisville Metro Government's Office of Sustainability and its partners embarked on an exciting project called Green for Good, to strategically unite interrelated sustainability efforts and to connect the dots between investing in greening strategies and quantifiable health impacts. The Office partnered with Hyphae Design Lab, Institute for Healthy Air Water and Soil, University of Louisville and Washington University in St. Louis to leverage their innovative work around assessing environmental conditions and human health risks.
The overall goal of the Green for Good project was to examine how vegetation may be utilized to reduce exposure to traffic pollutants and to test the idea that a greener neighborhood is a healthier neighborhood. The project was conducted at St. Margaret Mary School, where a vegetated buffer (biofilter) was installed and configured to reduce exposure of the students and staff to traffic related air pollutants. Air sampling was conducted before and after the planting to see how the trees affected pollution levels. A cohort of 60 students and 24 adults volunteered to provide blood and urine samples both before and after the planting. 
The air monitoring data showed that under certain conditions, particulate pollution was 60% lower immediately behind the biofilter. The health monitoring showed that among the study participants, levels of circulating angiogenic cells were higher after the biofilter was planted. These cells keep blood vessels healthy. When a person has higher levels of these cells, they have a lower risk of heart disease. We also found that levels of immune cells were lower after planting. 
Funding for the project was provided by an anonymous donor and the Funders' Network for Smart Growth and Livable Communities.
 Read the final report.  Download the Green for Good brochure.
Louisville Metro Government – Office of Sustainability Report on Green for Good: Assessing the Health Returns of Green Investment
Executive Summary
Louisville Metro Government's Office of Sustainability and its partners embarked on an exciting project called Green for Good, to strategically unite interrelated sustainability efforts and to connect the dots between investing in greening strategies and quantifiable health impacts. The Office partnered with Hyphae Design Lab, Institute for Healthy Air Water and Soil, University of Louisville and Washington University in St. Louis to leverage their innovative work around assessing environmental conditions and human health risks.
Extensive research supports the fact that human health is significantly impacted by the built and natural environment. Exposure to vegetation is reported to reduce stress, improve health perceptions and protect against cardiopulmonary disease. Cardiopulmonary disease protection is thought to be, in part, due to associated reductions in exposure to air pollution and various types of vegetation are known to capture air pollution. 
The overall goal of the Green for Good project was to examine how vegetation may be utilized to reduce exposure to traffic pollutants and to test the idea that a greener neighborhood is a healthier neighborhood. The project was conducted at St. Margaret Mary School and a vegetated buffer (biofilter) was installed and configured to reduce exposure of the students and staff to traffic related air pollutants. Air sampling was conducted before and after the planting to see how the trees affected pollution levels. A cohort of 60 students and 24 adults volunteered to provide blood and urine samples both before and after the planting. The samples were evaluated for levels of circulating angiogenic cells and immune cells as well as other health indicators. 
The air monitoring data showed that under certain conditions, particulate pollution was 60% lower immediately behind the biofilter. The health monitoring showed that among the study participants, levels of circulating angiogenic cells were higher after the biofilter was planted. These cells keep blood vessels healthy. When a person has higher levels of these cells, they have a lower risk of heart disease. We also found that levels of immune cells were lower after planting.
Introduction
The first step of the Green for Good project was to find a site that had an open green space that would accommodate the plantings and that was close to a busy roadway (Shelbyville Road). The space also needed to be used on a regular basis by people. Following an evaluation of location types, schools were selected due to consistent occupancy, the significant value that a greening project could provide at a school and the desire for healthy children. A list of all schools, agency buildings and healthcare facilities serving children was compiled and evaluated for plantable space and "Road Exposure Index" ranking. St. Margaret Mary, a K-8 school, was high on the Road Exposure Index and had ample planting space. Two other schools had higher Road Exposure rankings but each had less plantable area. St. Margaret Mary was selected for the Green for Good project and the leadership, staff and students have been enthusiastic partners throughout the project. The projects greening, air monitoring and health monitoring activities and outcomes are detailed below.
1.0 Greening
The St. Margaret Mary biofilter was specifically designed to filter pollutants. The buffer is a minimum of 12 meters deep and includes large conifers planted closely together to maximize both deposition of pollutants onto leaves and dispersion of pollution via enhanced vertical mixing with cleaner air from above the trees. The horizontal length of the biofilter along the roadway was 75 meters, occupying one half of the front yard of the school. This left the other half open for control measurements.
The Green for Good biofilter included herbaceous grasses nearest to the road that will help fill in air-gaps formed by the trees as they grow taller. Immediately behind these grasses are smaller shrubs and behind these are the larger trees with full sized trunks. This first row of large trees are mostly pines, spruce and cedar, which are evergreen species that are effective for air filtration. A second row of large trees behind the first is made up of oaks and bald cypress, which creates tall canopies with open space beneath them that the students and teachers can use for outdoor activities. The resultant mix of vegetation types will help to maximize mitigation of traffic related air pollution for the school occupants.
St. Margaret Mary's staff and students helped plant the trees and learned about the purpose and importance of the project.  The biofilter provides approximately 5,480 square feet (sqft) of new green coverage. Data from existing literature indicates that 1.8 grams (g) of particulate matter can be removed per square foot of roadside vegetation per year (g/sqft-canopy/year). It can therefore be estimated that 5,481 square feet of new canopy removing 1.8 g/sqft-canopy/year, could remove a total of up to approximately 10kg of particulate matter in the first year. The actual particulate removal rate varies based on the pollution concentrations, wind speed, wind direction and whether leaves are present on the deciduous trees.
2.0 Health Monitoring
After partnering with St. Margaret Mary, a total of 84 participants (60 children and 24 adults) were recruited to participate in the health monitoring assessment. Baseline health data was collected from the volunteers by an Institutional Review Board-approved process led by UofL's clinical research team. Health data were collected using questionnaires and blood and urine samples, which were analyzed for biomarkers of cardiovascular disease risk (LDL, HDL), inflammation (fibrinogen, C-reactive protein), diabetes and metabolites. Urine was also measured for markers of exposure to major volatile organic compounds (VOCs). Data obtained from these procedures are being used to assess the prevalence of diabetes, obesity, asthma, and cardiovascular disease and disease risk as well as the perceptions of residents about their surrounding environment and the effects on health behaviors. The research team mobilized to the school and set up stations for the following measurements:
1) Blood pressure and heart rate
2) Height, weight, waist circumference, and hip circumference
3) Blood and urine collection
Surveys were also distributed to gather information about medical history, medication use, exposure history (tobacco, residence location, age of residence, known VOC exposures), lifestyle information (physical activity, indoor/outdoor time, dietary information) and perceptions of greenness. The surveys had a 94% completion rate. Study staff made every attempt to contact and retain participants regarding the follow up visit. Overall, we had an 80% retention rate, 88% for adults and 78% for children.
Baseline and post-planting biometric measurements including height, weight, BMI, and waist-to-hip ratio did not change. 58% of the adults had a healthy BMI, 25% had an overweight BMI and 17% had an obese BMI. These rates of obesity are lower than the state average. Despite better than average BMI values, the waist-to-hip ratio, which is Louisville Metro Government – Office of indicative of central obesity and increased morbidity risk, is above the normal cutoff in 67% of the adult participants. 12.5 % of adults had elevated blood pressure readings, less than half of the national average. Nationally 1 in 3 adults have high bad cholesterol (LDL and total). No adult participants had high LDL or total cholesterol. All students had blood pressures and complete blood counts in the normal range. Overall, 6.5% of students were obese and 13% overweight. The prevalence of asthma was 13%. Other parameters are currently under analysis.
Preliminary data analysis of blood samples revealed an increase in circulating angiogenic cell counts post planting, suggesting the vegetative barrier improved health. Immune cells decreased in children but not adults, suggesting age specific sensitivity to environmental changes. However further statistical analysis and modeling is necessary to confirm that these changes are not due to a variety of other causes, such as changes in physical activity or environmental conditions such as temperature.
3.0 Air Monitoring
Air quality measurements were conducted to assess removal of air pollutants by the biofilter. Two methods were used – passive sampling and mobile monitoring. Passive samplers were used to measure nitrogen dioxide (NO2) and oxides of nitrogen (NOx) with nitic oxide (NO) estimated by difference, i.e. NO = NOx – NO2. Vehicle nitrogen oxides emissions are primarily NO but can be rapidly converted to NO2 by reaction with ozone. The resulting NO2 levels are indicative of overall vehicle pollutant concentrations. Seven mobile air monitoring runs were conducted – two before planting and five after planting – with each run nominally one week in duration with 14 to 19 passive samplers deployed across the lawn in front of the school. Passive air monitoring at the site is ongoing.
Runs conducted prior to planting suggest some confounding of the concentration patterns expected from traffic on Shelbyville Road because of emissions from the parking lot in front of the school and perhaps from vehicles traveling along the west entry from Shelbyville Road to access the parking lots behind the school. Wintertime runs conducted after planting also show the confounding and suffer from unfavorable winds (i.e. winds from the north which place Shelbyville Road downwind of the vegetative barrier). Two runs were conducted in the spring with one after leaf break on the deciduous trees. For this run the winds were predominantly from the south which places the school lawn downwind of Shelbyville Road. Figure 3 shows the NOx concentrations next to the roadway, behind the vegetative buffer (biofilter) zone, and at a control location in an open are of the lawn the same distance from the road as the buffer zone measurements. The concentration decreases between the roadway and control zone because of atmospheric dispersion, in this case the NOx getting vertically diluted with increasing distance from the roadway. However, NOx in the buffer zone is ~50% lower than in the control zone and this further decrease in concentration is likely cause by the biofilter removing NOx.
Mobile monitoring was conducted in addition to the passive sampling. Data for fine particulate matter (PM2.5) mass concentration and ultrafine particle (UFP) number concentration were collected at one-second time resolution for a series of one-to-two hour runs. UFPs are harmful particulate matter that contributes to respiratory and cardiovascular illnesses and even premature death. The high time resolution allows the data to be filtered to include only those periods with winds blowing across Shelbyville Road towards the school. Monitoring was conducted by placing the equipment on a GPS-equipped electric-powered utility vehicle (GatorTM) and driving the vehicle across the lawn in front of the school.
Figure 5 shows the results from this run. Figure 5a is a time series for the 1-second UFP data (black line) and the estimated baseline concentration (red line). The spikes correspond to individual vehicles or groups of vehicles passing the site. Figure 5b shows the baseline-corrected UFP concentration distributions along the roadway (Near-Road), downwind of the buffer (Buffer) and in the control area at the same distance from the roadway as the Buffer measurements (Control). Median UFP concentrations (interior solid black lines, Fig. 5b) are near zero which is Louisville Metro consistent with the intermittent traffic on Shelbyville Road during the one-hour period. Arithmetic mean UFP concentrations (dashed red lines, Fig. 5b) are highest along the roadway and lowest downwind of the biofilter.
Figure 5. UFP measurements for a one hour run on December 4, 2016 with winds from the south (across the roadway).
These air monitoring results indicate that for this run, the mean UFP concentration is 60% lower behind the biofilter compared to the control area. While this suggests the buffer is removing UFP, the mean near-road concentration is only 10% higher than the control area and a steeper downwind gradient was expected although it is noted this one-hour period featured very stable meteorological/dispersion conditions which causes slower vertical dilution of the pollutants. 
Methods are being developed to better estimate the baseline concentration which is important for proper background correction of the data, and to screen out impacts from anomalous super-emitting vehicles that differentially impact the measurements across the three zones. Subsequently, the data from all the runs will be processed and interpreted. We also hope to repeat these measurements in the summertime when the buffer has maximum vegetation density.
5.0 Closing and Next Steps
The Green for Good project goals aligned directly with the Office of Sustainability's mission to protect the environment and promote the health, wellness and prosperity of our citizens. It also helped to advance the sustainability goals in the city's Sustain Louisville plan by increasing the tree canopy, promoting the use of greening to mitigate stormwater runoff and highlighting the use of trees to manage urban warming. The project was reduced in scale relative to the proposed activities due to timeline limitations and the practicality of implementing some elements of the proposal. These modifications did not substantially impact the project findings or outcomes.
Engaging the community in sustainability practices and principles is a key goal of the Sustain Louisville plan. Green for Good received great local media attention and as such it helped to raise awareness of the importance of greening and its impacts on health and to mobilize citizens to take an active role in making the city greener. It also aligned with St. Margaret Mary's science curriculum and helped the students and staff to learn about sustainability and how to make a difference at home and at school. Green for Good also contributed toward improving the city's STAR Communities, 4-STAR rating in our low scoring areas of Climate & Energy and Equity & Empowerment.
The Owsley Brown Family Foundation provided matching funds for the Urban Heat Island Mitigation project that received Partners for Places Round 3 funding. Ms. Christina Lee Brown, President of The Owsley Brown Charitable Foundation, is doing outstanding work to raise awareness on health impacts of our daily environmental conditions. The anonymous funder is a new partner that is deeply involved in citywide reforestation efforts. We are currently working with organizations that are funded by these foundations to develop and implement projects that use the Urban Heat Management study and the Green for Good data. It is our hope that the generous matching funds from our partner foundations will pave the way for future contributions from other funding sources for implementation or proof of concept for additional innovative sustainability work.
A key benefit of this project was the successful collaboration with the teams from Hyphae Design Lab, the Institute for Healthy Air Water and Soil, University of Louisville and Washington University in St. Louis. The team members went above and beyond in their level of commitment and technical contributions to the project. The leadership, staff and students at St. Margaret Mary were exemplary partners and we will continue to work with them to keep the trees healthy and to perform additional air monitoring if future opportunities arise. Green for Good was an innovative and complex project that had multiple partners and many moving parts. The need to maintain strong communication both internally among the project team members and between the project teams and the school staff was identified as an area of improvement for future work.
The findings and lessons learned from Green for Good are being used as the foundation for planning a large-scale 400 to 500 acre neighborhood greening program. This neighborhood-scale greening effort should allow us to further measure and document the connection between the health returns of green investments. Neighborhoods in areas that are adversely affected by economic, health and environmental disparities are being considered for the neighborhood greening efforts.
The neighborhood-scale greening effort will have an estimated implementation cost of $15-25 million dollars with an additional $2-5 million for long term health research. The scale of this effort will require more resources than local government and a single foundation funding source can provide. Additional funding for Health research is being sought through National Institute of Environmental Health Sciences (NIEHS), and implementation funding through The Nature Conservancy, Humana, Passport Healthcare and the Robert Wood Johnson Foundation. It is our hope that this project will be launched or further advanced in 2018.
The Green for Good project was a great success. Through the grant funding and local match, our team successfully implemented the first vegetated roadway barrier specifically designed and implemented to reduce exposure to roadway traffic pollution. To leverage this work into actionable science, a multidisciplinary team measured the efficacy of the barrier by performing detailed and precise air monitoring behind the buffer and compared with a matched control area. We further leveraged this work with academic and medical partners to perform an in-depth health assessment to determine how reductions in air pollutants affect health. Throughout the process, we increased awareness of the impacts of greening and health by actively involving faculty, staff, and students in real-world scientific research. The Green for Good project findings are being leveraged to inform larger groundbreaking projects that build directly off of the important work and collaborations created by this project. The results of this and subsequent work will inform greening design and implementation efforts to reduce air pollution exposure at the population level, and thus improve health, through the use of vegetation-based health interventions.