USDN and Carbon Neutral Cities Alliance Framework for Long-Term Deep Carbon Reduction Planning
A core function of CNCA is to facilitate other cities' understanding of how leading-edge cities are planning for long-term deep carbon reductions, and enable cities to take a more robust, consistent, equitable and comprehensive approach to carbon neutral planning and implementation.
In 2015, we developed a streamlined Deep Carbon Reduction Planning Framework that provides a template for cities to use in developing their own plans, and identifies specific strategic challenges that cities continue to face in making further progress on carbon reduction. Based on the carbon neutrality plans developed by CNCA cities, the Planning Framework focuses exclusively on long-term and deep reductions, which require transformative rather than incremental approaches.
We also developed a companion Outline of the contents of a state-of-the-art "80×50" plan for reducing community wide greenhouse gas emissions by at least 80% by 2050 ("80×50").

Released December 2015
20 July 2015: Carbon Neutral Cities Alliance Mayors to Meet with Pope Francis About Ending Climate Change
Eleven CNCA mayors and senior officials participated in the historic meeting between Pope Francis and global mayors on July 21-22 to discuss the linkages between climate change, poverty and modern slavery, and the leadership cities are showing in addressing these challenging issues. It was the largest mayoral gathering ever at the Vatican.
CNCA has worked with five U.S. cities to create an infographic showing how much the citizens, businesses and municipal government spend on fossil fuels every year, where it goes and what it could otherwise fund if it were instead invested in the city's clean energy future.
Boulder, CO, USA:   View full size »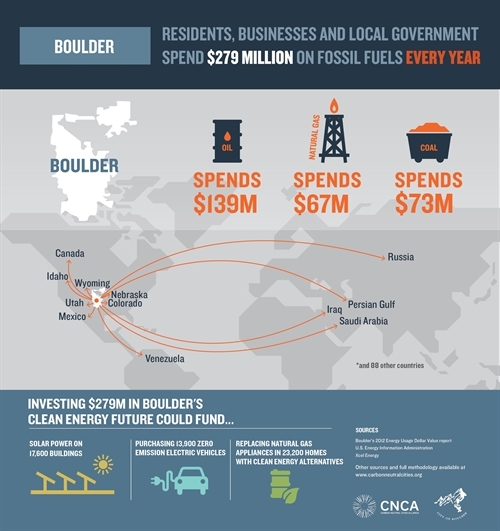 Cleveland, OH, USA:  View full size »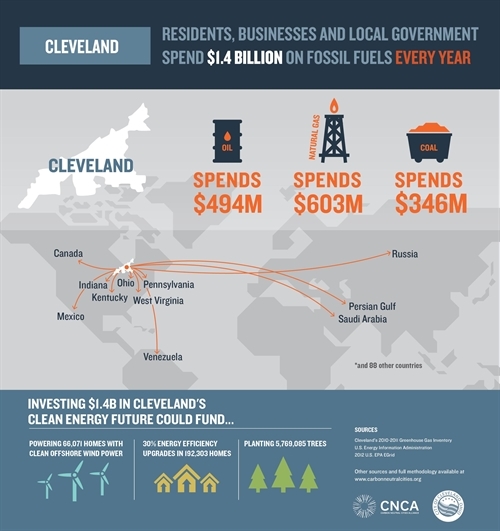 Minneapolis, MN, USA:   View full size »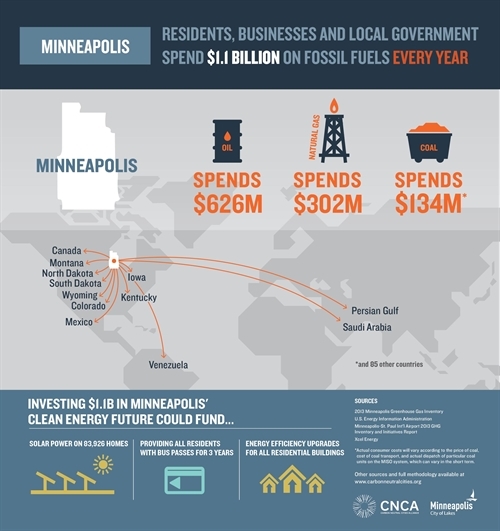 Somerville, MA, USA:   View full size »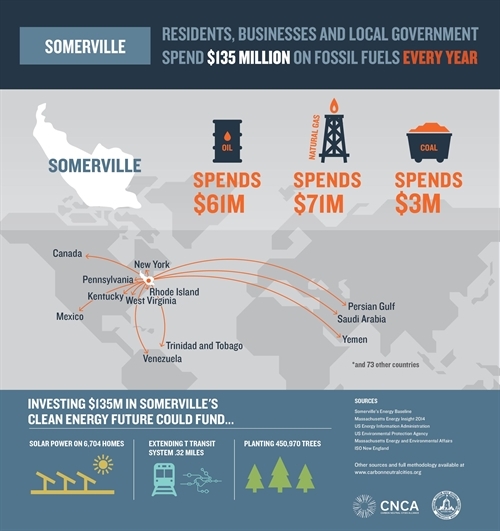 Washington, DC, USA:   View full size »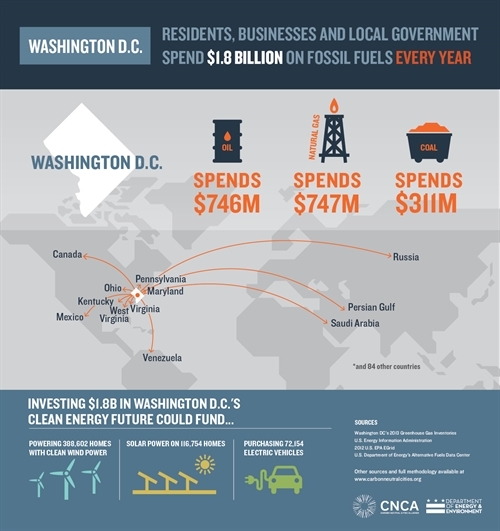 CNCA Innovation Products
Table of Contents
Circular Economy
Energy Systems – Building Focus
Energy Systems – Fuel Focus
Energy System Transformation
Transportation Systems
---
Circular Economy
Food and Energy in a Circular Economy: Stockholm Royal Seaport is appointed the next generation sustainable city districts with ambitious environmental goals including resource efficiency and becoming climate positive (according to the Climate Positive Development Program framework). One of the areas subject to investigations has been wastewater management. This project, led by Stockholm, delivers a feasibility study describing the potential and scenarios of source separating wastewater systems for dense urban areas. (CNCA Innovation Fund, 2017).
»Download
Energy Systems – Building Focus
REALIZE – Bringing the Clean Industrial Revolution to Existing Residential Buildings: This project examined market barriers to a business model that brings the "Energiesprong" program from the Netherlands to San Francisco. Varying market conditions in San Francisco and the surrounding Bay Area will determine REALIZE's approach to successfully facilitate the development of a mass scale energy retrofit market. Categorizing properties by market conditions will allow REALIZE to target Low Income Housing Tax Credit affordable properties that present minimal barriers to entry, while continuing to improve market conditions for future market segments. Products contain work completed to gain insight into market conditions, barriers, and solutions in an effort to advance REALIZE technical solutions at a rapid rate through a robust to-go-market strategy. (CNCA Innovation Fund, 2017).
»Download
Accelerating Net-Zero High-Rise Residential Buildings:  A report to examine the technical and economic feasibility of moving towards net-zero high-rise residential buildings in Australia and identifies pathways to accelerate their commercialization. It is designed to inspire Federal and State Government policy makers and the development industry to move rapidly toward buildings that go well beyond current requirements of BASIX (NSW) and the National Construction Code. Accompanying documents include an article describing the importance of the work, and a presentation providing an overview of the work. (CNCA Innovation Fund, 2016).
» Download
Carbon Neutral Buildings – Accelerating Market Transformation to High Performing Building Envelopes in North American Cities: A project that leveraged demonstrated European success in significantly reducing energy use through improved building envelope performance and collaboration between cities in order to accelerate the market transformation towards carbon neutral buildings in North America. Deliverables include: 1) A high performance buildings barriers and best practice report with supporting documents; 2) Zero Emissions Building Targets Report and Council presentation; and 3) North American Passive House Network meeting agenda, presentation, and outcomes report. (CNCA Innovation Fund, 2016).
» Download
New Financial and Delivery Models for Retrofitting Buildings:  This project provides a detailed assessment of the extent to which the energiesprong retrofitting model is transferable to London, through the development of a robust business case and barriers report. The report assesses the level of 'transferability' of each of the key energiesprong pillars and, on the basis of this, identifies the practical steps needed to deliver the model in London. Deliverables include: (1) London Energiesprong Transferability Assessment; (2) Energiesprong UK Finance Model Introduction; (3) the Finance Model; and (4) the Post Workshop Report. (CNCA Innovation Fund, 2016).
» Download
Energy Systems – Fuel Focus
Accelerating the Transition to 4th Generation District Heating Systems: This project examines two fundamental aspects of the transition to 4th Generation District Heating Networks designed to enable a more cost effective transition away from fossil fuels to a future heat supply that is from local renewable, environmental and waste heat sources. Products include: 1) Connecting Existing Buildings to DHNs Summary Report; and 2) Connecting Existing Buildings to DHNs technical report. (CNCA Innovation Fund, 2016).
» Download Summary Report
» Download Technical Report
Natural Gas, Fuel Oil & Related Thermal Energy De-Carbonization Strategies: A project to develop strategies for decarbonizing thermal energy systems in different building types in two cities: residential and commercial/light industrial buildings in Boulder and municipal buildings in San Francisco. Products include: (1) the thermal decarbonization executive summary; (2) the Boulder decarbonization full report; and (3) the San Francisco decarbonization full report. (CNCA Innovation Fund, 2016).
» Download
Energy System Transformation
Energy Systems Transformation Framework: A framework to develop a shared vocabulary, understanding and vision for how municipalities can develop a community-wide energy planning and management system that supports a transformation of their energy systems from a fossil fuel base to 100% renewable energy. (USDN Innovation Fund, 2016). 
» Download
» Watch the convening video
Integrated Whole Energy System Decarbonization Strategy: A project  to develop a strategy for transitioning to district-scale low-carbon energy systems in three communities in Boulder, Seattle and Minneapolis. Products include: (1) The playbook executive summary, (2) Energy System Transformation full playbook, (3) Boulder Energy Systems Transformation Strategy, (4) Minneapolis Energy Systems Transformation Strategy; 5) Seattle Energy Systems Transformation Strategy, and (5) A Boulder case study: Chautauqua Report. (CNCA Innovation Fund, 2016).
» Download
Transportation Systems
A Blueprint for Development Approval of Hydrogen Re-fuelling Stations: The Blueprint, presented in the main body of this report, is organized as a standalone documen describing (1) the key activities involved in the process of developing hydrogen refuelling stations, (2) the roles ;and responsibilities of key stakeholders involved, and (3) a detailed stage-gate process describing all the key activities to be undertaken at each stage of the licensing and permitting process – from pre-application to issue of a final occupancy permit and operational licence, and opening of the facility for public use – with detailed activity checklists for both HRS Developers, and Planning Authorities. Technical Appendices are provided to complement the Blueprint and provide project developers with a comprehensive knowledge base on technologies, standards and regulations, which includes case studies of hydrogen refuelling stations in Europe, Japan and the United States. (CNCA Innovation Fund, 2016).
» Download
Deep Carbon Reductions in the Transport Sector – Impacts on Affordability and Displacement: A project that addressed issues of displacement and gentrification through research and policy development, using Portland, OR as a test case. Deliverables include: 1) A summary of household research in the Powell-Division Corridor; 2) Transit-oriented development and gentrification literature review; 3) Rental Properties Typology Report; 4) a memo on population change; and 5) an emissions summary. (CNCA Innovation Fund, 2016).
» Download
Upscaling Green Vehicles: This synthesis report focuses on the potential for promoting "green vehicles" in Northern Europe benefitting climate, health and well-being as well as the quality of our air. It highlights the main observations, exchanges and recommendations identified over the two days of the workshop called: "Upscaling Green Vehicles in Northern Europe" arranged in Copenhagen as part of the CNCA meeting. The workshop initiative presents an opportunity for new collaborative projects between CNCA cities, car industry companies, energy companies, interest groups, and mobility operators with a clear interest in promoting green vehicles. (CNCA Innovation Fund, 2016).
» Download
Innovation Products
The USDN Family of Funds: Advancing Urban Sustainability Innovations from Concept to Scale
USDN has a collaborative innovation system that features a variety of fund offerings:
The USDN and CNCA Innovation Funds specialize in innovation development: identifying an innovation, researching and conceptualizing it for prototyping, testing, and refinement.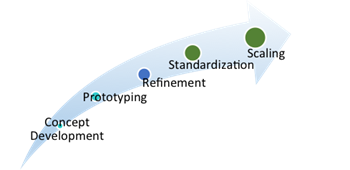 Peer Learning Exchange and Partners for Places specialize in scaling: spreading proven innovations to other communities through learning, standardization, and adoption.
Innovation descriptions and / or products from each fund are posted here in this curated innovation library. Products are cross posted between the applicable categories on the right-hand side of this page. These pages also include products from USDN-commissioned work to advance member learning in high-impact areas (Special Projects).
Learn more about USDN grant programs » 
Urban Sustainability Innovation Report
USDN now helps partners, sustainability professionals, and our followers stay up to date with USDN members' innovations through the monthly Urban Sustainability Innovation Report.  This newsletter highlights our members' work on the cutting edge of urban sustainability innovation.
Subscribe and read past editions »
---
NOTE: Partners for Places Fund projects include both USDN and non-USDN members.