GRID Alternatives Colorado installs rooftop, community, and multifamily solar electric systems for income qualified households and affordable housing providers throughout the state, providing families with needed savings and training Colorado workers for jobs in the growing solar industry. Learn more about our innovative community solar program. 
Installation Basics Training
Get the training you need to become a solar installer! Installation Basics Training (IBT) is a paid, five-week training program designed to help you develop the skills solar industry employers are looking for.
Participants learn from interactive classroom instruction, hands-on lab activites, and real-world solar installation projects. No prior experience necessary!
Our curriculum is vetted by industry employers and incorporates the latest solar technologies, so you can be confident you're getting relevant, comprehensive training. You'll graduate with advanced solar knowledge, hands-on installation experience, and valuable employer connections that will help you launch your solar career and be ready to work on day one. Plus, IBT will support you from recruitment to placement, providing resume-building, soft skills training, and job search assistance to help you get the job and keep the job.
Stipends will be awarded at program milestones. To receive the full stipend, trainees must pass the final exam and capstone assessment. Transportation stipends are also available to participants.  Apply today!
Program Dates:
The first cohort of 2021 will be from January 25-February 26.
Additional 2021 cohort dates will be announced throughout 2021.
Want to apply?
Apply online here. There are a limited number of spaces available. GRID CO will be reaching out to schedule interviews. GRID will then notify those accepted into the 5-week program.
You must be a resident of the Denver metro area to apply and 80% or below of the Average Median Income (AMI) in Denver.
Do you have any questions about the program? Reach out to our Workforce Team:
GRID Alternatives' Energy for All Program provides NO-COST solar for families with limited or fixed incomes.  And you can save up to 90% on your electricity bills!  CALL 720-943-5162
COMMUNITY BASED
We're a nonprofit organization that provides local job training and solar for households like yours.
NO-COST
Unlike for-profit solar companies, we charge you nothing and you incur no debt. We pay for your solar!
SAVES YOU MORE
If you go solar with GRID, you'll save 50-70% on your energy bill, more than double the savings for-profits promise.
Companies that invest in GRID Alternatives are investing in positive, measurable impacts in their community and demonstrating commitment to environmental sustainability. Corporate partners can support our work through sponsored workdays for their employees and/or investment in our local programs. Click here for a list of our organization-wide partnerships.
We partner with TKTK local job training organizations to provide students hands-on experience and networking opportunities, complementing classroom learning and preparing them for employment.
We partner with local governments throughout the region to help them address housing affordability, provide meaningful workforce development opportunities for residents, and meet their renewable energy goals. Our local government and municipal partnerships include the City of Denver, City Boulder, Boulder County, Arapahoe County and City of Thornton.
We help electical utilities develop programs and solar projects to meet their renewable energy goals and address energy affordability for low-income customers. Our portfolio includes single family, multifamily, and commercial projects.
We partner with both single-family and multifamily affordable housing providers to develop solar projects that make their housing more environmentally sustainable, reduce electricity costs for residents, and provide solar workforce training opportunities for community members. Affordable housing partners include: Denver Housing Authority, Boulder Housing Partners, Mental Health Centers of Denver, Community Resources Housing Development Corporation, and Archway Housing & Services. Learn about our technical assistance program for multifamily housing.
Email us at colorado@gridalternatives.org to learn how you can partner with GRID Alternatives Colorado!
CALL 720-943-5162
GRID Alternatives
1120 W 12th Avenue
Denver, CO 80204
bcooklin@gridalternatives.org
Celebrating resiliency in the face of adversity
SHARE:
February 17, 2021
While 2020 was one of the most challenging years in GRID CO's history, our solar job training programs gained more traction than ever before. GRID CO staff worked tirelessly to continue in-person training by adapting to the constant changes and adversities of our new collective reality. Now more than ever before, our communities need retraining and access to living wage opportunities in a flourishing industry.
In 2020, GRID CO installed 4 MW of solar benefitting low-income families, nonprofits, affordable housing providers, and schools. We also enrolled 24 individuals in our solar installation workforce development programs, despite only being able to provide programming for six months due to COVID restrictions. In the Denver-based 5-week Installation Basics Training (IBT), 80% of our graduates gained employment in the solar industry upon program completion.
Let's meet two of those IBT graduates!
James Reed
James Reed is a true testament to resiliency. Prior to enrolling in GRID CO's IBT Program, James was working in a warehouse, unsure what his future career would be. The day after his graduation, James excitedly texted GRID CO's Workforce team to say that he had landed a solar job! Six months later, James is still working as a Solar Installer with Blue Raven Solar. He says, "My experience with IBT was life changing!" James gained the skills necessary to propel him into a career that he loves at a great company!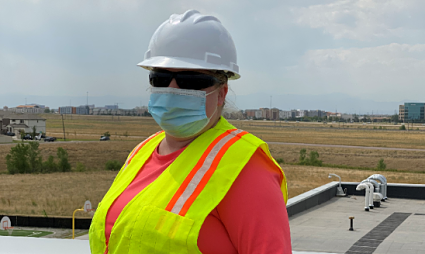 Nissa working on solar installation during the IBT program
Nissa Anson
Before joining GRID CO's first IBT cohort in August 2020, Nissa Anson had spent several months looking for her next solar opportunity after her previous employer declared bankruptcy. It was a challenging time to look for a new position to say the least. Nissa brought a wealth of experience when she enrolled in the program, but solar construction was a whole new world! Within a week of graduating from the IBT Program, Nissa was offered a position as Operations Manager with ARE Solar. Nissa connected with ARE Solar during GRID CO's Solar Showcase, which provides local solar employers the opportunity to engage with GRID training program graduates. Now, Nissa is learning the ins and outs of running a construction company. With her previous skills and newly gained experience in onsite installation, Nissa is truly an asset to her new employer.
Are you also interested in beginning an exciting career in solar? Learn more about GRID CO's Installation Basics Training.
© 2019 GRID Alternatives All rights reserved
GRID Partners with The Obama Administration
GRID was honored to be part of the Obama Administration's Clean Energy Savings for All Americans Initiative to ensure that every family in the United States has access to solar energy.
Our Process     FAQ     Installing Safely
Installing solar safely
SHARE:
June 23, 2020
When Colorado issued the state's stay-at-home order in early April, Jeff Danelek wondered if his scheduled solar installation with GRID Colorado would be delayed indefinitely.
Jeff, a part-time art teacher with Denver Public Schools, and his wife Carol live in Lakewood, Colorado with their two dogs, Lulu and Charlie. Their bills can get up to $170-$180 a month, especially in the wintertime, and additional employment disruption from the pandemic has put "quite a strain on our budget."
The Daneleks were already installing energy efficiency upgrades, replacing their old fridge and installing new insulation, to save energy in their home. That's how Jeff found out about GRID Colorado's services — through the local energy assistance office.
Carol Danelek with the family goat in Lakewood, ColoradoAfter an initial postponement for safety, the GRID Colorado team was able to quickly get Jeff's installation back on schedule. While implementing additional health and safety precautions and physical distancing, GRID Colorado's 3-person residential installation crew completed the installation of the 2.5-kilowatt solar system in early May.
We were "really relieved when they got back in touch and said they were ready to do it again," Jeff told us over the phone last month. Solar installations are considered an essential business so we've been able to continue making solar's benefits to our clients accessible through these difficult times. Learn more about how GRID installs solar safely.
"I'm expecting that this will reduce our bill pretty substantially. We don't have AC so don't have much electrical use in the summertime," said Jeff. Not only will the Danelek's expect to save nearly $10,000 on their utility bills over the lifetime of their solar system, but it will also prevent over 100 tons of greenhouse gas emissions or the equivalent of planting more than 2,400 trees.
Charlie and Lulu soaking up the sunJeff told us he's "always been a big fan of alternative energy and conservation." He added, "we can't rely on fossil fuel power grids much longer. I've always been innovative and like new technology."
Asked if he'd recommend solar to his friends Jeff replied, "I would tell my friends to look into it! I like the idea that you can reduce your bill, or even to get a bill credit, and help use clean energy. If I had the resources, I would like to get an electric car."
Microgrids are coming — will they increase inequities?
Ed Smeloff, Vote Solar, Jan. 11, 2021, Utility Dive
Dramatic decreases in the costs of solar and battery energy storage coupled with rapidly advancing data processing capabilities make widespread deployment of microgrids all but inevitable. Microgrids are sections of the larger electric grid that can operate as a single controllable unit or network that can keep the lights on for more people when power outages occur and provide useful services to the larger grid under normal conditions. 
Growing interest in microgids is now forcing utilities and regulators to rethink how the grid of the future will be designed and operated. The recent increase in natural and human-triggered threats like wildfires and severe storms has added urgency to microgrid development.
California, as it has with other innovative technologies, is taking the lead in developing microgrid policy. Several states in the Northeast and Mid-Atlantic, following the disruptions caused by Superstorm Sandy, encouraged the development of combined heat and power systems that can stand alone to serve university campuses and industrial parks. However, California is leading the way on developing microgrids powered primarily by solar energy and battery storage systems. 
One key challenge will be enabling low-wealth and disadvantaged communities the opportunity to unlock the power of clean microgrids, so they don't end up being deployed mainly for the benefit of businesses and higher-wealth communities. This challenge has come to the fore in a proposed decision that is set for a vote at the California Public Utilities Commission (CPUC) on Jan. 14.
Action on microgrids by the CPUC was triggered by the passage of Senate Bill 1339 (Stern-D) in 2018. CPUC launched a microgrid proceeding in the fall of 2019, following widespread planned power blackouts known as Public Safety Power Shutoff (PSPS) events. The first track of this microgrid proceeding focused on the need to reduce the impact of these PSPS events. Some revisions to the state's net metering tariff were adopted to allow for larger single customer behind-the-meter battery systems that could, at times, be charged from the grid in advance of a power shutoff. Pacific Gas and Electric Company (PG&E) was also allowed to fix some electric substations so that temporary mobile generators could be hooked up during disruptions and operate as microgrids.
The second track of the microgrid proceeding focused on adopting and refining policies that would enable microgrid development at critical public facilities. The CPUC staff proposed changing existing rules that prohibit customers on adjacent lots from sharing power through a private power line. They took a cautious approach by limiting the initial number of adjacent-property microgrid projects that could be developed and only allowing them to use the private line to share power during power outages.
But California needs a more expansive approach to adjacent-property microgrids. Microgrids should be allowed to operate during normal conditions if it is done in a way that does not disrupt service to other utility customers. Likewise, the number of microgrids should be uncapped after an initial evaluation of the first 30 systems to see if there were any unintended consequences that need to be addressed.
In addition to the change of rules, the CPUC staff recommended creating a pilot program to provide funding for the development of microgrids that primarily serve low-wealth populations, people with access and functional needs, and customers with electricity-dependent medical needs.
Vote Solar and our allies, the Climate Center, the California Environmental Justice Alliance, and Grid Alternatives, supported the concept, but urged that it be broadened with the view that low-wealth Californians and disadvantaged communities should be in the front of the line for microgrid development. CPUC staff then evolved the pilot program into a larger and more impactful Microgrid Incentive Program that can help correct for historical inequities in the electric power industry, and would be an innovative new model that other states could follow.
The proposed Microgrid Incentive Program would have an initial allocation of $200 million, to be divided between the state's three major utilities for administering grants to local governments that seek to develop critical facility microgrids for disadvantaged communities and low-wealth and other vulnerable populations.
There are still many details that need to be worked out regarding the definition of critical facilities and development of a scoring system for prioritizing eligibility for funding. These details should be worked out in a transparent and collaborative working group in the next several months. We applaud the Commission for this innovative approach to equity in clean energy, and urge the Commissioners to strengthen and approve the program on Jan. 14.
The CPUC is getting ready to embark on a third track of the microgrid proceeding that will address more complex issues such as what electric rates should be for multi-customer microgrids. Should these rates be established by the CPUC, or should microgrid developers be able to set the rates on their own? The CPUC is naturally reluctant to cede regulatory control over ratemaking to private parties or even self-governing community associations.
Some parties to the proceeding including Google and Sunrun have suggested that current law already allows private entities to serve selected customers as long as they do not offer universal service. As might be expected, the investor-owned utilities are skeptical about allowing privately-owned electric grids that are unregulated. This upcoming microgrid track promises to be interesting as it addresses some of the fundamental principles of electric utility regulation.
Filed Under: Distributed EnergyRegulation & Policy