The Guardian, RTE and Reuters all cover a new report by the London-based think tank Overseas Development Institute which documents a significant rise in G20 coal subsidies. The Guardian says the nations have "almost tripled" the subsidies given to coal-fired power plants in recent years, despite a pledge made a decade ago to phase out such fossil-fuel payments. RTE notes that G20 host Japan was one of the biggest providers of public finance to coal, along with China, South Korea and India. In their coverage of the report, ClimateHome News point out that four of the nations giving billions to support the fossil-fuel industry – specifically, the UK, Ireland, France and Canada – have all declared "climate emergencies" in recent months.
Jay Inslee, the Washington state governor and Democratic presidential hopeful, has released his "Freedom from Fossil Fuels" plan as part of a "multi-pronged policy platform" to tackle climate change, according to Reuters. The news outlet reports how the Democrat candidate revealed his plan, which involved shifting decisively away from fossil fuels – including a ban on drilling on public lands and ending crude oil exports – "just as the country is poised to become the world's biggest producer". The story is also reported by the Guardian, Vox and HuffPost, as well as BuzzFeed News, which focuses on Inslee's specific pledge to ban fracking. The news website also notes previous proposals by the governor to retire all US coal plants by 2030, galvanise $9tn in climate spending and hold a climate-only debate for Democrats. Elsewhere, Axios carries a piece outlining how the Democrat candidates are "poised to showcase just how far left the party has moved in the last several years — especially on energy and climate change" in this week's presidential debates. InsideClimate News has produced an in-depth exploration of each of the Democrat candidates' positions on climate change – and how they have evolved over time. Among those featured are Bernie Sanders, Elizabeth Warren and Joe Biden, who, according to polling reported by The Hill, is the frontrunner for Democratic voters who care about climate change. The New York Times reports on concerns about warmer temperatures and higher sea levels in Miami, where Democrats are set to debate later this week.
'Hell is coming': week-long heatwave begins across Europe The Guardian reports that an "unprecedented week-long heatwave" is moving across mainland Europe, noting that temperatures could reach or even exceed 40C in parts of the continent. The paper features concerned comments from regional weather forecasters, as well as health warnings being issued in a bid to prevent severe dehydration and heatstroke. It also notes the link that scientists have established between last year's lengthy heatwave and climate change. The Sun, Daily Mirror and Daily Express all carry the story, with the Sun noting that "British holiday hotspots" would be among the areas affected. BBC News says the temperatures expected in France could break the national record for June. Reuters reports that Parisian authorities were opening up "cool rooms", keeping swimming pools open late and installing emergency water fountains as the city prepares for a "potentially dangerous" heatwave. Meanwhile, the Wall Street Journal reports on a study undertaken in Los Angeles that found a correlation between heatwaves and crime in poorer neighbourhoods.
uthorities have urged children and older people to stay indoors and issued severe warnings against dehydration and heatstroke as an unprecedented week-long heatwave begins its advance across continental Europe.
Meteorologists said temperatures would reach or even exceed 40C from Spain to Switzerland as hot air was sucked up from the Sahara by the combination of a storm stalling over the Atlantic and high pressure over central Europe.
High humidity meant it would feel like 47C, experts warned. "El infierno[hell] is coming," tweeted the TV meteorologist Silvia Laplana in Spain, where the AEMET weather service forecast temperatures of 42C by Thursday in the Ebro, Tagus, Guadiana and Guadalquivir valleys and warned of an "extreme risk" of forest fires.
In France, officials in Paris set up "cool rooms" in municipal buildings, opened pools for late-night swimming and installed extra drinking fountains as temperatures in the capital reached 34C on Monday and were forecast to climb further later in the week.
"I'm worried about people who are downplaying this, who are continuing to exercise as usual or stay out in the sun," the health minister, Agnès Buzyn, said. "This affects all of us, nobody is a superman when it comes to dealing with the extreme heat we're going to see on Thursday and Friday," she told a press conference.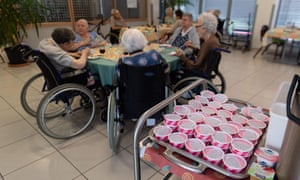 Emmanuel Demaël of Météo-France said the heatwave was unprecedented "because it's hitting so early in June – we haven't seen this since 1947." Record monthly and all-time highs were likely to be set in several parts of the country, Demaël predicted, and night-time temperatures were unlikely to fall below 20C.
School exams were postponed until next week, charities distributed water to homeless people and sales of fans quadrupled. France's deadliest recent heatwave was in August 2003, when almost 15,000 mainly elderly people died as hospitals were overwhelmed.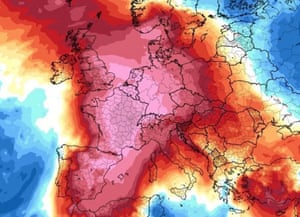 In Italy, "the most intense heatwave in a decade" was under way, with hospitals preparing to deal with a wave of heat-related illnesses and the health ministry suggesting army doctors may be needed to counter a shortage of medics.
Highs of 37C to 40C were forecast across the north and centre, including in Rome, Florence, Bologna, Milan and Turin, with several Italian cities expected to set new records for the highest ever June temperatures.
Authorities in Rome warned of the health risk from uncollected rubbish piled up on the capital's streets, and eight tourists – including a Briton – were fined €450 (£403) each on Sunday for cooling off in the city's fountains.
Sabine Krüger of the German state meteorological service, DWD, said the June record of 38.2C, set in Frankfurt in 1947, was likely to be beaten by the middle or end of this week, with 100 hours of sunshine forecast before Friday, temperatures in Frankfurt set to reach 39C or even 40C by Wednesday and Berlin predicted to swelter in 37C.
DWD on Monday warned citizens to take extra precaution in view of the extreme heat and high UV radiation over the coming days: "Avoid staying outdoors for long periods between 11am and 3pm," it said, adding that sunblock, sunglasses and a sun hat were advisable even in the shade. Animal protection groups also warned pet owners to avoid leaving dogs or cats in cars unattended.
The heatwave comes after storms and record rainfall caused major problems in parts of Bavaria this weekend, with the Munich fire brigade called out 50 times and flights into and out of Munich airport suspended on Saturday evening.
In Switzerland, MeteoSwiss issued a "severe danger" level four heat alert for several parts of the country, warning of temperatures in excess of 33C and reaching 37C or even 39C in some places from Tuesday until Thursday. A number of all-time highs were likely to be recorded, it said.
Even Scandinavia looks unlikely to be spared, with parts of southern Denmark and Sweden predicted to reach 30C by Tuesday – and to feel more like a thoroughly un-Scandinavian 35C, the Danish broadcaster TV2 said.
Longer range weather forecasts show summer temperatures throughout July and August are expected to be higher than normal this year, rivalling those of 2018, which according to the European Environment Agency was one of the three warmest years on record on the continent.
Scientists have said last year's heatwave, which led to increased mortality rates, a dramatic decline in crop yields, the shutdown of nuclear power plants and wildfires inside the Arctic Circle, was linked to the climate emergency.
Meteorologists warn that such heatwaves are likely to become more frequent even if countries succeed in their commitments to limit global temperature increases to 1.5C as part of the 2015 Paris climate accord. The EU has pledged to cut carbon emissions to 40% below 1990 levels by 2030.
Additional reporting by Sam Jones, Angela Giuffrida and Philip Oltermann