Smart meter installations 'need to hit 30 a minute'; Energy firms set to miss government deadline for rollout,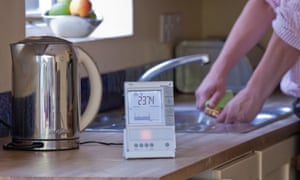 Energy suppliers need to triple smart meter installation rates to complete a national rollout by 2020, according to the consumer champion Which?
Large suppliers would have to install 30 meters every minute, every day, for the next two years, to meet the government deadline.
More than 11m smart meters have been installed so far at a rate of 9.7 a minute, a quarter of the 46m meters that large suppliers – with 250,000 customers or more – are due to replace, according to analysis by Which?
Meanwhile, the government's estimates for expected savings for an annual dual fuel bill in 2020 have fallen from £26 to £11.
Alex Neill, the managing director of home products and services at Which?, said: "The smart meter rollout has been plagued by problems and been massively delayed, the benefits have been overstated and the savings they could bring consumers are at risk. Therefore it's time for the government to replan with industry and consumer groups to ensure people get the maximum benefit at the minimum cost."
A spokesman for the Department for Business, Energy and Industrial Strategy said the government was committed to its target. "Millions have already chosen to have a smart meter and take control of their energy use to cut their bills," he said. An £11 reduction in annual fuel bills was "not insignificant", representing £300m of savings in 2020 alone.
Up to 53m smart meters are due to be installed by the end of 2020. Energy UK, which represents the industry, said suppliers were ensuring that all eligible households and businesses are offered a smart meter by the deadline.
"With more than 12m smart meters now installed in the UK, more and more customers are enjoying the benefits that smart meters bring and are reporting high levels of satisfaction," a spokesman said.