From Elizabeth Warren
the US does not have particularly strong automatic economic stabilizers compared to other industrialized countries. Second, given the extremely low cost of government borrowing now, the US has the capacity to borrow and invest at a higher return. Third, history shows that it's often hard to pass multiple stimulus packages in succession—and it's better that the initial package is too big rather than too small. 
GUARANTEE PAID LEAVE
America's shameful lack of national paid leave and sick days will worsen the spread of coronavirus. People who feel sick will go into work anyway, afraid of losing their jobs or the pay they badly need. Parents may feel compelled to work even as their kids or their elderly relatives might need medical attention. Research shows that mandated paid leave and sick days dramatically reduce the spread of diseases. 
Congress must act to pass Senator Gillibrand's FAMILY Act, which would provide up to twelve weeks per year of paid leave to all workers to care for themselves and their loved ones in case of serious medical issues or the welcoming of a new child. As President, I will fight to make this policy the law. But in the face of a public health crisis, we can't wait—and should immediately make cash assistance available to people who need time off because of coronavirus through an "emergency paid leave" program.
Here's how it would work:
Anyone who meets the CDC's description of relevant symptoms or is exposed and placed under quarantine—or has a family member or other dependent who meets that description—will be eligible for emergency paid leave to take time off to follow CDC's recommended course of action, which may include self-isolation, evaluation and testing, or treatment.
Emergency paid leave will be available pursuant to CDC's guidelines about the appropriate length of recovery and quarantine or isolation time for those who contract or are exposed to coronavirus. If a family caretaker is also required during this period, that person will also be eligible for emergency paid leave.
Anyone eligible for the program will receive emergency paid leave that fully replaces their actual wage income—up to a cap set at the 99th wage percentile. 
My emergency paid leave program will accomplish two critical goals. First, it will give people the financial peace of mind to take time off to stay home and recover or care for a loved one who  has the symptoms of coronavirus or has been exposed to it. That will help limit the spread of the disease. Second, providing access to paid leave benefits funded by the government rather than by employers during this health crisis will help stabilize businesses, who will be relieved of the burden of potentially paying large shares of their workforce for long absences
ENACTING AT LEAST A $400 BILLION STIMULUS TO HEAD OFF THE PROJECTED ECONOMIC EFFECTS OF CORONAVIRUS, AND ANNOUNCING A FEDERAL RESERVE EMERGENCY LENDING PROGRAM
Experts have a variety of estimates of the potential impact of coronavirus on the American economy. They project that coronavirus will reduce US economic growth in 2020 by at least 0.2 percentage points. But they recognize that if coronavirus turns into a global pandemic—which they give a 40% likelihood—it could produce a US and global recession. An older Congressional Budget Office analysis of the potential US economic impact of various pandemic scenarios estimated that a pandemic could reduce US economic growth by between 1% and 4.25% of GDP.
There is evidently much uncertainty at this time about the potential economic impact of coronavirus, but several factors weigh in favor of enacting a stimulus to counteract a more severe impact. First, the US does not have particularly strong automatic economic stabilizers compared to other industrialized countries. Second, given the extremely low cost of government borrowing now, the US has the capacity to borrow and invest at a higher return. Third, history shows that it's often hard to pass multiple stimulus packages in succession—and it's better that the initial package is too big rather than too small.
Based on those factors and the range of projections for the economic impact of coronavirus, we should immediately enact a stimulus package that represents an authorization of at least 2% of GDP, or roughly $400 billion.
The stimulus should focus on the following categories of spending:
Low or no-interest loans to companies of all sizes that are negatively affected by supply chain disruptions, reductions in tourism, or other temporary coronavirus-related impacts, and that will use the funds to avoid layoffs and hours reductions, not for additional executive compensation, dividends, or share buybacks.
Unemployment insurance and other direct payments to households—with exact amounts tied to unemployment levels and wage growth.
Other aid to state and local governments that may be losing revenue because of coronavirus, in order to minimize reductions in services for residents.
Jump starting our ability to make our own active pharmaceutical ingredients and their base components by establishing a strategy to support domestic manufacturers—with the ultimate goal of requiring all federal agencies that procure or reimburse for drugs (like the DOD, VA, and Medicare) to preference drugs with American-made ingredients. My legislation to allow the government to manufacture drugs would provide a strong foundation for this effort.
Green infrastructure investments, like domestically produced clean energy, that can be accomplished even with the supply chain disruptions that are likely to exist with a widespread coronavirus outbreak.
Given the positive multiplier effect that these types of government spending have on the economy, a stimulus of this type would likely counteract a roughly 3% dip in GDP.
In addition, whether the Federal Reserve Board chooses to cut interest rates or not, it should announce as soon as possible—and no later than the markets opening on Monday—that it stands ready to use its emergency lending authority to create a broad-based emergency lending facility program to help real economy companies whose supply chains have been disrupted because of the coronavirus and who will use the money to do right by their workforce.
Companies across America are already struggling with supply chain disruptions, and we don't want these temporary struggles to lead to widespread layoffs or for otherwise solid companies to go under. While Congress should deliver the stimulus package I described above to help these types of companies, an immediate announcement from the Fed of this type of program will give companies—and markets—confidence that the Fed is available as a lender of last resort if Congress fails to deliver, and could help avert a more severe downturn.
**
Elizabeth Warren Has a Plan to Finish What FDR Started
And it could give Democrats a fighting chance in farm country and small-town America.
AUGUST 20, 2019
Fiber-optic installation in Vermont. (AP Photo / Toby Talbot, File)
Ready To Fight Back?
Sign up for Take Action Now and get three actions in your inbox every week.
You will receive occasional promotional offers for programs that support The Nation's journalism. You can read our Privacy Policy here.
If Democrats want to be competitive again in rural America, they will need to go bold—as bold as Franklin Delano Roosevelt in the New Deal era. That's when FDR and his party swept to victory in states where Democrats now struggle to stay in the running.
Fools may counsel compromise and caution as a strategy for reaching out to rural voters, but that's absurd. The answer is not to imagine that dialing down progressive messages about economic and social and racial justice will somehow change the hearts and minds of Trump voters. The answer is to speak to the needs of all voters—and all potential voters—in vast stretches of America where poverty, disenfranchisement, and disconnection are serious concerns. Instead of dumbing down the message with centrist claptrap, Democrats should be giving young people, people of color, and struggling farmers and workers who live beyond the boundaries of the suburbs a reason to vote—and the information they need to get engaged in changing the politics of their hometowns, their counties, their states, and their country.
Where to begin? Massachusetts Senator Elizabeth Warren is proposing a strikingly bold, and strikingly smart, plan to close the digital divide that, according to a 2017 FCC report, has left 26.4 percent of people living in rural areas—and 32.1 percent of people living on tribal lands—without access to minimum-speed broadband Internet access. 00:05 / 00:29SKIP AD
The 2020 Democratic presidential contender's plan can best be understood as a 21st-century version of rural electrification.
EPSTEIN
THE VAST CONSPIRACY BEHIND JEFFREY EPSTEIN'S DEATH
Elie Mystal
Rural electrification was the response of the Roosevelt administration in the mid-1930s to the reality that electricity was widely available in urban America but hard to come by in small towns and farm country. With Executive Order 7037, FDR created the Rural Electrification Administration. In 1935, a year later, Congress approved the Rural Electrification Act, and federal dollars began to flow to the member-owned electrical cooperatives that wired the countryside. Jobs were created, lights were switched on, and so were the radios that carried Roosevelt's fireside chats to millions of additional Americans.
The great investments of the New Deal in all corners of America ushered in a radical transformation of lives—and, for a time, politics. Woody Guthrie sang of how "your power is turning our darkness to dawn." The idea of public works projects undertaken not to enrich stockholders but to empower citizens has returned to the public debate as the 2020 presidential race takes shape. Vermont Senator Bernie Sanders has spoken frequently about the brilliance of FDR's "Economic Bill of Rights," and he had outlined contemporary commitments to realize its promises regarding health care, education, and housing. A number of contenders are referencing the first New Deal when they discuss the Green New Deal.
What Warren is talking about extends the go-big discussion with a focus on one of the most vital infrastructure needs of rural America. This is not another rehash of the unfulfilled promises of political charlatans who prattle on about finding a meeting ground where Republicans and Democrats can agree to bid out contracts to road builders. This is the serious vision of using the power of the federal government to achieve a measure of regional equity.
CURRENT ISSUE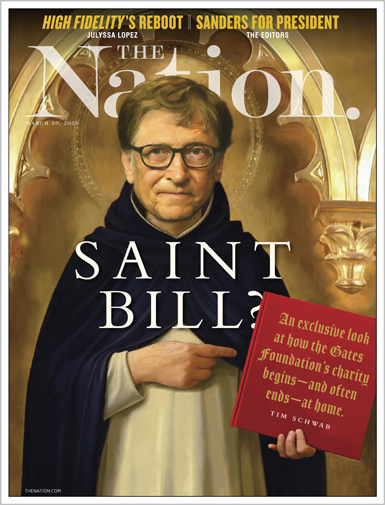 Subscribe today and Save up to $129.
Warren recognizes the digital disconnect, and also that "we've faced this kind of problem before. Prior to the late 1930s, private electric companies passed over rural communities they felt offered minimal profit opportunities, leaving the families living there literally in the dark. Just like the electric companies eighty years ago, today's biggest Internet service providers (ISPs) have left large parts of the country unserved or dramatically underserved."
Just as the New Dealers responded 80 years ago with a big plan for rural electrification, the 2020 Democratic presidential contender is responding with a big plan for rural broadband. Warren is barnstorming across the first caucus state of Iowa with a promise to develop an $85 billion federal grant program for nonprofits and local governments that seek to build independent fiber networks and provide low-cost broadband Internet services. "I will make sure every home in America has a fiber broadband connection at a price families can afford," she declares. "That means publicly-owned and operated networks—and no giant ISPs running away with taxpayer dollars."
The specifics of Warren's plan are spot on. They recognize the need to sustain not-for-profit and public institutions—as opposed to the corporations that have neglected, and frequently failed, rural America. (And that have failed plenty of urban centers, which suffer from their own digital divides.)
The Office of Broadband Access that Warren wants to establish to manage the federal grant program would require that
SUPPORT PROGRESSIVE JOURNALISM
If you like this article, please give today to help fund The Nation's work.
only electricity and telephone cooperatives, non-profit organizations, tribes, cities, counties, and other state subdivisions will be eligible for grants from this fund—and all grants will be used to build the fiber infrastructure necessary to bring high-speed broadband to unserved areas, underserved areas, or areas with minimal competition. The federal government will pay 90 cents on the dollar for construction under these grants. In exchange, applicants will be required to offer high-speed public broadband directly to every home in their application area.
Warren also promises to:
Make it clear in federal statute that municipalities have the right to build their own broadband networks. Many small towns and rural areas have turned to municipal networks to provide broadband access in places that the private market has failed to serve—but today, as many as 26 states have passed laws hindering or banning municipalities from building their own broadband infrastructure to protect the interests of giant telecom companies. We will preempt these laws and return this power to local governments.
Warren's "I Have a Plan for That" politics, with its faith that the breach can be repaired if the profiteers are elbowed aside, echoes the blend of technocratic idealism and practical economics that was championed by Roosevelt and Henry Wallace—the 32nd president's secretary of agriculture and eventual vice president. She's talking about putting the Democratic Party back on the right side of rural America, and of history, when she recognizes that "both corporate America and leaders in Washington have turned their backs on the people living in our rural communities and prioritized the interests of giant companies and Wall Street."
Elizabeth Warren won't win over all rural voters. No Democrat, or Republican, will. And that's not necessary. What Democrats need to do is to hold their own in the rural countries that can tip closely contested "battleground states" one way or the other on Election Day. There are plenty of voters in farm country and in this nation's small towns who have been waiting for a long time to hear a Democrat say, as Warren does, that  "our failure to invest in rural areas is holding back millions of families, weakening our economy, and undermining our efforts to combat climate change. It's time to fix this."
HOW SOUTH KOREA TRIUMPHED, AND THE US FLOUNDERED, OVER THE PANDEMIC Testing, national health care, and transparency saved the day. By Tim Shorrock, The Nation,
Health workers talk to a motorist at a drive-through testing center in Seoul, South Korea, in March 2020. (Ed Jones / AFP via Getty Images)
On March 12, a startling chyron went up on CNN's Mid-Morning News after a congressional briefing on the rapid spread of the dangerous coronavirus known as Covid-19. "Health officials tell lawmakers only about 11,000 people tested for virus in U.S.; South Korea testing about 10K per day," it read, as the visibly shocked hosts Jim Sciutto and Poppy Harlow pressed their guests for an explanation.
In fact, the actual figures were even higher. "South Korea has been on average testing 12,000 patients a day—about as many as the U.S. has managed to test over the last two weeks," the Los Angeles Times reported on March 14. By that time, the government of President Moon Jae-in had tested 274,504 people since January 3, when it reported its first confirmed case of the virus.
Many of the tests, as seen in this video from The Korea Times, were conducted at sites where citizens could be served in their cars, and are highly praised by people who live in South Korea. "The drive-through testing was quick, creative, innovative, free, and protective for all," Brenda Paik Sunoo, an author and photographer with dual US–South Korean citizenship, told The Nation in a telephone interview from the island of Jeju.  00:08 / 00:15SKIP AD
Sunoo, who is from the San Francisco Bay Area and retired to Jeju a few years ago, explained that face masks are also readily available to Koreans in local pharmacies. "We're allowed two a week," she said, with distribution based "on the last number of your birth year." In contrast, masks are in short supply in the United States and are sold out at stores throughout the country.
Ben EhrenreichOUR CAPITALIST, CORPORATIST COUNTRY IS DRASTICALLY UNPREPARED FOR THE CORONAVIRUS Elie Mystal
After statistics and anecdotes like these were broadcast on CNN that day in March, South Korea instantly became the hottest topic of the day. Americans glued to their televisions reeled in shock from the realization that the US government was woefully behind a country that is often portrayed as owing its democracy and economic system—indeed, its very existence—to the beneficence of the United States.
"It is shameful, disappointing, & tragic that the greatest country in the world, the US, has only tested 14,000 people" in comparison to South Korea's huge numbers, Representative Maxine Waters tweeted on March 16.
"South Korea has proven that #COVID19 can be controlled," Laurie Garrett, the prominent health and science writer, added on Twitter, pointing out that the country had pushed its epidemic down from a high of 909 new cases a day in late February to just 74 cases by March 16. "How did they get such dramatic results? Testing, testing, testing."
The contrast is particularly shocking because health authorities in both South Korea and the United States learned of their first coronavirus case on the same day in late January, according to an investigation published by Reuters. Seven weeks later, the Korea Centers for Disease Control and Prevention had tested close to 300,000 people out of a population of 51 million, while the United States is "not even close to meeting demand for testing," with only 60,000 tests in a population of 330 million, Reuters reported.
South Korea's rapid rollout of its testing was crucial because "speed is paramount" in outbreak situations, Sanghyuk Shin, an assistant professor of nursing at the University of California at Irvine and the director of UCI's Infectious Disease Science Initiative, told The Nation. "The longer the delay, the greater the mortality, and the public health response becomes much more difficult," he said in an interview.
"South Korea started its response early, which was extremely important for slowing the spread" of coronavirus, Shin added. "In stark contrast, the slow pace of rolling out testing in the US has significantly hampered our ability to slow the spread of this virus, and now we clearly have widespread community transmission in the US." Shin was born in Seoul but grew up in the United States, where he's lived since he was 8 years old.
Many of the Korean tests were administered in drive-in centers around the country, where the procedure was available for free to any citizen who asked for one and results were available by text or e-mail within six to 12 hours. Moreover, test kits have been provided to "frontline" private hospitals and screening clinics since the beginning of February. As the news of the program spread, South Korean officials explained that their model could be duplicated throughout the world.
"By quickly diagnosing COVID-19, we've been able to minimize its spread and provide quick treatment, and that's kept the mortality rate low," Kang Kyung-wha, South Korea's foreign minister, told the BBC. "I hope that South Korea's experience and approach will not only benefit other countries but also lead to greater international cooperation on preparing for the next [viral outbreak]."
But the news, and Kang's offer, wasn't welcome at the White House, where President Trump has been presiding over daily briefings characterized by misinformation, outright lies, racist characterizations of the virus's origin, and fantastic stretches of defensiveness (most of his claims have been repeated and amplified on Fox News). Time after time, Trump has downplayed the Korean tests—and the need for tests in general—and boasted that his approach was superior. "Yeah, we can do that," he replied to a question on March 7 about South Korea's testing program during a visit to the Centers for Disease Control in Atlanta. But, as usual, he falsely claimed that South Korea was only "doing samples," and "that's not effective like what we're doing."
A week later, Trump again downplayed Korea's record during his daily press conference at the White House. "I noticed a lot of people are talking about South Korea because they've done a good job on one side, but on the other side, tremendous problems at the beginning," Trump told reporters. "They had tremendous problems and great numbers of death." His refusal to even acknowledge the Moon government's success was underscored the day before, when he went out of his way to praise Japan's Prime Minister Shinzo Abe for overseeing construction of Japan's "magnificent" Olympic venues in Tokyo.
"He has done an incredible job, one that will make him very proud," Trump said of the conservative Abe, whom he often consults before Moon on issues related to North Korea. "Good things will happen for Japan and their great Prime Minister." In Japan, of course, Abe has been soundly criticized for his own inaction on the coronavirus, and many analysts now believe the Olympic Games, scheduled for July, will be postponed, possibly to next year. Moreover, by March 18, Japan had tested only about 32,000 people, compared to the much larger numbers in South Korea.
But Koreans I interviewed said the tests were just one aspect of the Moon government's success in combating the epidemic. The most important, most agreed, was South Korea's national health care system. It was introduced in stages beginning in 1977, when the authoritarian government of Park Chung-hee mandated health insurance for large firms employing more than 500 people.
Then, in 1989, after the country was democratized, national health insurance was extended throughout the nation. "Within the span of 12 years, South Korea went from private voluntary health insurance to government-mandated universal coverage," Jong-Chan Lee, a South Korean academic, wrote for the American Journal of Public Health in 2003.
Residents of South Korea cited three other factors: the Moon government's reliance on health and infectious disease experts to transmit daily information to the public; the availability of high-speed Internet and Wi-Fi throughout the country, making for easy communication; and the traditional Korean practice of placing the public need first, above the individual, which is shared by many countries in Asia.
That latter characteristic, Sunoo told me, was critical in the willingness of South Koreans to socially isolate themselves, a practice so woefully lacking in the United States. "Social distancing has been the main weapon of mass protection," she said. "Coronavirus has been contained because we're staying at home. It's less about protecting ourselves, and more about we don't want to spread this throughout the community."
In late January, Sunoo's husband, Jan Sunoo, a labor educator, returned from a visit to Thailand and "self-quarantined" in a separate apartment for two weeks, she said. "Every decision we make we have one single goal: not spreading it." She said she has been spending much of her time lately advising friends and relatives back home to follow South Korea's example and warning, like many Italians have, that the consequences of ignoring social isolation guidelines could be fatal.
Convincing the public in South Korea to follow these guidelines was enhanced by President Moon's decision to make public health officials the official voice of the government. Unlike Trump, who sparked widespread confusion and apathy with his conspiracy-laden pronouncements as the crisis unfolded, Moon ceded the public stage to Jeong Eun-kyeong, a former doctor who heads the Korea Centers for Disease Control and Prevention.
"Since the first COVID-19 case was recorded in South Korea, Dr Jeong from KCDC has briefed the public, on air, EVERY DAY for hours, answering journalists questions, explaining everything and detailing next steps," Laura Bicker, the BBC's correspondent in Seoul, tweeted, adding: "(She has visibly aged in those weeks) Lots of info = less panic."
The KCDCP and other health agencies have provided, on a daily basis and via texts, detailed information about Covid-19 patients, including where they have been and where they may have contracted the virus. The government has also strongly advised the population to practice social distancing, even as the number of cases began to fall in mid-March.
"The high level of transparency, the availability of testing, the round-the-clock heroism of doctors and nurses, and the government's refusal to initiate military-style lockdowns like in China will be seen down the road as parts of a blueprint for how to handle such a crisis democratically," Seth Martin, a musician and teacher from Washington state who has been living in Seoul since 2015, told The Nation in an e-mail.
The ride has not been completely smooth, however. "In my opinion, the government does not pay enough attention to individual rights, and has fully disclosed the personal details of patients" in public pronouncements, Gayoon Baek, a South Korean historian and human rights activist in Seoul, told The Nation in an interview. "That's not even necessary to prevent the spread of Covid-19." In fact, the country does have a history of mass surveillance, which is in part a residue of its authoritarian past.
In response to such criticism, the KCDC recently issued new guidelines to local governments asking them "not to release specific addresses or workplace names so as to protect patients' privacy," the progressive Hankyoreh reported. "Local governments are also being asked to stop disclosing patients' travel path and the places they've visited."
It was also rough going in the beginning of the crisis. In February, as the epidemic in China reached a peak, President Moon angered many Koreans when he predicted that the coronavirus would "disappear before long" and decided against closing South Korea's borders to China. Right-wing politicians and groups who have been gunning for Moon ever since he was elected in 2017 even supported an online petition seeking his impeachment. It was eventually signed by over a million people.
But since the early stumbling, public anger has ebbed as Moon's government seized control of the crisis.
"In the early days of the virus, many South Koreans were furious with their government," said Martin, the musician, who is married to a South Korean artist and lives in a working-class area of Seoul. "Yet, as the scenario played out, it became increasingly clear that South Korea was on top of its game, and the government had actually done a really amazing job of mostly containing the virus without diving into denialism on the one hand and totalitarianism on the other. But look where we are now," he added. "I spend most of my time now worrying deeply about my friends and family in the Pacific Northwest, where I am hearing daily from loved ones about the dangers and how they fear for the future. We are really lucky to be in such a well-prepared situation under a government that chose to take an aggressive, yet democratic, stance."
The day after we spoke, Vice President Mike Pence appeared at the White House to tell Americans that "tens of thousands" of coronavirus tests are being performed daily. But even as the death toll from the virus mounted and the number of US cases soared, he added that "if you don't have symptoms, you don't need to get a test." His admonition defied the advice of many health officials in areas hit hard by the virus, including in South Korea.
As of March 19, according to the World Health Organization, the number of confirmed cases of coronavirus had exceeded 200,000 globally. Out of those, South Korean authorities said, they had 8,652 cases, with 94 deaths, and had conducted 316,664 tests. In the United States, the CDC reported 10,442 cases, 150 deaths and a total of 44,872 tests—one-seventh the number conducted in South Korea.
For two countries with an entwined history that goes back over 70 years, the contrast in their approaches to one of the worst pandemics in history could not be clearer.
HOW SOUTH KOREA TRIUMPHED, AND THE US FLOUNDERED, OVER THE PANDEMIC
CUBA'S WELCOME TO A COVID-19-STRICKEN CRUISE SHIP REFLECTS A LONG PATTERN OF GLOBAL HUMANITARIAN COM
THINK EXOTIC ANIMALS ARE TO BLAME FOR THE CORONAVIRUS? THINK AGAIN.
COVID-19: A BEST-CASE SCENARIO
WE'RE STRUGGLING WITH THE CORONAVIRUS IN SPAIN—BUT WE'RE VASTLY MORE PREPARED THAN THE US
Tim Shorrock Tim Shorrock is a Washington, DC–based journalist and the author of Spies for Hire: The Secret World of Intelligence Outsourcing.
John Nichols TWITTERJohn Nichols is The Nation's national-affairs correspondent and host of Next Left, The Nation's podcast where politics gets personal with rising progressive politicians. He is the author of Horsemen of the Trumpocalypse: A Field Guide to the Most Dangerous People in America, from Nation Books, and co-author, with Robert W. McChesney, of People Get Ready: The Fight Against a Jobless Economy and a Citizenless Democracy.