CONTRA COSTA COUNTY: GOMENTUM STATION
POPULATION: 1.1 MILLION
SQUARE MILES: 715
Contra Costa County, Calif., a suburban county of just over a million residents, is located in the Bay Area just east of San Francisco and north of Oakland. The Contra Costa Transportation Authority (CCTA) is the public agency in charge of managing the county's transportation planning and congestion management. CCTA works to connect the county's communities, foster a strong economy, increase sustainability and enhance mobility and accessibility in order to safely, reliably and efficiently get people where they need to go.
As part of these efforts, CCTA plans, funds and implements a variety of transportation projects and programs, including an initiative to research and test connected and autonomous vehicle technology, with the aim to address congestion by using innovative technology to improve existing infrastructure, rather than build more infrastructure. To achieve these goals, CCTA has created GoMentum Station, a connected vehicle/autonomous vehicle (CV/AV) test facility in Concord, Calif. The largest test facility of its kind, GoMentum Station is located on the site of the former Concord Naval Weapons Station, which consists of 5,000 acres of land and 20 miles of paved roadway.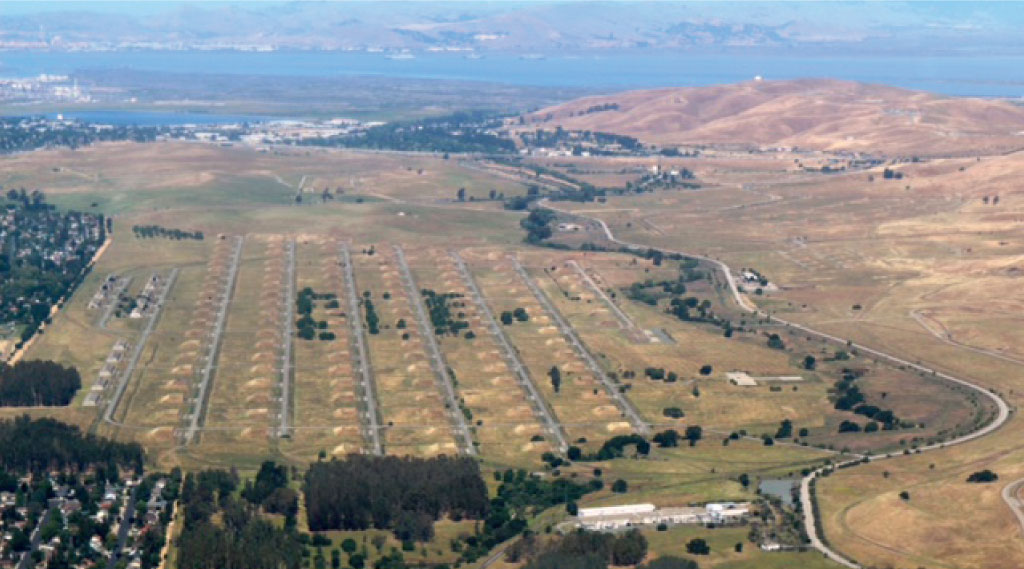 Aerial view of Concord Naval Weapons Station. Source: Contra Costa Transportation Authority
In 2012, the U.S. Navy assigned the City of Concord a master license to plan for the area's adaptive reuse, and will gradually transfer the property to the City of Concord for eventual redevelopment.12 Seeing an opportunity based on the site's specifications and location, CCTA toured the facility to gauge its potential uses, and the idea for a CV/AV test facility was born. In 2014, Concord granted CCTA a sublicense to open GoMentum Station on the base, allowing up to five automakers and 15 other companies access to the facilities.
The goal of GoMentum Station is to define the next generation of transportation. Through public-private partnerships, CCTA and its partners collaborate to research and test the validation and commercialization of CV/AV applications and technologies, creating space to test new transportation technologies on-the-ground, in real time, in a real-world setting.
To ensure that research is ongoing in a variety of different transportation technologies, CCTA engages a diverse set of partners, representing infrastructure owners/operators, including local jurisdictions and transit agencies; vehicle and equipment manufacturers and suppliers; technology companies and academia. Research topics are multi-modal and include infrastructure, connected vehicles, autonomous vehicles and other innovative applications. Partners sign a Memorandum of Understanding with CCTA which outlines their research plans, terms of payment and other stipulations (i.e. privacy needs).  A few of the current partners include the City of Concord, ITS America, Stantec, Honda, EasyMile and Bishop Ranch.  Partners may change year-to-year. While CCTA's ITS program is funded through a mixture of public and private funds, GoMentum station itself is entirely privately funded by its partnering organizations.13 CCTA has plans, however, to diversify the project's funding.
The end goal of all this research and testing is to transition successful projects from the test facility to the county at-large. CCTA has already implemented a number CV pilot programs throughout Contra Costa, with plans to implement more, including transit tracking of commercial vehicles, radio-frequency identification of pedestrians to vehicles and bikes to transit, and integrated corridor management along local sections of interstate highways.  Beyond the implementation of test facility successes, the objective of GoMentum Station is to advance Contra Costa County's goals of improved safety and mobility and increased job opportunities and regional economic competitiveness. CCTA aims to position Contra Costa County as a center for smart jobs, affordable housing and connected infrastructure.
Also see: http://www.co.contra-costa.ca.us/, http://ccta.net/about, or http://gomentumstation.net/vision/