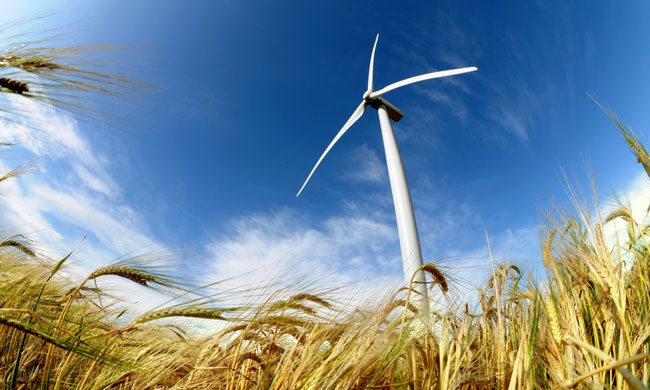 In this red state, publicly owned utilities provide electricity to all 1.8 million people. Here's how Nebraska took its energy out of corporate hands and made it affordable for everyday residents. Why you can trust us
By THOMAS M. HANNA Jan 30, 2015, Yes! Magazine
In the United States, there is one state, and only one state, where every single resident and business receives electricity from a community-owned institution rather than a for-profit corporation. It is not a famously liberal state like Vermont or Massachusetts. Rather, it is conservative Nebraska, with its two Republican Senators and two (out of three) Republican members of Congress, that has embraced the complete socialization of energy distribution.
In Nebraska, 121 publicly owned utilities, ten cooperatives, and 30 public power districts provide electricity to a population of around 1.8 million people. Public and cooperative ownership keeps costs low for the state's consumers. Nebraskans pay one of the lowest rates for electricity in the nation and revenues are reinvested in infrastructure to ensure reliable and cheap service for years to come.
"There are no stockholders, and thus no profit motive," the Nebraska Power Association proudly proclaims. "Our electric prices do not include a profit. That means Nebraska's utilities can focus exclusively on keeping electric rates low and customer service high. Our customers, not big investors in New York and Chicago, own Nebraska's utilities."
Payments (in lieu of taxes) from the state's publicly owned utilities exceed $30 million a year and support a variety of social services throughout the state—including the public education system.
How the state went public
Nebraska has a long history of publicly owned power systems dating back to the beginnings of electrification in the late 1800s. Initially, these co-existed with small private utilities. However, in the post-World War I era, large corporate electric holding companies backed by Wall Street banks entered the market and began taking over smaller private and municipal systems.
Using their financial and political power, these corporations dramatically consolidated the power industry in Nebraska and attempted to stop new cooperatives and publicly owned utilities from forming. During this time more than one-third of the state's municipal utilities were sold to private corporations.
Tired of abusive corporate practices, in 1930 residents and advocates of publicly owned utilities took a revenue bond financing proposal straight to the voters, bypassing the corporate-influenced legislature which had previously failed to pass similar legislation. It was approved overwhelmingly—signaling both popular support for publicly owned utilities in the state and also the beginnings of their resurgence.
Led by powerful Nebraska Senator George W. Norris—the driving force behind the publicly owned Tennessee Valley Authority—a series of state and federal laws were passed including: the state's Enabling Act (1933), which allowed 15 percent of eligible voters in an area to petition for a decision on a publicly owned utility; the Public Utility Holding Company Act (1935), which forced the breakup and restructuring of corporate electricity monopolies; and the Rural Electrification Act (1936), which provided financing for rural electricity projects. By 1949, Nebraska had solidified its status as the first and only all-public power state.
Every Nebraskan can help make decisions
Local control and the possibility for democratic participation are defining features of Nebraska's publicly owned electricity system. At the ground level, public utilities and cooperatives are run by publicly elected power district boards, cooperative boards, or elected city councils (often through appointed boards). These bodies establish budgets, establish service standards and policies, and set prices.
Regularly scheduled meetings of power boards and councils are open to public involvement and comment. Should they so wish, every Nebraskan has the opportunity to become involved in the decisionmaking of their local electricity provider.
One such example relates to the increasing use and proliferation of renewable energy facilities. While the state remains heavily reliant on coal and nuclear sources to provide low-cost energy to consumers, interest in renewable energy—primarily wind—has taken off in recent years. In 2003, electricity consumers, many of whom drove more than 100 miles for the event, participated in an eight-hour deliberative polling survey for the Nebraska Public Power District (NPDD)—a public corporation owned by the state of Nebraska that supplies energy to 600,000 people via local, publicly owned utilities and cooperatives.
The topic at hand was the potential addition of more than 200 MW of wind energy by 2010. Ninety-six percent of the participants supported the wind project, with 50 percent agreeing it was the right size and 36 percent wanting it expanded (compared to just 3 percent who wanted it reduced).
In addition to its other wind power facilities, in 2005 NPDD began operating the Ainsworth Wind Energy Facility, the nation's 2nd-largest publicly owned wind farm consisting of 36 turbines generating up to 59.5 MW of energy. In 2011, the state's energy plan acknowledged both that power generation from wind had doubled every two years since 2006 and that developing just 1 percent of the potential energy from wind in Nebraska would satisfy the state's entire peak demand.
Moreover, public ownership of electricity generation and distribution in Nebraska is complemented by another seemingly socialist idea—planning.
The Nebraska Power Review Board is a state agency that oversees the publicly owned electricity system. In addition to its regulatory functions—such as monitoring rate increases and arbitrating conflicts—the five person Review Board (appointed by the Governor and confirmed by the legislature with party, occupational, and term limit restrictions) "oversees the preparation and filing of a coordinated long-range power supply plan," as well as the location and construction of new electricity generation facilities.
Toward a century of local control
A common concern with public ownership of larger scale systems is that it can lead to inefficiency, unaccountability, and bureaucracy. But Nebraska's nearly 100-year-old experience with a completely public and community-owned electricity system demonstrates that this does not necessarily have to be the case.
The principles of subsidiarity and local control can, in fact, be preserved through a networked mix of publicly owned institutions at various scales without sacrificing efficiency or service quality.
Of course, public ownership alone is not a fix-all solution. It does, however, provide an opportunity for a community, a city, or even a whole state to become actively involved in economic decisionmaking on important matters affecting their lives, their environment, and their future.
This Red State Broke Up Utility Monopolies in Favor of a Publicly-Owned Power Company. Now, Its Residents Pay Some of the Lowest Rates in the Country
By Carl Gibson -March 24, 2015
Out of all 50 states, Nebraska is the only one that supplies cheap electricity to its residents through a completely socialized, public-owned, citizen-governed utility company. According to Truthout, all of Nebraska's businesses, as well as each of the state's 1.8 million citizens depend not on a private, for-profit utility corporation for its power, but 167 publicly-owned utilities. After reading the Nebraska Power Association's website, the description of their business model sounds like something Karl Marx would've been proud of:
"PUBLICLY OWNED UTILITIES EXIST TO SERVE CUSTOMERS. PERIOD. THERE ARE NO STOCKHOLDERS, AND THUS NO PROFIT MOTIVE. OUR ELECTRIC PRICES DO NOT INCLUDE A PROFIT. THAT MEANS NEBRASKA'S UTILITIES CAN FOCUS EXCLUSIVELY ON KEEPING ELECTRIC RATES LOW AND CUSTOMER SERVICE HIGH. OUR CUSTOMERS, NOT BIG INVESTORS IN NEW YORK AND CHICAGO, OWN NEBRASKA'S UTILITIES."
Nebraska went to a complete publicly-owned model after the greed of Wall Street-backed private utility companies left a bad taste in the mouths of Nebraska's residents. In the gilded age of the late 19th and early 20th centuries, these private utilities used their deep pockets and clout with local politicians to buy out their competition and stop new power cooperatives from forming. By 1930, the people of Nebraska got fed up with paying higher rates for poorer service and took their rage to the ballot box, voting in favor of a revenue bond finance proposal for a publicly-owned power system.
Senator George Norris of Nebraska, a champion of FDR's New Deal and proponent of the Tennessee Valley Authority, was also a prominent cheerleader for local and national reforms that strengthened the position of public utilities in the electricity market. Nebraska passed the Enabling Act in 1933, which allowed voters to petition for a public utility through the democratic process. In 1935, Congress passed the Public Utility Holding Company (Wheeler-Rayburn) Act, breaking up the highly-concentrated, Wall Street-financed firms like the ones that had bought up one-third of Nebraska's municipal utilities. The following year, Congress passed the Rural Electrification Act, which provided funding for publicly-owned power companies. Nebraska's power companies were 100 percent public-owned by 1949.
Sounds great, right? It didn't take long for the power companies to revolt and solidify their grip on Congress. Once Ronald Reagan was elected president, deregulation fever had swept the country. Reagan and his Congress, determined to enforce the narrative that government was the problem, uprooted government controls on price manipulation, believing that the market should be solely responsible for setting prices on everything from electricity, transportation, natural gas, and telecommunications. Jimmy Carter's Public Utilities Regulatory Policies Act (PURPA), meant to allow equal competition between Qualifying Facilities (companies providing electricity from one source) and Independent Power Producers (companies providing electricity from multiple, renewable sources like wind and solar) was used as justification that the non-utility generators –QFs– were just as efficient at providing electricity as the regulated IPPs.
In October of 1992, Reagan's former CIA director-turned-president signed the Energy Policy Act into law, which gutted the Wheeler-Rayburn act by allowing the non-regulated QFs access to the transmissions market. It also created an entirely new category of energy companies separate from QFs and IPPs, called Exempt Wholesale Generators (EWGs). These new EWGs were exempt from the rules governing QFs and IPPs, paving the way for higher concentration of the electric power market. According to PBS Frontline, the top 10 investor-owned utility companies controlled 40 percent of the entire electric power generation market by 1998. This essentially means more people across America who aren't served by a publicly-owned utility company have ever-decreasing options when it comes to power companies.
Fast-forward to a recent horror story: for 2 to 3 days on Thanksgiving week of 2014, a snowstorm knocked out power for roughly 200,000 residents in over a dozen towns in central New Hampshire – the area's fourth-biggest power outage in history. According to a friend who braved the storm (and wishes to remain anonymous for this story), untold amounts of staple Thanksgiving perishables like turkey, sweet potatoes, salad, and desserts that his family members had spent days and dollars preparing and perfecting were all ruined. The electric-powered heating system for his home was non-operational, requiring him find a ride to a hardware store to buy a propane heater, then finding a balance between having a room warm enough to sleep in and cracking the window just enough so the propane fumes wouldn't kill him in his sleep.
Privately-owned Unitil, the only power company in the town my friend lives in, never gave an estimated time of restoration, and barely even managed to update their phone messages every 12 hours. In return for all of the lost food, lost money, and cold nights huddled under blankets, all my friend got in return from Unitil that month was an electric bill that was slightly higher than the previous month's bill. My friend described sheer bewilderment and rage at the bill – bewilderment at the bill's charges since he didn't use electricity for 3 days, and rage at being offered no credit for the outage. Since there's no publicly-owned utility company serving central New Hampshire, my friend remains entirely at the mercy of Unitil, with no recourse.
The concentration of private power companies will only continue as long as it goes unchallenged by local residents and customers. If the citizens of Nebraska were able to take to the polls and use their democratic process to gain a public utility option a century ago, then the rest of America should too.
This is part 3 of the 5-part series, "Austerity is Bunk," on NationofChange, also hosted at Commonomicsusa.org.
Read Part 1 here: How a Mid-Sized Tennessee Town Took on Comcast, Revived Its Economy and Did it With Socialism
Read Part 2 here: Giving Homes to the Homeless is Cheaper Than Leaving them on the Street. Here's Proof