North Carolina has ordered one of the largest utility companies in the United States to excavate coal ash from all remaining sites in the state, in a major victory for environmental advocates and vulnerable communities disproportionately at risk from pollution and contaminated water.
Duke Energy, which is headquartered in Charlotte, North Carolina, must take dramatic steps to reduce the risk posed by the toxic chemicals produced after coal is burned. Coal ash has long threatened drinking water in the state and the North Carolina Department of Environmental Quality (DEQ) announced Monday that the state is prepared to take action.
The coal ash pits at Duke's six remaining coal-burning plants must now be excavated. This means the ash — which has been mixed with water and stored in open, unlined ponds — must be moved elsewhere to a location where they do not threaten the environment and the public.  Duke had previously asked to be able to cover the coal ash sites with a waterproof cap, also known as a "cap in place" approach. But North Carolina is demanding that the utility remove the toxins from the six sites.
"DEQ rigorously reviewed the proposals [from Duke], and the science points us clearly to excavation as the only way to protect public health and the environment," said DEQ Secretary Michael Regan, nodding to the climate and environmental policies put forward by Gov. Roy Cooper (D). "Today's action sends another clear message that protecting public health and natural resources is a top priority of the Cooper administration."
The utility is now required to submit final excavation and closure plans to the state by August 1. By December 1, the utility must also submit plans on how it will address groundwater contamination at all six plants. The sites named Monday are in addition to eight plants that Duke has either already excavated or agreed to excavate, according to NC Policy Watch.
For years, communities have begged the state to address Duke's coal ash problems. Leaking unlined coal ash pits are perilously close to water sources and contain chemicals like mercury and arsenic. In 2014, a leak from a Duke site spilled 39,000 tons of coal ash into the Dan River, coating some 70 miles of the water body with toxic chemicals.
During Hurricane Florence last fall, floodwaters overwhelmed multiple Duke coal ash pits, forcing the company to admit that the chemicals might have entered the Cape Fear River. That river supplies drinking water to the city of Wilmington, North Carolina.
Responding to the state's decision, Duke stated that the utility will review the decision "and will continue to support solutions that protect our customers and the environment." The company has argued the process could cost billions of dollars at the expense of ratepayers, in addition to taking decades to complete. It is unclear what the actual impact on ratepayers might be.
Environmental groups welcomed Monday's news with open arms. "Thank you to Gov. Cooper and Sec. Regan for listening to the communities most impacted by Duke Energy's poor management of coal ash," Brian Buzby, executive director of the North Carolina Conservation Network, said in a statement. "Excavating ash into less vulnerable spaces will protect North Carolina rivers and hopefully bring some peace to the families who have spent years fighting for their right to clean water."
Frank Holleman, a senior attorney at the Southern Environmental Law Center (SELC), similarly hailed the announcement as "one of the most important steps in the state's history" toward addressing pollution and water protection.
"When the coal ash from all of these sites is finally removed, North Carolina's rivers will be cleaner, North Carolina's drinking water will be safer, and North Carolina's communities will be more secure," Holleman said in a statement. "We will no longer have to hold our breath every time a storm, a flood, or a hurricane hits a community with unlined coal ash pits sitting on the banks of waterways."
North Carolina joins a growing regional trend, as both South Carolina and Virginia have pushed forward with their own efforts to force coal ash cleanup. According to a national assessment of coal plants published in March by the environmental legal group Earthjustice and the Environmental Integrity Project, coal ash contaminates groundwater at 91% of U.S. coal plants. The Southeast and Midwest are among the most impacted regions.
North Carolina's actions also come as the Trump administration continues its efforts to gut coal ash regulations. Last summer, the Environmental Protection Agency (EPA) allowed coal ash impoundments at risk of leaks to continue operating well beyond April 2019, when they were set to close.
Moreover, in March 2018, the EPA proposed further modifications to the 2015 Obama-era Coal Ash Rule, which is designed to protect human health and the environment by placing more strident restrictions on coal ash. State-run coal ash permit programs would be allowed to waive groundwater monitoring requirements under the new rule.
The rollback has been tied up in litigation since last fall.
April 2019 update – now flooding!
Historic Midwest flooding sparks concerns about drinking water, toxic sites: "We've constantly been concerned about floods." by E.A. CRUNDEN, Think Progress, 4 April 
Record-shattering floods across the Midwest have devastated parts of the region, with thousands of residents now facing a long and expensive recovery.
But even in areas that managed to avoid the worst of the damage, local experts are worried about a range of environmental hazards — from drinking water to Superfund sites — that pose a serious threat to public health. With flooding predicted to worsen throughout the region due to climate change, those risks won't dissipate when these floodwaters recede.
"We have radioactive waste in our floodplain in Bridgeton," Heather Navarro, executive director of the Missouri Coalition for the Environment (MCE), told ThinkProgress. "There's coal ash in our floodplains as well as wastewater treatment plants. [And] many farms spread excessive amounts of manure and this waste gets swept away, along with other chemicals on farm fields and even livestock."
The flooding began three weeks ago, after a "bomb cyclone" hit the region and unleashed a torrent of snow, which then melted. Several states along the upper stretch of the Missouri River took a major hit; in Nebraska, entire towns were isolated by the flooding. Native communities on reservations have struggled to access food and water, while farms across the area have suffered massive livestock loss along with ruined harvests.
Environmental issues raised by the region's flooding range dramatically, but all point to the long-term problems that accompany an uptick in rain and extreme weather events. At least seven Superfund sites have been threatened by flooding since the waters first begin rising, in Iowa, Missouri, and Nebraska.
While the damage has been less severe in Missouri, road closures and the persistent threat of rising waters continue to impact the state, even as the floodwaters begin to recede. That's weighing on officials and experts in the state, who are monitoring a number of problem areas with an eye toward the coming weeks; a new forecast by the National Oceanic and Atmospheric Administration (NOAA) predicts even more unprecedented flooding this spring.
"Missouri has two sites we're keeping our eye on," Brian Quinn, who works with the state's Division of Environmental Quality (DEQ), told ThinkProgress: the Conservation Chemical Company site and the St. Joseph City Landfill site, also known as the McArthur Drive Landfill.
One of those, the Conservation Chemical Company site, is classified by the Environmental Protection Agency (EPA) as a Superfund site — an area so severely contaminated it has been designated for cleanup by the federal government. It is also one of two sites the EPA has said it is currently monitoring amid the flooding; the second is the Nebraska Ordnance Plant in Mead, Nebraska.
Missouri's other area of concern, the landfill, was roughly half inundated by flooding, Quinn said, and the state is still monitoring the site for damage.
According to the U.S. government's National Climate Assessment (NCA) released last fall, the Midwest will face a steady rise in heavy downpours and flooding as climate change worsens. That will affect everything from air quality to infrastructure to agriculture, in addition to hitting the region's fossil fuel-dependent electricity system hard.
The EPA says there have been no toxic releases at any Superfund sites impacted by flooding and the agency has not issued any public health advisories or alerts. But the EPA also hasn't conducted any soil or water testing at the sites.
"As floodwaters recede and areas become safely accessible, EPA will ensure impacted sites are evaluated further to determine if additional actions are necessary," the agency stated in a news release last week. "Additional actions may include sampling and site inspections, among others, to ensure that installed remedies remain operational."
That isn't comforting for communities in the area. Ed Smith, the policy director for MCE, told ThinkProgress that environmental hazards are an increasing source of concern in Missouri as flooding worsens. One major worry is coal ash, the toxic remains of coal after it is burned, which includes lead and arsenic.
"A lot of our coal ash facilities are located in flood plains," said Smith.
President Donald Trump's administration has worked to weaken coal ash regulations, but Missouri has been a rare case where the EPA has deemed the state's proposed coal ash standards too weak to protect the environment and human health. Ameren, a power company, is also under pressure from residents to remove coal ash ponds in Labadie, Missouri, not far from St. Louis in the eastern part of the state.
"We've constantly been concerned about floods," said Smith, pointing to the public health and environmental threat posed by coal ash, which can cause major damage to the nervous system and harm wildlife.
Also on Smith's mind is the closed West Lake Landfill, a Superfund site in Bridgeton, Missouri. The unlined, mixed-waste landfill has been shown to contain radioactive waste. And while flooding hasn't impacted that area at present, Smith worries about long-term ramifications, like increased risk of contamination.
"With each passing flood, there is a flushing effect. Goes up, comes down, goes up… [it's] going to impact the radioactive material that the EPA chooses to leave at the site," he said.
Communities' concerns extend beyond the nearby Superfund sites. "The other issue with which we're dealing is flooding of private drinking water wells, along with public drinking water and wastewater treatment systems in communities along the Missouri and Mississippi rivers," said Quinn, of the Missouri DEQ.
Around a dozen public drinking water systems have been impacted by the flooding in Missouri, along with six public wastewater systems. Flooding escalates the risk of bacteria associated with agriculture — including fecal matter — but it also carries chemicals, sewage, and other contamination into water systems.
Quinn advised private well water users in particular that they should rely on bottled water until follow-up tests give them the all-clear. "From a public and environmental health perspective, flooding presents a staggering array of short- and long-term problems," he said.
Efforts to address the risks associated with climate change and pollution are in part the responsibility of local governments. But the Trump administration is also in the process of rolling back environmental regulations that are key to safeguarding the environment and public health in the wake of extreme events like the Midwest flooding. Experts say plans to replace the Waters of the United States (WOTUS) rule would endanger the environment and reduce the protection wetlands offer from flooding. And the president's 2020 budget proposal would cut EPA funding by 31% — including funding for Superfund site remediation.
That's particularly worrying for local experts in states like Missouri, where pollution and overdevelopment without regard for climate resiliency are exacerbating flooding issues. According to Smith, as flooding worsens, those factors will continue to be a severe problem.
"I think that one of the things that we need to recognize is that climate change is only playing a part when it comes to flooding issues," he said.
"It's everything we could get our hands on," said the report's lead author, Abel Russ, a senior attorney with the Environmental Integrity Project, which worked with Earthjustice on the report. The contamination is "widespread," Russ said, and in many places, "groundwater may be unusable for decades or hundreds of years."
Almost every coal-fired power plant in the US is contaminating groundwater with unsafe levels of toxic pollution, says the Guardian, reporting on the first comprehensive analysis of the consequences of coal ash waste disposal. Of the 265 US power plants that monitor groundwater, 242 have reported unsafe levels of at least one pollutant derived from coal ash, which is the remnants of coal after it is burned for energy. More than half such facilities report unsafe levels of arsenic, a carcinogen linked to multiple types of cancer, with 60% finding elevated lithium, which is associated with neurological damage. Overall, 91% of coal plants with reportable data have "unsafe levels of toxic contaminants", says InsideClimate News. The worst affected was the San Miguel Power Plant in the south of San Antonio, Texas, with 12 pollutants above safe levels in groundwater. Reuters also has the story.
Most US coal plants are contaminating groundwater with toxins, analysis finds : Of 265 US power plants that monitor groundwater, 242 report unsafe levels of at least one pollutant derived from coal ash, Oliver Milman in New York, The Guardian,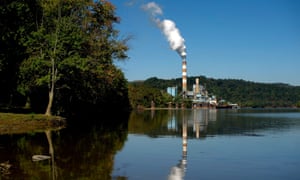 Almost every coal-fired power plant in the US is contaminating groundwater with unsafe levels of toxic pollution, according to the first comprehensive analysis of the consequences of coal ash waste disposal.
Of the 265 US power plants that monitor groundwater, 242 have reported unsafe levels of at least one pollutant derived from coal ash, which is the remnants of coal after it is burned for energy. More than half such facilities report unsafe levels of arsenic, a carcinogen linked to multiple types of cancer, with 60% finding elevated lithium, which is associated with neurological damage.
In all, nine out of every 10 coal plants with reportable data have tainted nearby groundwater with at least one coal ash pollutant, with a majority having unsafe levels of at least four different toxins.
"The pollution is basically everywhere you look," said Abel Russ, attorney at the Environmental Integrity Project (EIP), which compiled the analysis based on reports issued by individual power plants. "The major concern is that this could be a problem for decades or centuries because once the pollutants leach from the coal ash into the water, they are hard to get out."
The coal plants included in the analysis represent roughly three-quarters of all coal facilities in the US, with the remainder either having shut down their coal ash dumps or been exempted from reporting requirements.
American coal plants produce about 100m tons of coal ash each year, with at least 2bn tons stored in pits of varying quality. Most coal ash pits are ageing and not lined with a protective substance that would prevent the ash seeping into streams and rivers.
Spurred by disasters such as that at the TVA Kingston Fossil Plant in Tennessee, where a containment dike ruptured in 2008 and spilled ash that smothered a huge area resulting in several hundred dead or sickened people, the Obama administration moved to tighten the regulations around the disposal of coal ash.
The so-called Coal Ash Rule, introduced in 2015, required power companies to monitor groundwater from wells near ash dumps and make the data public. Since May 2018, information from more than 550 individual coal ash ponds has been made available.
These regulations were eased, however, by the Trump administration. In July, the Environmental Protection Agency extended by 18 months the time that industry can use unlined coal ash ponds for dumping. The move would "provide states and utilities much-needed flexibility in the management of coal ash" and save utility companies as much as $31m a year, according to Andrew Wheeler, confirmed as EPA administrator this week.
Widespread pollution spread by coal ash dumps should act as "a wake-up call for the nation", said Lisa Evans, senior counsel with Earthjustice, which assisted with the report.
"Using industry's own data, our report proves that coal plants are poisoning groundwater nearly everywhere they operate," Evans said. "The Trump administration insists on hurting communities across the US by gutting federal protections. They are making a dire situation much worse."
People who draw their water directly from backyard wells are most at risk from any groundwater pollution, although environmentalists argue that allowable levels of certain toxins in treated drinking water are too lax and also pose a risk.
A stew of pollutants emanate from coal ash, including cadmium, cobalt, chromium and lead, as well as arsenic and lithium. These toxins are linked to a range of health conditions, including cancers, kidney damage and developmental problems.
According to the EIP report, the site with the worst contamination is found next to the San Miguel power plant near San Antonio, Texas. Coal plants in North Carolina, Wyoming, Pennsylvania, Tennessee, Utah, Maryland, Mississippi and Kentucky round out a list of the 10 worst polluters.
Some states, such as Georgia and Missouri, have acted to eliminate leaky coal ash dumps but Ross said the EPA should act much more quickly to ensure they are fully phased out.
"We've never really been happy with the EPA's approach to this but now it is run by a coal lobbyist we are even more skeptical," Russ said, referring to Wheeler's former employment. "Over the long term it's going to become clear the EPA needs to be stronger and do something, but that probably won't happen under this administration."
The EPA was contacted for comment.
**
Coal Ash Contaminates Groundwater at 91% of U.S. Coal Plants, a new national assessment shows, James Bruggers, Inside Climate News, March 4, 2019
At a power plant in Memphis, Tennessee, coal ash waste that built up over decades has been leaching arsenic and other toxic substances into the groundwater.
The contamination, ranked as a top problem in a new national assessment of water testing at coal ash sites, is in a shallow aquifer for now. But below that lies a second aquifer that provides drinking water to more than 650,000 people, and there are concerns that the contamination could make its way into the deeper water supply the city relies on.
"We have one of the purest drinking water sources in the whole country, and now we'll have arsenic and other coal ash compounds leaking into our water supply if things don't get cleaned up," said Scott Banbury, a Memphis resident and representative of the Sierra Club. "So getting rid of that ash is important."
The scale of the Memphis problem emerged from industry reports on groundwater testing near ponds and landfills that store coal-burning wastes from power plants. These reports, required by recent regulations, show that polluted groundwater is a widespread problem, with unsafe levels of toxic contaminants linked to more than nine out of every 10 coal-fired power plants with monitoring data, about 91 percent. The Environmental Integrity Project and other advocacy groups compiled and analyzed the data in a report released Monday.
The worst contamination, according to the analysis, was at the San Miguel Power Plant south of San Antonio, Texas, with 12 pollutants above safe levels in groundwater. In Memphis, the Tennessee Valley Authority's Allen Fossil Plant, which was shut down last year, is in the Top 10.
The report covers water testing at 265 existing and retired coal plants, comprising more than 550 individual coal ash ponds and dumps that have groundwater monitoring wells. That represents about three-fourths of the coal power plants in the country, according to the authors. Some plant owners were not required to make groundwater testing results public because they closed their ash dumps before the U.S. Environmental Protection Agency's first national rules on coal burning waste took effect in 2015, or because they were eligible for an exemption or extension of reporting deadlines.
"It's everything we could get our hands on," said the report's lead author, Abel Russ, a senior attorney with the Environmental Integrity Project, which worked with Earthjustice on the report. The contamination is "widespread," Russ said, and in many places, "groundwater may be unusable for decades or hundreds of years."
In all, unsafe levels of contamination were reported in groundwater at sites in 39 states and Puerto Rico. Illinois has the most power plants with polluted ash storage sites with 16, followed by Texas, Indiana, Kentucky, Michigan, North Carolina and Missouri, all with more than 10.  
Trump EPA Is Considering Weakening Standards
The results come as President Donald Trump's EPA, led by former coal and energy industry lobbyist Andrew Wheeler, is weighing further changes to the Obama-era EPA rules with the goal of cutting utility compliance costs. Earlier, the Trump administration relaxed EPA coal ash rules in part by extending the deadline to stop using some coal ash ponds from next month to Oct. 31, 2020.
"The fact that we have now analyzed the data and found significant contamination at almost every coal ash site provides a strong record to oppose any future rollbacks," said Lisa Evans, a senior attorney at Earthjustice.
Earthjustice last year won a lawsuit against EPA that will require the closure and cleanup of some 100 additional coal ash ponds left out of the 2015 rule. EPA is appealing.
An EPA spokesman on Friday did not comment on the agency's plans for changing coal ash rules.
For decades, wastes from burning coal went unregulated by the federal government, leaving a patch of inconsistent state rules. The Obama administration in 2015 put in place national rules, favoring dry storage in landfills over wet storage in ponds. Those rules require utilities to conduct groundwater monitoring at ponds and landfills, close leaking ash ponds, clean up polluted groundwater and disclose their studies and actions.
The ash contains contaminants like selenium, mercury, cadmium, and arsenic, which are associated with cancer and other serious health effects, according to the EPA.
Posting water quality monitoring reports is just the start of a cleanup process. Earthjustice reported in January that utilities had acknowledged pollution at unsafe levels at 70 power plants in 22 states. By last week, those numbers had climbed to 88 plants in 25 states, Evans said.
Some utilities are blaming the pollution on other sources, and future disputes are expected over utilities' cleanup plans, she said.
Trouble in Texas and Memphis
The new report ranked the 10 most contaminated sites, based on the extent to which pollution—including all potentially unsafe pollutants—exceeded safe levels.
Brian McGovern, a spokesman for the Texas Commission on Environmental Quality, declined to comment on how his agency was responding to reports of groundwater pollution from the San Miguel plant, the nation's worst case. However, he said Texas is working on a new statewide coal ash management rule.
At the Memphis plant, the utility reported arsenic levels 350 times higher than drinking water standards, according to the report. TVA's Allen Fossil Plant, which burned coal for six decades along the banks of McKellar Lake, near the Mississippi River, is about five miles southwest of downtown Memphis.
The contaminated groundwater is above the deeper aquifer that the city uses for drinking water, most of it separated by a layer of clay.
In an annual report required by the coal ash rules and posted on the TVA website Friday, the TVA acknowledged that an underground area near its coal ash pond has no clay barrier. The report follows a 2018 U.S. Geological Survey study that found the two aquifers were connected and places the location of the connection near the leaking ash ponds, said Amanda Garcia, an attorney with the Southern Environmental Law Center.
The site set off alarm bells while TVA was testing water wells for a new natural gas power plant on the property. Pollution from the upper aquifer moved toward the lower aquifer during the testing.
TVA stopped using those wells and the utility plans to start pumping out and treating the contaminated groundwater at the Allen plant later this year, said Scott Brooks, a TVA spokesman. It is also studying the best way to stop the leaking and close its ash pond at Allen and other coal ash sites across the utility's seven-state system, he said.
No decision has been made yet on whether the ash can be safely managed on the spot or will need to be hauled away, Brooks said, adding that the utility intends to base the decision on the best available science.
For now, he stressed, none of the pollution documented under the plant had been detected in the city's drinking water supply.
For Banbury, the Memphis Sierra Club leader, that pollution is too close for comfort.
"This was something that nobody ever thought was a concern," he said. "Now it's a huge concern."
James Bruggers covers the U.S. Southeast, part of ICN's National Environment Reporting Network. He came to InsideClimate News in May 2018 from Louisville's Courier Journal, where he covered energy and the environment for more than 18 years. He has also worked as a correspondent for USA Today and was a member of the USA Today Network environment team. Before moving to Kentucky, Bruggers worked as a journalist in Montana, Alaska, Washington and California, covering a variety of issues including the environment.  Bruggers' work has won numerous recognitions, including the National Press Foundation's Thomas Stokes Award for energy reporting.  He served on the board of directors of the Society of Environmental Journalists for 13 years, including two years as president. He lives in Louisville with his wife, Christine Bruggers, and their cat, Lucy.
James can be reached at james.bruggers@insideclimatenews.org.